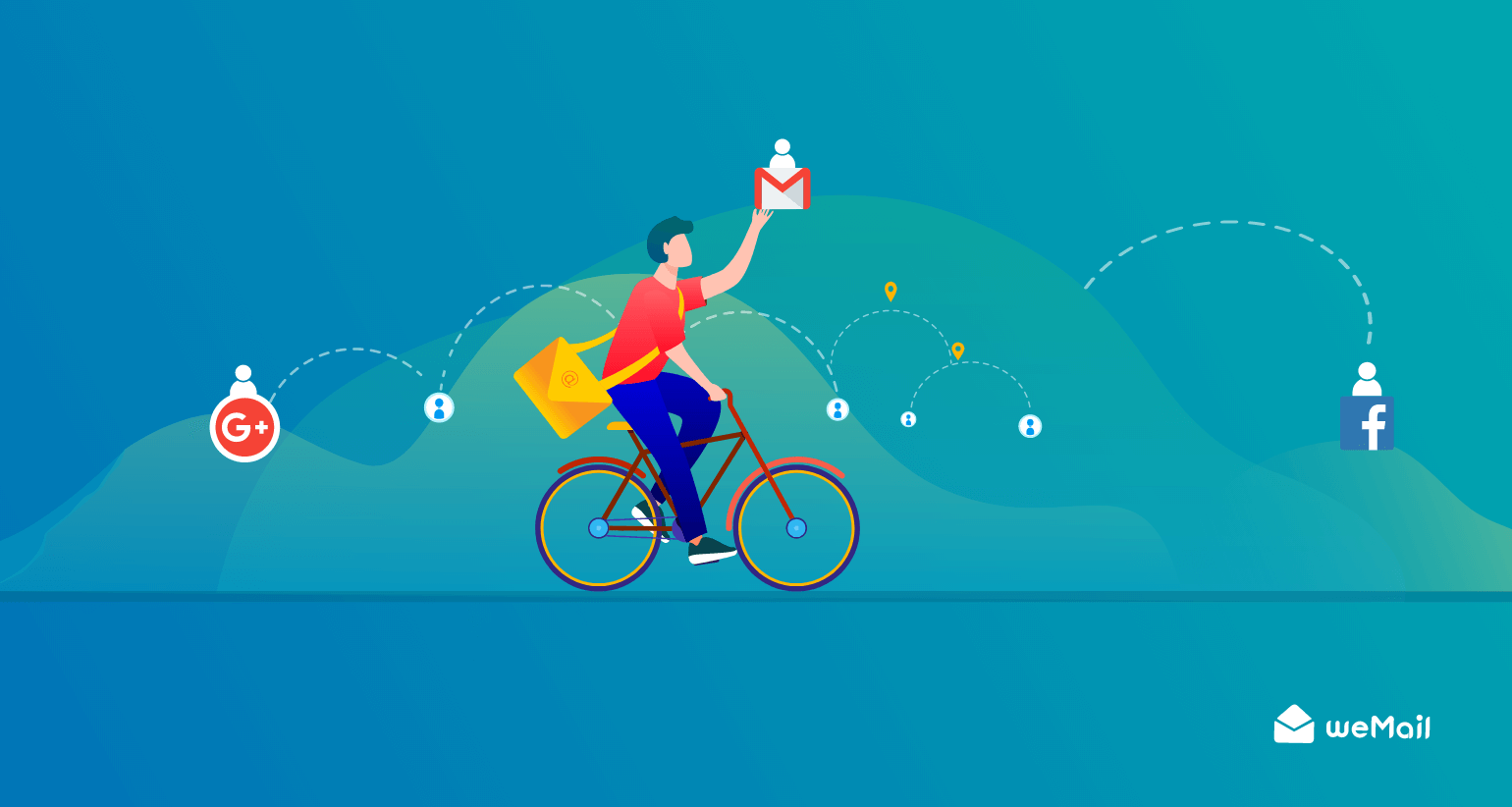 How to Utilize Email Retargeting in Your Marketing Strategy
Have you still not utilized Email Retargeting in your marketing strategy? If not then you are surely losing out a lot of potential customers and extra revenues.
As an online shop owner you must experience the disappointment, a number of potential customers visit your shop but leave without buying anything. And never come back again.
It quite obvious, you have arranged your shop in an appealing way to attract the visitors and your online marketing strategy sorted. Then why are buyers leaving your eCommerce store without buying anything? It clearly indicates many of your plans go in vain.
In this situation, you can leverage the power of Email retargeting. Simply hit the inbox of the visitors after their website visit. Perhaps it may give you the second chance to directly speak to them and build a sustainable relationship with your prospects, leads, exciting customers, or others.
Today we will show you how to send personalized e-mail to an anonymous website visitor and how it will help increase your eCommerce sales largely.
Before getting into the process lets explore the benefits of Email Retargeting.
Email Retargeting for Digital Marketers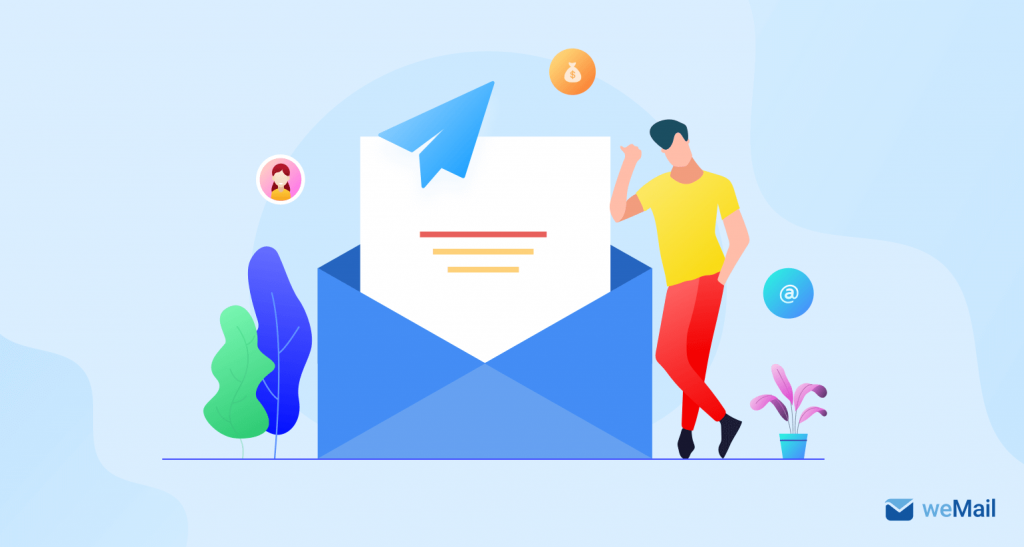 It's no more a secret- Email Marketing becomes one of the top choices for digital marketers in the past 10 years due to its super effectiveness at a low budget. Now,
A lot of people visit your eCommerce site everyday. But unfortunately 98 out of 100 people leave the site without buying anything even if they get their desired product at the right price.

These stats show the obstacles you may face as an online shop owner. However, email retargeting can be an effective way to get back your visitors to your site and convince them to complete their purchases. By using this advanced marketing tactic, you can boost the customer's numbers and sales significantly.
Email retargeting or remarketing is a powerful digital marketing method to regain your customers. Commonly used by the eCommerce leaders to convert more people into paying customers.
Email retargeting refers to either:
Showing targeted ads to potential customers who have shown an interest in your site or products by doing some acts like visiting your site, opening your emails, or clicking a link in your emails.
Sending emails to a recipient after their website visit.
It gives you another chance to reach your potential customers and give them a good reason to return to your shop and convert.
Why Should You Start Email Remarketing Right Now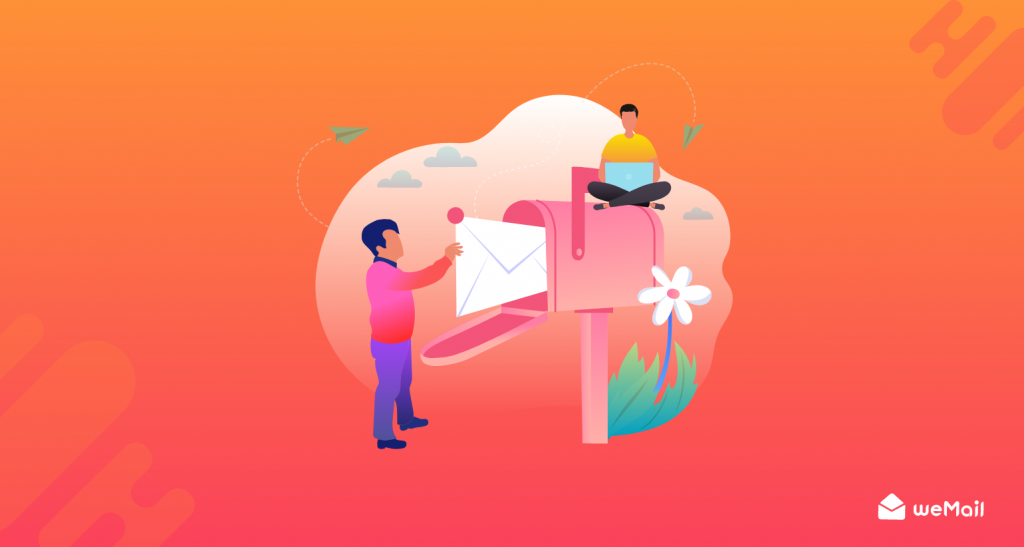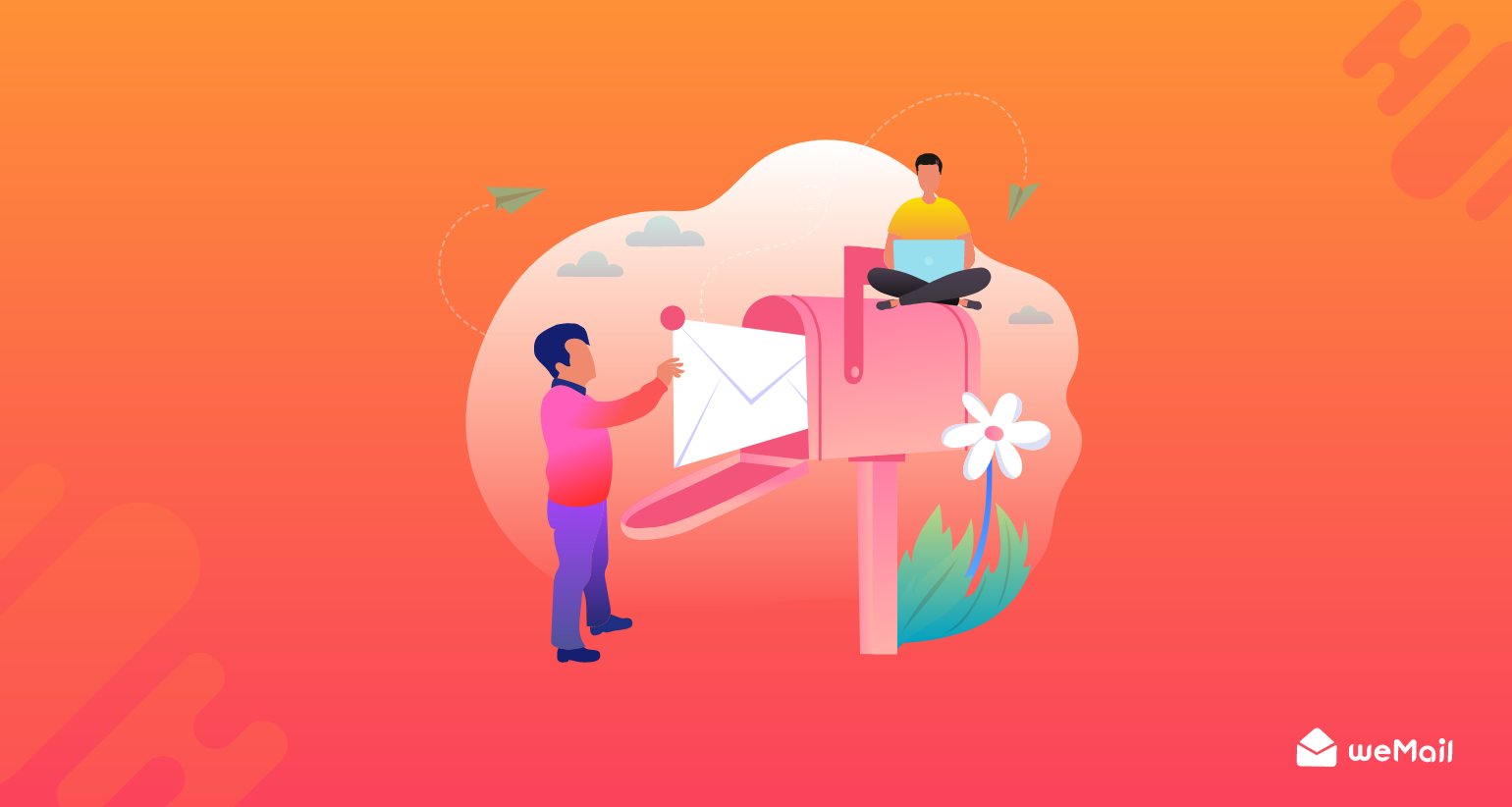 Emails retargeting can bring better results than traditional email marketing or digital advertising. Because this online marketing approach works with a more targeted and focused audience with more organized techniques.
Here are some top email retargeting benefits:
1. Re-engage Your Customers
Email retargeting get back your potential customers again on your site by sending them some reminder emails or displaying related ads. This may influence their interest in your products or services you offer. It also re-engages your abandoned customer by conversion of around 400%.
2. Arrange Better Clickthrough Rates
After knowing customers' interest, the retargeting strategies improve higher click-through rate. Email reading rate is higher than any other communication and you will get more to traffic to your eCommerce or website. Furthermore, research reveals that around a 20% increase in CTR by applying well-planned email retargeting.
3. Generate More Sales
As you get more visitors to your website, it will generate more local and global sales based on your business type. You need to send suitable offers to your customers based on their choice pattern through email retargeting.
4. Eliminate Shopping Cart Abandonment
Statistics say cart abandonment creates around a $4 trillion revenue loss each year. However, perfect email retargeting can eliminate 40% of your shopping cart abandonment which will give an additional sale and improves ROI.
Hence, Email retargeting is a complementary element that can bring success to an even failed email marketing campaign. Surprisingly, this technique is simple to apply to its beneficial effect.
Email Retargeting- How It Works
Email retargeting relies on sending emails to the recipients who have already interacted with your online shop.
These website visitors might have scrolled your shop once in the past, added products in the cart, or completed a check-out. However, there are several types of eCommerce remarketing emails. Such as checkout abandonment emails, up-sells, special offers, etc.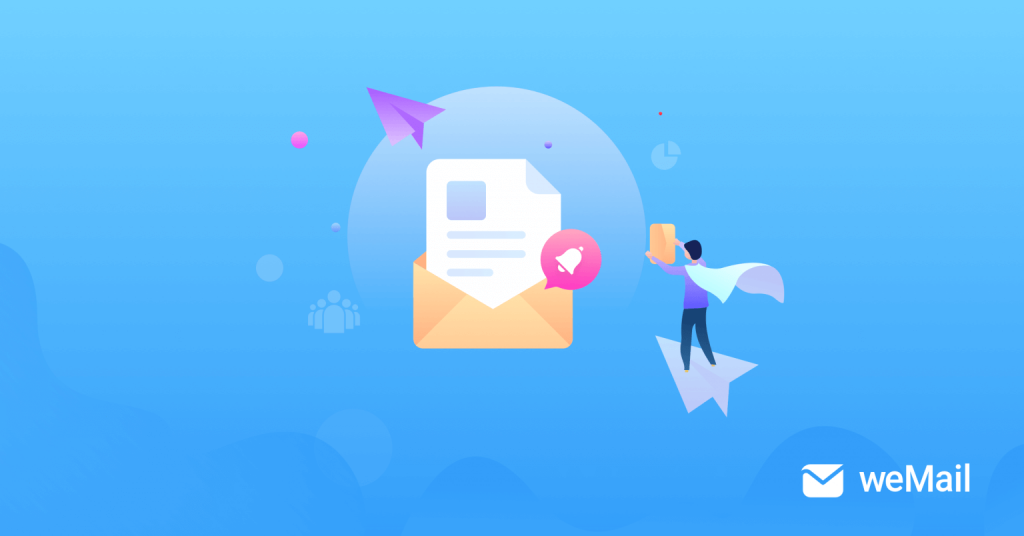 Most importantly, the key point that you have to keep in your mind that retargeting emails are triggered by a previous event. This is how they are different from traditional email marketing. Here, you collect information of your visitors from a past interaction and then use it to send personalized emails. That's why, it has a high possibility to boost the conversion rate high.
The conversion rate for email retargeting is 41%, that is much higher than the standard 2% eCommerce conversion rate.
On a technical note, you have to track your website visitors and their details to send retargeting emails. People who have logged into your site, are easy to reach via emails. But if they have not logged into the site, still you can access navigation information using a browser cookie. A smart mailing software with retargeting functionalities may help you to get the email ids of your visitor.
Hence, you can track the behavior and action of each visitor. It helps you to understand which type of mail content will work best to increase the click-through rate. Firstly, build your mailing list and divide them into particular groups based on their behaviors and then execute your retargeting strategy sending engaging mail content.
How to Do Email Remarketing Successfully
In retargeting, you can target people in 2 ways- either target the people whose email address you already have with better-specified emails or target your website visitors, with particular ads based on the information collected by browser cookies.
You can take the path you prefer most:
Email retargeting with triggered emails: You can send more segmented and trigger-based emails to the recipients after getting the history of their recent activities on your site.
Email retargeting with retargeted ads: Alternatively, you can retarget your visitors by running ads on social media like Facebook & Twitter or via Google. You can track their behavior using browser cookies and re-identify people when they visit your shop.
Here's how you can run an effective email targeting campaign.
3-Steps to Run Email Retargeting Effectively
Follow these 3-steps to get the best results from your email remarketing:
Collect customer details: email address, interest, behavior pattern, social media info & others.
Create audience groups: segment the customer base depending on their common attributes.
Create email retargeting campaigns: ads, emails, and actionable CTAs
Collect Customer Details
Remember, in email retargeting your motive is to get back the customers who have a past interaction with your brand. So, you need to track that interaction first and gather information to reach them again.
But the most crucial part comes here. How you get all these details and what type of info actually you should search for?
Well, if you plan for email retargeting you need the email addresses of your target audience. This is the most valuable and first step to proceed. While you have the email address you can easily identify your prospect's movements on your website or in response to your emails.
With the email address you can get the info like:
Past purchase history
The total amount they have spent
Spent for per purchase
Frequency of purchases
Types of emails they preferred to open
Which links they used to click
Which pages of your websites they liked to visit
A site tracking tool allows you to identify all these details effortlessly. That leads you to assemble a well-optimized marketing strategy to improve customer's experience and conversion rate.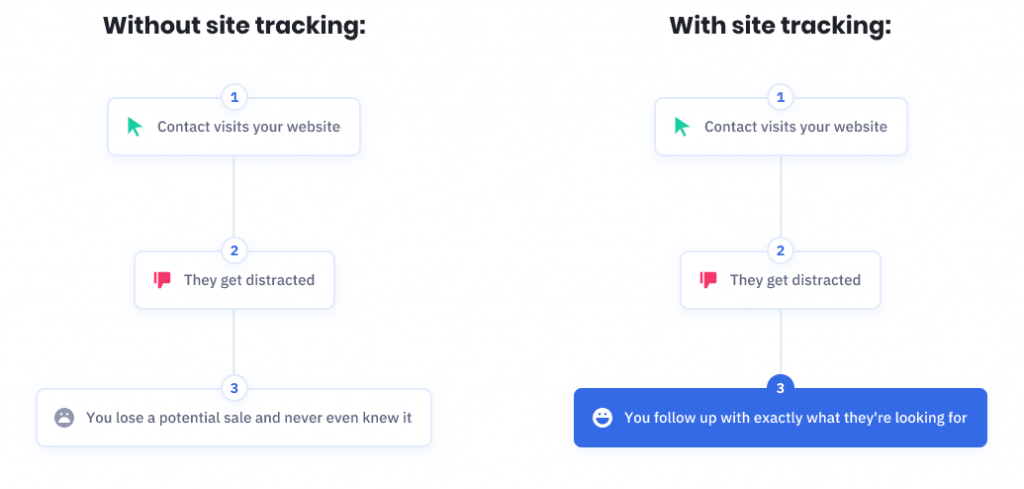 Perhaps you can include a subscription form on your site to collect details of your contacts. Such as: name, address, social media info, referral source, job position and others. These data will help you to create groups of your target audience.
Note: You can build up your email subscriber list with weMail effortlessly. Sending beautiful emails right from your WordPress dashboard.
Create Audience Groups
In order to send relevant and more engaging emails, you have to segment your audience into several groups. Needless to say, you can boost the success of an email campaign by personalizing your message.
Therefore, divide your potential customers into small groups based on their common characteristics. Then send your email or run the ads by targeting a particular group of people. And say exactly they want to hear from you. As a result, you have a great chance to get more response from the audience.
Don't forget it's your second chance. So, utilize it as much as possible. Try to impress your customers highlighting your product's features and usabilities. If you can't make it this time, you will lose these customers forever.
Suppose you want to send emails to those visitors who left theirs carts undone on your site. So what can be your possible segmentations:
Buyers who add items to the cart but don't complete the checkout
People who visited a product category at least 5 times
Recent buyers who purchased something that have some separately-sold accessories
Same way, you can create groups for your possible customers and send them more customized and specific emails or display ads. It minimizes the number of unsubscribes and increase the sales on your site significantly.
Create Email Retargeting Campaigns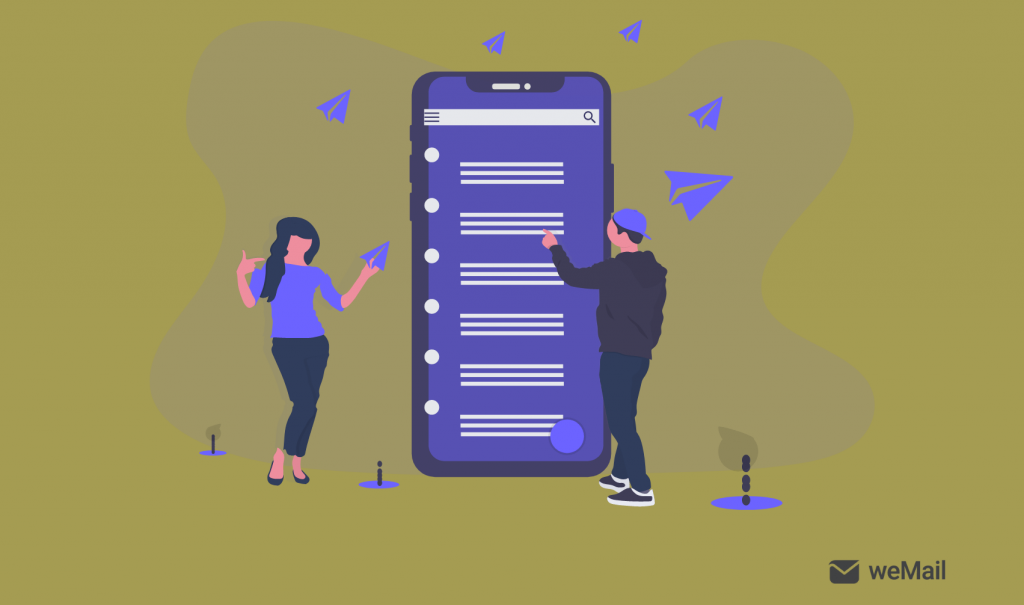 After getting your contacts segmented into groups, now its time to build your content for retargeting campaigns.
You can send emails to remind your visitors about their abandoned cart or offering them a discount for their next purchase. Also, you can notify them about the availability of the latest edition of their desired products or running out of the stock. It may create an emergency that push them to complete their purchase on your site.
Moreover, you should send emails in conjunction with retargeting ads. Otherwise, you may lose a number of potential sales.
Suppose you send a retargeting email to a recipient. S/he opens the mail and clicks on the product link. But don't complete the purchase anyhow. But his/her clearly shows their interest in your brand. Now you can run ads targeting these particular customer base. So, they will see advertisements for that product on social media. It surely provokes them to go back to your site and complete their action.
Note: A smart tracking tool like WooCommerce conversion tracking may help you to retarget your eCommerce site visitors effectively.
nevertheless, keep your CTA specific for both email content and Ad copies to impose your audience for performing a particular task.
Email Retargeting Best Practices
Email retargeting is simply a powerful online marketing tool that engages potential customers by showing ads considering their social (Reddit, Instagram, Twitter, Facebook, etc.) or web (Google) search. Alternatively, sending them engaging emails to remind them about your brand. In both cases, retargeting allows you another chance to bring them back and switch into a purchase.
Furthermore, to run your Email remarketing successfully you must have a strong digital marketing strategy.
7 Tips to Make an Outbreak from Email Retargeting Campaign
Attend the Cart Abandonment: The customer may almost decide to buy from you. Start an email retargeting campaign instantly to push the buying intent to the decision.
Use Automated Drop Email: Once a customer drops an email address to you, start a relation-building by welcoming through automated drop email. Automated drop emails with retargeting can bring an extended result.
Personalize Email Target: Addressing through the customer name and using some personalized information can impact the customer's behavior to a great extent.
Engage Inactive Visitor: Communicate and attract the users who may read a blog post or product description by dropping the email address. Email retargeting can bring them to your smokestack.
Use Upsell to Converted Customer: Be sure you are not targeting a customer who already purchased it. Retarget them with a brand new offer or rewarding them for their purchase.
Create a Suitable Retargeting and Ads frequency: Numerous ads and emails may annoy the customer. Select a suitable regularity for retargeting and ads campaign which is not annoying but useful.
Keep optimizing email and Ads: Same email same ads put the customers insane. Preferably optimize the email and ads to give a grown feeling to the customer and make them interested in your product.
With these essential tips, you can maximize the outcome from your retargeting campaign.
Email Retargeting Examples
Let's see some real-life examples of prospective brands who noticed a remarkable lift in their sales following the remarketing strategy.
Study shows renown furniture designer Made.com used email retargeting to increase remarketing revenue from email by 36%, boost the open rate by 31%, and surpass the target return on investment (ROI) by 200%.
Another research says email retargeting by the hobby retailer AMain Performance Sports and Hobbies increased open rate by 90% and click-through rate by 27%, as well as achieved 775% more email conversions. Also, the company's ROI for retargeting on Facebook increased by 26.5 times.
Sephora sends emails encouraging their customers to purchase items left in their carts.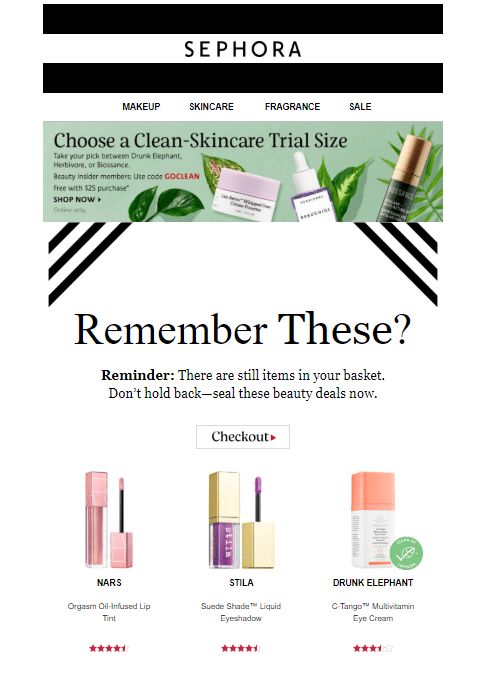 WPERP– a leading WordPress tool to automate & manage your growing business sends retargeting to the users who have recently deactivated the plugging. It announces its new features and updates to convince the users to come back.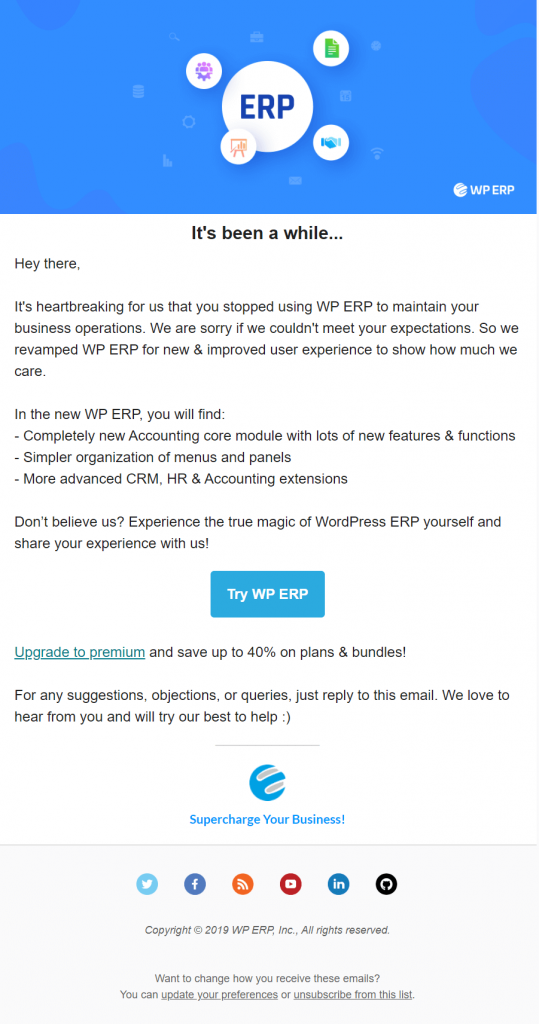 UGG segments its audience and sends offers based on their taste.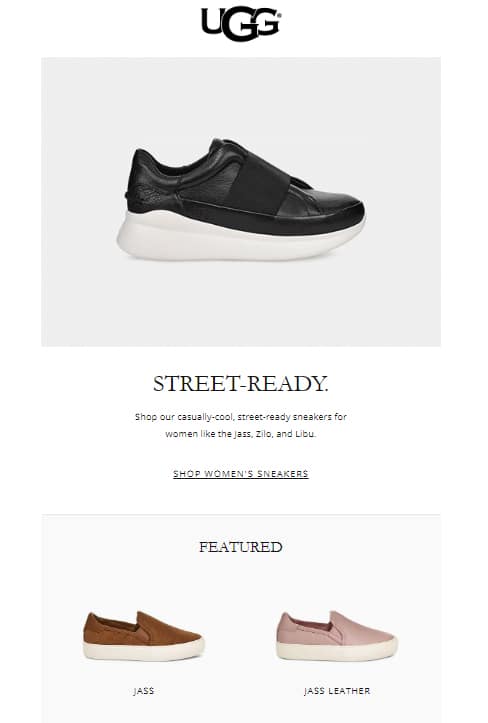 Peak Design scheduled two retargeted cart abandonment emails to get back their customers on their site. They send the first remarketing email 30 minutes after the cart is abandoned. After that, the second email is sent 30 hours later.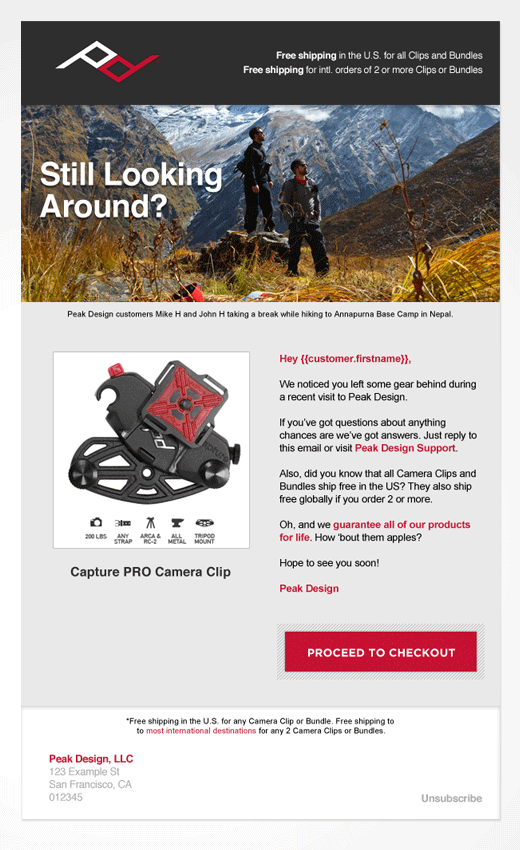 The second email was: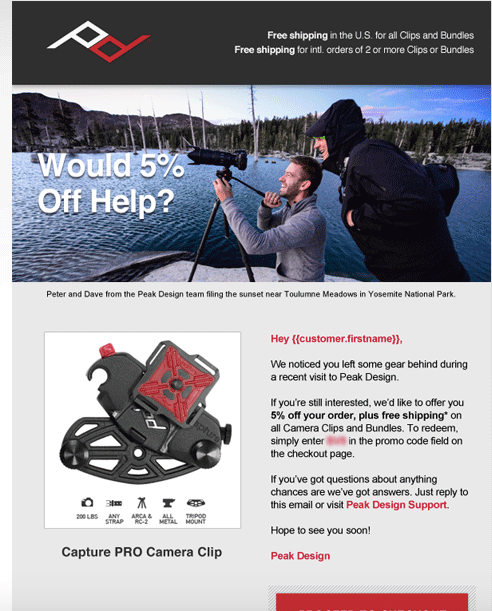 Hence, you can also include Email Retargeting to your digital marketing strategy to regain your losing customers and build a relationship with them.
Leverage the Power of Email Retargeting to Boost Your Sales
If you need a hike in your online product sales within your target people, then Email retargeting can be an immeasurable way to hold the target at the peak.
Your potential customers may already have shown their interest in your brand by clicking any ads/links or visiting your site but would not complete their purchase. Maybe in the first chance, you can't create a strong impression on your visitors but sending engaging emails can be the second chance to make the right impression.
So, what typeof techniques do you use for retargeting your lost customers? Do you use some tools? You can share your experience with us in the comment section below.
Subscribe To Our Newsletter
Don't miss any updates of our new templates and extensions
and all the astonishing offers we bring for you.