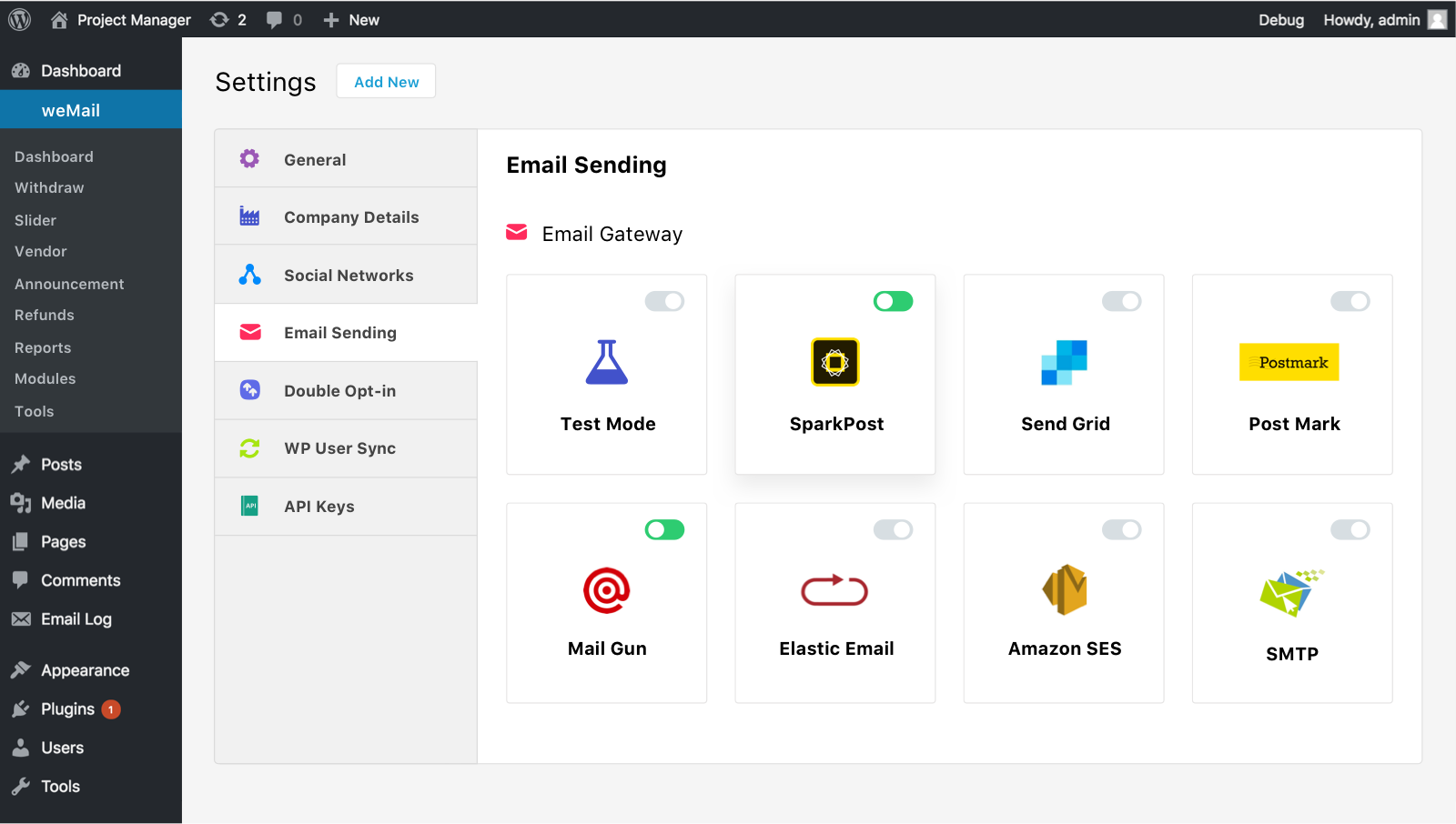 Multiple Email Sending Gateway Compatible
Switch email sending gateways on the fly
whenever you need
Amazon SES
Mailgun
SparkPost
Elastic Email
SendGrid
SMTP
Solid WordPress Integration
Tight WordPress integration will make your email marketing workflow smooth like butter
Auto import users into subscribers

Convert store customers into subscribers

Place HTML Embed Form anywhere you like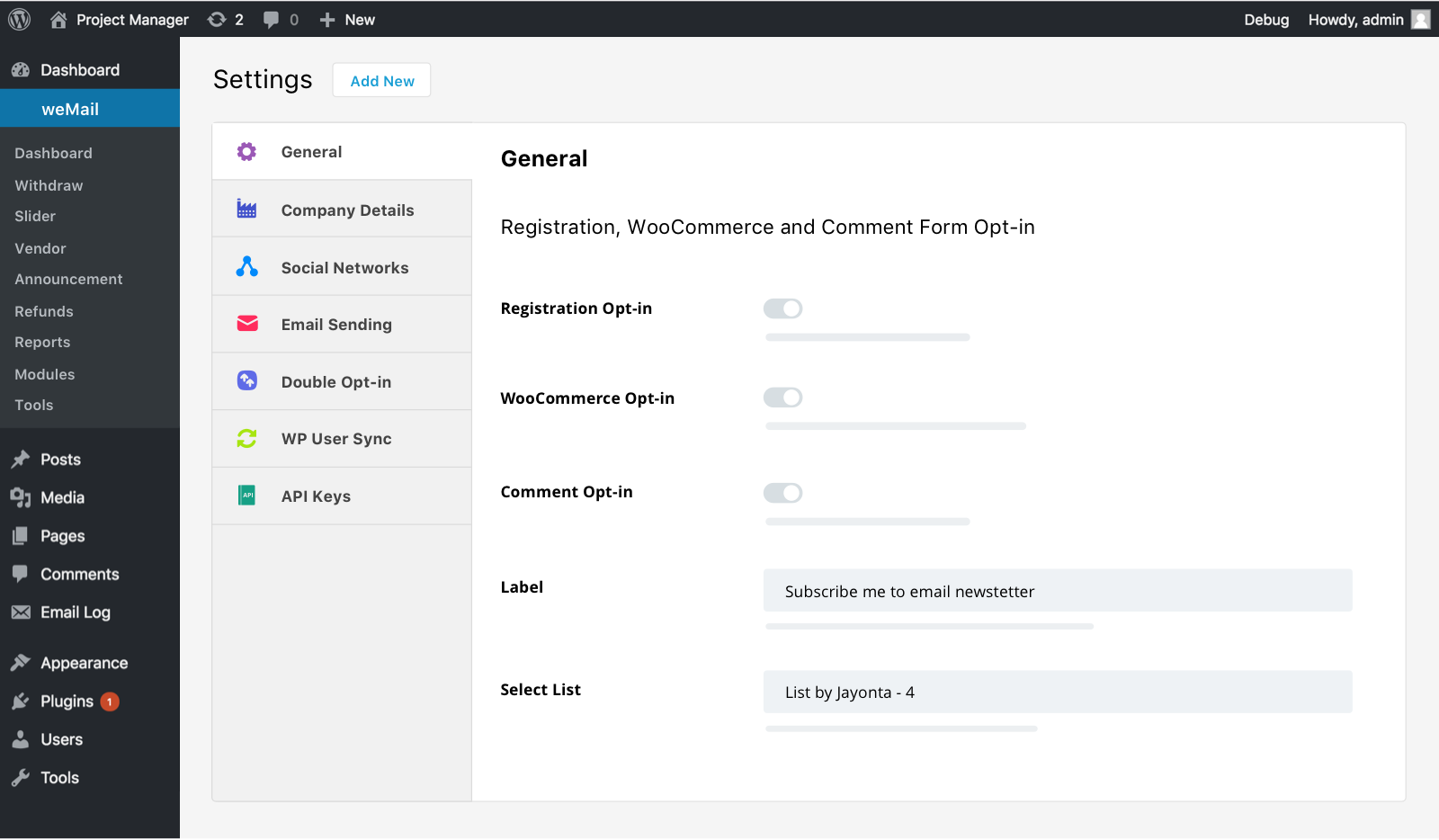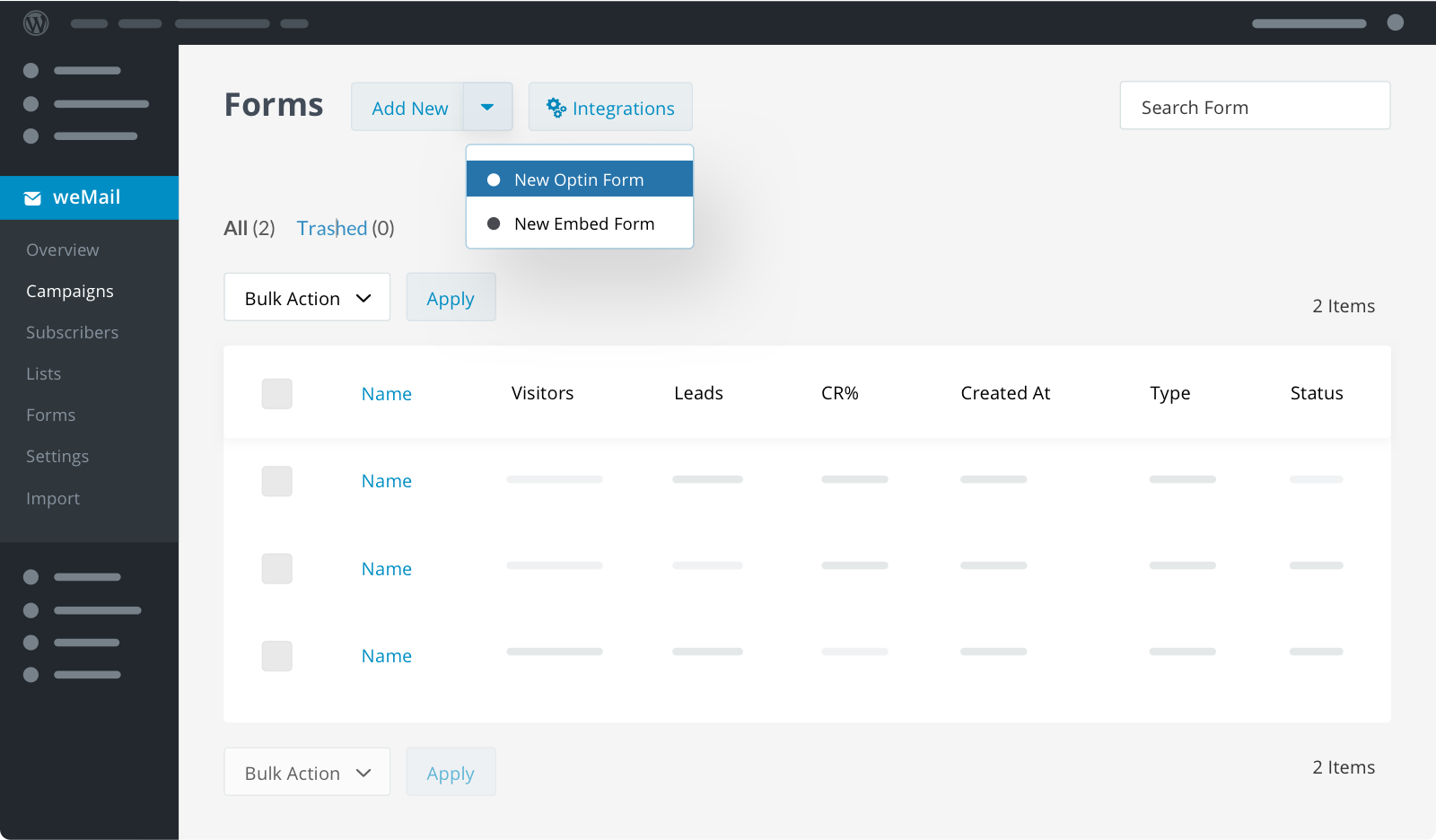 Multiple Form Building Option
Collect email contacts with opt-in or embed forms anywhere on the site
Opt-in Form

Embed From

Contact Form Integration
More Powerful Features
More features to make your life easier
WordPress Integration
WooCommerce
With each WooCommerce store order, you can collect subscribers and put them into an email list
User Registration
Collect subscribers each time anyone register to your website. You can also automate welcome email as well as doubt opt-in to spam check
Comment Opt-in
Collect email addresses from the blog comments and grow your email list easily
WordPress User Sync
Auto import WordPress users to weMail subscribers. Every WordPress user roles will auto-import without manually doing anything
Opt-in Forms
Inline Form
With inline form you can place forms anywhere on the website and get subscribers to any list you assign
Floating Bar
When collecting email addresses is your top priority, floating bar will help you greatly
Slide Up
Use slide up box to collect new emails. You can even control when to show the form depending upon page scroll percentage
Modal
If an email subscriber modal is your preferred way of collecting emails. You can use the Modal box to show the form whenever you like
Custom Fields
HTML custom opt-in forms with custom fields make it easier to reconfigure forms and place it anywhere on the website
Double Opt-in
Double Opt-in
Double opt-in will help you cut down your subscribers' bounce rate
Redirection
Redirect double opt-in emails to any other pages your campaigns require. Page, URL or absolutely no redirection whichever you need
Analytics
24 Hour Digest
Too busy to check emails for campaign activity? Get notified about your email campaigns.
Google Analytics
Use words that will automatically append in the email links to show up in the Google Analytics. For you to track and view for better informed decision
Campaign Overview
Get email campaigns' overview from the overview tab of how many emails are sent & scheduled with what forms and along with the sending statistics
Email Link Click
Links inside email content will auto track how many times they were clicked without setting up third-party trackers. Tracking link clicks is easier than ever
Email List Features
List
Sorting and sending emails to list of contacts is easier than before. Listings, segments, and tags all can be configured for from the get-go
Multiple Lists
You can send email to multiple lists, this way you don't have to create a separate campaign for sending the same email to another list
Segments
Create unlimited segments to cluster your contacts and segment them accurately every time
Tags
Tag contacts for better reference, email contacts make sense when you tag them by their action
Import & Export
Import Contacts
Import email lists from the other email marketing tools to weMail using our built-in import settings. Migration is easy, simple and smooth
Export Contacts
Exporting your email contacts to CSV is just a single click away. Export email lists whenever you need them
Campaigns
Email Campaign
Campaigns can be configured straight from the WordPress dashboard without leaving your website
Standard Campaign
Send emails with standard campaign just as you compose or schedule them for later to connect with your subscribers
Automated Campaign
Send emails automatically with automatic campaign, automate the process without going manual ever again
Template
There's a template for that! You can use our built-in beautiful templates or create custom ones for sending emails.
List Management
Collect Leads
Place weMail's HTML embed form or Opt-in form anywhere on the website and collect leads and add them to email lists without sweat
Automate Email
Welcome new subscribers with automated emails without manually doing it every time
Auto Clean List
weMail will automatically clean list based on bounce emails so that you don't have to keep track manually
Bounce Handling
Bounce handling feature will help you maintain email lists effortlessly without configure it for hard bounce and soft bounce
Start Sending Emails
with weMail
Manage your email marketing campaigns from WordPress
Dashboard with weMail.
Send Email Now