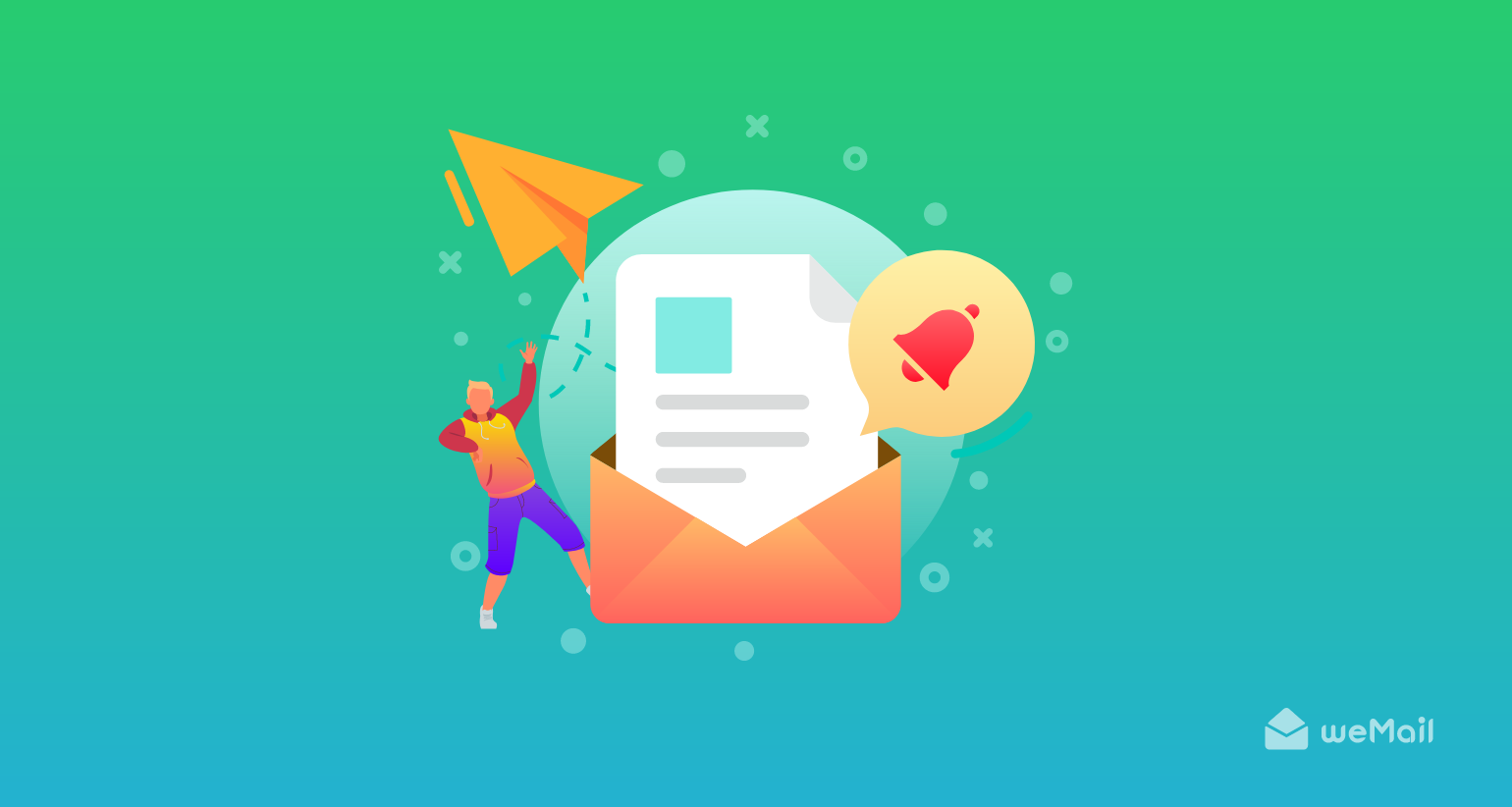 How to Improve Your Email Open Rates
The very first success of your email marketing starts from email open rates. Therefore, it will tell you that either your emails are interacting with people or not.
Though a high ROI makes email marketing the most sought after marketing channels. But it's unlikely that everyone's effort ends up to a good result. The average email open rates vary from 15% to 21% throughout the industries. If you have a lower ratio than that number, you must take the right steps as soon as possible.
Hence, in this article, we will show you a handful of the best ways to improve your email open rates.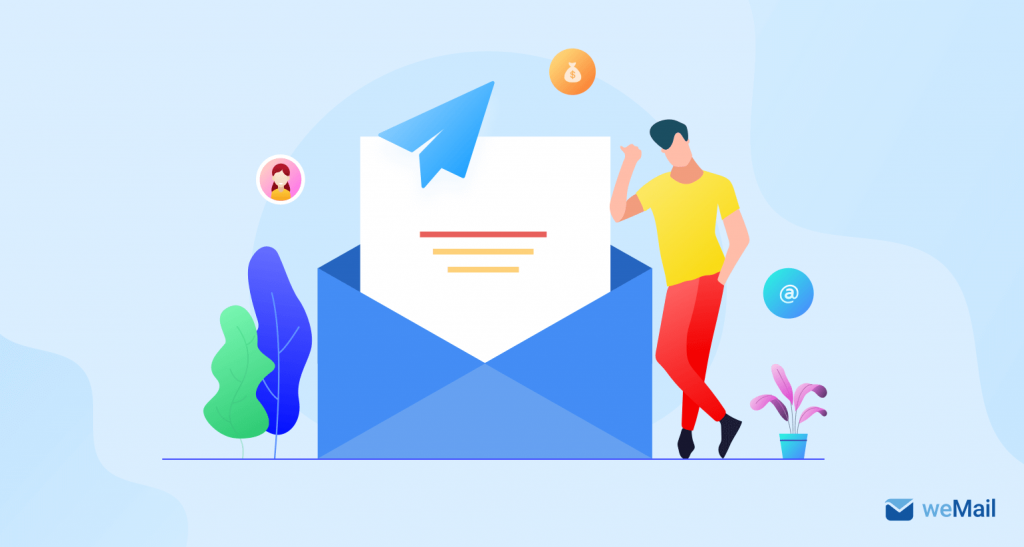 Why a Steady Email Open Rate is Necessary
That which is measured improves.


Karl Pearson
The email open rate lets you know how much the recipient opens your emails for a specific campaign. Nonetheless, it's a crucial measurement. It defines how effectively you've gained the subscriber's attention.
The three major indicators of email marketing success are click-through rate, unsubscribing rate, and conversion rate. All these metrics start from the open rate. Unless your subscribers open what you've sent, everything going to be a letdown.
An email should be providing value to your recipient. This must be reflected in your header and subject line. Only then people going to see what you've to offer, either it's your content or product line. Take a look at this report from Statista, it shows how strategical marketing emails aggregate open rate.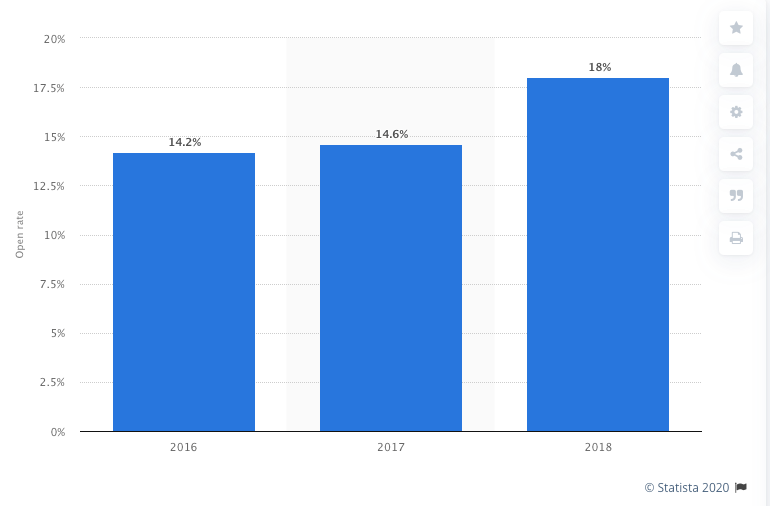 Different industries have different types of customers. Thus the open rate varies. However, to increase your email conversion and user retention, you must be careful from the very beginning. A stable open rate means your email campaign is cruising through the right path.
Top 7 Hacks that Can Boost Your Email Open Rate Now
A lot of ways you may find how to increase email open rates. However, the problem with too many options often causes your decision making clumsy. So here we have hand-picked some of the best hacks. They not only boost your email open rates but also guide you to renovate your email marketing strategy. Let's follow-through.
1. Write A Winning Subject Line
Recipients open your emails by reading the subject line in the first place. That's why you must write a subject line that evokes interest and shows your intention of helping the subscribers. It's unlikely to urge them to open emails rather than put something that turns them to your offers.
One caution here. Many businesses just try to copy other people's subject lines or follow common types of examples. That's not going to help in any case.
For example, take a look at this bad subject line.
Just Checking In.
When your first sales email doesn't get any reply, it's essential to send a follow-up. But this is the worst idea if you just want to check-in. Why should people open your email if they didn't respond to the first one? You should give them a proper reason.
Instead of that one above, you can address a real problem and give a hint to solve it with your product. Well, let's see a good one that has a higher chance to get open.
And, it's not enough to through an attractive, triggered, and valued subject line in your emails. It's A/B testing that's need your precious attention. You must test different types of subject lines and keep them revising and find out the perfect one.
The top three priorities of testing email subject lines are-
Subject Line Length: Which fits better? A short subject line or a longer one? Unless you test it, you never know. Here's what Mike Maden of Marketo finds about the effectiveness of the length of the email subject line.

Personalization: How a personalized subject line positively impact your email open rates? Start testing this issue.
Tone: Which tone fits perfectly with your audience? Is putting a bit of humor will intensify your messages? Try to find out the answers with A/B testing.
There are boundless possibilities. You can add emojis, create scarcity effects, use words that feel more familiar to your subscriber's daily life, etc.
2. Send Right Emails in the Right Time
The number of emails sent and receive each day will reach 306 billion marks by 2020. Out of this huge number, people get an average of 121 emails every day. So you should consider which time should be a perfect catch to grab your subscriber's attention.
To figure out which timing is the best to get your emails open, you must conduct research and split testing. It's not a thing to be solved immediately. Hence, if you continue testing the most productive timing, eventually you will find a way out.
However, Mailchimp shows that there's no single day in a week that has a greater open rate than others. Though, this chart reflects on the days between Monday to Sunday which means Sending emails on a daily basis over the weekdays has the best chances to a higher email open rate.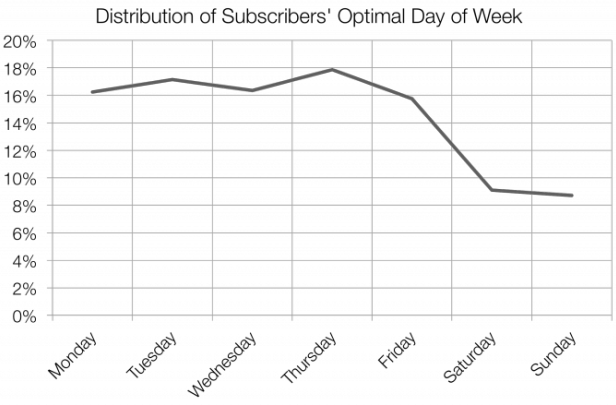 They have also found that the most probable time when people tend to open emails is 10 AM. Usually, it's a time we love to initiate our daily work either in the office or from Homebase.
On the contrary, Coschedule has found Tuesday, Wednesday, and Thursday are the best days of the week to send emails. And, 10 AM, 8 PM, 2 PM, and 6 AM are the best time-frame.
However, following your product and subscriber base, it can be varied. Besides, it's essential to send something that valuable. If you look back to that Mailchimp research, it's the type of your quality content that has more chances to get open if sent with perfect timing.
3. Personalized Emails
Bulk emails are such a waste of time. Even if you sent random emails that are curated and optimized by business goals, they won't make any difference. You must show your subscribers that you personally care for them.
So, it's crucial to write an email to one person. Address people by their first name, and then personally pitch your offer that may grow interests among them.
Emails which have personalized subject line have almost 8% more open rate. As well as personalized emails have an 18% higher open rate than which are not.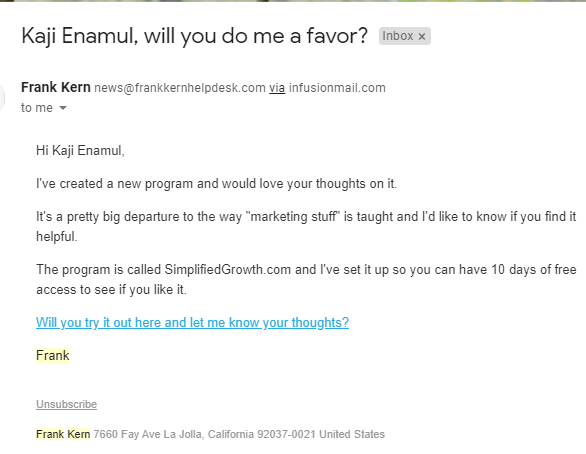 Look at this email and you surely will understand how to connect people with personally crafted emails at ease.
To apply this email open rate hacks, there are a few things you must understand.
Know your niche people, try to think like them.
How are your emails going to add value to their daily life?
Are you really want to solve a problem with your emails?
Well, if answering this question looks easier to you, this hack will surely do magic for your email campaign.
4. Email List Segmentation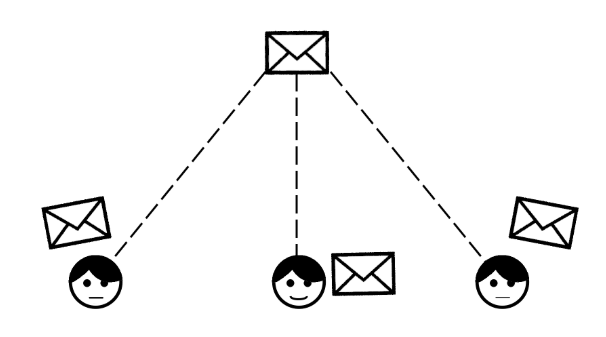 If you compare to any other email marketing tips, an email campaign with a segmented list achieved 14% more open rate nontheless. Segmented and targeted emails generated 58% revenues of most companies.
Well, what exactly is list segmentation? It is breaking up your email list into more targeted and optimized groups. Therefore, when you make a group of small lists rather than sending every type of email to everybody, it will bring you better results.
The possibilities of email list segmentation are limitless. However, you can break your list into the group we are mentioning below. Furthermore, it is recommended to make a list according to your business and customer types.
People with Different Industries and Jobs: It's very likely that if your company has a wide range of products you opt-to maintain different people. Maybe they are working in different companies and departments. You should create an email list following their choice and job functions. For example, you shouldn't approach to an IT expert with a marketing expert in your mind.
Geographical Position: Geographical location changes people, economy, their lifestyles, types of preferences, etc. So where your contact lives it matters. You should take a different approach while sending emails to people living in North Dakota and Mississippi.
Size of the Compay: You may be going to deal with SMEs and large companies for your different products. Hence, they don't react in the same way to your emails. So, curate your emails following the size of your subscriber's company.
Behavior: How your recipients reacting after getting your emails? If they come to visit your website, what are they doing? Behavioral segmentation will depend on your subscriber's reaction and activities. It makes your task easier when you know how people respond to your call aka emails.
Purchase History: Well, it's one of a kind of behavioral approach. Though, how many times an email recipient made purchases let you know their fruitfulness in the future. So, you can make a list according to such subscribers who have made conversion earlier and likely to do the same in the coming days.
Segmenting email list not only improve your email open rate. It also saves your effort and time. Guide you to execute a more curated and strategic email marketing campaign.
5. Be Aware of the Spam Filters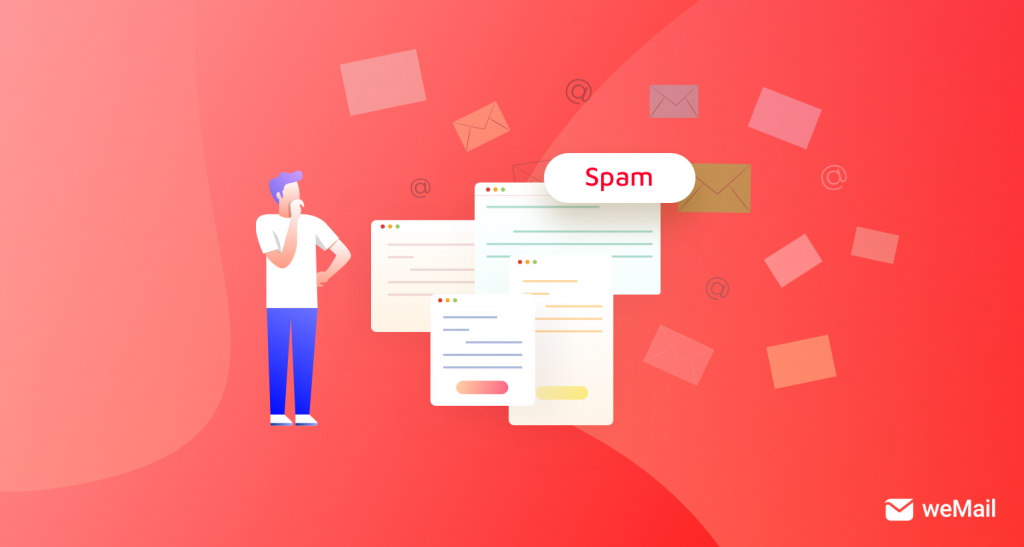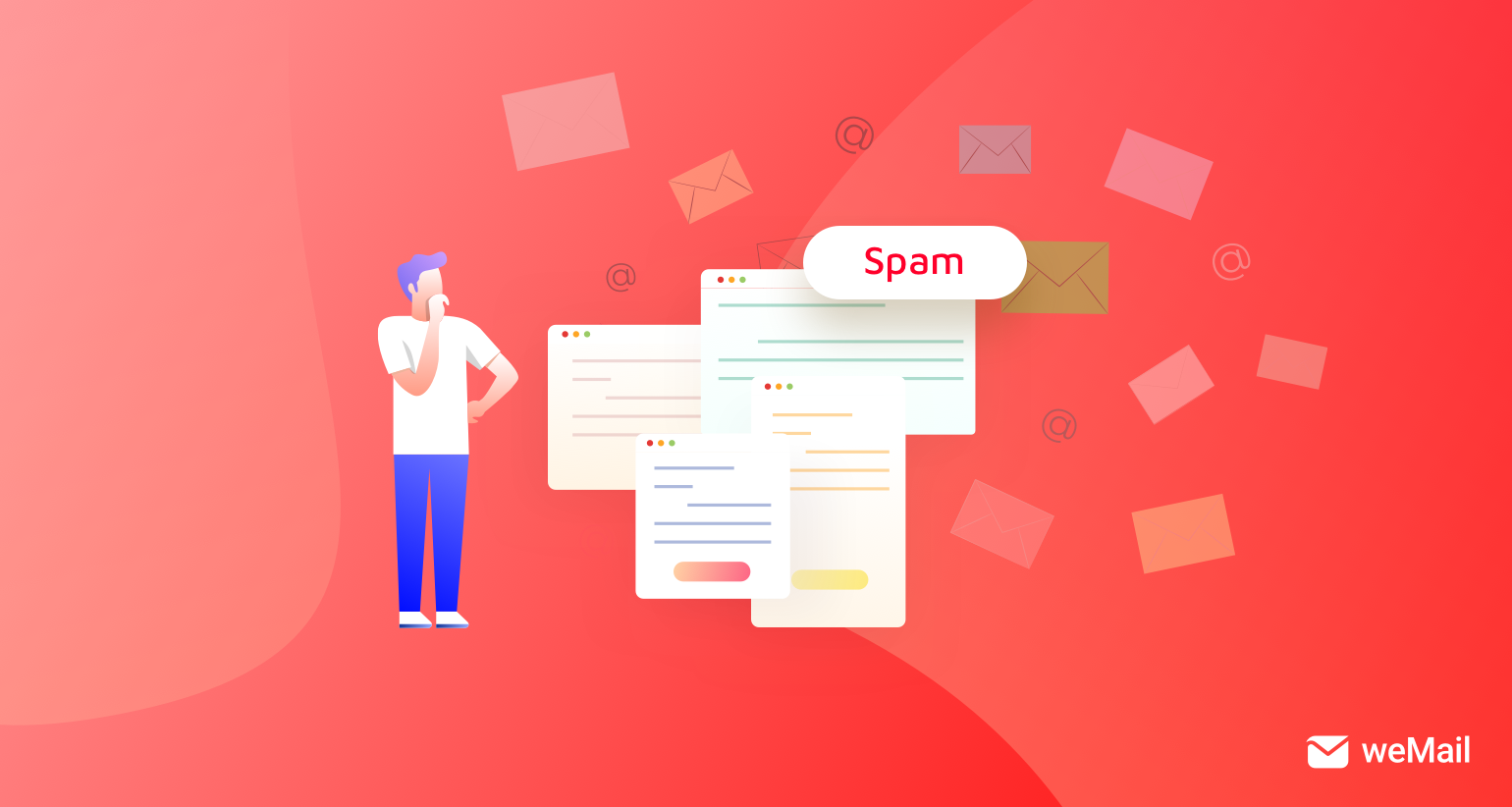 Spam filters are dread alert for your email campaign. Last few years they become in a more powerful stage of effectiveness.
No matter how optimistic your intention and you want to help your subscribers if careless, spam filters going to eat you out. All of your emails may never make it to your subscriber's inboxes if the spam filters catch you first. Thus resulting decrease in your email open rates.
However, you don't need to worry. You can follow a handful of steps to avoid spam filters. Some of them are-
Make sure to free of any technical scratch in your email sending process.
Your recipients must have opted in to receive your emails.
Choose a reliable email service provider
Send emails by using your verified domain name
Utilize a familiar or recognizable user name
Ask subscribers to whitelist your emails and show them how to do it
Never buy a bulk email list
Never use click-bait subject line
Add values
Furthermore, you should keep yourself alert about the latest technologies to avoid spam filters. Keep your code clean. And last but not least put an easy option for your users to opt-out. It will create a good impression.
6. Refresh Your Email List Regularly
You need a clean email list and refresh it frequently. What does that mean? It's for sending emails to the people who really want to receive it.
For example, if you've created a list 6 months ago, things may have changed for a few or a lot of users. Hence, it's crucial to find out your active subscribers. Keep them for the coming days. Then remove the name who remains inactive for a certain period.
However, before removing someone, it's a wise step to sending them last reminders either they like to get emails from you or not. Maybe a special offer, or an engaging copy that makes them think twice about your service, it can be anything.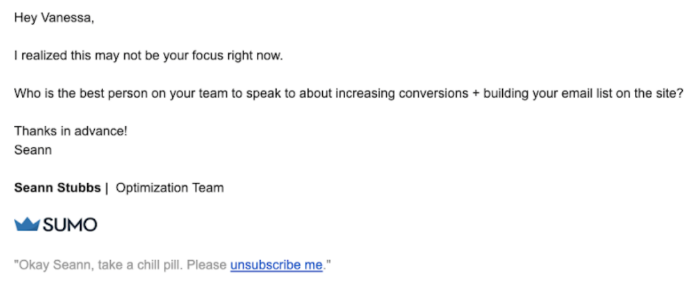 Sometimes it works like magic. Even an idle user becomes an active one through this approach. It's been also called a win-back campaign. So cleaning your list offers two initial gains.
One, they help you to keep an email list full of active uses who respond to your call. Secondly, you can regain the trust of your half-lost subscribers. Considering these advantages, it's a must-have and win-win shot.
7. Use an Engaging Preheader Text

After your "From name" and subject line, Preheader text plays a very important role in improving your email open rates. Though, it's often overlooked. Thus most of the email sending service generates an automated preheader text. Most of the cases, they take the very first line of your email body.
Hence, you must write a preheader text copy that is innovative and engaging. If you are careful enough, it's not a hard task to do.
Besides writing appealing preheader text copy, try to avoid such lines below.
Open this email to know more
Click to learn about the offers
Please whitelist our email
Rather than being motifless or become so gross, follow these tips to create more engaging preheader text.
Give your user's a precise idea or overview
Combine your subject line and preheader text in an elaborate message
Hints about an incentives
Be entertaining, put some fun in your line
Don't make your preheader text overlong
Remember that, almost 35% of email users said they open an email by seeing the subject line only. And, preheader texts are integral parts of every email you sent.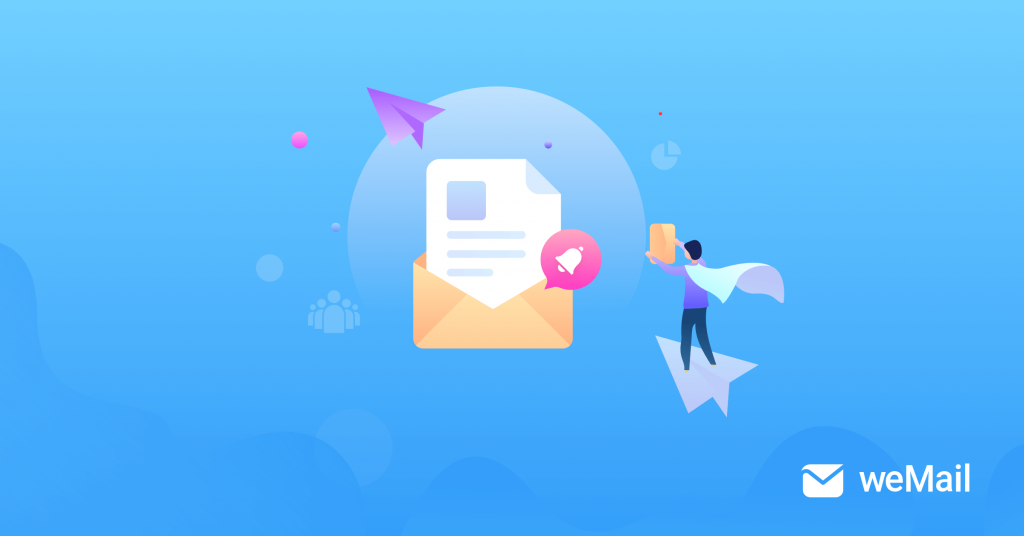 Final Thoughts
We've said this in the beginning. Email marketing has immense possibilities. Therefore it has unlimited hacks. Email marketers are renovating their strategies and keep inventing new methods every now and then.
One particular note. To run a more result-driven campaign, an email automation platform like weMail can always make you stronger.
We believe our recommended tips will surely improve your email open rates if followed properly. Furthermore, we always encourage you to continue and invent your very own hacks that can set milestones for others.
So, what do you think? Which tips sound most helpful to you?
Subscribe To Our Newsletter
Don't miss any updates of our new templates and extensions
and all the astonishing offers we bring for you.