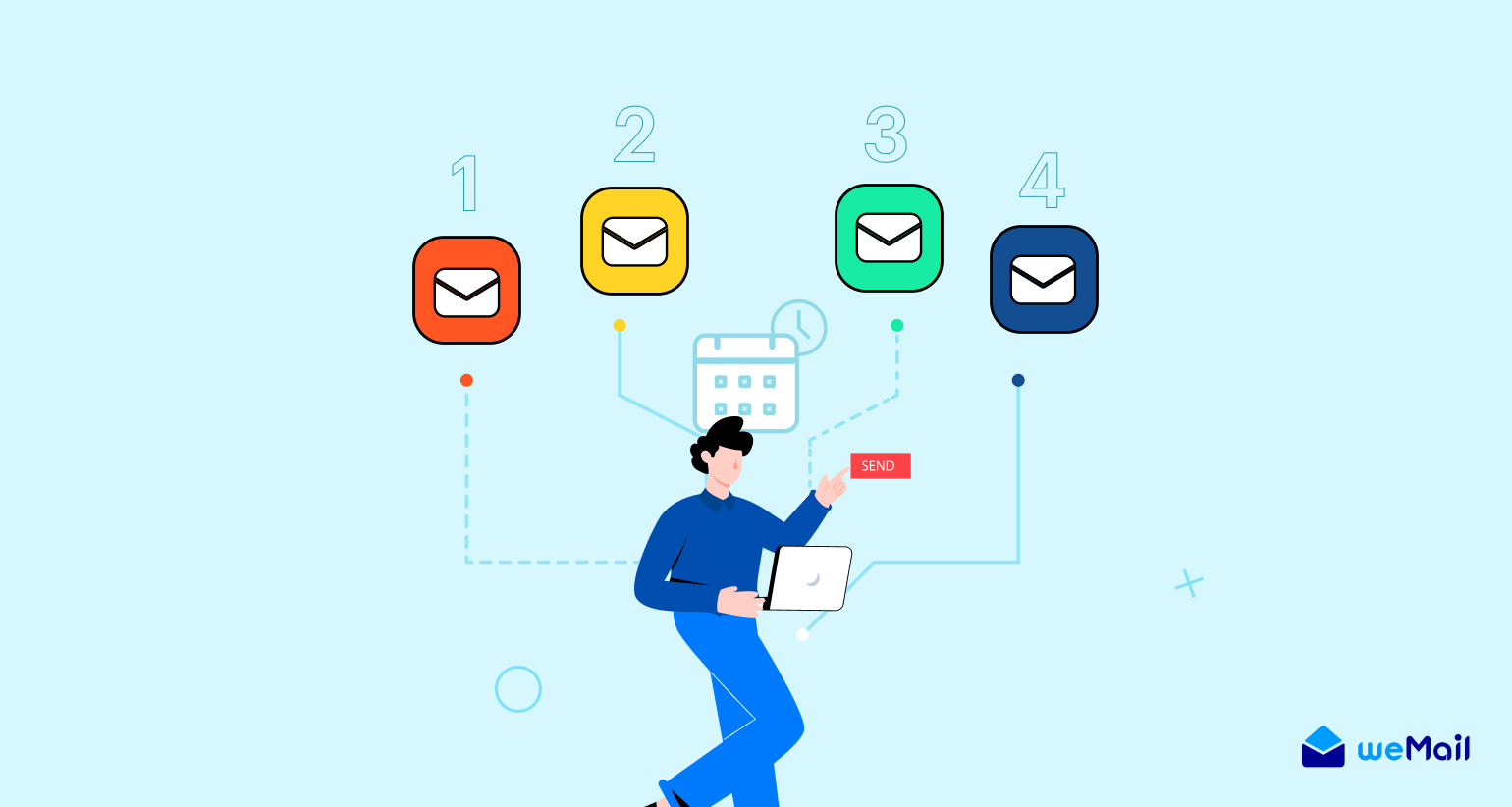 A Guide to Email Cadence: How Often Should You Send Email Marketing Campaign
Sending emails at the right time to the right subscribers, that's what they say about every successful email conversion. But are there any short-cut ways to find the perfect timing? The best way to know that is by practicing a better-sending frequency or email cadence.
Is it good to send too many emails or too less? That depends. If you can sort out the exact email cadence, the rest would be easier. It depends on your subscribers, products, and how you want to nurture them. But is there any ideal email-sending frequency?
In this article, we will be showing you all about email cadence, best practices, and more. Keep reading.
Table of Contents
What is Email Cadence
Email cadence means email sending time and frequency. It can be varied by different users. So, your email cadence could be different than your competitors or fellow marketers.
Say, you have an active email list. Then you create a strategy and set an order and timing to send this email and hit the right cord so that your email can make conversions. This strategic email-sending frequency is called email cadence.
Practically, you can't send emails randomly. If your email cadence is not up to the mark, aimless, or inconsistent, all your effort may go in vain.
So, it's one of your first jobs before sending – learn how to set the best email cadence and follow-through.
Why Maintain a Strategic Frequency Before Sending Email
347 billion emails have sent and received in 2023. And this number will be close to 400 billion by the end of 2026. On average, an individual may get 100 to 120 emails per day.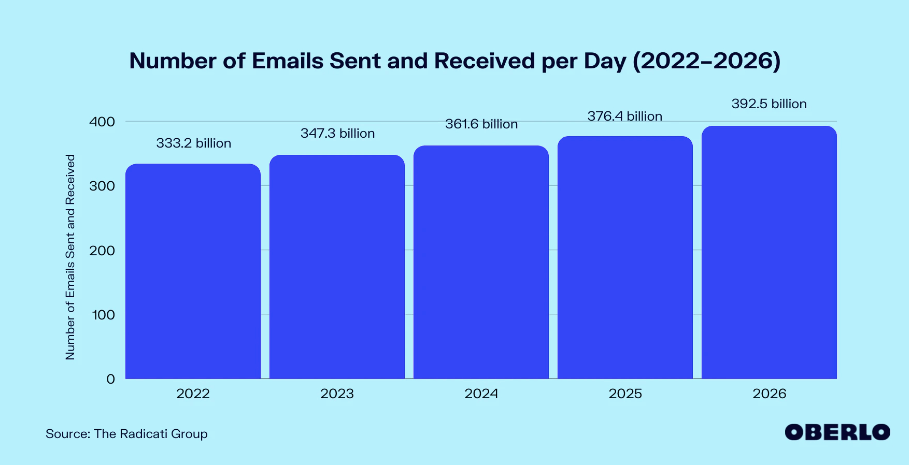 The numbers are huge, so you must do something extraordinary to crack your spot to convert the subscribers.
However, most of the emails tend to be spam, irrelevant, or not tailored for the target audience. So, it works only for marketers who are smart, data-driven in decision-making, and strategic.
Many email campaign fails only because they don't have proper strategies. If you send it randomly, and a user received your email at the wrong moment, it wouldn't work.
Also, if you don't have any idea which types of email they love to receive, how many emails they like to receive from you, and yes, at what time of the day – the whole thing would be going nowhere.
Here are some of the prime reasons for maintaining a better email cadence –
Sending too many emails can be annoying to your subscribers. And it will lead people to leave your list.
If you send too less emails or follow an infrequent pattern of sending, your customer will also lose interest in you.
A better frequency helps you to maintain a timely and relevant user engagement. Eventually, that leads to sustainable email marketing success.
Best Email Marketing Frequencies According to Recent Data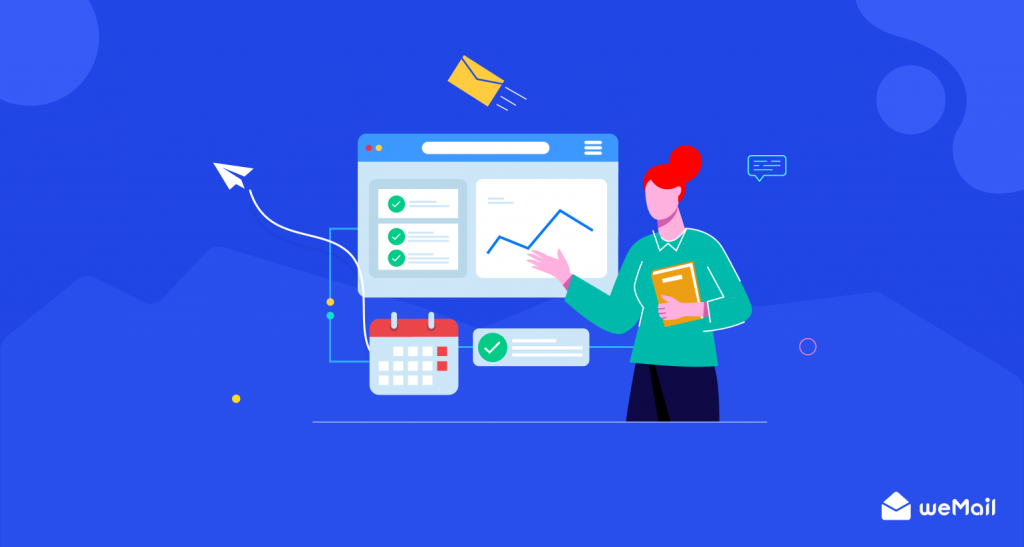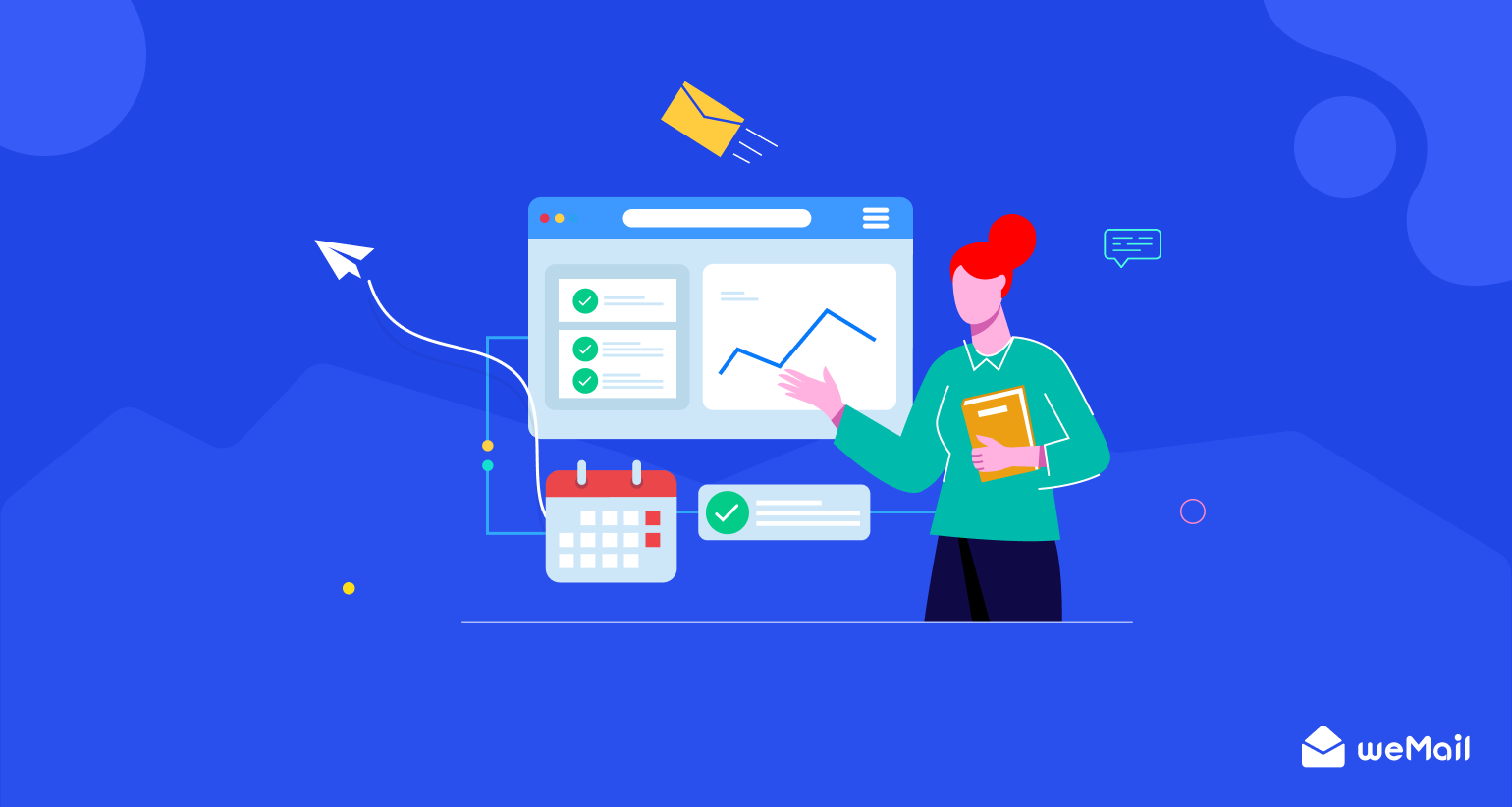 We've looked through in-hand data from the weMail database. Also, our team of experts analyzed the available research and surveys conducted by top companies and marketing agencies.
Here's what we've learned about email marketing frequencies from those data – say no to any fixed strategy. You need to keep your playbook open and dynamic so that the changing 'time and order' only help your email engagement alive and healthy.
Well, Hubspot conducted a survey on 300 marketers. 95% of those marketers responded positively to email marketing. In that same survey, the crucial findings about email marketing frequencies are given below –
Emails achieve the most engagement: Monday, Tuesday, and Wednesday
The best days to send marketing emails: Tuesday and Monday. The time is from 9 AM to 12 PM.
Bad days for sending emails: Friday, Saturday, and Sunday. These are the worst performed day for any type of email.
Besides that, Mailerlite found businesses that sent several emails per week got a 4.66% lesser email engagement than those who sent emails on a monthly basis (A couple of emails each month).
In regard to B2C and B2B companies, DMY Insights found a study that shows sending 2-3 emails per month is good for B2C marketers. On the other hand, the best email-sending frequency for B2B marketers is sending 1-3 emails per month.
As the email open rate became a less important metric after the launch of Apple's MPP (Mail Protection Protocol), click-through rate is still one of the major email KPIs. According to Campaign Monitor, businesses that sent 1-4 emails per week got a CTR of 4%, while for those who sent 5-7 emails per week, the CTR is 3%.
All of the aforementioned info and stats indicate one simple thing: email cadence is an undeniable part of your email strategy. To find the best email marketing frequency for your email campaigns, you must follow some proven best practices.
7 Email Cadence Best Practices to Follow Now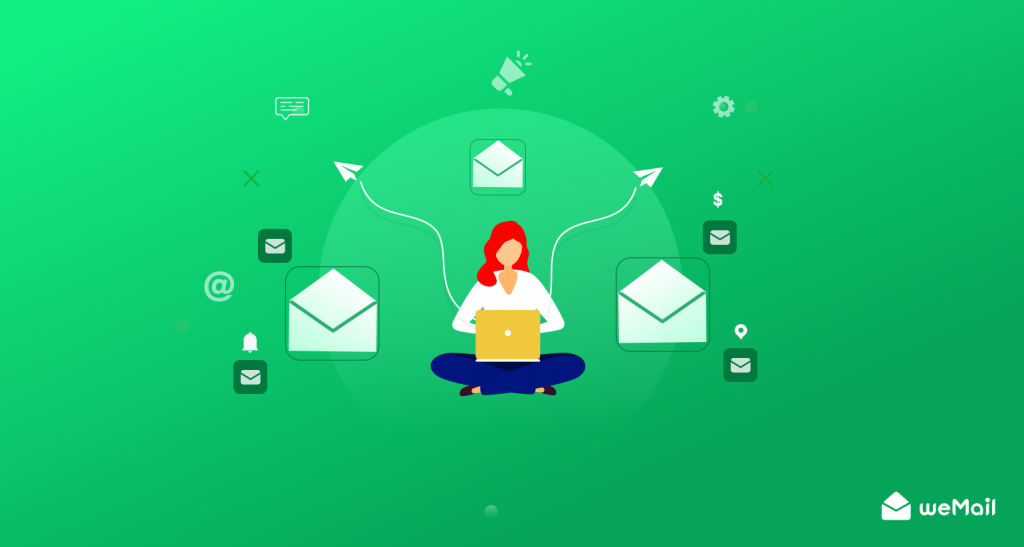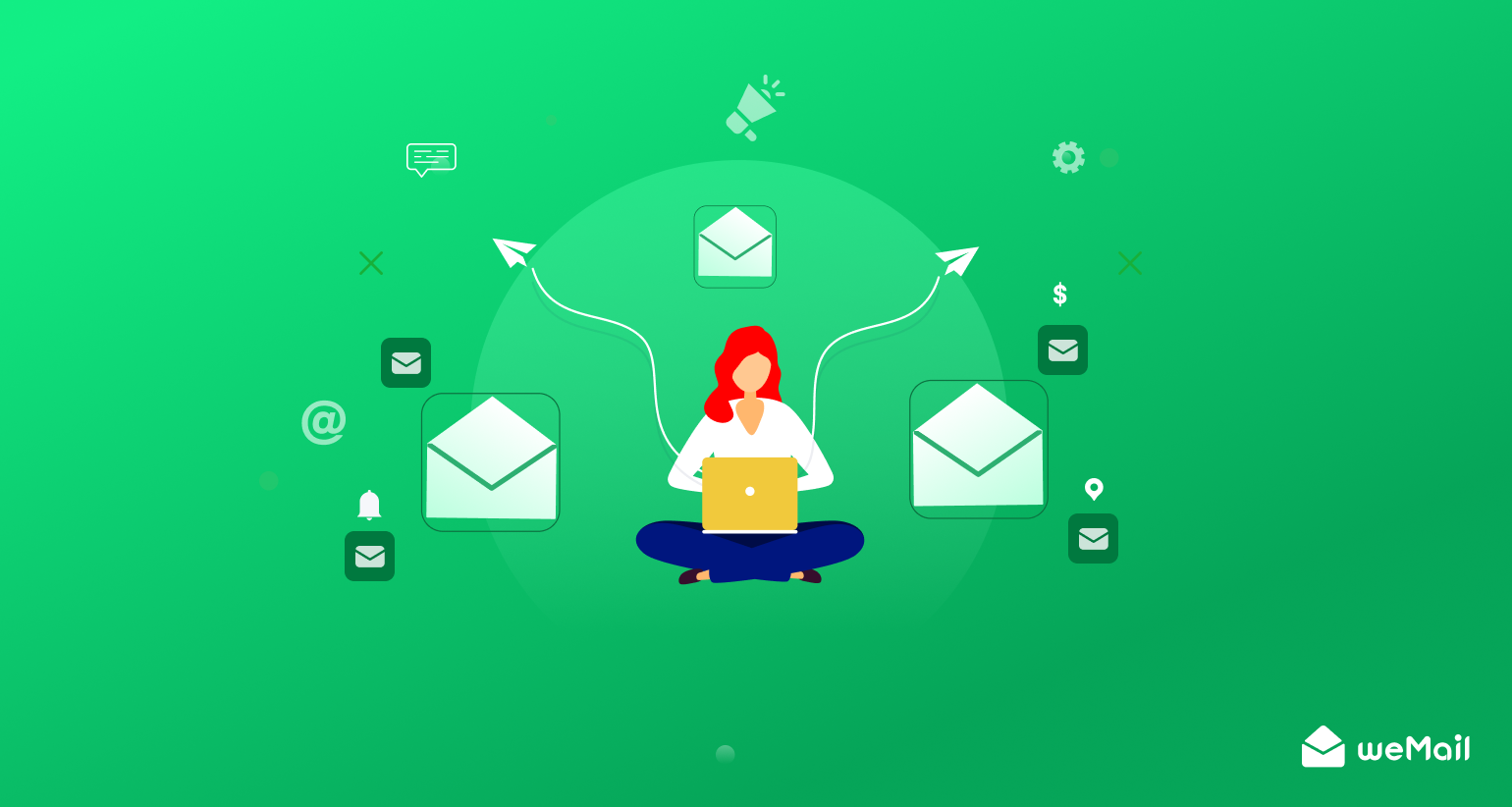 Now, let's take a look at some of the email cadence best practices. If you follow them closely, we believe it will be easier to discover a suitable sending frequency for your email marketing campaigns.
1. Set a Goal for Your Email Marketing
You need a clear goal before setting up an email cadence. You must know what you want to achieve from your email marketing.
For example, if you want to send newsletters, then your goal should be sending new blogs and feature updates whenever you got something good in your hand. And, those newsletter subscribers also expect you to send a weekly or monthly newsletter. This will keep your relationship fruitful.
Suppose, you want your subscribers to purchase something. Then you need to pursue them with lead-nurturing emails until the conversion is made.
Simply put, there are many things you can accomplish with your emails like the following –
Drive your website traffic
Increase eCommerce sales
Educate your subscribers about a product, etc
All, you need to do first is to set your goals. When you know what you want to get through your emails, sorting out a good sending frequency is only a matter of time.
2. Understanding Your Customer's Mindset
'Once size fits for all' is a big 'no' in email cadence. Your game here is to understand the customer. Then try to inspire them to comply. That means you need to comprehend the different stages of a customer journey and send different emails based on their situations.
Commonly, there are three stages in a customer's journey – awareness, considerations, and decisions. If you send the same emails regardless of these stages there's a risk your subscriber will think you don't know them well, and send irrelevant emails.
Suppose, you send a random welcome email, and some people who already subscribed to your newsletter also get this same welcome email, the scenario would be annoying.
Along with sending emails following different customer journeys, you need to understand what they are thinking, how they react to your earlier emails, and whether they are feeling OK with your email subscription.
If you can comprehend all of this about your customer's mindset, the rest will be easier to set up a healthy email cadence.
3. Set Expectations at the Beginning
One of the best ways to learn subscribers' minds is to directly ask them what they want. In your welcome email, you can set the expectation by asking this question – 'how many emails do you want to receive this month?'
Or there is a smart approach many brands follow. You can tell subscribers which types of emails they are getting right now, and give them the option to choose their desired email frequency.
Take a look at this Spotify email –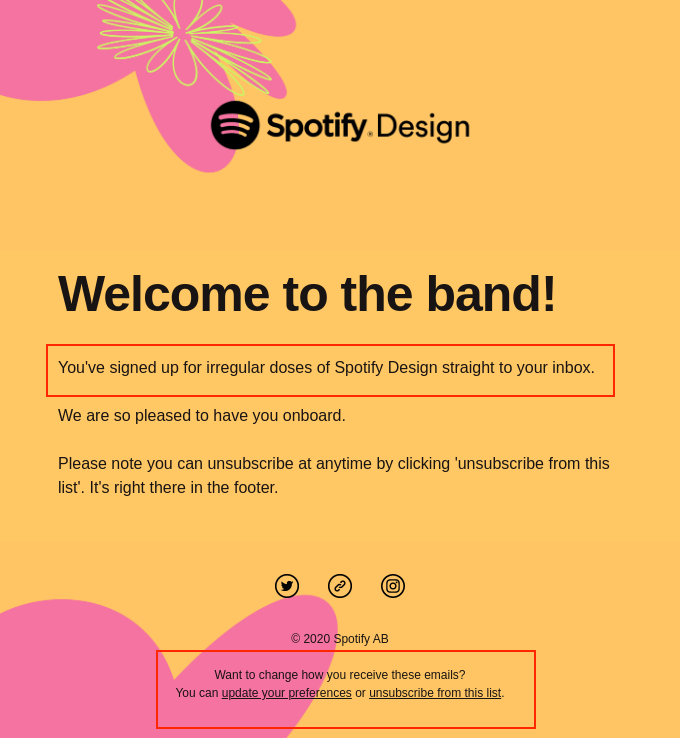 Here, they told their user – you will be getting emails on an irregular basis.
Also, they added an option like this – you can update your preferences at the bottom of the email.
This could be a winning best practice to learn about your user interests.
4. Go for Subscriber Segmentation
Segmentation is beneficial for both marketers and customers. Data told us, segmented email marketing can generate a 27% more click-through rate and 3-5% more sales (Wigzo).
While thinking about email cadence, subscriber segmentation can play a significant role too. It will let you send more accurate emails to people who are really interested to get that in time.
How to get started with that? You can easily create different email lists based on varied user interests.
You can collect the data by directly asking them, by examining their action or activities on your website, and from their earlier purchase or subscription history, etc. And, when you have these sets of data, create a different email list and start sending.
If you are using weMail, creating lists segmentation following different user groups is simple. You need to go to your email lists option from the weMail dashboard. Select a list. And, create a new list from it by selecting different segments or user preferences like this –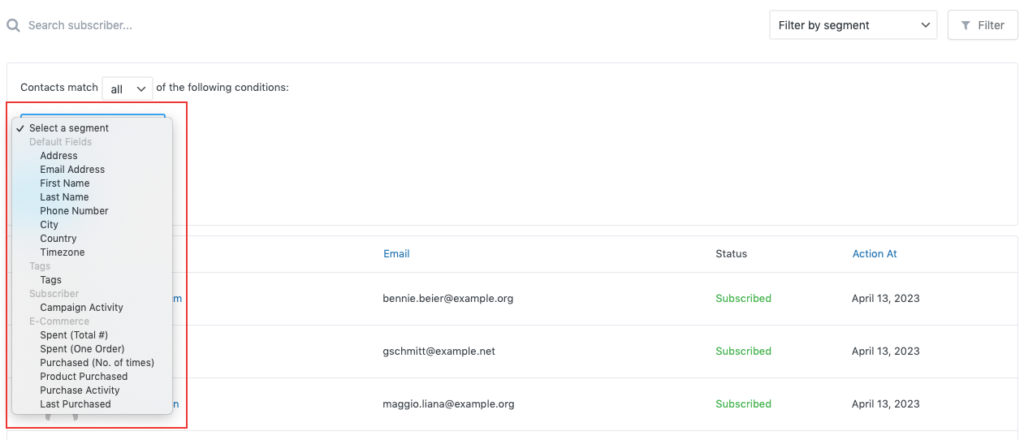 Automation brought new life to segmentation. And, you can easily send segmented emails to your subscribers with the powerful automation features of weMail.
5. Personalize is Still a Big Key
We are living in a hyper-personalized age. Personalization getting more intense day by day. So, in your email, if you address a user by their name, or write something like – 'dear valued customer', it just going to cut it anymore.
You need to understand the newer dimension of personalization. It is necessary to personalize your email copy, subject lines, CTAs, and even header texts.
Here's one of the simplest examples of a highly personalized email –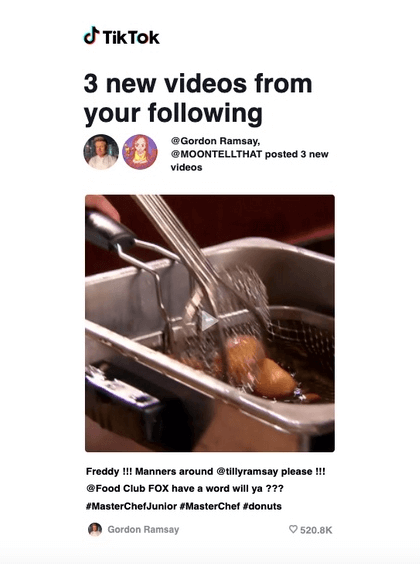 This Tiktok email analyzed the daily user data and sends new videos link posted by the people this user follows particularly. It will not only keep the email interaction, but it can also bring the user instantly to the reels.
How do these types of personalization help your email cadence? Personalized emails got more CTR, and it will be easier to learn from people who actively open your email all the time. You can easily understand when they are more active or not.
6. Create Your Email Cadence with the Right Frequency
Is there any way you can fix a perfect email cadence? The answer is simple – you can try, and stay close to doing better. And, yes, improvise your timing.
All you can do is follow the needful steps carefully, understand the different user groups in your email list, set your goal, and create an email cadence based on real data.
One of the best ways to sort out the best email frequency is to analyze how the top brands send emails to their subscribers. Then you must analyze the very recent average email frequency stats (like we have shown above). Then you can take your time, and create a strategic email cadence to win over your customer.
7. Saying Thank You with Rewards and Incentives
Last, but not the least, you can't leave your subscribers always empty-handed. Even after you made a conversion, and retain that customer for a long time – showing your gratitude only takes your user relationship to new heights.
So, you can occasionally send thank you emails. You can send them souvenirs following your anniversary or any festivities. If that feels difficult, giving incentives were never been easier.
A loyal customer base only helps you with higher email engagement, and whenever you asked for data or any personalized information, they tend to comply with less hesitation.
Final Thoughts on Email Cadens
Before closing up, we want to share some further tips on email marketing frequency aka email cadence. Have a look –
To keep your email entertaining, try to send varied email content to your subscribers
Subject lines are crucial in email marketing. Try to be creative and interactive while writing subject lines
Never forget to include several CTAs (Call-to-action)
A/B tests everything – subject lines, email body copy, preheader texts, and overall your sending frequencies.
Don't be shy to ask any questions to your subscribers
While your game is playing smart, don't be too aggressive while pitching the offer
Well, that's all. We believe you are now ready to create a unique and effective email sending 'time-table' for your subscribers.
Subscribe To Our Newsletter
Don't miss any updates of our new templates and extensions
and all the astonishing offers we bring for you.