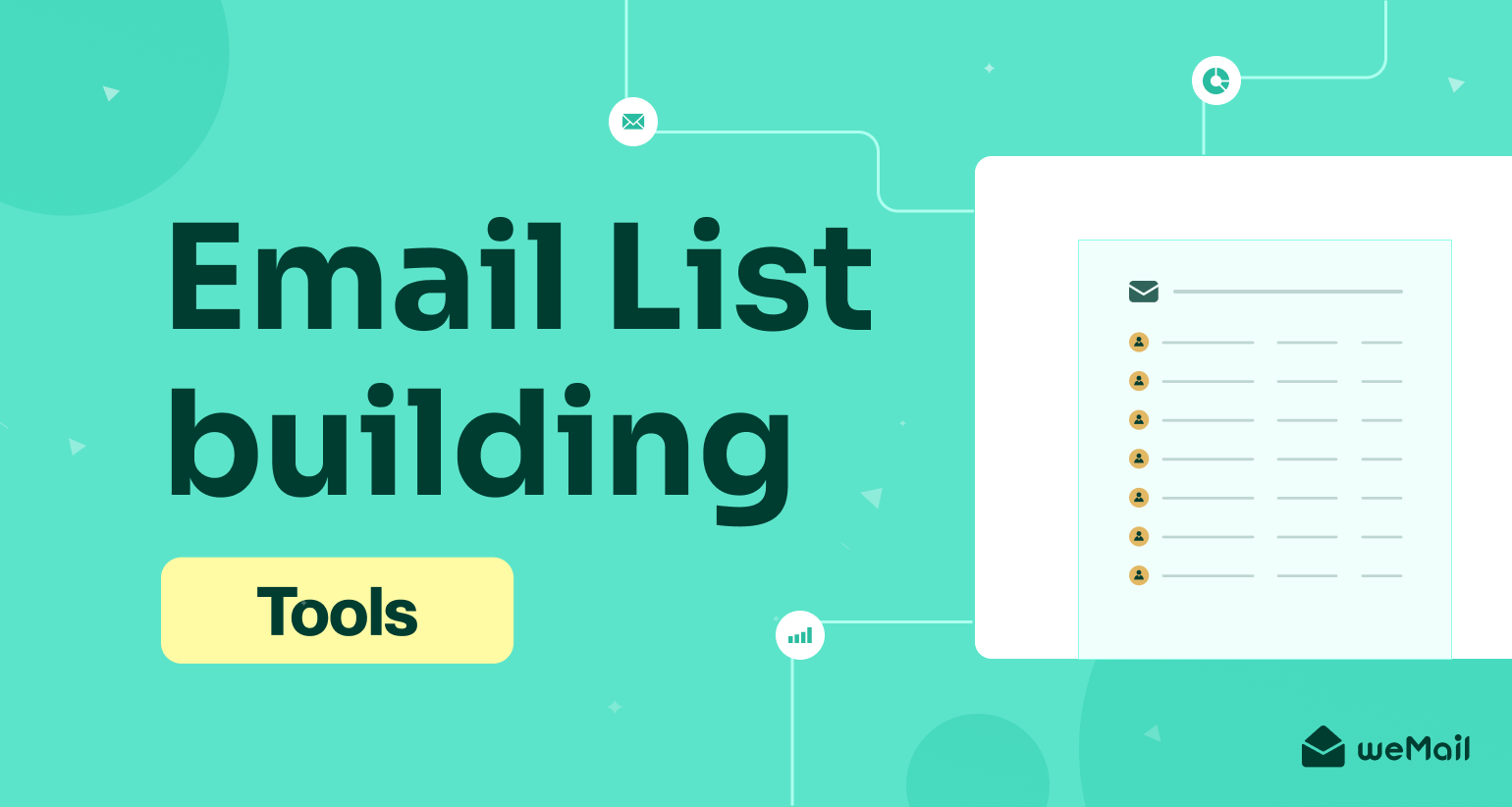 15 Best Email List-building Tools You Need to Grow a Robust List
Building and nurturing an email list is crucial for the success of any business or online venture. But how do we do it? You need a reliable email list-building tool to get off the ground efficiently. A robust tool is essential for capturing and managing leads effectively.
This blog will explore the top 15 high-performing email list-building tools. We will also provide pricing information to help you make an informed decision for your email marketing strategy.
Let's dive in and get more information about the 15 Best email list-building tools with pricing. You are going to learn about the following tools –
1. weMail
weMail is a comprehensive email marketing plugin for WordPress that simplifies the process of list building and email campaign management.
With weMail, users can effortlessly create and manage email lists directly within their WordPress websites. This tool has an easy-to-use interface. It also has several features to make email marketing more efficient. For example, users can import lists from other email marketing programs.
Top Features
weMail provides a great feature called the Multiple Email Sending Gateway. This allows users to switch their gateway anytime, even during a task.
Integrating WordPress is easy. Automatically import users and convert customers. You can embed HTML code anywhere to create a smooth email list-building experience.
You can design with Multiple Form Building Options. It visually appealing opt-in forms using pre-built templates or customize them to match your website's branding and style.
Analytics and Reporting offer insight into your email campaigns. It tracks performance and helps you optimize your strategies. In-depth analytics and reporting features provide valuable feedback.
Could you integrate your webmail with popular third-party services like WooCommerce and Zapier? This will enable you to improve your email marketing performance.
In short, weMail seamlessly integrates with WordPress, offering affordable pricing compared to other tools. It simplifies user import and management and enables converting store customers into subscribers.
However, it works exclusively as a WordPress plugin and lacks independence as an email platform.
Price
weMail's free plan provides extensive features, surpassing other offerings in the market. With its premium version priced at just $5, users gain access to unlimited email-sending capabilities and a wide range of additional features.
2. Mailchimp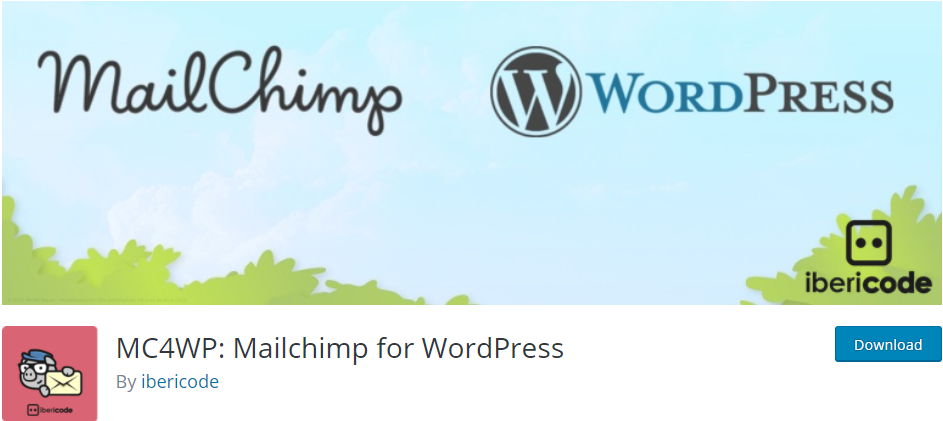 Mailchimp is a popular email list-building and marketing tool. It has an all-in-one solution to help you expand your email lists. With unlimited free sign-up forms, it makes it easy to grow your lists.
Top Features
With Email Marketing Automation, you can set up automated email sequences based on triggers or actions.
You can choose from various templates or create your template by customizing them.
Mailchimp offers Audience Segmentation; you can target specific groups with personalized content.
Experiment with different campaign elements for optimization by A/B testing.
You can Integrate with third-Party platforms and connect Mailchimp with other tools and services.
Gain insights into email campaign performance by Analytics and Reporting
Manage ad campaigns within Mailchimp through Social Media ad integrations.
Mailchimp stands out with its user-friendly interface and a wide range of email marketing features. It offers seamless integration options and robust analytics for tracking campaign performance.
On the downside, the cost increases for more extensive lists, and the free plan has limited automation capabilities, while advanced features may have a learning curve.
Price ​​
Mailchimp offers a range of plans, including a Free plan with limited features. They also have three paid plans: Essentials, Standard, and Premium, starting from $3 to $87 per month. These plans provide access to additional features and functionality to meet varying business needs and budgets.
3. Brevo ( Formerly Send in Blue)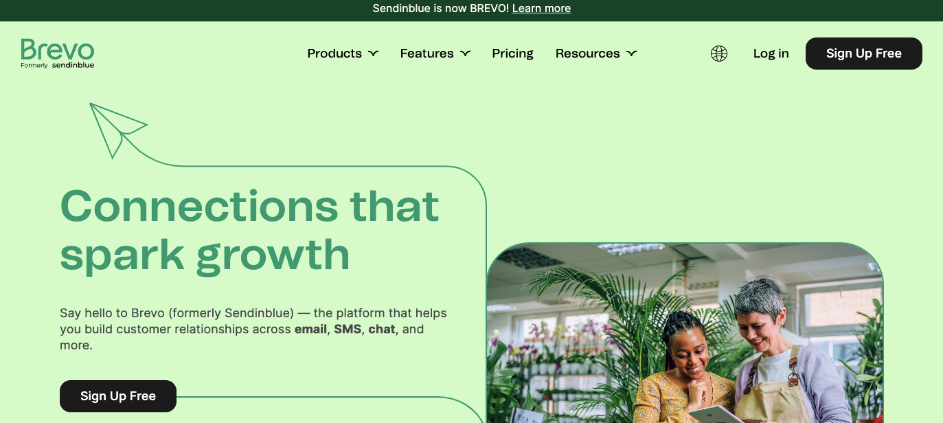 Brevo (formerly Sendinblue) is a comprehensive CRM suite that offers an advanced email marketing solution with easy-to-use list-building features. It empowers small businesses to expand their audience using straightforward yet effective tools.
Top Features
Easy-to-use form and landing page builders with drag-and-drop functionality
Double opt-in subscription workflows and GDPR-compliant subscriber management
Multilist subscriptions for managing different channels (email, SMS, push notifications, WhatsApp)
Integrated CRM system for streamlined customer relationship management
Powerful automation workflows with visual flow builder and if/then logic
Comprehensive email marketing features including personalization, A/B testing, analytics, and heat maps
To add some information, Brevo offers easy-to-use builders, versatile multichannel subscriptions, and powerful automation.
However, multichannel management has a learning curve, limited customization options, and potential complexity.
Price
Brevo offers multiple plans to cater to different needs, including a Free plan with limited features. They also have two paid plans: Starter and Business, priced at $25 and $65 respectively. Additionally, they offer Brevo Plus, a customizable plan designed to meet specific client requirements.
4. Sender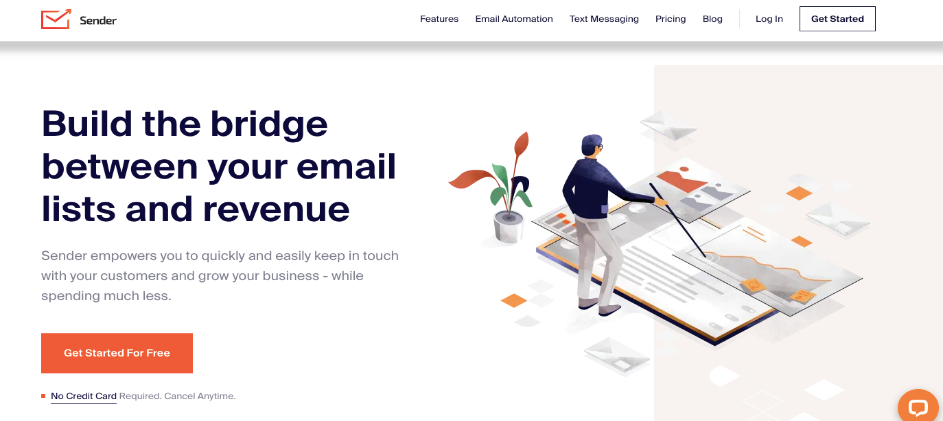 'Sender' is an email marketing platform designed to be user-friendly and functional. Its interface is simple yet powerful. Easily connect your Magento, WooCommerce, WordPress, PrestaShop, or other platforms to our integrations and send effective newsletters to grow your business.
Top Features
Sender offers high email deliverability. Their infrastructure ensures reliable email delivery rates.
Automation is made easy with Sender's streamlined marketing features.
Create and customize campaigns effortlessly with Sender's easy-to-use interface and drag-and-drop functionality.
Sender provides dedicated support to assist you promptly and effectively.
Choose from a variety of visually appealing templates or design your own with Sender's beautiful templates.
Personalize your messages with Sender to engage customers and drive revenue.
Gain valuable insights into campaign performance for optimization with Sender's advanced analytics.
In short, Sender offers high deliverability, a user-friendly interface, beautiful templates, easy automation, and advanced analytics.
But you must know there are some learning curves for advanced features, limited customization, complexity with automation, and potential integrations needed. Dedicated support is available.
Price
Sender provides various plans to accommodate different needs, including a Free plan with limited features. They also offer two paid plans: Standard and Professional, priced at $9 and $30, respectively. Additionally, they have an Enterprise plan available for custom pricing, tailored to meet clients' specific requirements.
5. Thrive Leads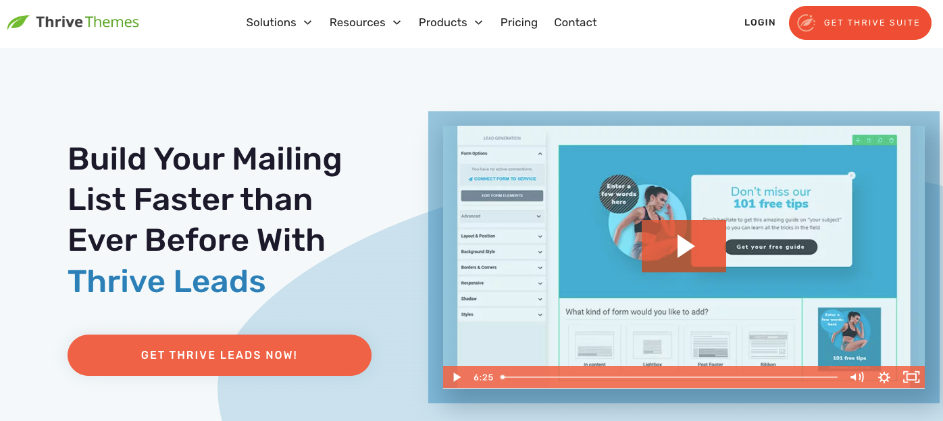 Thrive Leads is a useful plugin for WordPress that helps you build a list of email addresses. It was created by a team of experts who excel at getting people to take action. With Thrive Leads, you can quickly build your email list and boost your conversion rates.
Top Features
An unblockable popup that grabs attention.
A fixed form is at the top of the screen for easy access.
Opt-in forms are automatically added to posts or anywhere using a shortcode.
Create a two-step signup process with buttons or links.
A non-intrusive form that slides into view from the corner.
Easily add an opt-in form to your sidebar or any widget area.
A fullscreen opt-in form that demands attention.
Unlock exclusive content by signing up.
An offer appears from the top and pushes the content down.
You can engage visitors with interactive forms.
In short, Thrive Leads offers attention-grabbing opt-in forms, seamless WordPress integration, and detailed analytics. It provides advanced targeting and A/B testing.
However, it requires WordPress, has a learning curve for certain features, limited design customization, and interface complexity. Resource consumption may be a concern for high-traffic websites.
Price
Thrive Leads offers a comprehensive package of themes and facilities priced at $299.
6. Optimonk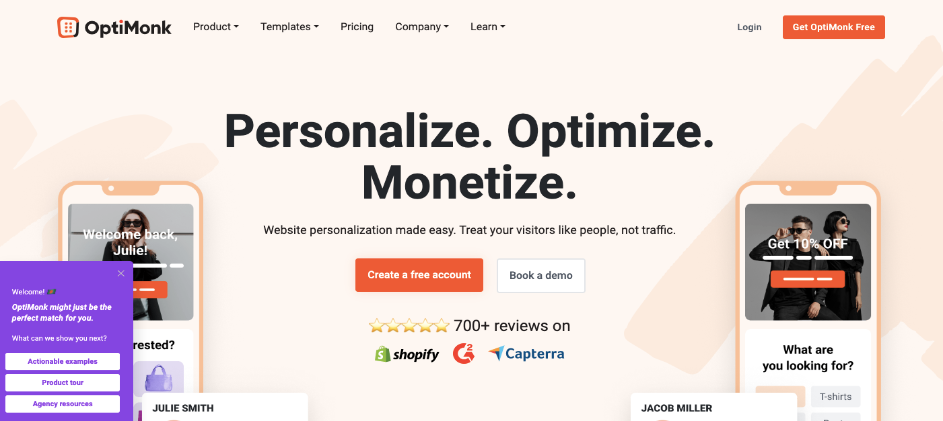 It is a popular Email Marketing tool that has worked with over 3000 e-commerce sites, including market-leading ones. With Optimonk, you can recover 15% of visitors who abandon your site by using on-site retargeting.
This tool tracks visitor behavior, identifies returning visitors, shows personalized offers, and improves conversion rates.
Top Features
Convert early-stage visitors into leads by capturing their contact information.
Gather valuable customer insights by collecting feedback from website visitors.
Prevent cart abandonment by presenting a secondary offer to visitors leaving their carts.
Promote special offers to turn website visitors into buyers by showcasing top deals.
Guide visitors to find the best offers or products for their needs.
Increase average order value (AOV) by upselling and cross-selling through personalized product recommendations.
In short, 'Optimonk' helps build lead lists, improves website experience, reduces cart abandonment, boosts sales, guides visitors, and increases order value.
However, proactive lead generation is required, feedback may need more actionable insights, and some visitors may miss secondary offers.
Price
OptiMonk offers Free, Essential ($39/mo), Growth ($99/mo), and Premium ($249/mo) plans. Customizable Master plan available.
7. kyLeads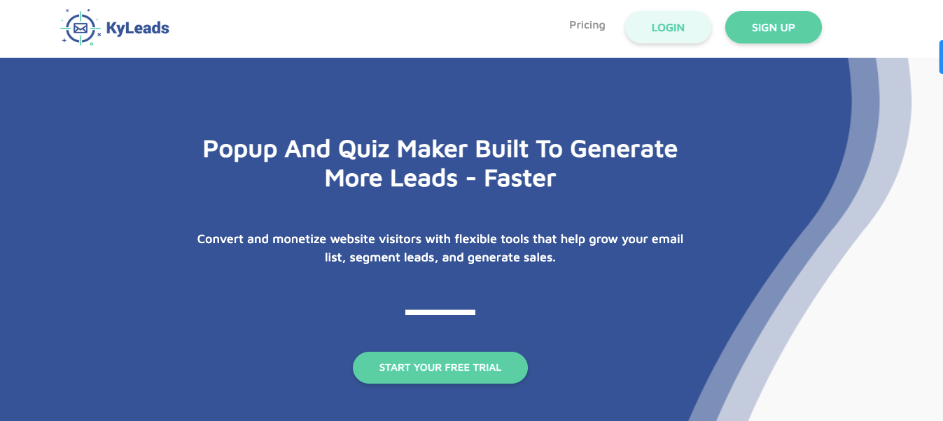 KyLeads is an email list-building tool that offers a variety of popup features, including full-screen takeovers, slide-ins, standard popups, and floating bars.
Top Features
Capture new leads and build a mailing list
Segment leads into specific lists or adds tags for targeted messaging
Send personalized messages based on insights gained
Use popups and inline forms as CTAs for promotions
Add quizzes and surveys to segment subscribers and improve follow-up messages
Fully customizable quizzes and popups to match your brand
Set up and measure A/B tests for optimization
Direct integrations with multiple email marketing services
Multiple display targeting options for better engagement
Suitable for both large and small publishers focused on segmentation and engagement.
In summary, KyLeads offers powerful lead generation capabilities, versatile popups, and valuable insights. However,
beginners may face a learning curve and find the abundance of features overwhelming.
Price
KyLeads offers a 14-day free trial period and personalized pricing based on your page views.
8. OptinMonster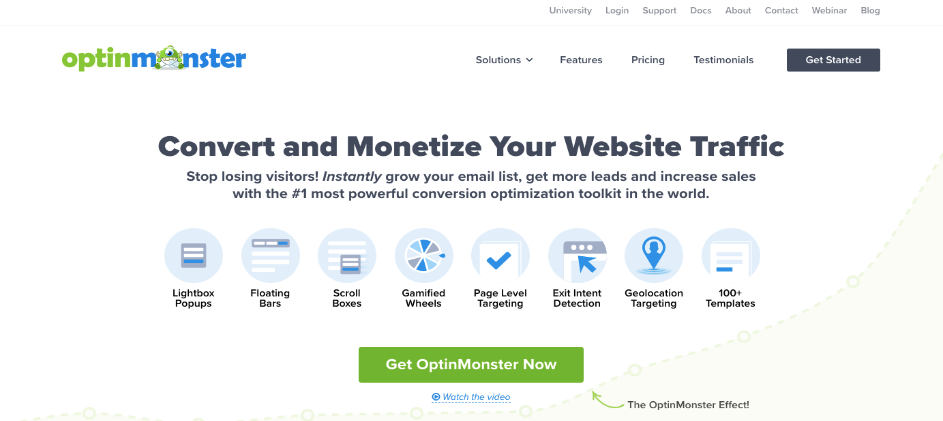 OptinMonster is a powerful tool for creating customizable popups and slide-ins to build your email list. It offers pre-loaded themes and allows you to design from scratch with Custom HTML and CSS.
Top Features
Quickly build and customize campaigns with a drag 'n' drop builder.
Choose from various campaign types to suit your needs.
Trigger campaigns based on specific actions or behaviors.
Personalize campaigns to target specific visitor segments.
Seamlessly integrate with popular tools and platforms.
Access actionable insights and analytics to measure campaign performance.
Briefly highlighting the key points, OptinMonster simplifies campaign creation, offers personalized messaging, seamless integrations, valuable insights, and boosts conversions.
However, it may require setup time, overwhelmed with advanced features, and pricing plans may not suit all budgets.
Price
OptinMonster offers customized pricing plans starting at $9/month, with Basic, Plus, Pro, and Growth options catering to various needs.
9. SendX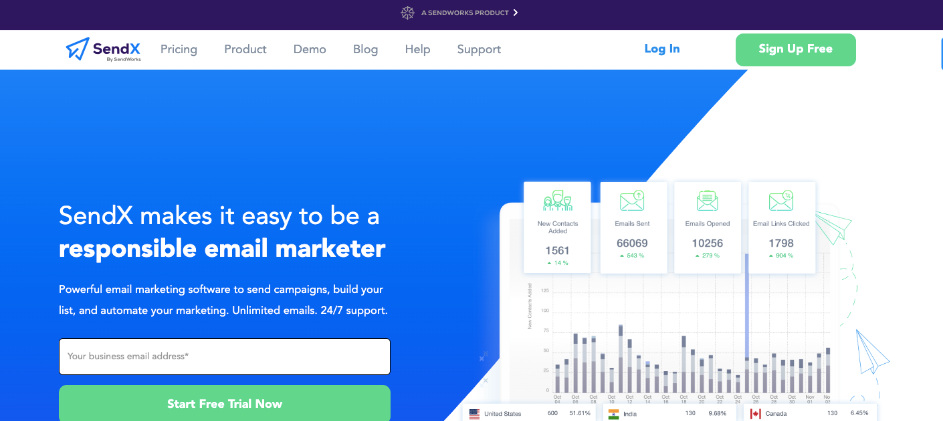 SendX is a trusted email marketing software for newsletters and promotional emails. High email deliverability, user-friendly drag-and-drop editor, automation, data tracking, landing page creation, and audience capture. Ideal for gaming, cryptocurrency, and casinos.
Top Features
Bulk import contacts from a CSV file with duplicate detection.
Easy creation of email campaigns using the Drag-and-Drop editor.
Access to a library of over 1500 pre-made email templates.
1-Click Resend feature to target audience.
Delivery time zone matching for better reach.
Native popups and SEO landing pages for list building.
Content editor for customizing landing pages with images, text, and HTML.
Powerful analytics to track click-through opens and clicks.
Heatmaps for visualizing user engagement.
Just a heads up, SendX offers a seamless contact import process and exceptional customer support. With its user-friendly Drag-and-Drop editor and customizable email templates, creating engaging campaigns is a breeze.
However, customization options for specific templates are limited, and integration options with other tools may be restricted.
Price
In SendX, the pricing is based on your subscriber count, costing approximately $8 per 1000 subscribers. The pricing varies depending on the number of subscribers you have, ensuring flexibility to match your specific needs.
10. MailMunch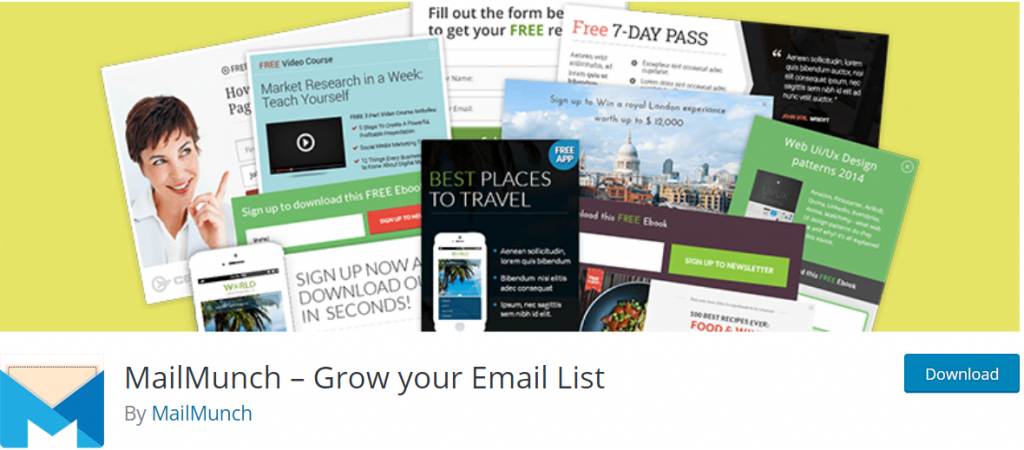 ​​Mailmunch simplifies email list building with its popup-based approach and user-friendly templates, allowing you to expand your subscriber base effortlessly.
Top Features
Multiple form types for quick email list growth
Engaging emails with comprehensive marketing tools
Automated welcome emails for new subscribers
Purpose-built landing pages to drive conversions
Powerful integrations with email marketing services
Unified builder for a seamless experience
A/B testing to optimize lead capture
Advanced display rules for targeted campaigns
Mailmunch simplifies email list building with user-friendly features, automation, and seamless integrations. It offers purpose-built landing pages, A/B testing, and advanced display rules for effective campaigns and effortless list growth.
Price
Mailmunch provides a comprehensive email marketing solution starting at $13.99. Tailored pricing options are available to meet your specific requirements.
11. Sleeknote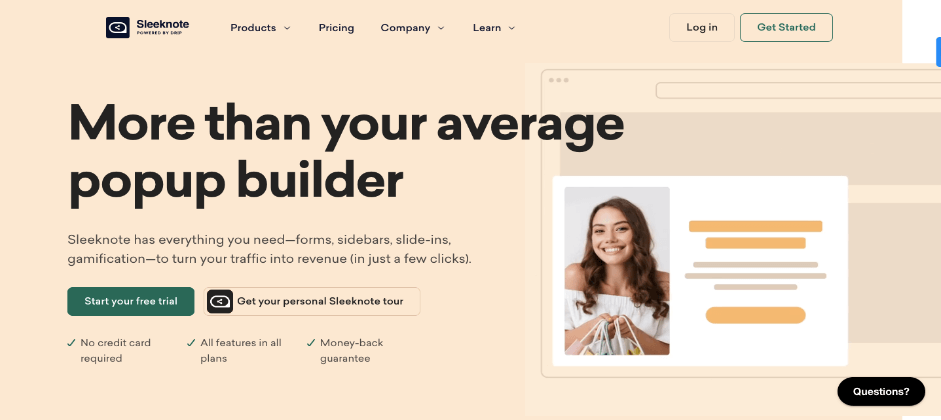 Sleeknote is an ultimate list-building tool for eCommerce merchants. With its impressive features like pop-up teasers and seasonal opt-in forms, Sleeknote enables deeper connections with visitors. Elevate your email marketing with Sleeknote, the top choice for gathering email addresses in bulk.
Top Features
Sleeknote content is fully compliant with Google's advertising guidelines, ensuring adherence to regulations and avoiding penalties.
The platform offers extensive customization options, allowing users to precisely tweak the appearance and design of their pop-ups.
Sleeknote's user-friendly pop-up structure minimizes the risk of annoying website visitors, providing a seamless and enjoyable experience.
Sleeknote offers Google-compliant pop-ups with extensive customization options and a user-friendly interface. However, the extensive customization may be overwhelming for some users, and the effectiveness of pop-ups depends on their implementation and relevance.
Price
Sleeknote offers five pricing tiers based on monthly website visitors, ranging from Lite at $55/month to Premium at $375/month. Each plan includes the same features, except for the number of custom-made campaigns. For websites exceeding 500k monthly visitors, custom plans are available. All plans come with a 30-day trial period.
12. ActiveCampaign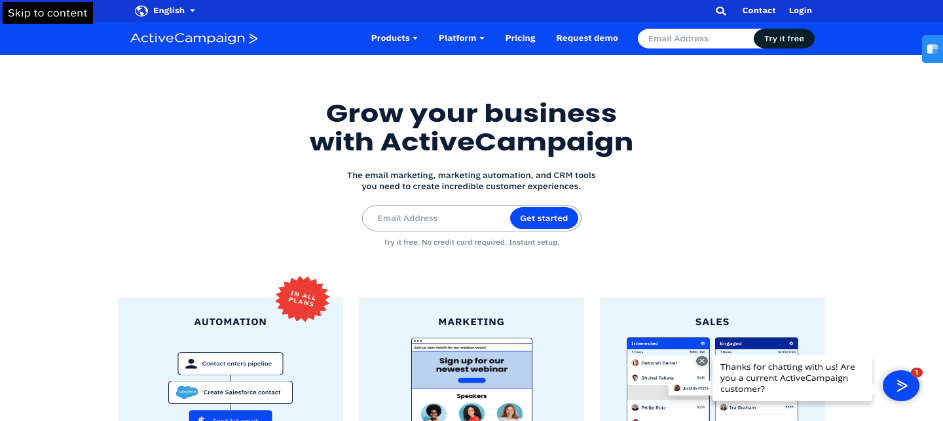 ActiveCampaign is an all-in-one email marketing platform with powerful CRM and marketing automation features, catering to businesses of all sizes and industries. It's the ultimate lead-capture engine for transforming your digital marketing efforts.
Top Features
ActiveCampaign automates each aspect of lead capture, from opt-in forms to follow-ups.
It offers excellent value with affordable pricing, making it accessible to businesses of all sizes.
ActiveCampaign provides free migration services, seamlessly transferring data from your current list-building software
Price
ActiveCampaign offers highly competitive pricing, starting with the affordable $9/month Lite plan designed for smaller websites. As your traffic grows, you can choose from the Plus plan ($49/month), Professional plan ($149/month), or Enterprise plan ($259/month) to accommodate your needs and scale your marketing efforts.
13. Outgrow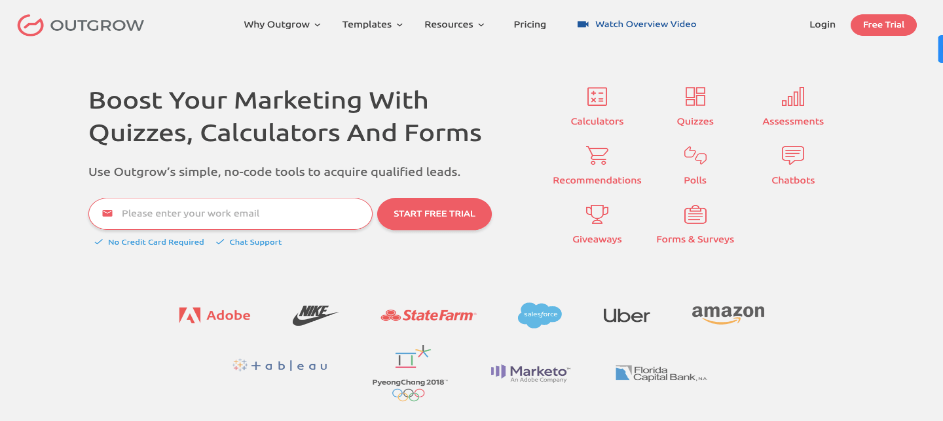 Outgrow is a trusted tool for capturing email addresses, favored by top brands like Adobe, Nike, and StateFarm. It excels in interactive content creation, offering quizzes, surveys, chatbots, and more. These engaging interactions help qualify leads based on their input, making Outgrow a powerful list-building solution for increasing email subscribers.
Top Features
Outgrow enables interactive quizzes, chatbots, polls, assessments, and forms for engaging user experiences.
Advanced analytics provided by Outgrow offer detailed statistics to optimize list-building strategies.
Customized lead capture is achieved through branching logic, guiding users along personalized paths to capture valuable leads.
Price
Outgrow offers a range of plans to cater to different needs. It starts with the Free Forms plan, providing basic functionality at no cost. For startups and small businesses, there is the Startup Special plan, priced at $55/month (compared to the regular Essentials plan at $95/month), offering advanced access to their toolset. Outgrow's popular plans include Freelancer Limited ($14/month), Freelancer ($25/month), Essentials ($95/month), and Business ($600/month), with each tier offering varying levels of features and capabilities.
14. Moosend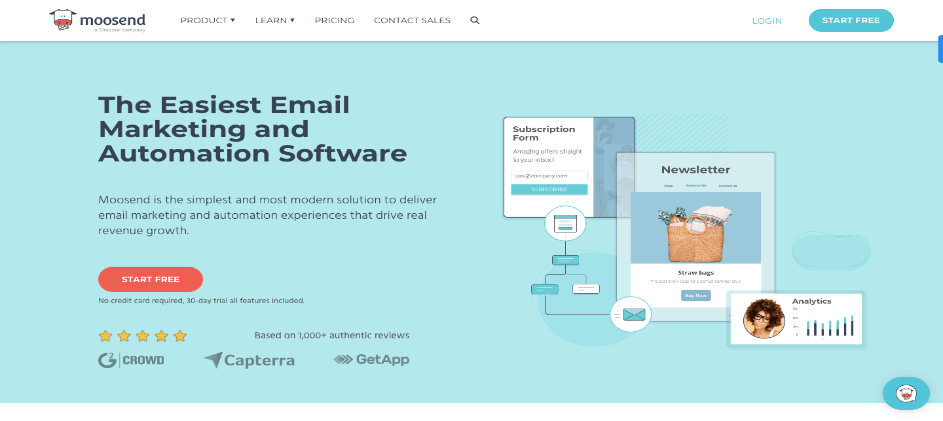 Moosend provides a user-friendly platform for optimizing lead nurturing through intuitive email marketing. It offers efficient management of email lists, the ability to deliver SMS messages, the creation of custom lead forms, and various other features to enhance your marketing efforts.
Top Features
Track sales generated by campaigns through website synchronization with Moosend.
Streamline marketing efforts with the easy-to-use workflow editor for automation.
Choose from a wide selection of over 75 pre-designed email templates.
Create visually appealing email messages, landing pages, and forms using the intuitive drag-and-drop editor provided by Moosend.
Price
Moosend offers a single paid plan, Pro, which starts at $9 per month for up to 500 contacts. For larger companies with more extensive marketing requirements, the Enterprise plan is available. While there is no free plan, you can take advantage of a 30-day trial to experience Moosend's features.
15. Bloom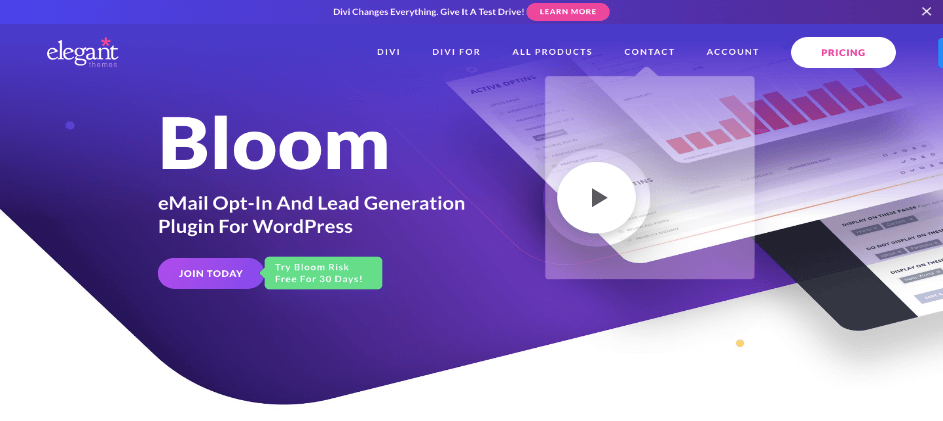 Bloom is a powerful email capture WordPress tool from elegant themes with versatile features, including lightbox popups, slide-ins, inline forms, and WordPress widget compatibility. It offers targeted display options for optimal audience engagement, such as showing opt-in forms to commenters or recent purchasers.
Top Features
Offers standard lightbox popups, slide-ins, inline email capture forms, and WordPress widget area compatibility.
Provides normal display options with page-level targeting and additional options to show opt-in forms to commenters or recent purchasers.
Offers over a hundred templates and supports most email marketing services.
Provides extensive customization options for tailored email list-building popups.
Ideal for WordPress websites seeking greater control over the appearance of their email capture tools.
Price
The price range starts from 89$/year, and You can have a lifetime deal on 249$
How to Choose the Right Email List-building Tool
Here is the step-by-step guide to help you choose the right email list-building tool –
Step 1. Identify your needs and goals
Determine your specific requirements for an email list-building tool. Consider aspects like the size of your email list, desired features (such as opt-in forms, automation, segmentation), and integration with other platforms.
Step 2. Consider factors like ease of use, features, and integration capabilities
Look for tools that are user-friendly and offer the features you need. Consider whether the tool integrates smoothly with your existing systems, such as your website, CRM, or marketing automation platform.
Step 3. Evaluate pricing options and compare them with your budget
Review the pricing plans of different tools and assess how they align with your budget. Consider the scalability of the pricing as your email list grows.
Step 4. Look for reliable customer support and check user reviews
Review the pricing plans of different tools and assess how they align with your budget. Consider the scalability of the pricing as your email list grows.
Step 5. Define your target audience and desired automation capabilities
Customer support is crucial in case you encounter any issues or need assistance. Check reviews from other users to gauge their experiences with the tool and the support provided.
Step 6. Use free trials or demos to test the tools
Consider the specific needs of your target audience and the level of automation you require. Look for features like autoresponders, drip campaigns, and advanced segmentation to effectively engage with your subscribers.
Step 7. Compare the available options based on your requirements
Many email list-building tools offer free trials or demos. Take advantage of these opportunities to explore the interface, features, and overall usability of the tool before making a decision.
Final Step – Selecting the right tool
Based on your evaluation and comparison, choose the email list-building tool that best fits your requirements, offers the necessary features, fits your budget, and has positive reviews from users.
By following these steps, you can make an informed decision and choose the correct email list-building tool for your specific needs. You can explore the best tools or find your desired one from this list of the 10 best email list-building tools with pricing.
Final Words
In conclusion, these 15 email list-building tools empower your email marketing strategy with user-friendly interfaces, customizable opt-in forms, and advanced automation.
Now it's your turn to choose the right tool, build your subscriber base, and unlock business growth.
Subscribe To Our Newsletter
Don't miss any updates of our new templates and extensions
and all the astonishing offers we bring for you.