11 Best Mailerlite Alternatives for Advanced Email Marketers
In today's digital age, email marketing has emerged as a formidable way for businesses to connect, engage, and convert their audience into customers. And, there are a lot of email marketing tools out there to choose.
MailerLite is one of the popular tool. Though you might be looking for a more affordable tool with the same dynamic features.
In this blog, we will discuss the 11 best MailerLite alternatives to give you a proper idea. We will also be sharing helpful information to choose the right one for your business, including the pricing of the tools. 
Let's have a look at the best options –
| | | | |
| --- | --- | --- | --- |
| | Price | Free Plan/Trial | User Base |
| MailerLite | 10$/Mo. | Yes | Small Businesses, Bloggers, SaaS |
| weMail | 5$/Mo. | Yes | WordPress Business |
| Moosend | 9$/Mo. | Yes -30 Days Free Trial | Small Businesses, Bloggers, SaaS |
| ActiveCampaign | 39$/Mo. | Yes- 14 Days Free Trial | eCommerce, SaaS, Marketers |
| MailChimp | 20$/Mo. | Yes | Agencies, Publishers, Big Businesses |
| Brevo | 25$/Mo. | Yes | eCommerce, Agencies, Publishers |
| Sender | 8.33$/Mo. | Yes | Small Business |
| ThriveLeads | 99$/Yr | No | WordPress Business |
| SendGrid | 15$/Mo. | Yes | SaaS, Marketers, Small Businesses |
| OptinMonster | 9$/Mo. | No | Agencies, Businesses, Marketers |
| Zoho Campaigns | 7$/Mo. | Yes | Small Businesses, SaaS |
| Mailjet | 15$/Mo. | Yes | Online Marketers, SaaS |
1. weMail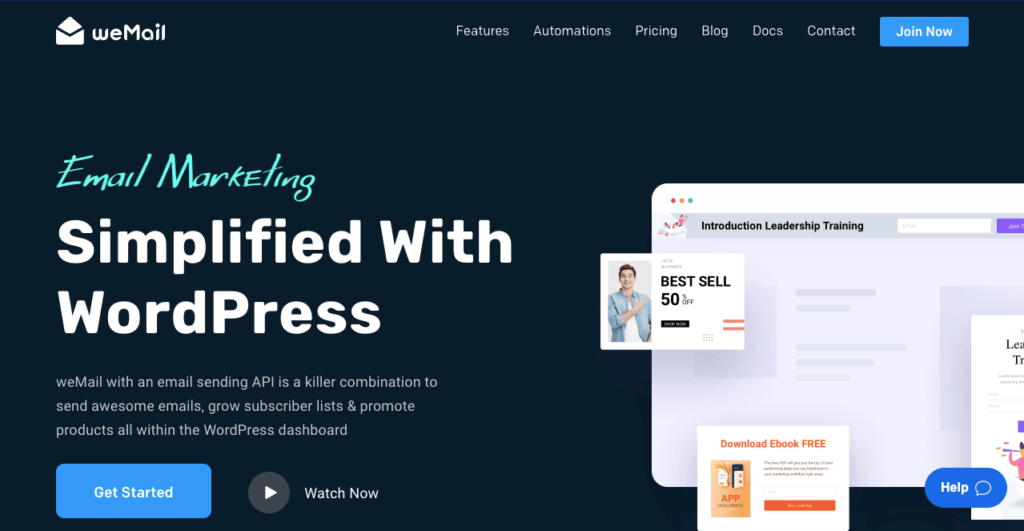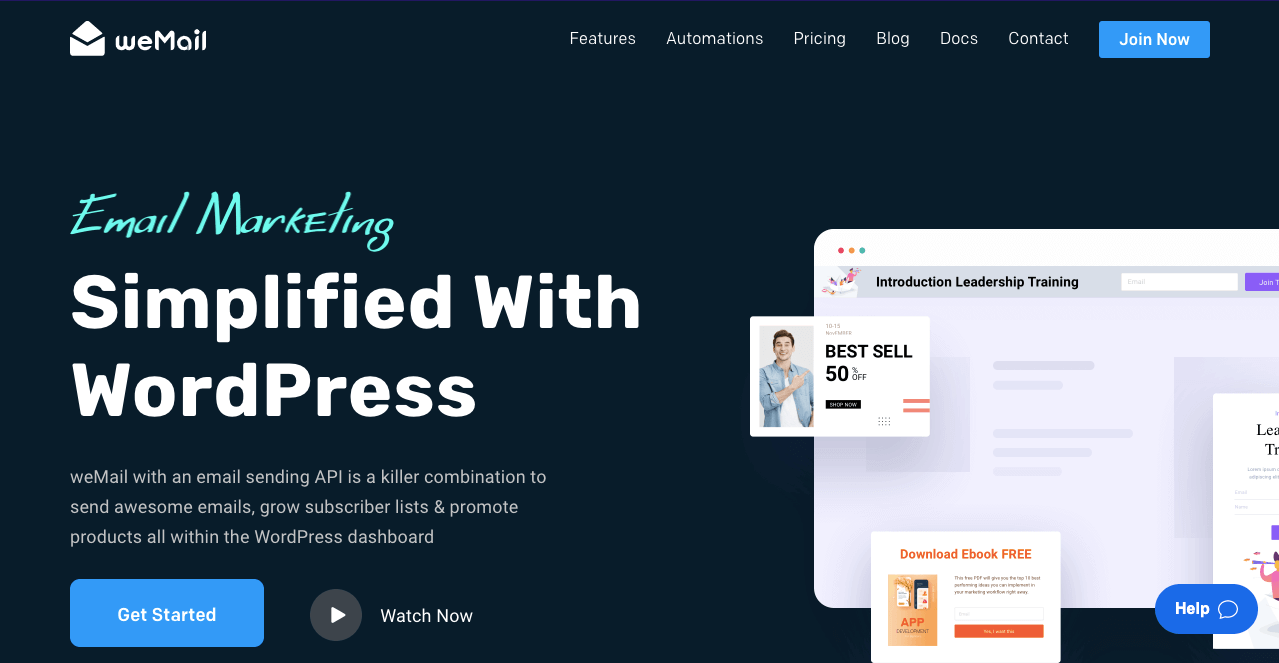 weMail is a WordPress email list building and campaign plugin for any WordPress site or business. You can easily manage your email campaigns and subscriber lists through weMail, an integrated email marketing tool designed for WordPress.
You can use weMail as one of the best MailerLite alternatives, as your preferred WordPress email integration. weMail serves as a fantastic alternative for seamless email management and marketing.
Users can create customized opt-in forms to capture high-quality leads effortlessly, placing them anywhere on their WordPress site.
With weMail, you have the flexibility to change the email-sending API whenever needed and can efficiently manage team access for seamless collaboration and improved productivity.
Top Features of weMail
Multiple email-sending gateways with easy switching.
Seamless WordPress integration for auto-importing users and customers.
Embeddable HTML code for a smooth email list-building experience.
Versatile form-building options with pre-built templates or customization.
In-depth analytics and reporting for valuable campaign insights.
Integration with popular third-party services like WooCommerce and Zapier.
Collect subscribers from WooCommerce store orders and user registrations.
Customize inline, floating, slide-up, and modal forms.
Implement double opt-in for better subscriber quality.
Automatically track email link clicks with Google Analytics.
Price of weMail
Free version: Lots of features, up to 3,000 subscribers.
Premium version: $5/month, unlimited subscribers, and Access to all features.
2. Moosend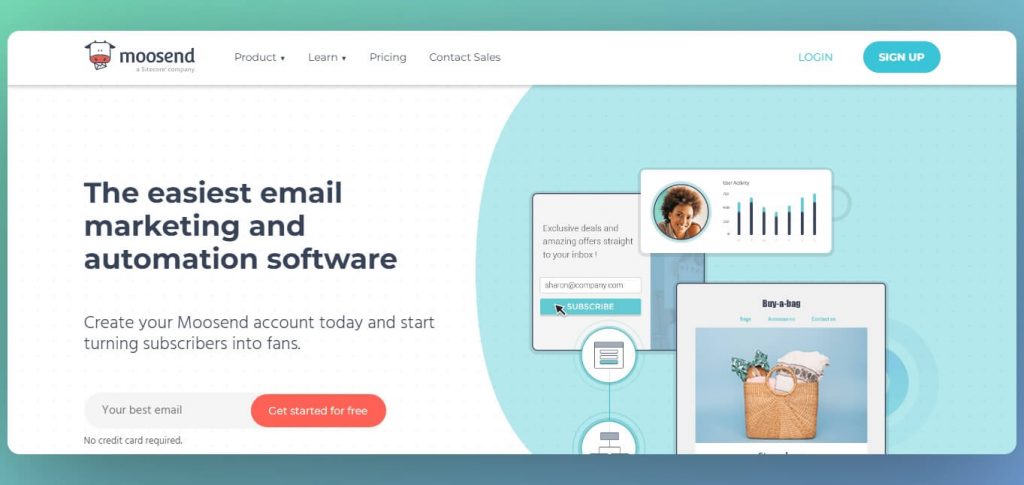 Moosend is an affordable and feature-rich alternative to MailerLite. With a user-friendly email editor and ready-made templates, creating stunning campaigns is effortless. The intuitive workflow editor and pre-made recipes simplify automated sequences.
You can grow your subscriber base effortlessly with Moosend's form editor, landing page builder, and segmentation options. Deliver targeted content to engage your audience effectively. Users can utilize custom reporting and analytics to optimize their strategies for better results.
Top Features of Moosend
Craft beautiful email campaigns with various content blocks that convert.
Save time by customizing ready-to-use email templates instantly.
Set up automated sequences like welcome, cart abandonment, re-engagement series, etc.
Access pre-built workflows as blueprints for your email sequences.
Easily capture leads and expand your subscriber base.
Deliver targeted content by organizing your email list.
Optimize your strategy with personalized campaign performance monitoring.
Enjoy a sending score of 98% for better inbox reach.
Seamlessly connect with CRM, eCommerce platforms, and more.
Price of Moosend
Free Version: Free Signup and access to limited Feature
Paid Version: 9$/Month and access to all features
3. ActiveCampaign

ActiveCampaign is one of the best Mailerlite alternatives which has a Customer Experience Automation (CXA) platform that helps businesses connect and engage with their customers across email, social, messaging, and more. It offers a wide range of features, including email marketing, marketing automation, CRM, and sales automation.
ActiveCampaign for Marketing empowers businesses with personalization and automations to drive high-quality leads, boost customer engagement, and unify data – all in one centralized platform, supercharging your marketing efforts for growth.
ActiveCampaign for Sales is a CRM and sales automation platform that helps sales teams capture, qualify, and engage leads like never before, surpassing sales goals and winning more business. Seamlessly connect your data with 900+ integrations available.
Top Features of ActiveCampaign
Ideal for crafting complex sequences.
Quick creation with numerous content block options.
Track template modifications made by other users.
Keep contacts organized efficiently.
Basic testing to assess campaign appearance.
Automate your sales process, from lead generation to closing deals.
Price of ActiveCampaign
Free Version: 14 Days Free Trial Including Access to Many Features.
Paid Plan: Starts at 15$ and access to pro features including authentication options, domain tracking, landing pages, etc.
4. MailChimp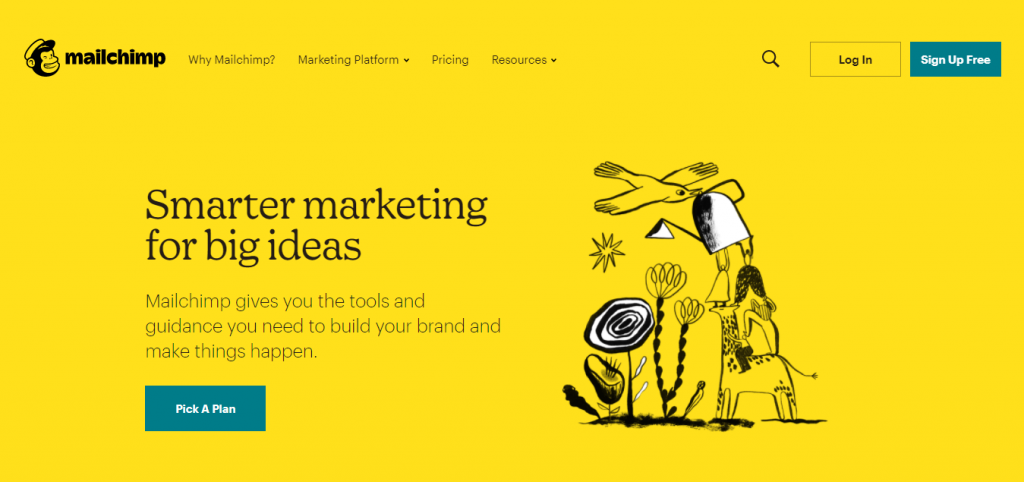 Mailchimp is one of the best MailerLite alternatives, is renowned for its fast campaign builder and various email types, including postcards.
The email editor offers numerous content blocks and elements like videos and social buttons to create visually appealing and unique campaigns.
Though lacking a visual workflow builder, Mailchimp's solid automation features and powerful reporting provide geo-tracking, click-mapping, and social media tracking for comprehensive monitoring.
Top Features of MailChimp:
Summarizes marketing activities, contacts, and performance.
Collects customer data for personalization.
Create customer segments based on conditions.
Custom emails with a drag-and-drop editor.
Optimize emails and subject lines.
Set up drip campaigns and triggers.
Unlimited landing pages, ads, and postcards.
High deliverability and tracking.
Connect with 250+ third-party software.
Price of MailChimp
Free: With some basic features, you send 1000 emails/mo
Paid Plan: Starts at $6, allows sending 5000 to 150,000 emails. Uncountable features included.
5. Brevo ( Formerly Sendinblue)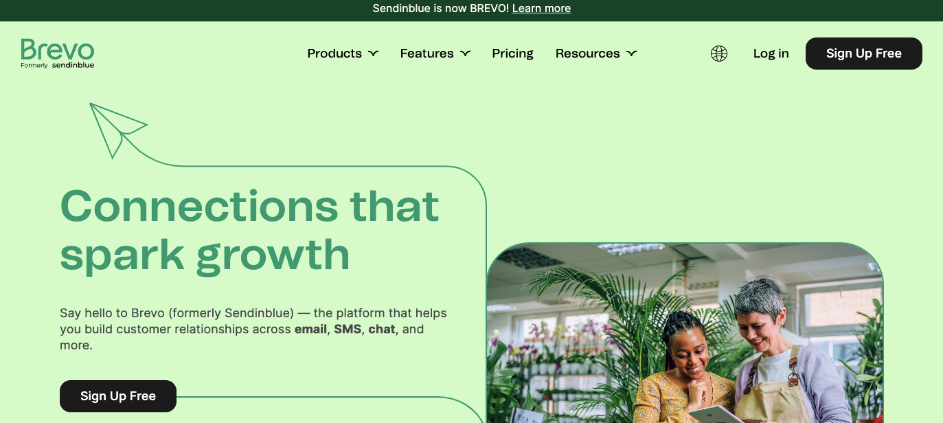 With Brevo, you can create brilliant campaigns with email, SMS, automation, and more using Brevo's marketing platform. Being one of the best MailerLite alternatives, it lets you engage one-on-one with customers through chat tools, providing immediate support. Keep track of leads, deals, and sales pipelines efficiently with Brevo's sales platform.
Users can send stunning email campaigns that convert, even without design skills, using Brevo's email marketing feature. Connect instantly with customers through SMS marketing for urgent messages or time-sensitive offers. Reach your audience on the world's most popular messaging app with WhatsApp campaigns.
With 24/7 support and quick responses through Brevo's chatbot feature, boosting efficiency you can drive impact and growth with advanced segmentation and automation tools available on the platform.
Top Features
Create brilliant campaigns with email, SMS, automation, and more.
Engage with customers through one-on-one chat tools.
Efficiently keep track of leads, deals, and sales pipelines.
Send thousands of emails on cue with our reliable API.
Design stunning email campaigns that convert.
Reach your audience on the world's most popular messaging app.
Engage website visitors with live chat widgets.
Design beautiful signup forms to grow your email list.
Capture leads and expand your reach with custom landing pages.
Trigger emails straight to the inbox with Brevo's 99% delivery rate.
Price of the Brevo
Free: With some basic features, you can send 300 emails/day
Paid Plan: Starting at 25$/mo. You can avail a lot of features
6. Sender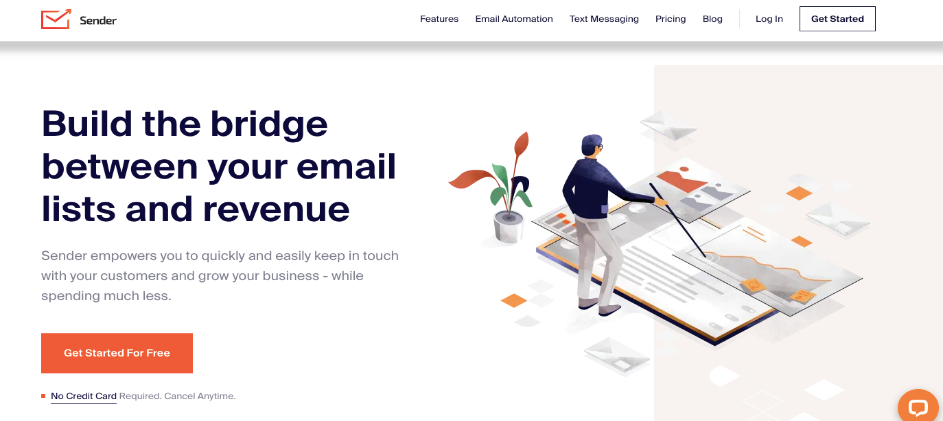 Sender ensures high email deliverability by owning their infrastructure and constant monitoring.
With Sender, personalize your messages to foster better engagement, revenue, and customer lifetime value. Their advanced analytics tools allow you to measure campaign success, making it suitable for both growing businesses and those just starting.
Moreover, Sender provides features like an intuitive newsletter editor, robust email delivery, and seamless integrations with popular CMS platforms.
As it is one of the best Mailerlite alternatives, you can expand your reach using Sender's SMS marketing and build converting landing pages effortlessly. Whether you want to grow your subscriber list or synchronize data with your website or webshop, Sender's RESTful API makes it easy for developers to integrate the platform.
Top Features
Reliable email delivery rates and robust infrastructure.
User-friendly features for effortless marketing automation.
Intuitive interface and drag-and-drop functionality for easy campaign creation.
Prompt and effective support for a seamless experience.
Visually captivating templates for inspiring campaigns.
Add a personalized touch to drive results.
Gain valuable insights with advanced analytics tools.
Price of Sender
Free Plan: Up to 2,500 Subscribers and 15,000 emails/Mo.
Paid Plan: Starting at 8.33/mo. You can avail enterprise plan by negotiating offers.
7. Thrive Leads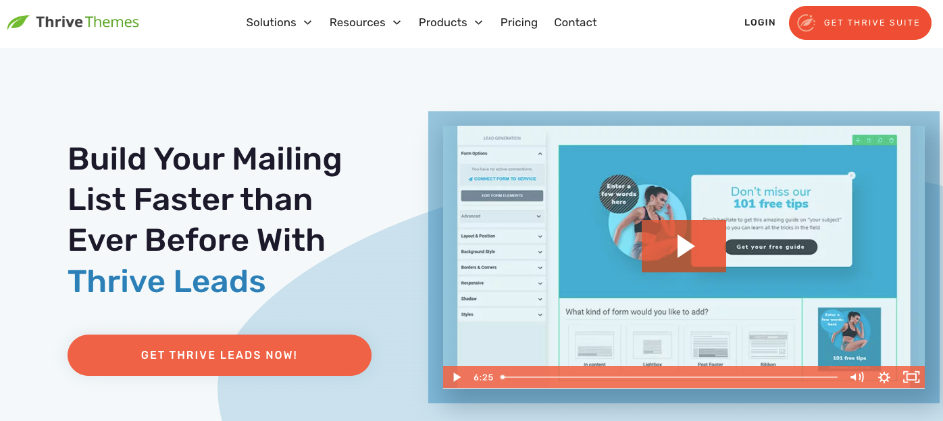 Thrive Leads is a quality Mailerlite alternative for WordPress, designed by conversion optimization experts. With its user-friendly interface, it provides cutting-edge tactics for explosive list growth and business success.
Thrive Leads empowers you with easy-to-use tools backed by expert knowledge. You can experience the benefits of a thriving business with its efficient lead-generation capabilities.
Top Features
All-in-one plugin with every type of opt-in form you need.
Easily create custom designs with a drag-and-drop editor.
Boost conversions with highly targeted offers based on categories, tags, etc.
Simple A/B testing for increased conversion rates.
Actionable reporting for insights into form performance.
Various opt-in forms like popups, ribbons, slide-ins, etc. for attention-grabbing lead generation.
Price of Thrive Leads
Free: No free plan
Paid: 249$/Yr for ThriveSuit and 99$/Yr for ThriveLeads
8. SendGrid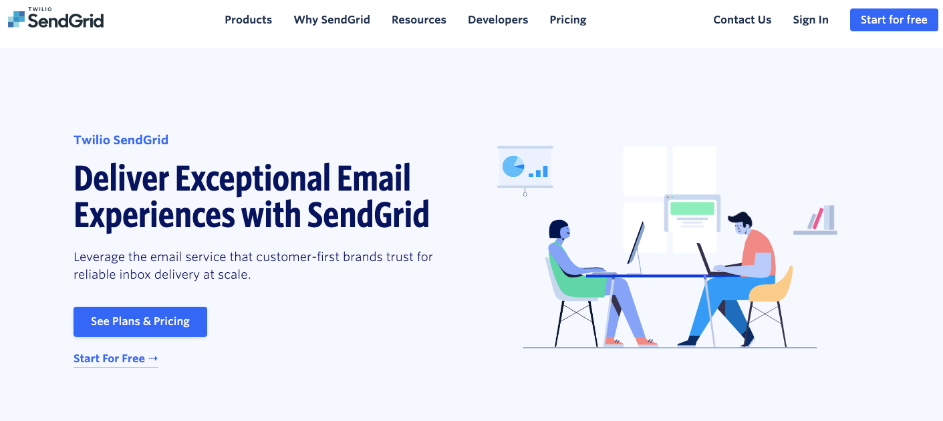 SendGrid is an excellent competitor to MailerLite and a reliable mass email service provider, perfect for handling your bulk email requirements.
With SendGrid's user-friendly email builder, creating newsletters becomes a breeze, and you can even edit HTML code instantly, without the need for separate previews.
Leverage SendGrid's API to create customized email programs for your subscribers, ensuring improved inbox placement and email deliverability for optimal results.
Top Features
You can send reliably at scale with SMTP service—no servers required.
Expedite troubleshooting with a searchable email activity feed and additional history.
Collaborate across teams and measure success with an intuitive user interface.
Create emails with HTML code, a drag-and-drop editor, or a combination of both.
Engage contacts with approachable, time-saving automation.
Grow your list with branded sign-up forms embedded on your website.
Send pixel-perfect emails with integrated testing.
And more! Explore additional features.
Price of SendGrid
Free: 100 emails/day
Paid: 3 types of paid plans starting at 19.95$
9. OptinMonster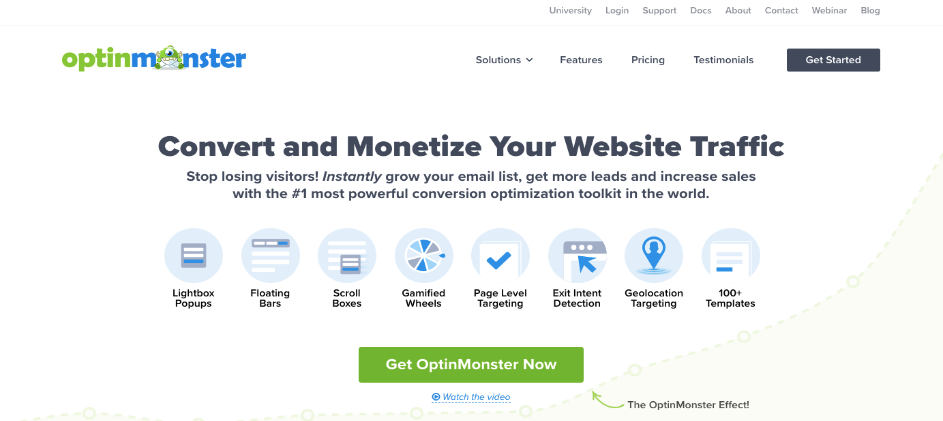 OptinMonster lets users can choose a pre-built template or start from scratch with a user-friendly drag-and-drop builder for easy customization, no coding needed.
There is a powerful targeting and segmentation engine that allows you to display tailored offers to the right audience at the perfect time, boosting your website conversions.
OptinMonster lets you explore comprehensive statistics to refine your lead generation strategy and conduct split tests effortlessly, continuously improving your conversion rates.
Top Features
Convert any link or image into an optin form, proven to boost conversions by 785%.
Improve conversions by personalizing campaigns based on visitor's location.
Detect users' mouse behavior and show them a targeted message as they are leaving.
Easily create and customize campaigns with a user-friendly drag-and-drop interface.
Price of OptinMonster
Free: No free plans
Paid Plan: 4 types of paid plans starting at $9/mo.
10. Zoho Campaigns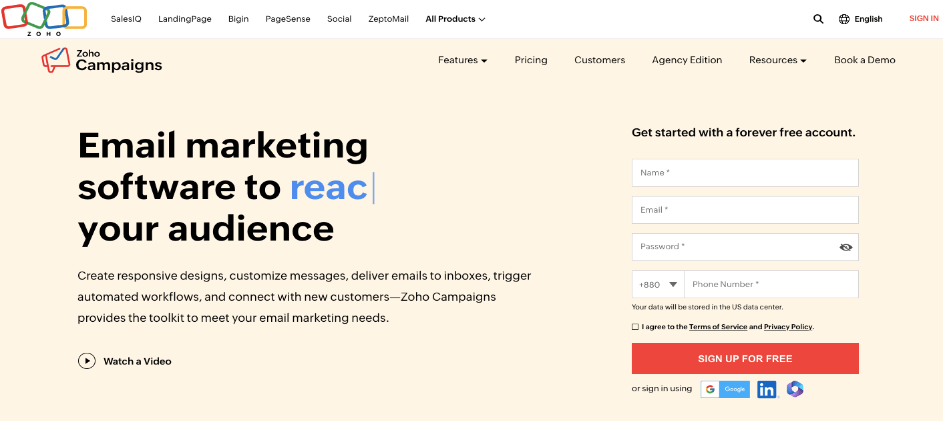 Zoho Campaigns is a user-friendly and feature-rich email marketing platform. Its drag-and-drop email editor and responsive templates make creating appealing emails a breeze. With the autoresponder feature, you can automate email sequences to reach your target audience at the right time. Real-time analytics help you track essential metrics like open and click-through rates.
One of Zoho Campaigns' key strengths is its seamless integration with Zoho products like CRM, Creator, and Docs, as well as third-party applications like social media and WordPress. This allows for efficient marketing management and streamlined workflows.
Top Features
Import contacts from multiple sources, including CRM.
Categorize contacts into topics for targeted campaigns.
Choose from a variety of customizable newsletter templates.
Personalize emails with dynamic content and merge tags.
Optimize send time for better open rates.
Conduct A/B testing for improved effectiveness.
Set up automated workflows based on interactions.
Manage communication for your online store with automated emails.
Track campaign performance with real-time analytics.
Send text messages to contacts using SMS integration.
Access and manage campaigns on the go with the mobile application.
Price of Zoho Campaigns
Free Plan: With some basic features, you can send 6,000 emails/Mo.
Paid Plan: Starting at $3/mo. Zoho Campaigns offers one of the most affordable plans
11. Mailjet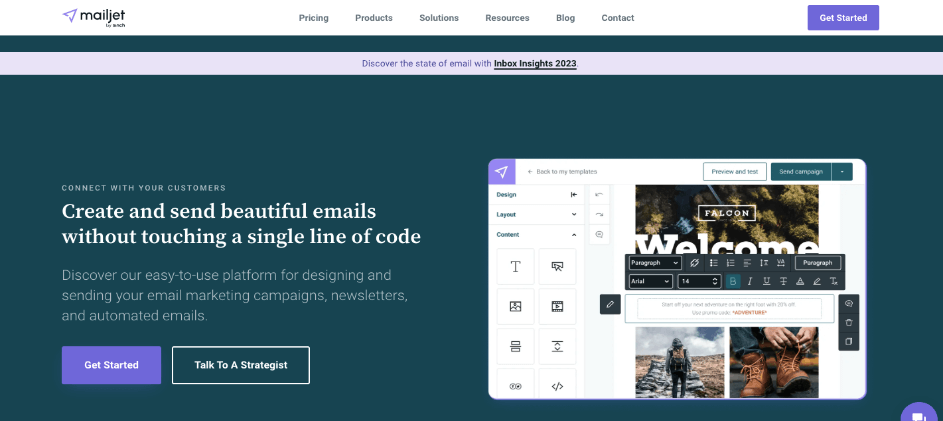 Mailjet is one of the best MailerLite alternatives, ideal for online marketers and SaaS companies. It seamlessly combines email and SMS marketing, enhancing engagement and conversions across various channels. With its user-friendly campaign builder and wide range of templates, creating impactful email campaigns becomes a breeze.
Additionally, Mailjet's Subscription Widget simplifies lead generation by enabling the creation of pop-ups to expand your email list effortlessly. Whether you use the form editor or edit the HTML code directly, Mailjet ensures a professional and efficient email marketing experience.
Top Features
Sophisticated email editor with responsive templates.
Real-time collaboration with teammates.
Personalization for targeted communications.
Segmentation for customized messages.
Automated email sequences.
A/B testing for optimization.
Seamless contact management.
Email Verifications for Deliverability.
Real-time statistics and insights.
Seamless third-party integrations.
Price of Mailjet
Free: 6,000 emails/mo. with some basic features
Paid: Starting at $15/month, Mailjet offers three types of pricing plans including a custom pricing option.
How to choose the best tools (As MailerLite alternatives) for your business
Selecting the ideal email marketing tool is paramount to achieving marketing excellence. When you are searching for the best Mailerlite alternatives, you must have some search criteria. Follow this comprehensive step-by-step guide to make an informed choice:
Step 1. Define Your Email Marketing Goals
Clearly outline your objectives, whether it's lead generation, customer retention, or brand awareness. This will guide you toward tools that align with your business needs.
Step 2. Assess Your Budget
Analyze your financial capacity and seek email marketing solutions that offer flexible pricing plans and scalability, ensuring a perfect fit for your budget.
Step 3. Evaluate Essential Features
Thoroughly compare the features offered by various email marketing tools. Key functionalities such as email automation, list segmentation, A/B testing, and detailed analytics must be assessed.
Step 4. Check Integration Possibilities
Ensure seamless integration with your existing tech stack, including your CRM, CMS, and e-commerce platforms, to streamline workflow and data management.
Step 5. Consider User-Friendliness
Opt for an intuitive and user-friendly interface with a robust email editor, simplifying campaign creation and customization.
Step 6. Review Deliverability Rates
Verify the deliverability rates of email marketing tools, as high deliverability ensures your messages reach recipients' inboxes effectively.
Step 7. Explore Customer Support
Look for reliable customer support, which can be crucial during troubleshooting or any critical issues you may encounter.
Step 9. Read User Reviews
Delve into reviews and feedback from fellow users and businesses, gaining insights into real-life experiences with the tools under consideration.
Specific Recommendation for WordPress Users
If you're using WordPress as your website platform, weMail stands out as the top choice for your email campaigns and list-building tools. Boasting seamless integration with WordPress, weMail simplifies email management within the platform. Its feature-rich solution includes email automation, advanced segmentation, and in-depth analytics, making it an indispensable and powerful tool for WordPress users.
By following this robust step-by-step guide and considering your business's unique requirements, you can confidently select the perfect email marketing tool, optimizing your marketing efforts and driving exceptional results. And for WordPress users, weMail provides an exceptional and clean solution for an elevated email marketing experience.
Final Thoughts
We have presented the best MailerLite alternatives to empower your email marketing efforts. By considering the unique strengths and features of each platform, you can choose the right one to suit your needs. Embrace these advanced options to implement effective strategies and fuel business growth.
Subscribe To Our Newsletter
Don't miss any updates of our new templates and extensions
and all the astonishing offers we bring for you.