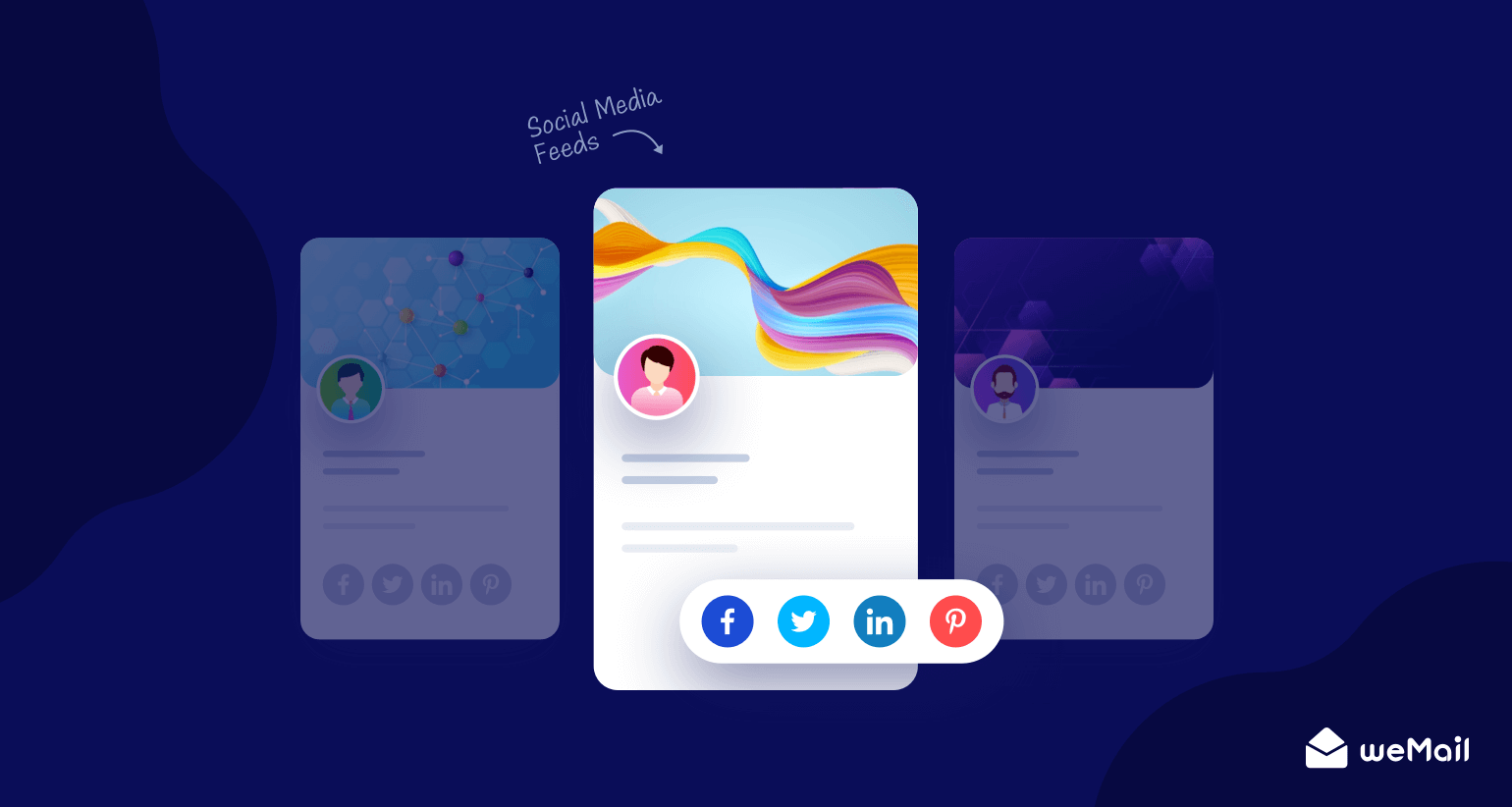 7 Expert Tips to Done Your Social Media Emails Right
Finding the most useful way to reach your audience is always crucial. As you need the proper combination of keys to unlock a secret box. Success in marketing is more or less follow the same process.
However, email marketing remains the most powerful marketing channel, questions never stop coming out. Is it dead already? Or, is email marketing still effective enough? Shall marketers move to social media to generate more sales?
All your questions will get answers on one single holistic approach. You must combine social media and email marketing in the right way. It is better to merge them with each other rather than separate them. As, social media is growing so fast since the last decade, and it is also offering broader prospects in marketing.
Here, we will show you how to apply social media email marketing to get exceptional results for your business. If you love the idea already, you are welcome.
Why Use Social Media Email to Your Marketing Process
Email marketing is still gigantic regarding ROI. The number is extraordinary compared to any other marketing channels. You already know that and it sounds cliche which varies from $38 to $44 for every dollar spent.
However, social media is getting bigger day by day. Our attachment to Facebook, Twitter, Instagram, or YouTube is something like a habit. The global internet users spend an overage of 2 hours 24 minutes daily on social media. So, the social media engagement is the newest catch for most of the brand.
eMarketer forecasted in early 2020 that, spending on social media may increase to 20.4% which is $43 billion. And this year, it should rise to an astounding $50 billion.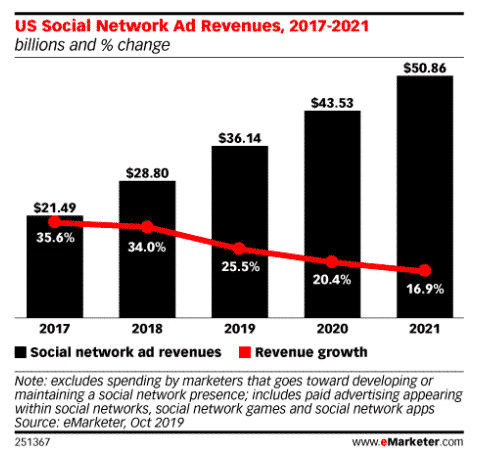 It is inevitable that most businesses spend too much on social advertisement. Organic reach is on a considerable decline. Despite the popularity, the ROI in social media is still not solid. Though, it is a huge booster to your online presence.
And, since the covid-19 and global lockdowns, people use to spend more and more time on Facebook or Instagram, watch a lot of videos on YouTube or Vimeo. It propelled the eCommerce business to newer heights. Brands start to sell directly from their Facebook pages or groups. On the other hand, it can help you to bring a lot of social media users to your online store.
However, what emails can do is increase social engagement, and you can use the social channels to grow your email subscribers gradually. They both can be a rewarding couple nonetheless. Let's find out how to merge these two into one impeccable arsenal for your marketing force.
Embedding Social Media in Email Marketing – The Simplest Ways
It's all about getting the two beasts to accomplish one mythical quest- profitability. Hence, profits in business is a reality and it should be. Most modern marketers find email marketing and social media compelling each other, just like humpty-dumpty, they sat on a wall and won't fall from the wall if you are careful enough.
Some of the major benefits of embedding social media email to your reach out process are –
Social media email marketing enhances your influence in two different mediums at the same time.
You can create a grand platform of subscribers and social media followers simultaneously.
It will help you to gain industry recognition.
Grow your email list faster than ever, etc.
1. Sending Facebook Post and Event Through Your Email
This is more than simple. What you post on your Facebook page, you need to embed them or add them to your email campaigns. Then start sending them to your subscribers. It will help people to get accustomed to your social media activities. Therefore, the process will also improve the user experience and social engagement of your subscribers.
Once certain examples can help you on how to do that. McDonald's doing this trick for quite some time now successfully.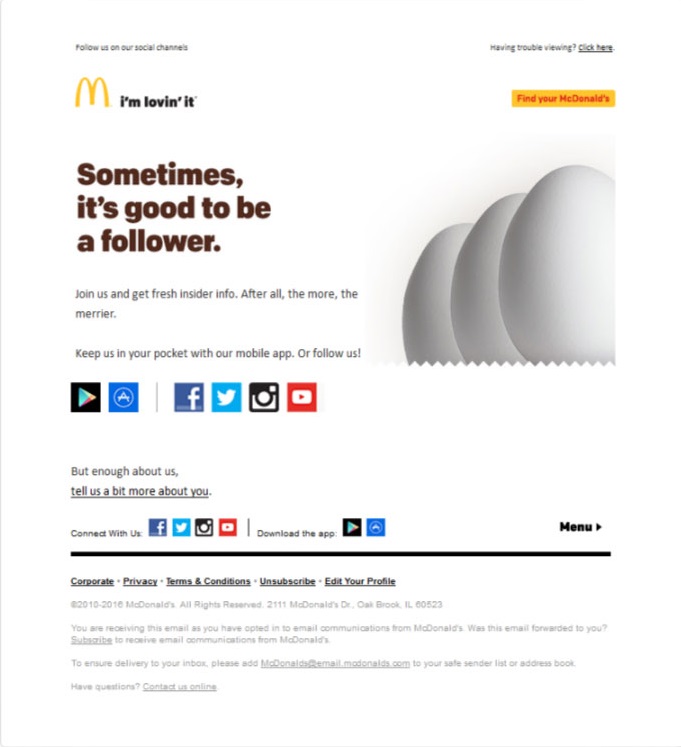 Source: Social Bakers
You can easily send this type of email to convert your email subscribers to your social media follower. Hence, a newsletter tool like weMail can help you even more to embed social posts in your email campaign templates.
Also, you can send social media event invitation via social media email at ease. Take a look at this example –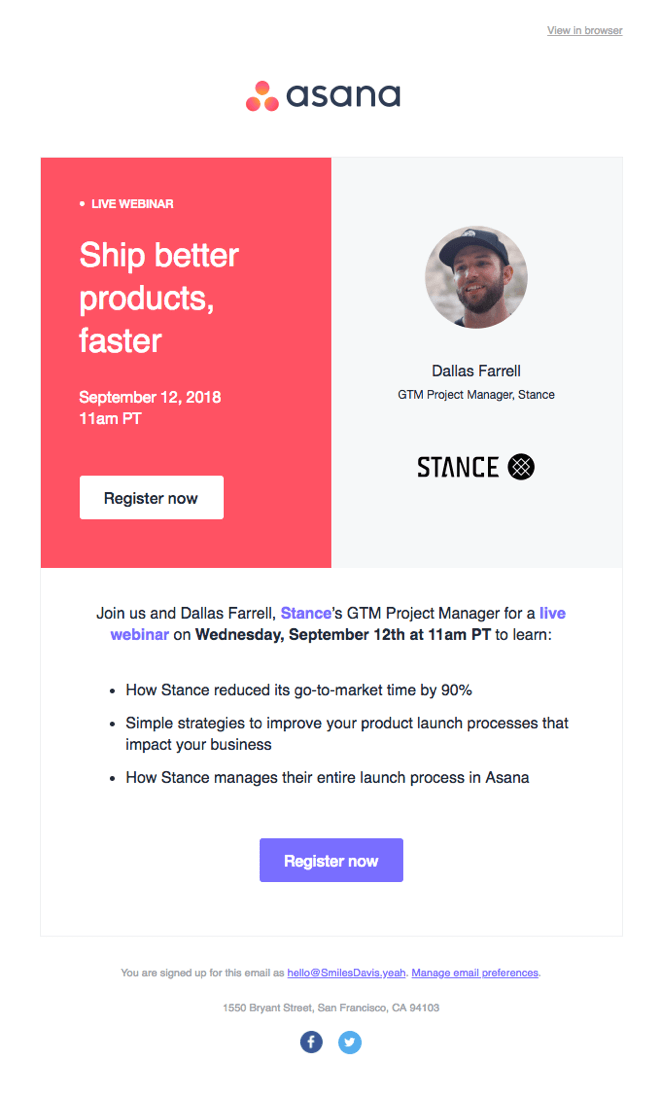 Source: Really Good Emails
What Asana did is a very smart way to introduce a Live Webinar to their email subscribers. You can do the same, and there are plenty of rooms to customization.
2. Embedding Your Brand Tweets Directly to the Emails
Tweets are easily sharable and can be very interesting. So you can embed your tweets in your emails. Just go to your tweets, find one that you want to embed, and do the following.
Click on the share button
Copy link to Tweet
Embed the link in your email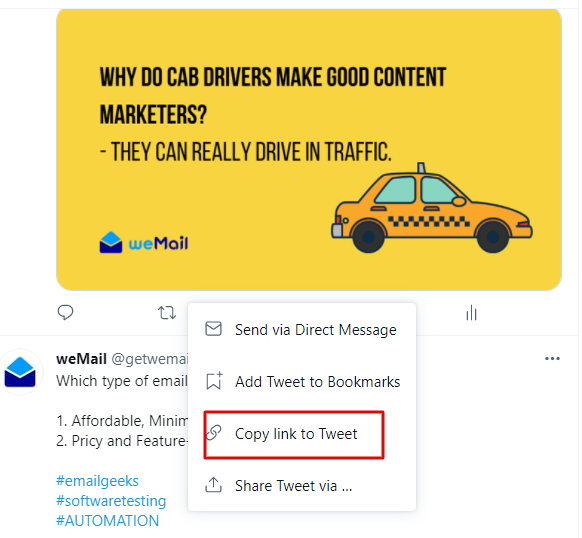 To embed the tweets, you can use the HTML code in your newsletter templates. With weMail, the embedding would be so simple.
3. Sharing Instagram Posts Via Social Media Emails
Instagram is growing more than ever. Hence, as a brand, you can generate an impeccable audience reactions by posting beautiful and though provoking photography. As different types of people roaming this photography based social platforms nonetheless. Though, you can easily influence them by smart and interesting visual treats.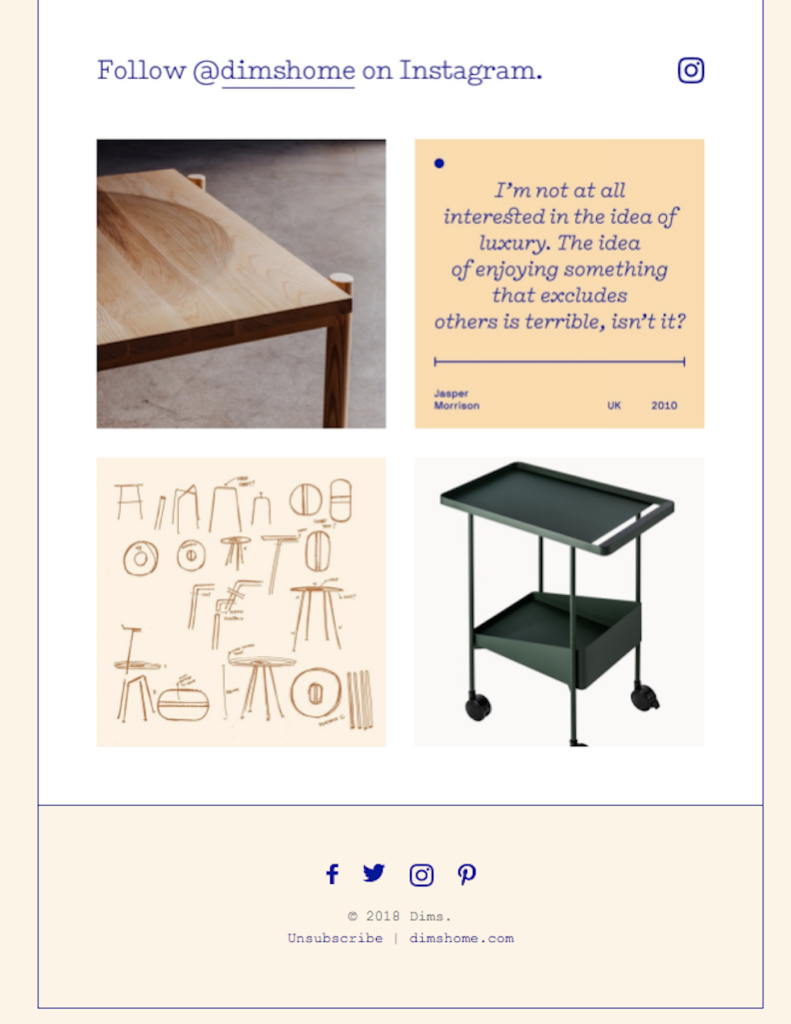 Source: Dims
And, when we are talking about email marketing and social media, you can invite and provoke your email subscribers to follow you on Instagram. To do this, the most simple way is to share a glimpses of your Insta posts via email campaigns.
4. Email Can Help Your YouTube Channel to Grow Faster
YouTube has a gigantic 1.86 billion users in 2021. 500 minutes of videos are uploading on YouTube every minute. 82% of people use YouTube for entertainment purposes. Where 18% of them love YouTube specifically to follow brands and businesses trends.

SEMRUSH
So, you can see that as clear as day. YouTube is also saturated, but there are an immense potential to leverage this social video platforms. People who scroll through tons of videos only for entertainment, you can even target them by creating content, or advertisements.
Another way of increasing your YouTube subscribers and views is that – simply send your video links or embed to your subscribers by applying the right strategy of social media email marketing.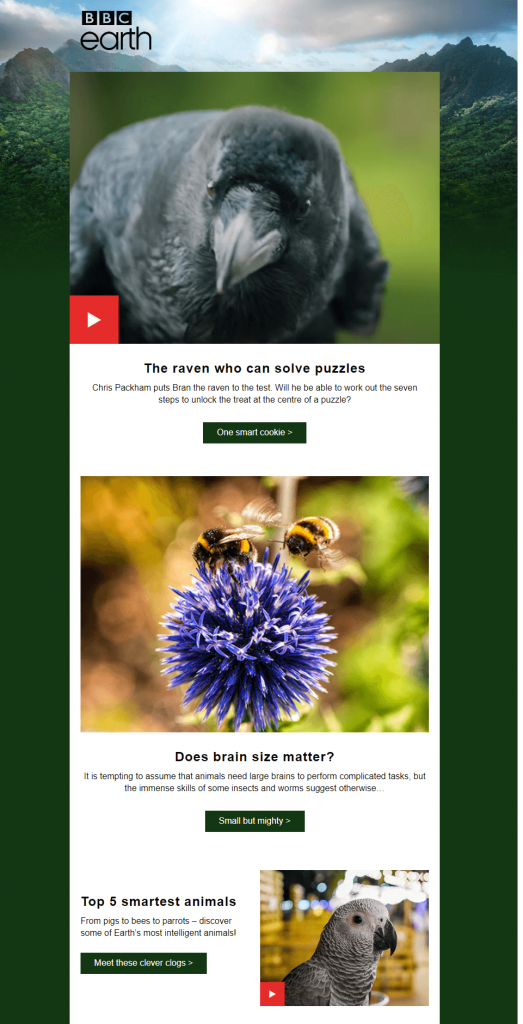 Look at the email above. BBC earth regularly publish superb video content in their YouTube channel. As I'm subscribed to their newsletter, they often send these types of curated email to my inbox. Therefore, I enjoy their email and videos pretty much both.
If you are publishing YouTube videos already, you are ready to go with this tip. If not, it's better late than never.
How to Incorporate Email Marketing with Your Social Channels
Well, now you should turn the table a bit. In this section, we will show you some more proven tricks to merge email marketing with your social media activities.
Here, one thing should be clear. You must know your goals each time you try to influence your social followers to get into your email marketing channels and vice-versa. It can be growing your subscriber list or attracting more people to your landing pages or blogs. Just be sure about it while composing every content. Either for your social posts or email campaigns.
Well, follow through the steps one by one or one at a time for A/B test your email campaigns.
5. On Running a Social-Focused Email Marketing Campaign
You can design a very specific email campaign. The goal should be to increase your social share and social media followers. You can select a particular social channel that you fit most crucial. Then sending emails to your email subscribers and try to impress them with heartfelt enthusiasm. You can follow the steps below –
Create an attractive bargain. Offer something that provokes them to like your Facebook page or follow your Twitter handle.
The offer could be an eBook, exclusive Video content, special yearly discount, etc
Run a social media contest and invite your email subscribers to join it.
Creating social awareness and spread the news via emails
On different occasions, impress your email subscribers to engage with your social channels
Just look at this email below from Copy Blogger.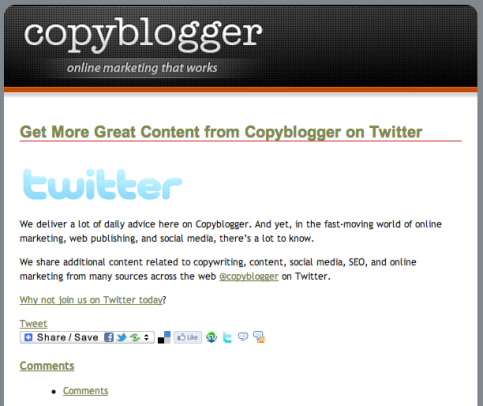 Here, the renowned content platform explaining their subscribers why should they follow Copy Blogger on Twitter. It's a popular example of social-focused email marketing, and age old. But it remains effective even now.
6. Don't Forget to Add Social Media Buttons in Your Emails
This is a must nowadays. You send an email and add social sharing buttons that are normally associated with all of your social media handles.
It can radically change the way your subscriber perceives your message. Whenever some of your emails get their attention, or they like it, social buttons for Facebook or Twitter can provoke them to share it with their friends and family.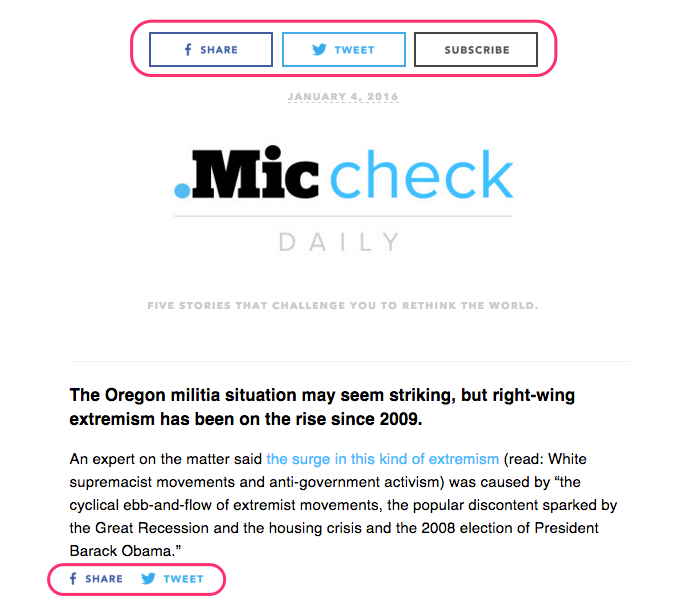 Source: emaildesign
7. Adding a Social CTA Can be a Smart Way to Increase Social Traffic
A Social CTA (Call to Action) button can make your email more effective. Social sharing buttons can help in a lot of ways. But CTA's work differently. They can catch attention faster and can be more goal-driven.
Hence, 90% of readers who read your headlines also read your CTA copy. Emails with a single CTA can grow your click rate by 371% and sales up to 1617%.
According to Hootsuit strategy, a call to action should be write few core things in mind –
You should pick strong action words. For example, you need to pitch an urge and implication like- Sign up, Download, Free, Shop.
Use the FOMO (Fear of Missing Out) technique or create urgency.
Make your CTAs attractive with a color that soothes the eye.
Make yourself clear about the offer.
The goal of the social CTAs should be to the point.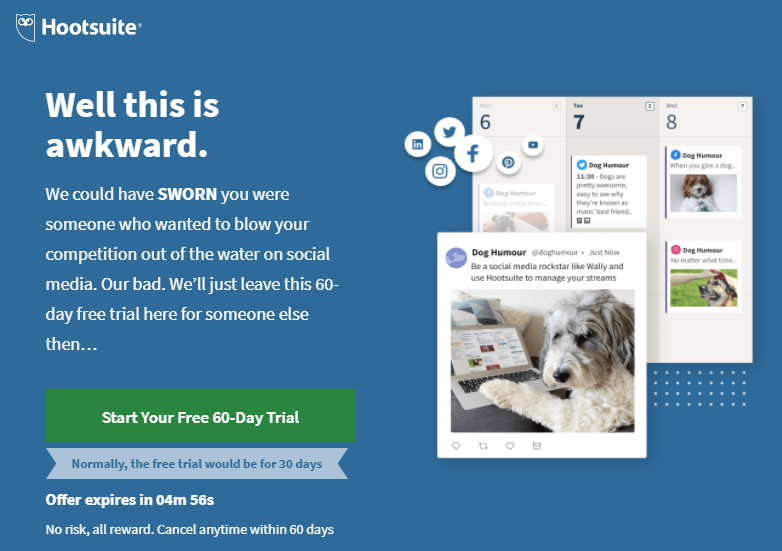 If you look at the above CTA, the "Start Your Free 60-Day Trial" button is more visible and action-driven compared to the whole page. When you will apply Social CTA, you can keep this types of strategy in your mind.
You are All Set to Send Social Media Emails
Apart from the above techniques, social content like images, infographics, and videos can increase your subscriber numbers. That follows the exact way to attract social users to your landing pages. It is also a good idea to run specific social media ads to get more targeted people to your email lists.
So, what do you think? Are you ready to merge your social media and email marketing to get better results in conversions? In this blog, we have discussed all the major things you need to accomplish this goal. Email is a well-established marketing channel. Therefore, social media can propel your email conversion even more, and vice-versa.
And, to send flawless email campaigns, an affordable and robust email automation tools like weMail can be integral.
Subscribe To Our Newsletter
Don't miss any updates of our new templates and extensions
and all the astonishing offers we bring for you.