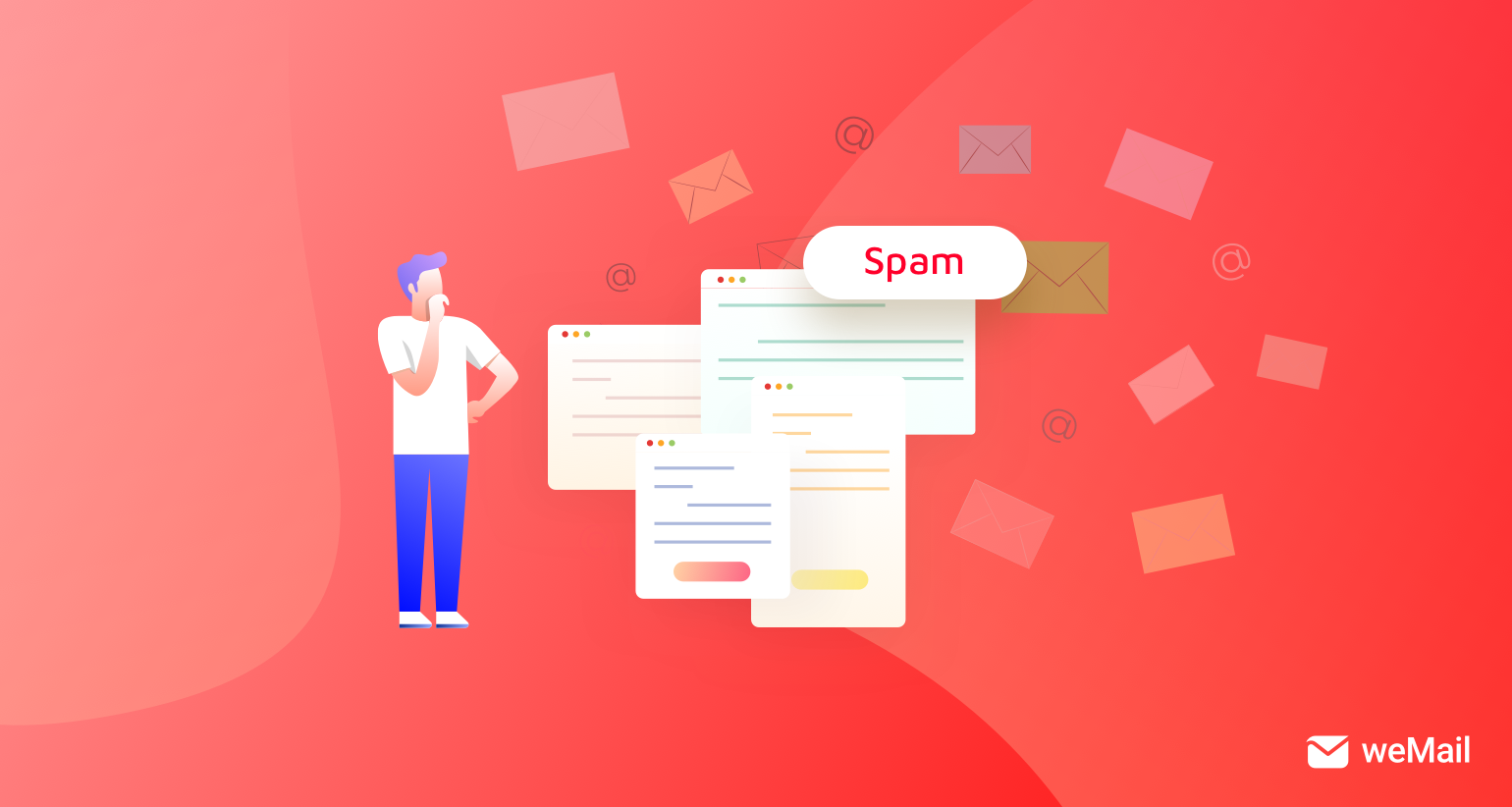 Top Most Common Reasons Why Email Goes to Spam And How To Fix It – Part 1
Why my email goes to spam? How to stop email from going to spam? In this modern-day digital marketing and business world, these are the kind of queries we often get bombarded with. People nowadays are really concern about their important sales or marketing emails going to spam. But do we know why do our emails actually go to spam?
Well, if you are also one of them who is looking for the answer of why does your email goes to spam then this piece of information is something you would need to realize where you are going wrong in terms of sending your emails and how you can effectively fix it to minimize this incident from happening in future.
So let's just start off with the major causes one's email gets to the junk box nowadays. But before that let's have a quick look at the benefits of email and the state of email spam rate over the last few years.

Global Spam Report Overview
Over the past decade or so the worldwide spam rate of email has risen to a great number. And this has become a worrying matter for most online marketing based business. The statistic below just gives you an overall idea of the spam percentage of total e-mail traffic globally from 2007-2018.
Based on the stats, even though the spam volume percentage has declined over the last few years but the email traffic has also taken a giant leap. Till 2018 the spam messages were recorded to 45.3% coming down from 59.8% of 2016.
Source of statistics at
Statista
Based on current statistics till 3rd quarter of 2019, the proportion of spam in e-mail traffic was around 54.7%
Why Email Goes to Spam & Its Fixing Remedy
There are a number of factors that come into consideration for the reason of your emails going to spam rather than your inbox. Hundreds of reasons are there for your email to land in your junk mail but in part 1 of these writeups, we will be highlighting the top ten reasons why your highly innovative emails don't reach the recipient's main inbox.
Misleading Subject-line
Nowadays, the modern-day email marketer uses an ambiguous subject line to try to lure them to improve their email open rate. Now, this act is against the law of the CAN-SPAM act.
Emails with personalized subject lines are 26% more likely to be opened
In many surveys, people have already expressed their disliking of such tricks being applied to them to get to open the email. They felt cheated and deceived by it that forced them to unsubscribe from their email list.
How to Prevent it: Don't try to trick your user base using a vague subject line. For example, you send an email mentioning the word 'Urgent' in the subject line and when the recipients open it, then it asks him/her to register to your marketing channel. This might just annoy the subscriber and urge them to block or restrict you from the list. So making sure you do not become deceitful with your emails while you are doing promotions will certainly keep your emails away from entering the junk list. Read this awesome article if you need to learn more about generating some great subject lines to improve email open rate.
Poor Design With a Bad Image to Text Ratio
As a part of effective email marketing practice, many business firms promote their products or services with just images containing too many texts in it. They forget to maintain a proper Image-text ratio in it. In the whole email body sometimes it contains only images or too many texts on the images.
This also leads the email to get into the junk box. Many subscribers also keep their images sent in their mailbox turned off. Moreover, too many images also take longer for the page to load.
How to prevent it: Prepare email maintaining the right amount of Image-Text ratio. Like if you are only sending an image in the email then try to explain its purpose and details without writing long sentences inside it so that it doesn't cover the whole image with its texts. Also, write explanatory details under the image so that even if the subscriber kept their view image option turned off, they will at least be able to know what you have sent them without needing to turn on the image visibility.
No Clear Unsubscribe Button or Link
A promotional email or newsletters may get considered to be spam when you do not place a clear and visible unsubscribe link. This will improve the deliverability of your email sent. Though many think this works as the total opposite of it but in reality, this is really important when it comes to winning the trust of your subscriber.
Its true we all want our subscriber list to stay and get bigger by the day. But someone who was interested in your newsletter or updates before might not be interested after a while. So giving them an easy way out through an unsubscribe link is more likely not to mark your email as spam that would keep your sender reputation intact
How to prevent it: The easiest solution to it is to always include an unsubscribe button at the end of each email you are sending. This would improve subscriber satisfaction and so fewer people are more likely to mark your email as spam. So it is a suited option to add an unsubscribe link to each email. As it now gives them an easy option to opt-out from your email notification whenever they want it. This alleviates any chances of marking your email as spam that keeps your credibility to reach the inbox unimpaired.
Too Many Spam Complaint
Spam complaints received by the email service provider reported by the subscriber also hampers your ability to reach the main mailbox. So this is another major cause your email is always being a part of to the junk inbox. Even if you aren't spamming with your email, still people might tag your email as spam.
This is probably because they receive tons of usual emails every day and they even flag them as spam without even recalling what your email was about. One of the reasons could be that they don't even remember that they have given you permission to send them these emails. And once this spam reporting exceeds a certain limit then in all the future campaigns, email sent by you automatically ends up in the spam folder.
How to prevent it: Now to stop this from happening, the company sending emails to its subscribers should focus on making the branding in the email a memorable one. This also includes the branding on your website such as images containing company logo, product videos, etc. Moreover, it is also essential to make sure that the name in the 'From' line, is easily recognizable to them.
Email Contains Spam Triggering Words
In order to become too friendly or to grab the attention of the subscribers, the modern-day marketer often uses spam prone words without even realizing it. On most occasions, these words of friendly-ness are considered as too sale-sy. As a result of that, the emails automatically get filtered to the spam category.
Words like 'Special Deal' 'Risk Free', 'Hello Friend', 'Limited Offer' etc. quickly get caught in the spam filter of the email service provider. Moreover, these type of words triggers spam instantly and sends your email directly to the junk box of your e-mail mailbox.
How to prevent it: Your email service provider probably already has a tool installed to check these words. So in simple terms, simply avoid words that send a promotional vibe or show you are trying too hard to act friendly with the subscribers. Some of the most used words to avoid in the body or CTA of the email include:
Limited Time Deal
Pay/Order Now
Best Deal
Congratulations
Cancel anytime
For Only ($)
Toll-free
Grab it now
Click here
Zero risks guaranteed
Boost Sales
You Are the Winner/You Have Won
Special price just for you
Get it now
Dear Friend
Special promotional offer
Promise you
and other similar types of words.
So try to circumvent these words in the CTA or main body of your email at any cost so that you can avoid your email from landing in the spam box.
Permission Not Granted by the Recipients
Suppose you have carefully written an email copy fulfilling all the criteria to stop it from entering the junk box of your listed subscribers. But if the recipients you are sending this to doesn't permit you to send you such email but yet you send them then there is every chance all your emails with end up in his/her spam folder.
So until they grant you permission to send them newsletters or promotional content via email, even your general email can get considered as spam by the email service company.
How to prevent it: One of the better ways to stop this from happening is by taking permission from the subscriber beforehand writing a short introductory email or reaching them personally from your official company email address. At first, you can try sending them a follow-up or personally personalized email giving them the chance to opt-in to your promotional post or newsletters. Moreover, it is never a good idea to add people manually to your email lists collecting it from official meetings or conferences. They might forget you and not be interested in your products or services at all. And this also violates the CAN-SPAM act as you haven't taken their official permission to send them these emails.
Lower Positive Engagement Rates
It also comes to the point where the open and move to the trash rate of your sent email play a vital role in judging whether the email should be considered as spam through its filtering process by the webmail providers.
So in case, your email gets lower open or read rate regularly then your emails are actually at high risk of being tagged as spam in your future email campaigns. Even though over the past few years, the overall responses to email has been fairly constant and on the lower side. The open rate was on average around 20% in the last few years. This urges the email marketer to engage in a much better way now with the subscribers.
How to prevent it: Now the solution to it is by focusing on trying to improve the open rate of your email on a regular basis. In order to improve that, you need to pick the right time to send your emails. Personalize and refine your email subject line to grab the attention of your audiences. Refresh your email list by segmenting them with the previously engaged subscribers so that more emails are sent to those people in order to keep the average open rate better. And moreover, for an improved read rate, there is no greater way other than to write better and engaging email copy loyal subscribers.
Tricky Routing Information
This is also considered as a severe act of email spamming when you are being unclear or deceitful with the 'from', 'to' or 'reply-to' information. Suppose in order to create urgency and to prove your email important you were trying to make it look like your email is directly from Mark Zuckerberg of Facebook.
Keep in mind this kind of act will directly filter your email and flag it as spam. Though this is just an extreme level of example and you get what I am trying to mean here.
How to prevent it: For the best result, it is a good practice to include your or company's name in the 'reply from' part of the email, so that your subscribers can easily remember it for any further engagement in the future. Try to stick with the same name as it would be easier for your subscriber to remember. You may use just your full name or your organization's name either one of them or the combination of both like e.g. 'Matt from Automattic'. But no matter whichever you decide to use, make sure to maintain it all the time in all your emails.
No Valid Postal or Physical Address
Many companies sometime don't feel the need to add a physical address with the commercial or promotional emails that they send. Now honestly speaking this is termed as an illegal act according to Federal Trade Commission (FTC).
And this also registers as an act that drives the email service provider to filter out the emails from your address as spam.
How to prevent it: To avoid such a scenario of being flagged as a spammy emailer, including a valid physical address that clearly states your correct street number and valid post office address that is registered with an agency of commercial mail receiver under the Postal Service Regulations. Otherwise, there is every chance your email will be kicked out to the list of spam folder regularly.
Black Listed IP
Nowadays all top email service providers, inspect the IP addresses of the email sender to find out whether your IP was used to send spammy emails before or not. And even if you have never sent spam emails in your life, yet you might get tagged as a spammer for someone else sending spam email using your IP before.
Moreover, if you are running an email campaign with an email marketing tool, then your email might be sent via a third-party server. Even in that case if one customer sends spammy emails, it could very easily affect your email deliverability in your future campaigns.
How to prevent it: If you do not want your IP to have a bad reputation, then always try to use dedicated real IP from your Internet Service Provider (ISP). Also, in case you have a big subscriber or customer list and you need an email marketing tool to manage your contact to send them emails on a regular basis then getting a reliable & affordable email marketing tool like weMail and sticking to it should resolve this issue too. Moreover, weMail also uses some very reputable and reliable third-party email sending API like Amazon SES, Elastic Mail, MailGun etc. This ensures a great deliverability rate for your marketing emails at a very competitive rate. These tools have strict regulations and monitoring facilities to handle such situations and the occurrence of poor IP reputations and email delivery failure.
Get Smarter to Email Better
The world is evolving faster than our expectations. The method of marketing is also becoming smarter by the day. The model of digital marketing has also seen smart applications over the last few years. And to coup up with this fast-growing online business world, you need to act smarter rather than working harder for it. The rise in e-commerce and online multi-vendor marketplace business also urges to become a smart email marketer.
And especially in terms of executing successful email marketing practices, you need to stay updated and ahead of your time. Otherwise, you will lag behind letting your contemporaries take that advantage to go past you. But a comprehensive email marketing tool like weMail can certainly help you take up this challenge and enable you to stay ahead of your game. In this case, it will be for your email marketing drills providing you the best of email marketing service at the most affordable cost. Don't believe me? Then take a tour of:
to find it out yourself.
Stay Tuned….
Well, that's that, this is just the end of the first part of it. We will come back with the next part pretty soon. Hopefully, the next one will be as informative, exciting and useful for you as this one was. So stay tuned, as some more interesting stats, email spam causes, and its restricting tips and tricks are waiting for you in the Part-2 continuation.
In the meantime, if you think I have missed out on any major reasons for the email to go to spam then feel free to remind me in the comments section below. I may just include it in the second part of this post.
Subscribe To Our Newsletter
Don't miss any updates of our new templates and extensions
and all the astonishing offers we bring for you.