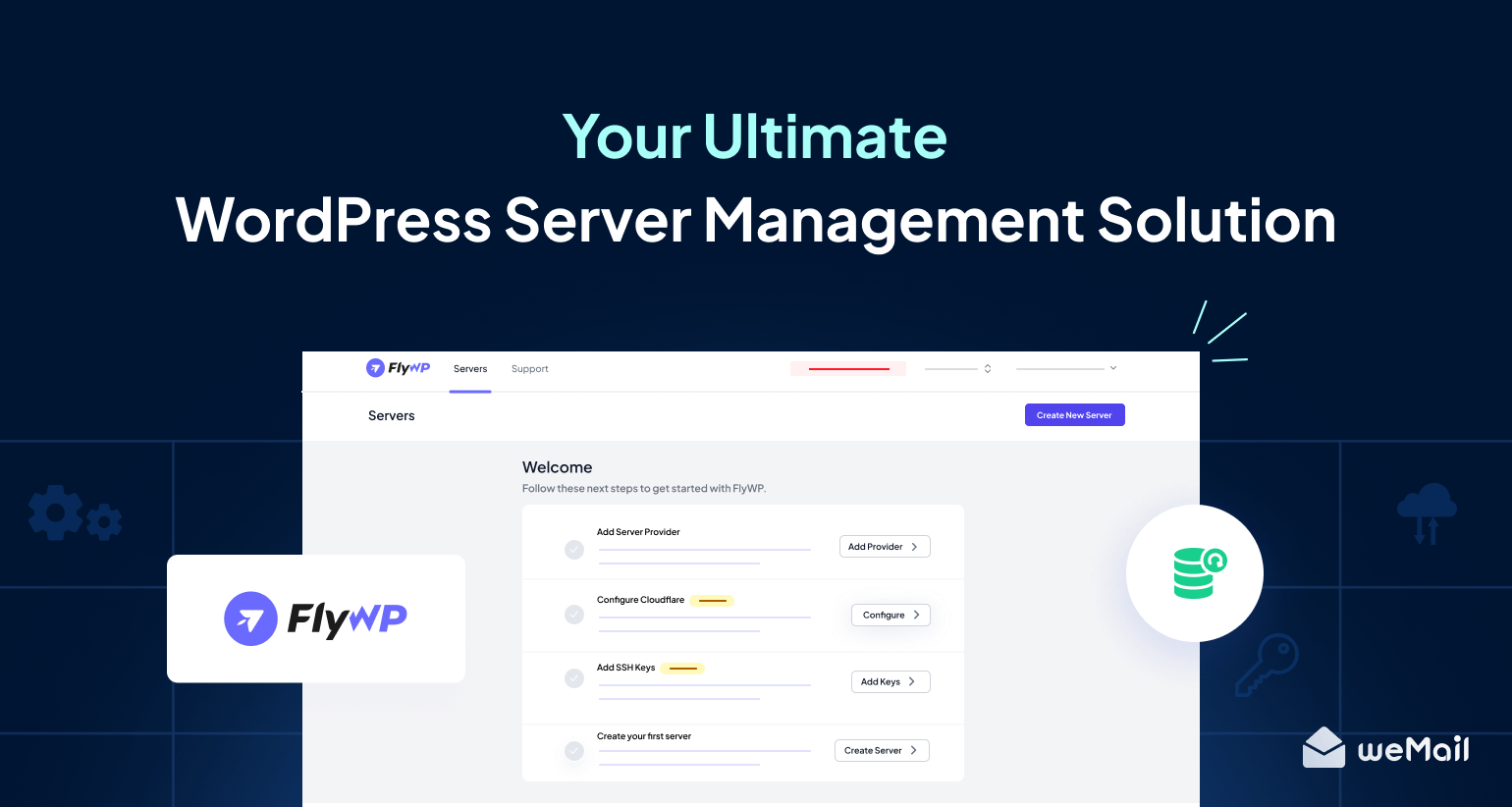 FlyWP: Your Optimized Server Management Solution for WordPress
Once it was a great hassle to run and manage WordPress servers and sites in your preferred cloud service provider. The arrival of FlyWP makes it easier and ensures you have a lightning-fast WordPress site management platform on the cloud.
Discover FlyWP by weDevs, the ultimate solution for managing all your WordPress sites in one place.
Managing servers and sites can be overwhelming, with tasks like monitoring site health, updating plugins, handling server configurations, ensuring security, and supervising developer tasks.
But worry not! FlyWP simplifies it all with its user-friendly features and developer-centric functions. Let's explore this robust WordPress site management solution with us and see the ease it brings to your tasks.
How you can benefit from a server management solution for WordPress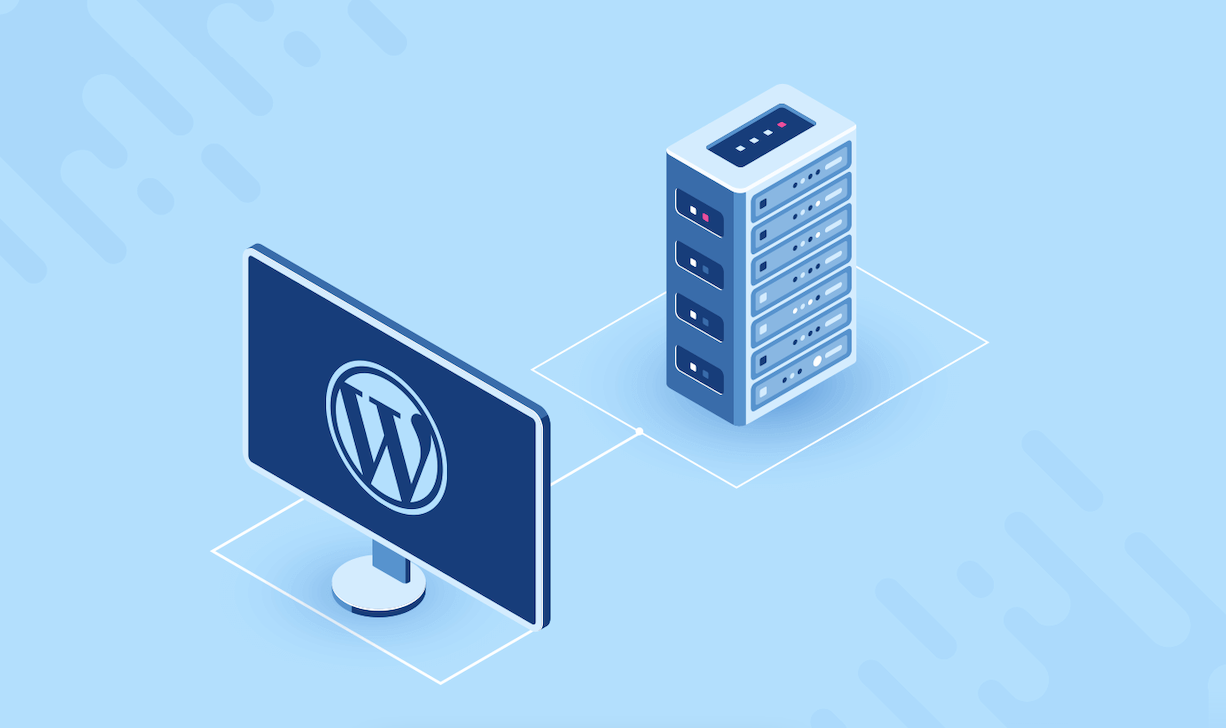 A well-managed server is crucial to keep your WordPress website running without unwanted interruption. Only, regular maintenance guarantees optimal website performance and security. Otherwise, you may become susceptible to different types of problems.
This is why you need a reliable server. With an effective server management tool in place, you can make sure that your website consistently operates smoothly. Here are the benefits of using a server management solution:
Efficiently oversee and secure your website's server, ensuring seamless operation.
Streamlines server optimization, security updates, backups, and monitoring tasks.
Saves time and resources in implementing development-related activities.
Compatible with popular servers like AWS, Digital Ocean, and more.
Guarantees continuous, smooth operation of your website.
FlyWP: Your ultimate solution for WordPress server management
FlyWP is your ally in simplifying the WordPress journey. It stands as a complete server management solution designed specifically for WordPress websites. You'll get smooth site optimization, security, backups, and monitoring services on one user-friendly platform.
Previously, managing multiple WordPress sites was a complex challenge as it required you to handle servers, security, performance, and development tasks. But not anymore! FlyWP simplifies all these tasks. It addresses your WordPress server-related challenges effortlessly.
What sets FlyWP apart is its blend of flexibility, optimization features, and developer-friendly functionalities. Curious about the benefits? Here's a glimpse of what FlyWP brings to the table:
Centralized services for server optimization, security, backups, and monitoring.
Automatic optimization for enhanced website speed.
In-built malware scanner for proactive detection and removal of malicious code.
Daily backups for an additional layer of data security.
Continuous monitoring of website uptime and performance, with timely issue alerts.
User-friendly dashboard for seamless management of server settings and performance metrics.
Plus, enjoy 24/7 support to enhance your experience.
Exciting, isn't it? Let's dive into the details and uncover more about this dynamic server management system – FlyWP.
Explore FlyWP's key features
In addition to the features mentioned earlier, FlyWP offers a wide range of functionalities. Whether integrating various popular server providers or optimizing your site, FlyWP delivers a comprehensive site management experience.
Below, we've spotlighted some noteworthy features of FlyWP. Take a look!
1. Exceptional server compatibility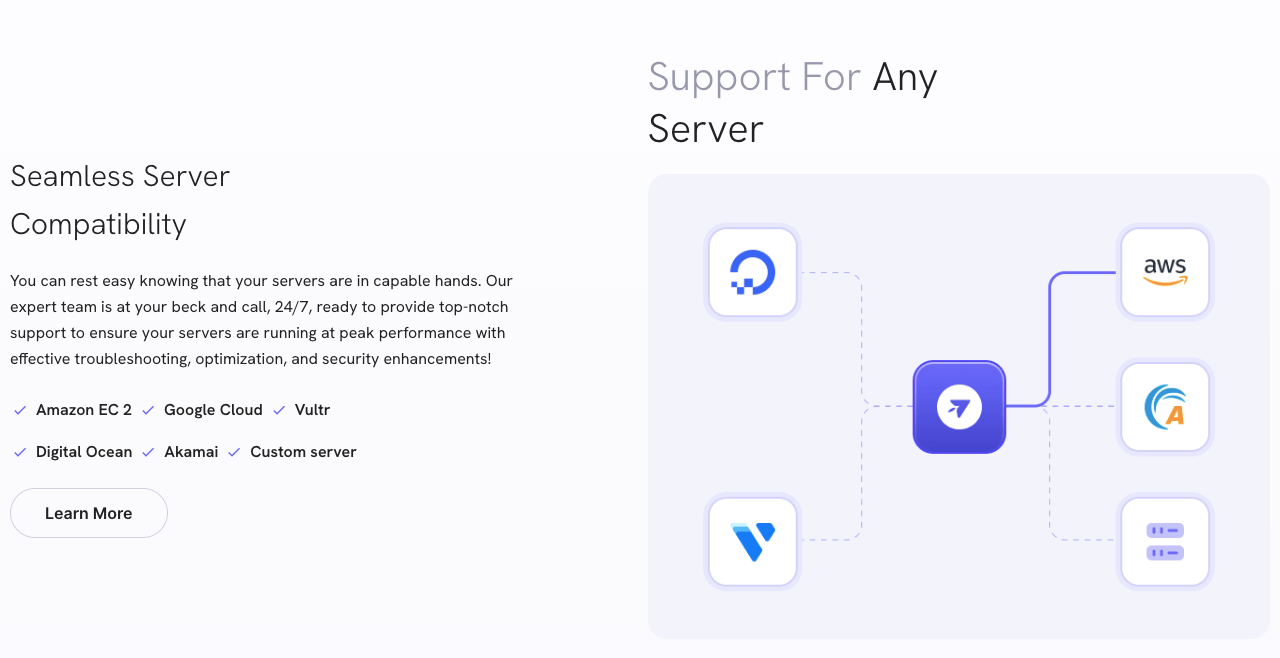 FlyWP stands out for its impressive flexibility, seamlessly integrating with a variety of servers. Whether it's DigitalOcean, Google Cloud, AWS EC2, Vultr, or even custom servers, FlyWP plays nicely with all. This empowers you to choose the server that best suits your needs.
2. Designed for WordPress excellence
FlyWP is specially made for WordPress. Automatic updates for plugins and themes keep your site current, secure, and running smoothly. It enables you to take control of your site's settings with the WP Config Editor to offer you complete control. Plus, streamlined support for WordPress multisite and WordPress CLI makes complex tasks simpler.
Take charge with FlyWP's WP Config Editor: Customize your WordPress experience with features like debug mode, error logging, PHP error tracking, script debugging, and the ability to deactivate core updates.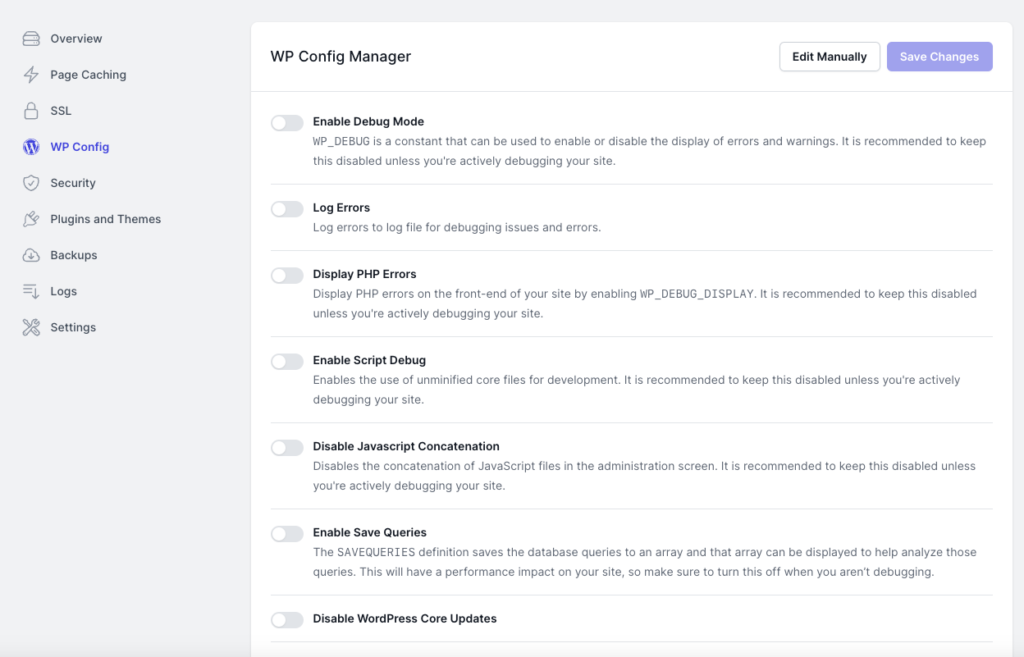 Manage multiple sites effortlessly with FlyWP: Whether overseeing many sites or creating a blog network, this platform offers the flexibility and control you need for smooth operations.

Streamline your workflow with WordPress CLI Support: Use the command line for efficient, automated WordPress tasks to boost the effectiveness and flexibility of your development process. FlyWP gives you the power.
3. Unlimited staging sites for experimentation
FlyWP facilitates the swift and seamless creation of test sites. With just one click, you can generate test sites for various testing needs. This grants users the flexibility to experiment, refine, and breathe life into their projects.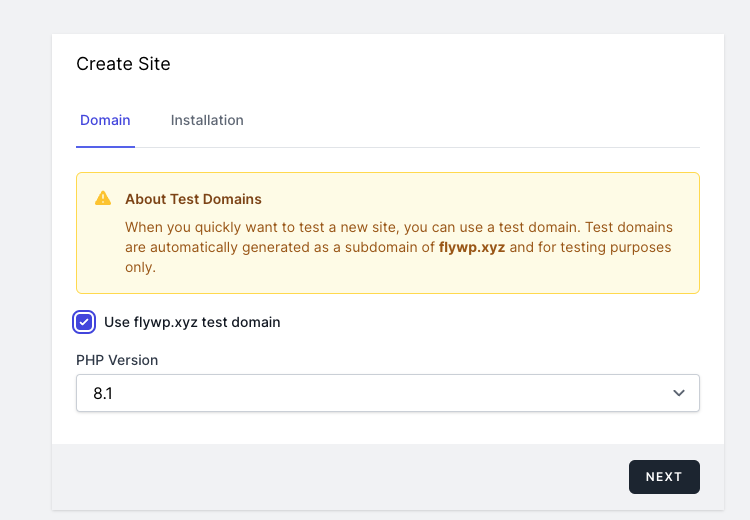 It's the perfect solution for introducing new team members. Using this feature, they can gather hands-on experience without impacting your production site.
4. Centralized management
FlyWP simplifies site management with a central dashboard, removing the need for multiple logins. It allows you to effortlessly manage all sites from a centralized location. This intuitive approach to site management ensures a seamless experience, allowing users to navigate and oversee various tasks effortlessly from a single, user-friendly platform.
5. Enhanced operational efficiency
Caching is at the core of your website's speed, and FlyWP takes it to the next level. With features like full-page caching, Redis caching, and seamless integration with popular caching plugins, your site will load at lightning speed, providing a smooth and efficient user experience.
When you activate full-page caching, your websites become static, eliminating the need for PHP and database queries. You can also utilize FlyWP's Redis cache for object caching. This feature significantly reduces database requests, enhancing your WordPress site speed.
6. Role-based team management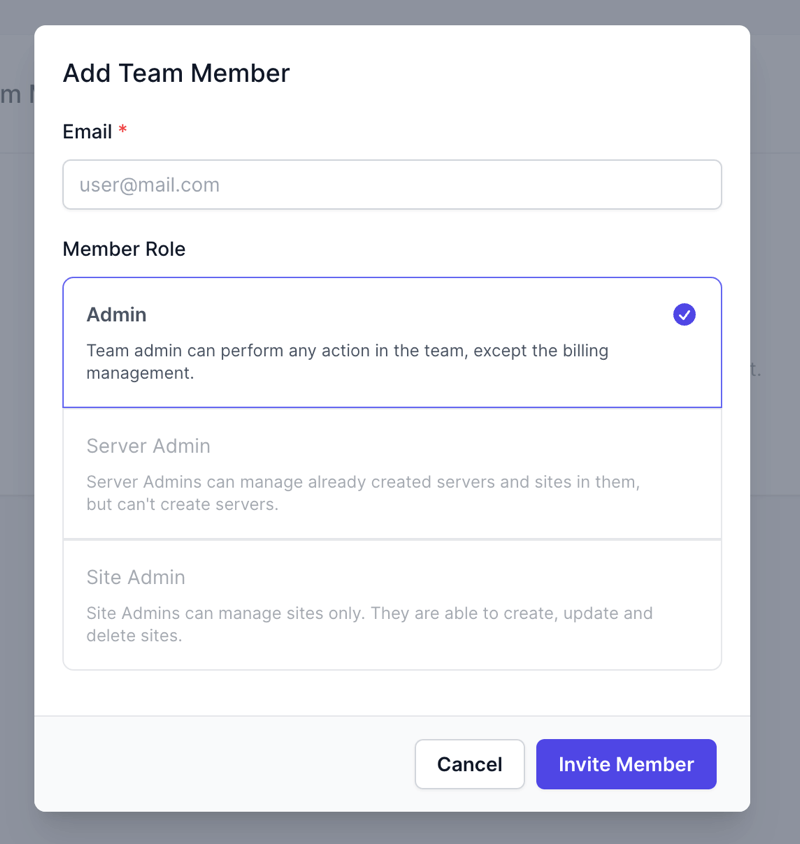 While managing a team, FlyWP provides a super-cool team management option. Under one tab, you'll have full freedom to manage team members with different roles, including Super Admins, Server Admins, and Site Admins.
Super Admins: Super Admins have complete control over settings and permissions. You can assign roles for each team member as required.
Server Admin: While server admins can handle existing servers and sites, creating a new server is not within their capabilities.
Site Admin: Site admins have the authority to manage sites exclusively, encompassing tasks such as creating, updating, or even deleting sites.
This ensures collaborative website management is easier, with each member having the right level of access and control. Thus, FlyWP streamlines collaborative website management, ensuring each team member has the necessary access and control.
7. Ideal for web developers
Developers will appreciate the tools FlyWP brings to their disposal. From "Push to Deploy" to "Easy Switching of PHP Versions," these features simplify the development process, making it very easy to deploy changes and adapt your PHP environment. Additionally, direct access to your MySQL database and logs gives you complete control.
Plus, automatic updates, server optimization, and robust security mechanisms save much of your valuable time. So developers can direct their focus more on productivity.
8. Strong security measures and continuous monitoring
When it comes to website management, security is of utmost importance, and FlyWP guarantees your peace of mind. With an automatic firewall, site isolation through Docker, free SSL certificates, Cloudflare integration, and an optimized Nginx server focused on security, your sites are well-protected.
Automatic 7G Firewall detects real-time threats, Nginx integration to the firewall prevents malicious traffic, and automatic updates eliminate the gaps through which hackers could get into your eco-system. Let's have a quick look at the security measures implemented by FlyWP to safeguard your sites:
Automated 7G Firewall
Docker-Isolated Sites
Complimentary SSL Certificates
Cloudflare Integration
Nginx Security Optimization
Automatic Updates for Continuous Protection
9. Dependable backup solutions
Backing up your data is essential in website management, and FlyWP offers a few dependable options. You can schedule backups, create manual backups, and restore them when needed—your data is safe and recoverable with FlyWP. For added security, host your backups on trusted cloud providers, including AWS S3, Digital Ocean, Cloudflare R2, and Google Cloud.
Choose the ideal FlyWP package for your needs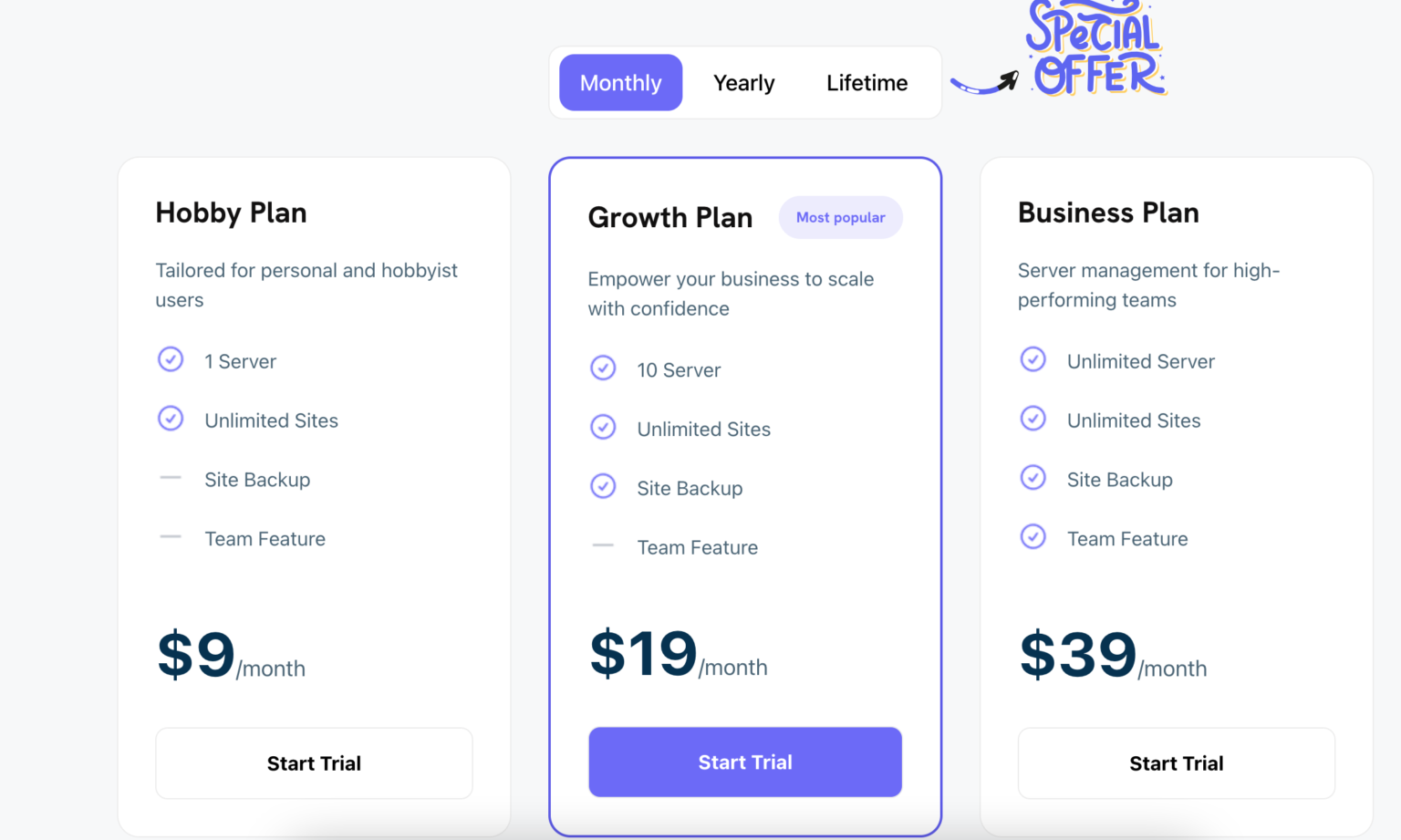 Explore FlyWP's plans tailored for diverse needs. It has plans for everyone from hobbyists to high-performing teams. Benefit from 24/7 email customer support to address any issues. You can also start your journey with a complimentary 14-day trial – no credit card required.
Monthly:
Hobby Plan: $9/month – 1 server, unlimited sites.
Growth Plan: $19/month – 10 servers, unlimited sites, backup.
Business Plan: $39/month – Unlimited servers, sites, backup, and team features.
Yearly:
Hobby Plan: $90/year – 1 server, unlimited sites.
Growth Plan: $190/year – 10 servers, unlimited sites, backup.
Business Plan: $390/year – Unlimited servers, sites, backup, and team features.
Lifetime plans- Limited time offer
Explore the lifetime plans for enduring value and continuous support. FlyWP ensures a cost-effective and reliable solution for your WordPress server management needs. FlyWP offers the following lifetime plans:
5 Server Plan – $349/lifetime
10 Server Plan – $659/lifetime

Host unlimited sites
Ensure site backup

15 Server Plan – $949/lifetime:

Host unlimited sites
Ensure site backup
Welcome your entire team.
Frequently asked questions about FlyWP
The following common queries provide insight into FlyWP's key features and advantages. Hopefully, they'll address concerns users may have when considering a server management solution.
Q: How does FlyWP boost website performance through caching?
FlyWP optimizes website caching with features such as full-page caching, Redis caching, and seamless integration with popular caching plugins. These enhancements result in rapid site loading and an enhanced user experience.
Q: What sets FlyWP apart from other server management tools?
FlyWP distinguishes itself by accommodating various servers like DigitalOcean, Google Cloud, AWS EC2, Vultr, and custom servers. Its WordPress optimization, developer-friendly features, and centralized management make it stand out from the competition.
Q: What optimization features does FlyWP provide for WordPress sites?
FlyWP offers automatic plugin and theme updates, WP Config Editor, multisite support, and WordPress CLI. These ensure seamless operations and effective site management.
Q: How does FlyWP prioritize WordPress site security?
FlyWP emphasizes security with features like an automatic firewall, Docker-based site isolation, free SSL certificates, Cloudflare integration, and Nginx optimization. Besides, regular automatic updates ensure continuous protection.
Q: What happens when I need support on technical issues?
FlyWP provides 24/7 customer support to address any issues you may encounter.
Q: Why consider buying more servers? Can the initial single-server package effectively cater to all my requirements?
Each server comes with finite resources—RAM, processor, and more. Investing in additional servers enhances resource distribution and mitigates the risk of performance issues on one site affecting others.
Q: What about safeguarding my servers against DDoS attacks, bots, and other potential threats?
While FlyWP doesn't directly handle DDoS protection, it lets you select a server provider equipped with dedicated DDoS defense. Alternatively, you can use services like Cloudflare for robust DDoS mitigation. Another option is to deploy a plugin specifically designed to block DDoS attacks.
Use FlyWP to manage your WordPress sites effortlessly
In the world of WordPress site management, FlyWP emerges as a transformative solution. It offers a blend of flexibility, optimization, and user-centric features that redefine the way websites are handled.
Now it's your turn! Discover the ultimate solution for optimizing your WordPress experience with FlyWP. Seize this opportunity to elevate your server management journey to new heights and bid farewell to the complexities of site management.
Subscribe To Our Newsletter
Don't miss any updates of our new templates and extensions
and all the astonishing offers we bring for you.