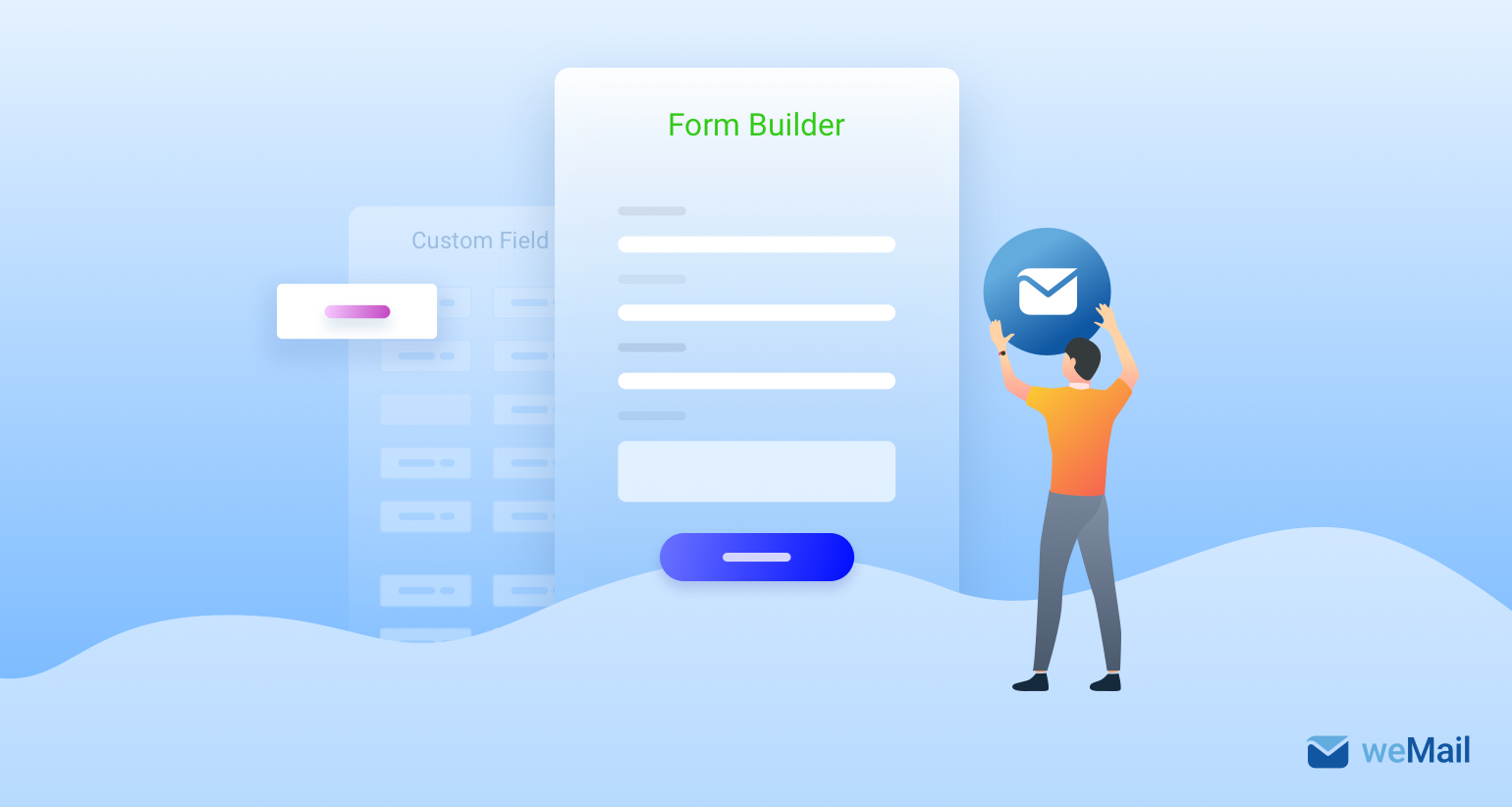 6 Best Free Online Form Builders You Can Utilize with weMail
weMail brings another secret success door to your email marketing business. It helps you to send all your automated emails, newsletters, collect leads, and add subscribers without any manual intervention. Besides that, you can manage all your subscribers inside the WordPress dashboard.
weMail is a perfect solution for small to large business plans with huge email databases.
Now, if lots of mail services are already available on the web, why will you pick weMail? Because it's cost-effective, super easy and simple to operate right inside the WordPress dashboard and most importantly you don't need to have programming knowledge.
In this article, we will introduce you to the best free online form builders for weMail.
What is weMail & how does it help you?
weMail is a WordPress plugin, which enables the users of a WordPress website to send emails, newsletters. In weMail, you will get feature-packed email builders where you can create emails with drag and drop options. After that, you have to connect with email sending solutions such as MailGun, Amazon Web Services, SparkPost, etc to send those emails.
weMail is featured with a built-in email template creator. The interface is user-friendly and consists of most basic components; thus you can build any type of email campaign according to your own requirements.
All you need to do is to set the subject, write your message and put the address where it will be sent to. If you want to connect weMail with any supported email sending service providers you can do it using just an API key. You can then send a bunch of emails at a single moment to your subscribers.
6 Best free online form builders for weMail
We have listed the top 6 free online form builder to enhance your email marketing on the next level. Let's dive in-
Just think once that you can build any form by just dragging and dropping with all your imagination. Doesn't it sound futuristic to you? Well, this form builder comes as a free WordPress plugin. To create a form in weForms you have to just think and build it with just a few clicks.
Prominent Use Cases:
Unlimited forms and as many fields you need
Customizable templates.
Fully featured with drag & drop form editing option.
weForm notifies you if anyone submits a form
You can preview the form to know how it will look when it appeared live.
By placing the maximum form submission limit you can restrict the number of entries in each form.
Collect the information on submission without backend coding.
You can boost your traffic collection by redirecting any submitted form to the website.
100% mobile-friendly to operate your forms through portable devices
weForms has mail support feature of customizing mails.
Helps you to avoid spam entries by reCaptcha
Notifies you in Slack channel whenever users submit a form
You can easily use weForms in weMail by providing those facilities. There are two different versions of weForm: one is free and the other is pro, the paid version. The simplicity to create a form can be helpful for any email marketer who uses weMail.
Contact Form 7
This form builder is completely the explorer of all the other form builders. As a beginner, you can have a look at Contact Form 7, the simplest and the most basic WordPress form builder plugin. It is one of the best free online form builders to optimize with weMail.
Prominent Use Cases:
You can customize your form
Drag and drop editing option
Good for basic form building
You can flexibly deal with mail with simple markup
Supports Ajax-powered submitting
You can avoid spam entries by CAPTCHA and Akismet spam filtering
Create good looking forms
The downside of this free form builder is you can not use it for some advanced features. However, it is completely compatible with the weMail for email business platform.
WPForms
WPForms believes that you don't need to hire anyone to build a WP contact form. Thus, they have built WPForms. With a wide array of tools, it is a good pick for those who want to build contact form.
This free online form builder is suitable for weMail because besides contact form WPForms create feedback forms, subscription forms, donation forms, and survey forms. And the most interesting parts are you don't have to write a single line of code.
Prominent Use Cases:
Drag and drop editing option
The contact forms are 100% responsive to any device
It has spam protection to avoid spam entries
WPForms is SEO friendly
Quick notification of incoming inquiries
You can add your signature form in the signature field
Inform the location of your user
It has Stripe and PayPal forms for easy payment
Well optimized with email marketing
Through WPForms you can smoothly integrate contact forms with weMail marketing services. Besides that, you can collect payments for orders and bookings. All over it can be a perfect choice to add with weMail.
Ninja Forms
Ninja Forms allow you to build any types of forms with beautifully designed set tools. You can be confused after getting lots of tools at first time usage. But spending time on using them will build your control over the options.
To create the complex form you can use conditional logic. Apart from these options, there is a group of pre-built templates to make your work easier.
Prominent Use Cases:
Intuitive drag and drop form builder
Conditional logic to create a complex form
A form can be published by using shortcodes
Ninja Forms will notify you about submission through email
A bunch of prebuilt templates
Fast form submission via AJAX
You can extend its functionalities with lots of extensions
To extend your email marketing Ninja Forms can be your best companion. Though it has paid or pro version you can cope up with the free version if you spend some time to learn all the functionalities.
Gravity Forms
Over thirty built-in fields help you to build any type of form within a few minutes. Sometimes you may need to create a form with multiple pages to send emails to your customer. In this case, Gravity Forms can help you to fulfill your requirements to use it in weMail.
Prominent Use Cases:
Much more flexible usage for beginners
A full-stack WP form builder to build multi-page forms
Over thirty built-in fields
Limited user entries
Advanced conditional logic to make more intuitive forms
You can hide and show some certain fields
Integrated calculator
Avoid spam entries by spam protector
Well integration with other platforms like weMail
You can make a schedule of your forms
A certain time ago this amazing WordPress form builder didn't have any free version. But luckily right now it has a free version for you. You can send emails or grab your subscribers through this form builder with several options.
Caldera Forms
With just a simple drag and drop editor you can build responsive forms by this free but powerful Caldera Form. Both beginners and web developers can utilize it as it has many free add-ons.
You can easily use multiple columns and add additional pages to get strong data and customer-related information. Besides all these, there are lots of reasons to pick this free form builder for your weMail.
Prominent Use Cases:
Intuitive
The user interface is intuitive
Drag and drop editing option
A bunch of fields like- calculation, radio, dropdown select and many more
Conditional logic!
Unlimited forms, fields, and submissions
No limitations on auto-responder!
Anti-spam for avoiding spam entries
To develop the site speed it has free CDN
Lots of add-ons!
Caldera is a different type of WP form builder with lots of user-friendly options. The most amazing part of this form builder is it has an awesome look in any device which can increase your subscription and all over email marketing. You can easily utilize it with your weMail as it is one of the best free online form builders.
Wrapping Up
If you use a form builder with weMail you can get lots of options to drive traffic and their behavioral data. To increase your customer satisfaction, retain existing customers, increase brand awareness, and building sound relationships, a form builder is an essential part of your business.
So, why won't you make the most out of a web form? All the form builders listed in this article are great to use. You can grab any of these free form builders to use with weMail right now! While using these form builders don't forget to share your user experience with us in the comment section below.

Subscribe To Our Newsletter
Don't miss any updates of our new templates and extensions
and all the astonishing offers we bring for you.