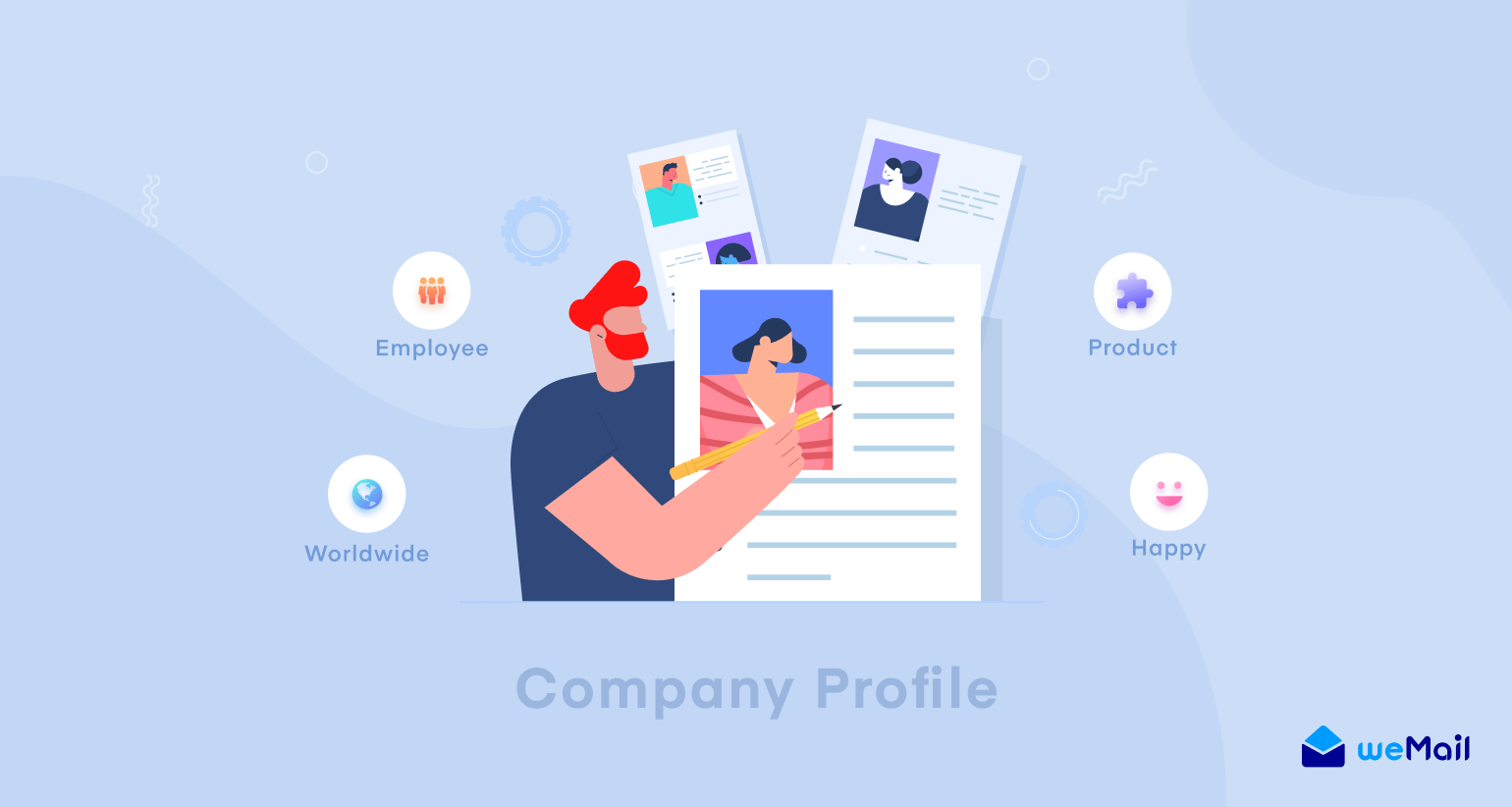 7 Highly Converting Company Profile Examples to Inspire You and Tips to Create a Great One
Appearances are winners in the first place. Your company profile is what makes the first impression on a visitor. A well-designed and compelling company profile helps your visitor learn about your business and your service and get a feeling of instant trust.
Building a guiding company profile ensures that your visitors get the core glimpses of your services. But this thing is often overlooked. Many companies don't understand how to design their company profile, or why should they do so. The fun fact – most top business websites have superb company profile pages or about pages. It's a great practice that should be followed as a user experience best practice.
So, in this blog, we've compiled a handful of the best company profile examples to help your cause. If you already have a good-to-go about page that describes your company info, the following examples only inspire you to turn them great. If not, you will have the chance to learn and apply from scratch.
What You Will Learn from This Blog –
What is a Company Profile
A company profile is a written description of a company. It should describe the name, visions, goals, types of services, strengths, employees, and everything that is disclosable. A company profile is what represents the company in a great fashion.
On your website, you can develop a well-defined page that shows your services, what you do best, how to reach you, and why should people trust you. High-resolution photographs, video tours, and attractive designs are necessary to make it engaging.
Importance of Building a Company Profile
One of the common questions you may find relevant here – why do your company profiles matters? We believe you've already got it, if not, let's go through the following reasons one by one –
A Company Profile Helps You Stand Out: Your company profile page lets you stand top amongst your competitors who don't have it. Hence, if you can build a great one, your possibilities only rise.
Establish Your Brand Voice: You can include the most valuable Infos that attracts your customers and this information can turn your brand voice strong. For example, a powerful brand story always works to develop trust and credibility.
Telling People About Your Products: What are you selling exactly? You can explain to bits about your products on your company profile page.
It Eases the Recruitment Process: As you have mentioned all the necessary info in your company profile, people who want to work for you, get everything they need to know before applying. So it is likewise to say, niche candidates will come more to fill the spots.
Best Company Profile Examples You Can Get Inspiration
Well, take a look at these remarkable company profile examples. They will help you to learn, as well as inspire you to build yours –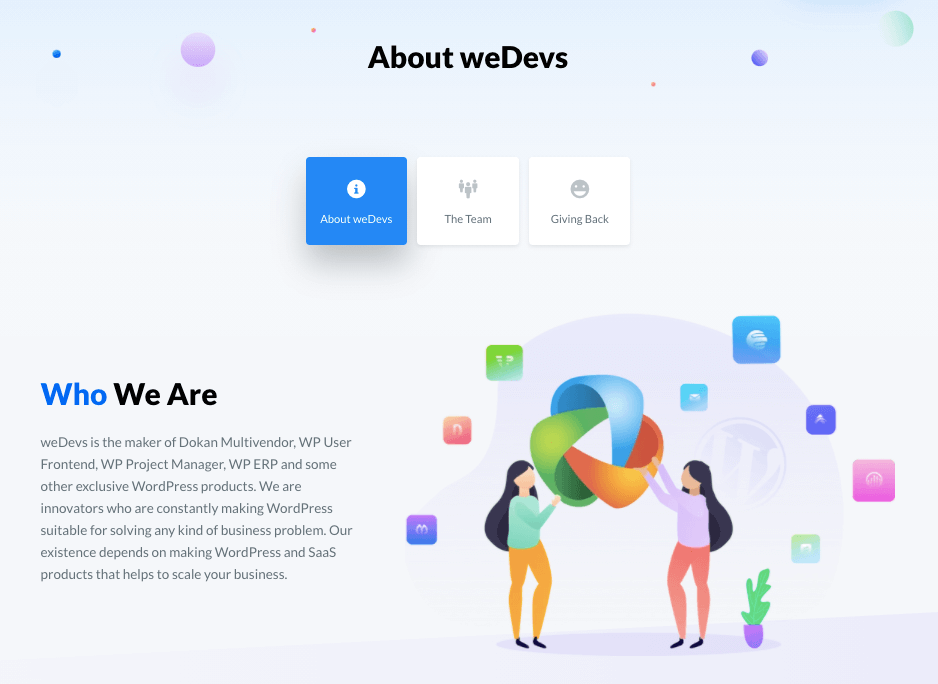 weDevs is a WordPress software development company that serves across the world. They built innovative tools to empower businesses and marketers alike. Some of the weDevs popular products are – Dokan Multivendor, WP Project Manager, weMail, WP User Frontend, etc.
Take a closer look at their company profile page. You can see how well-defined it is. At the top of the page, there are three options that can tell any visitor to choose accordingly. In the about section, you will find the vision, goal, journey graph/timeline, and a short glance at the initial achievements.
By clicking the The Team button, you will find all the people working right now with their photographs, names, and designation. Lastly, the giving back page show you how weDevs is contributing to the WordPress industry and gives a hand in building a better niche environment.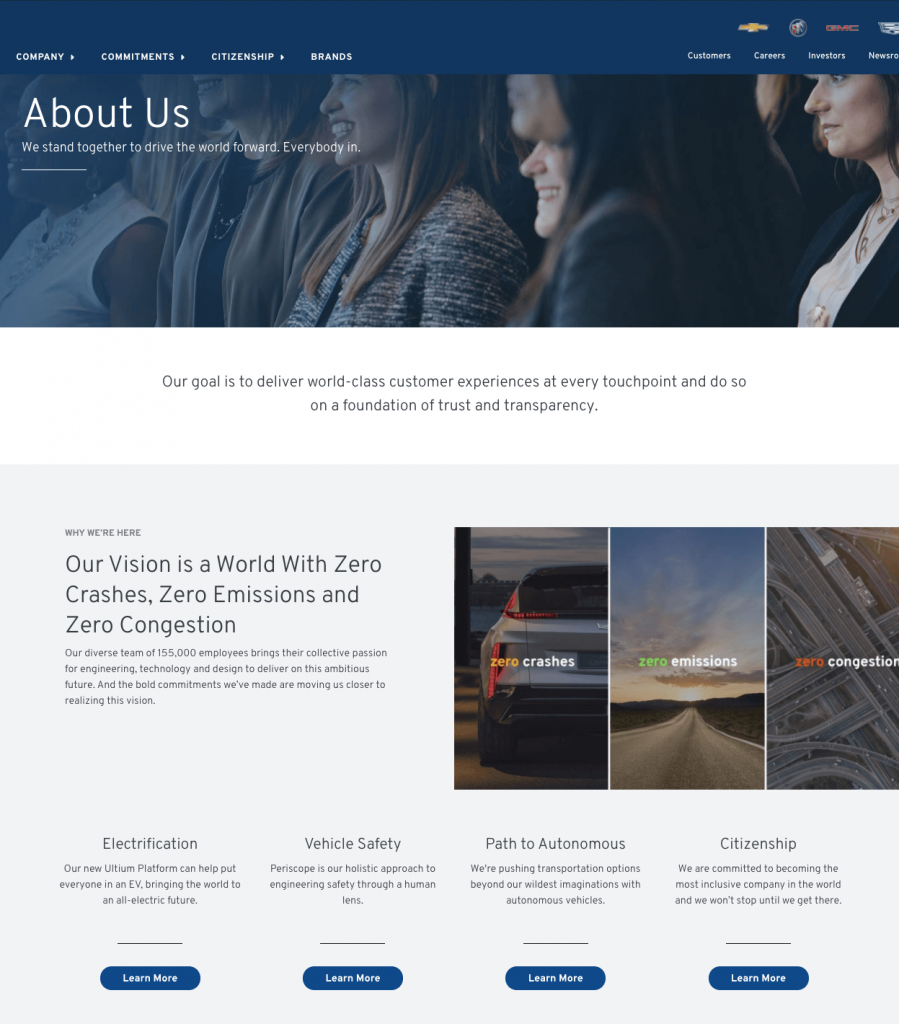 General Motors is beyond any introduction. They are one of the oldest and biggest automotive manufacturers in the world. Hence, this credibility is valued by their company profile page also. It offers almost everything you need to know about them, of course, is a most fashionable manner.
The about page is consists of three parts. Goals, visions, and industries they are serving. Besides the about page, General Motors have well-designed explanatory pages on their brand story, operations, growth strategy, and leadership. The first tab on their website is about their company profile. This indicates how much importance they are putting on it.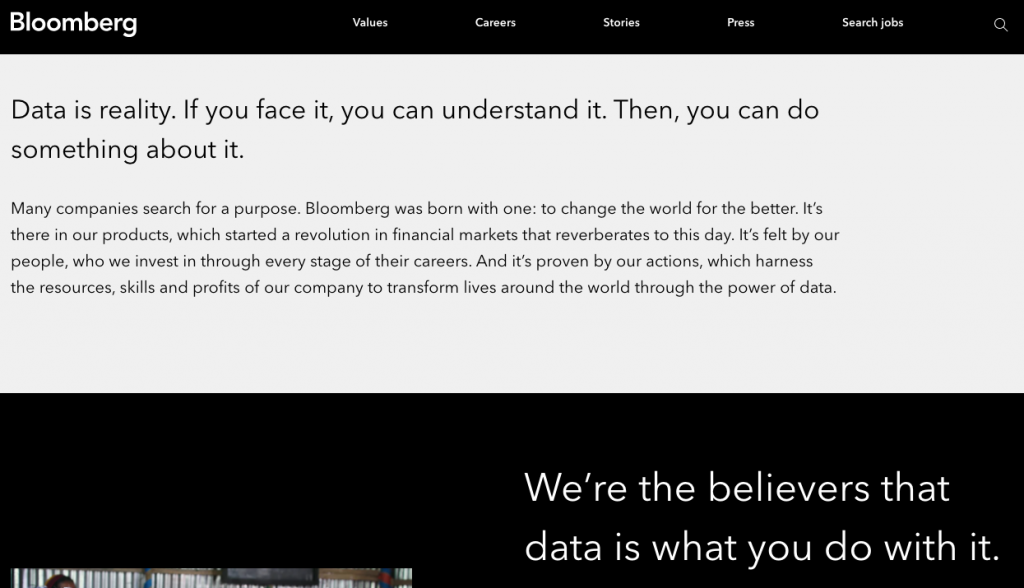 Bloomberg is one of the leading resource sites for global financial data and information. They have something so well-defined on their about page that can be a superb company profile example for you. The page start with the Bloomberg moto and goals. Then manifests the area they are covering right now. You can learn how many countries they are investing, in and a roadmap of their progress in short. A profile that shows almost everything about the company with precise measures, is how Bloomberg designed it. That's why we choose it as one of the best amongst all.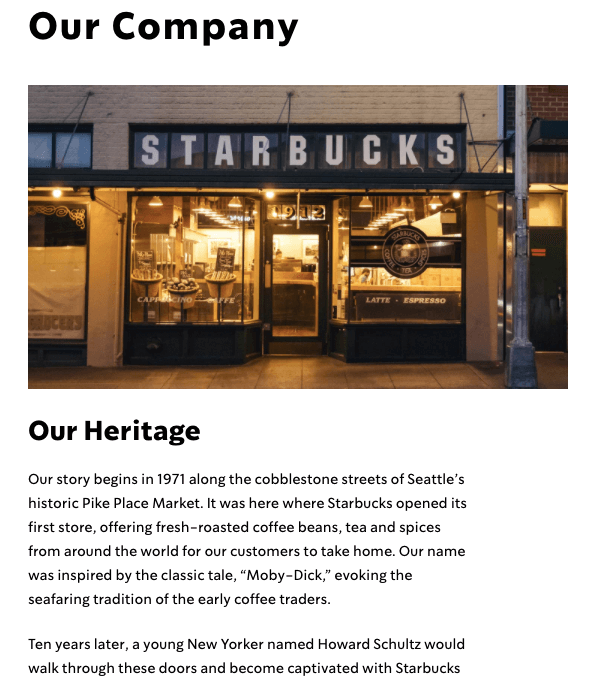 Starbucks is believed to be one of the first premium coffee shop chains in the US. They remain at the top because they don't only sell coffee, they sell stories too. Hence, Starbucks celebrates its story as a heritage that blends the US culture and literature. The same things reflect in their company profile too, as they begin how they got the famous name from the great American novel Moby-Dick by Herman Melville.
If you surf through their about page, you will find Starbucks's mission, how they are doing good to people who love coffee, and all the necessary things you need to know about them.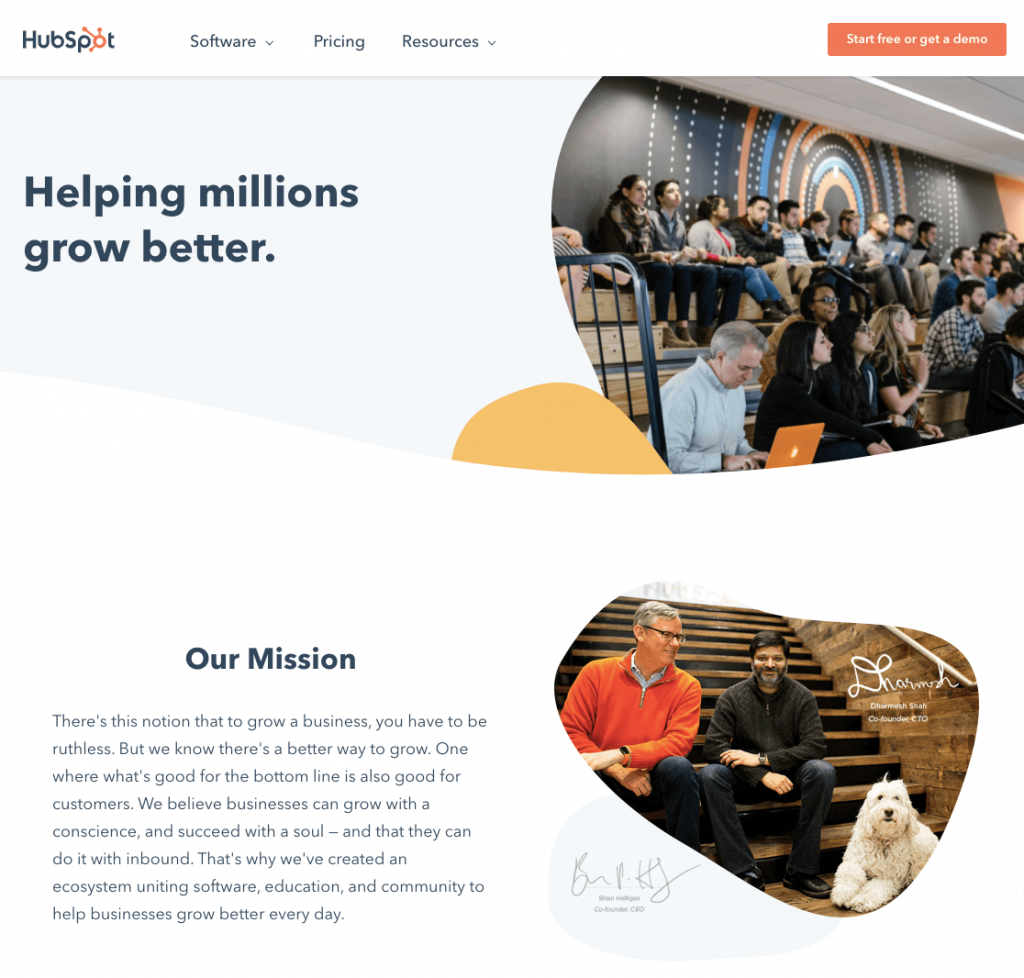 People not only visit Hubspot to purchase their sales automation tools. A lot of niche people love their websites for marketing resources and information. Hubspot offers a wide range of courses and expert tips that help people to learn how to help when someone wants to buy something, as well as the smartest ways to sell something. Back in 2004, the two founding members started their journey considering the motto – helping others to grow.
Their company profile exhibits a guided tour for anyone who wants to know about Hubspot. They have included their vision and mission, types of services, and history with a timeline. Here's the most helpful thing they have added, the close shot information like employee information, how many customers they have, integrations, and all the inbound achievements in numbers.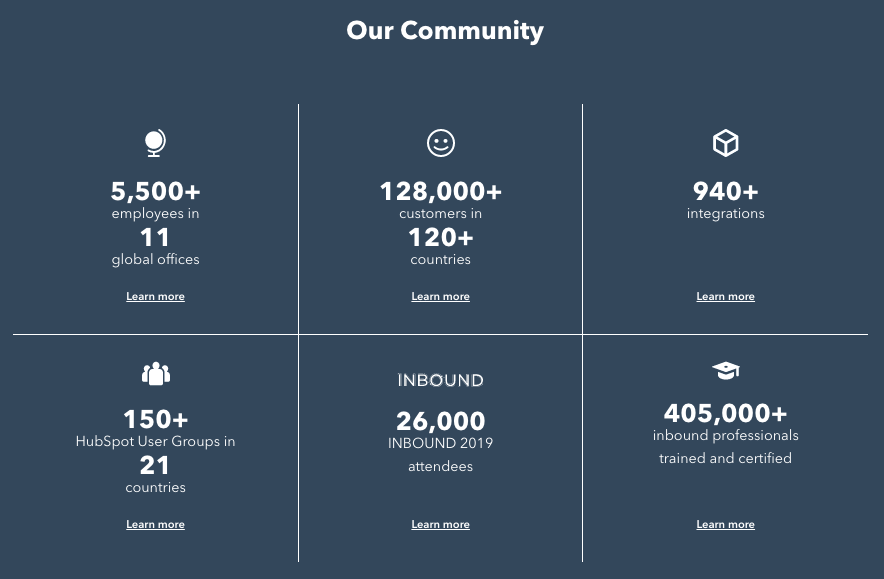 This kind of exhibition only increases your brand value, and trust amongst customers. So regardless of the numbers, you can put your information to make your company profile valuable, and don't forget to keep updating.
6. Zappos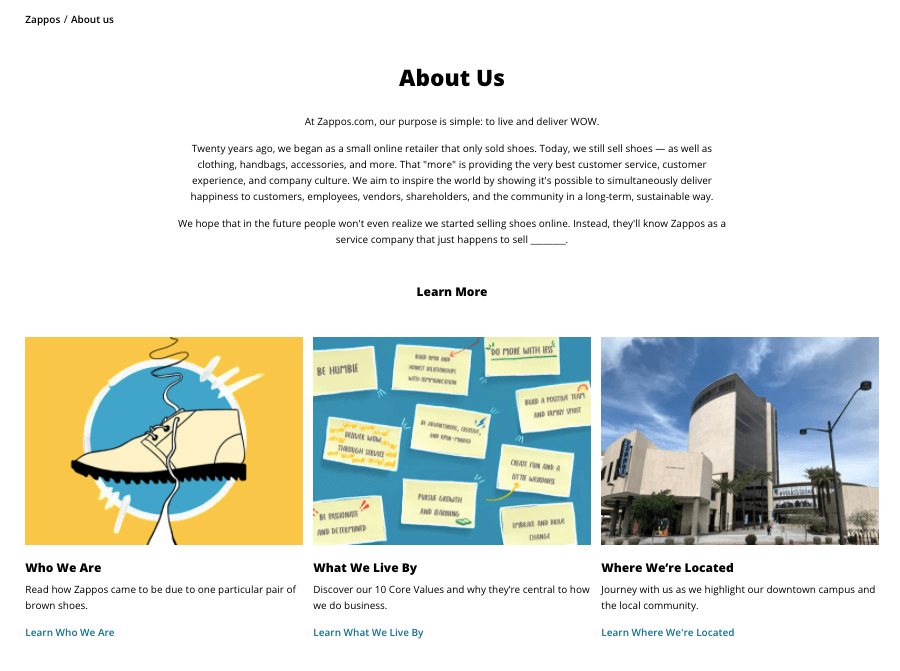 Zappos is a fashion brand. Its about page is one of the best company profile examples you can look for. They have created short content with attractive visuals that tell Zappo's story, what they do, and what they want to do. You can also learn about their culture and history.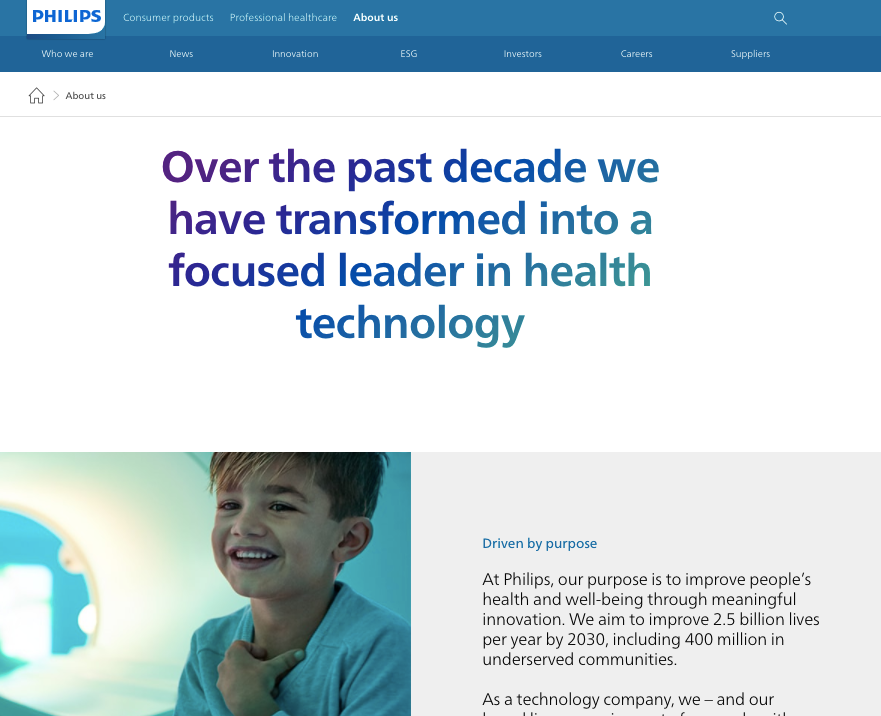 If you need a visually striking company profile, you can navigate the wholesome company profile page of Phillips. It offers stories, innovation, history, data, and whatever you need to get a good knowledge of the organization's vision and mission. For example, you can learn how much they have invested, how many patents they have, and how they are doing a global business so successfully. Therefore, you will learn about their employee culture, and management structure.
Introducing Happy Templates: 400+ Ready Templates To Give Your Site A Unique Look
How to Write a Company Profile – Necessarry Tips
Apart from technical aspects, a great company profile needs to include some crucial information about your business, it must manifest the data in a proper way with a strategy. When you build your company profile page, you must have a goal to reach aka an objective to accomplish. Hence, an aimless company profile won't do the job for you. Let's find the steps you should include in this regard –
Put a Show about the Problem You Solve
The first thing about your company profile is to let people know how can you solve their problems. It will instantly build trust that your job is to help others.
Manifest Values
After your potential customers know what you do, you can now show them how valuable your services are. How are people getting inspired and helped by you? You need to explain it. Precisely, you can display your mission and vision statement, too.
Deliver the right Information About Your Business
People come to your company profile page to get a clear idea about your company. And this is the best place where you can display the most important and attractive company data like how many countries you have a business, how diverse your culture is, how many people are working with you, and the necessary product Infos.
Generate Social Proof with Customer Testimonials
On your company profile page, you can easily show what your customers are thinking about you. Therefore, it would be wise to share some of your top clients who feel happy to have your services.
Use CTAs
Make some room for your customer on the about or company profile page. Whenever they scroll through your business information and get a good vibe from it, it would be a good time to convert them with a proper CTA. It could be a newsletter sign up or it can help people to come to your pricing page.
Include a Visual Guide and Videos
Telling customers your story and history on the company profile page could be the most engaging part. You can use videos, photographs, and stunning illustrations to make a well-designed page.
Closing Up for Company Profile Examples
Before closing up, we suggest you consider some more things while creating highly converting company profile pages. They are –
Identify the objectives or goals you want to achieve from your company profile.
Select the most fitting style that goes well along with your business
You must tell a story through it
Be consistent on what you want to say
Show a timeline of your journey
However, one last but not the least suggestion would be minimalism. Being minimalistic is a smart decision, as overstuffing is always creates a bad user experience. The rest is all up to you.
Subscribe To Our Newsletter
Don't miss any updates of our new templates and extensions
and all the astonishing offers we bring for you.