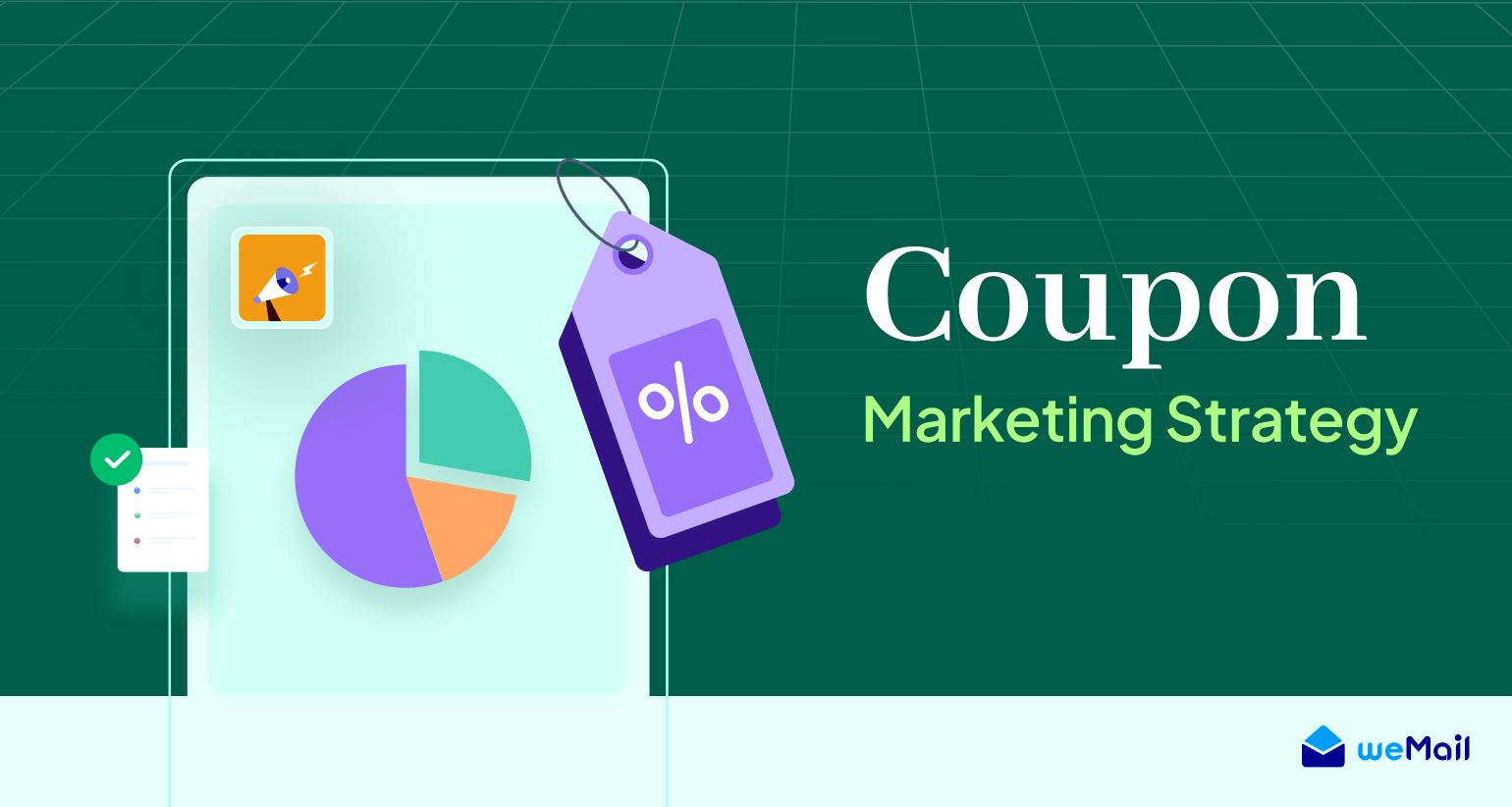 How to Improve Your Coupon Marketing Strategy to Accelerate Sales
Back in the '30s, in those days of the great depression, coupons gained impeccable popularity for the first time. Since then it has stuck to the shopping process. People love it, and, maybe they always will be. You can't take away the significance of coupons from American shoppers.
The prime reason is saving money big time. And, now we have digital coupons on the play besides the traditional ones. Especially for eCommerce aka online stores, digital coupons are a winning shot to elevate sales. OK, think now, can you manage your coupon marketing without a proper strategy?
Why You Need a Solid Coupon Marketing Strategy
'Keep your coupons close, keep your couponing friends even closer.' This funny quote originated from one of the most memorable lines from the Godfather movie, and we bet you have seen a lot of similar pop culture references on coupons. It's that much popular.
Coupon is a way to influence people to shop more. The trope 'pay less to buy more' always works (well, if not, most of the time).
More than 58% of millennials love to pair coupons and store circular offers to plan their shopping. Where do Generation X and Boomers stand? The numbers are a strong 69% & 64% respectively.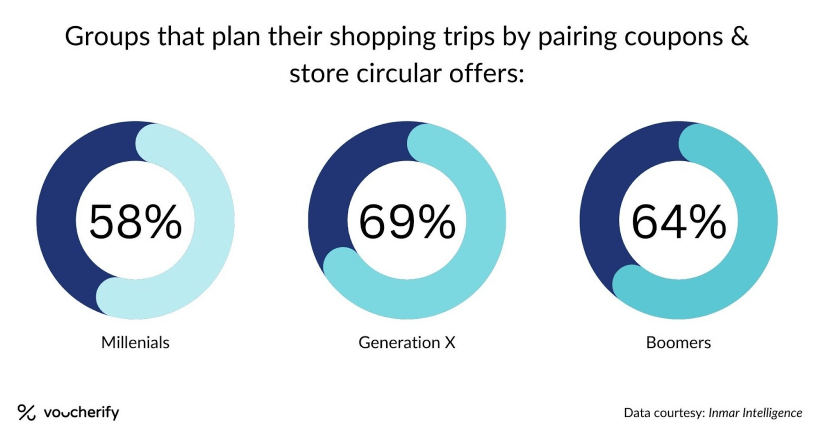 Most fascinatingly, people who weren't even planning to shop, 67% of them went on to purchase something if they found any coupons or discounts. (Retailmenot)
These happy statistics prove that you must have a plan for your coupon marketing. Like sorting out the best practices, and ways to channel your coupons, and drawing an outline to execute your strategies. Only then you can beat your competitors.
Guess what?
The global digital coupons market was worth $6337.99 million in 2022. It is expected to reach $17798.06 million by the end of 2028. The forcasted CAGR (Compound annual growth rate) is an astounding 18.78%.
9 Best ways to Supercharge Your Coupon Marketing in 2023
Time changes, and so our approaches to things. Once there were only traditional coupons that were offered through person standing beside the frondore of a shopping mall, cash counters, or even in mailboxes.
Now, when we are talking about coupons, mostly it is digital coupons. And, this blog is designed to help you to improve your digital coupon marketing strategy. Here's how –
1. Grasping the Nature of Coupon Marketing
People loves coupon for simple reason: shop at a discount. The big the offer is, the merrier it would be. Before you set to offer coupons to your customers, try to understand what are the pros and cons of coupon marketing.
The next thing is find out the channels to sell your coupons. For example, you can channel your coupons through email marketing, social media, paid marketing, etc.
As, digital coupons are a bliss to the new ages. You can show it almost everywhere in the internet. Also because of this reason, you must choose how to show your offers or discounts in a smartest way possible.
Want to hear some drawbacks of this marketing tactic? Coupon marketing stands on a high volume of sales. Because it cost you a lot of money, and you must compensate that amount through a hige number of sales. Also, if you are too much in favour of coupon marketing, the existing customer tend to wait for the offer. And you lost the possible growth on your regular sell.
As you are already here, don't worry. There are a lot of way in heaven and earth to make your coupon marketing a success.
2. Set Your Goals
You can also call it noting down the possible benefits. What do you want to achieve from your coupon marketing? You should seek the answer before the beginning. Take look at some goals you want to accomplish with coupon marketing –
Increase Sales
Grow your customer numbers
Grow a dedicated customer base
Improve your brand recognition or brand value
Reduce the number of abandoned carts, etc
If you know what to achieve through a marketing technique, you can be more data driven, and the work process of your coupon marketing strategy will be more result oriented.
3. Check the Viability of Your Business Model with Discount Codes
Is your business model viable for discount codes? Coupons are good for attracting new customers as well as the existing ones. But once your set foot upon it, there wont be a wayback for sometime, at least for a specific campaign or a season.
Most businesses offer coupons and there are many who doesn't. In which type you belong? Not only the niche or types of the business, it depends also on your target customer and existing sales numbers.
So, here are some crucial information to check one after another –
What is your bestselling product so far
Do you already have an established customer base
The shopping cart abandonment rate
One time customer
Retention rate
Seasonal sales volume
Pick and off-pick period of sales, etc
If you think your business have no problem with offering coupon codes, the above checklist could help you to determine whether you should go for coupon marketing or not.
If your cart abandonment is high, have low retention rate, and you heavily rely on seasonal sale, coupon marketing could be a game changer for your business.
4. Use Discounts to Lead Magnets
Email marketing is one of the best ways to channel your discount coupons. Also, you can offer coupons to your lead forms to grow your email lists.
Most cases, lead magnets are popular for offering eBooks, access to webinars, tips or checklists, etc. Why not tweak it for boost the lead conversion?
You can add discounts to your lead magnets like many top brands are doing today. The benefits have two sides –
One. You can share discounts at ease to increase sales.
Two. You will be collecting active leads or prospects to grow your business. And, ask users to refer other people to come and get the offers.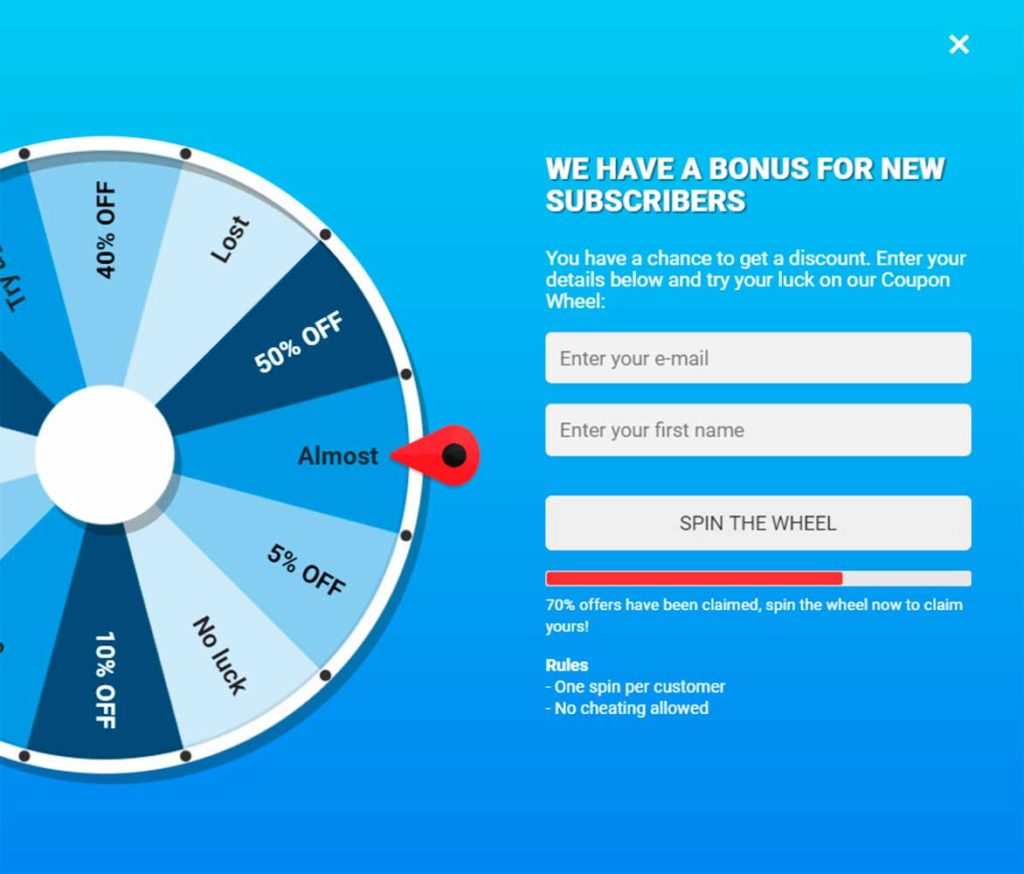 The best ways to attract the right customers for your business, you must design the perfect incentives strategy. For example, if the average discounted price of a Sunglass is $50 in a market, you shouldn't offer a coupon of 60%. It will confuse the customer about the quality of your product.
Another way of putting discounts on lead magnet is offering free shipping. You could just say, sign up and get a free delivery worth 10% off, or something like that.
5. Make Plan For the Offer Types
One of the benefits of digital coupon marketing is it's openness and creative possibilities. Usually, brands offers discounts like 40 or 50%, etc and try to attract users. But how much longer you sustain with such offers?
Before you set the types of your offers, try to find our the pinpoint of the customers. Try to find the answer of what types of benefits they want to get before conversion. It's as simple as that. And one best way to this scrutiny is customer survey.
You can send simple questions to your existing user base through email marketing. To learn how to do it read our guide on How to Create a Survey Invitation Email.
Check the following checklist to find different ideas to peach to improve your coupon marketing strategy –
Free shipping or delivery
Offer discounts on abandoned cart purchase
Giveaway offers
Gift or souvenir items with a new purchase
Initiate referral bonuses or gift vouchers as incentives
Once your begin, eventually it will be seen which types of offers are working more. And, you should always have a room for customizations in your marketing shop.
6. Implementing Several Distribution Channels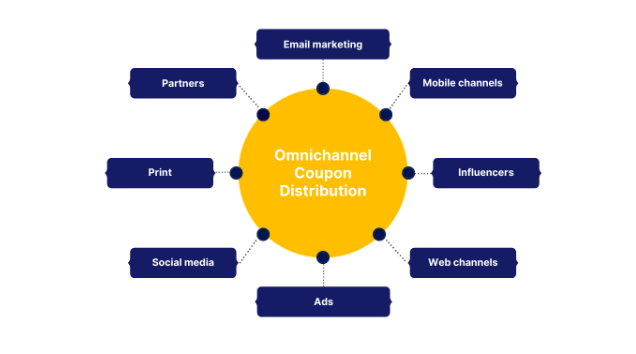 As a well-accepted channel, email marketing remain popular to distribute your coupons. Though, you should think of alternatives to bring some more energy to the game.
SMS and Push Notifications
According to a recent data (Colorib), 25-29% users tend to use mobile phones for shopping. So, SMS marketing or mobile push notifications can be a good way to distribute your coupons.
Social Media
To share your coupon in social media there are some pre-requisites. You need to create a brand/ product page. Have a stable engagement of regular users or enthusiasts. To keep the social media reach up to the mark, you should create different types of content like interactive graphics and videos, webinars, etc.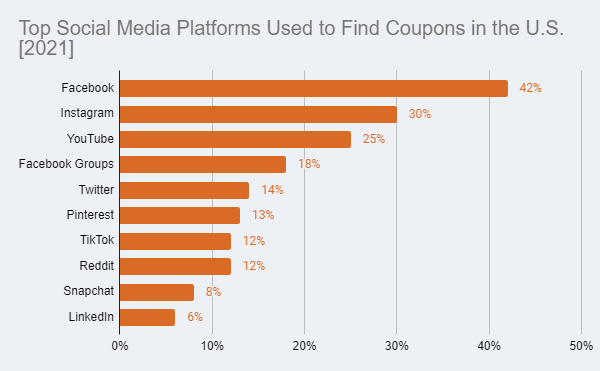 [Source: Meetanshi]
Get Help from Influencers
Influencers like industry experts or content creators can increase your sales like crazy. Though there's a high risk that wrong guys gonna bring you a lot of irrelevant people in the loop and it wont be of any help in the end. So, the math is simple: reach out to influencers with cautions.
Paid Ads
The simplest way is displaying your coupon codes with the right copy in the sponsored social media ads (Facebook, X, etc) or through Google Ads. It will also help you to learn which channels are working better to share your coupons.
7. Implement Singe Use Coupons
Sharing a coupon should be a one time deal. That means if you offer a promo code to a user, he/she can apply it to avail their offer only one time, and then the coupon will be expired. Single use code is designed for each customers with a unique number.
It's completely opposite from the code with multiple usability which are called Standard or Evergreen coupon codes. A generic coupon code like this can be used by multiple users, and you often see this types of coupon code in supershops or online stores selling all their items with a 20% or 30% flat discounts.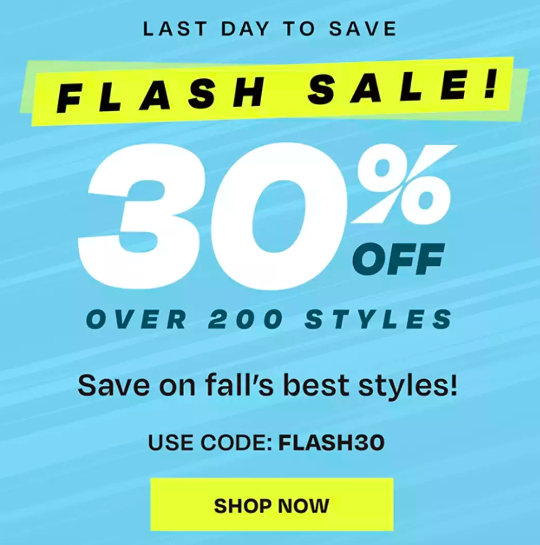 Just like the example above, single use code is a way to make your customer keep the intrigue and coming back for more. Therefore, they will also help you sell more products by personalization.
8. Personalization in Coupon Marketing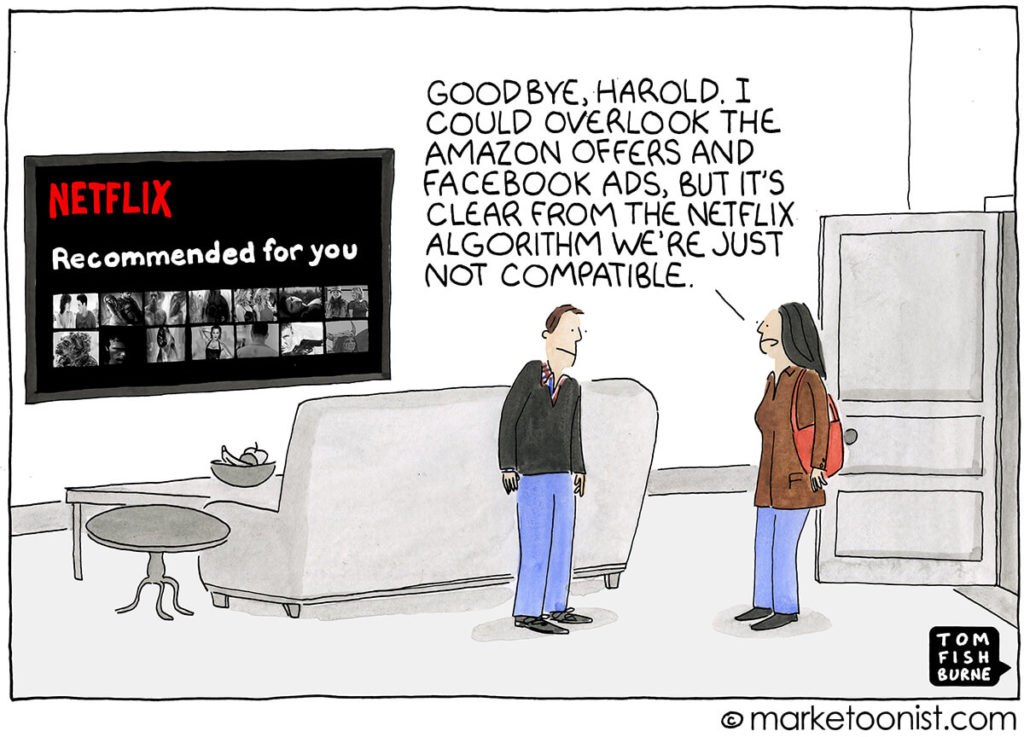 Personalization in coupon marketing involves tailoring coupons and promotional offers to the specific preferences, behaviors, and demographics of your customers.
It can enhance the effectiveness of your coupon marketing by turing the discounts more relevant and enticing to the customers.
You can check and analyze the following data to determine how to personalize your potential users for coupon marketing are the following – earlier purchase history, location, age, gender, online behavior, etc.
For example, an online fashion retailer may send a personalized coupon to a customer who frequently buys women's shoes. The coupon could offer a discount on the latest shoe arrivals, providing a tailored incentive for the customer to make another purchase.
In another case, a fast-food chain (suppose Mcdonalds) might use geolocation data to send coupons for specific branch locations to customers in the vicinity. For instance, if a customer is close to one of their stores during lunchtime, they might receive a coupon for a discounted meal at that location.
Personalization in coupon marketing not only increases the likelihood of a sale but also fosters customer loyalty by showing that a brand understands and values its customers' preferences and needs. It can lead to higher conversion rates and increased customer satisfaction, ultimately benefiting both businesses and consumers.
9. Monitor the Performances of Your Coupon Marketing Strategy
If you are not going to track the performance of any marketing track, all these effort may lost in the horizon. Same thing should follow suit your coupon marketing strategy.
If you are sending coupons via email marketing, try to analyze the click-through rate. For social media, you can track the organic post impression and conversion rate.
If you run paid ads, monitoring the conversion metrics would be easier. Some of the best ways are –
Keep track of your add budget for coupon marketing and analyze budgeted costs with the real costs
Check how many units/ numbers you sold from your paid campaign
Compare your substantial profit with the planned numbers, etc
All you need to do is keep track of your progress and failures for a specific coupon campaign. It will help you to make better decisions in the days to come.
Up to You
The best tactic in business is how you make of it with experience and industry best practices. Coupon marketing can boost up your sales. What you must ensure for that is following the must-haves and understand how this thing could make an impact to your overall business.
Subscribe To Our Newsletter
Don't miss any updates of our new templates and extensions
and all the astonishing offers we bring for you.