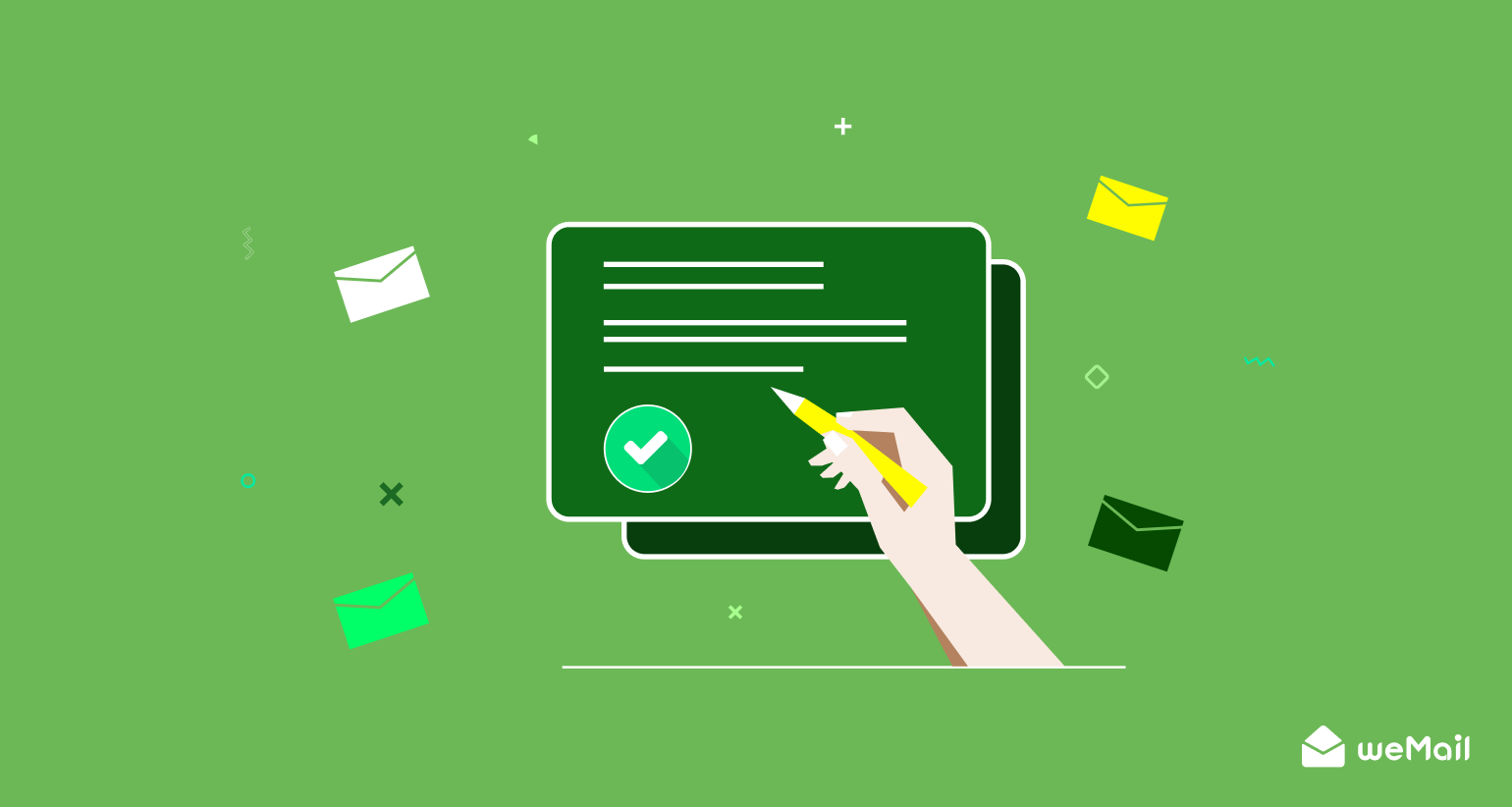 How to Create a Survey Invitation Email for Higher Response (With Examples and Best Practices)
Customer feedback is one of the keys you need to improve your product.
It will help you understand whether a product delivers proper value or not. Also, you will learn where the problem lies and solve it simultaneously.
Unlike any other channel, email marketing performs remarkably well for gathering customer feedback.
Well, for that, you must send survey invitations to the subscribers. Wonder how to create such email campaigns?
Don't worry. This blog will show you how to create customer survey invitation emails from scratch, how to send them, and some industry best practices to get the results you desire. Let's begin.
What is a Survey Invitation Email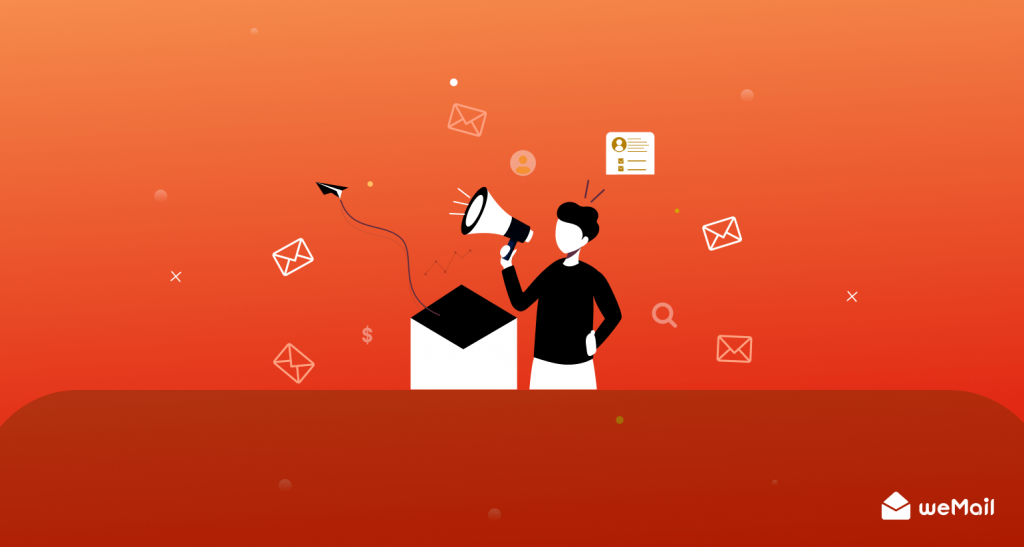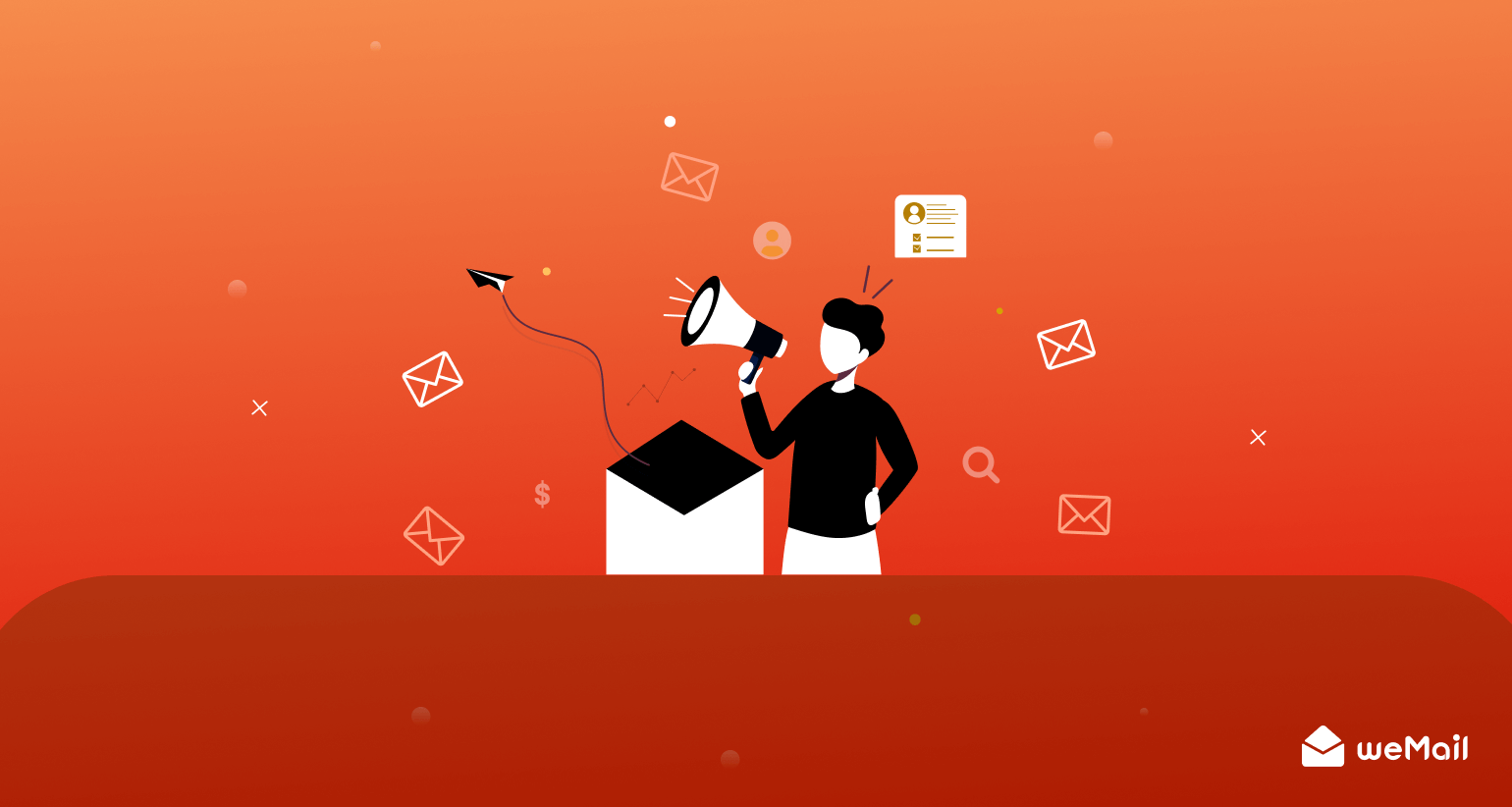 A survey invitation email is an email where you send an invitation to subscribers to take part in your survey. It could be your product survey, a survey about overall user experience, or even about a specific campaign.
It's a process of collecting relevant data directly from your subscribers. That's why it contains a set of questionnaires or a submission form with multiple options to gather user opinions.
A survey invitation email can be a great way to increase the response of your target audience and make them take the action you want.
Usually, you can use a survey invitation email template to send this email campaign. Most companies often send random survey emails which are not considered a best practice.
Why do You Need to Send Survey Invitation Emails
All types of businesses leverage customer surveys, and they're as important for small, growing businesses as they are for established corporations.

InMoment
Email marketing is the best way to gather customer opinions about your product or services. As email works on a personal level to engage subscribers. Hence, when your email successfully conveys the survey invitation, people may willingly take part.
However, there are some core benefits a survey invitation email campaign can help you gain. They are –
1. Increase Trust
A survey invitation email let subscribers feel that you care. That's why you want to know how to improve your service more. The whole thing works to increase the trust level between you and the customers.
2. Find Out Your Weakness and Strength
Survey questionaries are aimed to learn about your product's performance. So when completed, you will understand whether your product is good enough or need improvement.
3. Help You Build a Strong Brand
A brand becomes stronger when it cares for its customers, and customers feel safe to engage more with the brand's activities. Survey invitation emails only improve this relationship.
4. Increase Email Conversion
In a survey conducted by SaleCycle, 59% of participants said that valuable marketing emails influence their buying decisions.
In this regard, survey invitation emails are valuable. Why? Because they want customers to be vocal about their feeling.
It gives them a space where they can express their user experience at ease. Eventually, this also influences their overall perception of your brand. Well, in a positive manner, of course.
7 Steps to Create Survey Invitation Emails for Your Business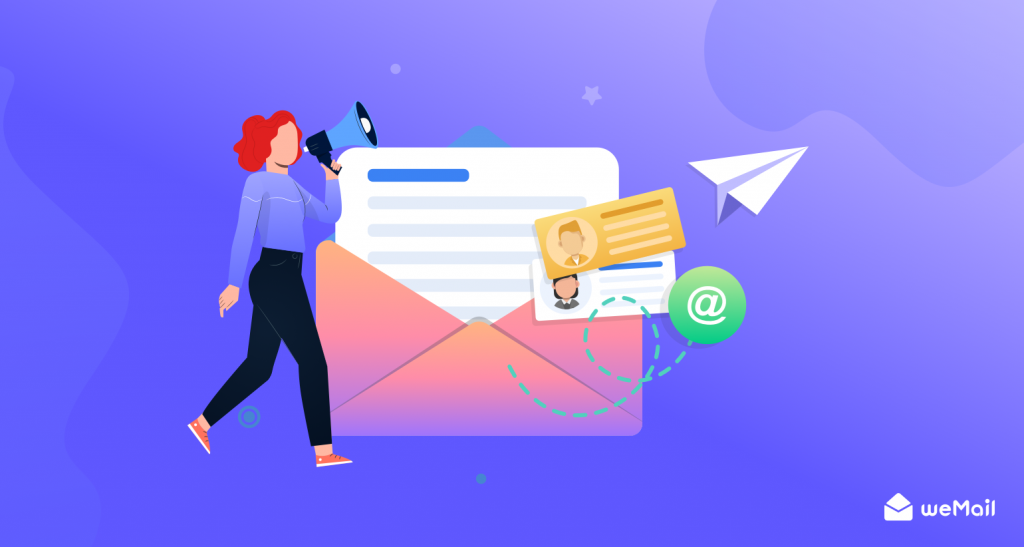 Creating survey invitation need some preparation. Also, you need to sort out some additional matters before the jump start. For example, a goal is necessary for your survey.
Then you must gather all the queries and select only a few. It wouldn't be nice to bore your subscribers with too many questions. Thereafter, you should apply a handful of best practices to turn your email surveys into success.
So, let's begin with all the steps one by one to create a winning survey invitation email campaign –
Step 1. Sorting Out the Things You Want to Learn from the Customer
It's never been that easy to find out the perfect questions for a survey. Though, there are ways you can narrow things down.
You can gather the people in your team who are well-inhabited with the product on a daily basis, in case, you don't have any product analysts or QA managers. Assign them to sort out frequent issues that they feel need to solve. You can consider their remarks while creating the survey questions.
Also, creating a lot of survey questions and through them to the customers won't be a wise idea.
To solve this problem, you can create different survey types. And send one type of survey invitation at a time.
For example, you want to know about a recent feature and whether it satisfies the customers or not. In such a case, you must stick to the point. You don't need to ask for a detailed response to various aspects of the product.
Step 2. Go for a Specific Segment for Each Survey
Ask questions only to those who posses most possibilities to answer.
Email marketing is great for surveys, particularly for one reason. It helps to segment your list.
For example, with weMail email segmentation, you can segment down people with different interests.
Then the job will be easier. Send a survey following a specific segment in your email list. That means you ask a set of questions only to those people who are really interested.
Here's how to do it –
Be very specific about the survey questions you are going to put in the survey invitation email
If it is about gathering product feedback, ask only the user segment in your email list.
Don't make a blunder by sending survey invitations to every list.
Suppose, you have a segment of people who add a product to the cart and left without converting. You should send them a survey to learn what exactly draws them back before making a purchase.
So, what's the takeaway from this step? You shouldn't go for a random or blunt survey invitation rather than a specific one.
Step 3. Try to Use an Embedded Survey
In a traditional survey email, you often introduce the nature of the survey, invite the subscribers, then provide a link or CTA (Call-to-action).
This takes the user to the survey landing page. Just like the Amnesty Email below –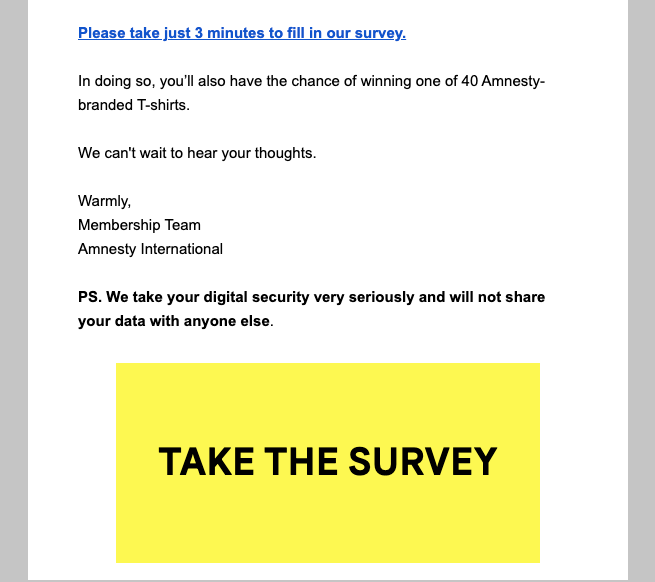 Though it is a common practice, it may cause a low click rate for the survey.
Evidently, people are less likely to click on the survey link. On a whole, you need to depend on a good CTR for this type of survey email invitation.
So, as an alternative, you can embed the survey in the email directly in the email body.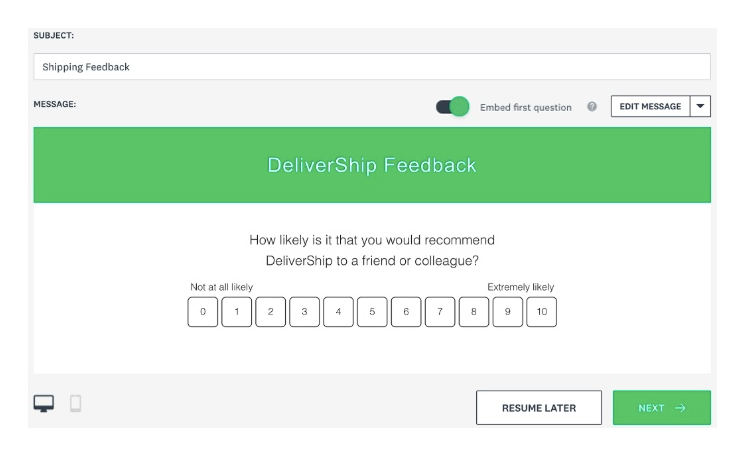 This would reduce the chance of a lower response on completing the survey form. Therefore, an interactive email experience only gives you more engagement and conversion. According to an A/B test run by MailerLite, the embedded email survey got an extraordinarily 135% higher results than the traditional survey.
Step 4. Write Down the Perfect Email Copy for Survey Invitation Email
There's no such thing as perfect writing.

Haruki Murakami
It's unavoidable. There's no such thing as perfection. Still, you want to achieve it. And, if try hard, you only make your writing compelling, easily graspable, and entertaining. That's rewarding, don't you agree?
Your survey invitation email copy need not only be compelling, but it must also be a good pitch to make the reader take part in the survey. For this, you need to apply a clear, goal-oriented, and engaging tone to your writing.
Therefore, email marketing experts follow some proven principles to achieve the aforementioned feat in an invitation email copy. They are –
1. Explain the benefits of the survey in the first place.
2. Show what is your goal to invite for a survey
3. Make the reader feel worthy and important
4. Be precise and to the point.
5. Last, but not least, tell the reader it only take a few moments.
If followed properly, the above principles can be the perfect guideline to achieve the most engaging email copy.
Step 5. Make the Best Out of Your Survey Email Subject Lines
47% email recipients open an email based on the subject lines. The same percentage of marketers test their subject lines before sending.

Tidio, HubSpot
The subject line plays a big role in your email open rate. The more engaging they are, the higher the open rate you would likely get. Even, a subtle email subject line can increase user interest to explore your email body more and to make an action you desire.
Hence, what are the best ways to improve the subject lines of your survey invitation email? Here are some best practices –
Personalization
Personalization works in email subject lines for many reasons. Two of them are – it reduces the chance of an email ending up as spam, and personalization evokes a feeling of trust amongst the email recipients.
It doesn't mean to use the name. Only the power word "You" may suffice in most cases.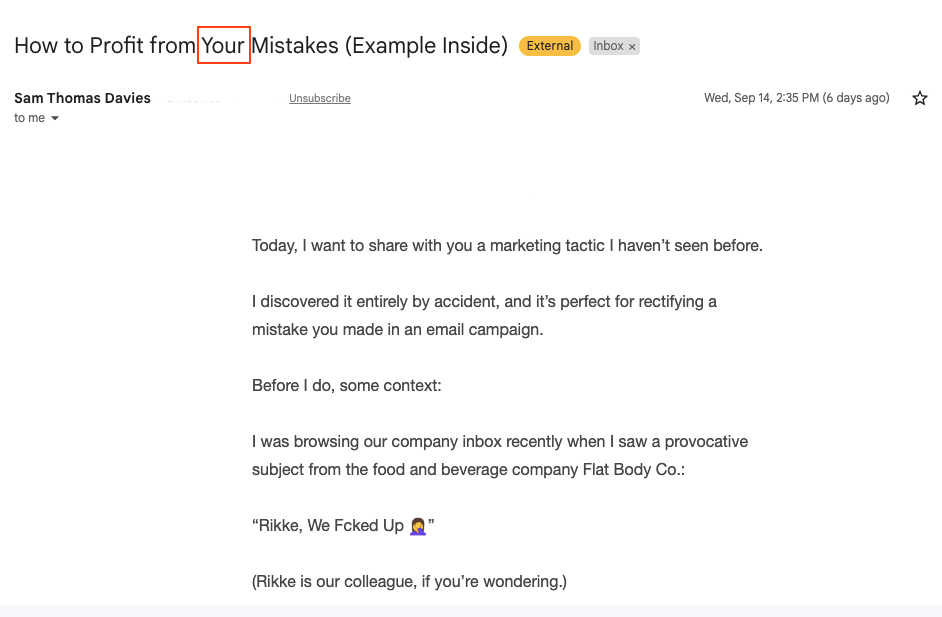 Also, some of the best case personalization techniques are the following –
Addressing birthdays, anniversaries, etc.
Addressing with the first name.
Telling about the last purchase, etc.
Though, in the survey email invitation, your chances are not that open for implementing all the aforementioned techniques. But you can use a tone like that the email is only catered for them, using the first name, and use "You". As well as you can look for the email segmentation list to innovate more ways.
Relevancy
Make sure you stay relevant while asking for feedback or a survey. Relevancy is crucial here, otherwise the audience not going to connect through your message.

Ask a Question
You can ask questions to increase an instant eagerness amongst the email recipients. A good question always evokes scrutiny. So, you can use some questions in your survey email like the following –
Don't you want to get more of your product?
Would you mind helping yourself with a survey?
Asking questions is good if it has a real substance, and the copy is compelling.
Offering Incentives and Show it On Subject Lines
Using only the word "free" can increase your open rate up to 10%. Therefore, offering incentives can help you to get a higher response rate for the survey email invitation.
For example, you can write down some survey emails' subject lines like –
Fill Up the Survey & Get a 40% Off on your Next Purchase.
Earn a Coupon Worth $23 for Contributing to Our Survey.
Win a Special Gift Card and Join Our Survey Competition!
Evidently, 80% of customers convert to a new brand when they are offered a coupon or incentives.
Also Read: 13 Best Email Subject Line Tips to Increase Your Open Rates & Engagements
Step 6. Apply Survey Rules and Create New Segmentation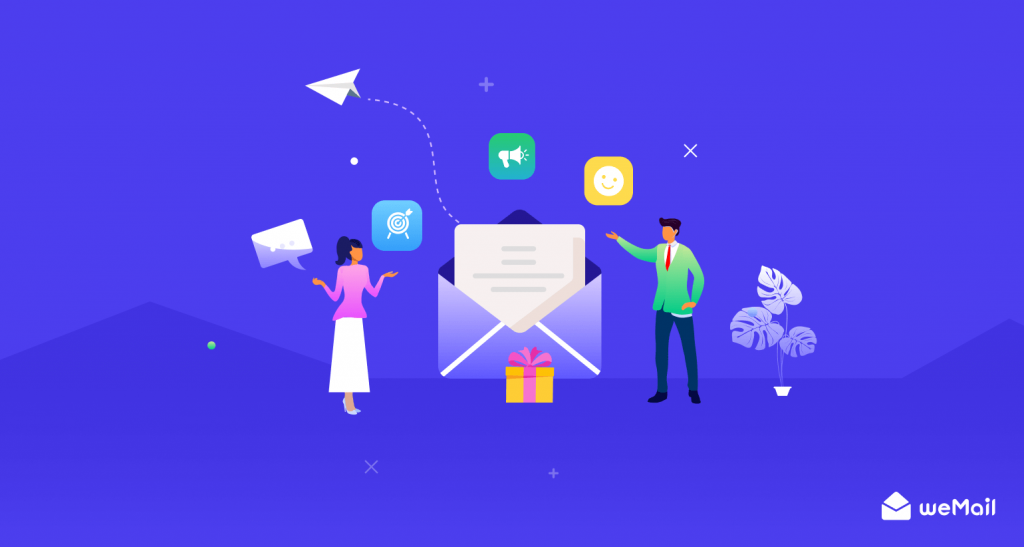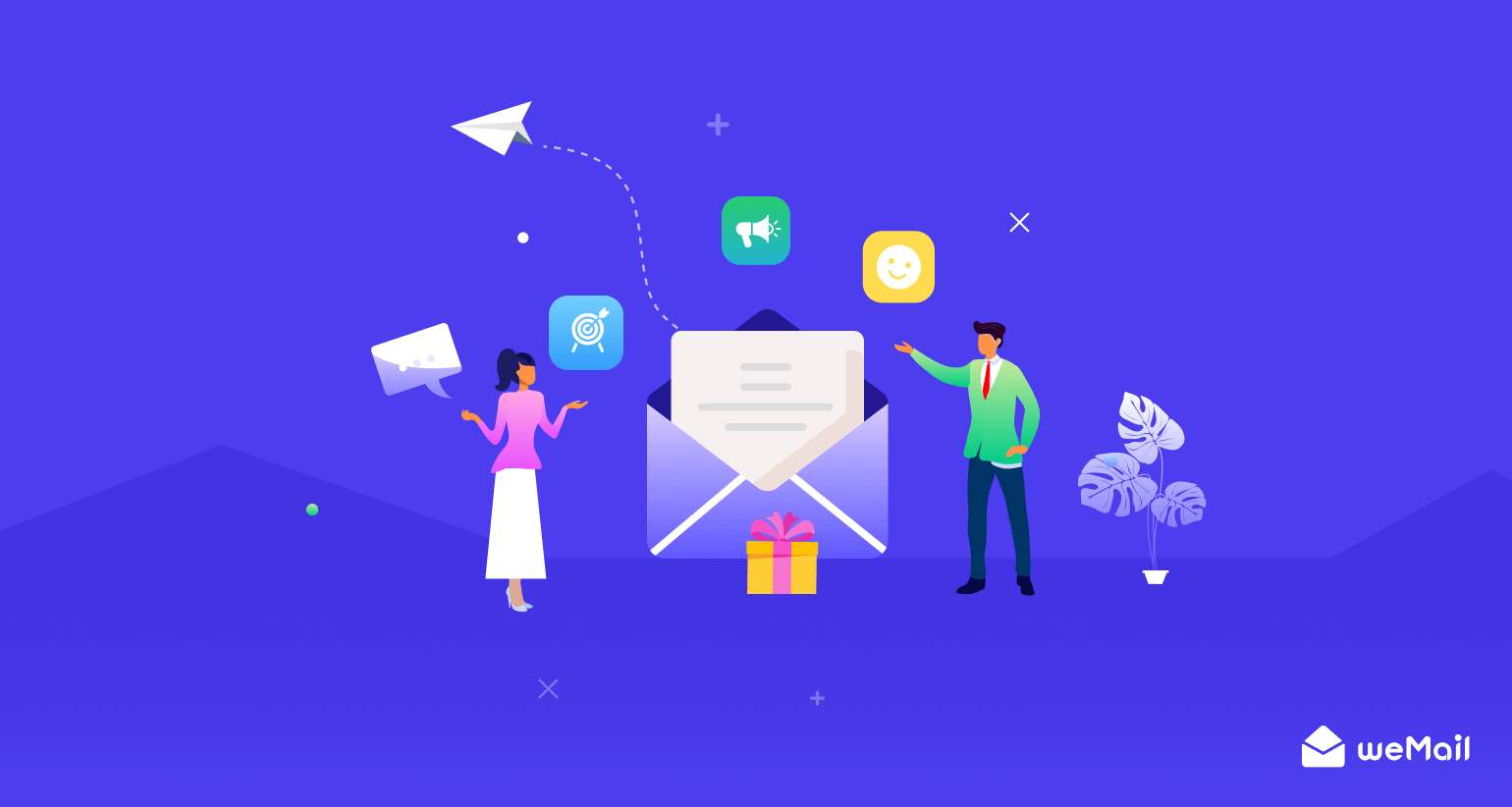 Survey rules define the survey to be sent for a specific request, based on predefined conditions. They automate the process of sending surveys to requesters based on the request details. You can define the request criteria for sending a survey and associate it with a survey template.

ManageEngine
Survey emails don't only help you whether your product is doing well or not, they also let you understand the demand and desire of your users.
So, when you learn more about your customers, you can further segment your email list and send more personalized emails to get a higher response rate.
Suppose, you are a fashion brand. You can send surveys to customers about which season they shop more. After gathering the answers, you will usually find out how many people love shopping at Christmas, and how many of them like to do so on Thanksgiving.
Survey rules help you to create these new segments based on user preferences. Most of the email marketing platforms let you apply survey rules.
After you've applied survey rules, you will be able to move subscribers to different groups, updating specific files in the email template with a customs value or with a subscriber's answer, etc.
Step 7. Use a Survey Follow-Up Email for More Engagement
After a group of your subscribers completes an email survey, send them a follow-up email based on their response. It will eventually, strengthen your relationship with the customers.
The follow-up response will also ensure how engaging your survey invitations were. Eventually, you will engage your customer in a long-lasting conversion cycle.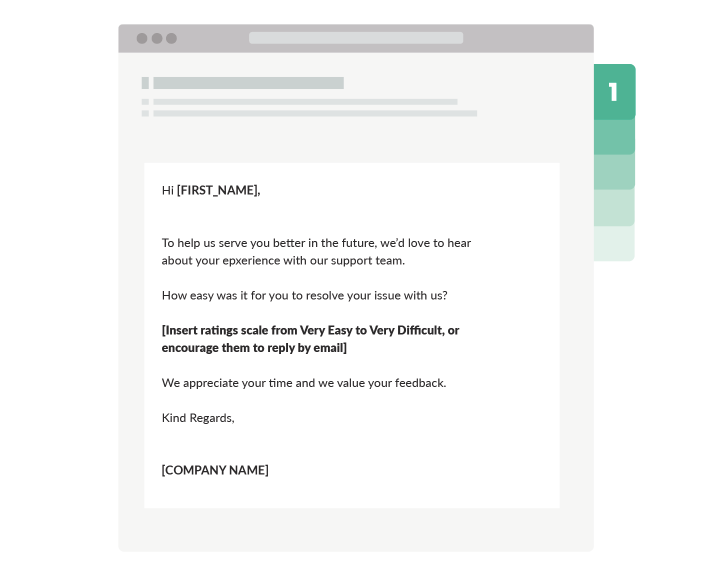 Sending a follow-up email after a survey is sent to the recipients is another best practice. You can send a reminder to fill-up the survey. This will also impact your open rate and click-through rate both. As sending a survey reminder can improve the response rate by up to 58%.
Here Are Some Survey Invitation Email Examples for You
Well, now that you know how to create a survey invitation email. Also, you've explored the industry's best practices. It's time you should start writing and sending.
Before you go, here are some best survey email examples you should check out. They will help you to understand why an email works and what could be the reasons if it doesn't. Take a look –
1. Engaging Email Body Copy is a Winner for The Top Edit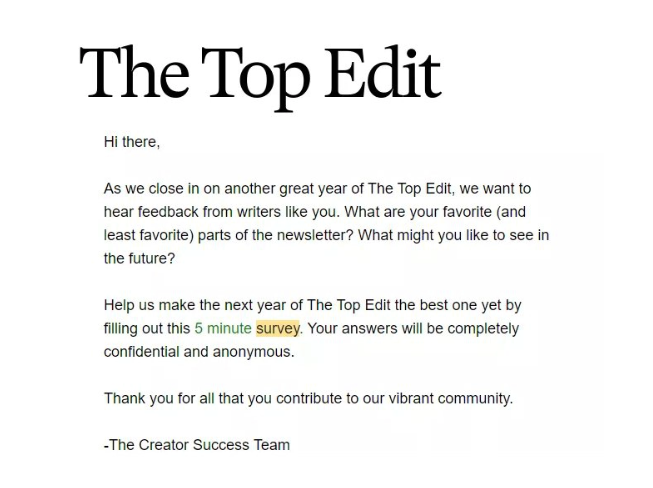 2. A Good CTA and Simplicity Done the Work for Jira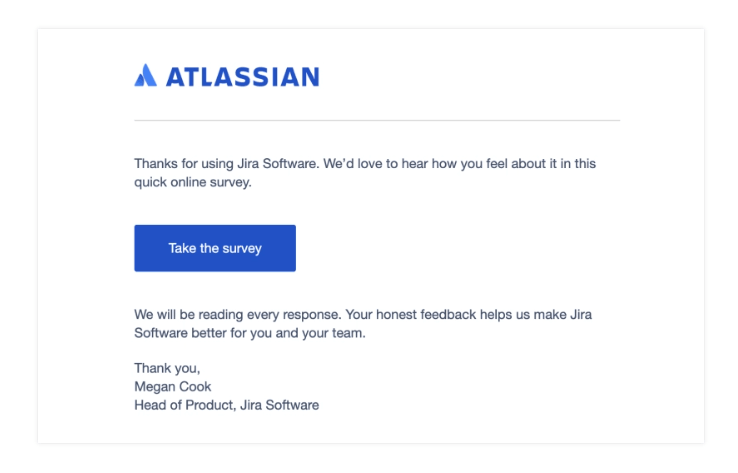 3. Engage Better with an Embedded Survey Like Renaissance Hotels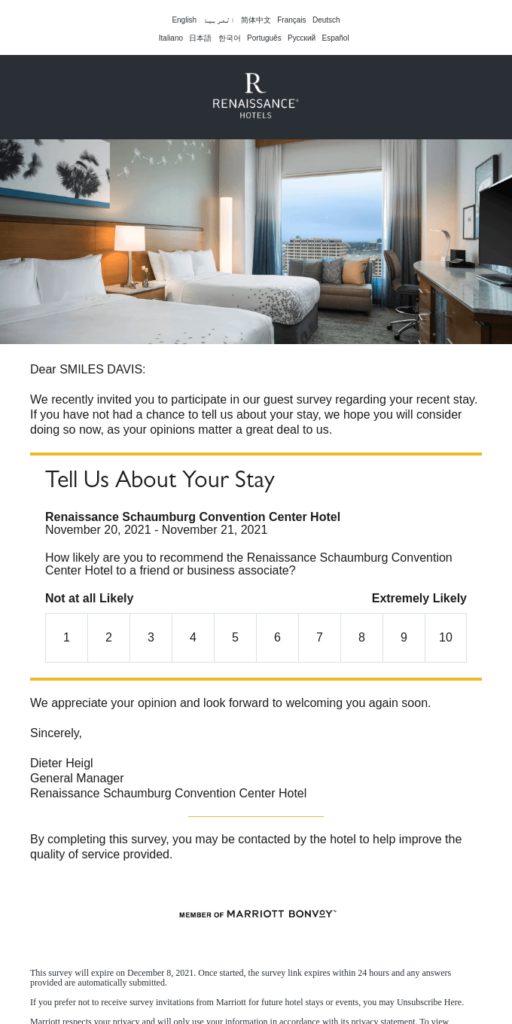 4. Copyblogger Do it With Multiple Actionable Link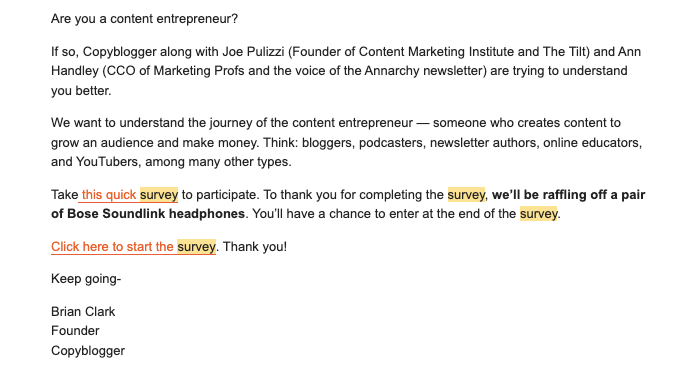 5. Lyft Lift it Up with a Vivid Incentive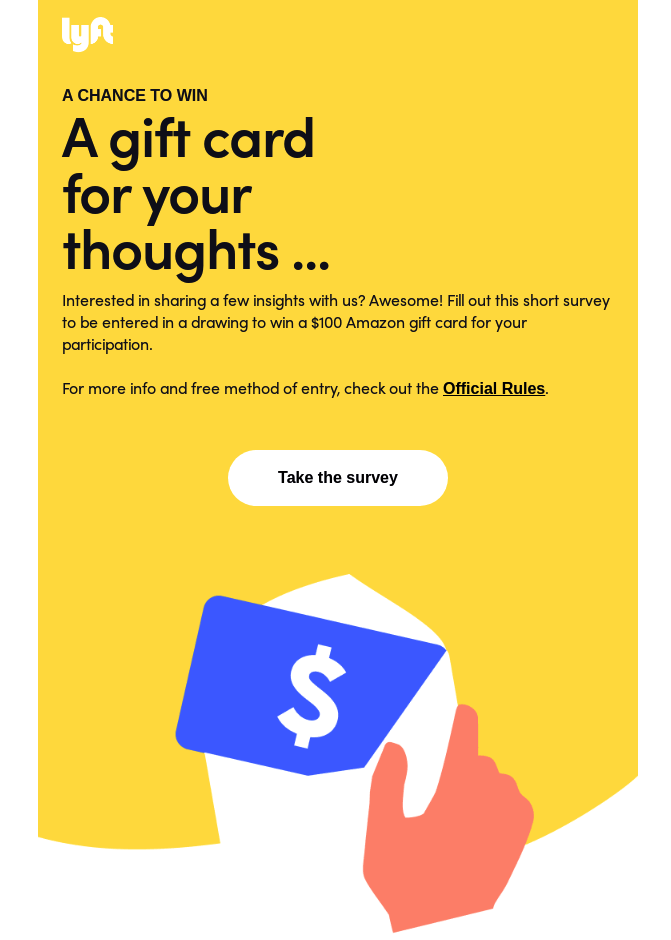 Closing Up for Survey Invitation Email
So, what do you think? Are you ready to send your reinvented survey invitation email?
Here are some takeaways you should check before starting over –
Set a goal for your survey invitation
Narrow down the questions for the survey
Segment Your Subscribers/ Email Recipients before sending the survey
Choose the best design/ template
Use the most fitting email marketing tool for sending survey invitation
We believe you are only a step away to get a commendable response from your next email marketing campaign. If you want to learn more, let us know in the comments section. Cheers!
Subscribe To Our Newsletter
Don't miss any updates of our new templates and extensions
and all the astonishing offers we bring for you.