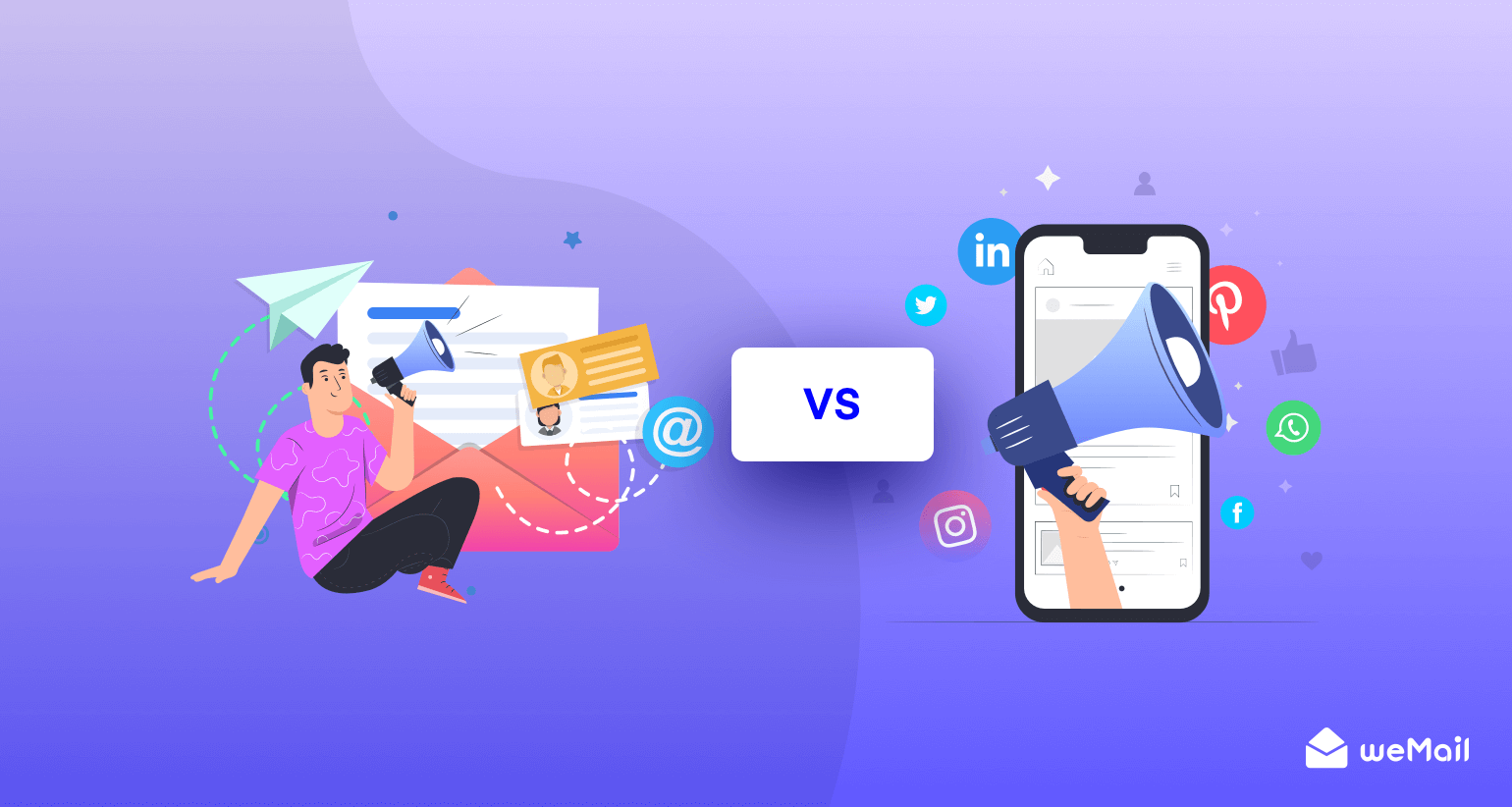 Email Marketing vs Social Media Marketing – Which One is Better for Your Business?
Social media was on the rise ten years ago. And, email was dominating in regard to business communication. So, your question was yet to be asked then, 'which one is a better marketing channel compared to each other?'
But today, the email marketing vs social media marketing debate is a reality. Right now, there are 3.6 billion people are using social media. And it is forecasted to grow as high as 4.4 billion by the end of 2025. Hence, all of those social media users have an email account for sure.
Both of the channels have their own potential and perspective. Evidently, they worked differently in user's day-to-day life. But, as a smart marketer which you are, you must point their benefits, similarities, and possibilities as much as possible.
So in this blog, we are going to show you comparative stats of email marketing vs social media in recent times and sorted out how they help you to establish proper communication, increase brand value, gain better conversion and retention rate.
After you finish reading, you will be able to make the right decision regarding the debate. Keep reading.
The States of Email Marketing- How it is Doing Right Now
Email marketing was doing great even decades ago. It becomes more powerful with time. The best thing about this marketing channel is it helps to connect users more personally. Once you get a subscriber, you have a lead for your business. You can nurture them, develop close relationships, and keep them coming back for your business again.
Almost 92% of online users have an email address. And, 61% of them using their email on day to day basis.

Optin Monster
The number talks here. According to Statista, there are 4.03 billion email users in the world. And it may reach up to 4.5 billion by 2021. So, the more chances stand with the crowd. Hence, there are many more reasons that make email marketing so relevant even today and in the days to come.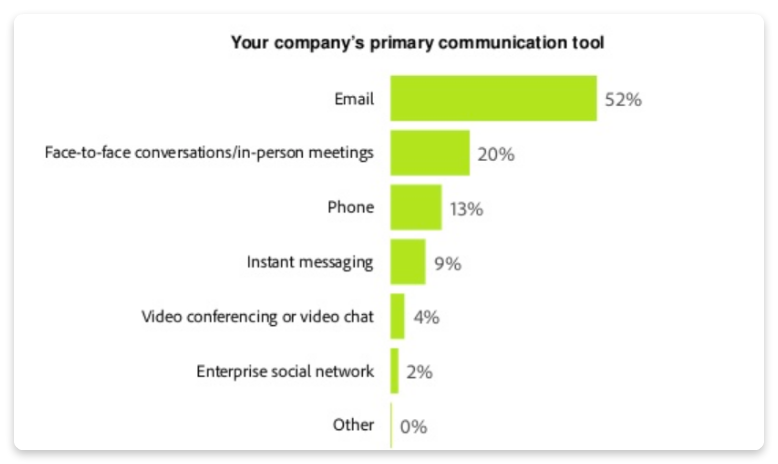 Source: Adobe
However, the marketing channels are evolving. You need to understand how they work, and why they are being popular for the last decade. You can see the trend, social media marketing itself evolving to many different forms. People love to interact with influencer marketing which mostly takes place in Facebook or Instagram, video content focused solely on social media users, YouTube ads, and many more things.
We will gradually show you how email marketing is performing either by competing with those channels or merging all the mediums to get even stronger.
Social Media Marketing at A Glance
Social media marketing, or SMM, is a form of internet marketing that involves creating and sharing content on social media networks in order to achieve your marketing and branding goals.

WordStream
You may already well aware of the fact. Almost 53% of the global population is on social media. eMarketer found that 90.4% of Millennials, 77.5% of Generation X, and 48.2% of Baby Boomers were active social media users in 2019. That leads most businesses to have a winning social media marketing strategy nowadays.
Therefore, people spending on an average of 2.25 hours on social media. Though, you know that we usually doing other things rather than buying something on our social handles. Smart social media content influences us to purchase something.
Social media currently has a 0.71% conversion rate. But, this marketing channel is not about only the conversion rate, which is considerably is on the lower side. Hence, it helps you influence people to visit your website, establish brand value, and improve user interactions.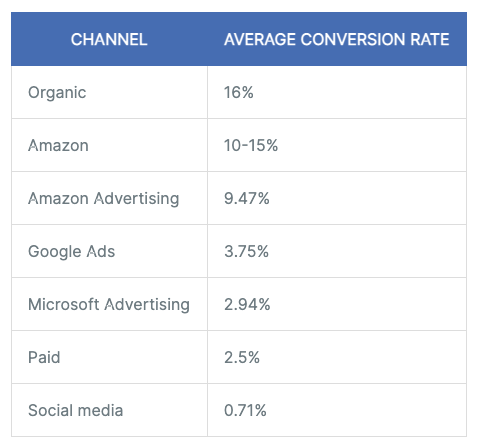 Source: WebFX
With strategic social media content type, you can interact with a wide variety of users browsing different kinds of topics on Facebook, Instagram, Twitter, or Pinterest.
Well, Let's find out some of the core aspects that let you understand the whole scenario between email marketing vs social media marketing.
Email Marketing vs Social Media in Regard of ROI
According to top marketers around the world, ROI is the most important factor for any marketing channels. No one won't put a doubt on that. Here email marketing is superior.
In regard to the Return on Investment, email marketing has an overwhelming ROI of $38 for every $1 spent which marks the highest rate compared to any other marketing channel. There's no wonder, 89% of marketers use email as their primary channel for lead generation.
However, tracking social media marketing ROI is a bit perplexing. Companies track it in their very own way. And there are no clear data on what it is or how much. Presumably, it's not that big compared to email marketing nonetheless.
You can't say it is impossible to track social media ROI. Though, Megan Mars from WordStream believes, "social media is a prime tool for developing brand identity and familiarity, building engagement, and creating soft leads."
And, soft leads bring you their email addresses. Then you can pursue them for conversion by using emails. Hence, Megan also indicates that the integrated analytic tools from different social channels, Google Analytics, and activities from facebook offers can let you find out your social media ROI.
In Regard of Virality
Virality is a major thing in social media. Once one of your social media post gone viral, your popularity is sealed. Though it also happens, there are "one viral post wonders" too. How brands should be using viral marketing is another issue. But going viral is a way that can make your brand an instant success.
You can check the below video of a P&G detergent Ariel gone viral in India. It was spreading a social message that shows men should share the load of women in their family.
Ariel was already a popular product. This viral video only makes it more popular. However, this one thing that puts social media on top if compared to email marketing.
In one of his articles on social media virality, Forbes columnist and Entrepreneur Robert Wynne said that "it can take years of posting content to build an audience and become successful in social media."
So, virality is a possibility. And, email marketing even help your social marketing approach to enhance this possibility. How you can do it, we will discuss later in this blog.
Connecting Only the Interested Customers
In social media, you can set your target audience. But this targeting is based on data set and algorithms which don't resulted in as exactly as you want. Your paid campaigns and random social media post only reach people based on your product types and assumptions made by social engine. So a lot of people may see your marketing approach inappropriate, or unnecessary.
On the other hand, you can send your offer only to the people who are interested via emails. You know your leads, you know how they will react to your approach when you put the leads in your email list. You can nurture them, and send them relevant offers exactly the way you need.
According to Campaign Monitor, the average open rate of email is 15-25%. Where the average click-through rate of roughly 2.5%. Hence, the click-through rate of Facebook is merely 0.90% to as high as 1.61%.
Email Marketing vs Social Media in B2B
Business to business communication is a sophisticated one. And, here you can depend much on the randomness of social media. Though, you can maintain a surface level interaction through messaging frim your social media page, B2B demands a more professional approach.
Let's take a look on what B2B marketers believe about email marketing.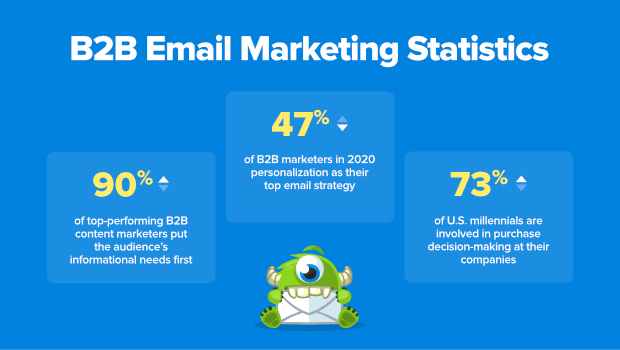 Source: Optin Monster
Here you can see that majority of the top B2B content marketers think that audiences informational need is their biggest priority. And, to share detailed information and related content, emails are the most resourceful way. Therefore, B2B demands personalization, which leads almost 47% of marketers to depend on email marketing.
In terms of B2C or Business to Customer Communication
B2C means business to end customer relationship. If you are doing b2c, you know how much it is crucial to take 24/7 calls from the customers. Call means not only phone calls which are rarely used in the wake of messengers, and other popular chatting apps. People want to get connected whenever they face an issue.
Email is rarely a convenient way to b2c communication. Though you can send personalized offers to customers which are highly effective in terms of retention. But customers needs your instant feedback, and to run a swift small chat or talk, social media is more plausible.
By using messenger from your Facebook, or Twitter Inboxes, you can instantly answers for a customer's inquiry, and start a fruitful communication that may end up a successful conversion.
You can see the below chart from Statista to understand how the top marketers around the world using different social media marketing channels in b2c and b2b communications.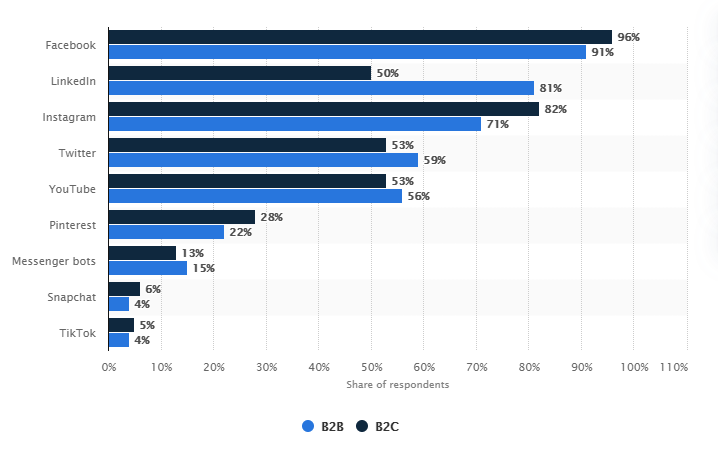 It is evident that Facebook or Channels like Instagram or Pinterest used more in terms of B2C marketing. Where LinkedIn is used more for B2B as it is a platform most popular for B2B relationships.
Which One Drives More Sales – Email Marketing vs Social Media
This is a major questions which you won't find a stable answers. Facebook become a prominent marketplace since the Covid-19 pandemic and global lockdown began. People started doing business by opening a Facebook or join a public group that let them sell their product. You may be well aware of this already.
86 percent of US marketers are using Facebook for advertising. 78 percent of American consumers have discovered retail products to buy via Facebook.

Oberlo
However, our discussion isn't designed to reflect on f-commerce. But you can see that, anyone can drive their sales through Facebook if they are selling retail products like fashion accessories, gadgets, or tangible goods.
But to broader prospects, Facebook is limited with longevity. Once someone purchase from you, you can't poke them in the messengers from time to time. That would be annoying. On the other hand, strategic emails have a lesser chance to be get bothered. Because customers appreciate emails with good content and reliable offers.
Besides, you don't need to send emails randomly to random leads. You can use list segmentation and reach only those people who are interested.
OptinMonster found, 44% of users check their email for a deal from a company they know, whereas only 4% will go to Facebook.
Hence, they also found that 60% of consumers have made a purchase out of a marketing message they received by email, and only 12.5% of users love to click on a buy button on social media posts.
Over to You – Mix Social Media to Your Email Marketing
So what is our final verdict? Is there a clear winner? If you go for one, there is no winning. Our whole discussion tries to reflect on that. As both the marketing channels have their own potentials. And, both of them haven't shown any sign of stopping.
So, as a smart marketer, you need to use social media as well as email marketing. Therefore, you must get all the benefits out of them since they have no enmity to each other. You can masterfully combine the two channels and propel your marketing transformation into a higher possibilities.
Here are some of the tips to help you achieve that feat – combining social media marketing with email marketing.
Try to find the common grounds of both marketing channels and design a combination strategy
You can test your social media ad copy via your email campaigns
Combine your email subscriber data with social media user data
Include subscribe CTA's to your social media profile and posts
You can execute a social media contest and ask for emails to generate leads
You can leverage social proofs and social media testimonials, etc.
So this is it. What is your remark on the debate? Let us know in the comments section.
Subscribe To Our Newsletter
Don't miss any updates of our new templates and extensions
and all the astonishing offers we bring for you.