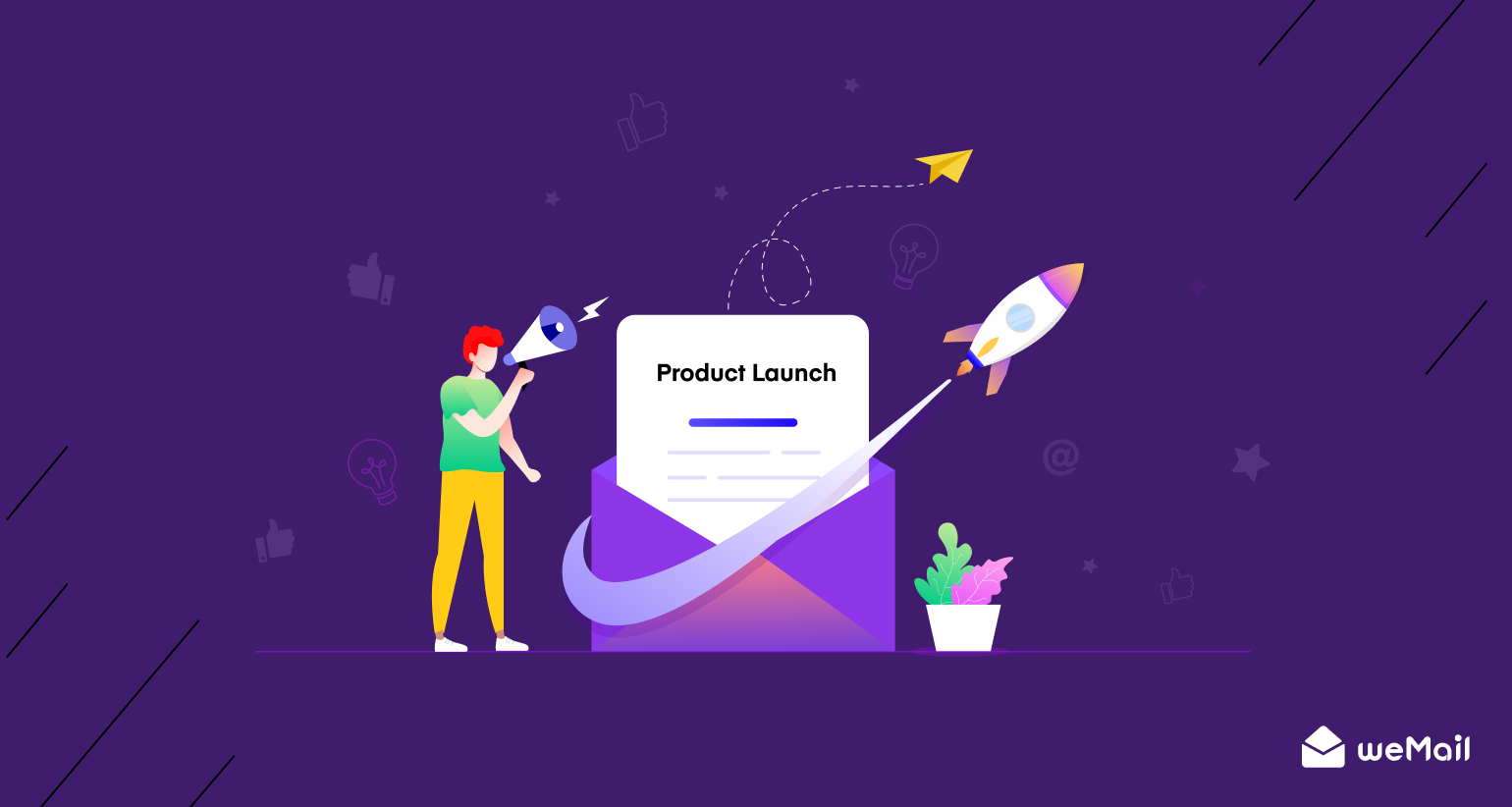 How to Create Product Launch Emails that Convert [Plus 9 Examples, Templates & Tips]
The effort and time given to create a new product go in vain if it fails to reach the end-users. What could be a better way to reach your target customers other than email marketing? The average email open rate across all industries is over 21%. It implies that out of 100 email recipients, 21 people may get to know about your products through emails. With the right kind of product launch emails, this number may increase significantly.
The bitter truth is our inboxes are flooded with a variety of emails. It's very tough to reach prospective customers and even harder to make them click through an email.
You can successfully persuade readers to open the emails if they comprise the essential elements. How to do that? In this article, we will show you the proven ways to create product launch emails that convert. Let's explore the different types of product launch emails before moving to further steps.
What Are the Common Types of Product Launch Emails?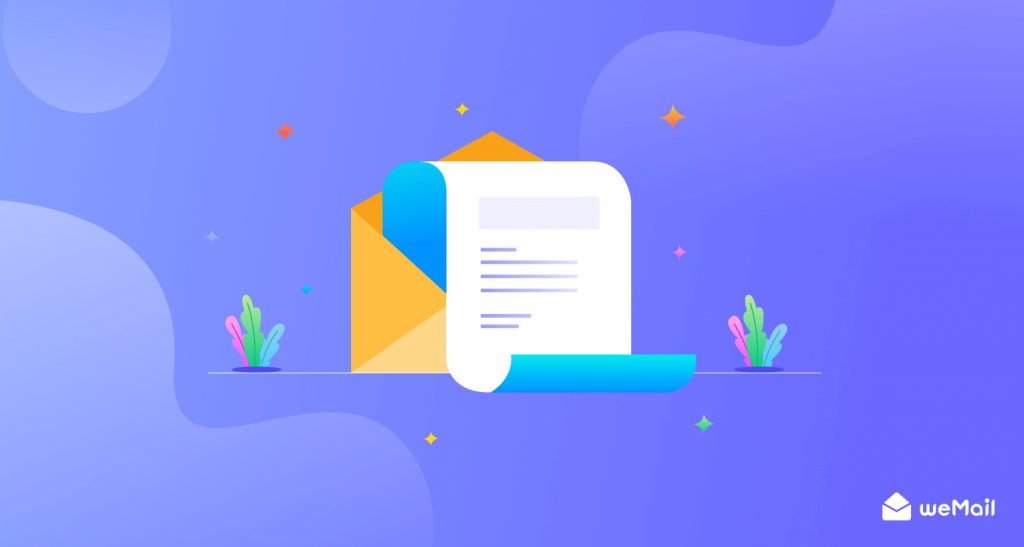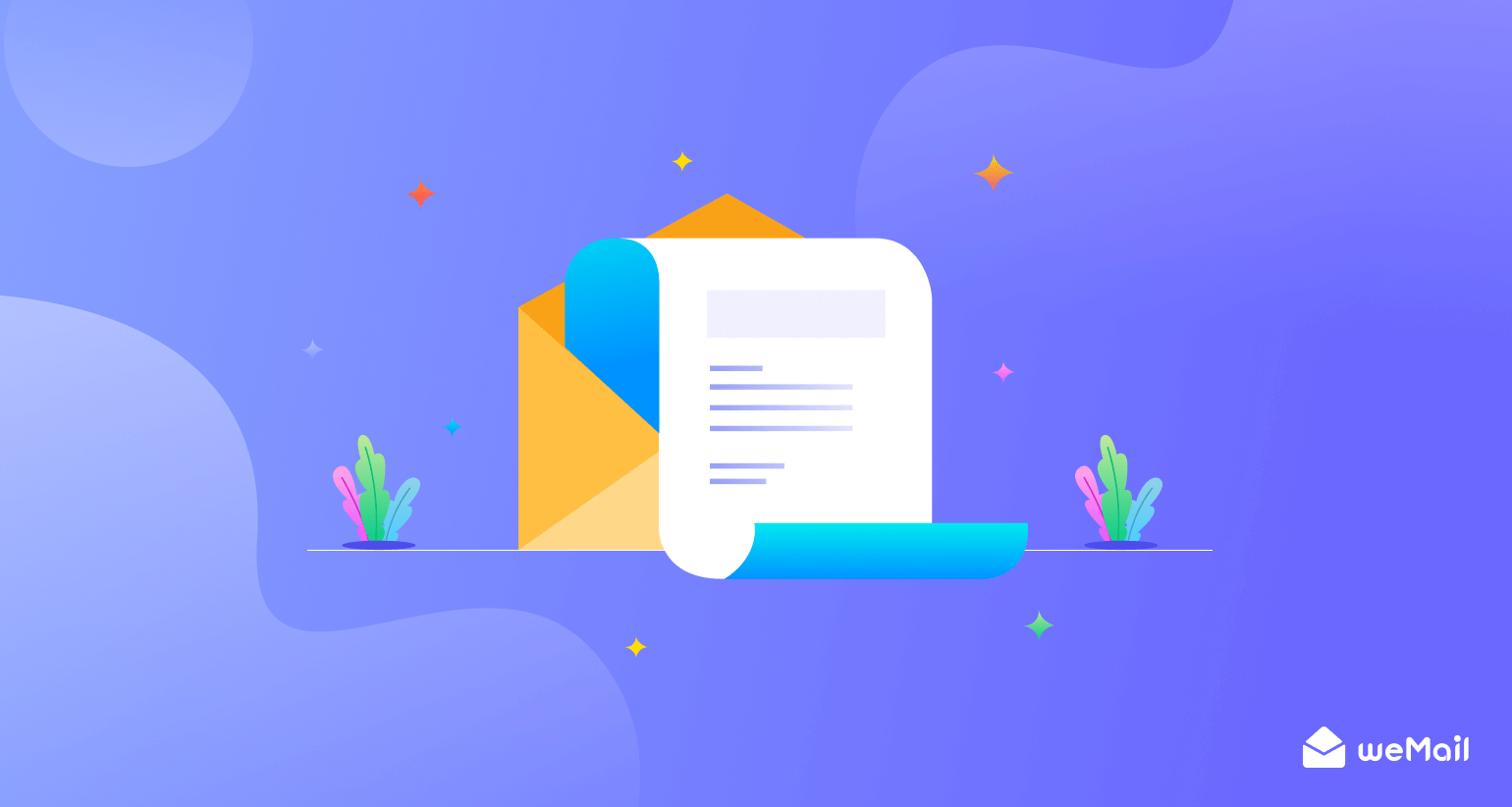 A first meeting accounts for only 2% of sales. The rest 98% of sales occur when you follow up.

Marketing Donut
Usually, a product launch email informs subscribers about the release of an upcoming product or the update of an existing product. There are also a few more types of product launch emails other than these major two. In this section, we added a brief introduction of each type for your clear understanding.
Product Release Emails: These emails convey the information about a brand new product launch or the release of the latest version of a previously launched product.
Feature Announcement Emails: You need to introduce new features regularly to retain your customers and attract new ones. Feature announcement emails inform the recipients that you've integrated a new feature or functionality into your product.
Pre-order Emails: Pre-order emails are an excellent technique to know the minimum number of sales before even releasing a new product. These emails guarantee the immediate receipt of a product upon release if the recipients respond positively.
Upcoming Sales Information: Future sales emails comprise the upcoming deals and special discounts on a to-be-launched product.
Follow-up Emails: People are too busy with their lives now and they may forget to buy from you even if they want to. They are more likely to convert if you send them follow-up emails within a few days of the first email.
Event/Webinar Invitations: Webinars have become an effective way of marketing a new product or introducing a new feature. You can create a launching event or hold a webinar to let people know about what you're up to. Invitation emails let people know about the date and time of an event or webinar.
Why Product Launch Emails Are Important
A new product takes good shape at the expense of months of hectic days and sleepless nights. The purpose of creating a product is to reach its potential customers. Product launch emails play a vital role in serving this purpose.
Product launch emails are the first contact point between you and your customers that inform them about the release.
Explain to them how your product addresses their pain points and provides solutions to their challenges.
A well-thought email and personalized tone can entice the recipients to read your product launch emails and wait for the release excitedly. They'll look forward to using your product if you promise to offer something valuable through the emails.
The language and presentation of product launch emails determine the initial number of sales you may generate. So, product launch emails are crucial to create brand awareness and generate sales at the same time.
Product Launch Email Best Practices You Should Follow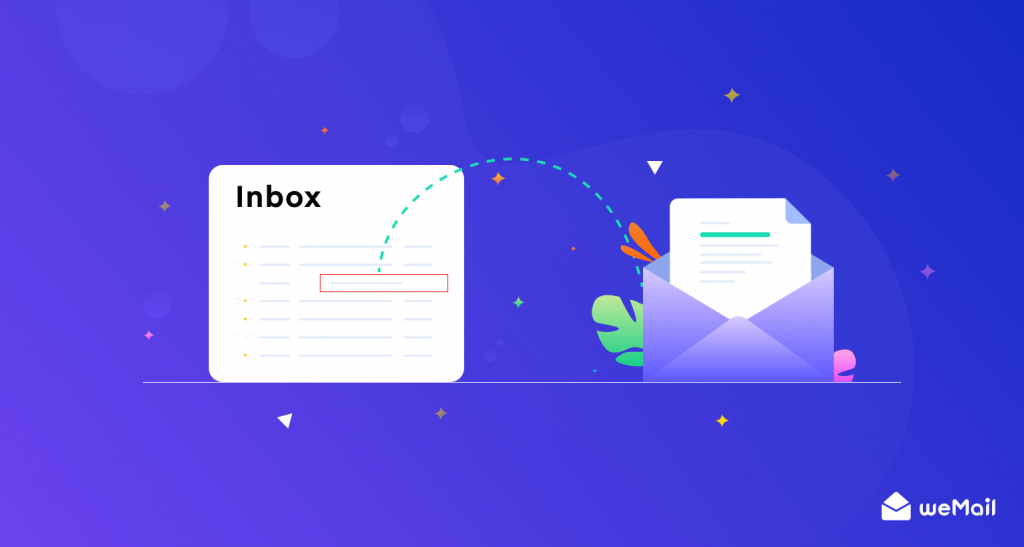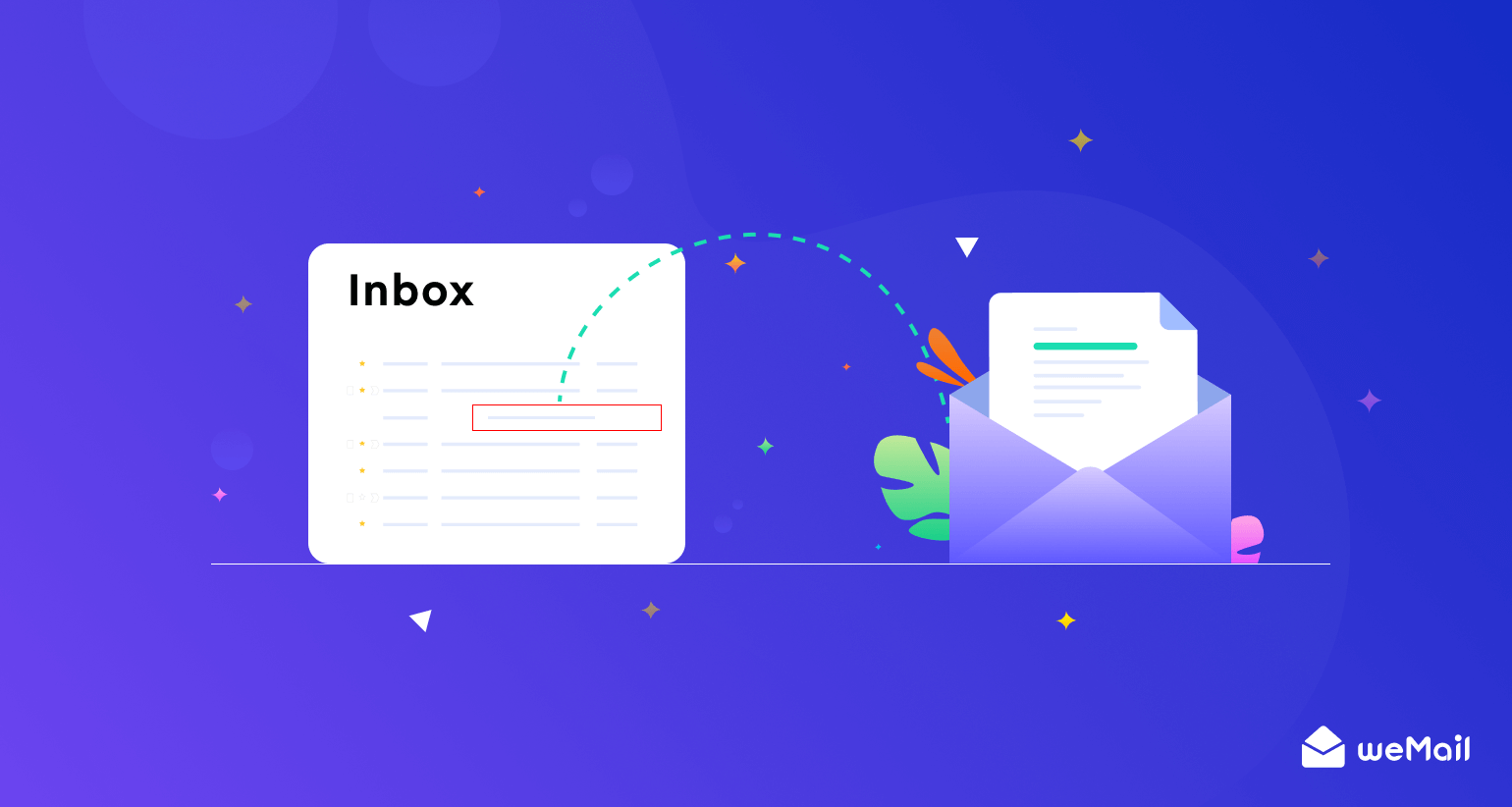 You need to remember that the attention span of today's internet users is approximately eight seconds. It's not easy to grab email recipients' attention and make them read the information. You need to hook them with a catchy subject right away. Then provide them with an engaging user experience that drives the leads to the target page.
The following steps will guide you on how to create a product launch email that converts for sure.
Plan the right sequence
Keep in mind that you're not the only one who's sending emails to your target customers. They receive various other emails from personal and professional connections. Your emails must fight through the clutters and reach the reader.
Keep the recipients in the loop with a series of product launch emails. Ensure they don't forget to check what you're offering. You should schedule a sequence at least two weeks ahead of the official launch date.
The best practice is to send two emails before the launch. Then send the final release email on the official launch date and a follow-up email after a few days. Here's the sequence:
Teaser Email- 2 weeks before the release: This email usually carries a mysterious tone and intrigue the readers to guess about what's coming. You can vaguely inform readers about the product and guide them to anticipate the release.
Announcememt Email- 1 week before the release: You can announce the product features and include a brief introduction in this segment of the product launch emails. The receivers will clearly know what they're getting from you.
Release Email- on the launch date: This email informs readers that the product is available at their disposal. It comprises an overview of all the features and persuades readers to convert into customers.
Follow-up Email- 3 days after the release: Now your readers know everything about the new product/feature you've introduced. Remind them about what they're missing out after a few days of the release.
Write an engaging subject line
Subject lines are like the storefront of a brick-and-mortar shop. People look at the store and visit it only if it looks attractive and promising. Similarly, subject lines are the only visible part of your emails even if they don't open your emails. If the subject line isn't attention-grabbing, you're likely to get a very low open rate.
47% of email receivers open an email based on the subject lines alone.

Invesp
Take a close look at the examples given in the following example. Number 1 refers to the subject line and number 2 refers to the preview text.
The following tips will come in handy to increase the open rate for your product launch emails.
Keep the subject lines to the point within 41-50 characters
Create a sense of urgency with a subtle CTA
Conduct A/B testing to find out the best performing subject lines
Include a self-explanatory email preheader to inform what's inside
Avoid sounding too much salesy
Address with personalized greetings
Do you respond when someone calls by your name? The answer is 'Yes' for most people. Apply this technique in your emails. Address your readers by their names. They'll feel more connected to your emails and open them to see what's in there.
Make sure the name isn't misspelled and the email content is relevant to the recipients. You need to segment the email list based on their needs. And target the right customer with the right information.
Write an overview of the product concisely
Convey more information in fewer words. Everyone has a short attention span nowadays and tends to spend less time reading a brand email.
Data from January to August 2021 stated that in 2021 people spent on average 10 seconds reading a brand email. In 2011, the time spent reading brand emails was 10.4 seconds for each email open. In 2018, this reached 13.4 seconds per email before falling over the last couple of years.

Statista
So, you need to keep it short while writing product launch emails. Write a precise and concise overview of the product, including the answers to the following questions.
What is your product?
Why the email recipient needs it?
How can it benefit him/her?
How can customers buy it?
Include the key features
This part goes under the overview part. I kept it as a separate point to emphasize the necessity of including key features in your product launch emails. The product might have a lot of features. You can't mention them all in a single email to maintain optimal user-friendliness. Introduce only the unique selling points that help your product stand out from the competitors.
Add appropriate call-to-actions
The ultimate goal of your email is to convert email recipients into customers. Once you successfully provide them with valuable information, guide them to make a decision. The appropriateness of CTA texts depends on your purpose. Learn More, Find a Store, Try Free Demo, Buy Now, Shop Online, Grab Now, Add to Cart, Add to Wishlist, etc. are a few call-to-actions you can use across the email body as you see fit.
Keep it aesthetically appealing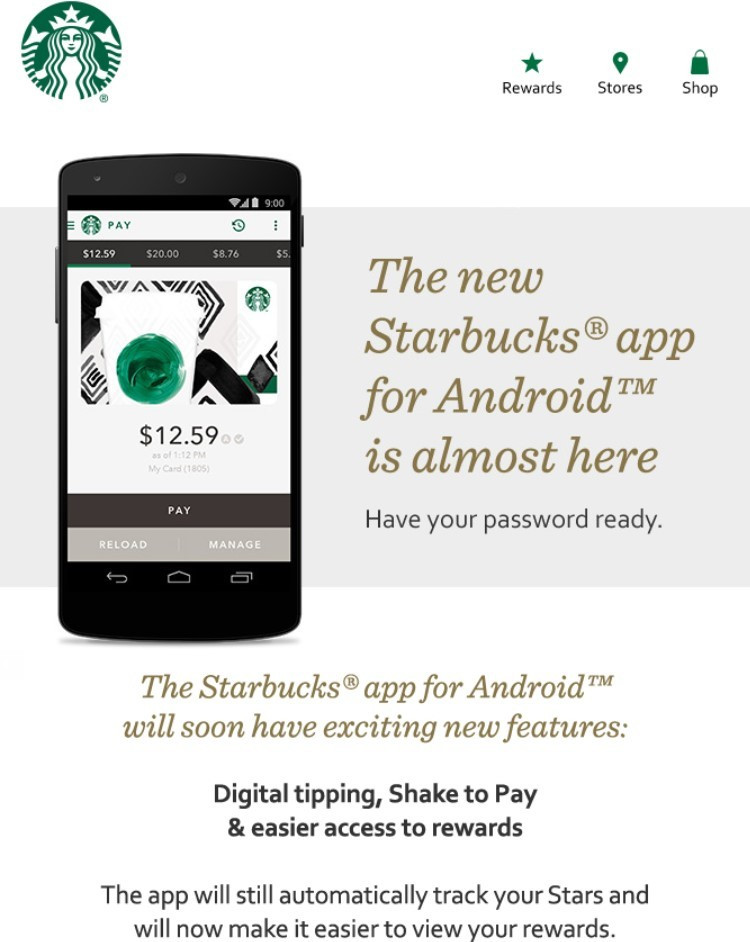 No matter how well you curate the text, your emails won't perform up to the mark without eye-catchy visuals. The below checklist contains the basic things to consider when designing a product launch email.
Select a playful background color using HTML color codes
Maintain your brand consistency with specific color pallette and logo
Use images if that add value for the readers or convey additional information
Add beautiful social share buttons to a suitable place
Keep the fonts and typographies aligned with your business
There's no one-formula-fits-all technique for email designs. You can experiment a bit, keeping the basics intact. Only remember that your aim is to enhance the user experience. So, make sure the designs are pleasing to the eyes.
Use an email design tool that works
There are a few top-notch email design tools available on the market that can help you create amazing product launch emails easily. Most of these tools come with design templates that are enough to produce high-converting emails. The integration of such tools is easier when associated with WordPress. weMail also offers both free and premium email templates to help WordPress users.
Think, think again, then send
Are you confident enough to press the SEND button? We suggest checking each email again and again before finally clicking on the SEND button. Emails are like bullets from the gun. Once it goes out, there's no way to undo the action.
Thousands of recipients will get your emails instantly. A silly mistake can cause a significant loss in brand value. So, make sure your email is absolutely fine in terms of spelling, grammar, designs, links, CTA buttons, logos, social share buttons, integration of other tools, and more.
Check the email thoroughly for issues that need to be fixed. Once you are more than sure about the accuracy, hit the SEND button. Add wings to your emails so they can fly in the right direction.
6 Best Product Launch Emails Examples to Learn
The aim of an email is to reach the target customer's inbox. People barely check other folders such as promotions, updates, and spam. After achieving the initial goal of getting the word to your recipients, it's time to convert them into customers.
Only a carefully curated, well-designed, and personalized email can nudge them to buy from you. Here's a list of a few successful launch emails that can inspire you.
1. Netflix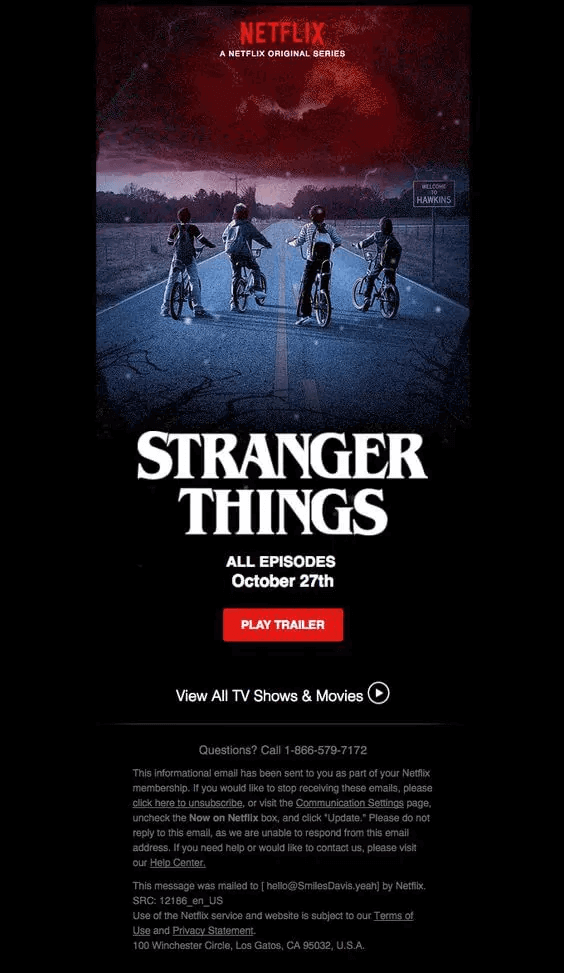 Netflix announces the release date of their upcoming series in a simple manner with a signature red call-to-action button. The email has no clutter. All the information is presented on point without distracting the readers with fancy designs.
2. Canva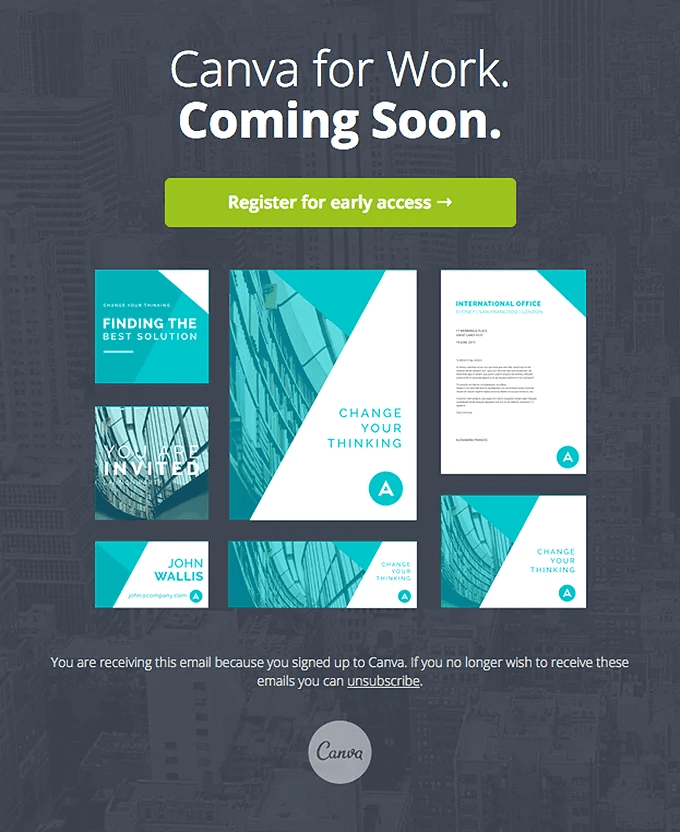 Canva is one of the most used tools to design images using drag and drop functionalities. They let the designs talk with minimal text. A bright call-to-action button serves its purpose, grabbing the attention of interested Canva for Work users.
3. Apple

On any given date, you can follow brands like Apple to find inspirations for your brand. This launch email for MacBook Pro has everything you need to incorporate in a product launch email. It has precise introductions of the key features with a simple and straight call-to-action button BUY and Learn More.
4. Sphere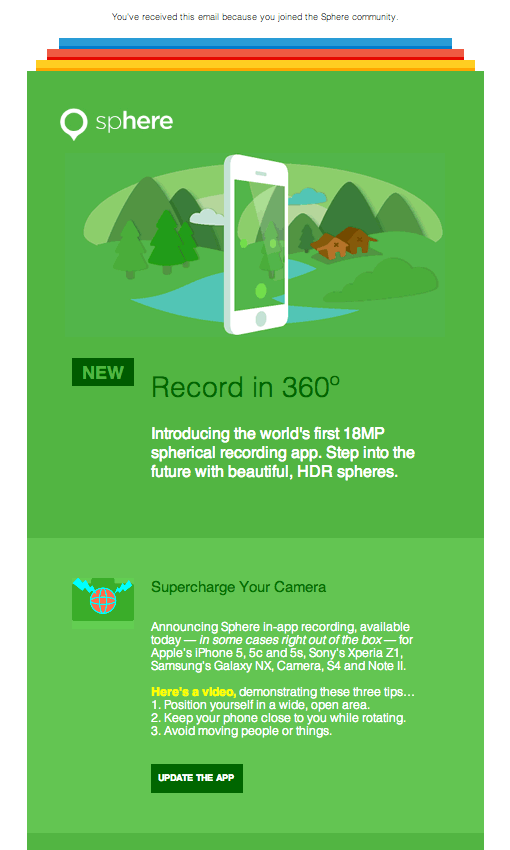 This is an excellent example of a feature announcement email from Sphere. They allow users to take videos in 360-degree. A simple GIF file speaks of this feature here in an aesthetic way. This email was targeted at people who were already using this app. A relevant CTA button UPDATE THE APP induces readers to follow the direction.
5. Landsby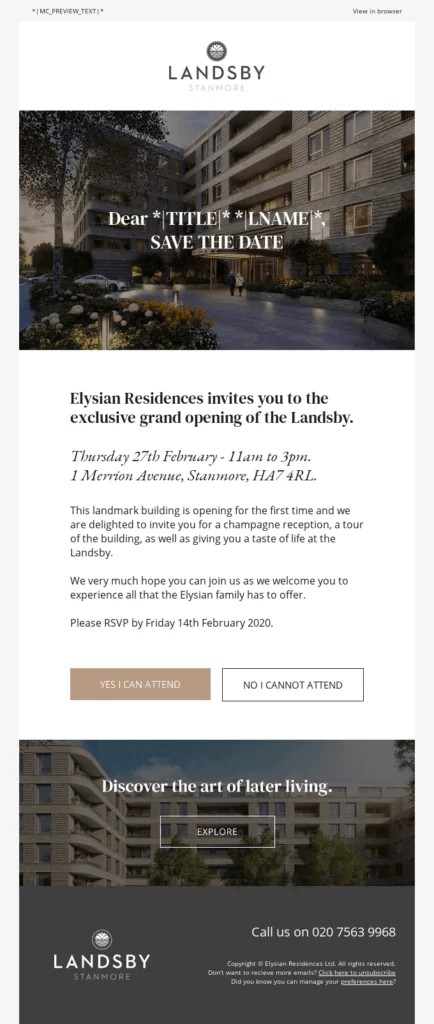 Landsby invited all its perspective leads to an upcoming opening event of its landmark building. They included the required information clearly and included two CTA buttons. These buttons helped them determine the number of attendees and make arrangements accordingly.
6. WordPress

WordPress recently released the 5.9 Beta 3 version for testing. They included everything a WordPress user needs to know before installing the new update. Add step-by-step instructions if your launch email requires adding technical information to enhance the user experience.
How to Create a Product Launch Email- 3 Practical Templates
We have gathered a couple of our product launch emails in this section to help you understand what a real-life email looks like. The following email was sent to announce the release of a new product introduced by weDevs.
Hi there,

We are excited to introduce you to our latest creation, Texty – a lightweight SMS notification plugin for WordPress. Using Texty, you can customize your desired event triggers and set notifications when someone registers to your site, an order is being placed, or when the order status changes.

From WooCommerce Store, you can inform –

Admin:

-When Order Status is Processing

-When Order Status is Complete

Customer:

-When Order Status is On Hold

-When Order Status is Processing

-When Order Status is Complete

[CTA- Try Texty Today]

For any queries or feedback, contact our support team at wordpress.org/support/plugin/texty/.

Best regards!

Team weDevs
Here's a release email created by our expert email marketing team for one of our partners. This email has a to-the-point headline and an enticing preview text with a compelling email body. Have a look:
Sub: [Release] HappyAddons Free v3.3.1 Released

Prev: Important notice inside.

Hi

Good day.

After waiting for one month, we have released HappyAddons Free 3.3.1. Many of our users demanded the PDF viewer widget. And we have brought it in this version of HappyAddons free.

Read the documentation of the PDF viewer.

Also, we have improved a lot in our codebase. Here is the full changelog.

= HappyAddons Free 3.3.1 – 6 December 2021 =

– New: Pdf Viewer

– Fix: Image Stack Group icon size overflow issue

– Fix: Review Banner logic

– Fix: Post Tab widget undefined warning issue

– Tweak: Code improvement

To avoid all kinds of issues, we'd like to request you check it from your staging site (if you have one). If you don't have a staging site, just update it manually by downloading from the WordPress Org repository.

Thanks and Regards,

Team HappyAddons.
Wondering how you can implement these templates in your product launch emails. Well, we've got your back in this case as well. The following template can guide you through the ways to create stellar product launch emails.
Hey [name],

Here's some exciting news: we've launched our new app, [name of the app].

[Describe briefly how your app works and what it does in 1-3 lines]

Over the past few months, we have been tirelessly working to improve our products and services. With [name of app], we hope that your experience with [company name] will be enhanced even further.

So what is [name of app] all about?

[Describe your app's purpose in more detail, emphasizing its features and providing visuals to help explain it in more depth]

You can download our app directly from the App Store and Google Play.

[Include a button for downloading the app]
This is the backbone of your email, the email body. Now you can use an email design tool or a plugin like weMail to design and send great product launch emails that convert.
Additional Tips to Create Impressive Product Launch Emails
If you follow the above-stated guidelines, you can create high-converting product launch emails. We've made a list of a few additional tips to enhance your chance to get the best output from your email marketing efforts.
Get rid of text as much as possible
Use visuals that complement your text
Insert links to relevant resources to help users
Add multiple CTAs with differcet course of actions
Include an 'unsubscribe' button to let users unfolow you if they want.
We hope this guide will provide you with some email marketing tips to get you started, and we wish you the best of luck with your next product launch.
Subscribe To Our Newsletter
Don't miss any updates of our new templates and extensions
and all the astonishing offers we bring for you.