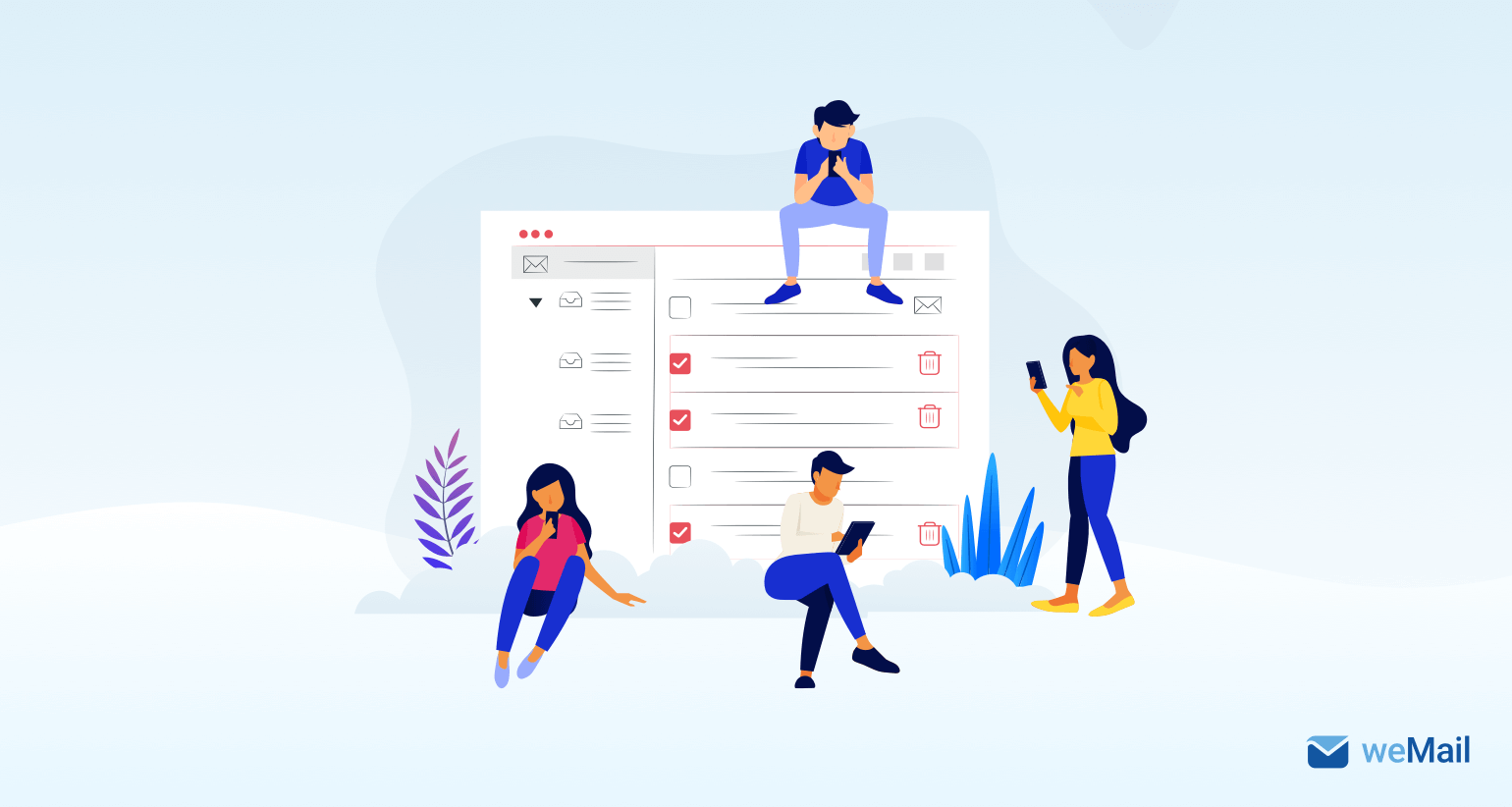 11 Simple Newsletter Ideas That Can Impress Your Reader & Boost Email Engagement
Are your newsletters engaging and converting enough? If not, let's roll the dice.
Despite sheer competition from other marketing channels, email marketing still remains at the top of its game. It has a magnificent ROI of around $44 for every $1 spent. Inevitably, marketers are running for it.
But why aren't all businesses generating the same results? We think you already know the answer.
As of 2018, 124.5 billion business emails have been sent and received each day. The number is expected to grow to 350 billion by the end of 2023. Presumably, it seems like mountains to cross to increase your email engagement. Though, the truth is the jobs are not that hard if you follow the right path.
The best possible way to get your emails open is to send something that can provide value, and focus only on the recipients. You must implement such innovative newsletter ideas that impress customers and make them follow through with your offerings.
There are festivals, there are new products launching, and occasions that trigger people to purchase. As a wise and strategic email marketer, you should reap the benefits from all of them.
From this post, you will get some of the best newsletter ideas that can propel your email engagement. Let's jump into it.
Why Should You Go for Innovative Newsletters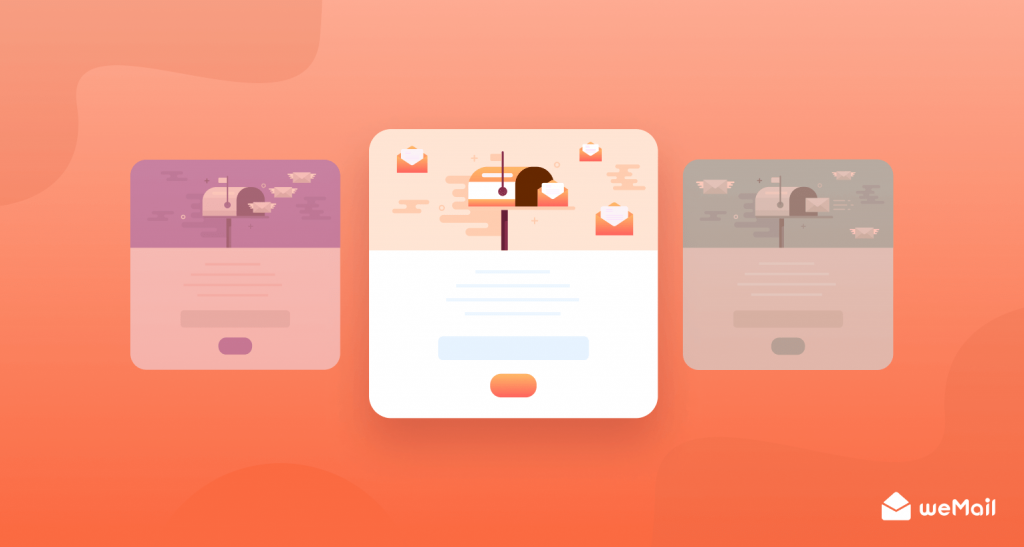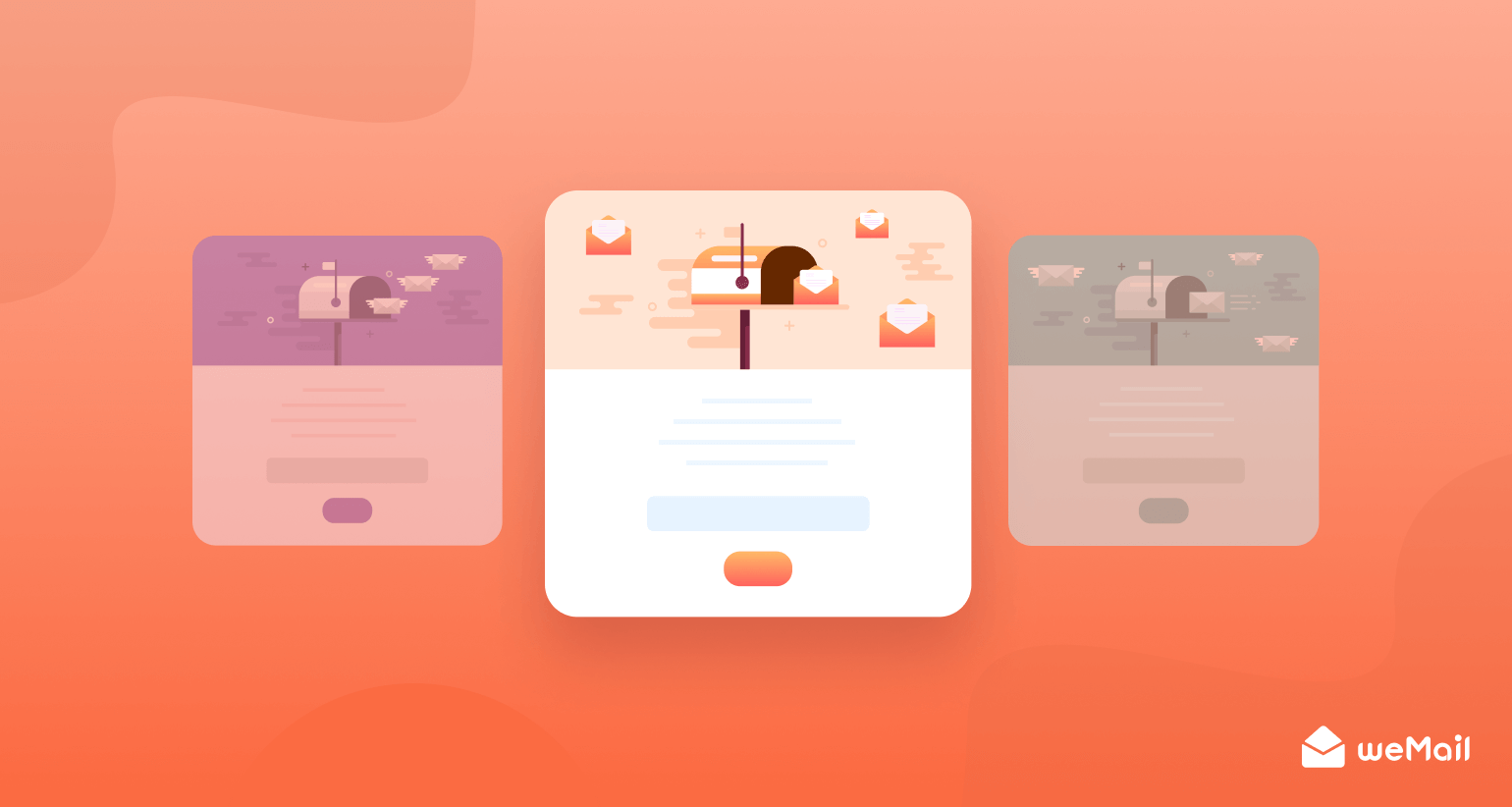 40% of B2B marketers believe newsletters are the most effective tactics in their content marketing strategy. 64% of SME owners fall for email marketing to increase user engagement.

Snov, HubSpot
Because of the big catch compared to other marketing channels, each and every smart business owner and marketer is leveraging email marketing. So, when you do the same, you should put some more energy and creativity into your process. A subscriber gets hundreds of everyday emails, how can you increase your chances?
Here comes the intimidating effect of newsletter marketing. The more innovative your ideas are, the more people feel connected to your email content. The whole process will establish your brand voice gradually. That is also what Forbes councils member Karan Sharma said once, "newsletters are imperative in taking your brand marketing to the next level."
Therefore, Karan mentioned a handful of essential key factors that explains why should you go for newsletter marketing and become more innovative while generating your email newsletter ideas. Some of them are –
You can spread knowledge and information through newsletters
Smart ways for advertising and marketing
Building customer relationships with more intensity
Establish your expertise and brand voice
One of the best ways for user retention
Well, considering all the above benefits, you should think about the most crucial part. Stand out amongst your competitors, making your newsletter content more valuable, attractive, and converting.
Best Newsletter Ideas to Increase Your Email Engagement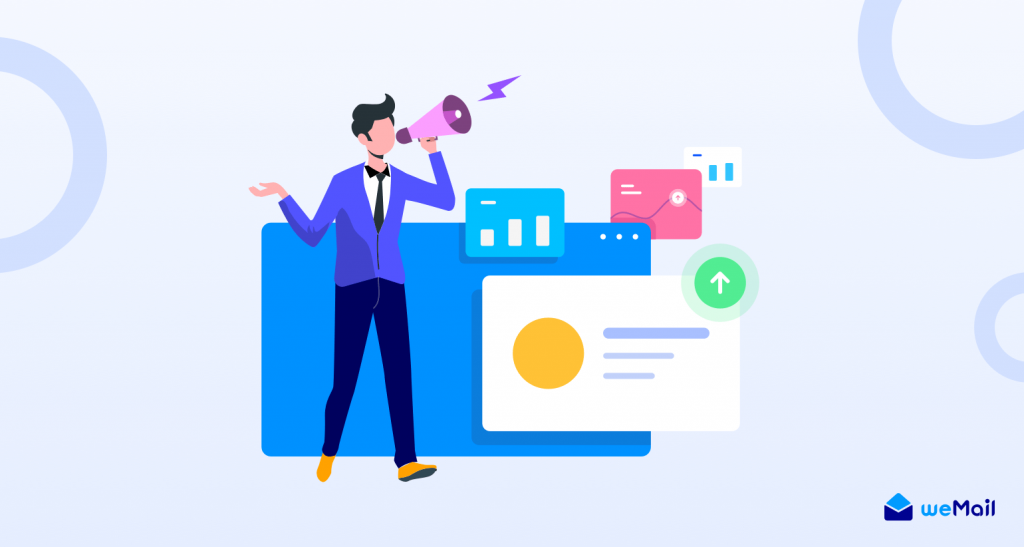 We send a lot of email campaigns from weMail to our customers throughout the year. While sorting out the best newsletter ideas, we've considered newsletter examples from our archive, as well as the top B2C and B2B companies around the globe. So when you go through our explanations of these examples, you will also have a plus point to learn about how marketers around the world generate the most out of this marketing technique.
1. Sending Your Top Resource Blog Post
Whenever you have published a new blog, you send them to the newsletter subscribers. It's a good idea nonetheless because people always want to get quality content, something that's worthy of their attention.
However, it's not a wise thing if you send blog posts generically. Though only the niche users tend to subscribe to your list, unplanned content sharing isn't the right way that works.
For example, EZTaxReturn designed this particular newsletter template for their top blog resources that fit relevant and exciting to their customers.

So, find out which of your blogs are getting high traffic and engagement. Then analyze them. If search engines and readers are both appreciating them as a good resource, you are on the way to becoming an authority. List your top blogs, and send them to the subscribers following a balanced frequency.
2. Send a "How To" Guide and Add videos to Your Newsletter
"How To" content's are a real gem if they are truly intended to help and deliver what it's been promised. Any product user faces problems, and a "how-to" guide can pave the way to solutions in a minute.
Sending these types of learning aid surely increase email engagement and build a reputation for your company.
Besides the written blog, embed one or several direct video links in your newsletters. They are more accessible, and you can lure a user instantly with them. Almost 82% of marketers think videos in email marketing is effective to increase email engagement.
3. Build a Sense of Scarcity
Creating a sense of urgency always works. If you make your subscribers believe that they are missing something, maybe they promptly respond to your approach.
Suppose, you have a fashion brand. You want to offer a promotional 50% off for some of your apparel collections. How to represent this in your email? Let's write up two samples.
One: Make this Winter more festive with 50% off in this exclusive Cardigans.

or

Two: Grab this exclusive cardigan and pay 50% less before January 16th.
Which approach is more exciting?
You can easily detect that the second one creates a certain feeling. If your customers don't make their purchase before January 16th, they will lose the deal. Therefore, the first one doesn't look specific and targeted.
See this email from Brooklinen.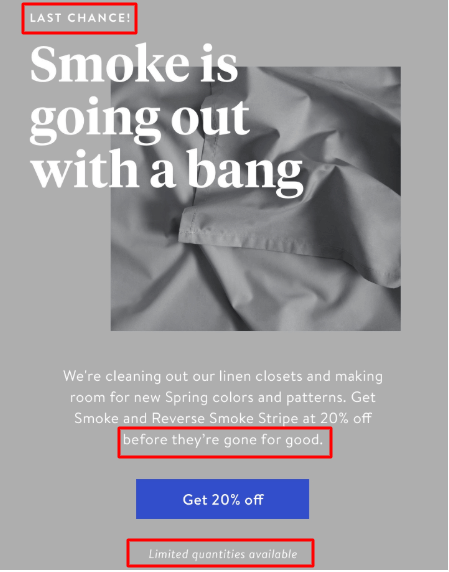 It's clearly shown, how powerfully they applied scarcity effects. They are buzzing an alarm that Smoke and reverse Smoke Stripe will be out of the market soon, so if you are a regular customer, this is your chance!
4. New Product Launch and Updates
Every time you launch a new product, let your customers know. Send newsletters with those product features and advantages. It will create feelings amongst the user that you want them to get the best out of your brand.
On the other hand, whenever you are bringing an update, inform existing users. Updating products and improving customer service is a continuous process. When people get some of your product update newsletter, it will create a positive vibe, they will think you really do care.
Timeline sends this email to their customer, and simply let them know which update they bring for them.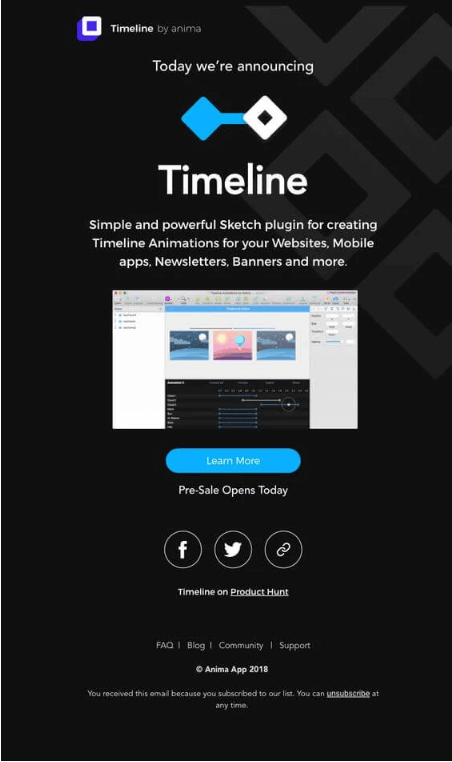 However, you can't send product update newsletters randomly. It's likely that all the people in your subscription list don't want to learn every update you made.
Send these types of newsletters analyzing the activities of your users, to those who really keen to get product update emails.
5. Send Product Maintenance Advice
We have mentioned sending "How To" guides and tutorials earlier. But product maintenance is something different matter. While using the product, there are several situations a customer may face that hinder his experience.
So, why don't you ask them to let you know if they are facing any trouble maintaining the product? Also, following a strategic frequency, you can send them advice to solve possible issues, tricks, and tips that let them get the highest results from your product.
WP ERP has followed the same newsletter ideas after they published a blog on Best Way to Track Your Project Progress using calendar & report summary.
Take a peek at this example below.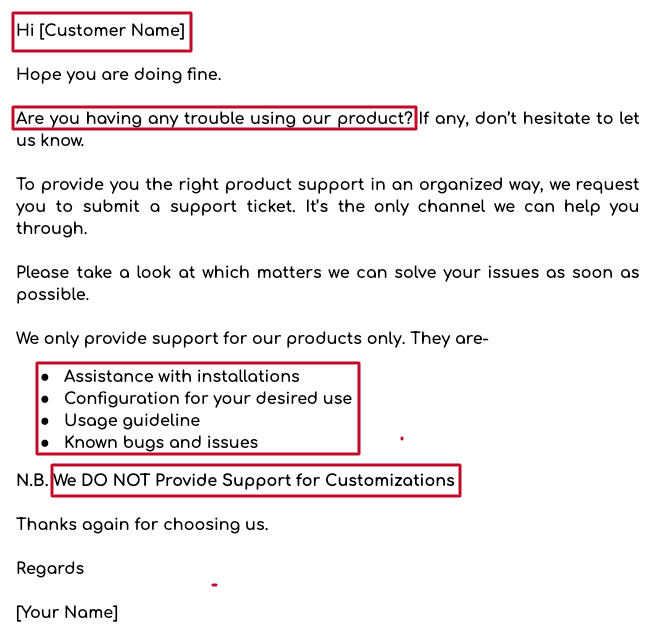 In an advice newsletter, you can personally address your customer, and then directly ask them if they are having any trouble. Finally, show them what you have beneath your helping hat.
6. Share Interviews with an Experts
People like to hear what industry experts are saying. Those who want to become successful, have the desire to know personalities who have gained success before them. Sharing expert discussion always makes an attractive piece of content. And, they always improve your email engagement.
Hence, the Paris Review is one of the world's most famous literary magazines. They have been publishing premium interviews from artists around the world since the 1950s. If you subscribe to their newsletter, they often send you some hand-picked exclusive interviews.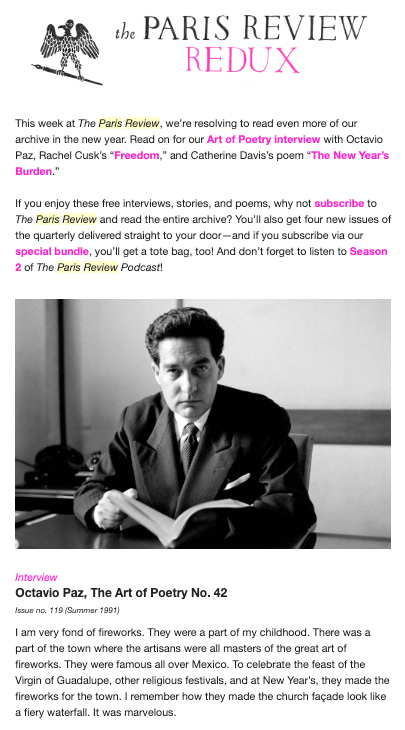 So why not find niche experts who are well-known to your customer? Then arrange interviews and share them through your newsletters from time to time.
7. Festival Offers and Social Giveaways
eMarketer forecasted that 2019 would be the year when retail sales during the holiday season rise to the 1 trillion dollar mark for the first time in the US. Besides, U.S eCommerce spending was expected to cross $135 billion from a 2018 survey.
As a marketer, every holiday and festival season should be your chance to boost email engagement and turn existing customers to purchase more, and acquire new clients as much as possible.
You must send newsletters that stick to your subscriber's inbox and gain a sure-shot open rate. See how Dokan, a multivendor marketplace solution based on WooCommerce creates its Christmas offer newsletter.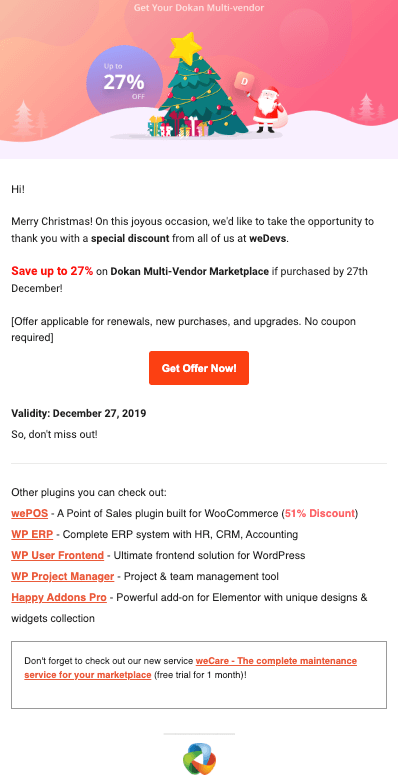 Dokan initiated a superb 27% discount with a deadline, and build a scarcity effect too. Therefore, they include some of the other popular WordPress-based plugins from the same company weDevs. Don't you think it's a smart newsletter idea to get the best from the next festive season?
8. Event Announcement, Invitation, And Yearly Recaps
Arranging different events add up to your brand value. If you are going to run a business event soon or planning to do so, send invitations to your customer who shows enthusiasm. Therefore, it's a wise thing to influence them to attend your program.
In this newsletter below, look at how Inbound intrigued their subscribers.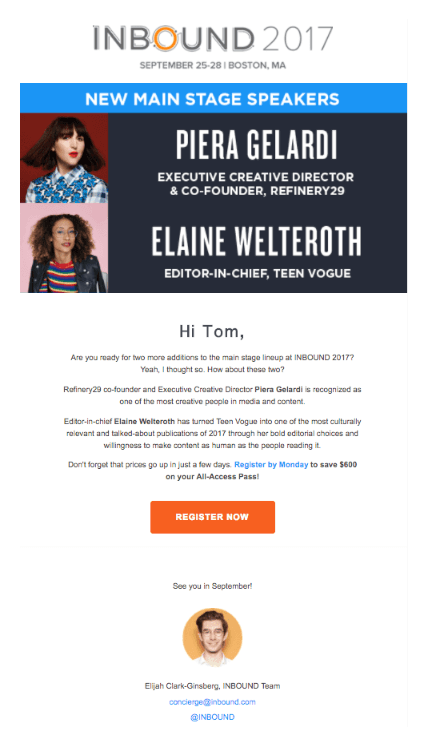 In the same newsletter, they made an announcement as well as invited each user personally. This is one of Inbound's yearly conferences. And, they spotlight their key speakers which would provoke subscribers to register for that event.
Besides, one of the most compelling newsletter ideas that easily contribute to your email engagement is sending a yearly recap. It reflects on what have you accomplished throughout the year to enhance your user experience.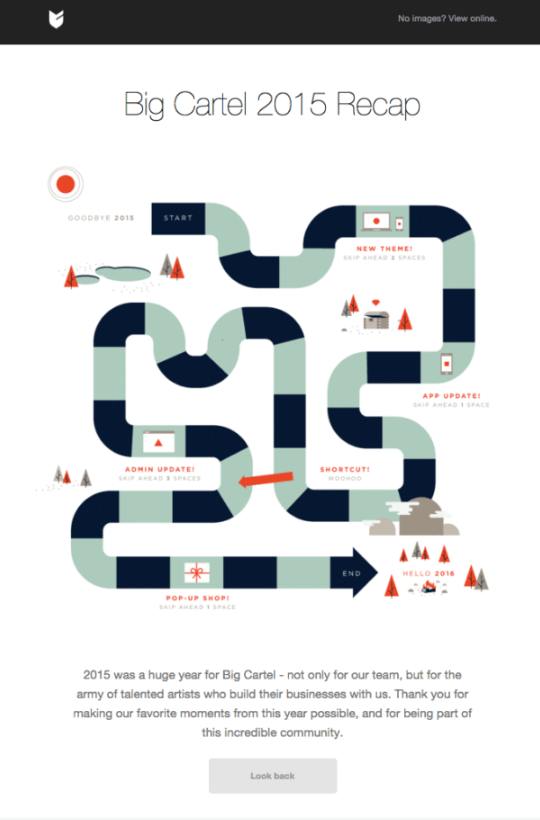 In 2015, Big cartel was sending this recap newsletter and show their activities. Cleverly they relied on showing rather than telling. And, you know that visuals gain attention faster.
9. Ask For User Reviews and Customer stories
It's shocking that 83% of customers don't directly trust advertising today. But 91% of millennials rely on user reviews nonetheless as if the opinions of other customers are similar to friends and family. So it's necessary that you ask for your user reviews via newsletters. Also, inspire people to give reviews on your website too.
Whenever you get one, don't forget to share them. Just like the WordPress PM solution WP Project Manager reap the benefits from this newsletter idea recently.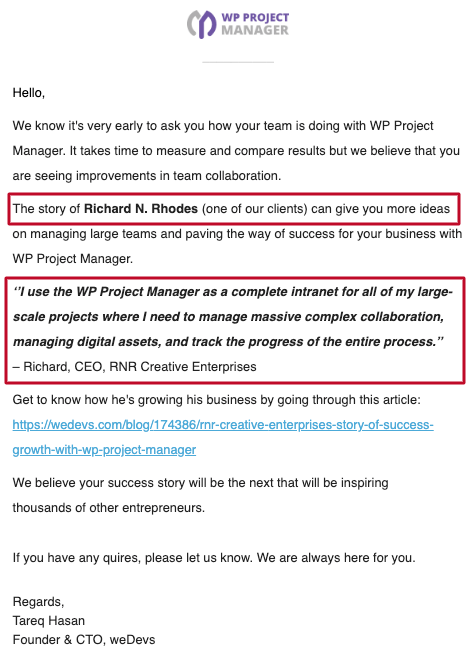 What have they applied here? Representing the review like a user story is pretty exciting. Furthermore, you can add a link to the in-depth customer experience blog post that surely impacts your email engagement.
10. Thanks and Congratulate Your Customer
Every time you let your user believe that you are grateful for their support, it strengthens the customer relationship. It's one of your core responsibilities to carry on with them and help them grow with you. Whenever they achieve success with your product, appreciate them.
There are certain types of people you can send thank you to in the form of your newsletter. Some of them are- 
High-value and loyal customers
Thanks to your event attendees
Anyone who's written in to support
Send thank you cards to people who have specific occasions, etc.
Fitbit did the same while celebrating its 10 years in business. Their intention was clear, they just share a warm thanks to their community for being with them.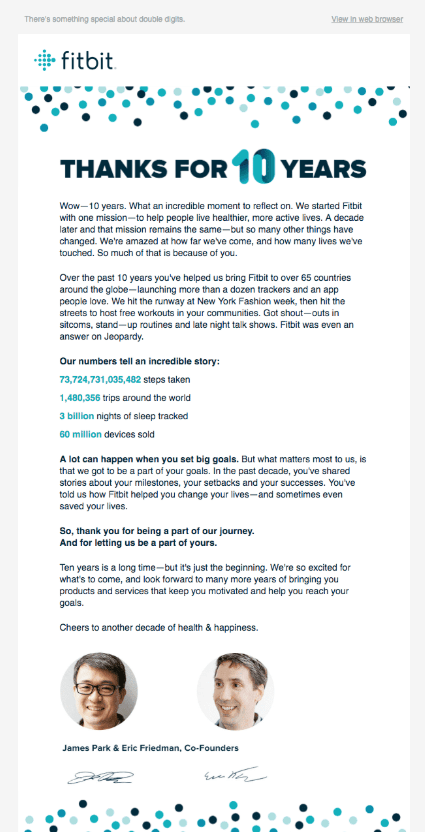 A congratulation or thank you from CEO is that simple. It also creates a belief among the customers that your business does not only care for them but is also accessible.
Wrapping Up
As we are closing up this post, we want to share a simple tip: don't make your newsletter ideas too big to consume. Put it in an understandable manner, personalize every approach, and focus only on your offers.
To send automated newsletters that boost your email engagement, you can start using a cost-effective, cloud-based email platform like weMail. It has such unique features that empower your overall marketing success.
So, that's it. Do you have any questions in mind or some more newsletter ideas to share with us? LET US KNOW in the comments section.
Subscribe To Our Newsletter
Don't miss any updates of our new templates and extensions
and all the astonishing offers we bring for you.