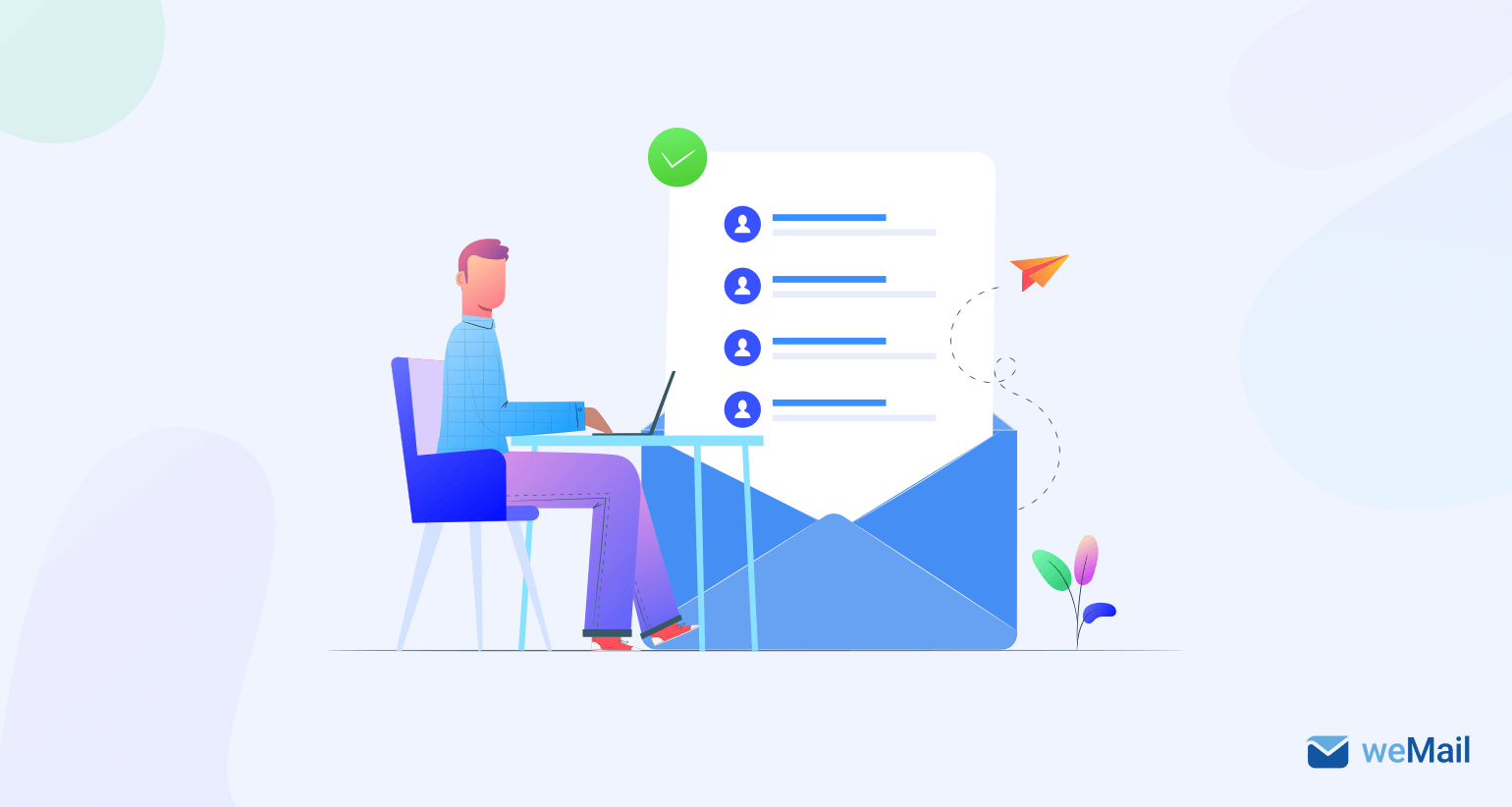 How to Build an Email List with weMail for 2021
Email marketing is a powerful tool to interact with your potential audience directly. With this marketing strategy, you can boost up your business significantly. Also, it's a great way to promote your brand and increase sales.
Email is the most predictable driver of growth and sales in our business. I prefer email marketing over all other traffic channels.

Syed Balkhi, Founder WPBeginner
But to evaluate this tactic successfully you need an authentic email list first. An optimized email list is the main ingredient to build a strong relationship through Email Marketing. So, the list must be included the email addresses of your target audience, potential customers, new prospects, and existing customers.
Michael Hyatt with an email list of 115,000+ subscribers stated that
I have literally built a multi-million dollar business on the strength of my email list. Ninety percent of my income comes from it. Even today, my email list is still my number one business priority—and asset.
In this article, you will learn how to build an email list efficiently. Moreover, you will get effective tips to optimize the list for the highest open rates.
7 Proven Ways to Build a High-Quality Email List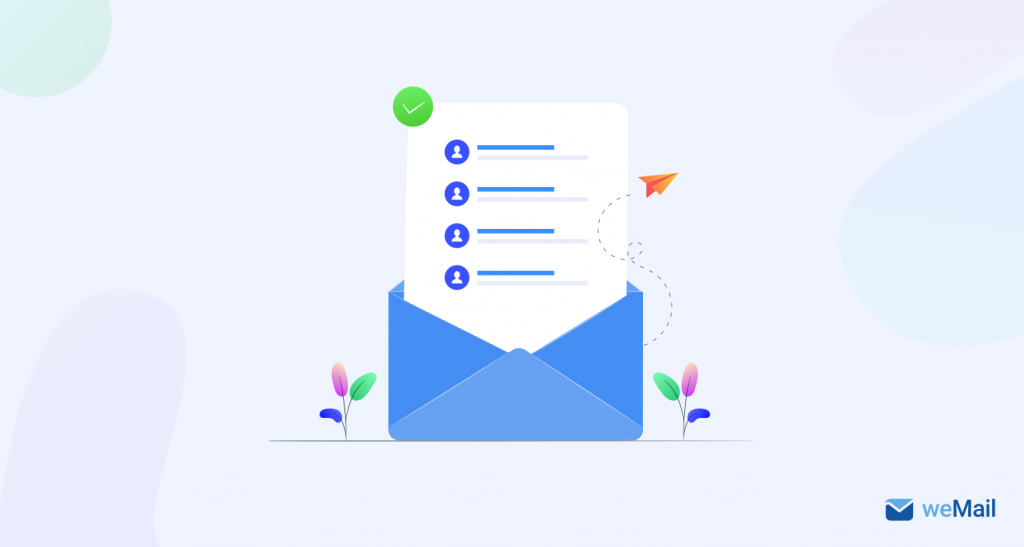 In the online marketing world, Email marketing is the most powerful marketing form with widen reach. Also, it has a high conversion rate if your list is well organized.
An email list is the list of customers and potential customers who gave you permission to contact them via email.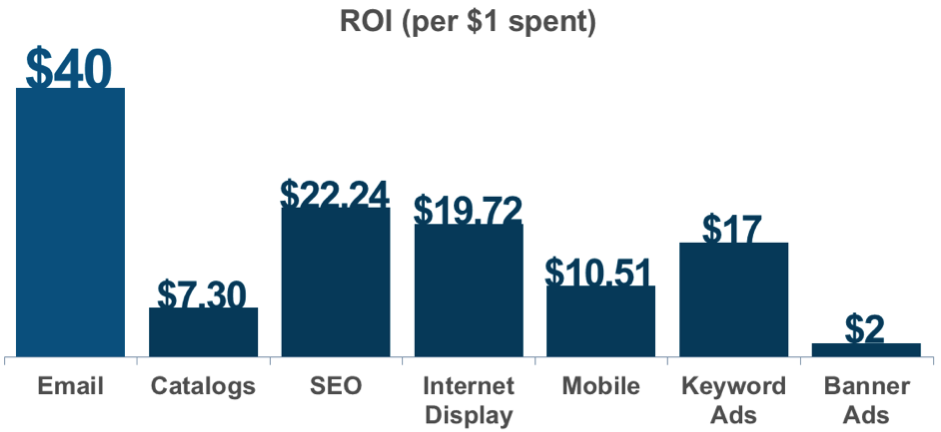 Direct Marketing Association states that email marketing on average sees a 4300 percent return on investment (ROI) for businesses in the USA. But, if your list is not optimized well, it will directly impact on your traffic and revenue. And you will not get the desired result at all.
If you're not building an email list, you're making a HUGE mistake.

Derek Halpern, Founder Social Triggers
Therefore, it is important to build an email list for all businesses. To start the list generally you need 3 essential attributes as follow:
A website or blog
An email marketing service
High-converting opt-in forms
Email list building is one of the best strategies for growing a profitable business. Here's you will get all the tips on how to build an engaging email list:
Choose a great email marketing service
Add your email list form on your website
Give good reasons to sign up
Leverage social media
Get subscriber through content marketing
Create an online community
Offline List Building
Choose a Great Email Marketing Service
You will get tons of email marketing services out there. So, you have to pick the right platform to boost your sales. As a beginner, you may prefer a free Email Marketing Service. But, sometimes you can only send blog notifications using these free service providers.
However, with these kinds of services you cant personalize the email message or categorize the subscribers. Also, it will not give you any reports. Therefore, it will not satisfy the main purpose of email marketing.
Therefore, it is better to use a professional Email Marketing Service from the beginning. It will cost you a handsome amount of money but the return will be huge.
The benefit of professional email marketing services are:
Group-based email sending option
Personalize the emails
Send bulk emails at a time
Overview of the subscriber's activity
Run A/B split tests to examine which email's content works best with your subscribers
Most importantly you will get a detailed report on your customer's preference. It will let you know the country names you have the most subscribers from. Later, you can set your time preference, email content according to them. It is a proven way to increase the conversion rate rapidly.
There are many amazing Email marketing services available in the market. In order to make your selection journey easy, we have already made a list of 8 Best Email Marketing Service in 2021.
However, for small businesses you recommend weMail to send authenticated bulk emails. It allows you to design your mails at an insanely low price without sacrificing deliverability
Keep Subscribing Easy and Simple
You should make subscribing for your email list as easy as pie. Otherwise, you will lose your potential customers. If your users find the sign-up form complex and tiresome, you will not get the expected response. Therefore, you should keep the subscription process simple that hardly takes a few seconds only.
Some useful tips to keep the opt-in process effortless:
Include on all the main pages of your site
Place it on the sidebar of your site
Don't ask for too many information
Use attractive CTAs on your site, blog or videos
In short, you have to design easy-to-fill sign up forms. Then upload them where your users can easily find them.
Give Good Reasons to Sign Up
You should encourage your traffic to subscribe to your email list. To do this you have to offer something useful for them. An attractive deal will influence the users to take a step ahead. And they will sign-up for getting more valuable content.
For instance, you can offer a discount on your site for a limited time. Then ask the visitors to give the email address in order to grab the deal.
Also, you can arrange online contests or giveaway programs for your users. There the participants must submit their email addresses to get a free gift. It's an effective way to convince your user for signing up.
According to a study by Georgia Southern University, 71.6% of people remember companies that offer give away products.
Similarly, you can offer a free trial, lead magnets, e-book, updates, bonus contents, etc. available for the subscribers only.
Leverage Social Media
Social Media is a potential tool to build your email list. Social media is a popular way to reach your targeted users. Here, you can easily interact with them through engaging content. Also, you can upload your niche related helpful post to drive their attention towards your business.
It is important to gain the trust of the potential audience for growing your business widely. And social media gives you the opportunity to build a connection with your users. Later, you can encourage these users to visit a particular page where they can sign-up for your email list.
Some useful tips to get more subscribers through Social Media:
Upload helpful contents
Add useful links as CTA
Post niche related and trending topics
Offer free gifts, free shipping or affiliates for subscription
KISSmetrics found that a CTA within a video gets 380% more clicks than their normal sidebar CTAs.
Get Subscriber Through Content Marketing
You can give a remarkable lift to your subscriber list through content marketing. People love to read informative, unique and engaging content. Therefore, you can publish fresh content regularly. Then encourage your visitors to subscribe for future updates.
However, its a great idea to generate special content for your subscribers. You can offer subscriber-only access to a video, e-book or another piece of useful content. In this way, you can make them feel special. After that, you can gradually convert them into loyal customers
In addition, if you can create great content for your readers they will work as an advisor. Further, you will get more users through their reference.
Create an Online Community
It's always a wise move to scream your voice towards same-minded peoples. With this context, you can build an online community. Now, start building a strong bonding between your brand and the community members.
Later, you can include a sign-up form for your newsletter on every page of the community. However, if you build the community on any social channel then send the users to a particular place to subscribe.
Since the community consists of alike population and gets together for a specific reason. So, it will be comparatively easy to convince them to subscribe.
Offline List Building
As we have mentioned above you can proceed with your link building tactic on your website, landing pages, social media, etc. Besides these online efforts, you can practice old-school offline ways to enrich the subscriber's list.
A few ways to include the new users to your list:
Exchange business cards with related peoples
Collect emails from fairs, meet-ups or events
Collect customers email addresses
Gather valid, testable email addresses from your employees
Collect information from personal contacts
Well, these were the most popular and fruitful ways to grow your database of email addresses. It will help you to increase the number of potential leads. Later, you can convert them into productive buyers.
Furthermore, you have to update the list regularly. It is important to keep your list genuine and error-free. You can also imply other marketing strategies to enlarge your email list. Such as referral program, popup optin, affiliate program, encourage forwarding, include an opt-in form on every mail and so forth
Is weMail Really Capable of Being Your Email Marketing Platform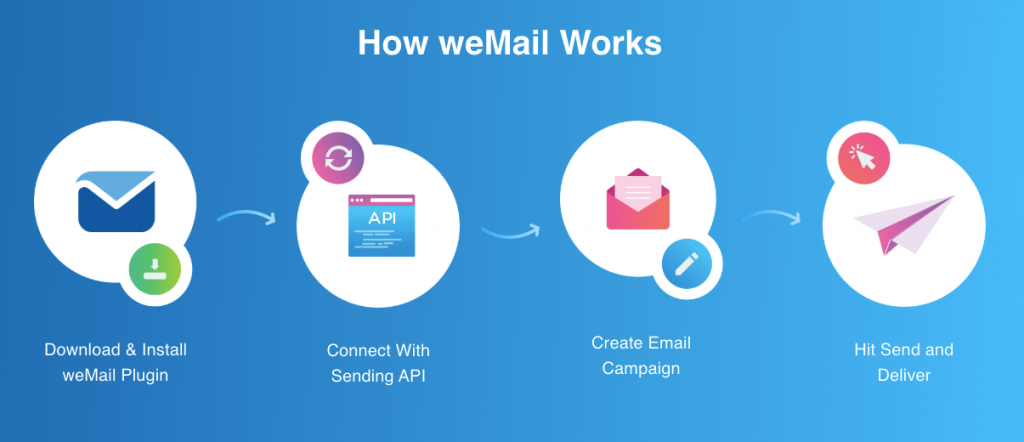 weMail is a WordPress plugin to design email and maintain contact lists with feature-packed email builders. You can send emails by integrating any third-party solutions like Amazon Web Services, MailGun, SparkPost, etc.
With weMail, you will get all the advanced facilities of email marketing at your fingertips. It is an inexpensive cloud email newsletter platform. Also, it is capable to deliver emails to the right subscribers' inboxes with the highest open rate. You can personalize your email with effective content and send the bulk emails immediately.
Moreover, it makes email designing simple, user-friendly, reliable and better. As its a SaaS solution your server will not get any extra load. All the data will be saved on the cloud.
Simple configuration and working procedures make it easy to operate. It offers the best drag & drop email builder. And most amazingly, the mailing cost will not increase with the growing subscriber base.
Hence, weMail can be your reliable partner to promote your brand through email marketing.
Unique Features of weMail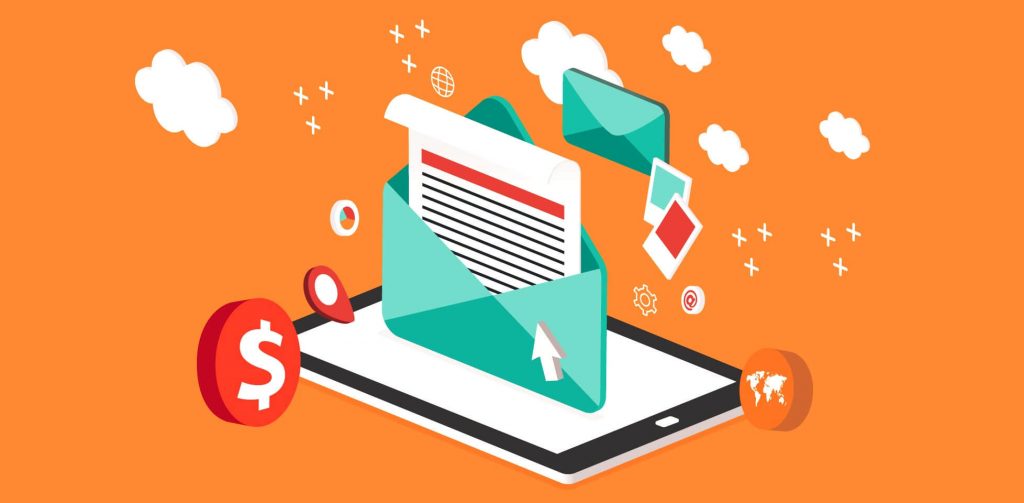 weMail is a faster and robust platform for email delivery at a lower cost. Here, you can lower the cost by offloading the sending using your favorite gateway or SMTP provider.
Drag-and-drop Editor: It supports a drag-and-drop editor to build beautiful email newsletters. It requires only a few minutes to design your desired email content accordingly.
Smart Subscriber Management: You can upgrade the email list as long as you want. There is no restriction on the subscriber's number. Moreover, you can easily manage mass subscribers with weMail.
Easy Reports Generation: You will get reports on how the users react with your emails. Based on the report you can optimize your further marketing strategies.
List Segmentation: You can make subgroups from your email subscribers list. It will be more effective if you can design individual email for a specified subgroup. These groups can be formed considering their age, areas or other preferences.
Autoresponders: weMail has a built-in autoresponder to reply back to your subscriber. If you want, after subscribing to your email list they will get an auto-reply to their mailbox. You can set the mail content individually.
Bounce handling: It will keep your list error-free and healthy. Bounces, Complaints & unsubs will be removed from your list automatically.
In addition, you can integrate the weMail with the popular form builder such as weForm to make your email list rich. It will also update the list regularly.
Final Thought on Building Email List for 2021
Email marketing helps you to interact with your audience and promote your brand simultaneously. Engaged customers are assets for your business. On the other hand, your all efforts will go to the drain if the contacts you have aren't relevant or email addresses are inactive.
Hence, it is very crucial to build an authentic email list and nurture it regularly. Now you have all the essential elements regarding how to build an email list in 2021. However, you can deploy a smart solution like weMail to conduct your email marketing more effectively.
So, start your marketing campaigns and increase your revenue with weMail today!