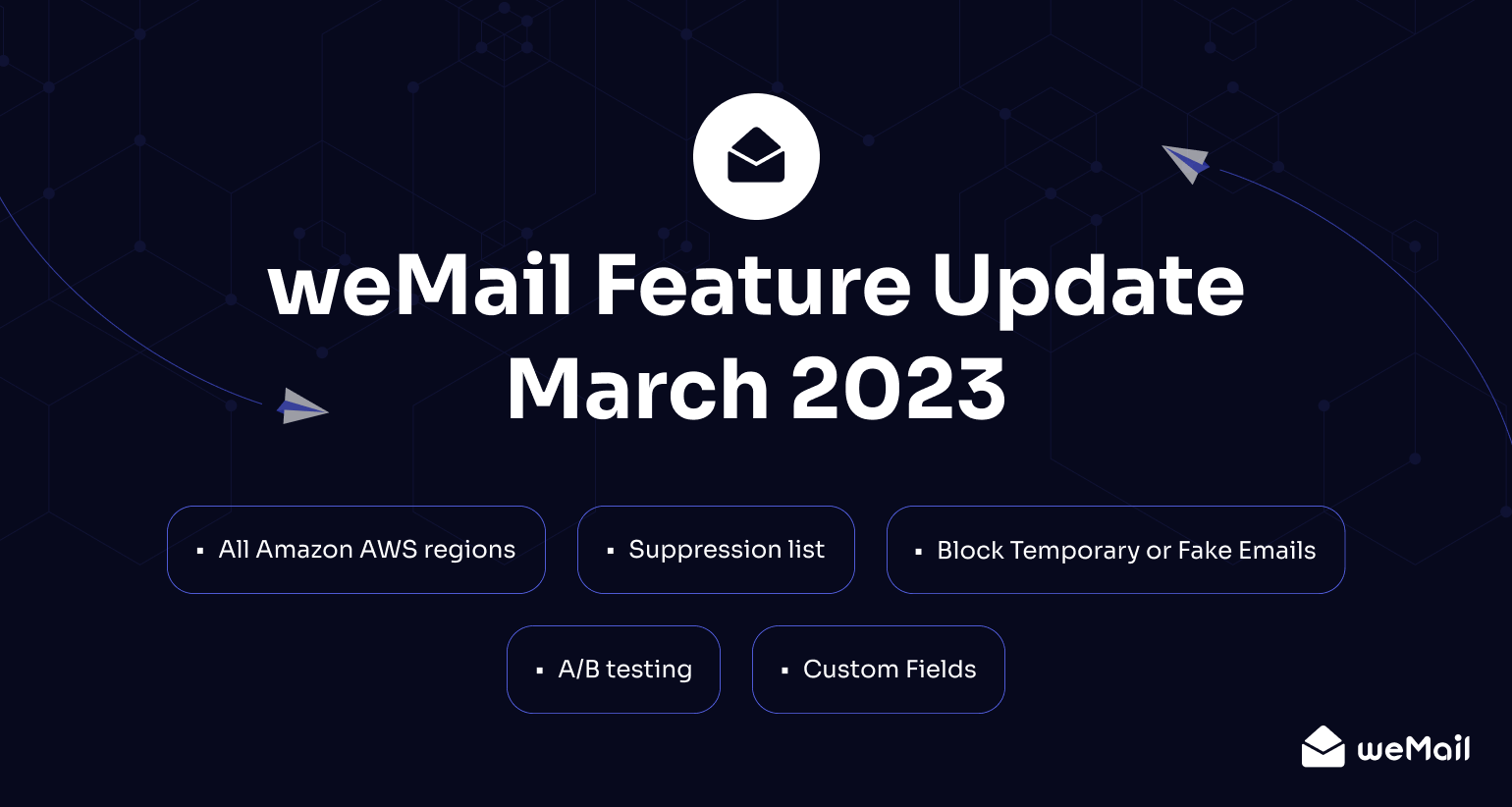 weMail Feature Release – Support for All Amazon AWS Regions, Blocking Fake Emails, Automated Suppressions, A/B Testing, and More
Yet again, weMail brings some newest features to improve your email marketing experience. With the March 2023 feature release, you will get more control over your email list, maintain clean and steady deliverability, increase your engagement rate with A/B test campaigns, and gain more access to Amazon SES.
weMail remains one of the most affordable and powerful WordPress newsletter platforms. With this biggest feature update of the year so far, we promise to give beyond your expectation. Let's check them out.
What's In the Box – 5 All-New weMail Features to Increase Your Email Marketing Success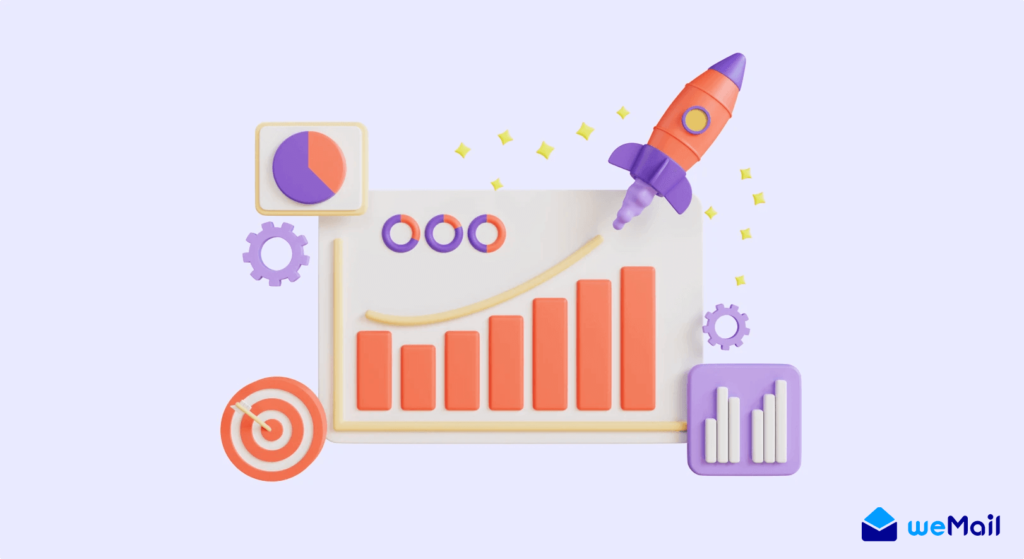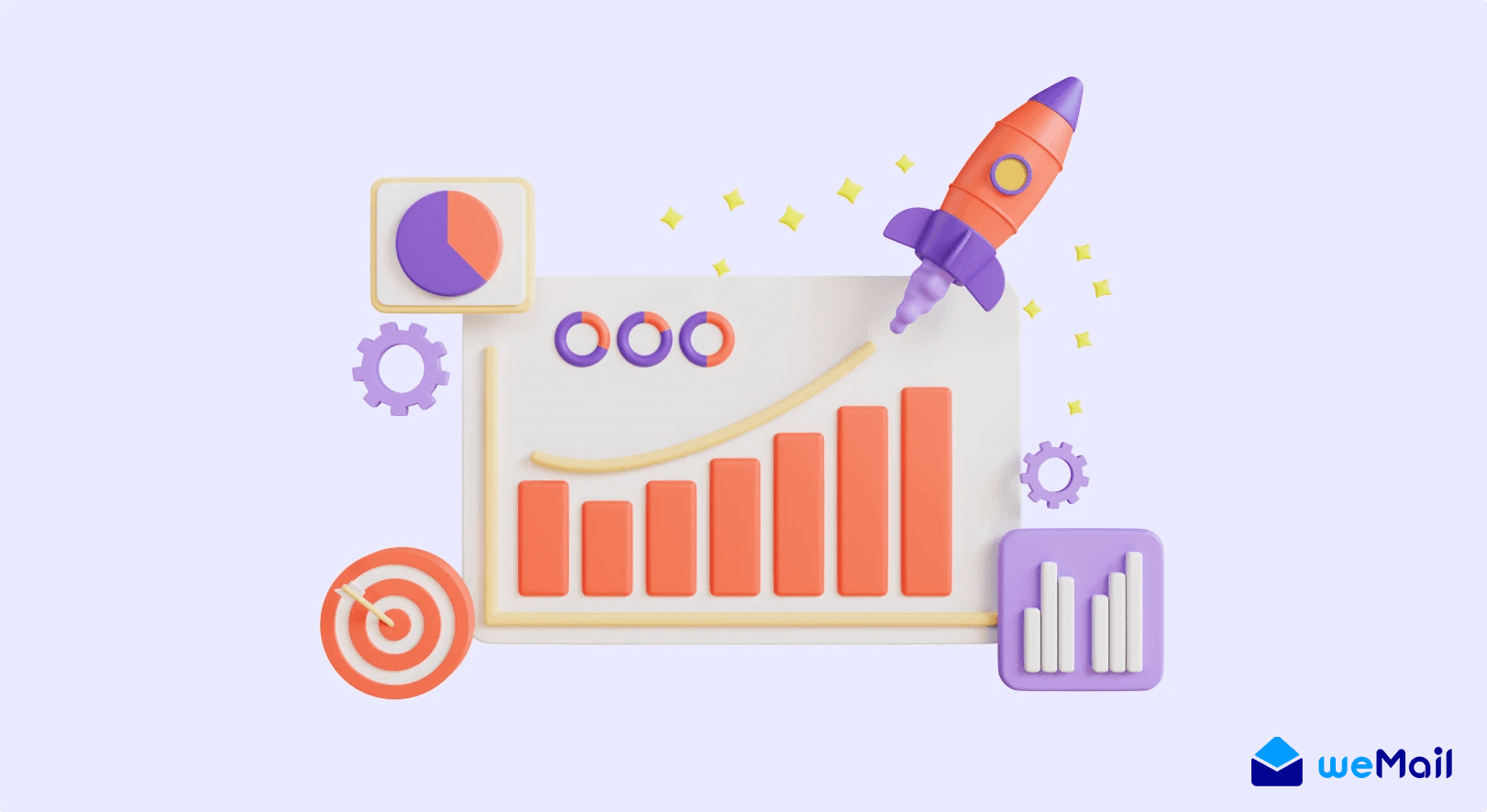 This is the first major feature release of weMail. With this March 2023 update, you are going to get the following features –
Support for All Amazon AWS Regions: Now, you will have support for 24 AWS regions for SES support. So, if you are using Amazon SES as a sending getaway, you won't have to face any restrictions.
Automatically Block temporary/fake emails before entering a list: weMail is now capable of detecting fake/temporary emails before signing up to secure your list from spam attacks and help you maintain a clean list, high deliverability, and low bounce rate.
Suppression List (Black listing emails): You can easily create a black list of all those email addresses you don't want to keep for future email campaigns. Also, it will help you reduce the bounce rate.
A/B Test Campaign: With this new weMail feature, you can send A/B test email campaigns by splitting a subscriber group with different customized content. Find out the best types of email that work. It will help your email campaign to achieve a higher engagement rate.
Custom Fields on List: Now you can easily add custom fields to your email list. It will help you to gather more relevant user data and go for hyper-personalization.
Well, now you may like to check these newest weMail features in detail.
1. Support for all Amazon AWS Regions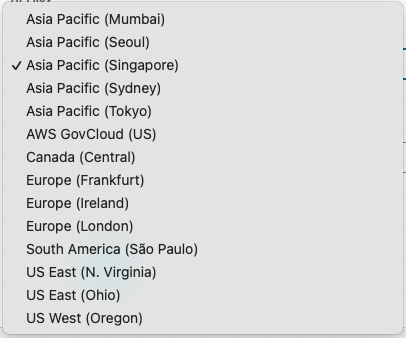 Before this new update, weMail have limited AWS regions support. It covered only 14 regions. But now, we get you out of this trouble. You can use Amazon SES without hassle or restrictions with 24 AWS regions support.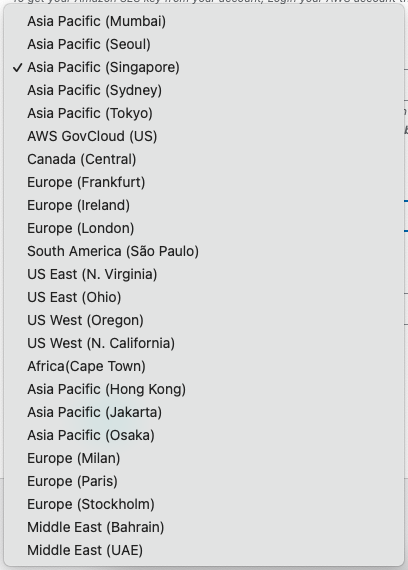 With the enhanced support for Amazon AWS regions, you can send emails to your recipient and set the nearest regional route. This will increase your deliverability and reduce latency.
2. Automatically Block temporary/fake emails before entering an email list
People do clever tricks sometimes. When you offer an eBook or an incentive in your lead generation form, they sign up with fake or temporary emails. When it happens, your email list will bloated with many useless email addresses.
To save you from this problem, weMail brings a new feature that automatically blocks these temporary/ fake emails when someone tries to sign up. It will keep your list clean, ensure high deliverability, and also, your emails going to have a low bounce rate.
Take a look here, this is what's gonna happen if someone tries to add a fake email address to sign up –
The best way to understand this feature is this –
Suppose, someone tries to add a subscriber manually, he/she can't do it without a proper email domain.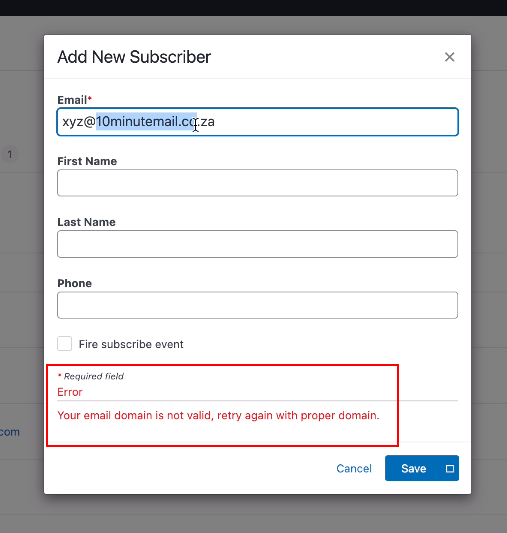 If a user tries to sign up with a fake/temporary domain, he/she will see an error message like the image above.
Also, similar things gonna happen with the optin form or embedded form. Take a look –
If someone tried to sign up with a temporary/ fake email, weMail doesn't even let them sign up.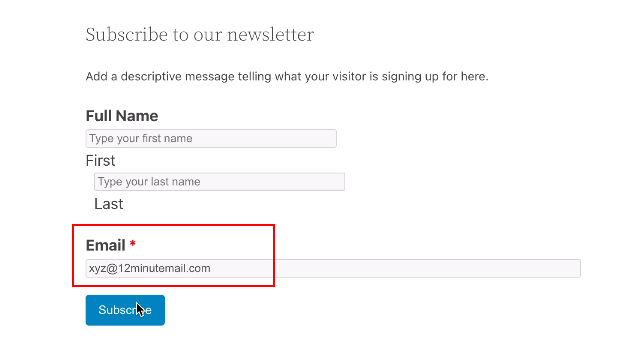 Here's a sample of the warning message –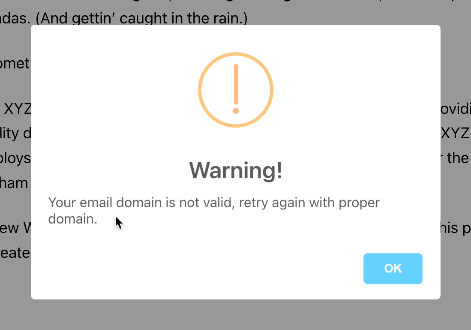 Many websites provide disposable/ fake email addresses. People tend to use these fake addresses when they don't want to provide you with a real email address.
With this new weMail feature, you can easily build an email list with people who are really interested in your business.
3. Suppression List (Black listing emails):
The suppression list feature helps you to have an automatic list of emails that are hard-bounced or the subscribers marked your sender address as spam. This will be a black list of email addresses that you won't be sending in any future email campaign. Also, you can add email addresses manually to the list from the suppression list menu.
Well, what's the use of a suppression list? Usually, if someone unsubscribes, you will be notified and remove them from your email lists. But, when some people don't unsubscribe and also don't want to get emails from you, they just simply marked your sender address as spam. Also, some email addresses don't even exist anymore.
These email addresses will be automatically added to the suppression list, with the reason for why they are blacklisted. You can keep them if you see any possibilities for retargeting or remove them permanently from your system.
If you want to move your list from one email marketing platform to another, for example, Mailchimp to weMail, you can easily import the existing suppression list too.
4. A/B Test Campaign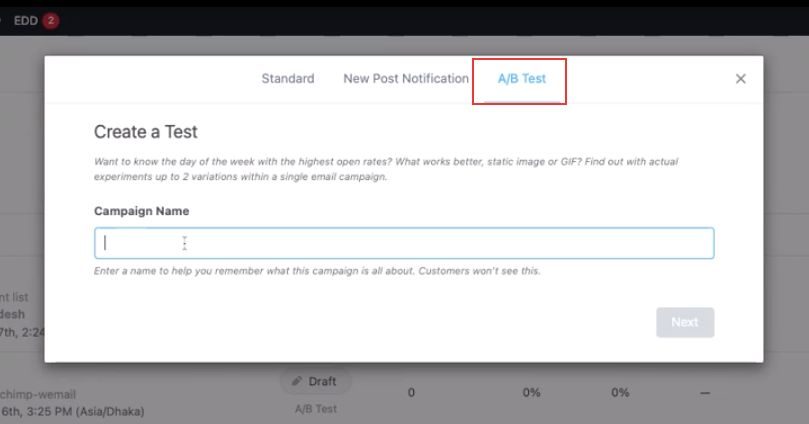 The all-new weMail A/B test campaign feature lets you test an email campaign by splitting the subscribers into small groups.
After finding out which group is doing better (getting more engagement) with different subject lines, from name or email content, the feature will automatically choose the top-performing email and send it to the rest of your subscribers on the list.
The A/B test campaign feature is one of the best ways to understand how your subscribers respond to different types of email content. When you understand and learn which types of email work most, it will be easy for you to segment your list in a more data-driven way, and increase your deliverability, and overall email marketing success.
Here's How it works –
1. Customizing Your Email Content with Different Variants of Tests
Well, after creating a new A/B test campaign, you will be taken to the following page where you can see the types of tests you can run with this feature.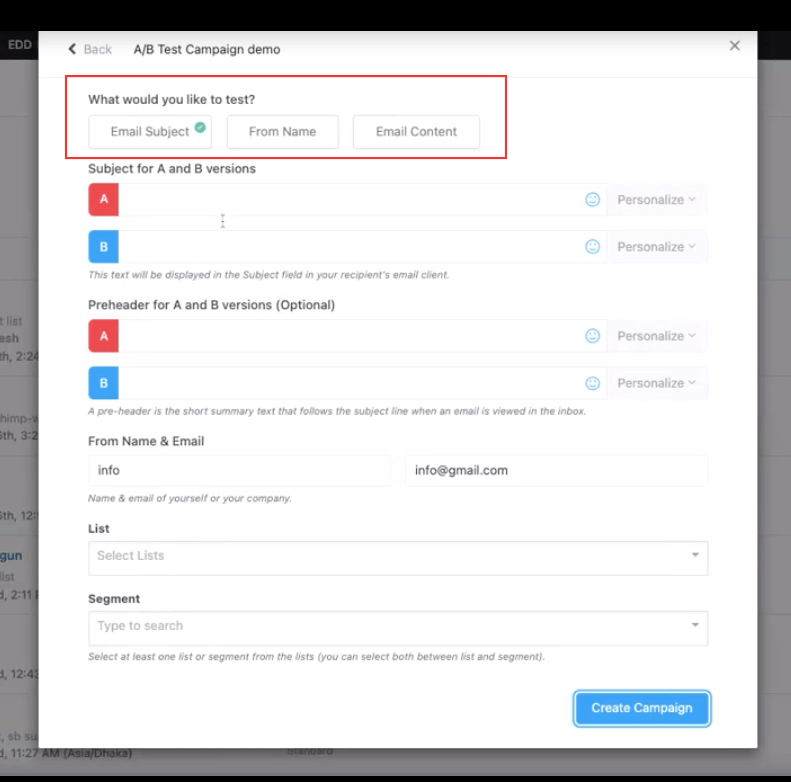 Right now you can run three different variants for testing, one at a time. They are –
Email Subject
From Name
Email Content
If you choose the Email Subject, you can send two separate email subject lines for A and B groups. If the email of group A responds more positively, then it will be considered the Winner group, and the rest of the subscribers in the list gonna get the email with this winning subject line.
As we've mentioned, you will split your email list into three portions to run the A/B test campaign with different ratios. But if you split the subscriber list by a 50% ratio, there would be no winner group. You can send emails only to A and B groups, and check the results later.
Let's find out how to split your subscriber list.
2. Splitting Your Email List Into Small Groups to Know how They Respond
Now, unlike a normal campaign, you need to split your subscriber list into three groups like this – A, B, and Winner.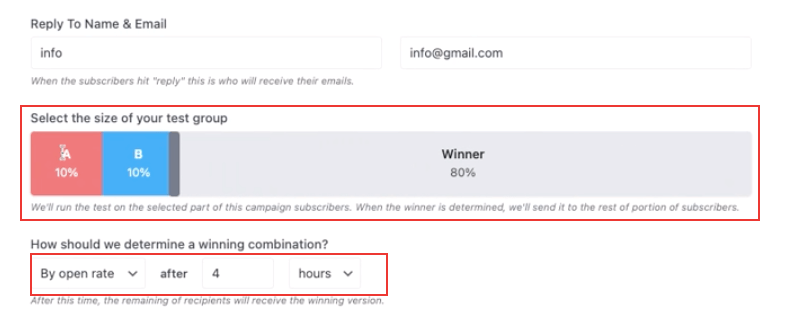 Given that, you want to send your email to a list of 100 subscribers. You can set 5-50% of your list to the A and B groups. Though, when you set 50%, there would be no group as the Winner.
Let's say, you set a 10% ratio for each group. Chose two differently designed email content and send the email to A and B groups. If the email for B groups gets more engagement (click rate, conversion, etc), then this email will be sent to the Winner group which covers the rest of your selected subscriber list.
You can easily change the ratio for the groups any time before starting sending. Also, you can select the types of engagement (open rate, click rate), and continue to test the different groups for hours, days, and weeks.
It's always crucial to know which types of emails get more responses. The A/B test feature helps you to know that, saves a lot of time for future campaigns, and ensures better conversions.
5. Custom Fields on the List
Hyper-personalization is one of the top trends in email marketing right now. The more personalized data you collect, the more relevantly you reach the right customer. And, weMail always wants to keep you on top with timely features like Custom Fields on List.
You can add custom fields with a dedicated custom field menu in the list option. It will help you to collect the newest subscriber properties and save them to each subscriber profile in the selected list.
First, you need to go to your weMail dashboard, then go to the list, and select a list. After hovering on Manage, you will see the custom field menu. Click on it –

Now add any custom field you like, edit the slug, and select the types of data input like – text, number, date, checkbox, etc.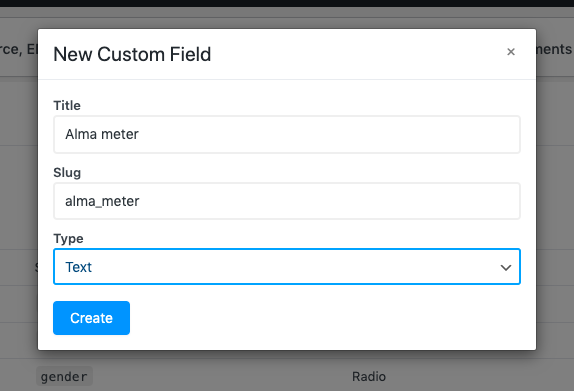 After creating the custom field, manually go to any subscriber profile on that list to only see how the feature works.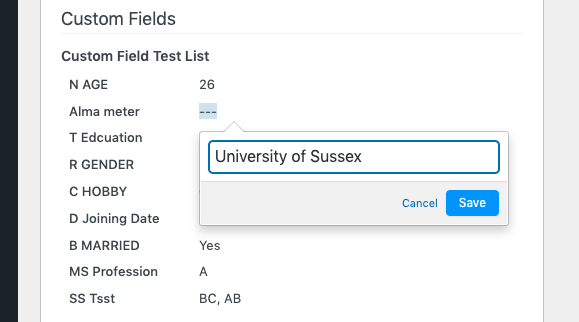 In any optin form or registration form, if you ask for the Alma Meter of a user, this data will be saved under the user profile as a new custom field data.
This is how weMail's new Custom Fields on List feature can widen your capabilities to gather even more personalized information. Let you send more relevant email campaigns and eventually increase your deliverability, and conversion rate.
Why Go for weMail for Better Email Marketing in WordPress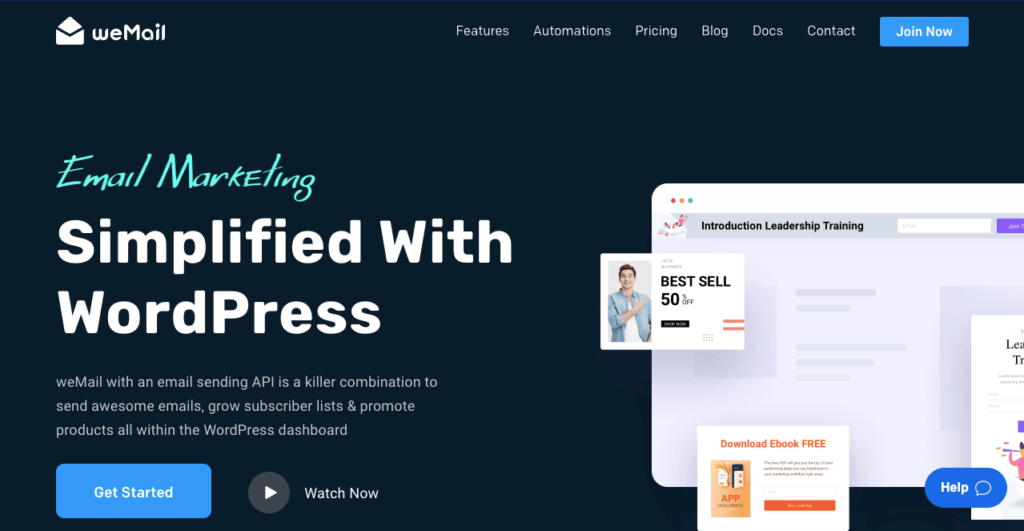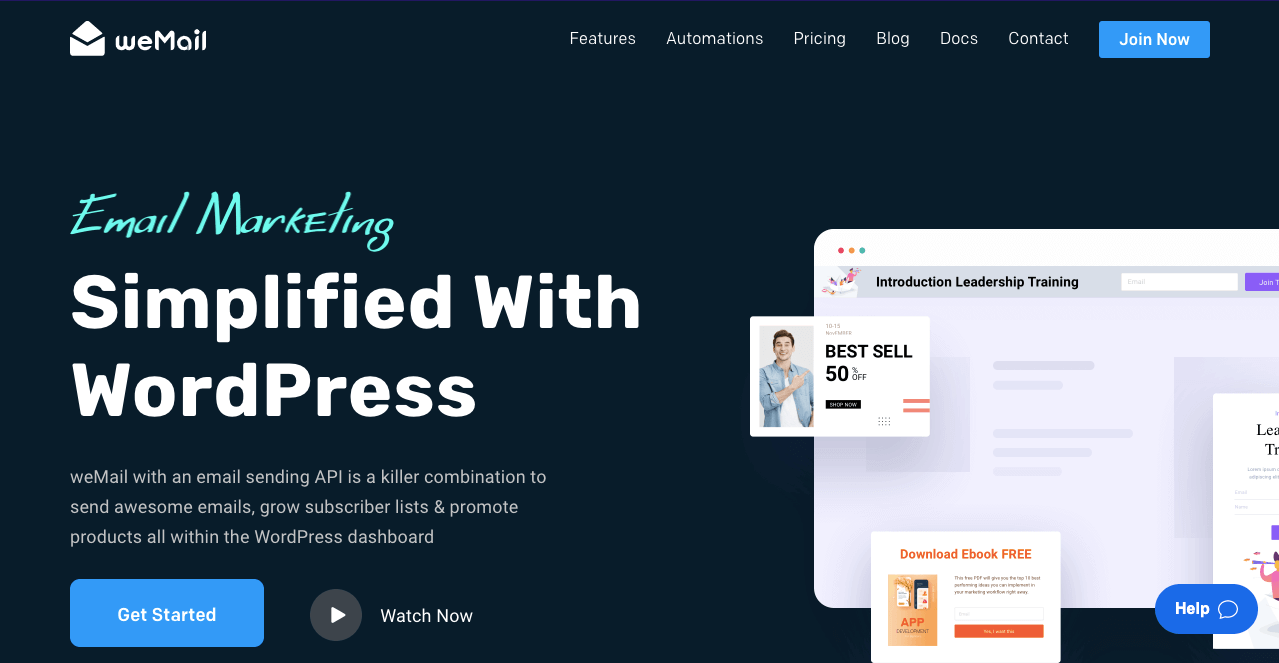 weMail has become a feature-rich email marketing tool for WordPress users. From sending beautiful newsletters to automated email campaigns, weMail is at the same time powerful and affordable. Therefore, it aims to continuously improve the user journey by introducing the latest features.
Here are some of the most exciting weMail Features to look for –
Email marketing automation
Powerful list segmentation
Rich newsletter template library
Robust WordPress integration
Superb and clean analytics
Besides that, you are going to get 24/7 expert support to solve any issues instantly. Also, weMail offers a handful of robust SMTP gateways to give you more possibilities.
Closing Up
So that's all for the weMail feature release update, March 2023. And we hope to bring up more soon. We believe weMail is going to empower more effective email marketing in the coming days. Let us know what you think about our newest features.
Subscribe To Our Newsletter
Don't miss any updates of our new templates and extensions
and all the astonishing offers we bring for you.