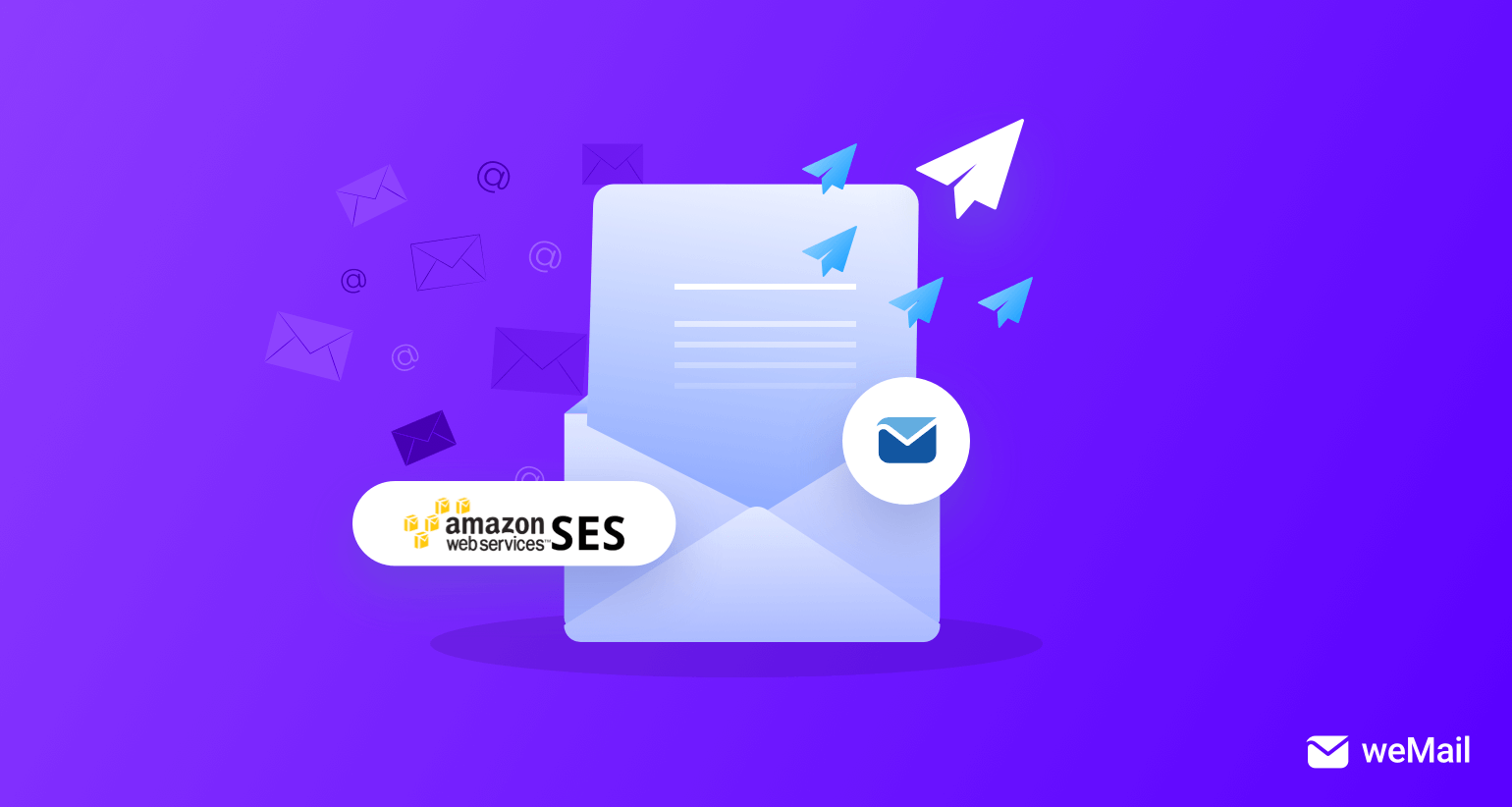 How to Send 62,000 Emails with weMail & Amazon SES for Free
Email marketing has become an integral part of the marketing strategy. However, performing a successful email campaign can be a hassle if you are looking to deliver quite a lot at a time. In addition, if you want to send bulk emails free of cost, you need the right tools.
Email Marketing is one of the most effective marketing strategies
If you are using the internet then there is a 90.9% chance you have an email account. That is why email marketing is so effective. You can reach a large chunk of the audience.
Using the right tool you can send a bulk of emails. And if you are smart, you can do that for free. weMail and Amazon SES gives you this opportunity.
With weMail's unique features and the flexibility of Amazon SES combined, you can easily send bulk emails free of cost.
Let us see the reasons that set weMail apart from the rest, then we will get to the point where we will answer how to send free emails using weMail and Amazon SES.
Why Choose weMail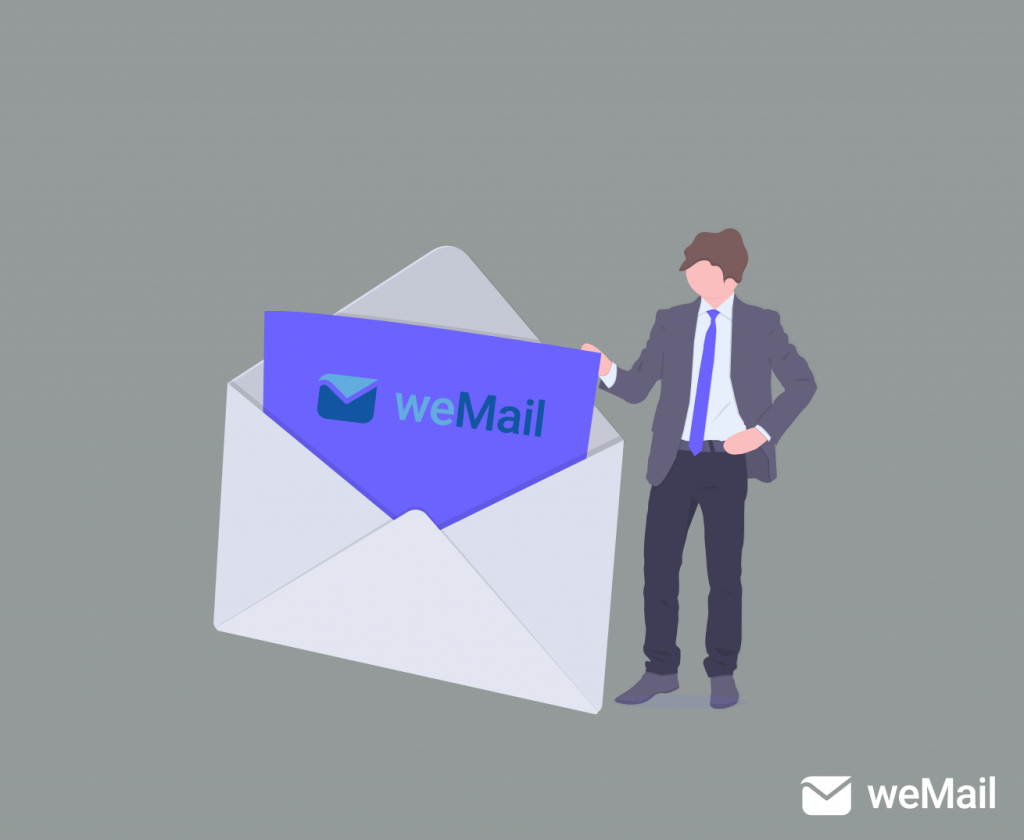 Email Marketing Tools have become a revolution in the marketing industry. Like we have said earlier you can easily reach a large chunk of the internet audience using email marketing tools and techniques.
Email Marketing has become the go-to technique for marketers. It is,
Cost-Effective
Higher Response, as if you were talking to your audience
Segmentation
Measuring real-time data
Higher ROI and many more.
The list goes on.
Techniques are up to the marketers, but when it comes to tool weMail can be considered one of the best.
Here are the reasons why weMail stands apart from any other email tools:
Being a SaaS solution, it can take a heavy load. So less pressure on your server
It has a Drag n Drop editor. So you can create beautiful and interactive templates
Mobile device friendly
Send E-mail from the WordPress Dashboard
Cost-Effective.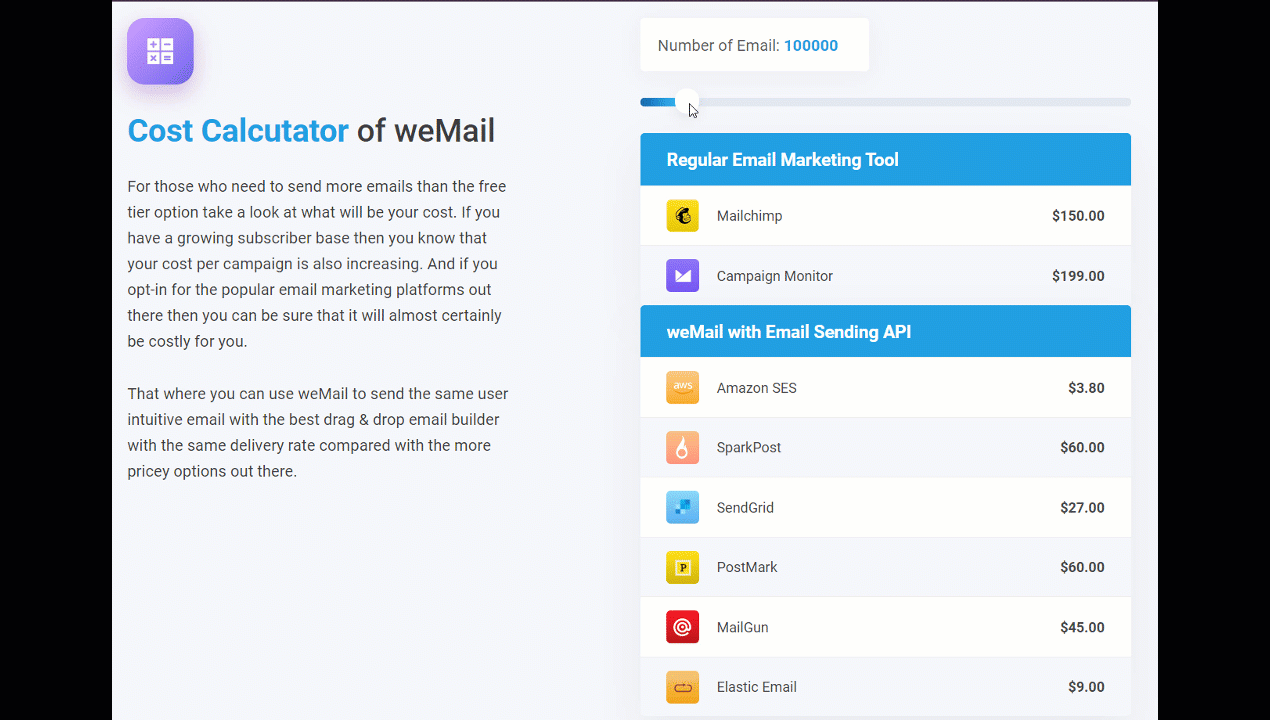 That is why weMail was created and it has been one of the best email marketing tools.
Send Bulk Emails Free of Cost Using weMail & Amazon SES
weMail has integration with Amazon SES, which is a highly-scalable email sending and receiving service for businesses and developers.
Did you know,
For the first 62000 emails you send each month you need to pay $0 with Amazon SES.
And the integration with weMail, you can send those 62000 emails more easily than ever. You can easily send bulk emails free of cost.
Want to know how? ok, let's see the steps.
Step1: Configuring Amazon SES
First of all, you need to set up Amazon SES. Create an account with Amazon SES. If you already have an account then there is no need.
You need the credentials to set up weMail. To get the Key and Secret navigate to your account and click on My Security Credentials.

There will be a Key and Secret Key generated for you. Copy both.
Step 2: Configuring weMail
Now that you have the Key and Secret Key, it is time for you to set up weMail with those.
Go to WP Admin Dashboard→weMail→Settings. Click on the Amazon SES tab to integrate.
You will find a button Edit Credential. Click on it.

Then paste the Key and Secret Key you previously copied from your Amazon SES account. Click on Next to save.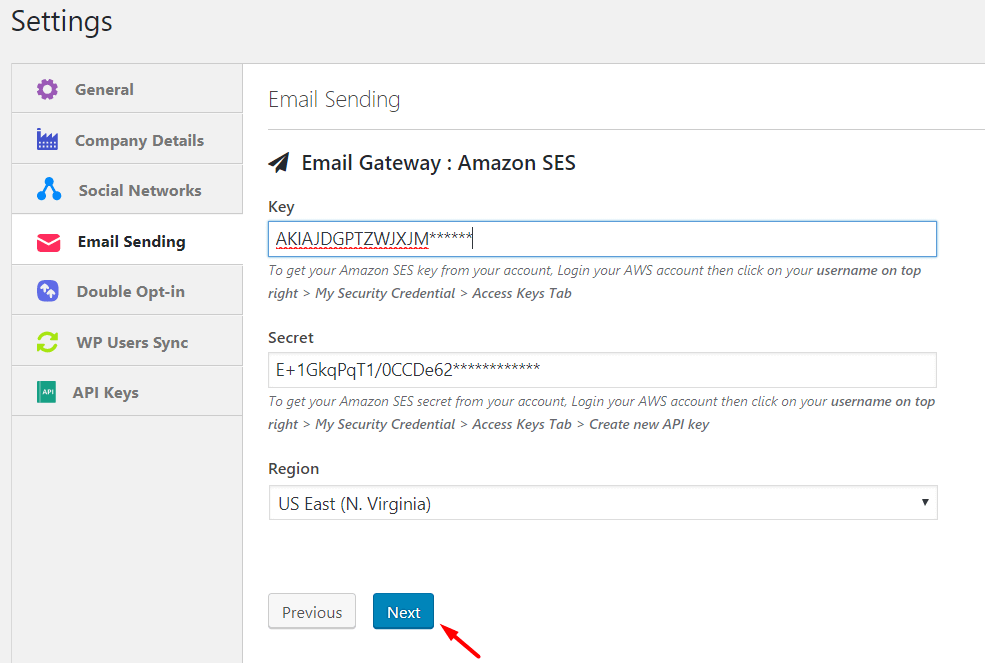 Step 3: Verifying Your Domain
You need to verify your domain in order to send emails from that domain.
To verify your domain, select Simple Email Service from the service option. Then click on Domains. There you will find the button Verify a New Domain. There put your domain name and save it.

After some time, your domain will be verified if it doesn't find any issues.
Step 4: Setting Up Domain in weMail
After your domain is verified on Amazon SES, you will see that domain name is integrated on weMail. Select that domain and set from, reply to mail name. Click on Save Changes to finish.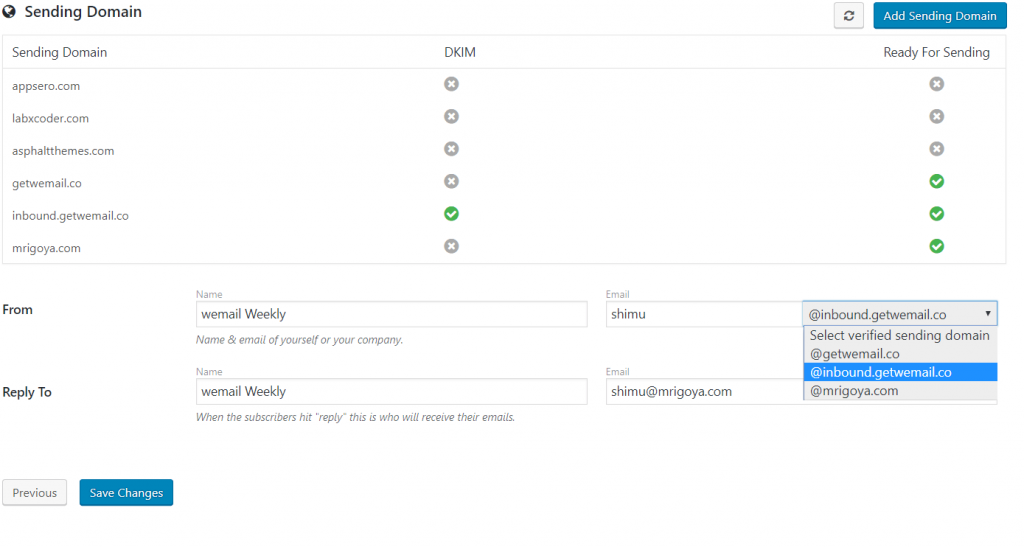 Step 5:Increase Your Email Sending Limit
After all that, now you need to request Amazon SES to increase your email sending limit to send bulk emails free of cost.
Click on Sending Statistics. There, on top of your screen, you will find a button named Request a Sending Limit Increase. A request will be sent to Amazon SES.
It usually takes 24 to 48 hours to approve that request. But if you are lucky you can get that approval within 2 to 3 hours.

Step 6: Send Emails with weMail As the Sending API
Finally, you can start sending your free emails using weMail. You can now create campaigns using weMail and send them with Amazon SES as the gateway.
How to send free emails using weMail? well have a look at this article and your doubts will be cleared.
Wrapping Up
If you are looking to send bulk emails free of cost, then weMail integrated with Amazon SES is the best option for you to consider. You can send up to 62000 free emails.
Email marketing is picking up speed. And if you are a marketer you should have the best tools in your hand. So to conduct your Email campaigns easily then nothing beats weMail.
Subscribe To Our Newsletter
Don't miss any updates of our new templates and extensions
and all the astonishing offers we bring for you.