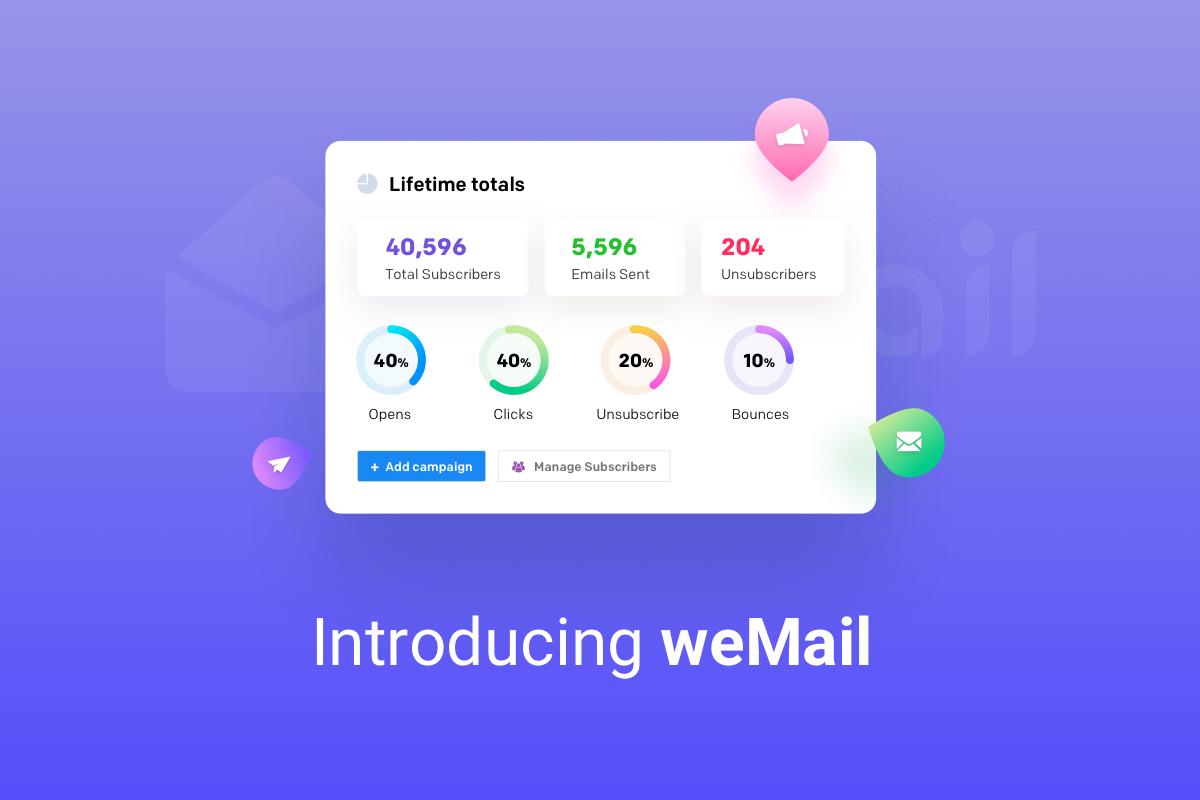 Introducing weMail – A Simplified Email Marketing Solution For WordPress
Email Marketing is hard, not only you have to collect subscribers, but you also need to manage them properly. Send emails regularly, share content otherwise your subscribers might unsubscribe.
It's an endless cycle and you have to have the right tool otherwise it will be very hard for you to manage.
That's where weMail comes in. For WordPress websites, weMail will help you manage your email subscribers. Let's look at the features weMail can help you with.
How weMail is A Simplified Email Marketing Solution For WordPress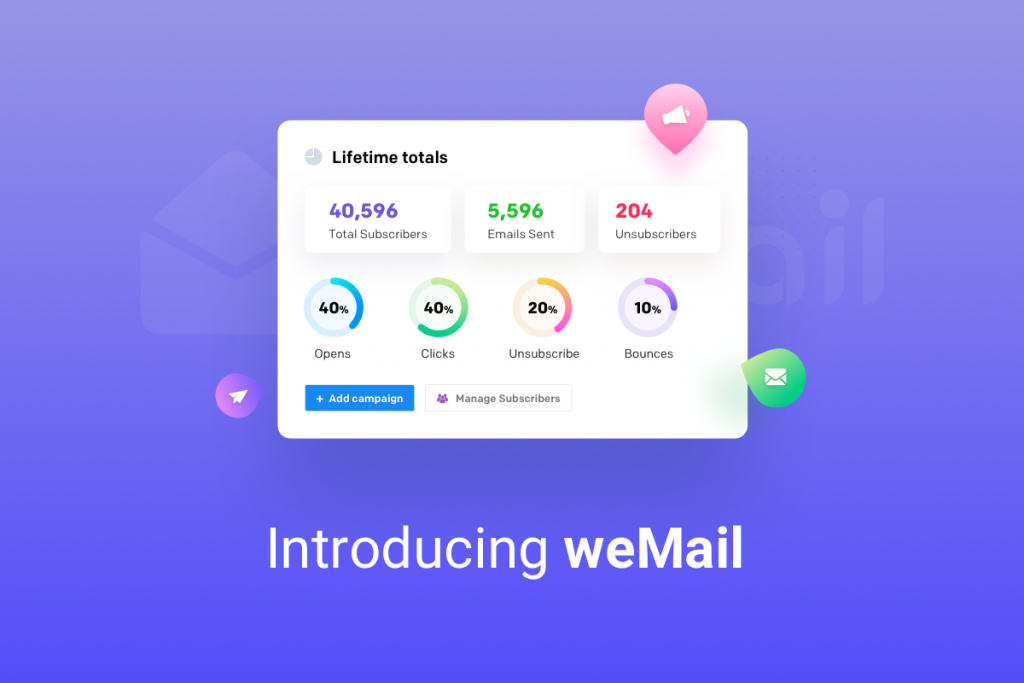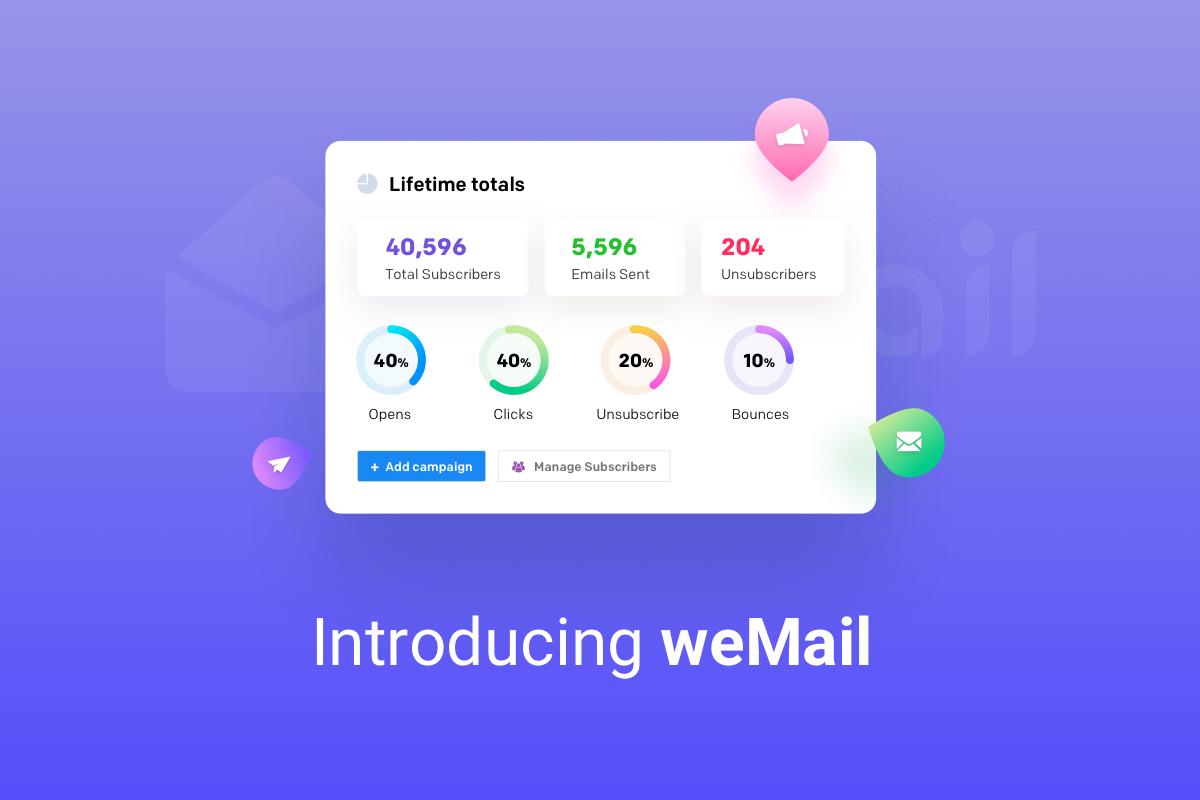 Solid WordPress Integration
Registration Opt-in: Collect subscribers from users' registration, making it easier for the website owners to put registered users into a separate email list.
WooComemrce Opt-in: Collect subscribers from woocommerce billing addresses with ease.
Comment Opt-in: Collect subscribers from users' comments, keep the reader coming back to your blog post with newsletter.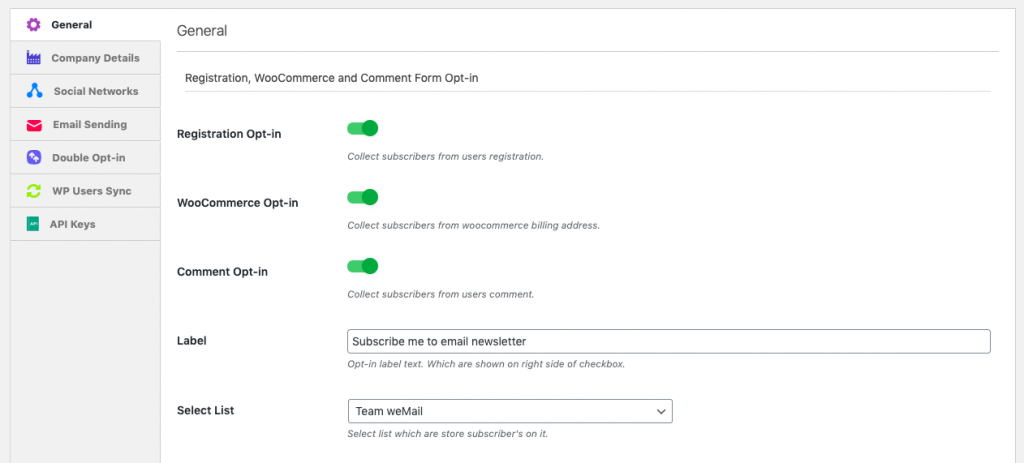 You can arrange them into a single email list or separate email list, whichever you prefer.
Transactional Email: Send your WordPress site's transactional emails via weMail. All the emails from your WordPress website will be sent from weMail if you enable this option.

WP User Sync: Allow WordPress users to auto-import into new subscribers in weMail.


Team: Manage an entire team of email marketing with default WordPress users.

The Team section will show you an overview of all the user roles currently added to weMail with status. As you can see from the screenshot above, all the user roles are currently inactive. You can click on the "Disable" option to "Enable" a user.
To find out more on team feature read this blog post – October round Up.

WordPress Post Block: You can add the latest WordPress blog post in the email campaign drag and drop editor
WooCommerce Product Block: Add WooCommerce product block in the email content with just drag and drop.
Campaign Features
Standard Campaign: Send email campaigns to your email list with segments that makes your email more resonate with your email list.
Automated Campaign: Automated your emails when you need to. Welcome new users on the site, automate series of emails to take the manual process out of the way of your email workflow. Whether you are sending it to a single list or multiple lists.
Templates: Need templates for your email campaigns? weMail has built templates just for that. Use templates you find best suited for your email content so that you don't have to search for templates. View all the templates here – https://getwemail.io/templates/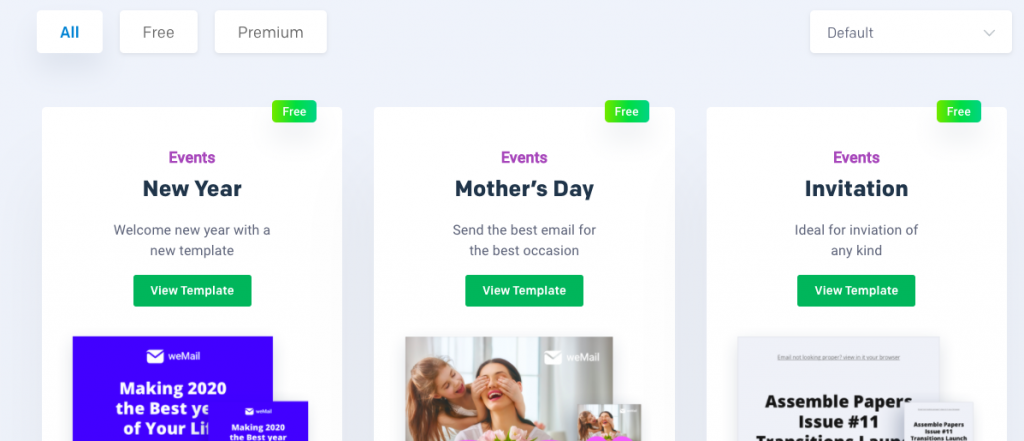 Timewarp: Timewarps sends emails to recipients' timezone. Doesn't matter whether your email list has recipients with different timezones. Timewarp will do the heavy lifting for you.
Failed Send: At weMail, we know how important for you to get the complete picture of any email campaigns. That's why we have added the "Failed" tab on the campaign dashboard. You get the full list of all the emails that didn't get sent.
Countdown Block: Add a countdown timer to announce time-sensitive service or product.
List Management
Double Opt-on Single Email: Each time a new subscriber gets added into your list, you get a notification. Handy for a mission-critical email list with the highest priority.
Double Opt-In Digest Email: Suitable for email marketers who want to get a good overview of their email lists. When activated each email list will send you an overview email of new subscribers and unsubscribers.
Bounce handling: weMail will show you when your email was bounced. You use this bounce list, later on, to send me segmented content.
Auto clean List: weMail will automatically clean lists based on bounce email so that you do not have to keep track manually.
Import & Export: Import your custom templates, email list from other email marketing tools to weMail using our built-in import settings. Migration is easy, simple, and solid. Exporting your email contacts to CSV is just a single click away. Especially, the Mailchimp sync option is very useful. You can import your subscribers from other email services with ease.

Multiple List Send: You can send email campaigns with multiple lists in the same campaign and not worry about sending duplicate emails.
Segments: Segments is one of the most crucial parts of email campaigns. You can segment email with detailed targeting options. For example – you can select emails that didn't open in any campaign(s). You can select email contacts with specific words and many more exciting options.
Tags: Tags your email users accordingly to your needs. Whether it's for marketing purposes or software free/premium users. You can tag users to differentiate when needed.
Mailchimp Sync: This option can be found inside the individual list settings page. It allows you to sync your Mailchimp list and weMail list in real time. Once enabled, New subscribers in the Mailchimp list will automatically show in your weMail list, and new subscribers from weMail list will also show up in Mailchimp list as well.
This is especially handy for migrating and from Mailchimp and testing weMail features without having to manage different lists into different services.
Opt-in Form Features
weMail is loaded with four different types of opt-in forms – Inline, Floating Bar, Slide up & Modal.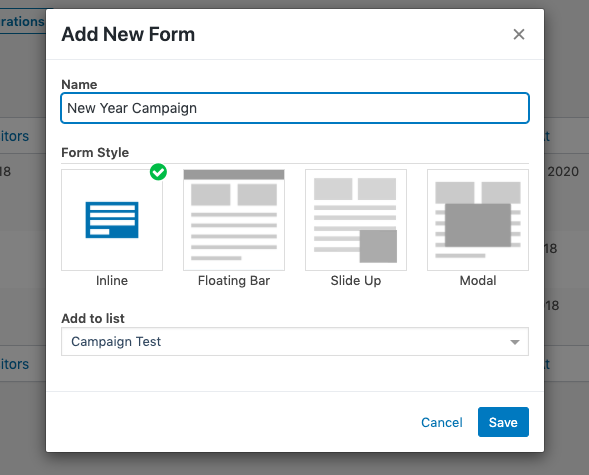 Inline: Show an inline subscription box on your website with an inline opt-in box. Collecting subscribers will be easier than ever.
Modal: Want to show a pop-up a collecting modal box? You can use the modal opt-in box to get subscribers into your preferred list.
Floating Bar: The floating bar will auto float at the top or bottom of your website. You can use this opt-in box, collect subscribers.
Slide Up: If you want something fancier. You can use the slide up opt-in form.
Other advance form display setting will help you display your forms at the right place and at the right time. Take a look at these settings –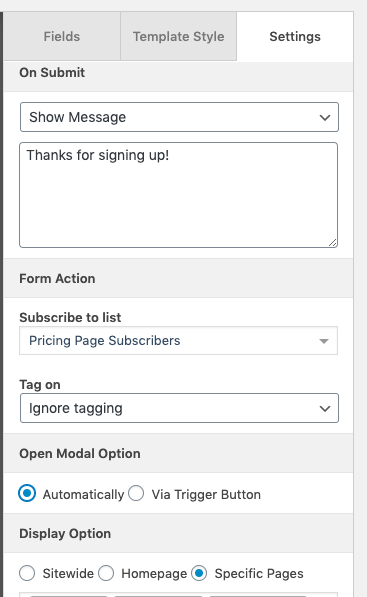 These opt-in forms will help you get email subscribers without having to install another plugin for your WordPress site.
Embed Form Features
Embed Forms: With HTML embed forms, you can place it anywhere. Widgets, posts, or pages weMails embed form will work anywhere.
Embed Form Options: Customizable embed form options make it easy for anyone to create an HTML form with custom fields.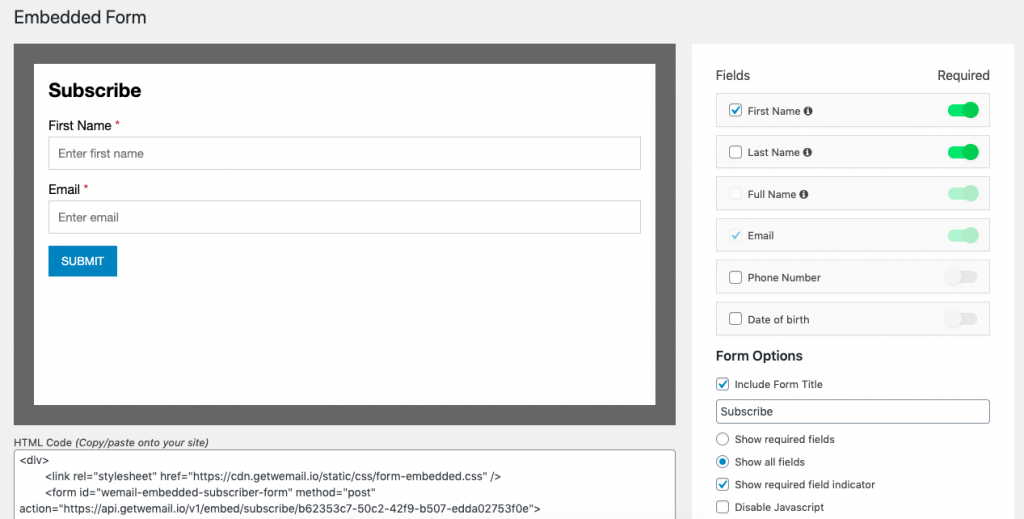 Analytic Features
Google Analytics: Use specified keywords to show up in Google analytics.

Link Click: Built-in internal link clicks will give you link clicks on the email
contents without any third-party analytics –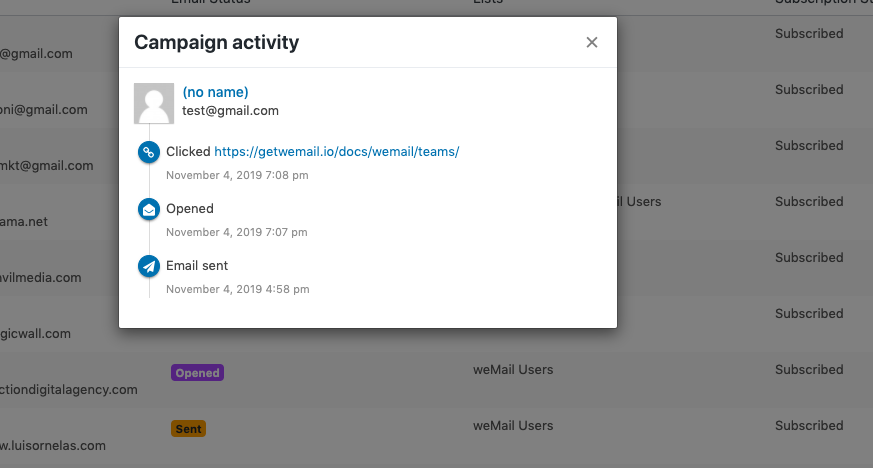 Campaign Overview: Send queue, bounced, not opened, clicked, opened but didn't clicked, unsubscribed and many overviews will be shown for better marketing decisions. Take a look at these overview screenshots –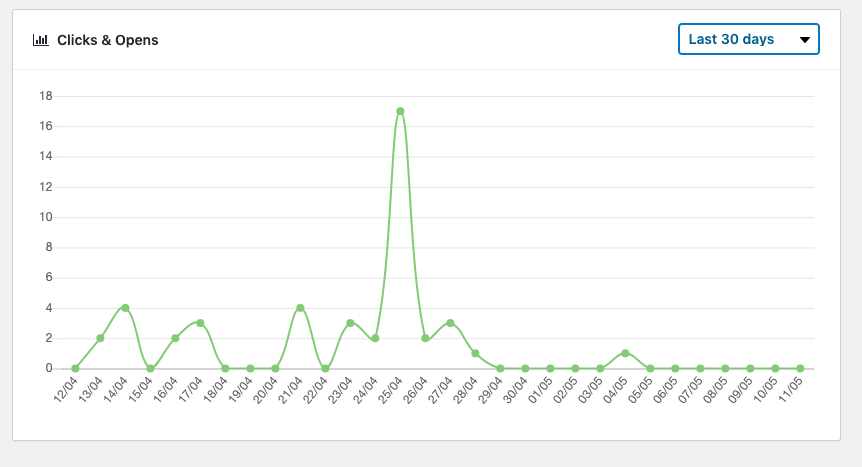 Geolocation: Track every link clicks with geo-location and country-wise clicks.

Click Activity: If an email contact opens and clicks multiple times, it will show up on the activity.
24 Hour Email Digest: Get an overview email of your website email list activities in the last 24 hours.
Integrations
Currently, weMail supports 6 popular WordPress contact form plugins. They are Contact Form 7, Gravity Form, WPForms, Caldera Forms, weForms and Ninja Forms. Making it easier for you to collect your subscriber's collecting process.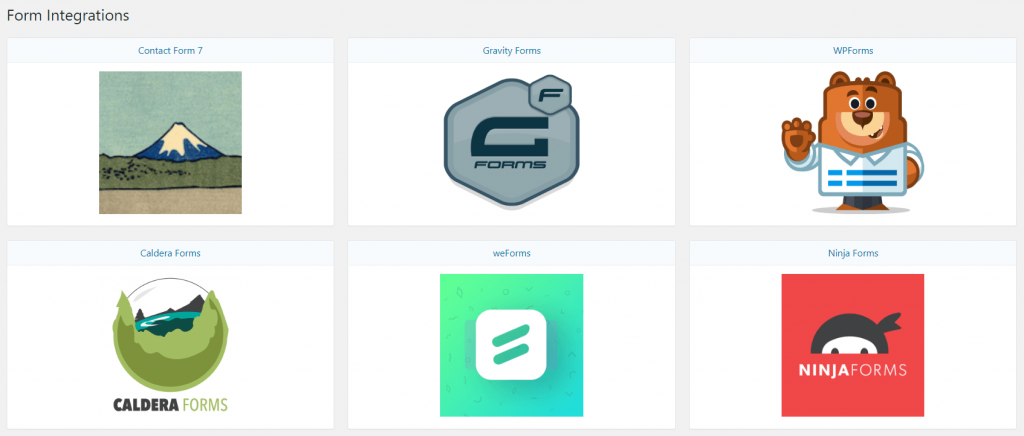 All inside the WordPress Dashboard: With weMail, you will get a dedicated editor based on WordPress User Interface with plenty of useful fields. All you have to do is to drag and drop them on the editor and customize them according to your own way.
Summing Up on The Simplified Email Marketing Solution For WordPress
To sum it up, You will get a cost-effective email marketing solution for your WordPress sites that don't put pressure on your email marketing cost. If you are a WordPress user looking for conducting your Email campaign in the easiest most affordable, and the quickest way nothing can beat the weMail.
The best part is that the weMail is now completely free to use for now, we will soon launch a premium version. All you have to do is to download and install it and start your campaign right away!
Subscribe To Our Newsletter
Don't miss any updates of our new templates and extensions
and all the astonishing offers we bring for you.