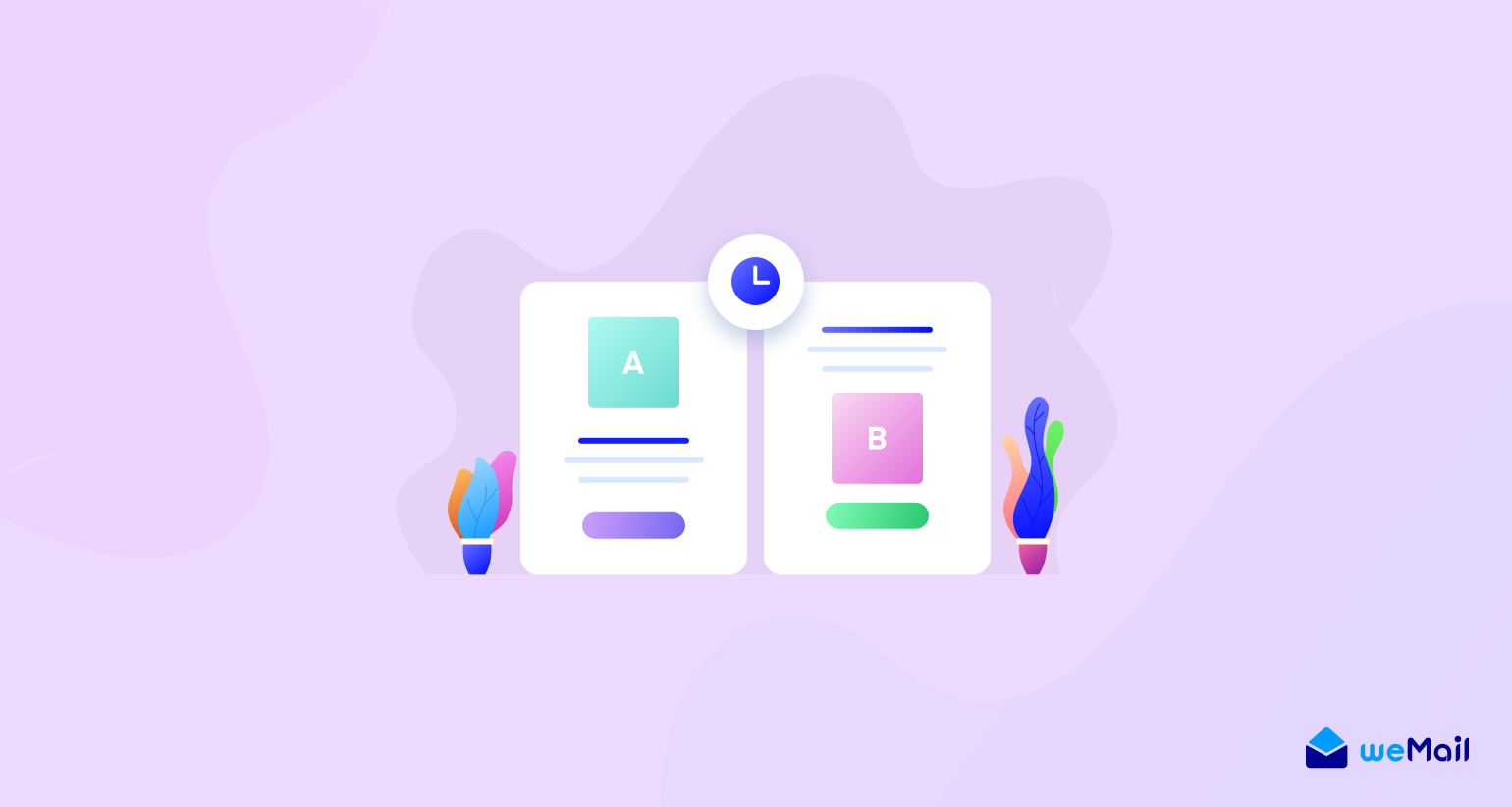 Everything You Should Concern About Email Marketing A/B Testing
'A/B testing' a big term, especially in digital marketing drills. If you want to do something extra-ordinary in the digital marketing sector, then A/B testing could be effective and very essential for your business growth. Furthermore, when it's about email marketing, then there is no alternative to AB testing your email campaigns. Through Email Marketing AB Testing you can get the following benefits:
Get more traffic
Know the existing business situation
Possibility of improvement
Help to analyze customers
And Reduce bounce rate
However, these are fundamental facts that you'll get if you could practice Email marketing AB testing. But for your convenience, in today's post, we'll share more interesting things about A/B testing, best practices you should follow and also some email AB testing examples.
So whether you're a digital marketing enthusiast or a professional, surely it will help you to get more information.
Let's get started:
Things You Should Focus While A/B Testing
Email marketing is a vital part of online marketing. And we are all aware of this fact very well. But before going to the detailed discussion, let's know shortly what actually A/B testing is.
Definition of A/B Testing
In a general sense, A/B Testing is a process of analyzing two prospects toward each other. Whereas, if you observe from the email marketing point of view; you would be examining two email campaigns and decide which one helps you convert the best. That's it.
So now, we'll discuss the email A/B testing best practices you should acknowledge if you want to get the desired result. And also these A/B testing examples can encourage you to conceive the chances.
A/B test subject lines
A/B test images
Relevancy checking (Links)
Review Email Copies
Test the opening most time
A/B Test Your Email Template
Check CTA
A/B Test Subject Lines
The first thing that you should test is 'Subject Lines'. Yes, this is a very critical task of A/B testing. You know all your effort will be wasted if your subscribers don't open your email. And you don't want that right?
Make sure that your users fall in love at first sight with your email subject line
So you have to consider your subject line of the email. For example, you can mix up subject lines using more engaging sentences. Like "Our special Halloween Deals For You"
You can check this easy guide for writing an effective email subject line. It will be helpful for you to run an effective email campaign.
A/B Test Images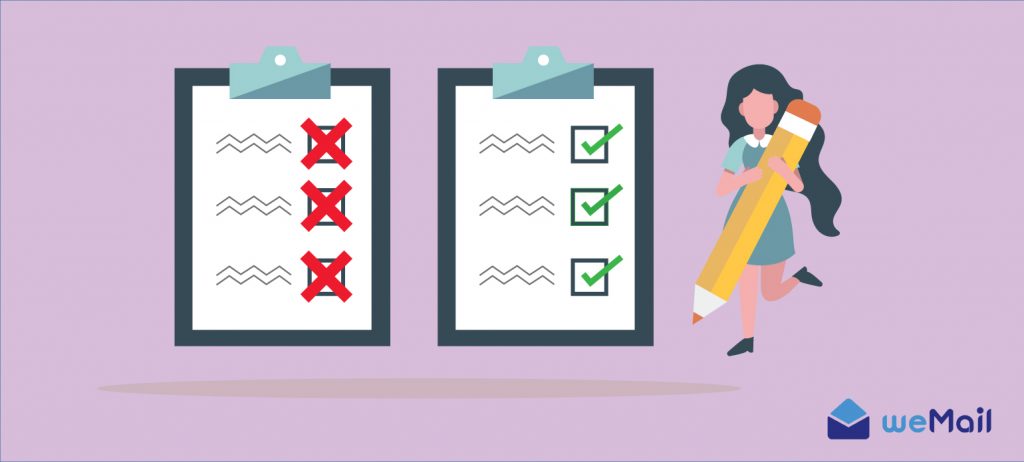 Pictures are used to visualize the scenario. And using an effective image in the email can increase more click-through rates. So it is wise to use a relevant and meaningful image that actually makes sense to the users. For instance, you can experience using different images for your campaign. And then consider which one has got the most impact.
Relevancy Checking (Links)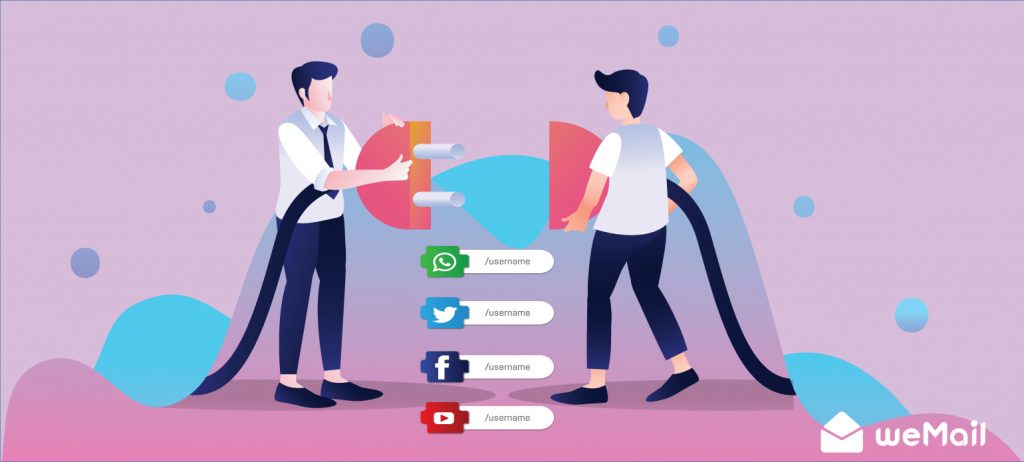 Using links in the email is undoubtedly effective. But it'll be more if you can use important and relevant links in the email body. Moreover, many companies are now using social buttons in their email. As a result, your customers can easily find you through the links.
Even you can inject your social medial links inside your email marketing to retarget your lost customers.
Test The Most Opening Time
You must be informed when your users actually open their emails. Because it will make the AB Testing easier for you. Otherwise, your AB testing will not work without knowing their active timing. For example, when they open the emails, in the morning, evening or at the weekend, etc. In fact, you can create an email list that segments the users according to their timing, age, profession, and more.
Review Email Copy Writing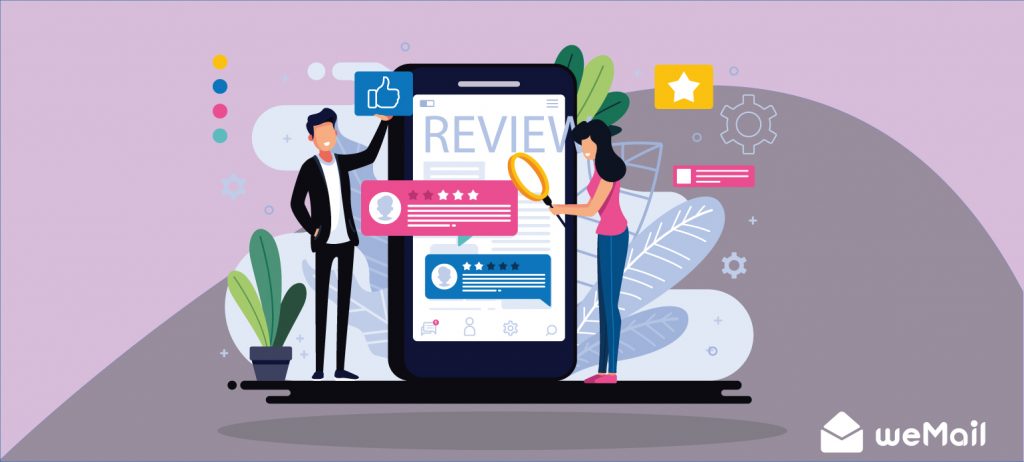 Sometimes, your extra-ordinary email copy can encourage readers to open the email. And if you really want to grab customer's attention then there are no other options to write catchy email copies. Who knows? Your one exceptional email write up could change the game.
If you can realise what works best, then it is simple to send the most effective email for your audience.
So always try to mix up writings, wording, texts, and placement them in the right place, etc. And also you can focus on the color of your texts, headings, and links. That's why you need to try different colors at different times. And then investigate which color attracts the users most.
A/B Test Your Email Template
This test is another important part of email marketing. You should continuously check which template is much valued by the users. You can use different email templates during a particular email marketing campaign and customize the email body with different templates.
There are many email templates available in the market. You can choose any one of them. And then run a campaign, observe, and analyze what is going on.
Check CTA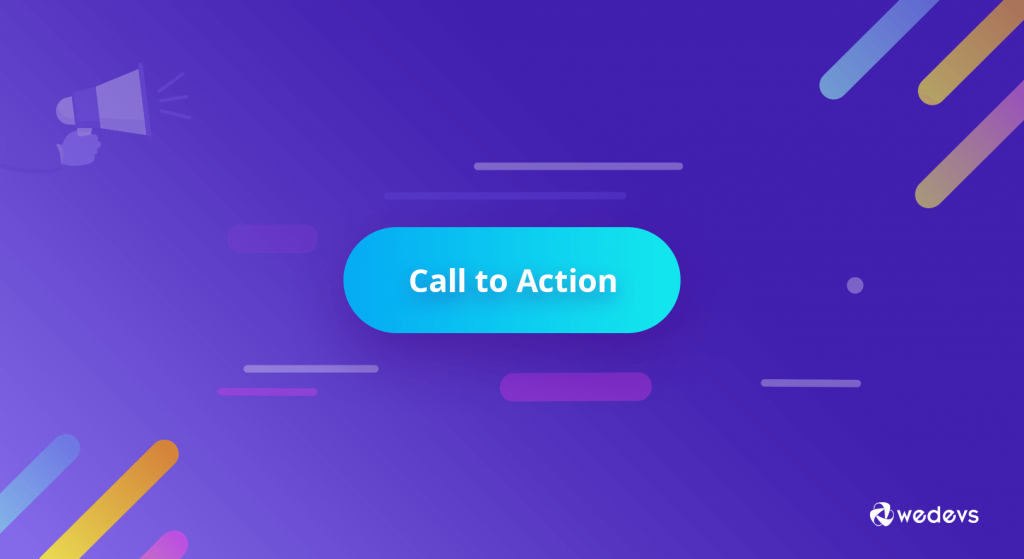 Last but not least is testing the 'CTA' button of your email. Optimized CTA buttons can influence your readers to take the actions that you want to do them.
However, you're overpowering users using too many CTA button. And users are losing interest to click the CTA button – SUMO
So it's very bad practice and also your effort will not bring a good result only doing this frequently. What you have to do is, try different CTA buttons at different campaigns. But it should be very clear, short, effective, on point and meaningful. And use suitable and lucrative colors, sizes, text, placement, etc.
For your convenience, you can read this article for increasing the click-through rate using CTAs.
How Should You Start A/B Testing for Email Marketing (Process)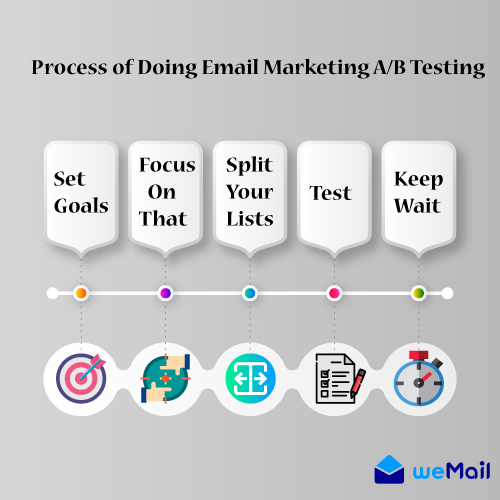 Without knowing the accurate process, you may don't get the best result in email marketing A/B testing. But if you can regulate your email marketing process suitably, then surely you'll get what you're looking for.
Here, we're going to share how you can start doing A/B testing for your email marketing. And this process will give you an idea.
So without further ado, let's get started:
Set Goals
The first thing that you must consider is, setting up the goals. Doing business without a goal is like swimming in the ocean without knowing the destination. So you have to think about what do you want to achieve.
Testing without a particular goal is just wasting time .
Suppose, you want to increase email open-rate, then work for it. And next, research on it, make a plan and then go for it. That's it!
You may also like: How to Avoid Spam in Email Marketing
Focus On Sending Mails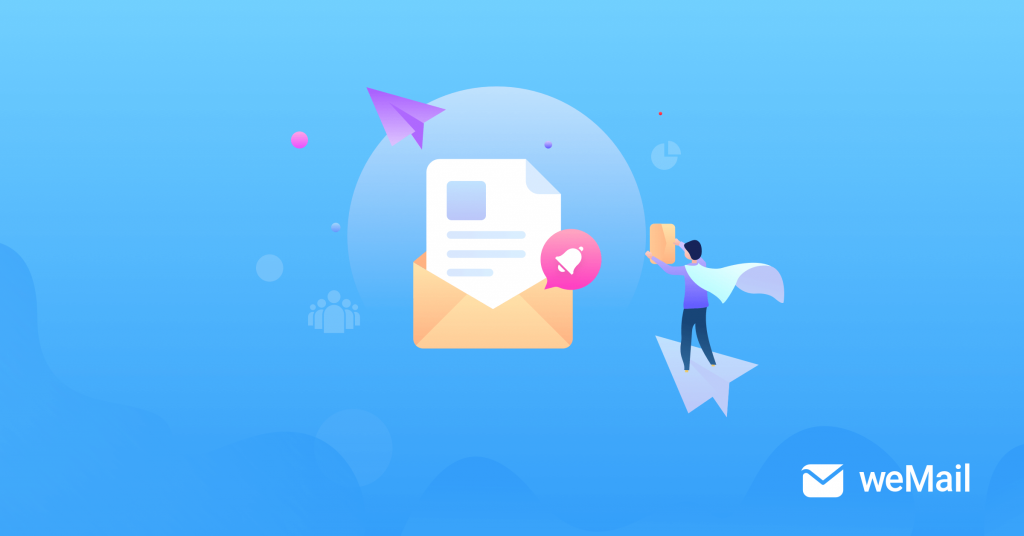 Next, we'll talk about what you should do while sending random emails to your customers or how frequently you can do that. Yes, the time you're doing A/B test, you supposed to be very excited as you have to test every single email campaign. But stay relaxed, and keep calm. Only focus on those emails that you're sending the most. Analyze it, count the spending time and observe the whole process. Then take the decision.
And if you're new, sending your first email, then you to keep more patience and wait for the final result.
Split Your List
Now it's time to segment the list you created for your campaign. According to the list, choose a smaller, and the most common part of your contact list to test. And the create a campaign, run your A/B test. Furthermore, follow the alike process for the other list as well. But make sure that you choose the same sample for your email campaign, you have made earlier.
Test Frequently
Next, you should continuously do the A/B test. For instance, you should focus on just one element. And the other things should be postponed. For example, if you're testing your CTA buttons, then just focus on it. And analyze which color is being appreciated, which one people click the most, the size, Text inside the CTA, etc. Then identify the reason and go for another one.
So you should stop testing other things. Otherwise, you'll get a confusing result, thus you'll unable to measure which change brought the most clicks.
Keep Patience
Next, you have to take a pause between the two tests. Suppose, you have completed testing the CTA button, then wait a bit, and then go for the next one. In the interval, you can gather data, customer reviews, their behavior, and other important things. In that case, you take 3 to 5 hours after sending it again to your full email list.
Test Again And Test
And finally, test as long as you don't get satisfied with your test result. If one criterion doesn't work, then go for the next one. Research more, find out the best possible solution which makes real sense.
Anyways, if you're a startup or thinking to start a new business, read this article on Growth Hack Strategies for SMEs. This article will facilitate you to find out more strategies for your email marketing A/B testing.
Benefits of A/B Testing for Email Marketing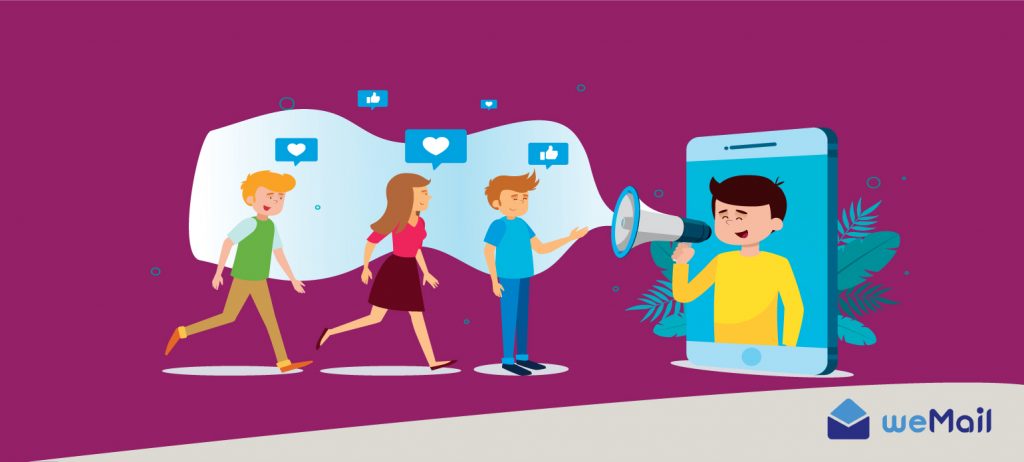 After a long discussion about email marketing A/B testing, you may understand how to do it, and how much it can boost your ideas in the email marketing sector.
Whatever your business is, small medium or large, you have to go through a serious test to check your product visibility and user acceptance. So only doing A/B testing, you can know this. But it should be in an effective way which we have already mentioned earlier.
However, here, we'll share some benefits of AB testing that surely help you to get success in email marketing:
Improve content management
Lessen bounce rate
Increase brand value
Make the analysis process easier
Reduce hazard
Boost sales
Help to know customer behavior towards your products
Diminish cart abandonment
In a nutshell, A/B testing is used to compare types or variations of an online or offline campaign. In can be your website landing page, content, CTA button or any specific fact that you want to check.
When it's about email marketing, then you have to be very wise. The reason is, you're interconnecting with your clients directly through the email. If you can see which campaign customers are preferring, you'll able to experience different strategies to impress with your bold content.
What's More, You Can Get
Do you want to get all in one solution in one place? Then try weMail now. You will get an effective email marketing experience with it. Unlike other email marketing services, weMail is totally free and easy to use. So without further ado, get it now.
Subscribe To Our Newsletter
Don't miss any updates of our new templates and extensions
and all the astonishing offers we bring for you.