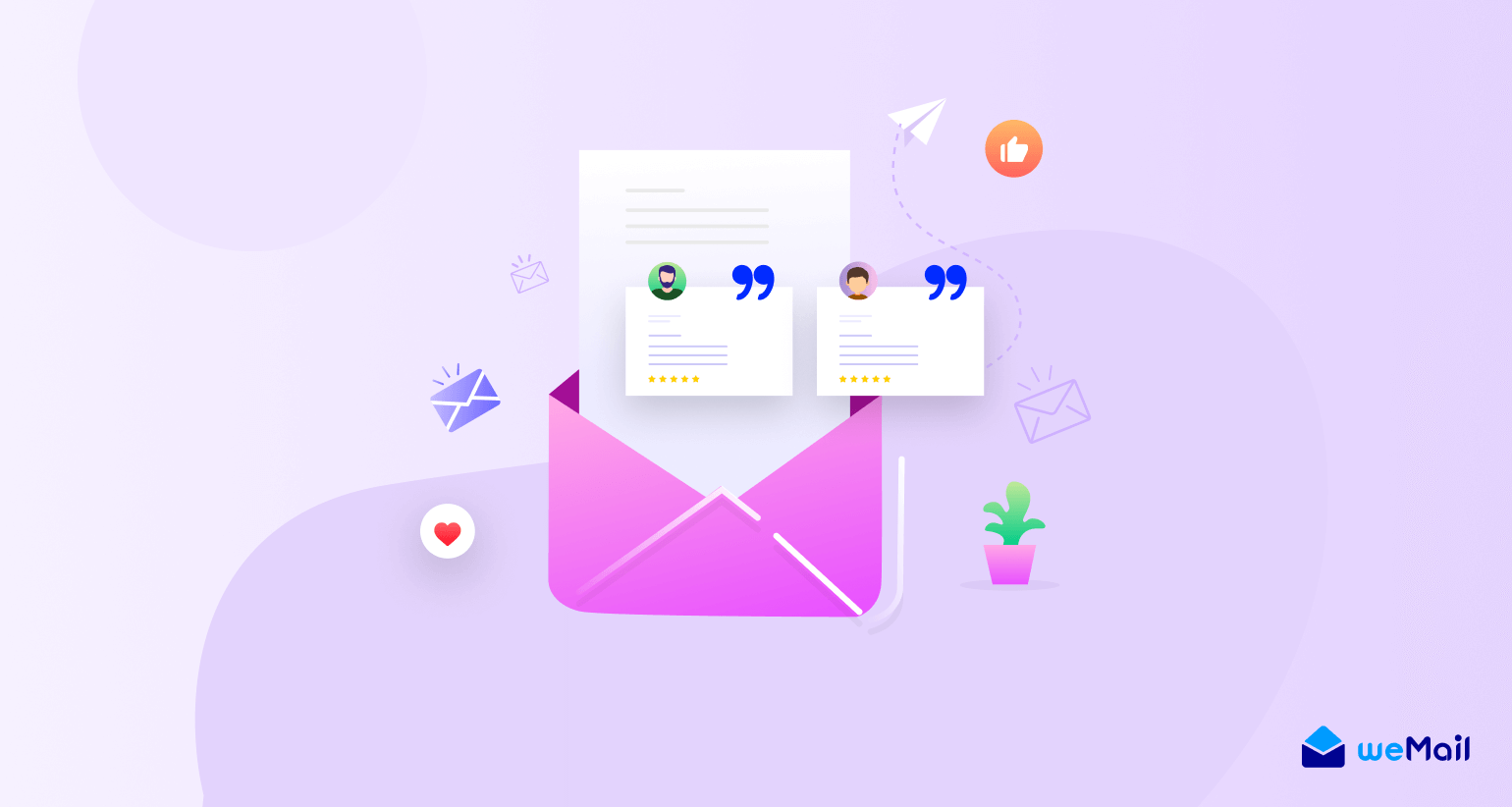 How to Use Customer Testimonials in Your Emails (with examples)
People love reviews. And good customer testimonials are what make more customers. Almost 95% of people read reviews before making a purchase. However, when everyone knows that leveraging testimonials can boost up your sales, why does every company never get the same results?
The answer is simple. You can't apply a success rule randomly. Companies that are successful know how to put things in line. They have proper plans, and the spontaneous effort to execute those plans. From getting user reviews to represent them to potential customers, you must know whether you are on the right track.
Hence, we've sorted out some of the winning examples of using customer testimonials in emails from top companies. As a product owner, salesperson, or marketer, these examples will help you to learn how to use customer testimonials in your emails to earn the trust of your prospects. Eventually, this trust will lead to more sales.
Keep readings.
Why Leverage Customer Testimonials in Email Marketing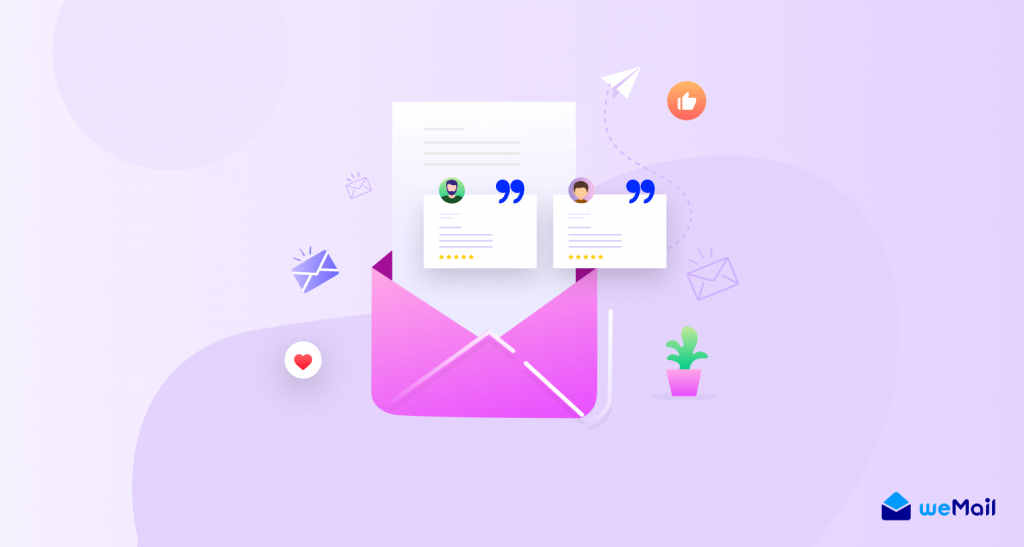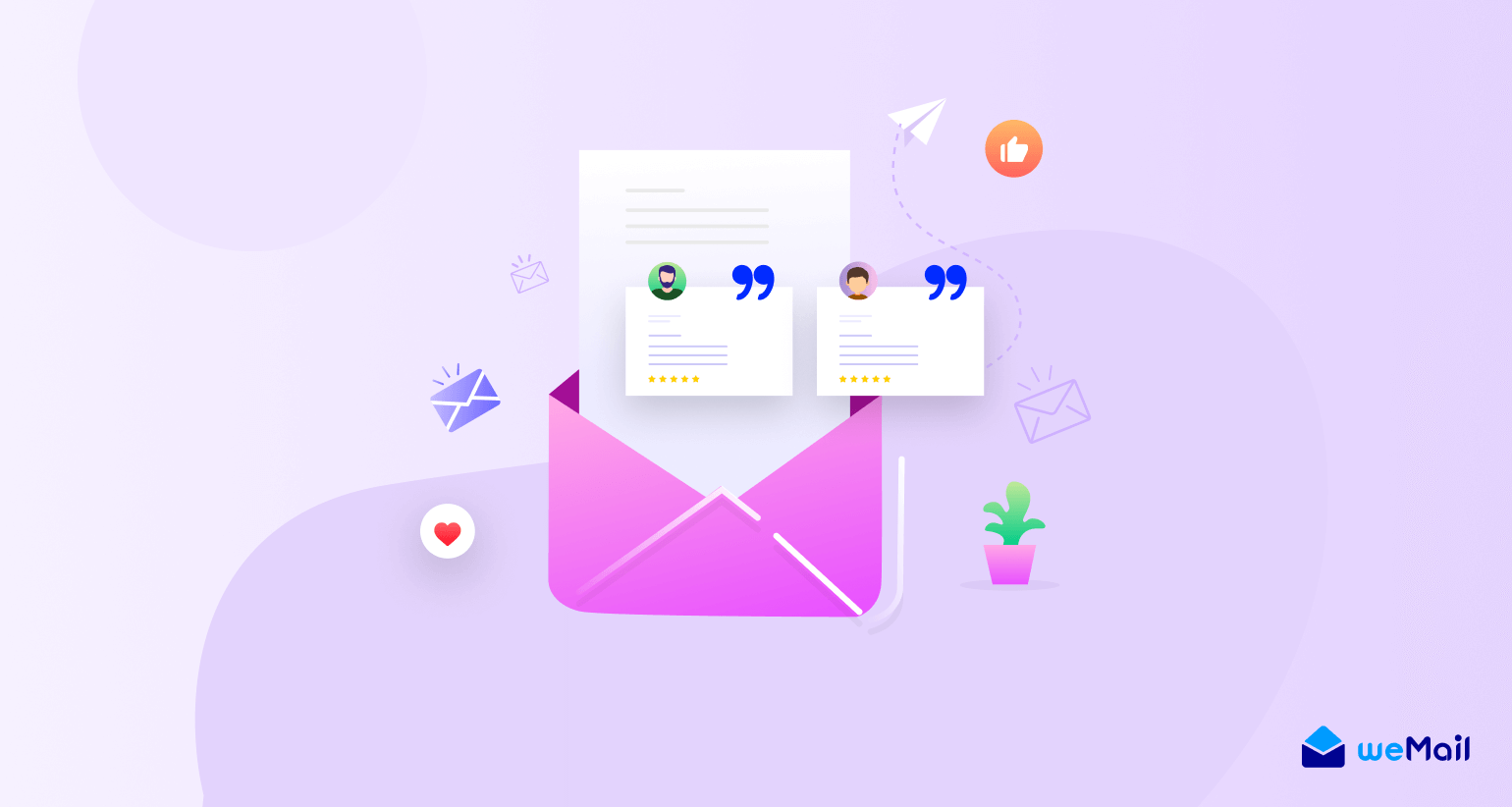 Email is one of the most personal channels of marketing. If you have leads, they are completely your prospects until you lose them. You can send them highly personalized emails to influence their purchasing, lifestyle, or brand choice, etc. So, sending customer testimonials is a proven way to let them know how good and helpful your product would be. Therefore, you can send different types of user reviews in a versatile fashion in emails, there are a lot of options out there.
However, let us show you some data that should convince you to leverage customer testimonials in email marketing.
In business and marketing, data talks in the most proven way. When you have all these fascinating facts, it's time for you to know how successful businesses using customer reviews to grow their business.
7 Proven Ways to Use Customer Testimonials in Emails
Well, let's analyze these examples below which have successfully used customer testimonials in emails.
1. Short Customer Reviews in Email Builds Gravity
People feel more insecure when they opt for purchasing healthcare products or medicines. Though In the post-covid-19 world, it is more of a reality to shop from online dispensaries. RITUAL is one of such online shops that sell vitamins and protein online. To give their customers a sigh of relief RITUAl sends short customer testimonials in emails.

As it is clear, medicine is a sensitive thing. Despite having a valid prescription in hand, people often think more than twice before buying those medicines. The situation intensified when you do the thing over the Internet. Google also put those companies atop amongst others who sell healthcare products with the highest user satisfaction and brand value.
In the above email, what RITUAl did is showcasing the top-tier five-star reviews. These short customer testimonials in email help the subscribers to understand they are in the right place to purchase their desired vitamins and proteins. As they can see how other people who their gratitude towards the company.
If you look closely, you can see how RITUAL put their motto in the beginning, then they show the testimonials in the most precise ways possible.
2. Sending Video Testimonials is a Winner
If you send videos in email marketing already, you are on the winning side. As an email marketing technique, video emails are comparatively effective in many cases. According to BackLinko, videos in email can reduce your opt-out rate up to 75%. Besides, this way you can generate 66% more leads in a given year.
Hence, sending video testimonials in email is bound to generate more positive results. It creates a feeling of trust in the customer's mind. As they got the chance of seeing a real person talking good things about the products. Take a look at the below example of Jigsaw health.

In the above email, Jigsaw Health put the video testimonial in the beginning. Then gradually pitched their product and easy CTAs to make an action. Seeing a real person in email, talking about a product you are going to buy is always interactive and engaging. Hence, the customers are also designed to think this way.
Here is what happens when you send customer testimonials in the video –
A prospect starts believing that you are a real person, not spam. As spam is the most cohesive reason people unsubscribe from an email list or report to senders. In 2019, spam in e-mail traffic was around 54.7%. And when you send testimonial videos in email, you are out of that risk.
Secondly, your potential customer will spend more time with your emails. That's a highly positive note to convince them for conversions. According to Campaign Monitor, Video can increase email open rates by 19% and click rates by 65% while reducing unsubscribe rates by 26%.
Must Read: 7+ Superb Ways to Make Your Video Email Marketing Game-Winning
3. Applying the User-Generated Content in Email Marketing
UGC (User-generated content) is any form of content (text, posts, images, videos, reviews, etc.). It is created by individual people and published to online or on social networks.
Customers are in love with UGC. Compared to any other content, they view UGC 2.4 times more likely. More than 86% of businesses are leveraging it in their marketing strategy. So, why not you should go for it? The fun part is, customer testimonials are also a kind of user-generated content. With email marketing, you can take it to the next level.
For example, look at this email from K-mart.

The fashion brand runs this type of UGC campaign frequently. What they did is to tell their customers to show how beautiful they look after wearing their dresses or using fashion accessories. Kmart collects all the photos and videos with their hashtags from Instagram, Facebook, or Twitter and includes them in their email campaign. You can see the results, it's astonishing.
However, if your customers do not willingly share your products on social media, there are more effective ways like Harry's UGC email marketing campaign.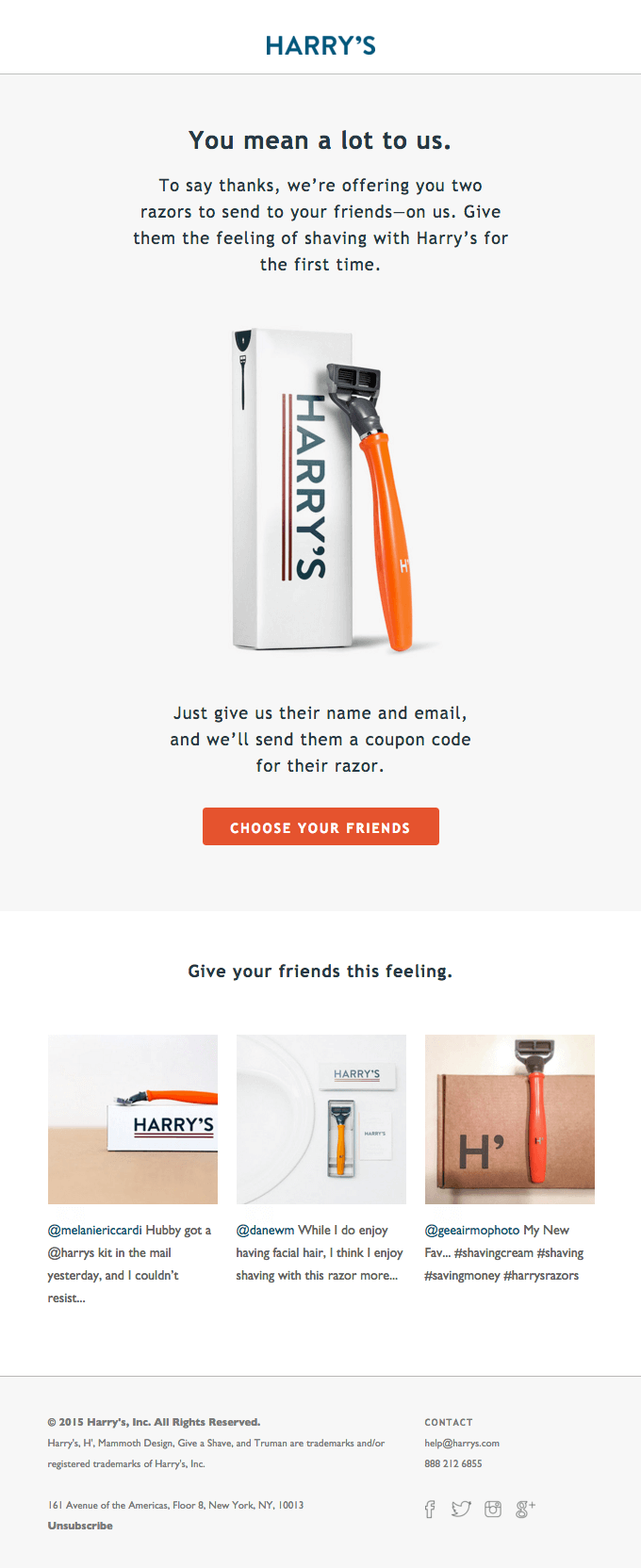 The trick is simple here. Harry's asks their customers to share the emails and names of their friends & family so that they can send a Razor as a gift. This campaign creates a significant social buzz as people love to receive gifts. Hence, whoever got a free Harry's razor, posted on social media with hashtags and gratitude. Eventually, this increase Harry's conversion rates, and brand value both.
4. Why Sending Customers Success Story is a Great Idea
Since the ancient ages, we are connected with stories. We love to hear stories and tell our stories to others. Top brands around the world are continuously exploiting storytelling to impress and convince people. The same goes for email marketing.
The utmost quality of a good email is that it tells stories. Hence, when you send a customer success story in email, it will work more powerfully on your potential users. Senior Forbes contributor and professor Kimberly A. Whitler gave three reasons for you should use storytelling in your marketing process. They are –
Stories are bound to develop a deeper connection with the audience.
It helps customers to learn more easily about your product
Stores can be a crucial tactical tool that lets marketers engage consumers in a fragmented media world.
However, let's take a look at the examples below –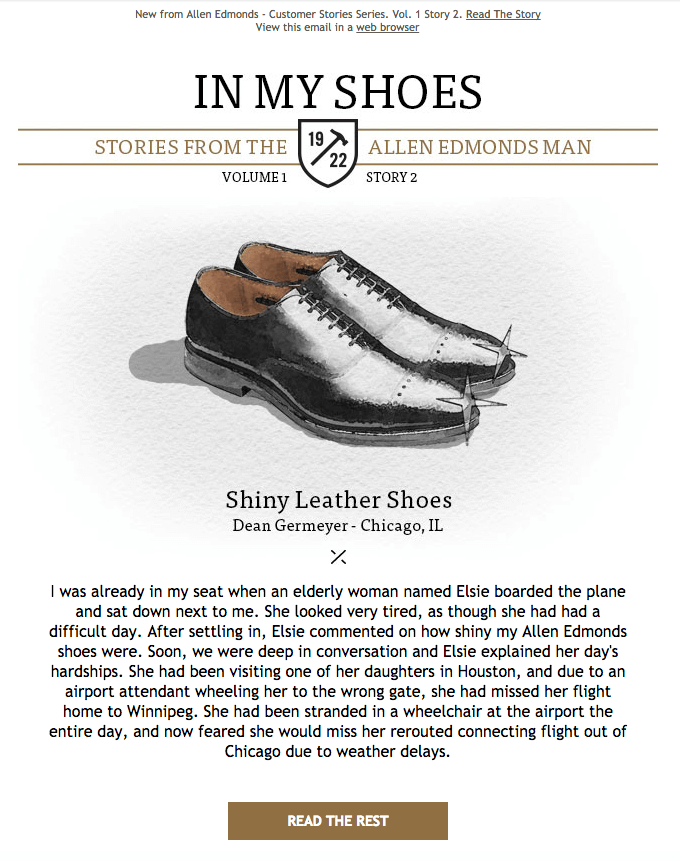 Allen Edmonds is a famous footwear brand in the U.S. Despite having an established fan base, they usually send interactive customer stories in their email campaigns. The process take their brand value even higher and increase their sales.
However, it is not an easy task to gather customers story. From our experience at weMail and weDevs, we've found that even the most successful clients are reluctant to share their story. To get rid out of this trouble, you can offer discounts for every stories shared, also you can tell your customers share their stories with friends and fellow business people.
How To Create a Buyer Persona For Email Marketing
Though it takes time, asking for sharing a customers story through email isn't that hard. So keep asking time-to-time until you get what you want with the smartest of approaches. Take a look at this demo email request for stories or testimonials from HubSpot –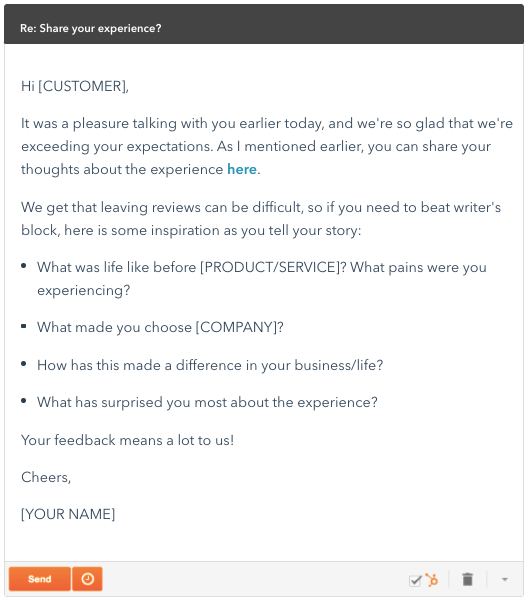 5. Develop Trust with Customer Testimonials in Email
Previously we've shown how healthcare business should make themselves trustworthy by using customer testimonials. However, there are also different cases where you must develop trust to help customers. For example, disaster management and first aid kit are the most crucial thing for people living in a risky localities. In such cases, people want to spend less time as well as want to get the best products possible. They want to purchase something that will really aid them in the time of disaster.
In such situations, an email with a perfect customer testimonial can bring winning results. Here we've found a perfect email from JUDY.

JUDY is a company that specializes in selling disaster kit, either retail or wholesale. They frequently send newsletters and emails that emphasizes the benefits of their products and guidelines to stay safe in the disasters. The above email reflects on one thing, trust. Before you get on to buy something from them, JUDY wants you to know that they are reliable. To showcase this reliability, they put a simple customer testimonical in this email that reflects their goal. A happy customer inspires a bunch of new customers.
6. Personalization is a Key to Using Customer Testimonial
We all know modern day marketing is all about personalization. But executing personalized marketing strategy needs time to develop, and demand specific plans. So when you opt for personalization in using customer testimonial, what should be starting point? The answer isn't that hard.
Personalization—it is not about first/last name. It's about relevant content.

Dan Jak
You are going to start from learning all of your email leads and potential customers, their choices, types of other services they are using right now. When you know or at least mathematically assume how a potential lead going to react with your email, you can design it with more impact.
However, it takes longer time to continue research about your customers demographic, economical conditions, and buying preferences. So, one of the best ways to creating buyer personas by setting up pain points and other necessary measures to follow. After that you can start sending different user testimonials to different users.
You can learn from Grammarly's weekly reports. Take a look –

Grammarly often send this email to each of their users to let them know how they are performing in a week or given time. It means the brand creating stories based on your usage of their service, then they send it to you. The process is highly personal as different users have different usage journey. This could be a great way to leveraging personalization in sending customer testimonials.
7. Incorporating Social Proof in Email Marketing is Awesome
Before you are getting started with this strategy, let it be more clear. What is social proof? Let's imagine a scenario. When you see one of your neighbour using a washing machine which is worth the price, you follow him/her and buy the same machine. Here, getting natural positive influence from your fellow people is a social proof. Seeing someone doing a thing help us to follow. Thats how a trend initiates. Social proofs are things people around you are doing and you are about to trust their action toward those activities.
Social proof is based on the idea of normative social influence, which states that people will conform in order to be liked by, similar to, or accepted by the influencer (or society).

CXL
Therefore, you can easily incorporate social proof in email marketing. Besides the traditional customer testimonial, you can show your audience how their fellows and niche personalities using your products and getting positive results.
Here's an example of Udemy who frequently uses this technique in their marketing emails.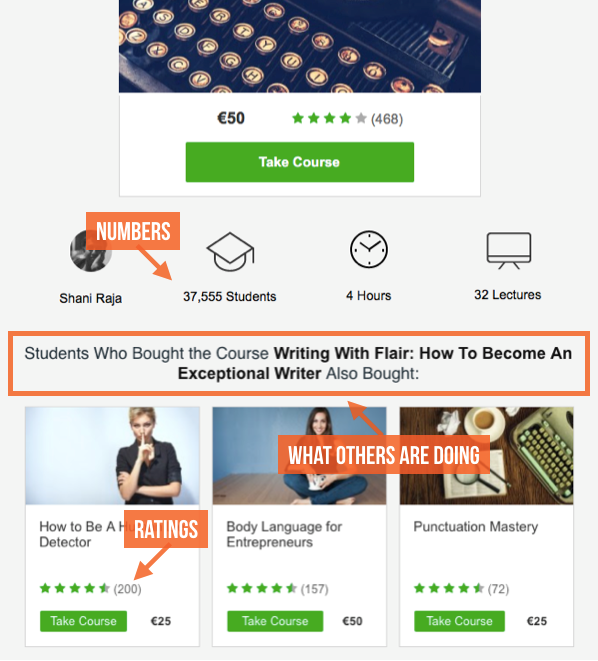 If someone bought a course on writing, this email displays similar people who bought some other course related to writings. For example, if you one of the people who have purchased a writing course, you can consider those your fellow student who have also bought the same course. Hence, when they choose another writing related course, you can take these activities as a social proof. It reflects that these course are also helpful and you too can purchase them.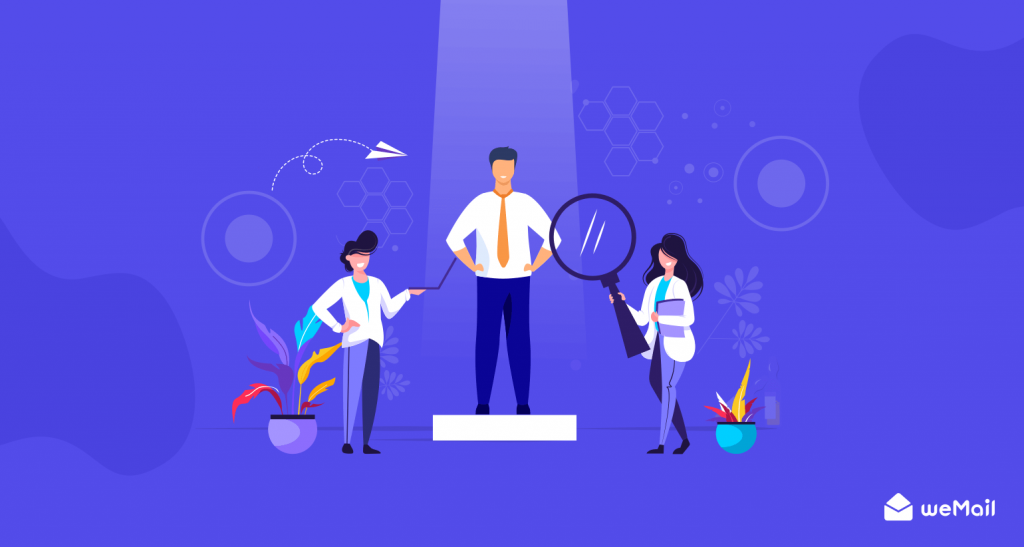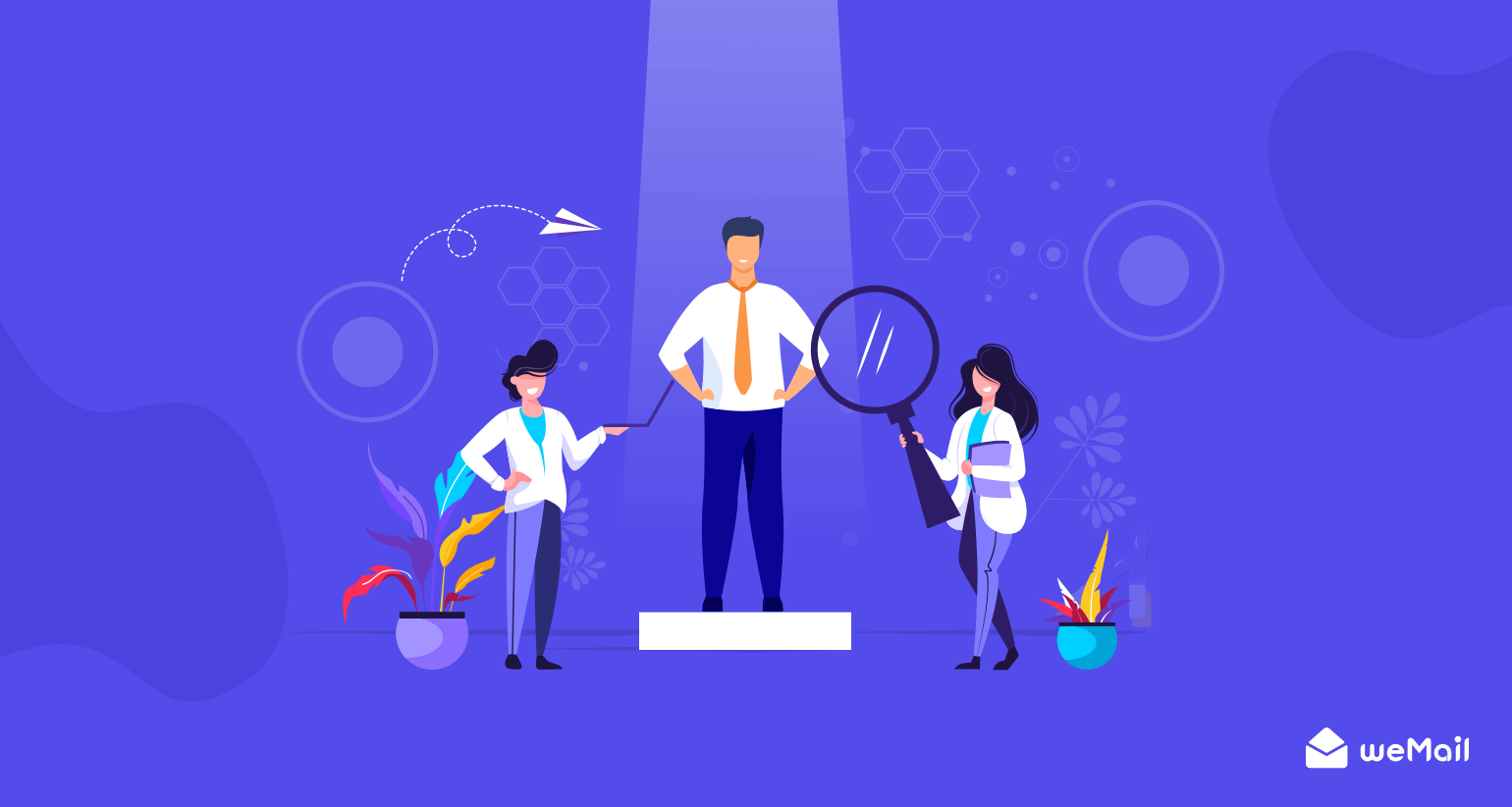 Final Thoughts
So, here's the key takeaways of our discussion –
If you are going to use customer testimonials in email marketing, you should have prepare a plan.
Find out the most proven ways and incorporate them with your email marketing process.
In this blog, we have explain seven highly effective ways for using customer testimonials in email. You can apply them and even customize the process to get better results.
Never fall short of innovations. Best ways to follow the experts and successful email marketing campaigns who have utilized customer testimonials.
Now that you learn all the best ways to leveraging user reviews, customers success stories, customer videos, and social proofs in your email campaigns, we believe you are ready to start over. So tell us, which email marketing platform are you using right now to send your emails?
Subscribe To Our Newsletter
Don't miss any updates of our new templates and extensions
and all the astonishing offers we bring for you.