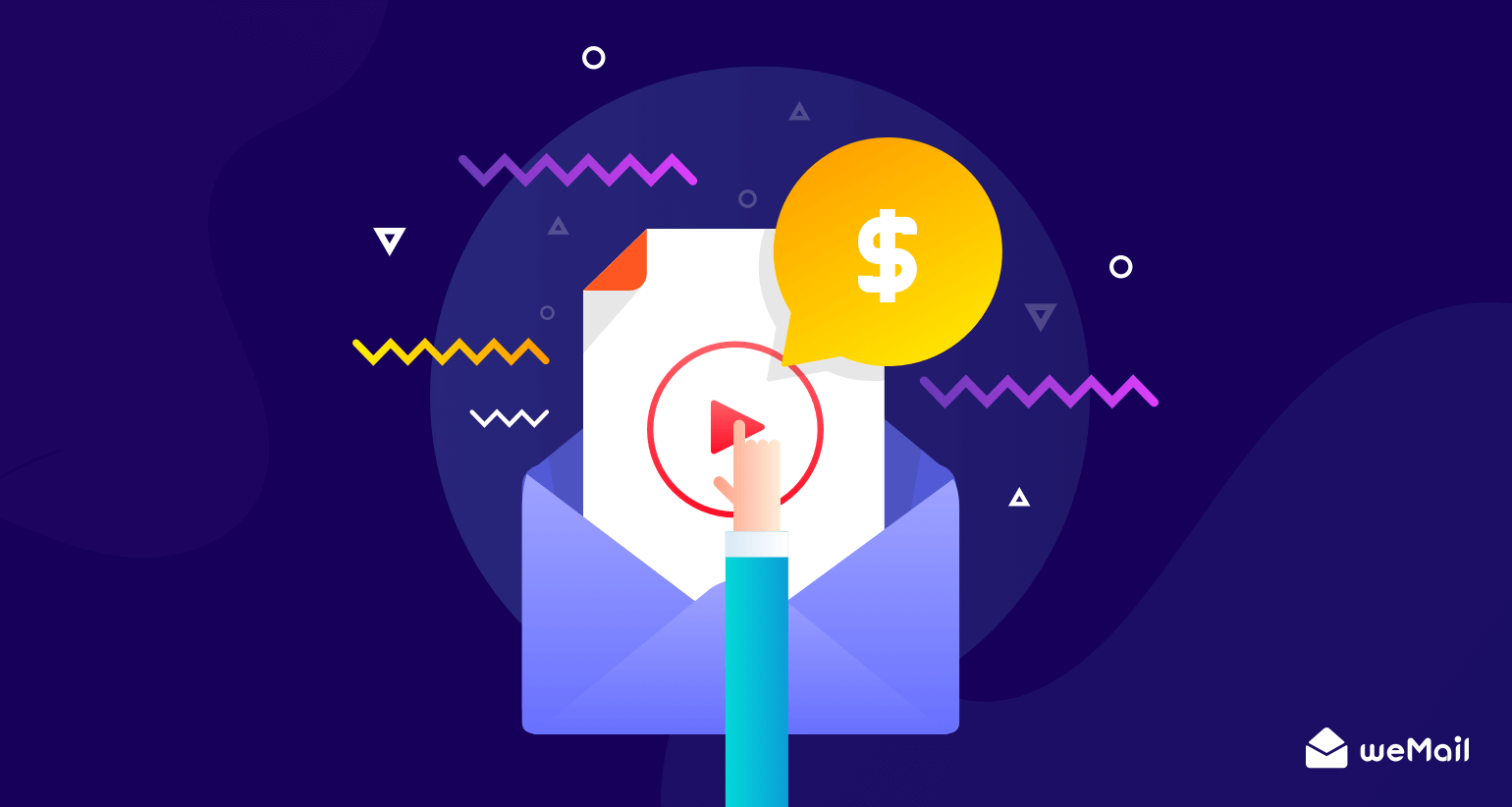 7 Superb Ways to Make Your Video Email Marketing Game-Winning
Are you already sending video emails to your subscribers? If not, this is the best time. Throughout the last decade, video remains one of the most dominating sources of entertainment in our daily life. Cisco claimed that "online videos will make up more than 82% of all consumer internet traffic by 2022, which is 15 times higher than it was in 2017."
Our mind always tends to be attracted by visuals. Therefore, you take lesser time to grasp something out of a video rather than text or anything else. Research also supports this. According to Entrepreneur, "visuals interact 60,000 times faster compared to texts."
So, when you send video emails, it can be more entertaining, get a more open rate, click-through rate, and eventually increase user engagement and retention rate. Many top brands are already practicing the strategy successfully. But how to do it for your business in the right way?
We get this covered. In this blog, we will show you what video email marketing really is, how it works, and some of the proven tips to get the highest results possible. Let's jump into it further.
Here's a table of content to make your reading easier.
Video Email Marketing Simplified – A Definition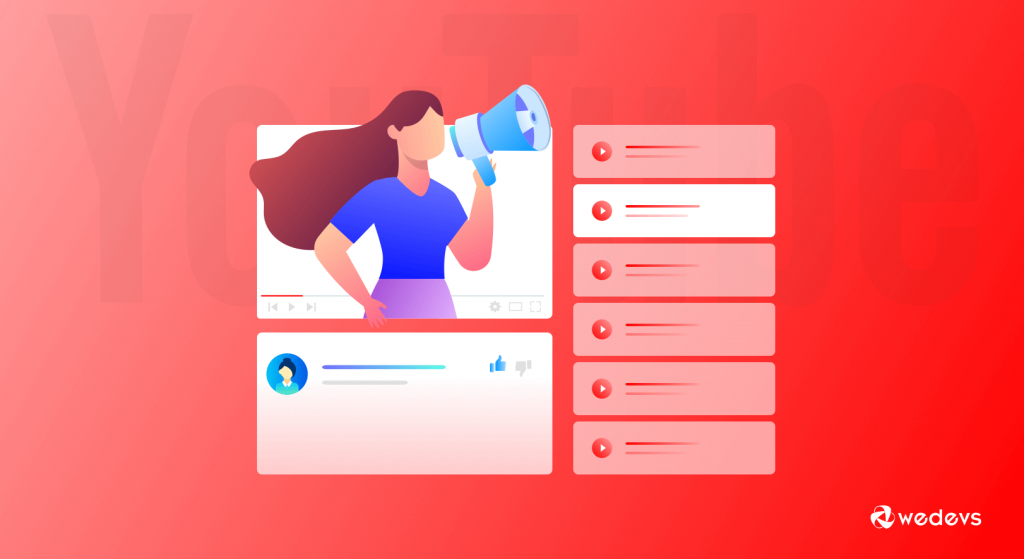 Adding videos to your marketing emails can be defined as video email marketing. Though, it doesn't mean you should embed videos in each of your emails particularly.
Video email marketing isn't a special type of email marketing; it merely refers to the concept of adding videos to your email campaigns.

Campaign Monitor
You need to break this thing down a little bit. Rather than embedding a video, the smart move should be to use a thumbnail image of the video, then adding a clickable link with it.
Also, there are different ways. You simply tell your user to watch a video in your email subject line. Then only give them the link to the video, and take them to your video landing page. This practice can directly increase your open rate up to 6%.
So plainly, you need to create different videos following your email campaigns, then use them when sending emails to the subscribers. That's how things work.
Why Should You Send Videos in Email Campaigns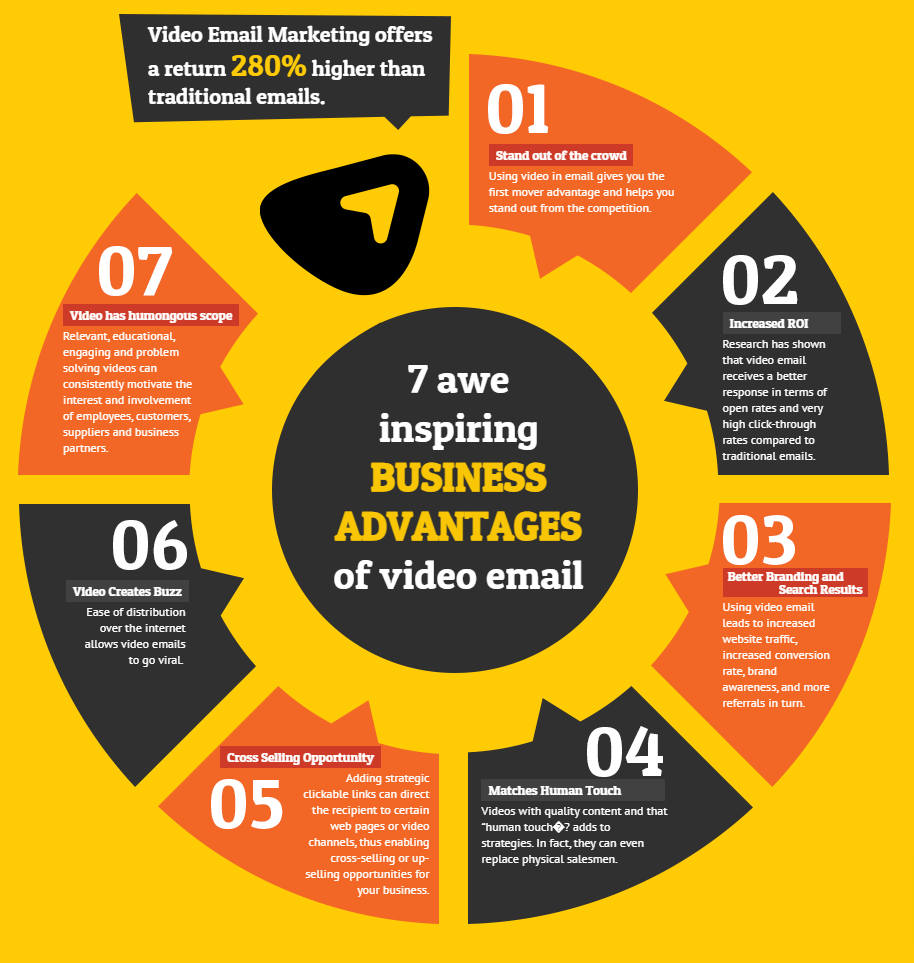 Unless you realize the importance of a strategy, you can't implement it to the fullest. There are some confusions about using videos in emails anyway. As some email clients may block your video email content and you may end up in the spam box.
But you need not worry about it. We have already told you there are smart ways. And, they work.
However, we want to share some of the exciting stats about video marketing. They let you understand how positively videos can upturn your email marketing game.
Video content in emails can reduce the opt-out rate up to 75%. (Backlinko)
Marketing videos can increase brand awareness by 54%. (TechJury)
Before shopping online, 70% of millennials prefer to watch a brand or company video. (Animoto)
Marketers believe video marketing can help them generate 66% solid leads every year. (SmallBizGenius)
Video can increase open rates by 19% and click rates by 65% while reducing unsubscribe rates by 26%. (Campaign Monitor)
However, now you can get started with our expert tips to video email marketing.
1. Send Customized Product Videos to Customers
Sending random product videos could end up in a blunder. It's not like you send an irrelevant video, and people start watching or appreciating them. Though videos are the most loved source of entertainment. But more than 500 hours of videos are uploaded on YouTube every minute. There are tons of available content, right? So, why do people bother to watch videos they don't want to watch?
So, the best way should be to send such videos your subscribers would like. It must solve their issues, and entertain them. Here, look at the video email marketing example by BBC Earth.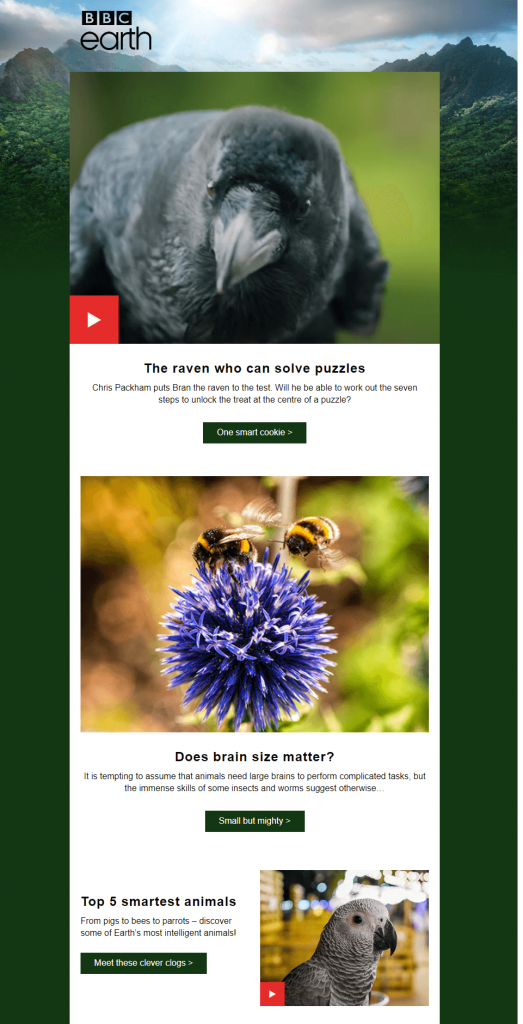 Like many of you, I also love to watch documentaries about nature and wildlife. BBC Earth is nonetheless a popular platform in this regard. They designed their newsletter following my user preferences. I have a sheer interest in birdlife. So they send me some exciting bird videos. None of them are embedded. They only use the video thumbnail and take me directly to the YouTube video.
This is the simplest technique you can follow in the first place.
2. Turn Your Blog Posts into Videos and Send to Subscribers
Turning your blog content into podcasts or videos isn't a new thing. You will find some top bloggers like Neil Patel or author influencer Tim Ferris do things for a long time. As we have already mentioned above, in a rush and richness of web content, people tend to spend less and less time on one thing and move to another one.
Usually, a blog that takes 7 minutes to read can be covered in 2 minutes of video. You don't even need any kind of animation. Put yourself or one of your content writers in front of the camera, start telling the audience from the blog. It's that simple nowadays.
Fatjoe do the same things.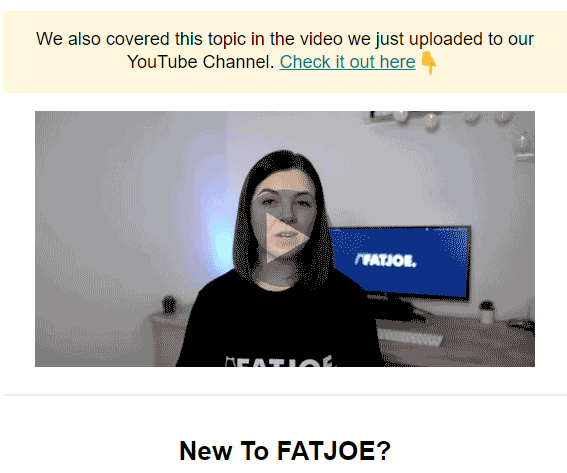 They convert a 5k words SEO guide into an 8 minute only video. Then they send the blog in emails, also add the video link with a GIFY thumbnail.
This type of email not only engage your reader with the blog posts but also increase your video conversions. Which can be a turning point for your profitability. According to a Aberdeen's report, "the average conversion rate for websites with video is 4.8% versus 2.9% for sites without."
3. Simply Send Video Title with Link is A Good Idea
Apart from embedding direct videos, or using video thumbnails, there is a more simple way. You can do what industry influencers like Frank Kern or Neil Patel are doing. Usually, they are very much visible on the web, and even in public events. Hence, you won't see many visuals in their marketing emails.
Neil just put some words and tell you what you are going to get. We won't suggest you to oversimplified your email marketing process. As people subscribe to influencers because of their knowledge sharing. As a startup or a thriving brand, you too want to add values anyways. But in the beginning, too simple emails may make you unnoticeable.
Therefore, one proven hack you can take from the below email.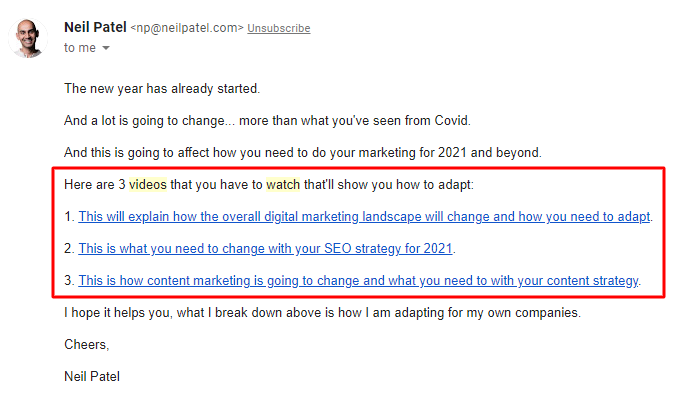 Here, you can get three videos in one email. To be more precise, 3 title with their respective video link. This techniques will save your time, make your emails more fast loading. Therefore, if you add the word "video" in the subject line, it can boost your open rate by 19% according to HubSpot.
4. Take Mail Recipients to Your Video Landing Page
Almost 50% of users want to watch a product video before buying it. So, just telling them how your product is capable of adding values would be more effective in a short video. Therefore, you can send the video link with the right copy in your email campaign. To do this, you can create a highly engaging video landing page. Whenever any subscribers click on the video link, they will come to your video landing page.
Impact doing this thing to get more response from their "The Latest" newsletter subscriber. When you subscribe for their wide range of content to get in your mailbox, they will add a link to this landing page with every email.
There is a lot of video platforms you can implement to build a better video landing page. You can rely on video hosting providers like Vidyard, Vimeo, or Brightcove. Yes, it's slightly different from taking an email recipient to your YouTube channel. Hence, the technique also increases your site's traffic and page authority. Eventually, lead to direct conversion.
5. Use Your Local/Online Event's Video to Increase Brand Awareness
As a brand, you may use to arranging local events frequently. However, the post-covid-19 world won't be the same. We've seen many of the biggest organizations and small companies alike prefer online events all over the world. And, email marketing plays a big role for them. According to markletic, "76% of marketers believe email is the most effective way to drive online registrations for those events."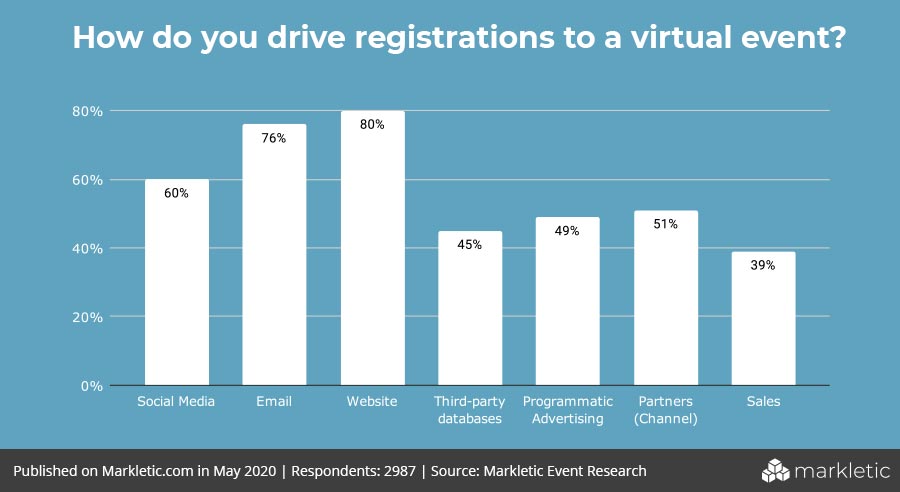 There are two ways you can engage your audience with these local or online events.
One, a week before the live streaming, you can send them a teaser video so that they feel interested to register for the live event.
Two, capture the whole event (either local or online) in a nicely edited video. Then send this to your subscribers through your email. This will surely increase your brand reputation. That helps your business to gain eventual growth.
Look at this email from Collision. They use a GIF in the top, and add a proper CTA to join the live conference at ease.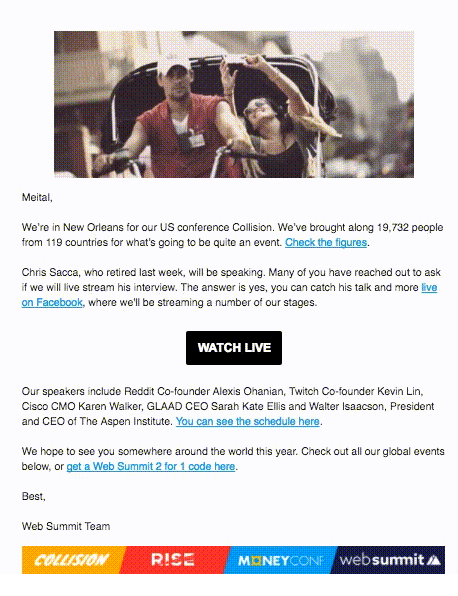 Therefore, you can learn all the details in a short in this email, like how many people joining, keynote speaker, co-hosting brand, etc.
This can be a great way to reach more people by manifesting the potential of your business.
6. Video Testimonials Can Make an Impact
People love reviews. In the open age of global networks and social media, it is become more popular to give and read reviews, share word of mouth in a split of minutes.
So, almost 95% of customers read a review before purchasing. According to Sean McCabe (Harvard Business Review), "for every one-star increase that a business gets on Yelp, they see a 5-9% increase in revenue.
Keeping the sheer importance of good customer reviews in mind, what could be the most effective ways than sharing customer stories or testimonials?
Though, collecting customer stories isn't an easy task. But, before consider it difficult, why not try first?
The Dokan Multivendor have been collecting customers story and testimonials from the beginning, sometimes it works, sometimes not. But, the effort eventually paid off. You might know that Dokan is the best WooCommerce multivendor plugin for WordPress.
At weMail, we also follow the same pattern.
However, check this email from Trunk Club. They provide professional Stylist services. This video testimonial can be very useful to your video email marketing strategy.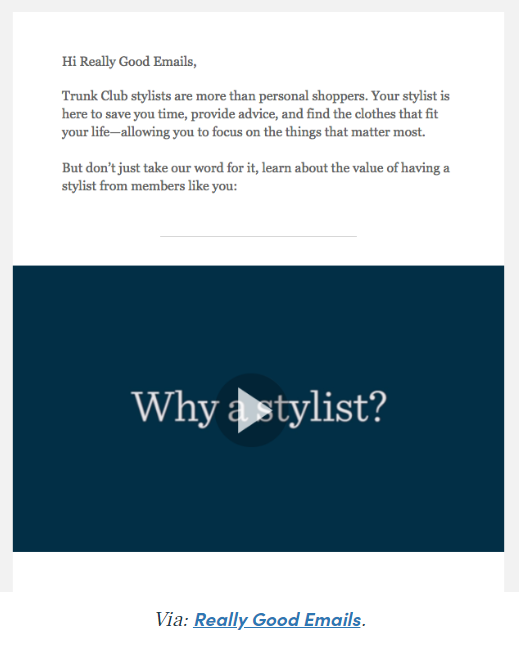 You can look closely into their marketing copy. It tells you not to take only their words, they offer better guide like a customer story video. Surely this process can help you make a right decision.
Video attracts 2x to 3x monthly visitors, doubles their time spent on the site, and has a 157% increase in organic traffic from search engines.

MarketingSherpa
7. Use Some Bonus Video Content and Entertain Your Subscribers
If you send the same kind of emails to your customers, that could be boring. And eventually, they will lose interest, even go for unsubscribing. Why bother about selling things all the time?
You surely can give your audience some fun moments. Produce some videos that are not directly related to your product, but covering it anyway. It can be a learning session, book reading session, a documentary about the industry, and many more things.
Patagonia is a specialized fashion brand based in America. Let's analyze this email campaign they send subscribers throughout the world.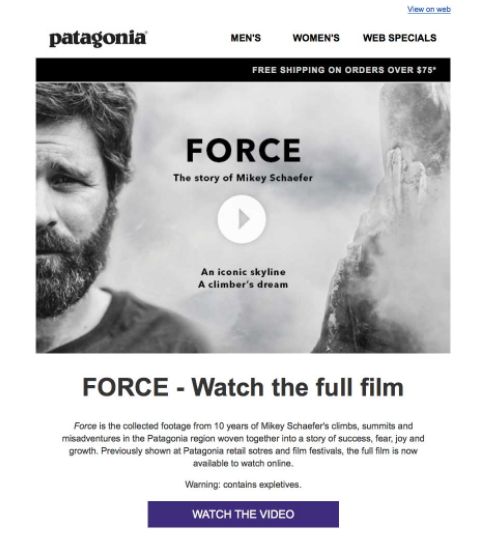 It is bonus video content. And, it's not telling you to make a purchase. In this documentary film, Patagonia featured a remarkable skyline climber Mikey Schaefer's adventures. Eventually, this video can make any climber, adventurer, and people who love to enjoy their journey entertained. In some cases, envy. And you know what? Mikey is wearing and using Patagonias gear.
This is a remarkable case in any types of video marketing. You don't tell people to buy your product. But showing someone so capable who is benefitted by your brand.
However, creating these types of videos take resources, time, and proper talent for storytelling. We believe you can manage that even for now, or in the future. Also, producing short videos by using animations is never been that available.
Bonus Tip – Let's Mix Up Things a Bit
I got this email a few days ago from Ahrefs Weekly Digest. And, it seems pretty engaging and helpful to me. Take a look at it.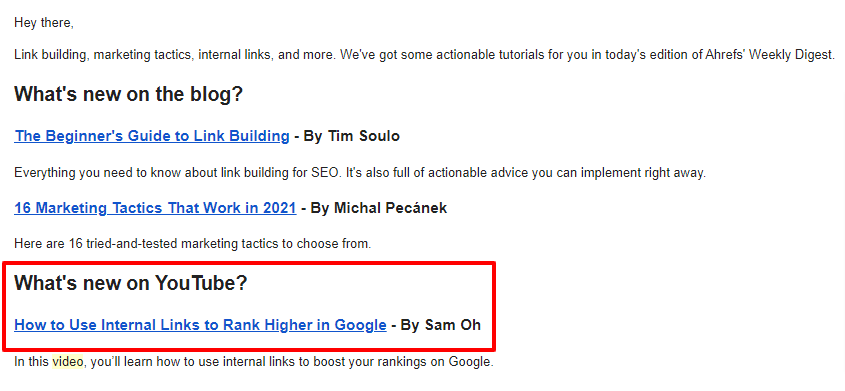 Ahrefs Digest has shared their latest articles or blog titles in the above email. Also, they include their newest YouTube video link and a guiding copy that can trigger anyone interested to click.
Therefore, if you are already publishing videos, it can be a good strategy to send those videos with your blogs in a single email. A mix-up strategy can add value to your audience even more.
Closing Up for Video Email Marketing Tips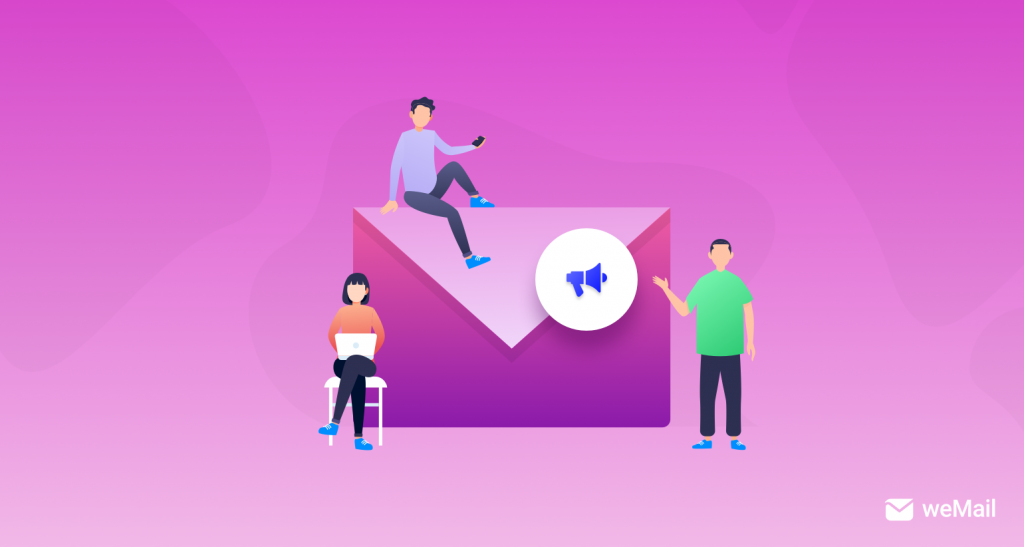 Video is the most powerful marketing weapon around the world. It's a proven thing. Like most of your competitors, you need to create and share brand videos using all the possible ways. Hence, email marketing is the most profitable marketing channel you could ask for.
You need to blend up your email campaign strategy with video email marketing. And, we believe the tips we've shared above help you to do things effectively. If you have any trouble understand any part of the discussion, let us know in the comments section. Also, you can share whether different techniques may look more useful to your case.
Subscribe To Our Newsletter
Don't miss any updates of our new templates and extensions
and all the astonishing offers we bring for you.