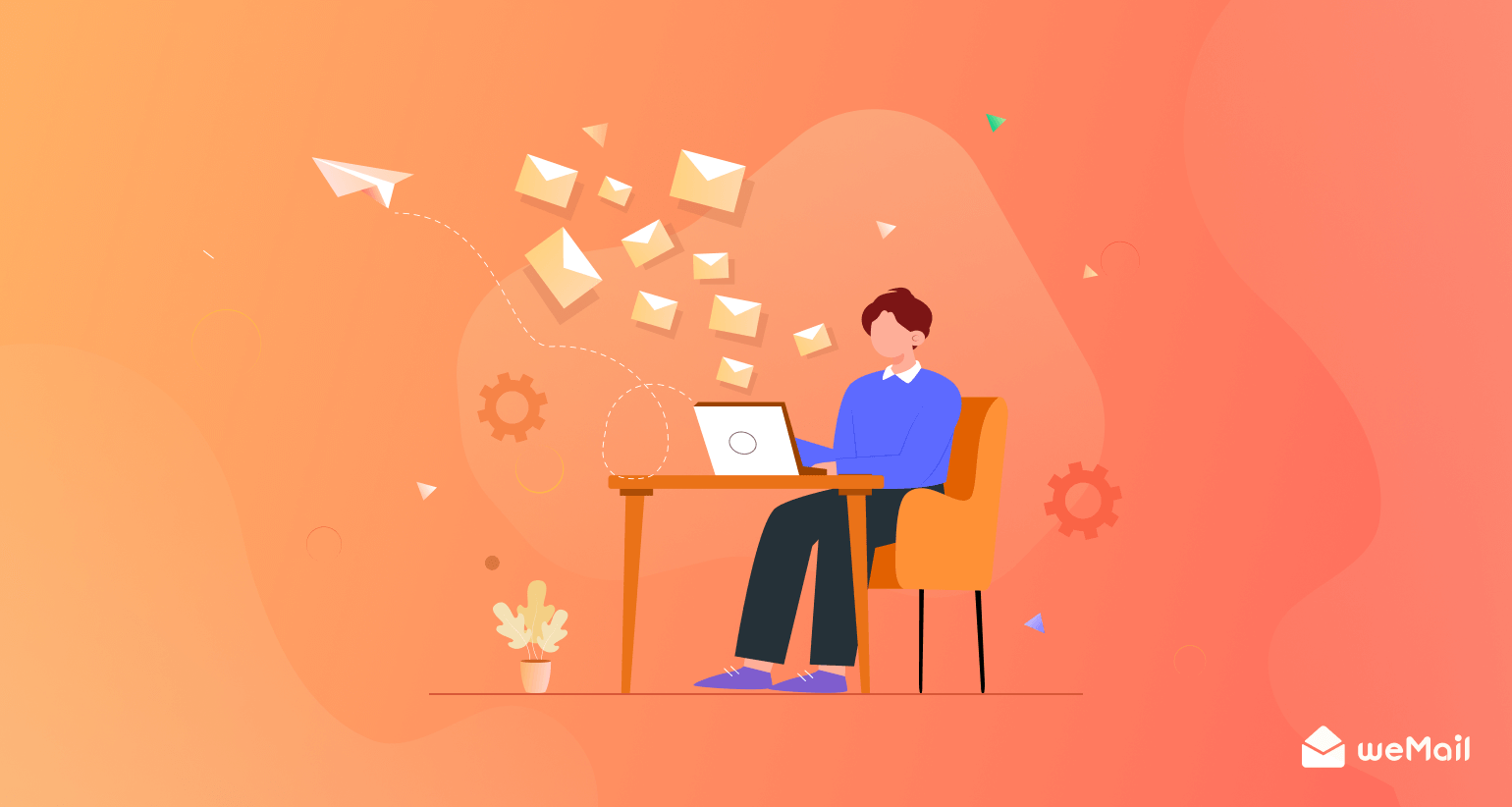 What is an Email Blast and How to Do It in the Right Way
If you own a website or have been on the web quite for a long time, you must have heard of email blasting at least once. Through an email blast, you can send a message to numerous recipients at the same time. It has been in the market for over 40 years since its first appearance.
Gary Thuerk is the man who first discovered the idea of an email blast. In 1978 his first email blast was sent to 400 recipients for a promotion that resulted in 13 million dollars in sales.
Even today, email blasting could be a wonderful way to reach target audiences. But many modern-day marketers tag it as an outdated approach because it lacks personalization. However, the reality is quite the opposite. The effectiveness of email blasts depends largely on your planning.
This article will provide you with a comprehensive guide on email blasting and how to do it right. Before that, we will briefly discuss its importance in modern-day marketing.
What Is An Email Blast?
An email blast is a process of sending the same message to a large audience all at once. Sometimes, it is also called bulk emails, mass emails, or e-blasts. It effectively sends event invitations, newsletters, new product updates, eBooks, tutorials, and discounts.
In 2022 alone, around 333 billion emails are expected to be sent and received each day which may reach 376 billion by 2025.

Statista
You require careful consideration for structuring your email format. Otherwise, your emails have a high possibility of hitting the junk mail folder of your recipients.
Difference Between An Email Blast and Other Email Campaigns
Below are the most distinguishable differences between an email blast and other email campaigns.
Subject
Email Blast
Email Campaign
Number of recipients
Emails are sent to the entire email list
at once.
Emails are sent to an individual or
multiple users one by one.
Personalization
No or very minimal personalization.
It reflects the recipients' needs, demands,
and preferences.
Time and Location
Emails are sent regardless of subscribers'
time zones and locations.
Emails are sent according to the subscribers'
time zones and locations.
Is the Email Blast Relevant in Today's Marketing World?
The first email was sent in 1971, and the idea of email marketing came in 1978. In those days, email marketing was basically meant to be email blasting. Because personalization wasn't possible at that time. But today, we have many best email marketing tools and services available.
Using them, we can send personalized emails to numerous audiences. Therefore, many digital marketers of today frown at email blasting and consider it outdated. But don't forget, with the help of available technologies, email blasting can give you more positive results.
The biggest advantage of an email blast is that it saves you a lot of time. Also, it can bring massive conversions within very limited costs. Besides, many contents don't require any personalization. So, why should you rule out email blasting when it is still useful in many ways?
Once you learn where email blasting can outperform other promotional activities, you can make the best of it. Keep reading to know them!
Is the Email Blast Good or Bad?
Large-scale email blast marketing campaigns can yield an average of 4,300 percent ROI for USA businesses.

Direct Marketing Association
Although email blasting is somewhat outdated today, it hasn't lost all its appeal. There are many situations when you can use it for exceptionally better results. We are going to cover them in this section.
How An Email Blast Can Outperform Other Email Campaigns
Email blasts can outperform personalized email campaigns in many ways. Below are some most important points from them.
Generate Quick Traffic
Sometimes, you have a hot new discount offer. You want to inform a lot of people about it in a short time. But one by one, personalized emailing will cost you a huge time. Only an email blast can help you out in this case. Alongside, it can derive huge traffic to your website.
Share Important Announcement
Suppose you have an important announcement about your product or updated policy. Delaying to reach it to the users can downgrade your business value. Again, in this case, email blasting is the only best solution. Just craft your email message and reach as many inboxes as possible.
Collect Feedback and Survey
Surveys require a large population of different demographics. So, even established organizations do email blasts to gather feedback when they need to. Thus, it has been easier for any organization to run A/B testing in the market.
Cost Effective
You don't need to personalize each and every message. Today, the subject line alone can make 47% of people motivated to open an email. So, what's the reason to spend thousands of dollars to run personalized email campaigns while only an email blast is enough?
Showcase Your Brand
Once you launch a new brand or a new product, you just need to create quick traction. Afterward, you can make a list of interested users to run personalized campaigns to generate sales. Here again, you can take the help of an email blast.
Limitations of An Email Blast
Due to several reasons, many modern-day marketers prefer to avoid email blasting. These are its limitations. Let's look at them.
No Segmentation
Segmentation in an email blast isn't possible in all situations. However, by tracking the time zones, geolocation, age, gender, and some other parameters, you can partly segment your email list. But personalized emailing can give you better results if you have information about each of your subscribers.
High Risk to Be Spammy
There is always a high risk that most email blast messages will hit the spam folder. It usually happens when you aren't smart enough to craft the email copy. Better you learn how to avoid hitting your emails to the spam folders of your recipients.
Unpredictable
The big email lists usually contain users from different locations and time zones. You may be following the USA time zone when there is an afternoon in Europe. Naturally, European users have less chance to open your messages. So, you can't be sure about the success rate in email blasting.
Today, we have many platforms (social media, PPC) available to run adverts. But none of them is so effective as email marketing. From Oberlo, every $1 spent on email marketing can yield you around $42 on average. You can scale up your potential only if you do it rightfully.
Steps to Email Blast Rightfully
Powerful email blasts ensure a more personalized feeling rather than promotional. Almost every successful organizations do it to promote their business and the results are quite amazing. If you want to their secrets of email blasting, here is a step-by-step recipe for you.
Step 1: Choose An Email Marketing Tool
First of all, you need a powerful email marketing service to run email blasting. You will find a dozen of them available on the web. WeMail is one of the best among them. You can easily integrate it into your WordPress site and reduce much of your workload. Here is why you should use it.
WeMail has numerous in-built templates with stunning design.
It can help you run A/B testing to make sure if there is any error.
It will give you real-time report on bounce rate, link clicked, unsubscribed, and so on.
You can import/export email contacts and segment them for different campaigns.
Also, it has many other amazing features. For example, automation, embed forms, geolocation tracking, sync with Mailchimp list, etc.
To install WeMail, follow the below navigation.
Go to Plugins > Add New.
Type WeMail on the search box.
Then, install and active the plugin.

Right after that, you will get the below page on your screen. Click on Connect.

Now, you have to create an account to integrate WeMail into your website. Then, log into your account complete the setup.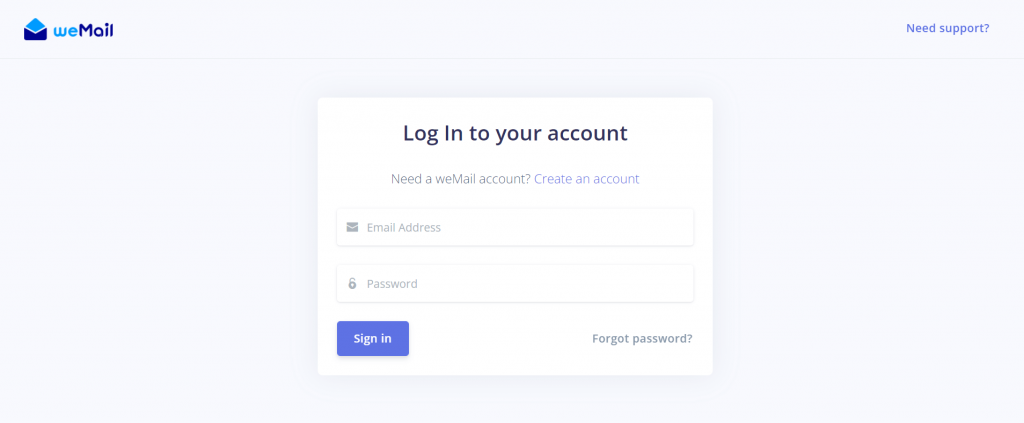 Using the lite version, you can do make an email blast only up to 3,000 subscribers. So, you have to upgrade to a membership plan.
Go to WeMail > Billing.
Then, subscribe to a membership plan.
The membership plan starts from $9/monthly for 10,000 subscribers. You can upgrade the plan as your wish.
Step 2: Create an Email List
An email list contains the email addresses of your subscribers and potential customers to whom you want to send messages. Here is how to create an email list with WeMail.
Go to WeMail > Lists.
Then, click the Add New Button.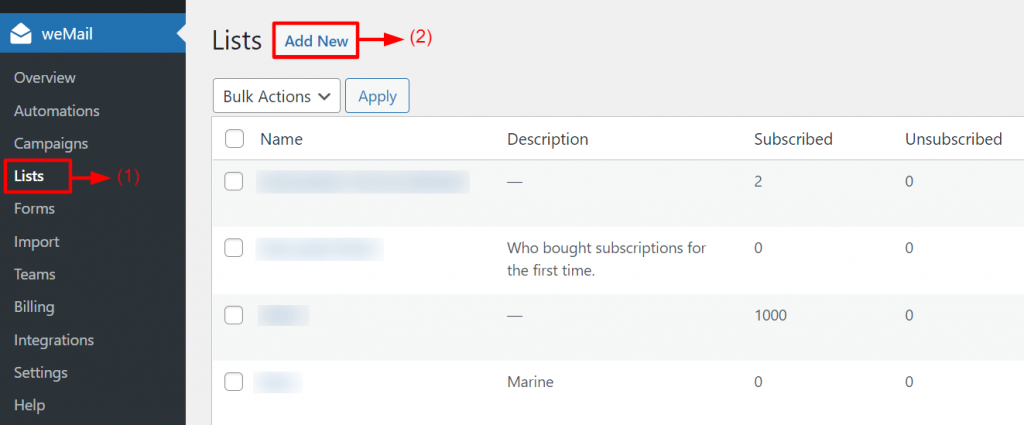 You may require to create multiple email lists for different purposes. Naming them will help you to find out the specific one quite easily.
So, give a name to your email list.

Then click on View Subscribers.

Then, click on Add Subscribers and add as many email addresses as you want.

Whether you manually input or export an email list through a CSV file, make sure they all are genuine. Today, according to antispam laws, you can't add people to your list without their consent.
Step 3: Segment Your Email List
Since email blasting lacks the high personalization feature, segmenting an email list can help you send emails to the right people. It is the process of breaking your email list into several groups. You can segment your email list based on different parameters such as location, gender, age, past activity, buying history, buying interest, and so on.
Here is how to segment your email list with WeMail.
Go to the email list that you created a moment ago.
Then, follow the neviation Option > Manage Segment.

Then, click on Add New button.
Take your cursor on Select a segment and click on it.
Choose the segmentation type that goes with your plan (here, we are choosing City).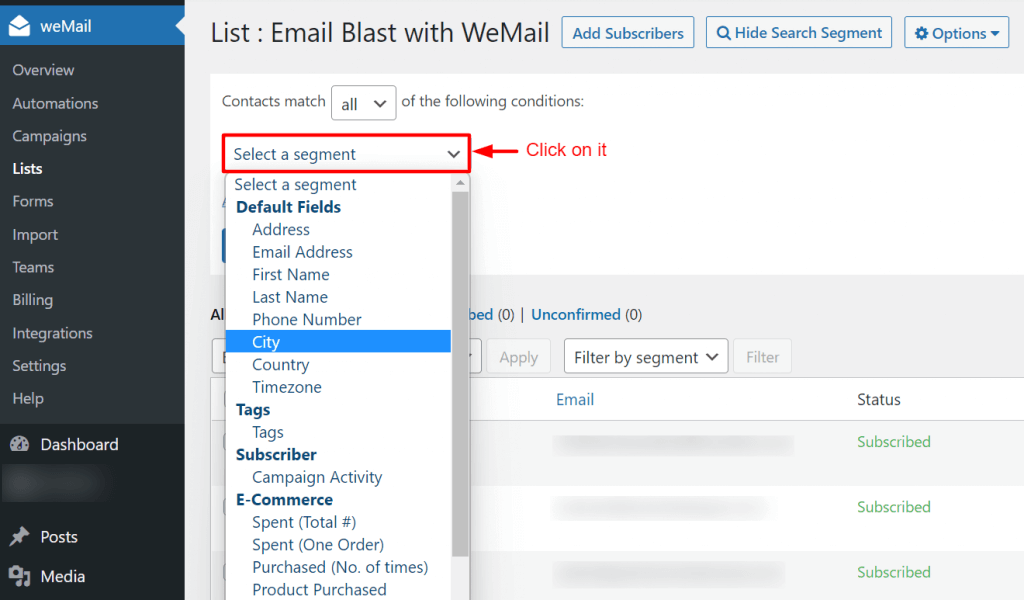 Now, select a condition at first.
Then type a city name (we are writing USA).
Finally, click on the create button.
(Here, from USA means subscribers will be from the USA. And not from means, subscribers will be outside the USA)

Give a name to the segment.
Then, click on Save.

It will take only a few seconds to complete your email list segmentation. Thus, you can make multiple segmentations and use them for email blasting.
Step 4: Create a Campaign
Now, it's time to create a campaign for your email blast. Doing it so easy with WeMail.
Click on Campaigns from the menu bar.
Next click on Create New.

It will take you to a new page.
Give a name to your campaign.
Choose your email list and
Select your email segment.
Finally, click on Create Campaign.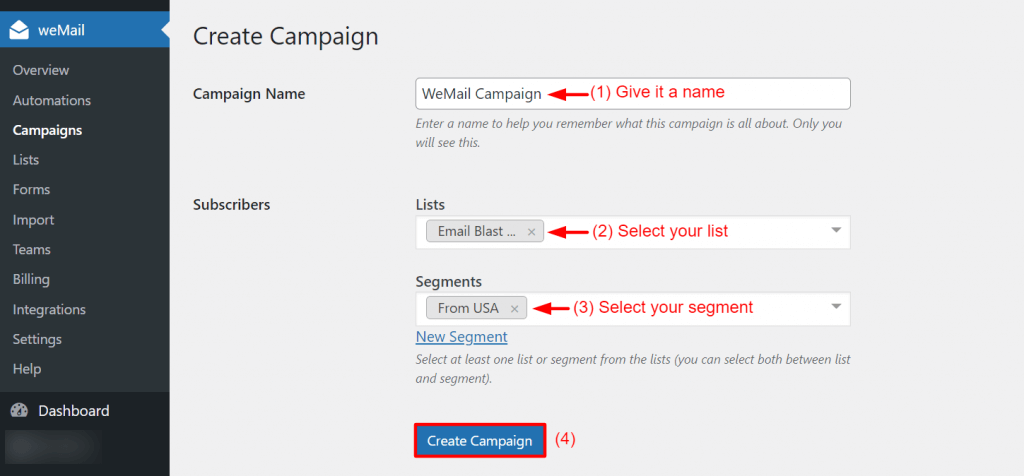 It will take you to the template and design pages. Clicking on any of them will allow you to edit and redesign. Once you complete editing, click on Next from the below-right corner.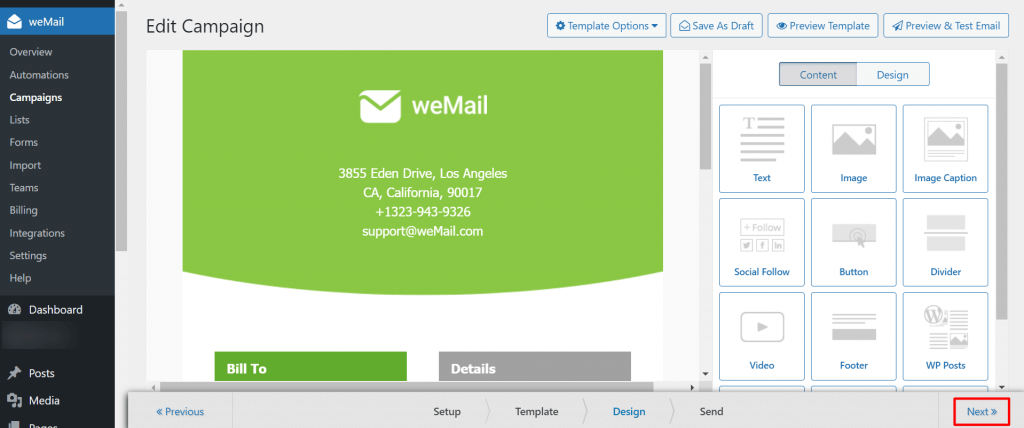 Now complete all the fields below: email subject, preheader, who is the sender of the emails, and to whom recipients will reply.

Scrolling a bit down, you will find some more options. You can customize the delivery.
Choose a Campaign Deliver option.
Then, click on the Start Sending button.

Otherwise, you can save it as a draft for further editing.
Step 5: Measure Results and Record for Next Campaign
Just sending emails by the email list isn't the end of a campaign. Marketing is a continuous process. Unless you measure your regular performances, you can't scale up your potential. Thankfully, WeMail has built-in analytics by which you can get any email campaign report right away.
Go to Campaign section from the WeMail menu bar.
Then, click on the campaign that you are running. It will take to the analytics dashboard.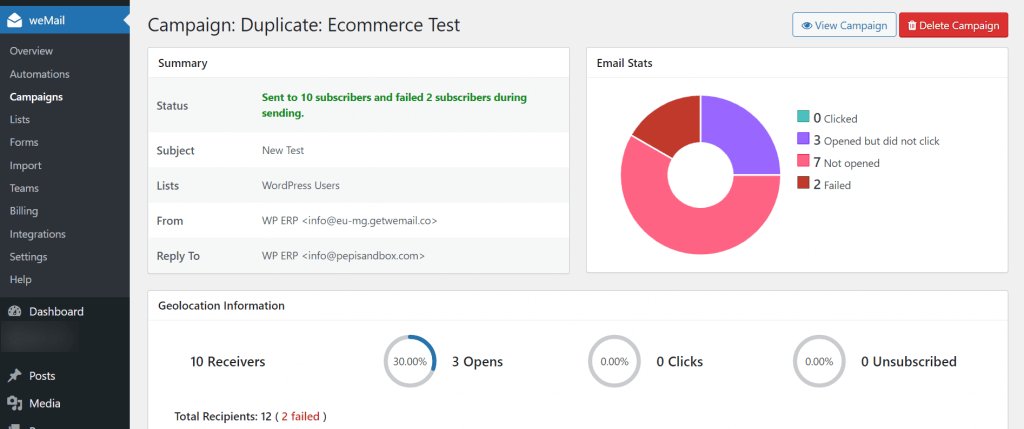 The success of your email blasting depends on how many emails you can send to your inbox. Again, many times users do not open the emails after delivered to their inbox. You can find all the reports in WeMail analytics. Accordingly, you can update your approaches.
What is an eBlast?
An eBlast refers to an email message sent to a large number of audiences simultaneously.
Is email blast a part of email marketing?
Email marketing is a broad term and the email blast is a part of it.
How does email blast work?
Rather than direct communication between two individuals, an email blast sends the same message to a large number of potential audiences as part of a promotion.
How do I make an email blast?
By the following steps, you can make a successful email blast.
1. Choose an Email Marketing Service
2. Create an email list
3. Segment your email list
4. Create a Campaign
5. Measure results and Record for Next Campaign
When and what is the best time to send an email blast?
The best time to send an email blast actually varies by time zones and location. However, Tuesday, Wednesday, and Thursday are considered to be the best days. Alongside, 8-9 am has been identified as the ideal time for email blasting.
Is email blast outdated?
Email blasting is a bit old-fashioned today. But yet it hasn't lost all its appeal. You can produce exciting outcomes from email blasting if you can do it the right way.
Final Thoughts on Email Blasting
Send an email blast might be old-fashioned today. But don't forget that the number of online users has been increasing ceaselessly. Right now there are 4.25 billion active email users on the web which is likely to be 4.96 billion by the end of 2025.
It is very difficult to predict the future. We don't yet whether ​there will be any tool by which we can reach millions of emails users in a personalized way. But as long as your email list is permission-based, and you are following rightful practices, your email blasting has a high potential to be successful.
Throughout this article, we have tried to provide you with a balanced combination of theories and tutorial practices. Alongside, many exciting features WeMail is ready to offer you 24/7 support. Besides, you can take help with the list of WeMail documentation.
So, hopefully, you are now ready to start your first email blast and engage your audiences. If you find this article help follow our Facebook and Twitter accounts. For more interesting articles like this one, subscribe to our website.
Subscribe To Our Newsletter
Don't miss any updates of our new templates and extensions
and all the astonishing offers we bring for you.