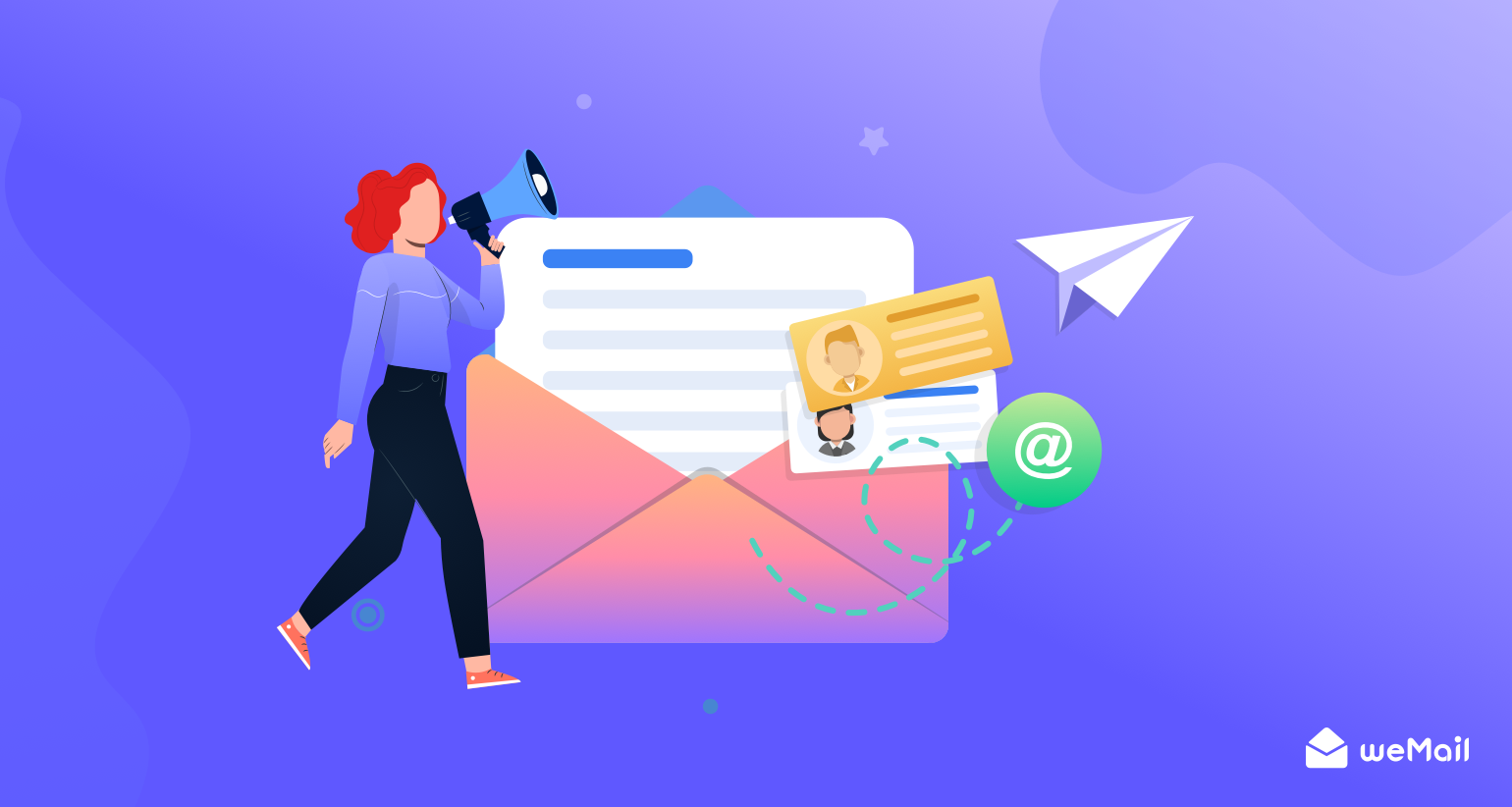 10+ Stunning Email Marketing Campaign Examples And Expert Tips to Improve Yours
One of every two people on our planet is a daily email user. Let that information sink in for a moment!
This huge number means that it is arguably the best place on the internet for promotion and marketing. This figure will make more sense, once you learn that for every $1 spent on email marketing, on average you can expect to get $38 in return.
Email marketing could be your best option to reach the audience with more possibilities if you are a marketer, blogger, or simply a content creator. Hence, to send better email campaigns, you must learn from the best.
Unsurprisingly, we have come up with some email marketing campaign examples that worked brilliantly regarding conversion. Surely you are going to love them for two reasons. One, these campaigns brought in a lot of sales for the respective company. Two, the creativity in them triggered the customers to buy the product.
So, this article will show you those email marketing campaign examples, we will also share some expert tips to help you come up with more innovative ideas, and so on. Keep reading.
Email Marketing in a Nutshell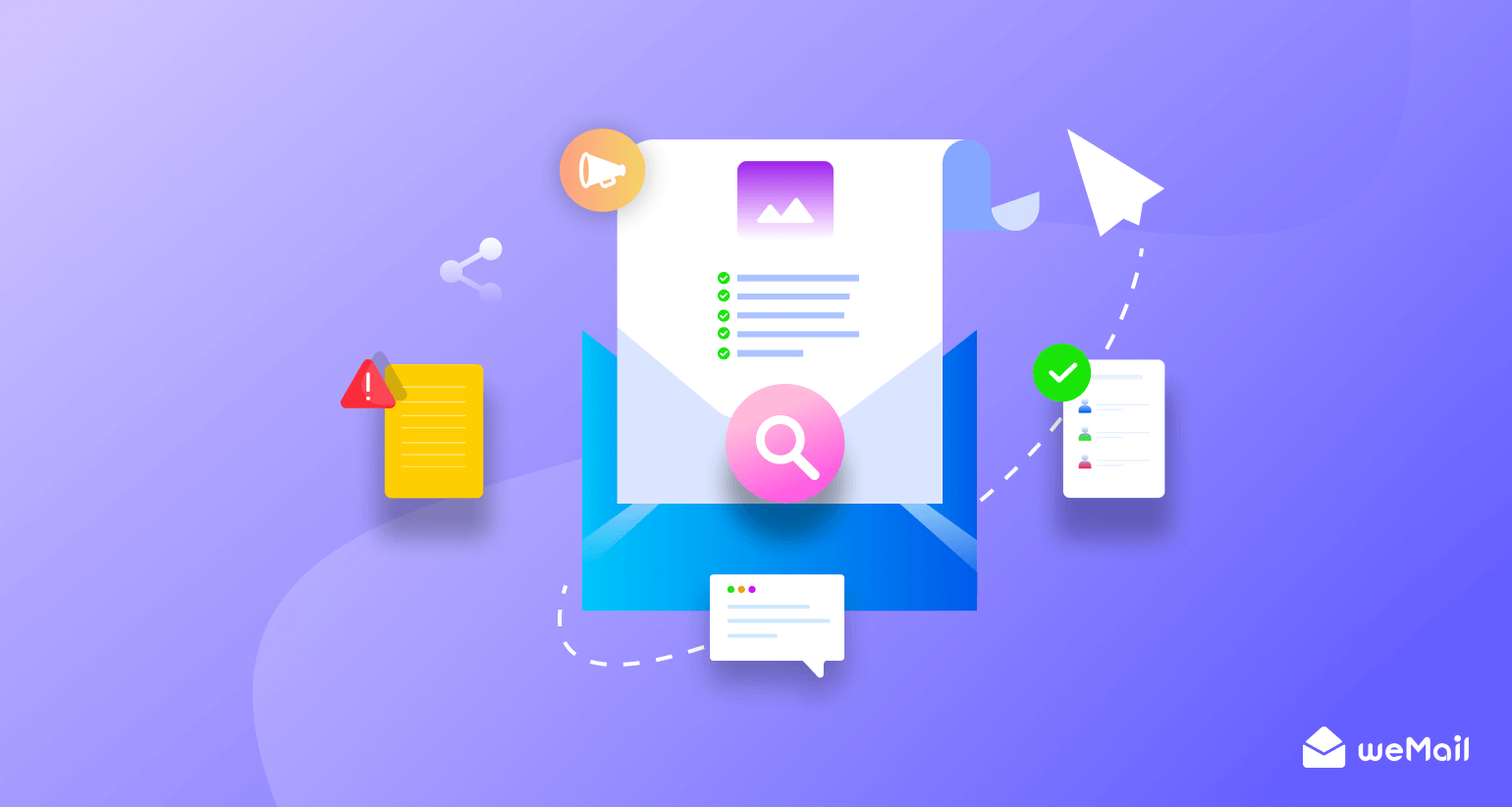 Before we start with sharing our favorite email marketing examples, let's take a detour on the basics. What is email marketing and how it works?
Well, Email marketing is simply a form of marketing that delivers a company's products, services, discounts to customer's email inboxes.
This is one of the first forms of marketing and is still considered as one of the most effective ways. This is because, with an email marketing campaign, you have the chance to do personalized marketing, which will not just increase brand awareness, but also increase your sales.
Despite being one of the oldest ways of digital marketing, it is still regarded as the best medium of online promotion.
To do email marketing in a now saturated marketplace where everyone wants to have a bite of the bread, you must need email automation tools like email. It helps you plan, design, and send automated newsletters aka email campaigns to your subscribers. Also, weMail helps you to collect leads and manage those subscribers for you.
Email Marketing Campaign Examples You Should Follow in 2021
Well, finally it's time. We want you to know how the best of the bests achieved unbelievable results through their email marketing. But before that let's get to the email marketing campaign examples you should look for now, and learn.
1. Missguided's Emotional Excellence
It can't get better than this. Content that makes you emotionally attached, generates the most number of clicks. This is one of the most clever mixes of fun and emotion that we came across. Apart from that, the simple design, use of emojis, and brilliant copywriting made it a successful campaign for this woman's clothing shop.
Apart from this email, they send on average 5.75 emails every week, while 95% of Misguided's emails are about discounts.

2. Postmate – A Story of GIF
GIFs are a great way to get engagement. Those flashy things, I like those, you like those, everybody like those. That is what Postmate exploited. This animation resulted in a lot of clicks for their campaign, and why wouldn't it?
It has food, it moves and it has a clever piece of copywriting to back that up.
So, now you know the power of GIFs in email marketing. Advice? Use them.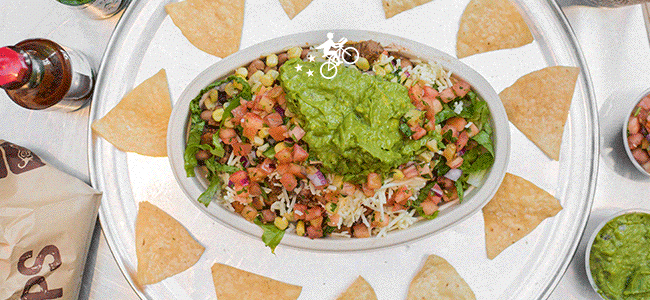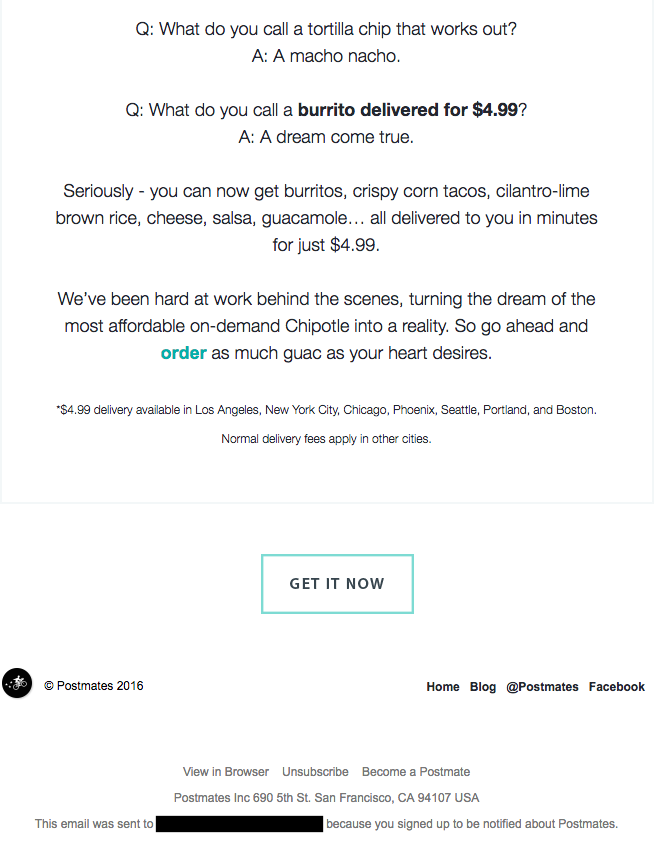 3. Buzzfeed – Send People Some Cuteness
This is one of the most interactive email marketing campaign examples. What makes people click in on an email CTA? Something that touches people. And what better than cats to touch people, yes, pun intended! 😉
So Buzzfeed did what they do best, they sent out an email campaign that engages people into taking action, an email with cats, and lots of them. They boosted their acquisition quite a bit with this cute, yet intelligent emails.
Want our insight? Send people what they can relate to and loves seeing. Cat is surely one of them, but there are many others as well.

How to Create an Email Campaign Using weMail in 5 Easy Steps
4. jetBlue – Touch them with Emotion
JetBlue launched a reactivation campaign. And look at that image. It got emotion, compassion, and of course a hefty discount. Guess how this worked out for them. Well, an easy question to find in an article that consists of "Brilliant email marketing campaigns", right? Right.
So, yes. It did exceptionally well. But if you look at the image closely, you start to notice why. The image depicts a heart with a bandage, referring to a broken heart for losing the recipient as a customer. The tagline is also something that anyone can relate to.
They finished up the copy with a promise of promotional deals and low fares.
Together, the emotion and the promise of low fare lured a big chunk of previous customers into being customers again.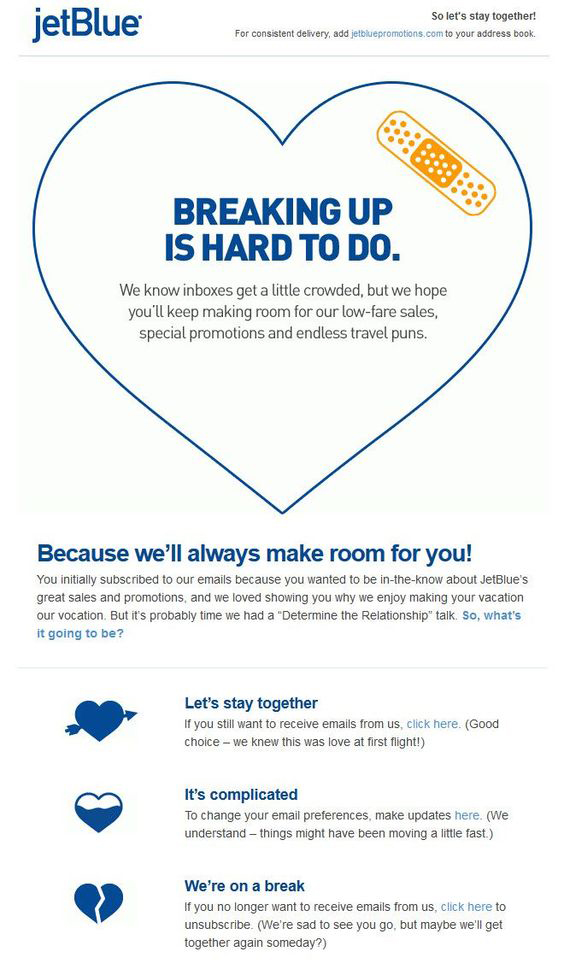 5. Snagit – Show What Your Product is Capable of Doing
The heading is a bit exaggerated. Showing the capabilities of a product in one email is not possible. But what you can do is show off the best part of your product. That's what Snagit did in their email that we listed below. We don't know how this email resulted, but judging from our experience, it should be good.
The first thing that you will notice once you see the email, is the simplicity of providing information. They showed the scenario of capturing a photo from a page. They also added a caption that resembles the image shown, "Capture anything with ease".
Fast forward, they added a CTA with intention of teaching you how to capture screen (Not going to lie, it could've been better).
The good thing is that they differentiate it with a nice color of contrast. Overall it attracted us, and it should work for most people as well.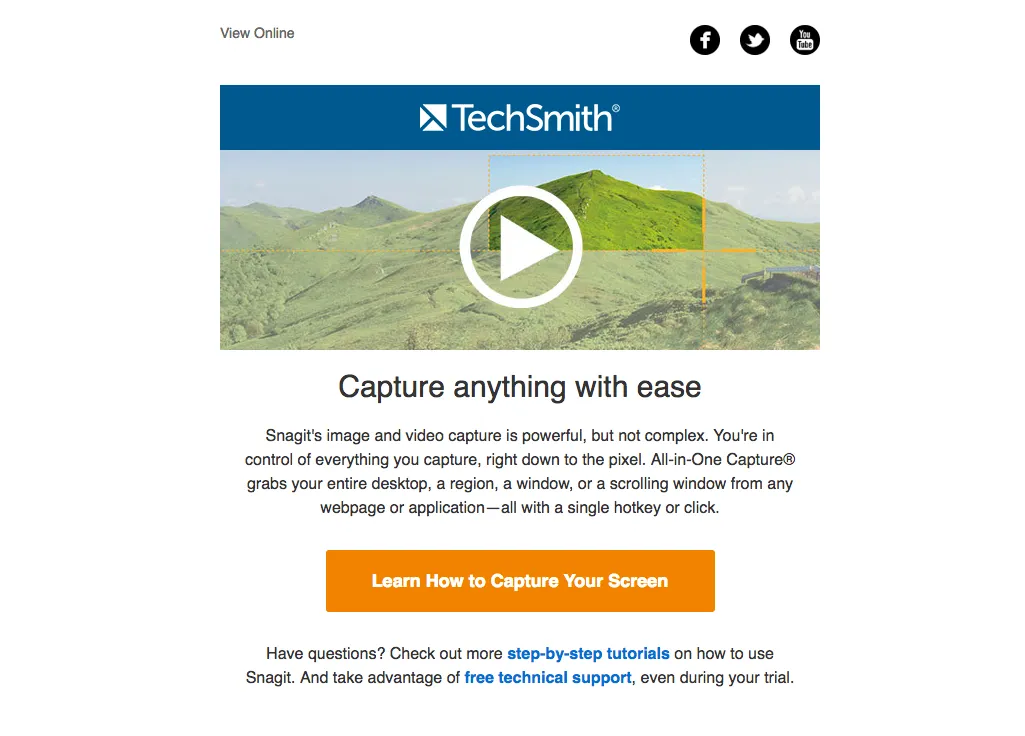 6. Airbnb – On Point Email
Airbnb sends probably the most on-point emails. Take this email for example. It is so clean and sends a message that is relevant to its customer base.
Point to be noted, send message that is relevant to the reasons that people subscribed you for.
This is a rather long email that we usually avoid suggesting because people don't always read emails that are so long. But if you have stellar content and an eye-catching image, you can surely prolong your email a bit, like this one.

7. Threadless – Attract at First Sight
Clothing brand Threadless is known for its brilliance in creative email marketing. Over the years, I loved quite a few emails from them. Take the below email for an example. It is fun and will surely catch your eyes in less than a second.
Add a CTA with urgency, and it becomes the perfect one for converting into a high-performing email.
Takeaway? Surprise people, once the surprise is over, make sure they find a nice CTA that encourages your customers to click.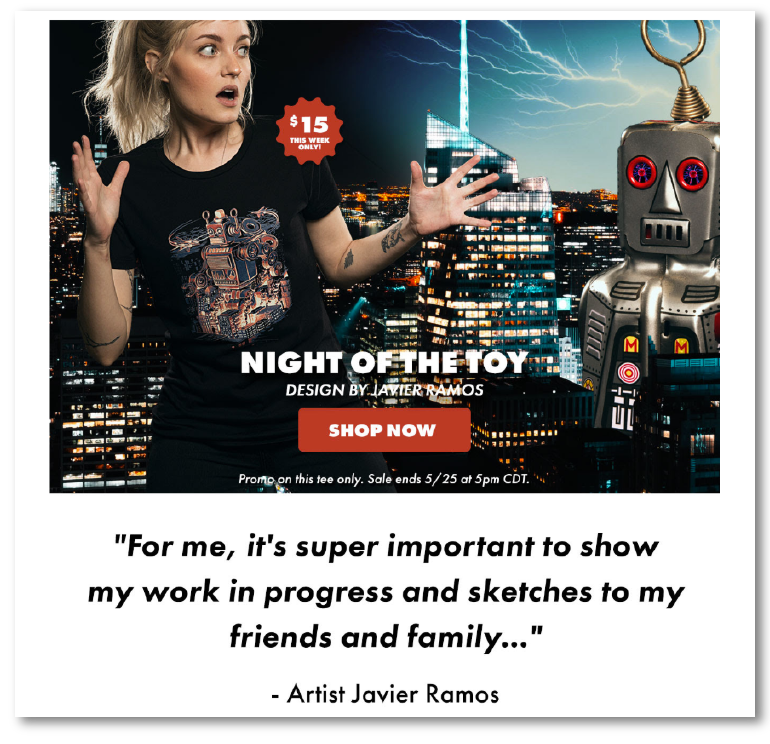 8. Hotjar – Plain Text Email Still Works
Plain text email was the king. But with more visual-based emails taking lead, they have become rarer, day by day. However, the truth is, if you mix up your copywriting with a good CTA, plain text email can still work.
Here's a high-converting email from Hotjar to prove that.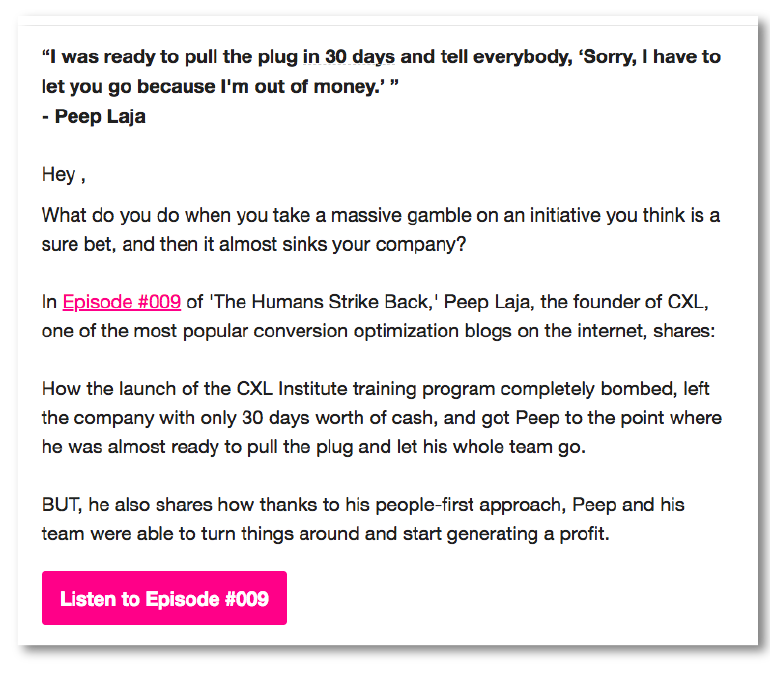 9. Personalized Gift
A personalized occasion-wise gift is an idea that would seem very attractive, but when you look at the perspective, it becomes a bit tough. How do you know when to gift your customer? Well, at least you know the birthday of most of your customers, right?
Chiptole understood that, and come up with a nice personalized gift idea and boosted their email conversion.

On another note, birthday emails have a record of a 324% boost in revenue, how does that sound?
10. Mom and Dad Money – Another Text-Based Brilliance
Unlike Hotjar, Mom and Dad Money tried to get user information through their email. But they also followed the same text-based email as Hotjar. This one is also very persuasive in terms of copy. We also like the simplicity of this email.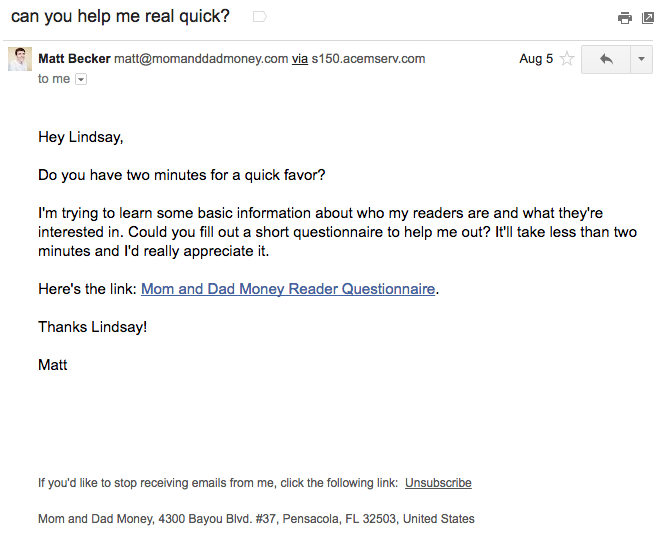 11. Topshop – Abandon Cart Email on Point
Topshop, an women's clothing shop sent the following email to their customers. Not gonna lie, we like how they went about it.
The heading and the body copy compliments each other. While the image of the abandoned order and the checkout button as the CTA make it look very clean. There's just no reason for this kind of email to not work.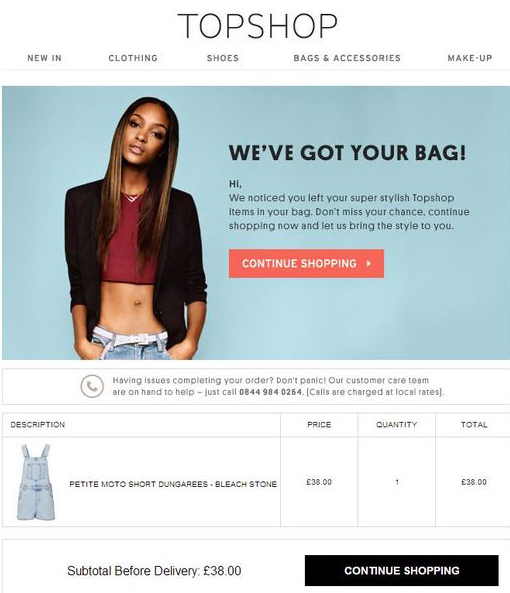 Expert Tips for Better Email Marketing
Email marketing is not rocket science, and by following some guidelines, you can send a winning email as well. Here are some expert tips that will help you do that.
Personalization is Key
Write personalized emails with the data you have. When the subject line is personalized, emails have an average open rate of 7.4% and a click rate of 0.4%. When the message is personalized, emails have an average open rate of 18.8% and a click rate of 2.1%.
So try to be as personal as you can and enjoy more open and click rates.
Make Segments of Your Email List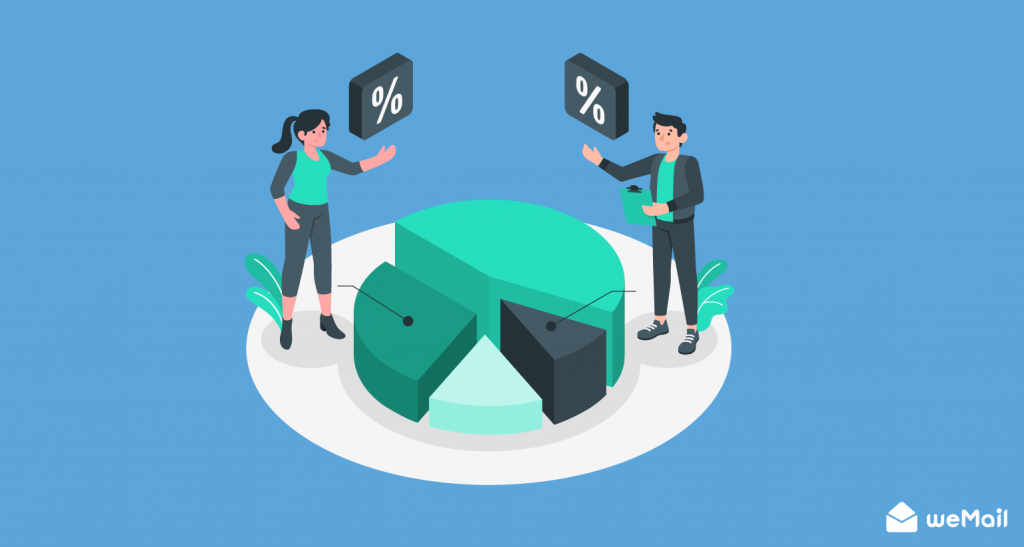 Classify your subscribers to different levels, depending on the activation, the number of purchases abandoned cart, and such. Then send them emails that are relevant to them. Studies show that segmenting the email lists and running individualize email campaign messaging are the most effective personalization tactics for 51% and 50% of marketing influencers respectively.
Write Clear and Concise Copy
The copy is the place where you sell your stuff, Unless your intention is clear and built up nicely before the final CTA appears, you'll lose the reader and the chance of converting the reader into a customer.
So write clear and relevant copies that people can relate to.
Design that Attracts
Design is a big part of today's email marketing. Unless you can design a catchy email (it can be both gorgeous or minimalistic), your email will not convert.
To create a design that attracts people. You can take designs from this blog as an example.
Analytics Matters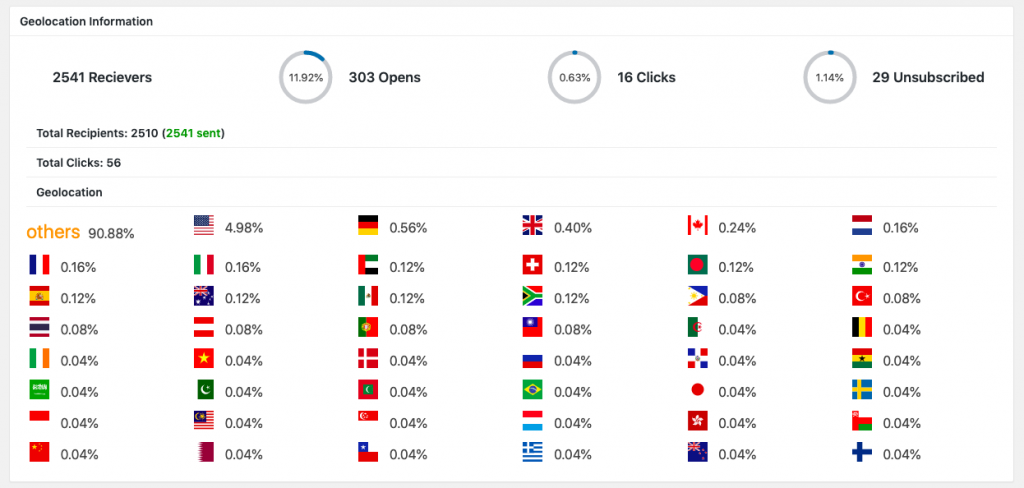 Analyze the results of the campaign and shape the future campaign with that data. To track the data, you need to use an email marketing tool that you can rely on.
If you have a WordPress site, you can easily track and analyze all the email marketing data, using weMail. Let's get to know about weMail in the following paragraph.
8+ Email Marketing Best Practices to Boost Your Sales
weMail – How This Tool Help Improve your Email Marketing Result
weMail is an easy-to-use email marketing tool that works on WordPress websites. weMail helps you send beautiful emails, grow subscriber lists, promote services & sell products all within the WordPress dashboard with your preferred email sending gateway.
Whether you want to create segments for your email list or track your email results weMail can help you do that effortlessly. weMail also supports multiple sending gateways, so you can send it to anyone that you like.
Overall weMail can be your perfect mate for executing email marketing like the brilliant email marketing examples we have talked about throughout the article.
Subscribe To Our Newsletter
Don't miss any updates of our new templates and extensions
and all the astonishing offers we bring for you.