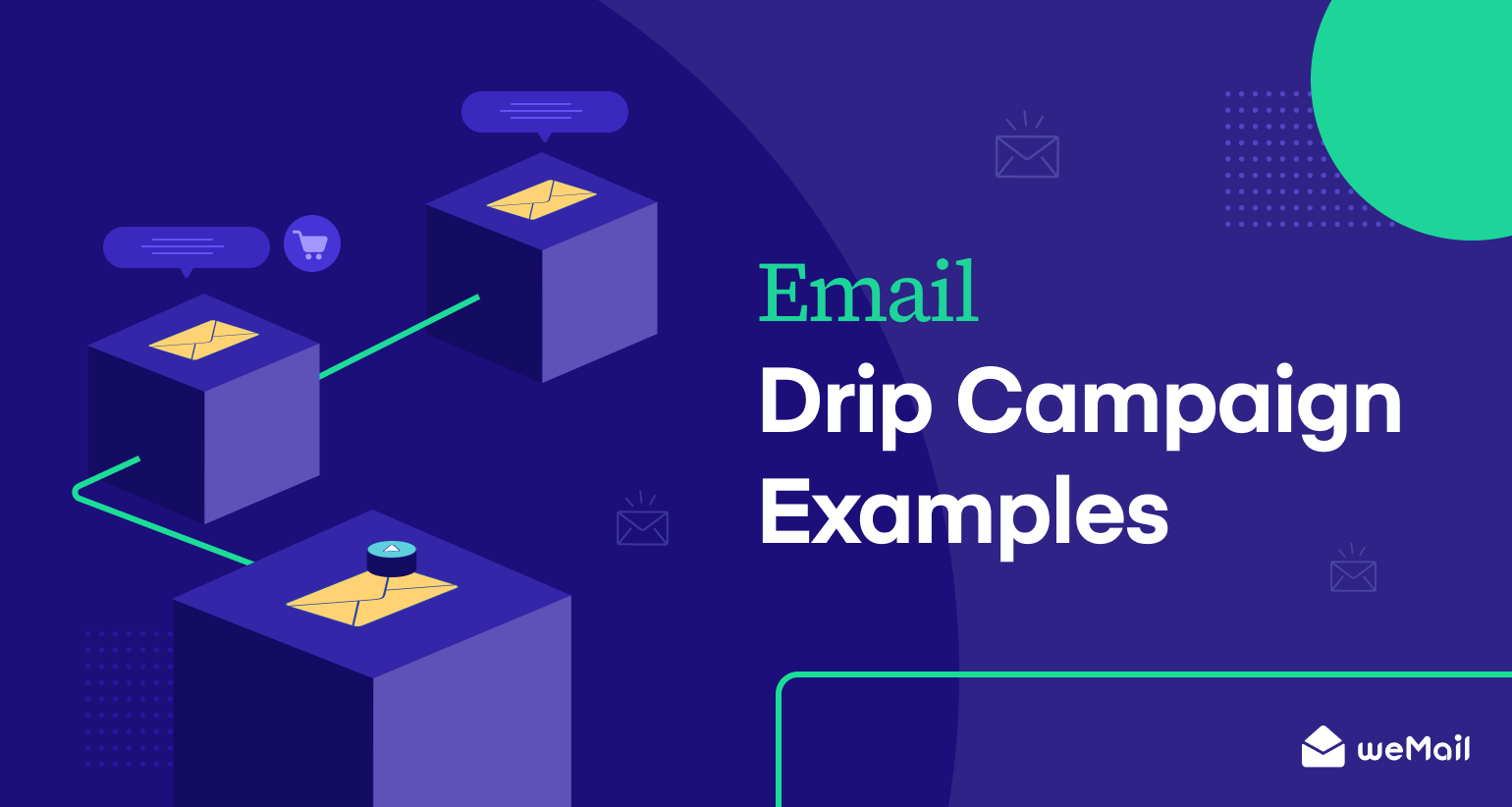 7 Best Email Drip Campaign Examples To Inspire Yours
Your email marketing only gets better if you implement drip email campaigns. Wondering how to do that?
Drip campaigns have the potential to make sales with a gradual user-relationship-building process and much more.
In this article, we have sorted some best email drip campaign examples to inspire your email marketing strategy. After you finish reading, you will learn – what is email drip campaign, some intriguing examples, and tips to take your email conversion and retention to new heights.
What is an Email Drip Campaign
Drip campaigns follow specific user actions or triggers. So, a drip email campaign is a series of automatically triggered emails that are sent to a user following his/her specific actions like a newsletter subscription, enrolling to a service, or not making a purchase after adding a product to the cart, etc.
For any specified action, you can set how many emails to send with your preferred email cadence or sending frequency. Like any other automated email campaign, you can also use email personalization.
Take a look at some common scenarios or a user triggers for initiating a drip email campaign –
Order placement from your online store
Someone sign up for a webinar/ podcast
Attend an online live program after registration to your site
Inactive users
Once a regular customer but not placing an order for a long time, etc
Therefore, drip email marketing has some distinct elements or characteristics that make it so effective- Drip campaigns are automated, they are pre-written, and email marketers tend to map the crucial engagement points.
It's like, drip campaigns are well-structured and in a drip sequence you can expect when the recipient converts. Because the sequences are there to guide a user step by step.
What to Expect from a Drip Campaign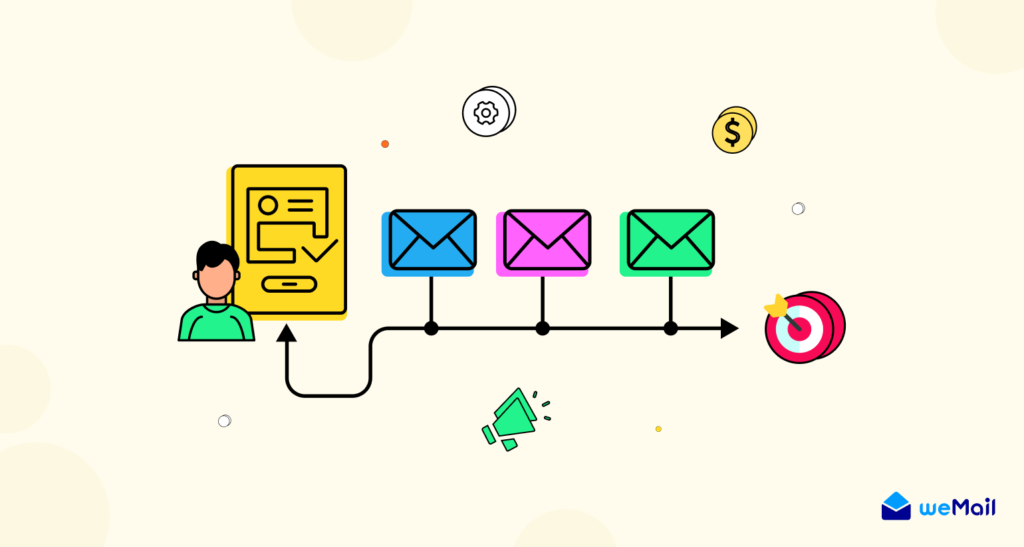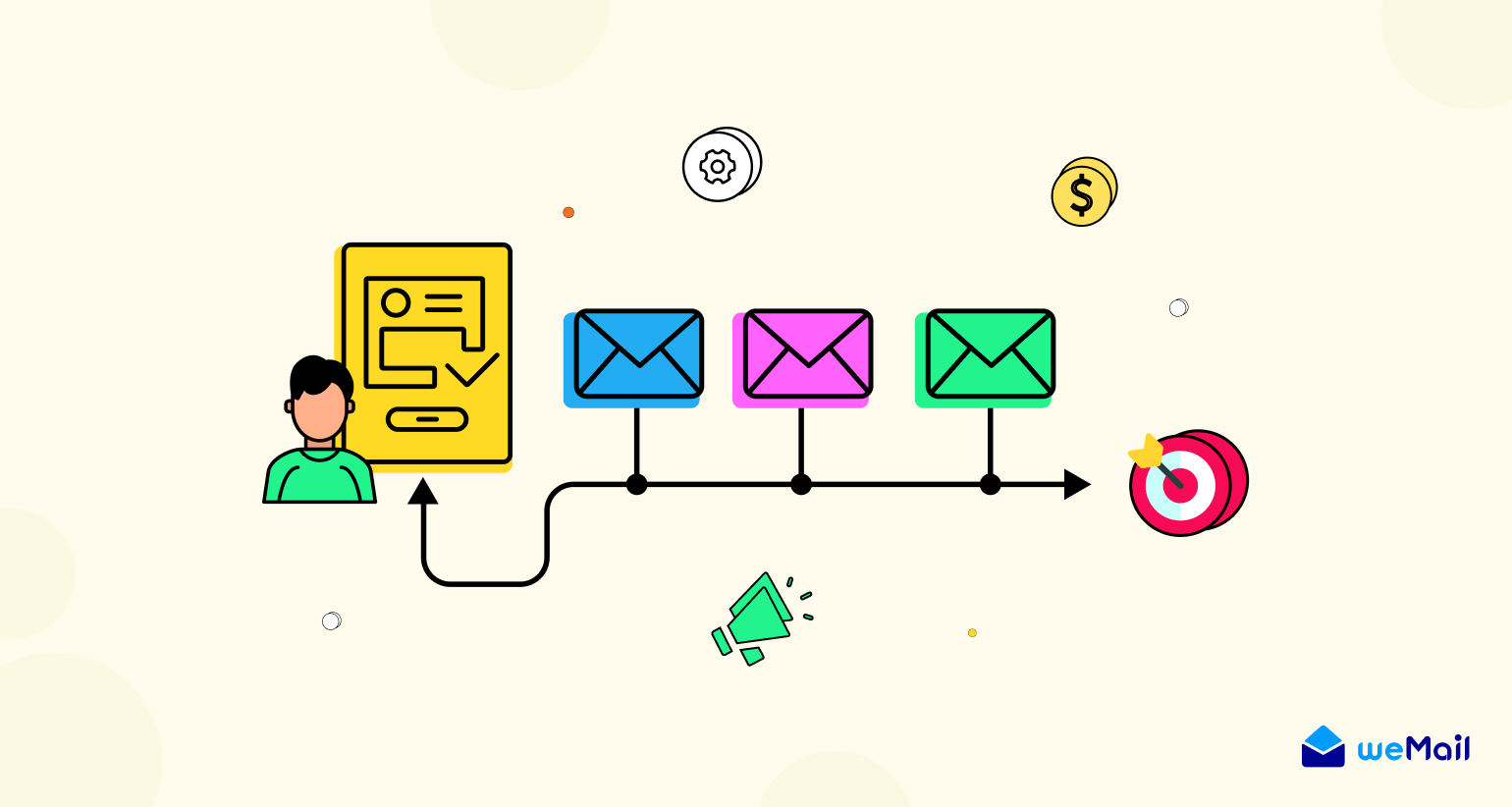 Like any other marketing effort, your drip campaign should also have specific goals. That means, you must create a set of goals or expected results that you achieve through this sequential email marketing strategy.
To set your goals, the first and foremost thing is figuring out the pinpoints through the overall user journey. Checkout the following outcome you could expect from a drip marketing campaign –
Bring back your once-off website visitors
Increase the number of checkouts
Increase user engagement
Initiate a guided user onboarding process, etc
It's possible to achieve all of these goals through an email drip campaign.
For example, you can do it with the weMail automation feature. It will allow you to send triggered-based emails within your selected email lists.
Drip Email Campaign Examples You Should Get Inspiration Now
1. Re-engage Your User Like this Starbucks Email Drip
Data showed us that 45% of re-engagement email recipient reads subsequent emails (Uplers).
Do they work all the time? The answer is simple – they work when you are creative and have something better to offer customers.
Just like the following drip email campaign by Starbucks.
You may be already used to the popular Earth Month Game from this famous coffee chain. Usually, Starbucks runs this campaign throughout April, and with every purchase, they offer the consumers to play little games to win prizes.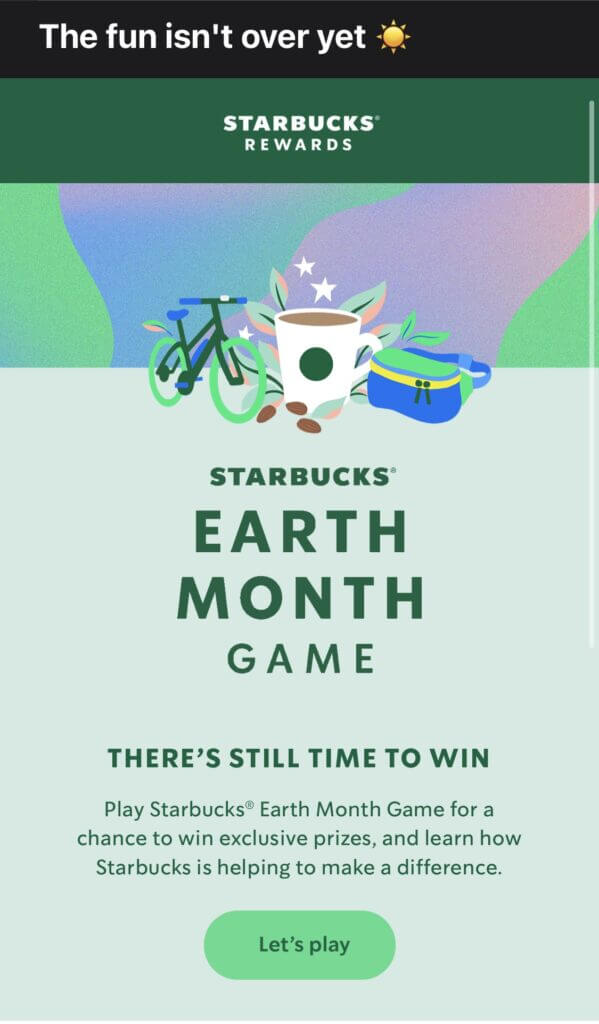 The first email explains the message which is intriguing and communicative. It invites the reader to participate in the game with a simple CTA 'Let's play'.
If someone still not taking an interest, here's the follow-up email to do the job –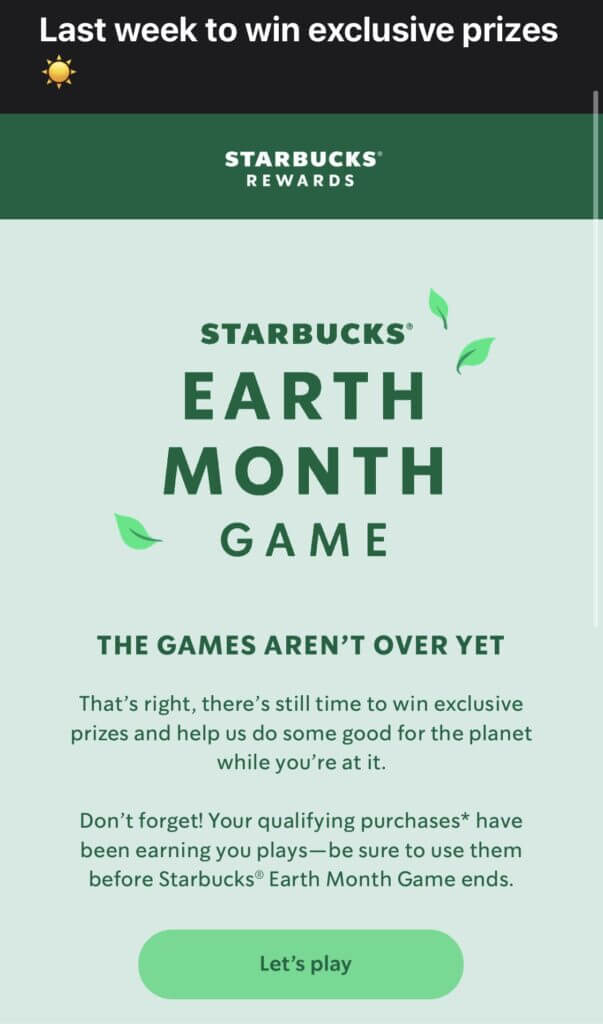 Of course, they have been putting in a FOMO effect here, and good thing, it works. 'The last week..' is a good starter. And, the body copy echoes that effect with the smartest punches. Then again, the CTA placement is just right behind a click from the subscribers.
2. Welcoming New Subscribers with a Drip Campaign Like Patagonia
Someone's at the counter at the busiest hour of the day. And you are running the shop. How to treat that person? Do you want just to wait for his/her question? Or is it better you greet him with a warm smile and ask, 'How may I help?'
The latter one should bring you a happy conversation. Even, there's a saying: happy customers often make it a habit of coming back.
A welcome email is similar to this scenario. If people subscribe to your list, you must greet them with the right content to keep them in the loop.
And, see what's data is telling us – welcome emails have an astounding 68% open rate (Oberlo). And click-to-conversion rate for the eCommerce welcome email sequence stands at a superb 56.8% (Statista).
It's wise to utilize the power of welcome emails with a drip campaign. How? Check this email drip campaign example from Patagonia –

The email begins with a thank you copy. And, the next part welcomes the user to explore more. This is how the email works. It invites the reader to keep crawling to discover new things just after subscribing.
Here's what they did to drive customers to different conversion points of this email sequence –

a. Patagonia is renowned for making brand movies. They share one to interact with the Patagonia brand value.
b. Besides selling fashion accessories, Patagonia has other things to share with the users. like environmental activities, food and beverages, etc.
What made this email a remarkable drip email campaign example?
One: the simple and engaging email copy
Two: Minimalistic but visual design
Three: Actionable copy that works and is inviting enough to make an action
You can get inspiration from their design, sense of user interactions, and the need to use different elements to create several selling points.
3. Limited Time Sales Drip Campaign Example by Leesa
Limited time offer is a broad-practiced marketing tactic. Top brands around the world often go on with this to boost an immediate sales number. And, a perfect drip campaign is what you need like Leesa – a popular mattress and bedding brand.
See what the marketing team of Leesa did. They have created a Black Friday-themed 'limited-sales' campaign using a FOMO effect like the previous drip campaign example we've discussed. This time it takes a completely new turn.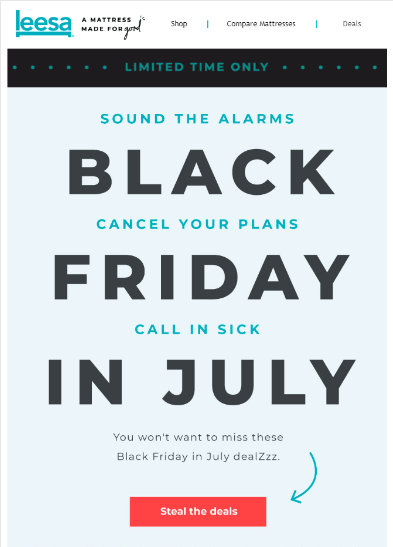 What's remarkable here? We help you to point them out –
One: the copy is superb. We mean, in every sense. The thing 'Black Friday in July' triggers user interest. When was the last time you heard something like that? It's beautiful, effective, and exciting.
Two: the power of CTA with the write copy and color combination. The theme color is light sky, and they blend black and blue to write copy. And a brick read is what you called exciting to take an action. Don't you think?
Leesa didn't stop there. They send a follow-up email to that sequence.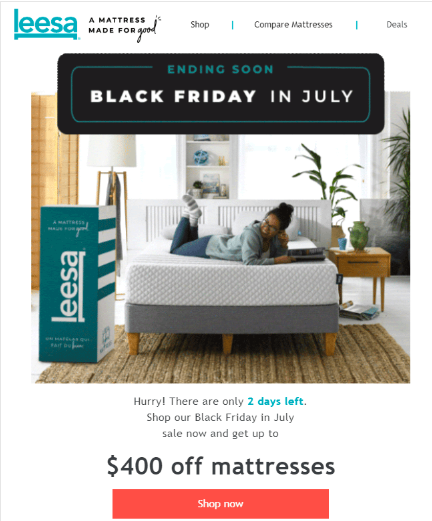 The goal of the first email was simple. Warming up the target audience. And, with this second email, they pitched their offer.
And, just before they closed the curtain, they sent an email only to those subscribers who opened the first two emails and still yet to purchase something.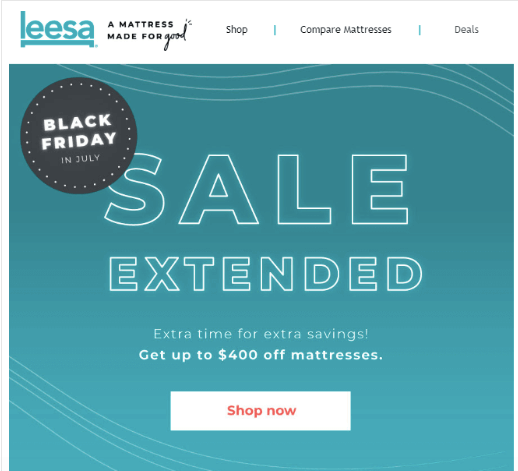 This email said, the time is extended, and the offer is limited to make a shot. Overall, this whole drip email series is astounding from both the quality of engagement and conversion.
4. Drip Campaign for Abandoned Cart
The drip email campaign is a popular way to bring back those potential customers who added something to their cart and left without purchasing. According to Hotjar, abandoned cart emails possessed an exhilarating 39.07% open rate and a 23.33% click-through rate.
Here's how a drip email campaign works for your potential customer who wanted to buy a product but left –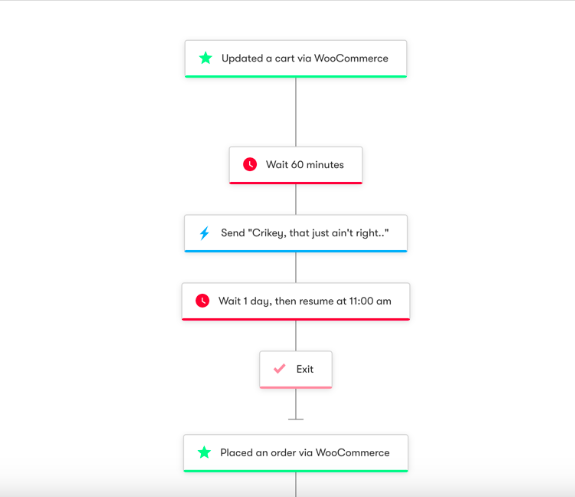 [Source: Drip]
The strategy offers a simple road map –
Whenever a customer add-cart a product, the action is triggered
If the conversion isn't made, the first cart-abandonment email will be sent
If the prospect fails to take action, the sequence will send another email after one day
The whole cycle is designed to accomplish the goal – bringing back customers who have almost made the purchase.
Look what Sonos did with one of their abandoned cart drip email campaigns –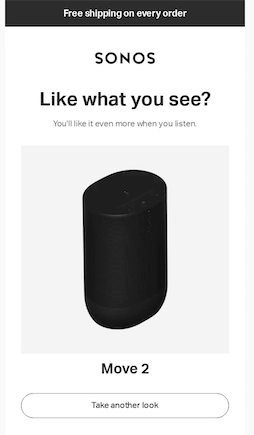 Sonos is popular for its wireless speakers. In this email, they sent one of the simplistic approaches. After displaying the abandoned product, and how good it is, they sent the next thing like this –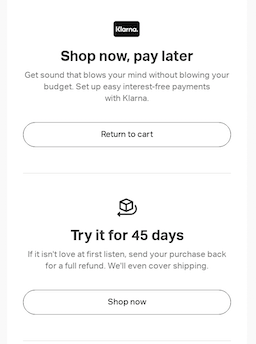 A cart abandoned email without directly mentioning it was a smart idea for Sonos. The copy – 'shop now, pay later' works with a CTA like – 'return to cart'
Also, the closing-up offer is so hard to resist. A commitment for a refund if you don't like the product. And, last but not least, that final CTA – 'Shop now'
5. Make Your Subscription Cancelation Smarter Like Hulu
Unsubscribing or subscription cancelation is a common pattern of a user journey. Retail Drive discovered, 'nearly 40% of subscribers cancel any type of service since the activation.'
What if you are able to improve the situation like Hulu? The entertainment platform did this to make the leaving people think twice before leaving permanently. Take a look –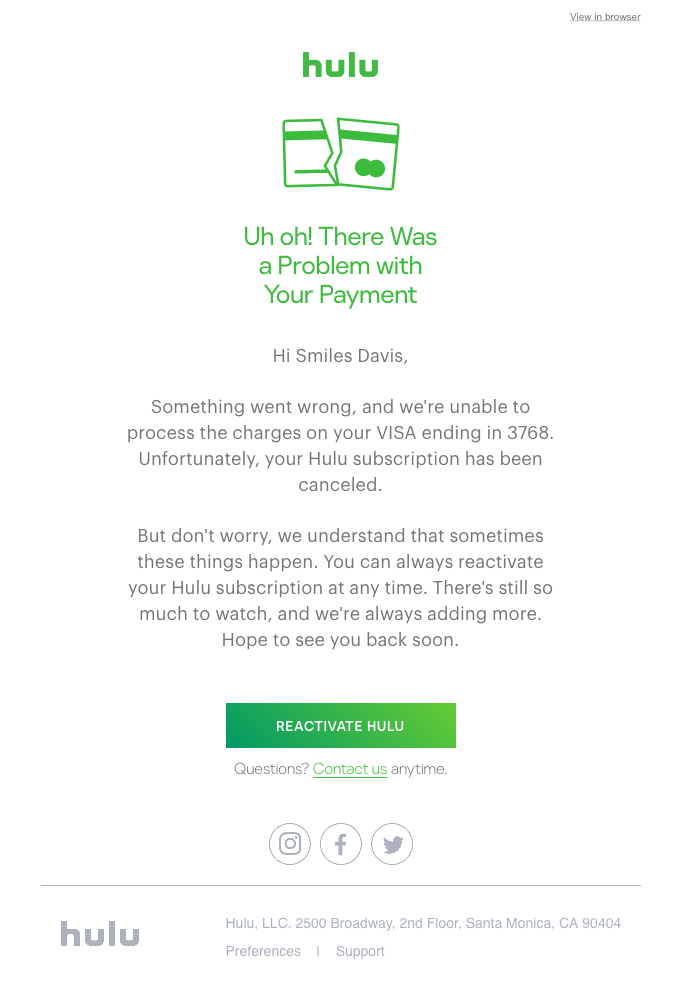 The email copy was well-explanatory. And they pitch the thing like, a user just mistakenly blocks the credit card transaction. And, the team wants the user back like, we are canceling your subscription, but you can always come back to us.'
What works most?
The headline, it's pretty obvious. You could have frowned a little whenever you see something like that in your mailbox, no?
The second thing is the CTA that said – we couldn't process your payments. We gave you the reason. Why not subscribe again? And, they have a follow-up email this simple –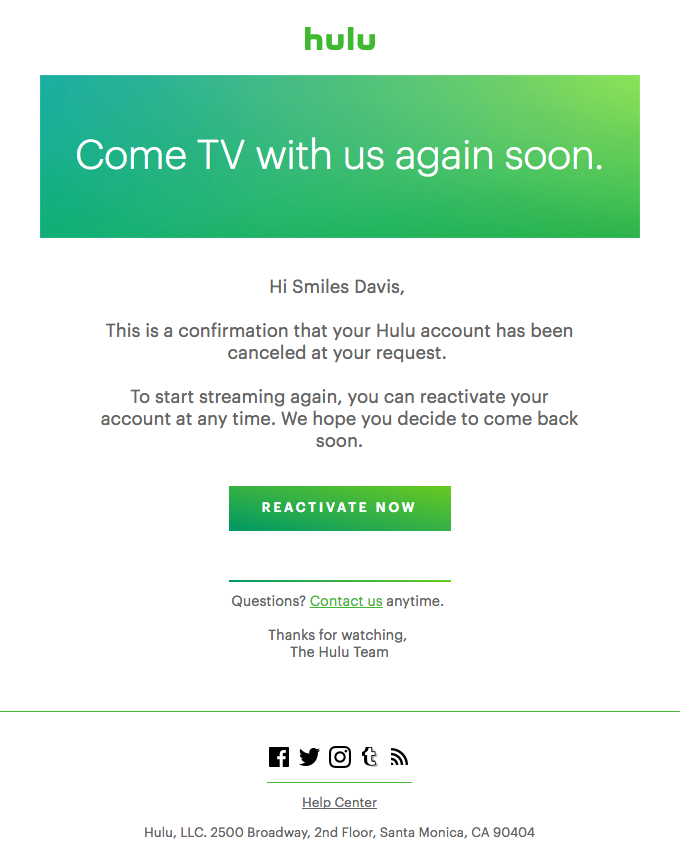 The above email is a pure invitation, and also a cool reminder. The headline copy is stunning. The body copy made the confirmation. And the leaving note is a CTA – it's always a welcome for us, please reactivate anytime you want.'
6. Promotional Follow-up from Copyblogger
Copyblogger is a learning platform that aims to educate writers with the modern techniques of marketing and technology.
The following drip email examples of their '50% discount' offer are one of their smartest.
The following offer is designed for their newest subscribers. Check the first one –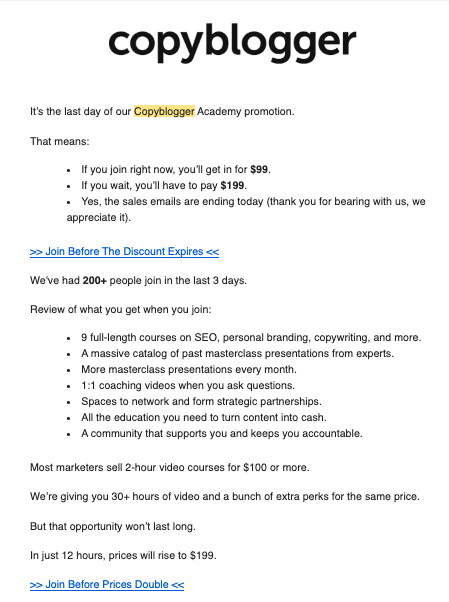 The email is one of a kind that went less for visuals and much for simplicity. It evokes a solid strategy – they teach people how to write, and their email should follow suit.
What do we like most? Obviously, the brand strategy is to implement powerful copy like – 'It's the last day of our Copyblogger promotion' and in the next part, they explain the offer with simple bullets. And, the CTA is guiding enough with a clear intrigue.
Here's the follow-up email for that same promotion –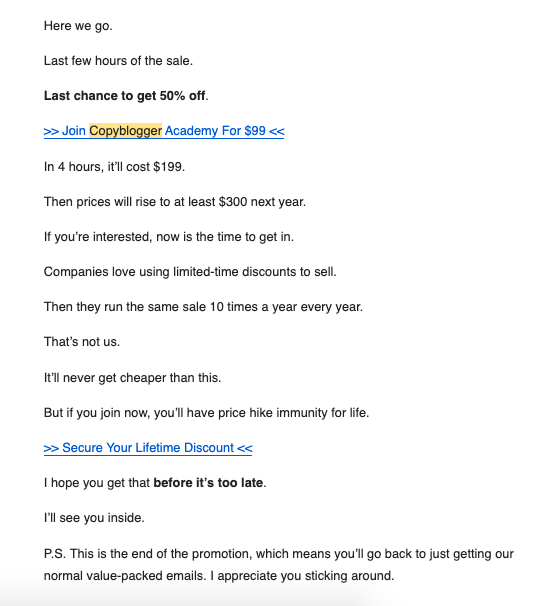 The email said – the offer is closing. The FOMO is effective, and we've noticed brands are quite a bit keen to use the tactic for one sureshot reason – it works.
So, what should be the takeaway? Your game is to turn even your promotional email into fun. A twist, is some copies gear up the email recipients desire to buy.
7. Event Invitation Drip Campaign Just the way Zuper Did
Organizing an event is way more effective to spread learning, or meet up with like-minded people. If you are a product owner or even a non-profit humanitarian organization – a meaningful event always boosts your brand value.
However, acquiring attendees is a real challenge for any kind of event organizer. And, we've found a deal-breaker like Zuper's drip campaign for one of their offline event in Dubai.
Zuper is a SaaS software builder that specializes in field service management software, and the event was a big thing for them. Here's the first email which is a simple invitation –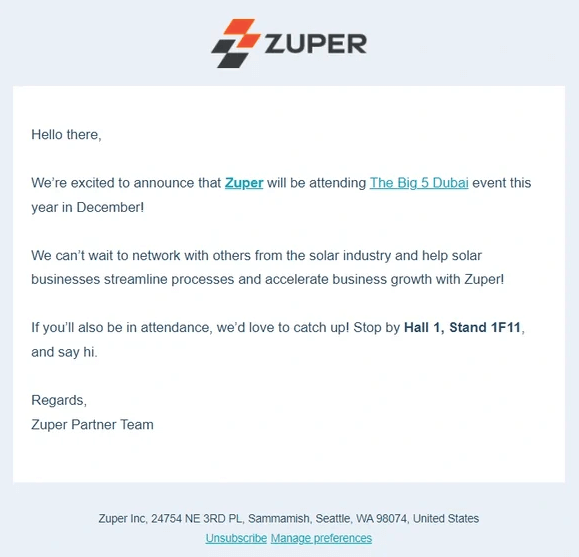 The email does not do much regarding the visual. And, it fits the bill because the target audience joining the event love plain and direct message from the brand, most of them are corporate clients.
So, here is the second email –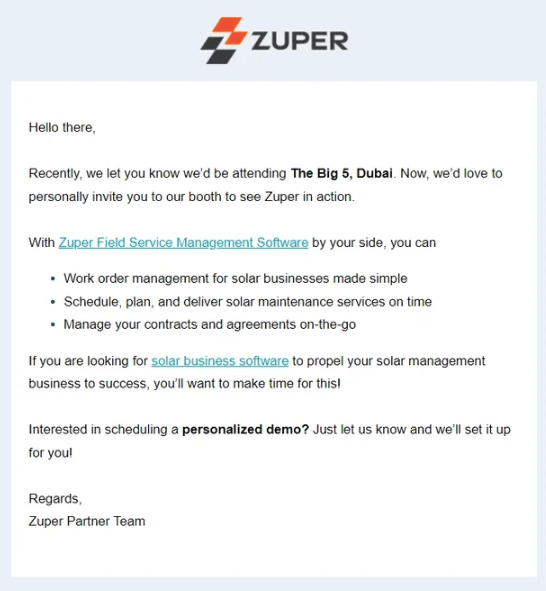 The first email was a warming-up. The above one is all about explaining the event and the benefits like experiencing a demo of how their prospected 'solar business software' does the deal.
And, the drip email close it with a final follow-up –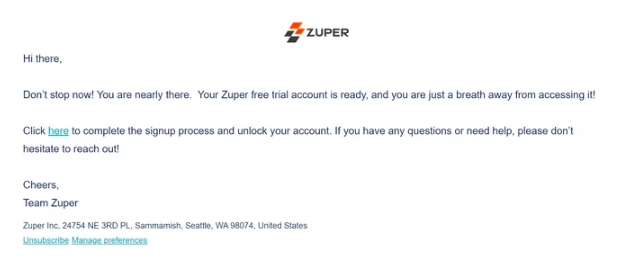 All you need to learn is the consistency of the approach to get the thing done. The final email of this drip campaign wants the reader to complete the conversion, and they offer incentives for that. Don't stop now means, 'Wait, we've something more to offer.'
You can also grasp the ultimate power of simple copy, and how Zuper aims to turn some cold leads into free trial users and engage them in a playful way.
Try Email Automation for Your Email Drip Campaign
Now you have all the email drip campaign examples to learn from. Have you found any similarities among them?
If you want us to tell – they all have one quality, a clear goal, consistency, and creativity. And, they all have implemented the best email automation tool that can send trigger-based email campaigns like drip.
And, weMail have all the needed feature like automation and a smart email editor to turn your next drip campaign into a winner. Think about trying.
Subscribe To Our Newsletter
Don't miss any updates of our new templates and extensions
and all the astonishing offers we bring for you.