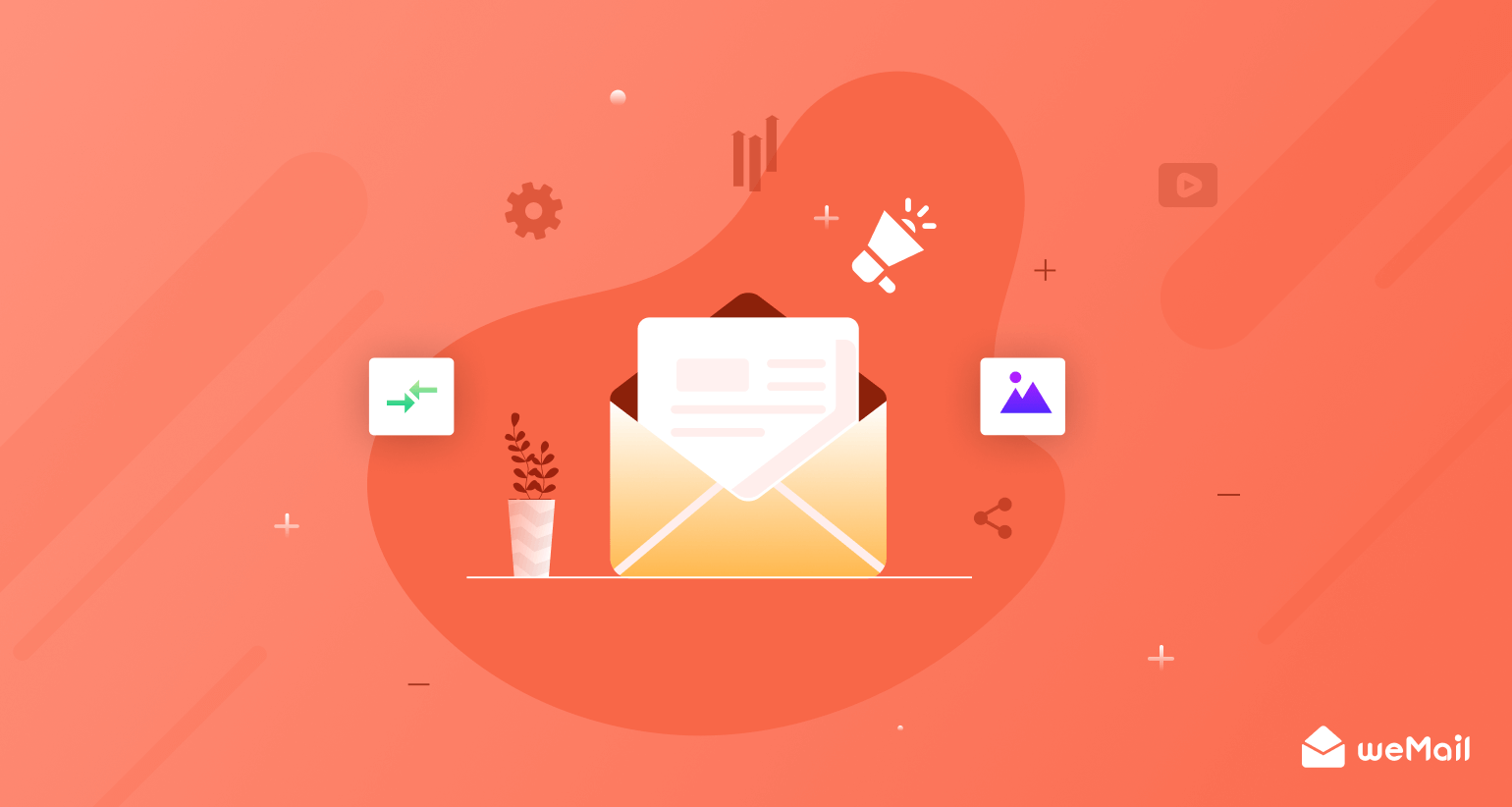 Feature Update – All New Advanced Email Automation Launched by weMail
Big news for weMail users. Recently, weMail has launched all-new email automation features to take your email marketing to the next level. Before this update, you used to send automated email campaigns by using your preferred SMTP, super flexible editing options, and a template library that was highly customizable.
Hence, the new weMail advanced email automation will help you to send even better email campaigns with a more streamlined user experience. It will require less effort than earlier and can bring in more conversions. How? Keep reading this blog and discover all you need to know about our exciting new feature.
How Email Automation Works – a Short Note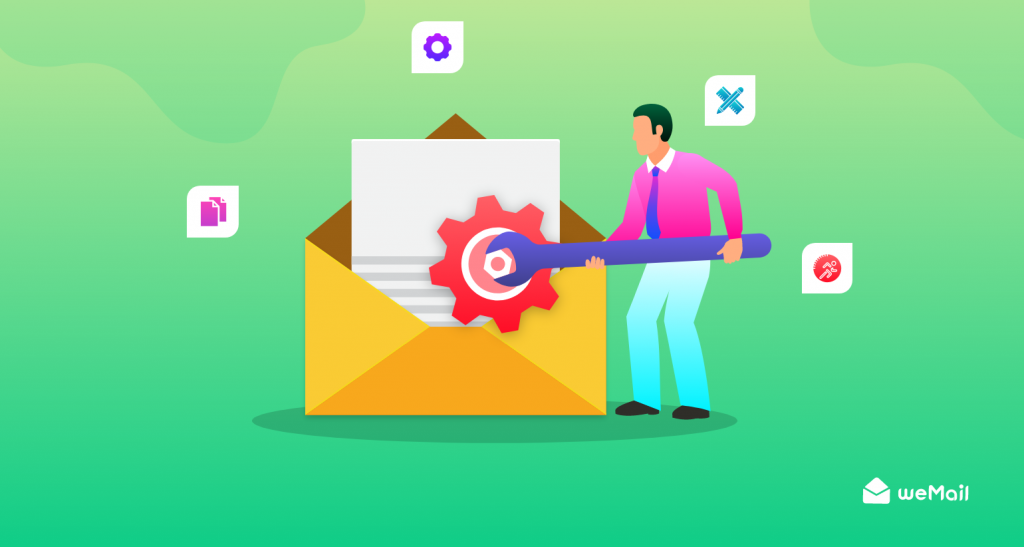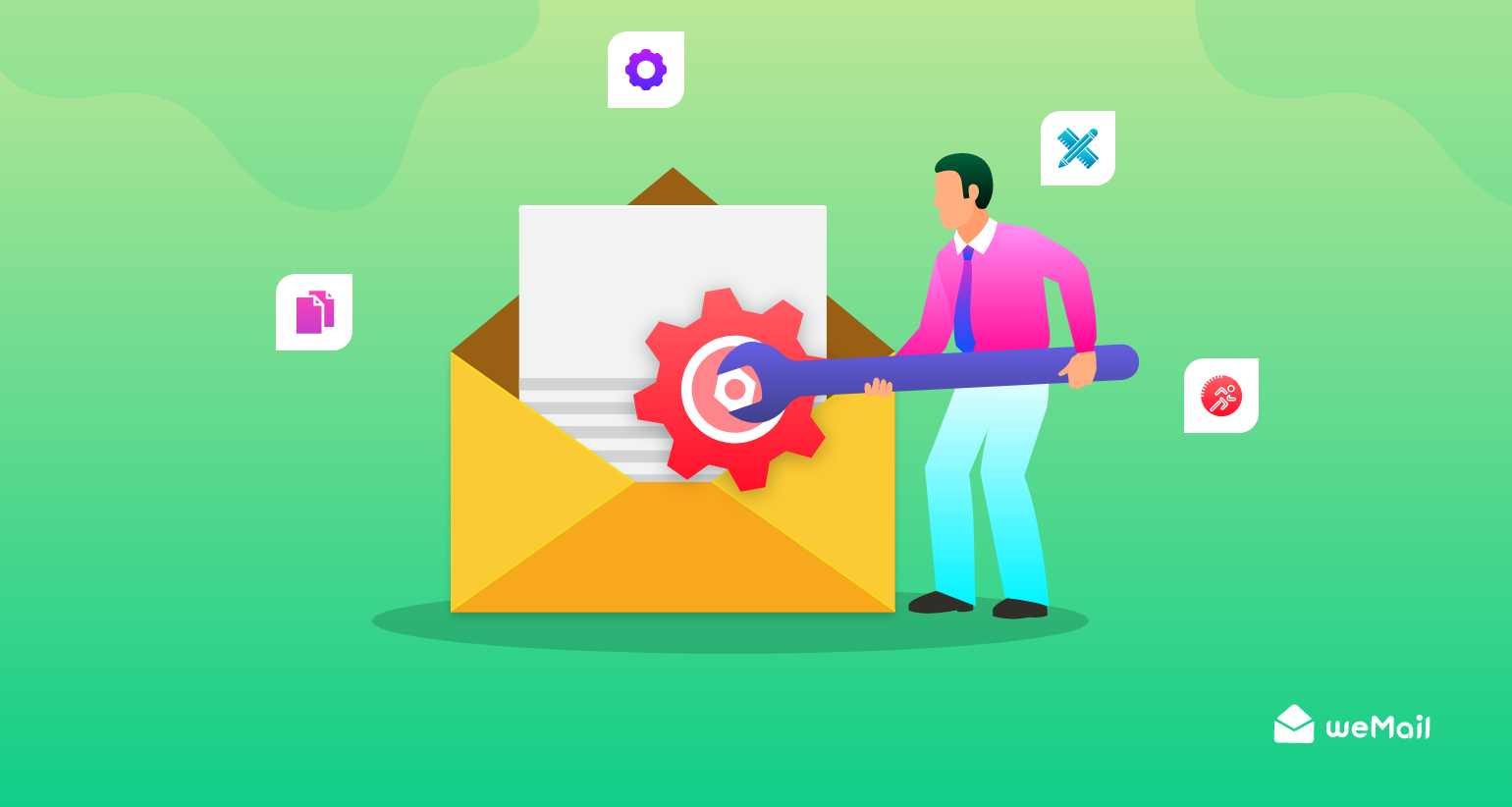 Earlier, you have options to choose your desired email list (you can automate, import, or create a manual list with weMail), and send an email series to that list for a certain campaign. It is called a one-off promotional campaign.
The magic of the all-new email automation feature is this – once you've set up an automation series, your emails would go on to an individual whenever they meet a certain trigger.
Let's make it more clear.
For example, you want to send an eBook to people who have subscribed following one of your eBook opt-in forms. The weMail email automation feature brings you the power in this regard. What you need is to create an automated email series that contains your eBook. Whenever someone fill-up your opt-in form, they will get the email you designed for them automatically.
It means you can set time, delay, customize the email series in any way you need. Then it is up to your visitors, subscribers, and users to fall in line to get you.
It would be taking so much time when you don't have this kind of automation, and send your eBook manually each time someone subscribed. That's how weMail advanced email automation can lessen your effort and supercharge your email marketing process.
Well, this is only a part of it. This feature has a whole lot to offer.
Some Major Triggers for Email Automation
We have only explained how you can send an eBook to your subscribers. There are a bunch of other crucial triggers, if you are able to manage them properly, they can make your email marketing more relevant and increase conversion rate.
Take a look at the list of triggers you can leverage by our all-new advanced email automation feature below –
Welcome email series
Whenerever you published a new blog
If somene subscribed to any of your email list
On various occassions
Cart abandonment
New site of feature updates, etc
Benefits You Will Get While Using the Advanced Email Automation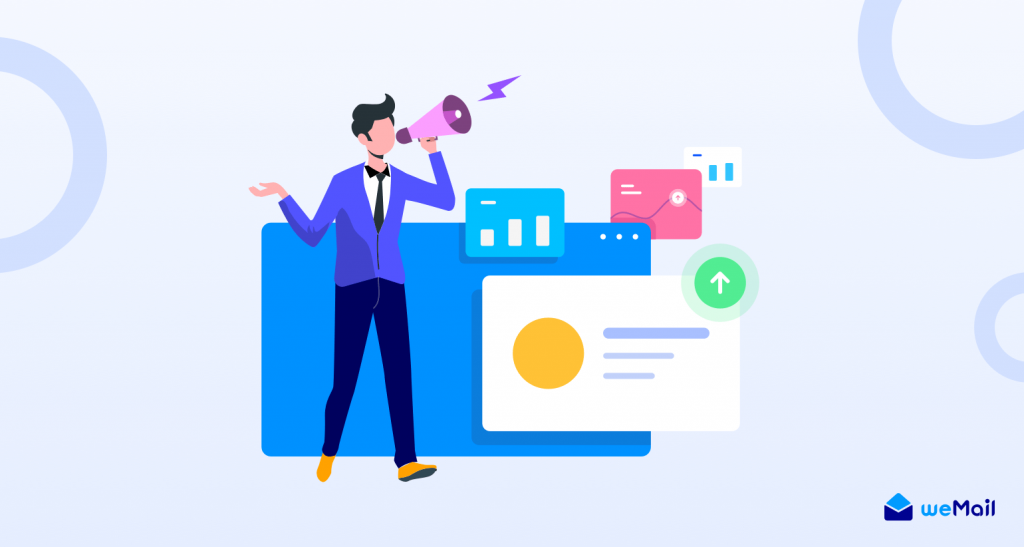 Email automation is all about improving user experience, saving time and money. So if you have a better version of it like weMail's all-new email automation, you can send highly customizable and personalized email campaigns to your subscribers, and find a lot of saved time to invest in other similar tasks. Suppose, you can invest more time in customizing your email copy, marketing process, engaging more with your users.
One-off campaigns and newsletter automation are still relevant. The new email automation feature only gives you more power to it. However, we've sorted out some reasons why should you go for it –
1. A Scalable Email Marketing and Workflow Efficiency
83% of it decision makers believe workflow automation is essential to digital transformation.

McKinsey
This is one of the core reasons you should go for email automation. It will give you a well-defined and consistent way to develop a scalable workflow strategy. As we've already told you, once you set automation, you can send emails to countless people each time they hit a trigger. Therefore, you can look after your progress and results all at once in one place.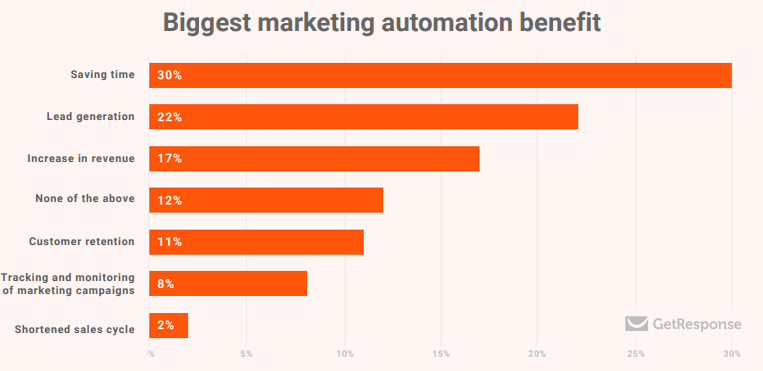 2. Enhanced User Experience
With weMail advanced email automation, you can provide users with a more personalized experience. Each time they got a well-mentioned and customized email, they will be feeling more interested in your venture. This is how you can provide an enhanced UX nonetheless. So, not an only payment or renewal reminders, sales emails, or propagation, automation can also help you to send highly engaging welcome email series, onboarding, and incentive emails.
3. Find Our People Who are Losing Interest and Work on It
This is one of the most crucial features of modern email marketing. You must find the deadwood, remove them from your list. Hence, you also sort out the people who are losing interest in your business. The new weMail email automation has this exclusive feature. You can easily find those people who are inactive. After that, it is possible to send reminders or customized emails to bring them back. Therefore, you have multiple options like total removal, etc.
4. Increase a Higher Open Rate and Click-through Rate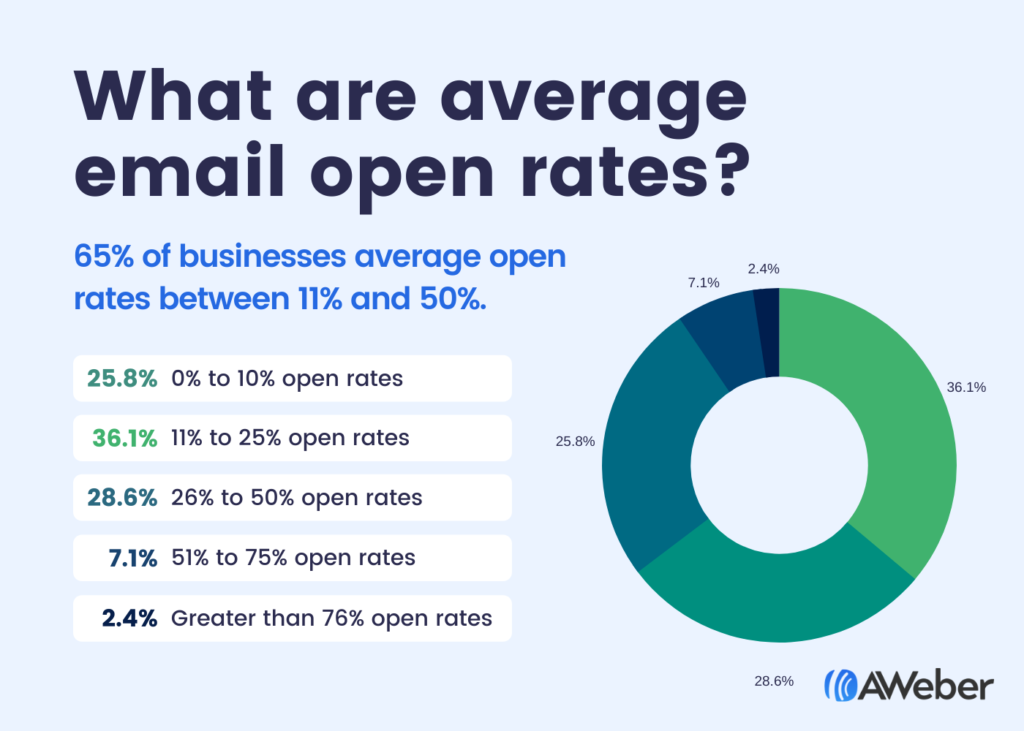 It's a fair question. Does email automation bring in more open rates and CTR?
According to Epsilon, the answer is yes. Triggered emails indeed can generate a 70.5% higher open rate and 152% higher CTR than generic email newsletters. And, in regard to overall marketing automation, it can give you 20% more productivity.
The data is based on pure logic aka reasons. Personalization in email marketing works like a triumph. Customers feel safe to comply because they always have a trust issue unless they are treated with care and a customized offer.
Our all-new email automation lets you do all these things in one place, with a robust and streamlined process.
The all-new Advanced Email Automation Feature by weMail – An Overview
Well, we believe you understand how automation can open a new window for your email marketing and beyond. Therefore, we have explained how it works step by step to improve your UX, save time, and money. Now it is time we can jump into the core reason of this blog. Here's an overview of weMails cutting-edge advanced email automation feature.
You can simply start using it by following the few steps given below –
Step 1: Start Your Very First Advanced Email Automation with weMail
Go to your WordPress dashboard, and then click on automation to get in there.

Then click on create new. You will be taken to the below popup. It is your starting point of automation.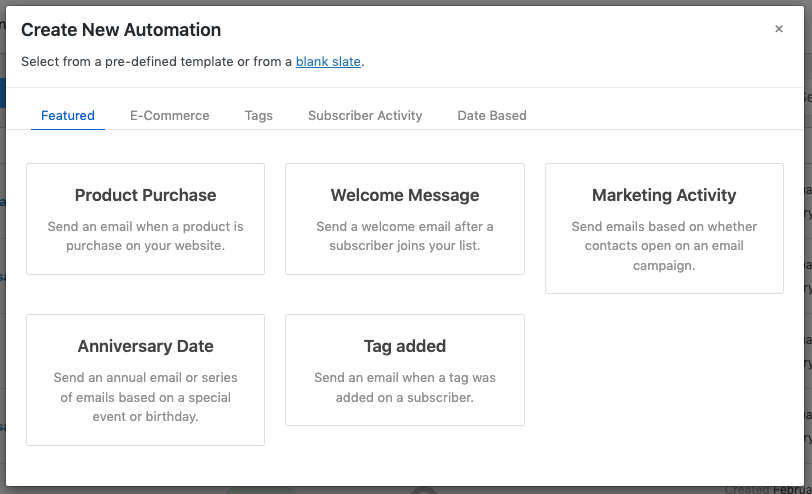 Choose Any types of email campaign you want to send from the given option. There are five featured categories. They are – Product Purchase, Welcome Message Sequence, Marketing Activities, Anniversary Date, and Tag Added. Tag added is an advanced situation, it will allow you to add a new tag to any of your subscribers. And each time a tag is fired, that user will get your email designed for that tag.
Step 2: Setting Up
In this step, you are about to set up the advanced automation feature. To do this, choose any of the pre-built automation templates. For example, you can choose "Welcome Message" automation.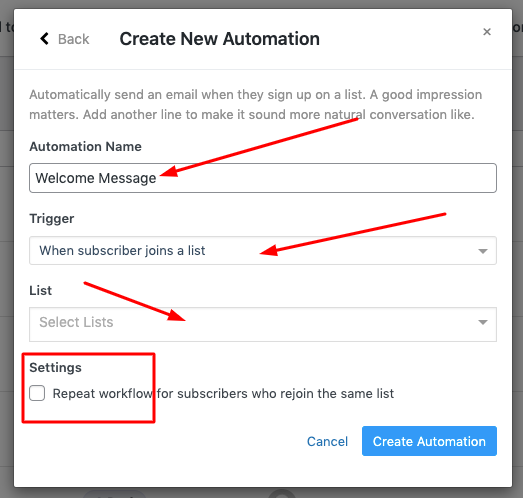 In the first box, you have your automation name. The second box is for triggers.
You can choose one from a set of different trigger options initially from the dropdown menu. In the advance section, you can select several triggers for the same user anyways.
The third and the last box is for selecting an email list.
If someone rejoins the same list, you can repeat the same workflow. In case, you want to do it, you can checkmark the box. However, it's an additional option. After selecting your automation template, trigger, and email list, you can click on "Create Automation" to start over.
Step 3: Customizing Your Email Automation Process
The third and final step is all about customizing the automation process. Take a look at the dashboard. After clicking on the "Create Automation", you will be seeing the page below –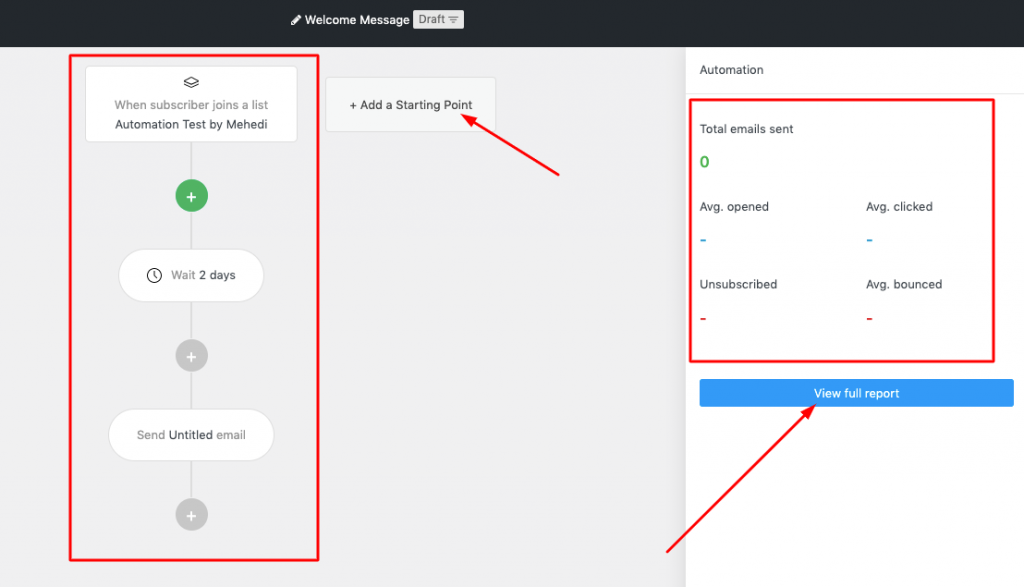 The process works mainly in three steps.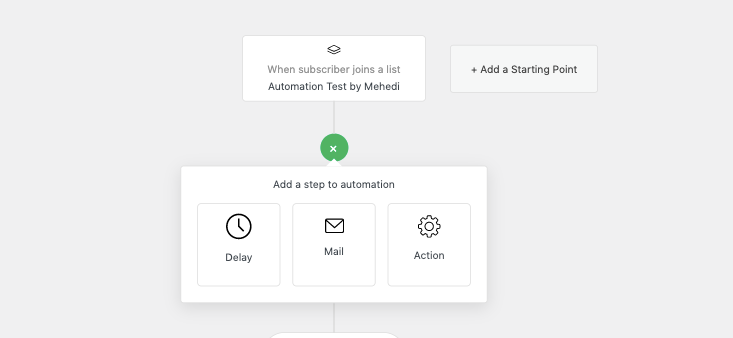 Delay: In this option, you can set the delay. After a subscriber fire, a trigger or someone join a certain list, you can set when you want to send an email.
Mail: The Mail section is all about customizing your email for the desired campaign. After the initial setup, you can directly go to the template library and come back to the automation dashboard and use the designed email at ease.
The Action: This section helps you to choose any particular actions. Some of the prebuilt actions are – update a custom field, move to a list, copy to list, remove a subscriber or add a subscriber to a list, apply or remove a tag, etc.
In between these three steps, you will get almost everything you need to automate your email campaigns. For example – you can take specific notes for any user, set conditions, run multiple starting points, and the overall streamlined process lets you monitor your progress from one place.

After you've set up your process, just go to the top of the page and activate the automation if it is ready. That much simple it is.
Over to You
In its sophomore year, weMail is bound to solve all the impending issues you are facing. Bringing in an advanced automation feature was a call of time. It was necessary to step further and beyond to give you a cutting-edge email automation platform.
We believe the new automation feature will improve your user experience and the same to your business. We will keep updating all the parts to provide you with more. Let us know if you have any questions.
Subscribe To Our Newsletter
Don't miss any updates of our new templates and extensions
and all the astonishing offers we bring for you.