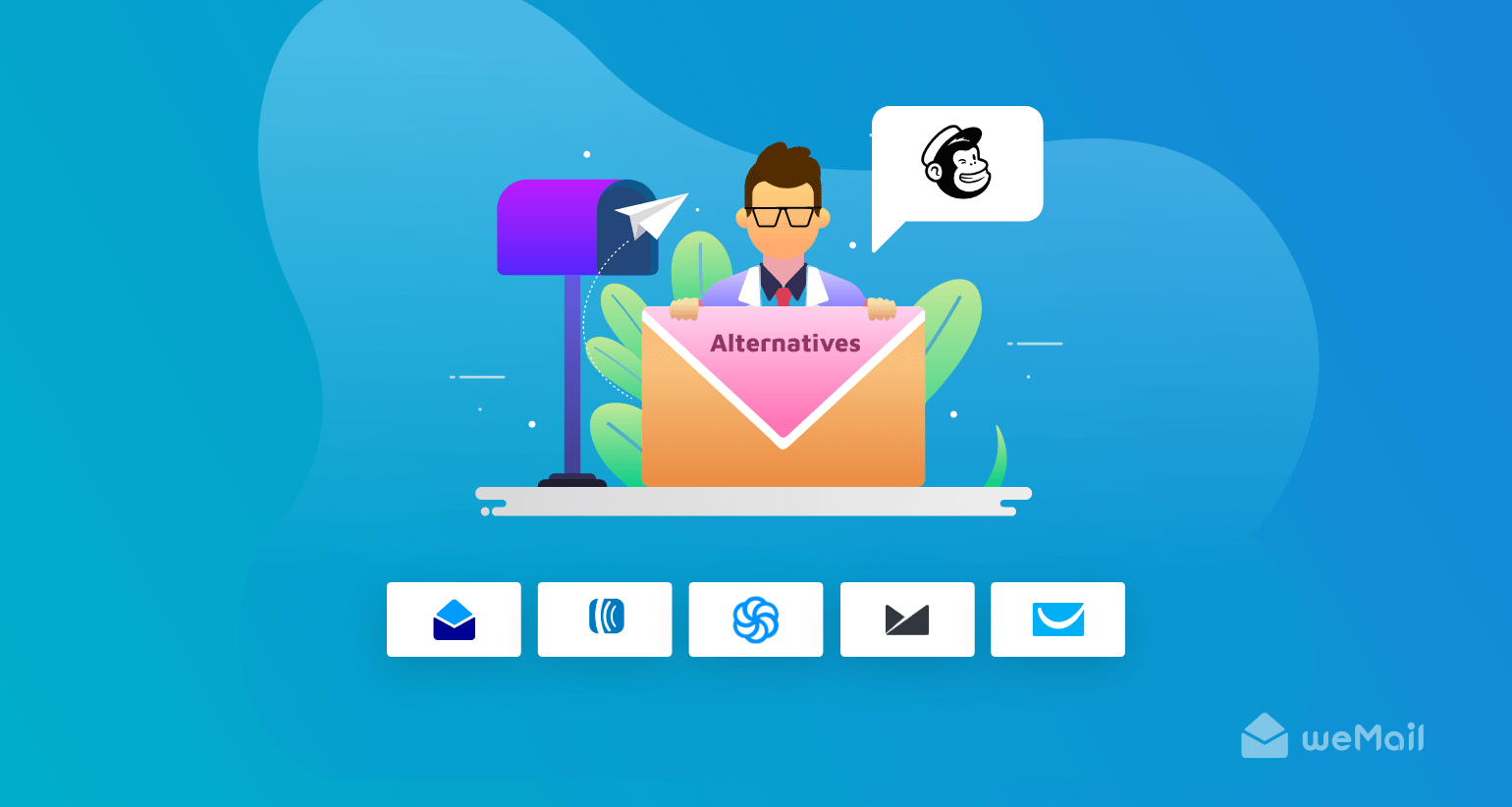 8+ Best Mailchimp Alternatives For Your Business (Expert Pick)
Are you searching for a Mailchimp alternative? A lot of people are doing so. Though Mailchimp is a global brand and immensely popular to email marketing service users, it does have limitations.
Maybe you don't like their recent updates, customer support, or overall service. Or you just want to move on with more flexible and affordable solutions. Hence, there are a lot of similar email platforms that simply can put you at top of your game.
In this post, we will show you some of the best Mailchimp alternatives that can boost your email marketing.
When It's a Good Decision to Choose a Mailchimp Alternative
Companies around the world have sent more than 1 billion emails per day using Mailchimps. They started their journey back in 2000. And since then, become the leading email marketing platform globally. Its interface is intuitive, simple, and beautiful.
However, one of the top credit behind Mailchimp's immense popularity goes to its free plan. Anyone could use it anytime they want. But recently they limit the features in free versions. Furthermore, they make changes to premium plans pricing.
On the other hand, it's an old-school platform, even one of the oldest. They update their features rarely. Mailchimp is a huge brand and seems like its services also depend on the brand name too much nowadays.
Now take a look at these scenarios that may lead you to a Mailchimp alternative.
When you want an email marketing platform that is powerful yet more customizable
Up-to-date with the newest email automation features
Affordable either from the free plan to pro, both
Simply you need a change of email marketing tool
If you have any of these situations, it's high time you can go for a Mailchimp alternative.
Top Mailchimp Alternatives to Look for
You can see a lot of email marketing tools in the market. Thus it's not an easy task to find your perfect match. You need to consider the advantages, drawbacks, compatibility with your web platform, demographics, and cost.
To lessen all of these labors, we have created a list of Mailchimp alternatives that are robust and exceptional than other options. Let's follow-through.
AWeber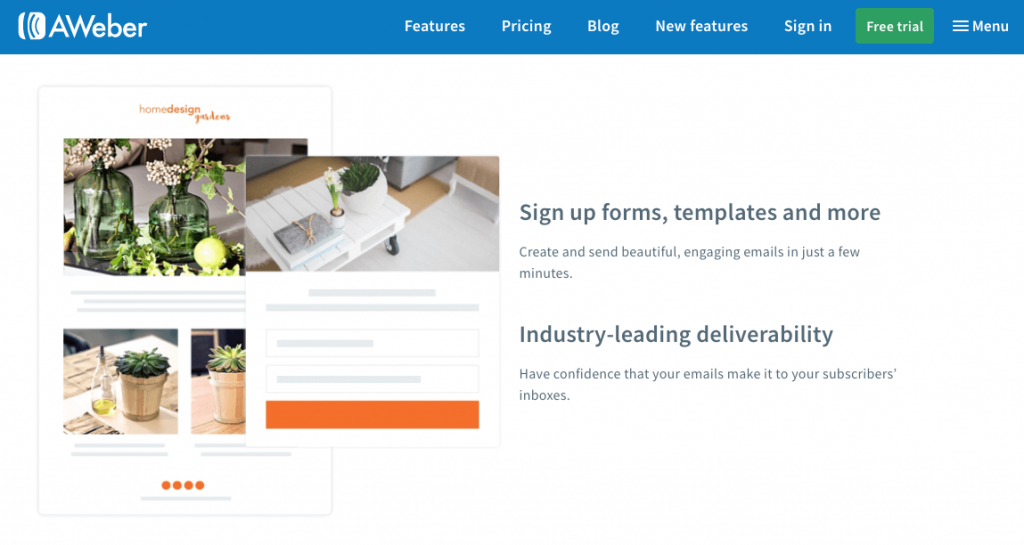 Aweber is older than even Mailchimp. It's providing email marketing solutions since 1998. Unlike the latter, AWeber consistently updates its features and design layouts. It's always best suited for small and medium businesses.
Top Features:
Drag and drop editor has more than 700 responsive email template
Produce automatic newsletters from your recent blog posts
To trigger automated campaigns you can apply tagging
Enable multiple users in a single account to team collaboration
Third-party integration with AWeber's API
Easy Subscriber Management
Pricing:
You can get a 30-day cost-free trial period. And then you need to choose a premium plan nontheless. AWeber offers five different pricing plan starts from $19 to $149 per month. In case you have more than 25000 subscribers, AWeber offers a special customized price for your business.
Sendinblue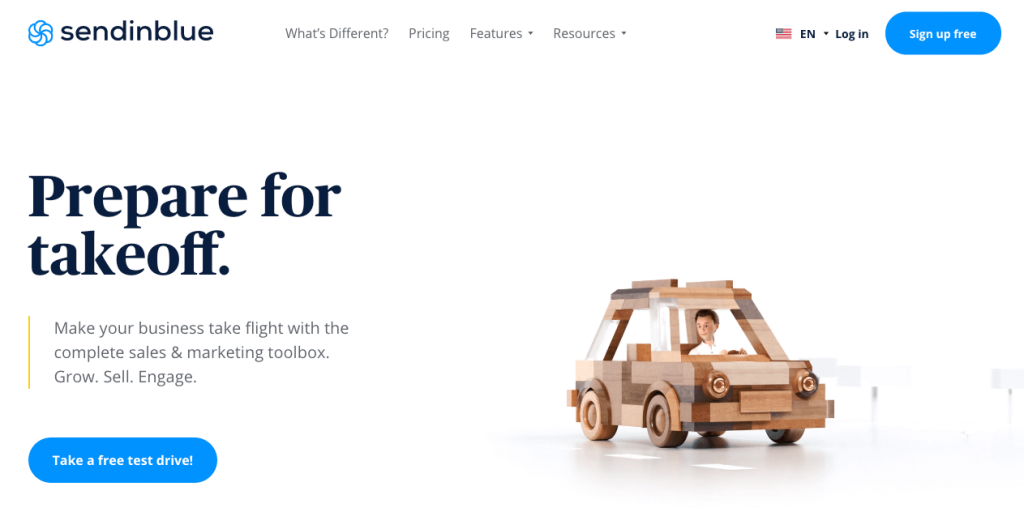 If you love to customize your email with a lot of creative options, you may like Sendinblue. Their template library is vast. The drag and drop editor gives you immense possibilities and easiness. Moreover, you can send personalized emails with their enhanced A/B testing process. You just compose your newsletter and the machine learning optimization will guide you to retargeting.
Top Features:
Complete email marketing solution with SMS marketing and Chat
CRM, Transaction Email, and Segmentation
Dedicated landing pages for each of your email campaign
sign-up forms, and Facebook Ads
Powerful AI support for retargeting customers
Pricing:
The free plan is quite generous. You can send up to 300 emails per day. Sendinblue offers four different premium plans for advanced users to start from $25 to $66 per month. Furthermore, you can customize your pricing for enterprise solutions.
GetResponse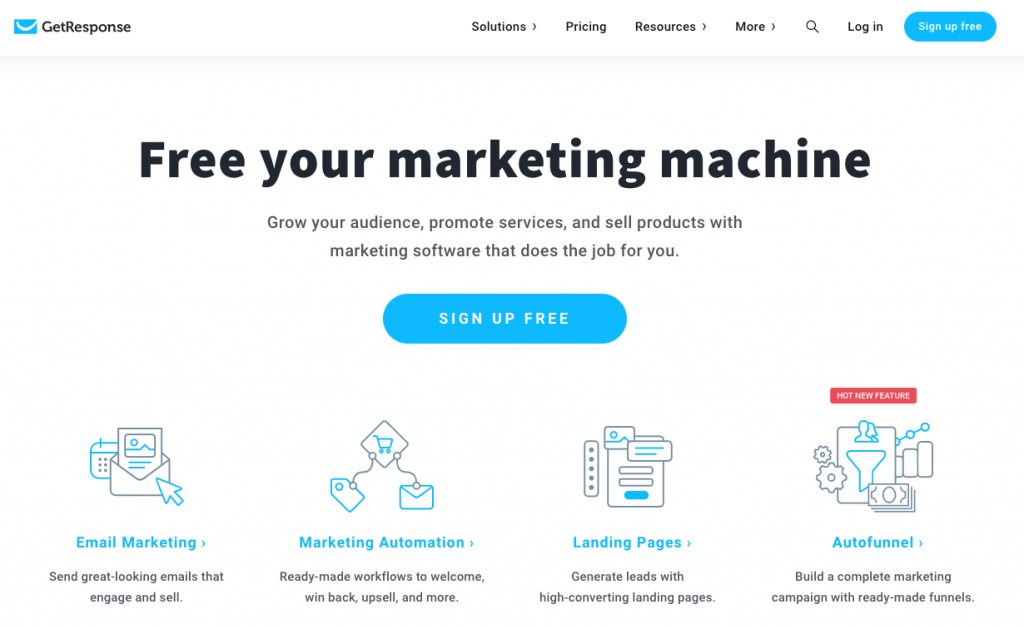 GetResponse is providing email automation services for 183 countries in 27 languages. It's one of the popular market leaders. Doing business for more than 15 years. It can be a reliable Mailchimp alternative for your business. It's a total digital marketing solution, and email marketing is only a bigger part. However, you can just choose their email services anyway. They can help you send the right emails at the right time. That's what their promises to keep.
Top Features:
One-time email broadcasts to sending updates and announcements
Intuitive autoresponders
Event-triggered automated emails
Segmenting your email strategy
Perfectly-timed email sending
Pricing:
The basic plan costs you $15/month for a list of 1000 emails. Hence, if you have a bigger opt-in list there are customizable pricing and two different pro-version that stand for $49 to $99 a month consecutively.
Campaign Monitor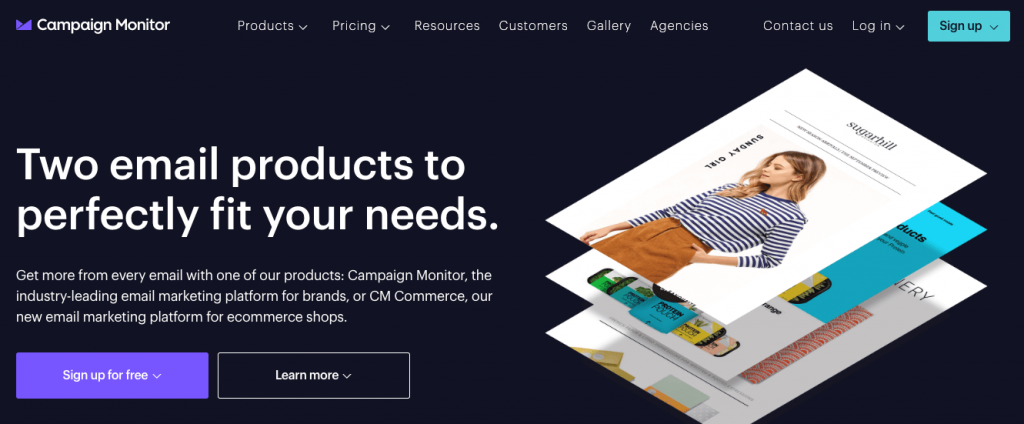 Campaign Monitor is a complete email marketing service for SMEs and large companies. It has two core email services. The first one is email automation for any business and web platform. The second one is only for eCommerce stores that want to run successful email marketing campaigns. It's easy to use, has hundreds of pre-made email templates, and all the features are highly customizable.
Top Features:
Drag and drop email editor
Easily customizable email templates and template library
Send event-triggered emails
Get analytics in your dashboard
A lot of third-party integration
Sending highly personalized emails
Unlimited spam testing and inbox previews for premium plans
Pricing:
Campaign Monitor has three premium pricing. They are Basic ($9/month), Unlimited ($29/month), Premier ($49/month). However, you can start for free with limited advantages.
MailPoet

MailPoet especially centered on WordPress based websites. So it would be a good choice for WordPress users. You can check their designs only even for eye delights, they are such candies. You don't need any design expertise to apply their templates for your newsletter campaigns. All the functions are drag and drop. It's very popular among WordPress user and highly comparable to any Mailchimp alternatives put there.
Top Features:
Powerful email list building
Intuitive drag and drop template editor
Send triggered emails
Get analytics and statistics of your email campaign
Organized subscriber management system
Flexible WooCommerce integration
Advanced level delivery infrastructure
Best support service powered by industry experts
Pricing:
Up to 1000 subscribers, you don't need a premium plan. Hence, businesses with any size of email lists can choose a plan according to their needs. Pricing starts from € 13 to € 293 per month. If you want an enterprise solution that exceeds 70000 users, you can contact them for a tailored costing plan anyway.
weMail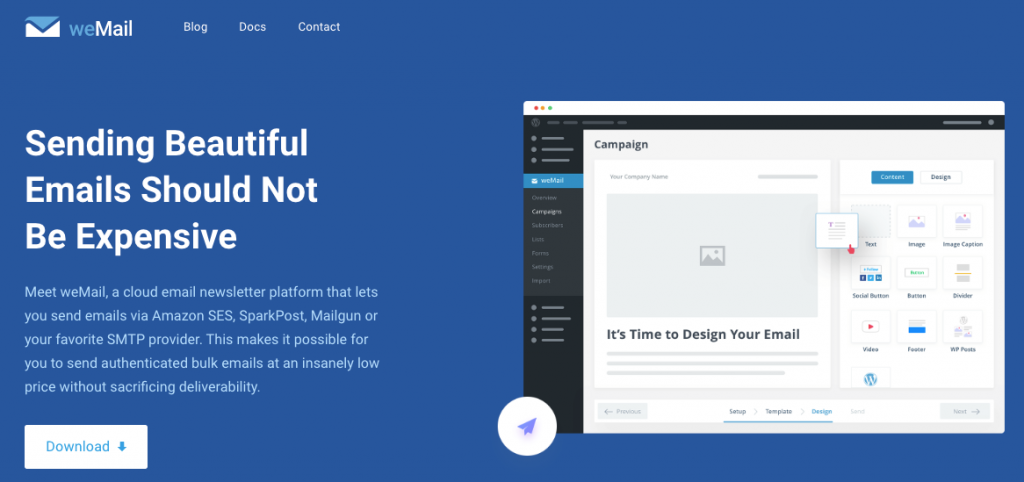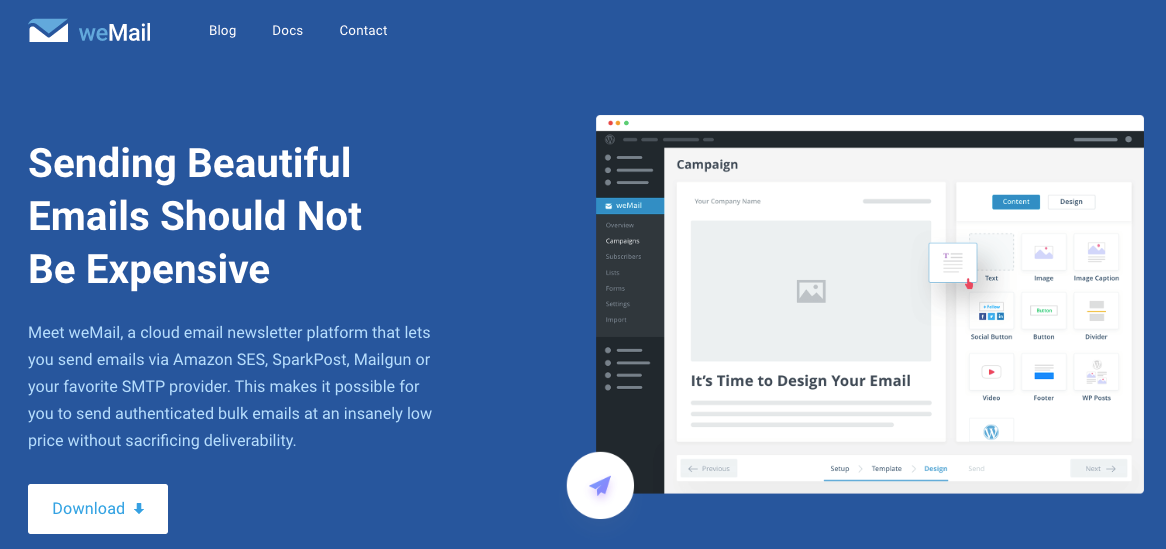 Email marketing is the most popular and heavily used marketing platform. It has an eye-popping return on investments. However many startups find it tough when sending emails without any particular strategy. Even they lose money using email automation services. But the problem happens not for those tools rather than the lack of effective planning.
So as a beginner, you need a tool that helps you to build an email strategy in the first place. Furthermore, you need an email platform that can be a Mailchimp alternative as well as affordable. Considering this need, you won't find a better email marketing solution than weMail. It's totally free and open to a lot of third party integration.
Top Features:
Drag and drop editor
Easy subscriber management
Interactive campaign reports and analytics
Autoresponders
Send event-triggered emails
Segment your email list
Handle your bounced emails and keep an active subscriber list
Integration to the third-party email services platform
Form builder integration
Pricing:
weMail is totally free. Right now you can send your email campaign through email via Email sending API like Amazon SES, SendGrid, or PostMark. As a result, it makes your email marketing cost under control and minimal.
MailerLite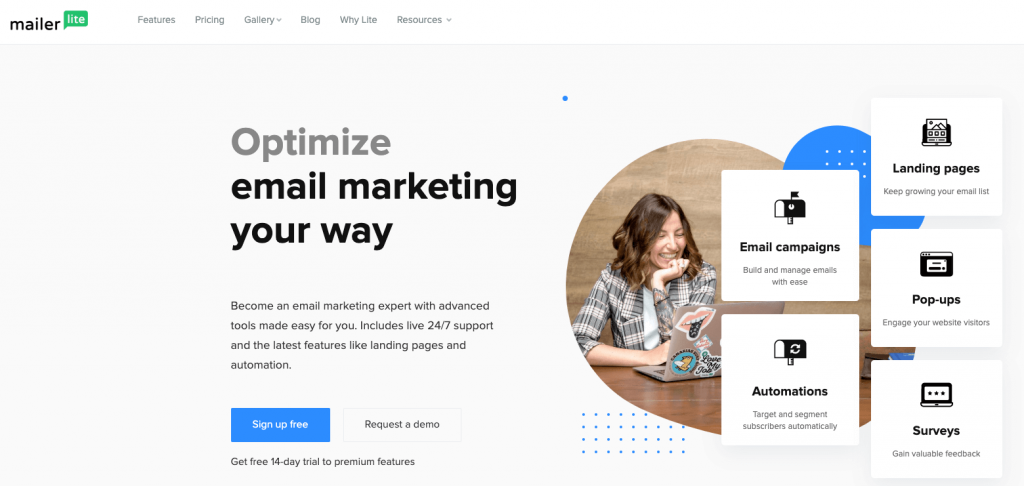 To execute a strategic email plan with more flexibility, it's a robust Mailchimp alternative. It is a complete email marketing platform for SMEs. It is easy to use and has interactive newsletter templates collection. It helps you to run email campaigns, create landing pages, pop-ups, and surveys with total automation support.
Top Features:
Drag and drop newsletter editing
Rich text editor
Easy subscriber list-building
Email automation, personalization, and segmentation
A/B testing, auto resend, and RSS campaigns
Get campaign reports and analytics
Third-party integration and developer API
Pricing:
For a subscriber list that has 1000 email addresses, the free plan is enough to send up to 12000 emails per month. The premium plans ranging from a monthly $10 to $50. It depends on the size of your subscription lists. However, sending is unlimited with every pro-plan.
Moosend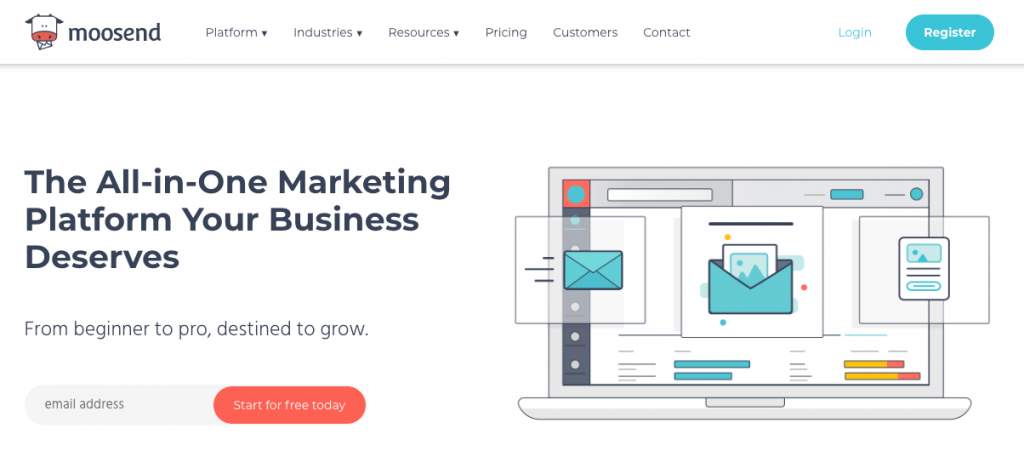 One of the best things about Moosend is its user-friendliness. You won't be needing any technical knowledge to use this platform. There are a lot of newsletter templates that are customizable. The designs are pretty unique and beautiful. Considering the affordability, Moosend is a significant Mailchimp alternative.
Top Features:
Custom Opt-in form
Realtime Analytics and reports
Powerful list segmentation
Pre-built workflow templates
Interactive drag and drop editor
Unlimited split testing
Strong knowledge base for better campaign strategy
Pricing:
It's forever free plan is impressive. Compared to Mailer Lite, it doesn't have any limits of email sending with 1000 subscribers list. You can get along with a wide range of premium plans between $10/ month to $3650.
Constant Contact

Constant Contact is doing business for more than 20 years. According to their claim, they have achieved a 98% delivery rate into the customer's inboxes. All of the features are easy to use. Either you are a beginner or pro, the learning curve is quite simple. You can build a powerful email marketing plan from scratch with this all-in-one email automation service.
Top Features:
Event-based triggered email sending
Automatic resend
Smart user segmentation
Easy email list building
Smart contact management system
Customizable drag and drop editor
Powerful reporting and analytics
Dynamic sign-up forms
Survey and polls withing your newsletter campaigns
Pricing:
Though Constant Contact doesn't have any free plan particularly. They offer two different pro-pricing 'Email' and 'Email Plus' which will cost you $20 and $45 consecutively. However, as a starter, you can avail 30-day free trial for any plan.
What's Next- Get the Best Email Marketing Tool for Your Business
You have as many options as you give yourself.

― Kasie West
It's always hard when you have too many options but you get to choose only one. That's why we have mentioned all of these best email automation platform's top advantages and pricing.
Before you go for one, you must consider the following-
The scope of your business
How much the email service can deliver
Your budget and affordability of the service
Which features you think are the most crucial ones
According to our expert opinion, weMail can be a reliable email platform. Because weMail is highly affordable compared to any other Mailchimp alternatives, and it's open for more possibilities nontheless. So, tell us if you have already found what you are looking for an email automation service.
Subscribe To Our Newsletter
Don't miss any updates of our new templates and extensions
and all the astonishing offers we bring for you.