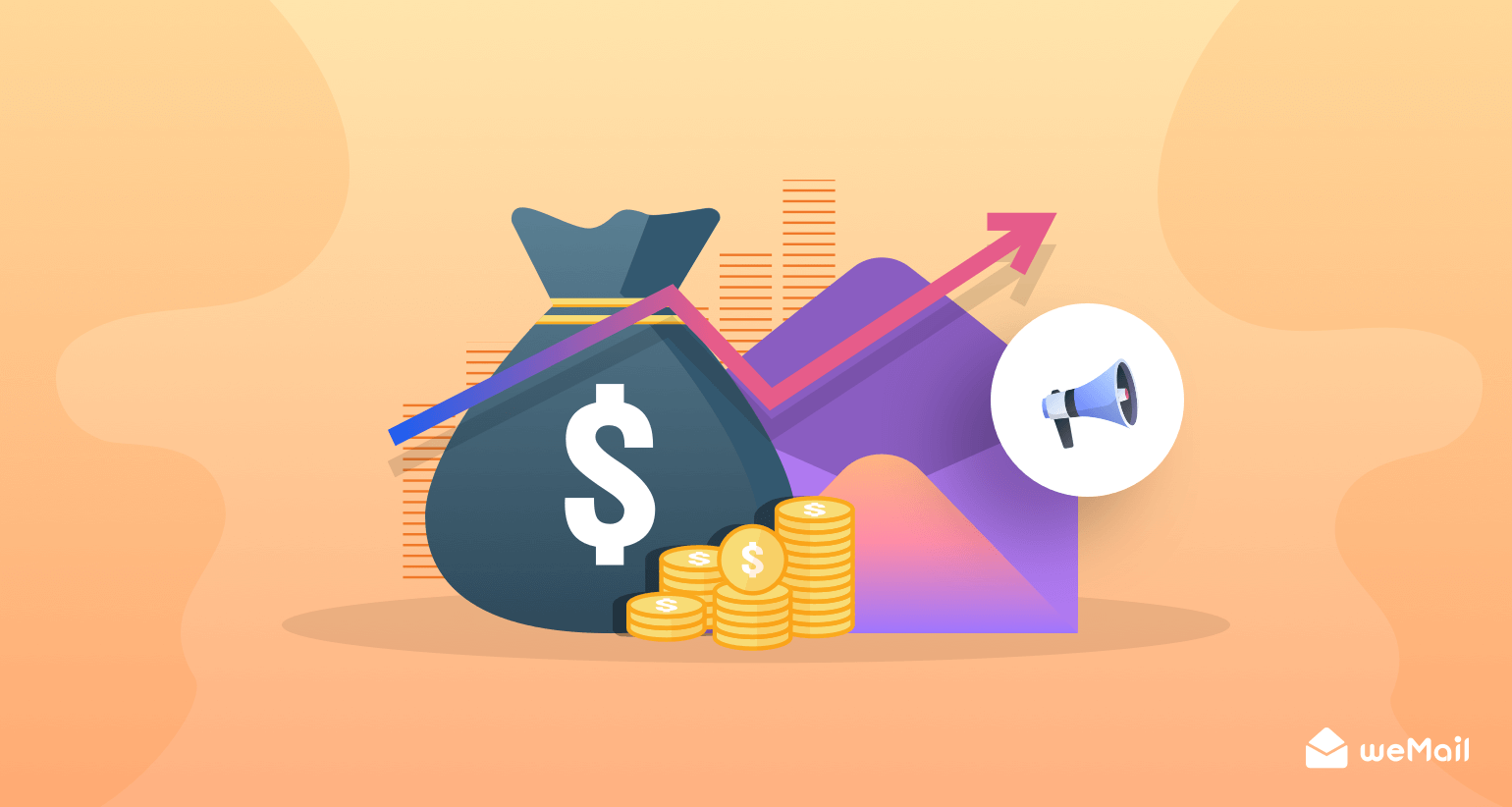 How Famous Brands Increase Revenue from Email Marketing Up to 305%
Generating revenue is the main goal of any business. If you look at the most successful companies, you can see a combination of several elements. Revenues come out of brand value, service, vision, and the quality of the products. Hence, all of these elements can work fruitfully under a powerful marketing framework.
You need to use a wide array of marketing channels to attract customers, pitch offers, build brands to develop sustainable business relationships. But if you want one channel that helps you to mix all the necessary elements we've mentioned above, email marketing hit the spot with full potential.
Many successful brands use email marketing to accomplish their core goal – revenue generation. There are many prospects and reasons that make it the most profitable marketing channel with the highest ROI. Therefore, we've found out a handful of famous brands who rip the benefits of email marketing to increase their overall revenue and so on.
Don't you think it's crucial for you to know? Keep reading.
The Way Email Marketing Work to Increase Revenues
Email has an ability many channels don't: creating valuable, personal touches—at scale.

David Newman
Email marketing is the most personal channel to reach your potential customers. Sending random emails to random people is one thing that won't work most of the time. But when you send strategic email only to people who have the most chances to convert, your chances of conversion rise for sure.
Here lies the secret. Before sending email campaigns, you can create a list of people who are eager to get your offer. Lead generation is an integral part of email marketing. You can collect the email addresses of interested people from various sources, segment them, and start sending emails.
On a different note, you can grow your Facebook audience or YouTube subscribers. But can you truly consider them as your own subscriber?
These popular platforms have their own rules and regulation. Also, they can ban your business profile anytime they want. There's no denying the fact, these channels are immensely profitable to build your brand. Though email marketing still remains the top preference amongst marketers.
87% of content marketers use email as their main marketing hand. 59% of B2B marketers said that email is their top revenue-generating marketing channel.
Not only the ROI number that put email on the top. Though, it is huge. According to various sources, email marketing ROI ranges from $38 to $44 for every dollar spent. Hence, the main potential remains in-between the channel and its proper usage. We are going to see to that.
How Top Brands Use Email Marketing to Increase Revenues
The success of email marketing depends on some specific KPI (Key performance indicator). They are open rate, click-through rate, conversion rate, or bounce rate, etc. With these metrics, you can understand how your campaigns are doing. Hence, these measures lead your business to increase revenue. As we are going to show you some examples of famous brands that propel their benefits through email marketing, you can co-relate all of the tipping points.
1. The Kitchn Educate Audience via Email to Boost Open-rate and CTR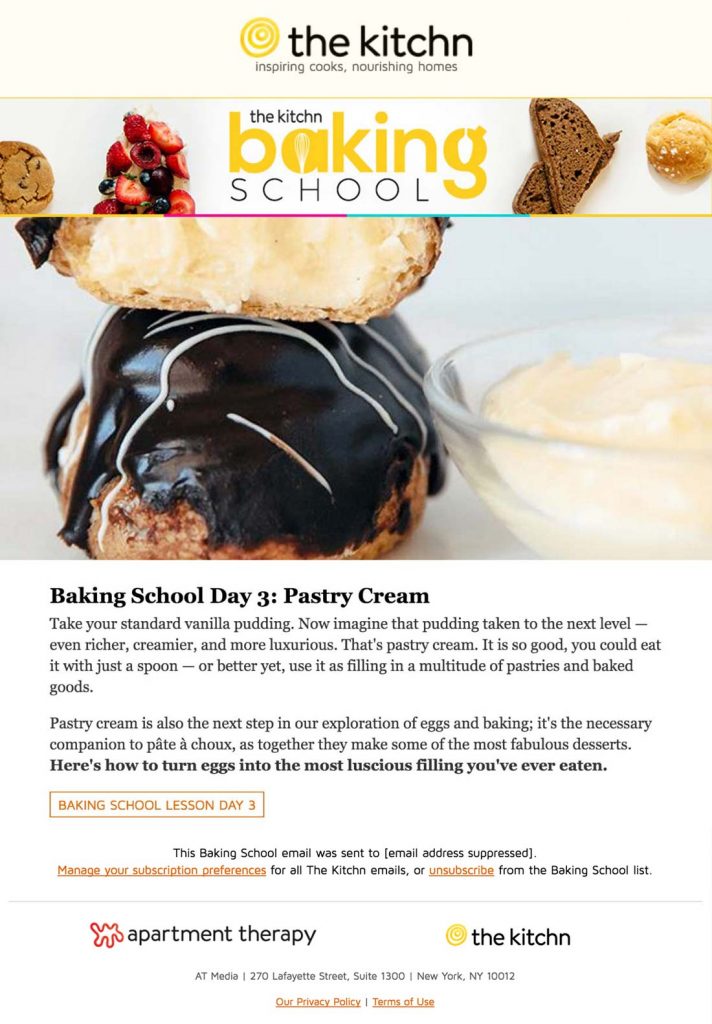 Source: Campaign Monitor
Apartment Therapy is a company that helps its audience to design their home, living, cooking, and lead a better, beautiful, and healthy life. The Kitchn is one of their sister concern which aims to aid people with various recipes, baking, and learn cooking.
What works most to engage their target customers? Kitchn and Apartment Therapy rely on email automation to do the job. Whenever someone subscribes, they gradually send a highly engaging and helpful series of emails to educate their potential user. This leads a subscriber to wait for the next email to get the next phase of learning about home appliances and kitchen secrets.
The whole thing works big time. You can see the Baking School email we have shown above. Gradually, these email marketing approaches help them to increase revenues. They are able to develop an ever-growing group of subscribers who are super engaged with an open and click-through rate of over 55%.
2. Drift's Welcome Email to Increase Revenue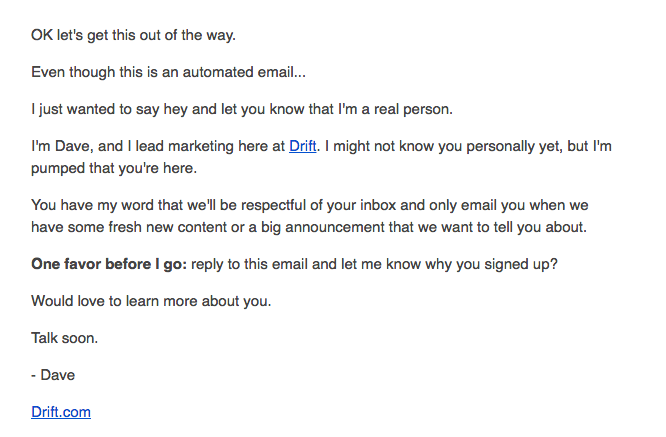 Source: Marketing Insider Group
Renowned B2B brand Drift gear up their open rate up to 75% and a response rate of 25% with their simple welcome email. This becomes a prime example of how a welcome email should be made and establish a personal connection with subscribers.
If you look closely at this welcome email, you can easily point out some catch that make it so successful.
One: The email manifests an honest impression. It claimed to be automated, and it is.
Two: Despite being an automated email, it has a personal touch which feels real.
Three: Commitment seems logical and minimal.
Four: Before closing up, the email is successful to engage reader with a question regarding their preference.
All these things make a simple email highly impeccable and rewarding. No wonder, Drift uses a powerful email marketing automation tool to increase revenue with such email campaigns.
3. Dell Used Animated GIFs in Email Campaigns to Accelerate Growth
It's been quite some time that GIFs become so popular in our social and online atmospheres. They are funny, interactive, and engaging like short videos. Hence, it won't take much effort to make a GIF. Renowned tech giant Dell once pioneering the use of GIF in their email marketing campaign.
Dell was to introduce XPS 12 Convertible Ultrabook which can be a laptop and tablet both at the same time. It was designed to not only add speed to the user's experience but also to increase the market share of the company. Therefore, fierce competition from the iPad or Galaxy tab remained inevitable.
Dell's email strategy and analytic expert David Sierk explained, "No one knows what a convertible is yet. It's not synonymous with products like the tablet is now or anything along those lines."
So, what they did to overcome this challenge is still inspiring. Just look at the example below –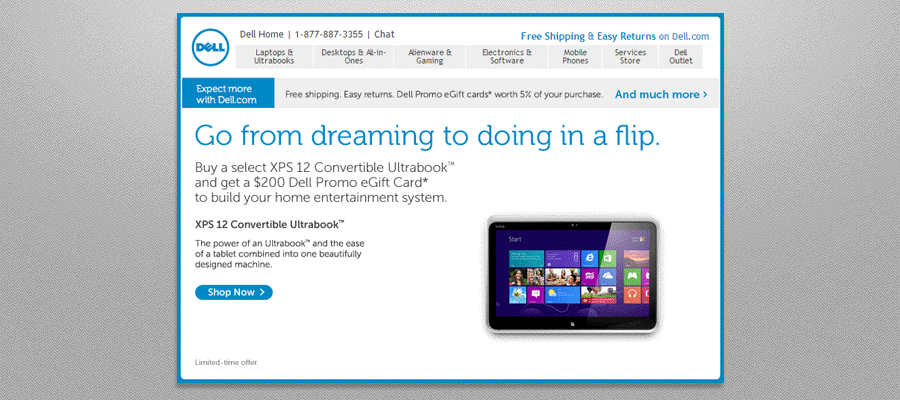 Source: Marketing Sherpa
This above email that display how interesting the computer would look like was a blast. Dell started to sending this emails to their subscriber's and potential buyers to get an extraordinary results.
Compared to their quarterly campaign benchmarks, Dell's very first email campaign with GIF generated a 6% increase in open rate, a 42% rise in click-through, and overall they were able to increase revenue to 109%.
Marketing Sherpa break-down the whole email campaign process like this –
Firstly, the email marketing team of Dell write a highly engaging email copy.
Secondly, find out that a GIF would be well-enough to manifest the feature of their product. In this regard, Sierk added, "It's a great way for a customer to get a full understanding of how that product is going to work in their hands,"
Finally, they send these emails to their prospect by following proper timing.
Necessary Read: Things You Should Know Before Using Animated Gifs In Email
4. Envelopes.com amazingly Increase Revenue from Checkout Conversions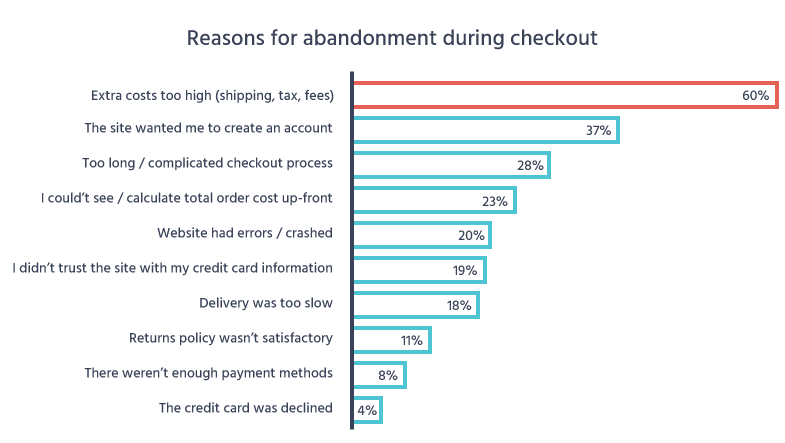 Source: Email On Acid
Abandoning carts is one of the biggest issues amongst all eCommerce businesses. People only add a product to the cart if only they like it. But when they left the cart without purchasing, that is surely become a disappointment. You know it even better if you are already running an eCommerce store. The average cart abandonment rate stands around 56% to 70%.
In regard to this certain issue, email marketing helps a brand like Envelopes to increase revenue for a big time. Envelope.com sells a variety of envelopes, and they have a diverse customer base. Maintaining a constant connection with them is always a challenging thing in a business like this.
People searching for random stores to buy envelopes often visit the website. They tend to make a purchase, and never come again. This was a common scenario. The team also saw that there are a group of people who visits the website many times before make real action. Sometimes, they add something to the cart and forget to complete the process.
Therefore, the marketing team of Envelope takes some strategic initiative with email marketing. They make a list of those people who left the conversion undone. What works most? Team Envelope sent three different abandoned cart email campaigns. They are –
Product category abandonment
Shopping cart abandonment
Checkout abandonment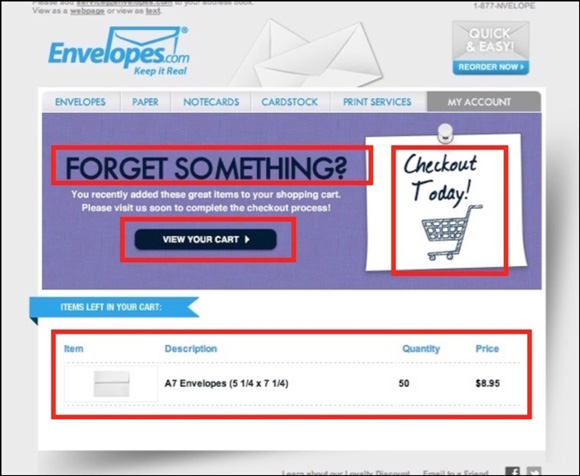 Source: Goodtoseo
Hence, from 2011 to now, they have generated highly positive results. The cart abandonment rate reduces to a huge 40%, and the checkout conversions increased to 65%!
How to Reduce eCommerce Cart Abandonment and Recapture Your Desired Leads
5. Good Dye Young Use Email Marketing to Increase Revenue in a More Rational Way
Good Dye Young is a Nashville-based fashion and hair dye brand. Their big catch is vegan and cruelty-free products. People who love their product inevitably understand the core value of being a vegan. But the brand was suffering to reach a wider audience as they wanted to expand with more variety. Hence, they start to use email marketing to increase revenue, and the results are outstanding.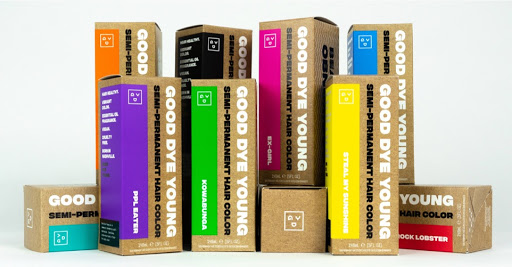 Their marketing manager Jackie Young said, "I saw it as an opportunity, because I know email is a really high revenue driver."
Their first challenge was to send highly simple, super-targeted, and meaningful emails to their customers. So, they focused on how their product add more value, sending tips on hair dye, and the fun behind coloring your hair.
If you break-down their email campaigns, you can find out these-
One: When the very first time they send email, they almost doubled the subscription rate. That was a highly positive sign.
Two: After a certain time, the reach and success had dropped significantly because people don't like it to get 2-3 emails a week.
As the brand adapting Mailchimp and WooCommerce integration, they have learned more about tagging, segmentation, and possible ways to reinvent marketing strategies. Then again start sending the email campaigns. And drastically, they enjoy a jump in revenue like this much –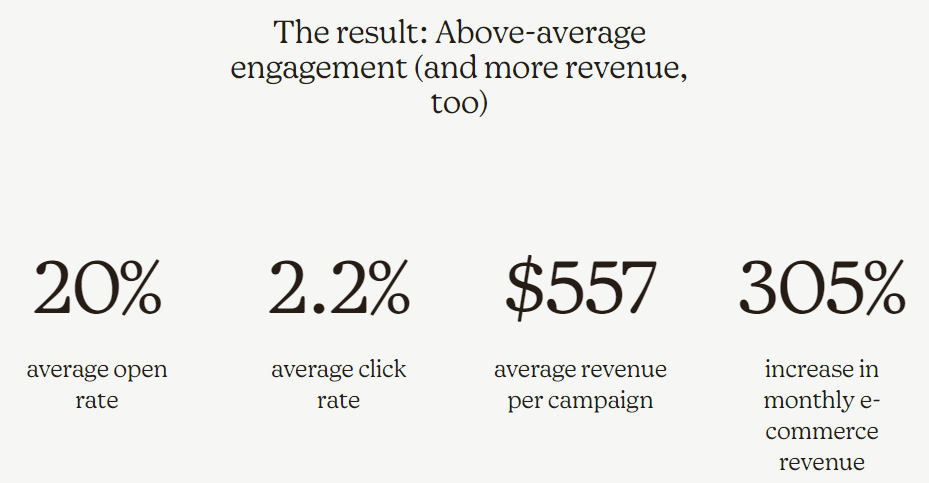 Source: Mailchimp
This is an incredible story from Mailchimp, and also it reflects on how email marketing can change the whole picture of success of a renowned brand. And propel the success to become more relevant.
Closing Ups on Brands Using Email Marketing to Increase Revenue
As we are closing up this blog which discusses some of the finest story of email marketing success, one thing is clear. Email marketing works on many levels to increase your brand reputation and revenue. Therefore, you need a email automation tools to gear up your process and make your strategies a successful reality.
Hence, if you need a reliable and affordable email marketing solution, there are fewer tools that come close to weMail. It is a full-fledged WordPress email automation tool, which can also be available as a SaaS. It is handy, simple, save your money and effort to send powerful email campaigns.
Well, we believe you have enough potential to choose the right thing to improve your email marketing strategy. Nonetheless, the stories we've discussed may help you a lot to increase revenue with this immensely powerful marketing channel.
Subscribe To Our Newsletter
Don't miss any updates of our new templates and extensions
and all the astonishing offers we bring for you.