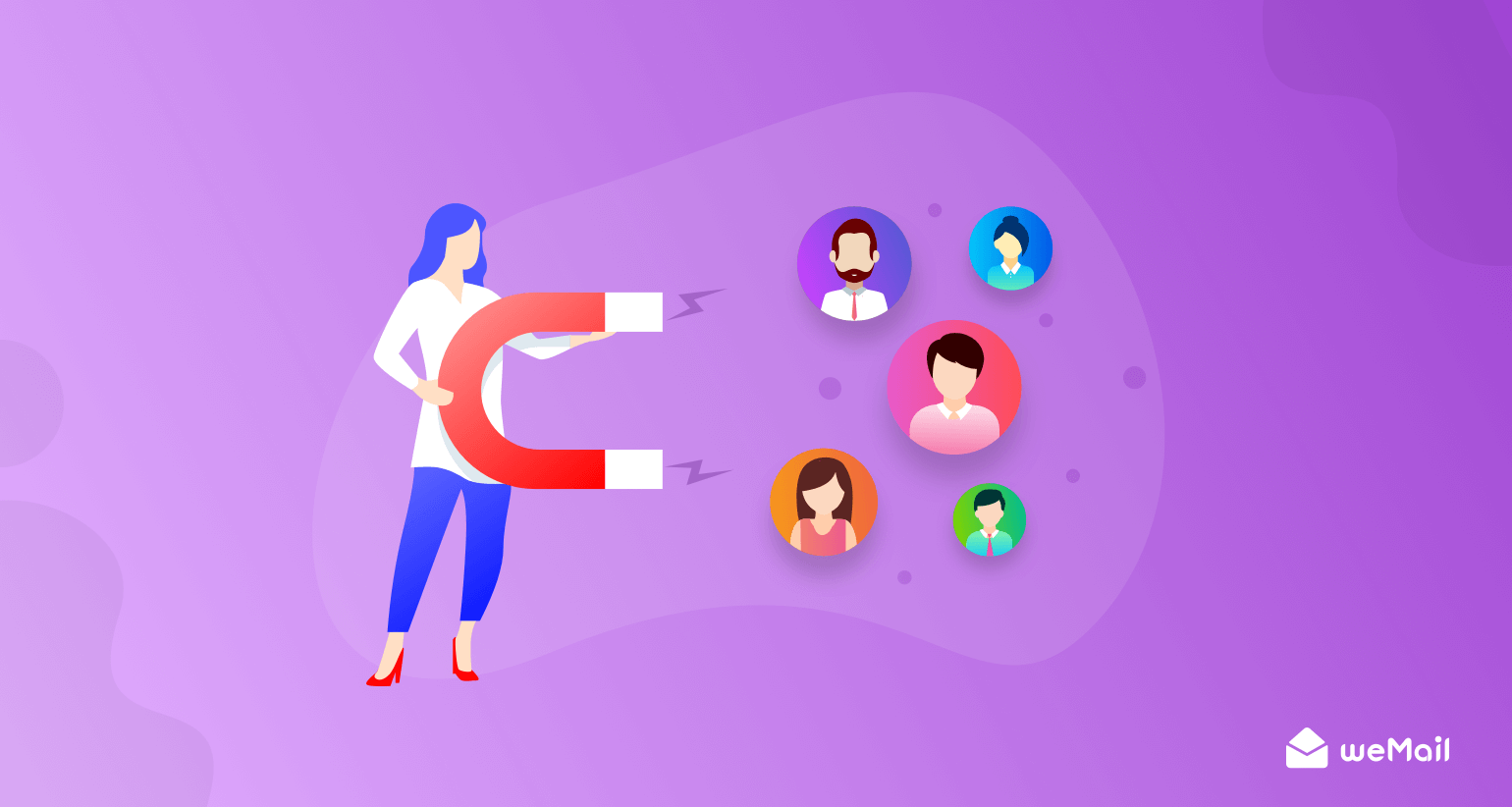 Best Ways to Reach Your Audience During COVID-19
The face of the global economy is changing to new directions due to COVID-19. The lockdowns causing many businesses to suffer. Most of the industries are heavily impacted by the pandemic. So, as a marketer, how are you going to help your customers and company?
As you can see, people are forced to staying at home. Thus they are spending more time on the internet. In this risky period, many companies either the biggies or SME's are doing their best to keep engaging people within their journey.
However, in this blog, we will show you some proven digital marketing techniques to keep customer engagement strong. They surely will help you to reach your audience during COVID-19.
Keep reading.
How to Reach Your Audience in This Global Outbreak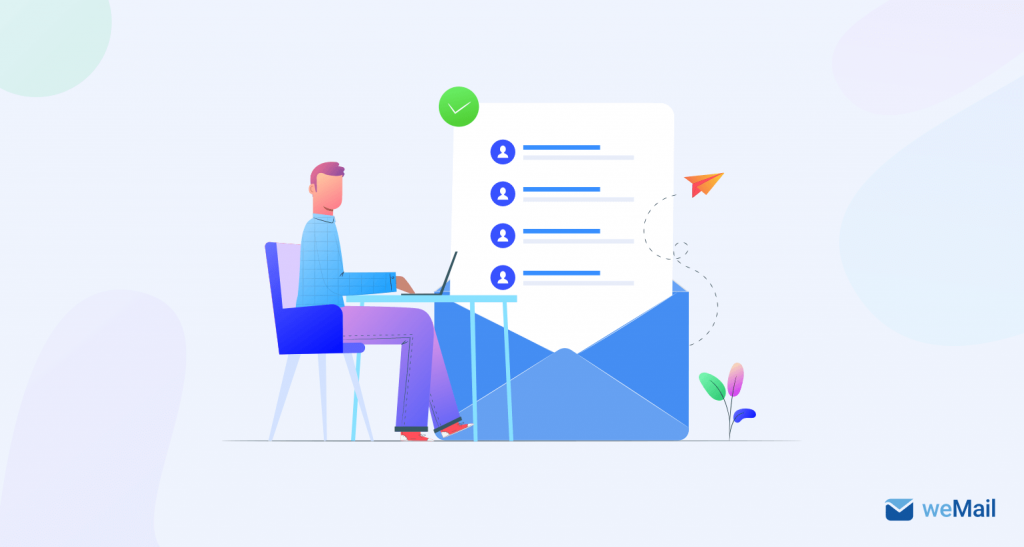 Over the years, you've been practicing and applying a lot of marketing hacks to connect with your subscribers and potential customers. But you can't deny that a different time demands different measures. Following the recent circumstances and transforming economic scope, you need to revamp your digital marketing strategies.
For example, people's buying activities become more limited to online stores rather than brick and mortar shops. Medical supplies and household products are on surge in demands than fashion accessories. Therefore, the use of the Internet is reaching it's prime.
Considering all these factors, we have sorted out some best ways to reach your audience in a more sophisticated way, help them keep surviving through mental stress, give them a hand to gain more in these hard times. Well, let's follow-through.
1. Get the Best Out of Your Email Marketing During COVID-19
The email open rate is 20% higher than 2019 between February to March since the lockdowns started.

Campaign Monitor
Email marketing is always the most powerful channel with the highest ROI. This time it becomes more reliable. Companies around the world sending a significant amount of emails to their subscribers. And, the prospects of these emails also changing.
People need more information and trust in these days. Many companies being shut down, this results in a lack of necessary data in people's inboxes. So if you want to be on the surviving enterprises, you should send different types of emails and reinvent your email campaigns following the tips below.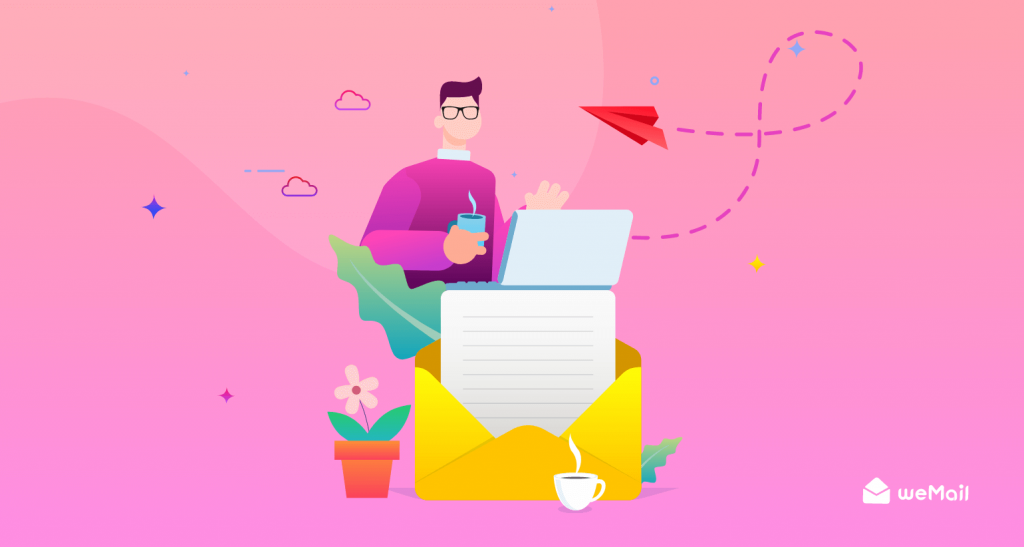 Update Your Contact List Following the COVID-19 Situation
It's time you should make all the updates to your email addresses aka contact list. You will find many people are inactive or maybe they don't want to hear from you anymore. Whatever they want, you must find them out. And remove the names who are not interested. Then add new contacts who are active.
Here's some tips to update your contact list. Check them out.
Clean Your List: If you have a database that is older than one year, you must clean it and build a new email list.
Remove Inactive User: Check your email performance over the last few months. Users who are inactive, they don't need to get on with your list.
Send Re-engagement Campaigns: Send emails to build interests to your newest and existing leads.
Therefore, the main goal of updating the contact list is to sort out leads who bear the most possibilities to get involved with your service.
Warm Up Your Domain to Avoid Spam Folders
20% of emails never make it to people's inboxes. Spams account for 45% of all emails sent. Thus it fails to generate desired results.
Most of the top email servers like Gmail, AOL, or Zoho use heavily armed spam detectors. Evidently, most of the brand new domain can't pass their smart spam filters and directed to spam box or even blocked.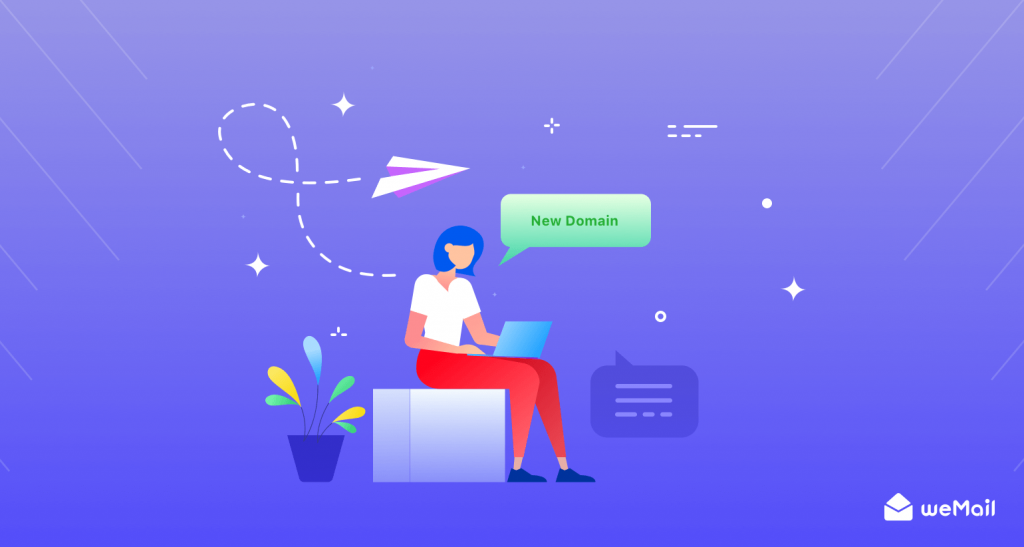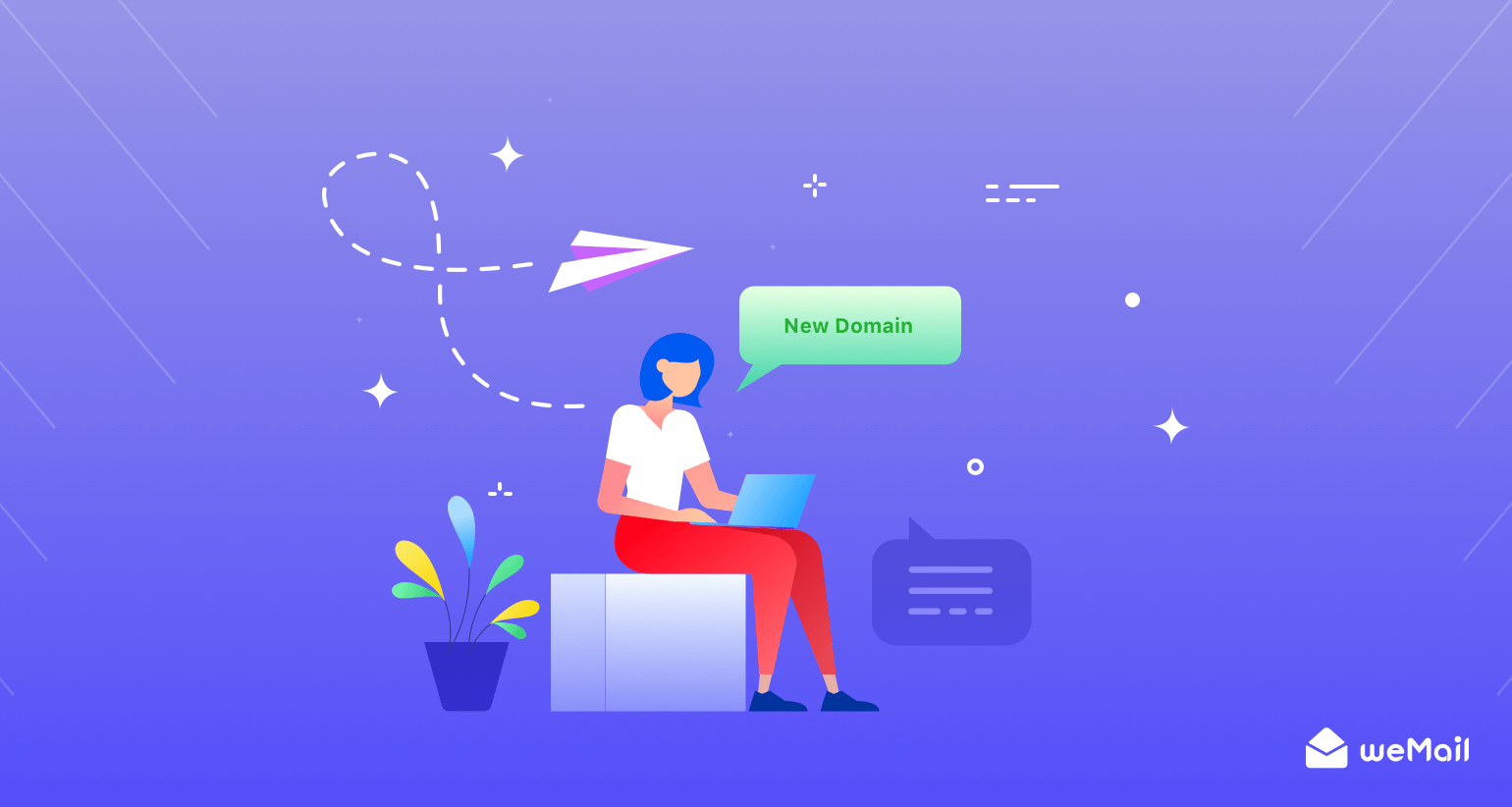 And, once the domain is blacklisted, your emails may never get delivered. That means your marketing efforts are going to go in vain due to your domain's bad reputation.
To solve this problem, you need to warm up your email domain. Which means authenticate and make your email address accustomed with your clients email server.
To avoid spams, you can read our detailed guide to domain warm-up.
Send Personalised Offers Considering the Outbreak
This is the best time to establish a refreshed bond with your subscribers. You can send highly personalized emails to those people who want to hear from you.
There should be a lot of varieties in your email content. You can share relevant health information, spread awareness, industry insights besides your selective offers with email marketing in this COVID-19 pandemic.
Take a look at these successful example of COVID-19 email campaigns.
Sending Special Offers: HappyAddons is an Elementor extension developed by weDevs. It helps the user to turn their page building experience to new heights. During this outbreak, they often running several campaigns with big offers.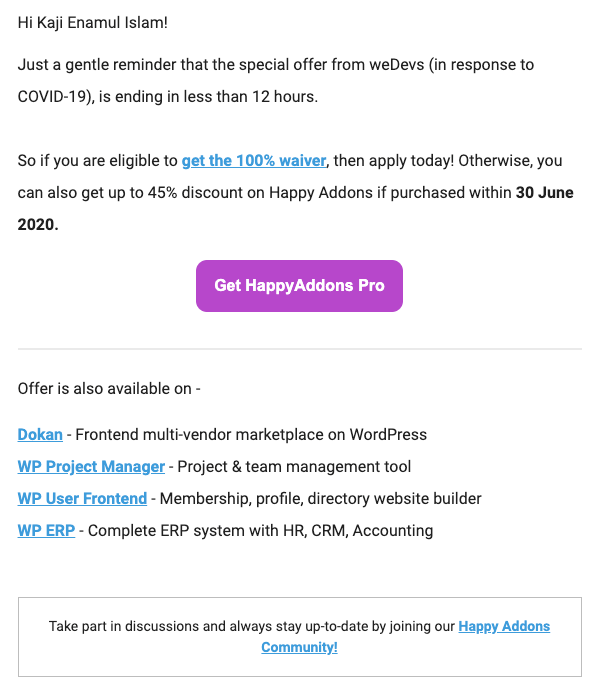 Send Email with Awareness Information: This time people need reliable information. Because misconception and wrong info lead spread panic.
So, you can publish relevant blogs and send them to educate or help your subscribers.
Here's a good example from the Economist. Regardless the types of your business, this approach help you to reach your audience during COVID-19 with positive impact.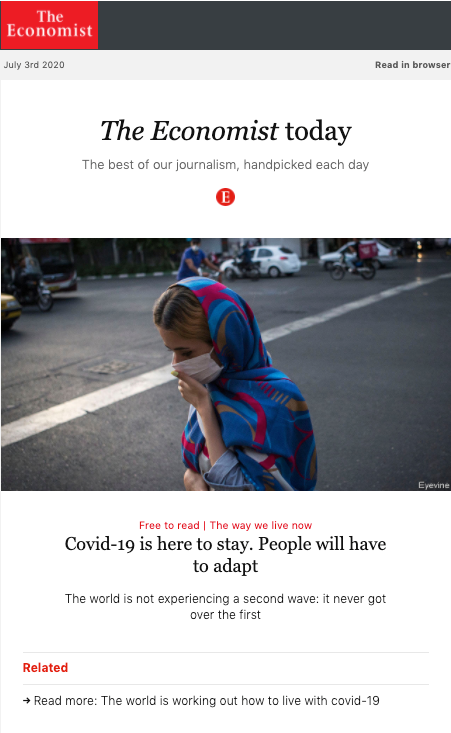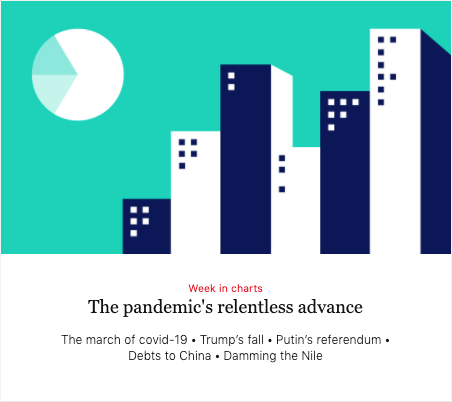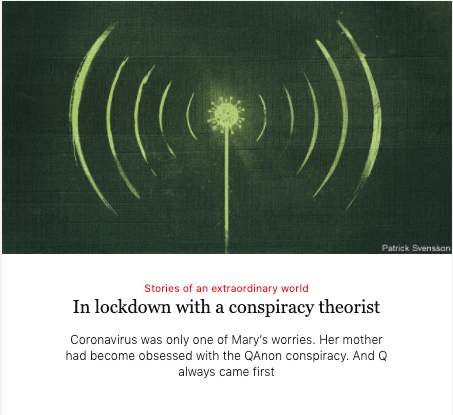 Also, you can send survey email, asking opinion, organize quiz and prize giving offer and let your audience know them through emails.
Set an Automated Welcome Email to Greet New Audience
A welcome email can increase a 4x more open rate and 5x more clicks. Almost 33% subscriber feels more engaged when they get a greetings email.

INVESP
Consider it as a start-point. Whenever you get a new subscriber, sending a welcome email can create a warmness between your upcoming relationship. Thus it enhances user engagement.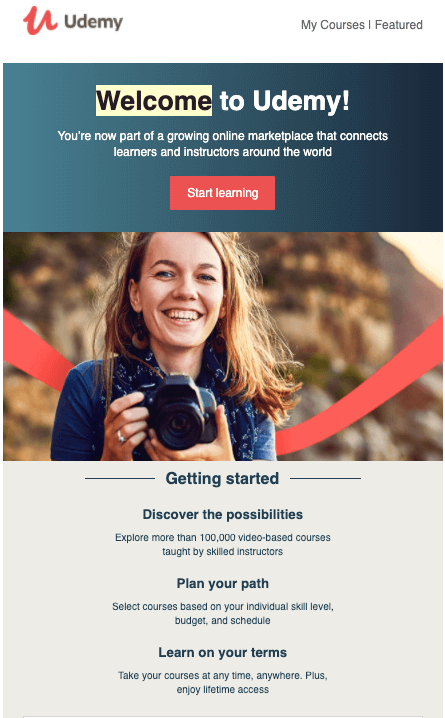 With a powerful email marketing automation tools like weMail, you can set an automatic welcome email. So you don't have to think too much about it. But each of your new user will get a warm welcome.
Connect weMail with Your Online Store for Free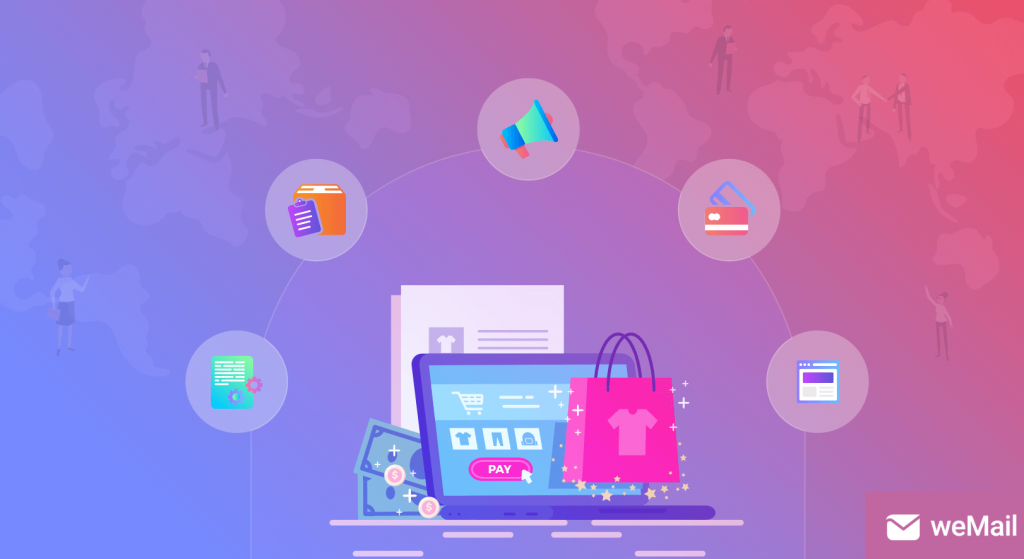 Do you already have an online shop or multi-vendor online store? If yes, you are already on the winning side. People tending to shop online since the outbreak.
Eventually, many businesses transforming their process in the digital medium and building websites. As WordPress is the most popular CMS platform, everyone loves to build their websites in it.
Hence, if you have a WordPress based online store, it will be a better decision to connect weMail to your site. Because it is one of the rarest email automation platforms which is designed mainly for WordPress in mind.
weMail can help your online store flourish more. Some of the benefits are-
You can gather and implement personalized data to execute successful email campaigns during this global outbreak.
Send product recommendations, segment purchase activities to sell more products
Increase the scopes of your eCommerce venture
However, if you are planning to open an online store, you can use Dokan multivendor which is also a powerful WooCommerce tool based on WordPress.
2. Use Social Media to Reach Your Audience During COVID-19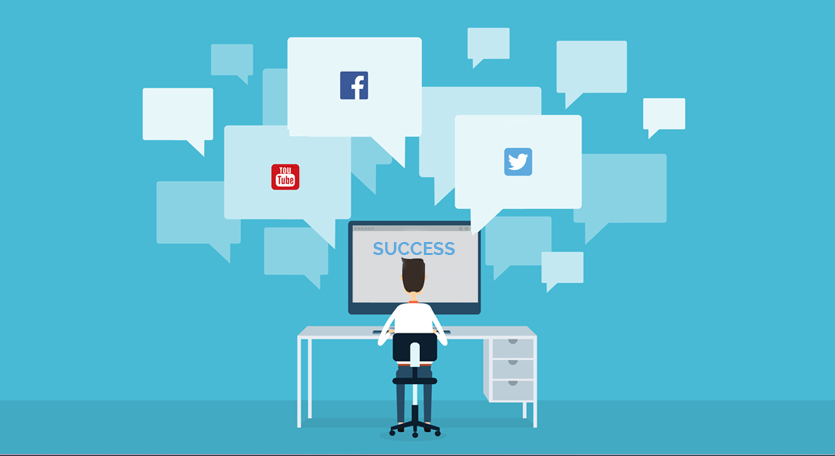 Right now, 3.5 billion people are using social media. Almost 73% of marketers believe social media proved itself a very effective marketing channel. In 2019 estimation, people were spending an average of 2 hours 22 minutes a day in social networking.
If you keep these data in mind, you can easily understand how the use of social media is increasing everyday. Home quarantine and social distancing let people find their social activities through Facebook, Twitter, Instagram or any major social platforms.
So, you can use this platform as a major way to reach your audience during the COVID-19 outbreak. How to do that?
Create and Share Exciting Facebook Ads
Facebook ads become popular for the last few years. One of the core reasons behind its popularity is extreme personalization. You can set different demographics, contents, and user categories while running an ad. And the process is easier, as well as affordable.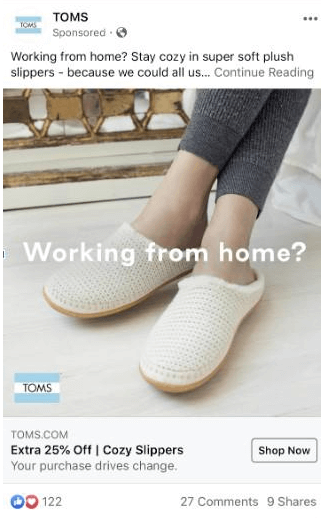 WordStream Shared some unique and fruitful strategies that can change your Facebook engagement into success during the Covid-19 pandemic. They are-
Consistency is the key to Facebook ads
You must create brand awareness while running your ads
Find necessary leads and build an email list following your social ads engagement
Execute new plans on remarketing
Be creative to compose and share your content
However, there are few more trick Facebook has for you in it's sleeve.
Get Along with Facebook Live
Since the lockdowns, people from all classes and types are eager to either be on Facebook Live, or watching someone in a live. However, as a marketer, you can regularly arrange Facebook live and share interesting thoughts with people.
It doesn't need to be selling something. You can keep social engagement and increase your brand value with some witty and resourceful live program. Digital marketing consultant and industry leader Frank Kern is doing such Facebook live for the last few months.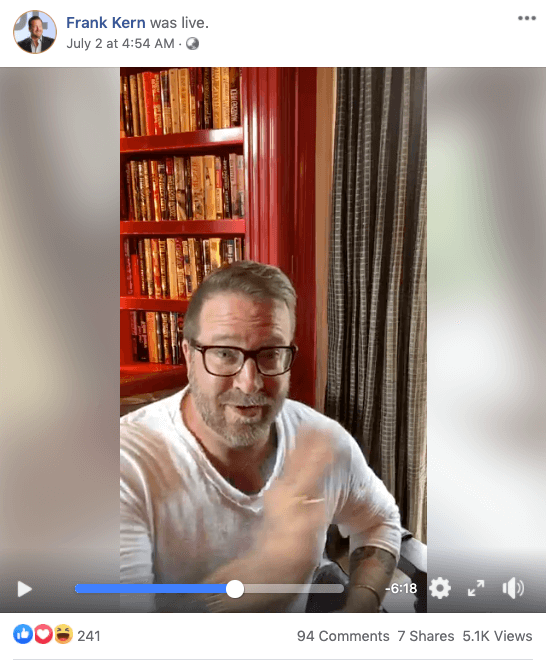 Fans and professionals engaging with him in such events not only keep increasing Franks's brand value, but it also helps people to share his thoughts and ideas in a more casual fashion.
Engage with Your Twitter Follower
Marketing in Twitter is quite challenging yet it can be fruitful with the right strategies. However, the pandemic situation increasing your chances to reach your audience. According to HubSpot, there are more than 326 million people using Twitter on average.
You can take example from Mashable, one of the leading digital media platforms for entertainment. They share on an average of 5 posts in Twitter. Most likely funny short videos or facts, even clickable content.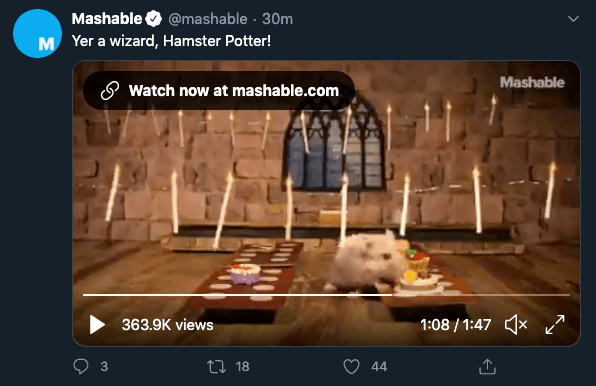 Twitter believes in preciseness. So, whenever you share some funny facts, wise quotes, or your blog link which is helpful to readers, they can retweet your content, like it, and this way you can reach your audience with more impact.
Another best way to turn your tweets a great engagement weapon is to apply the right hashtags. The right hashtags related to your content can do magic.
Bring New Lights on Your Instagram Marketing
More or less, 800 million monthly users are active on Instagram. They post more than 60 million photos per day, they react with a daily 1.6 billion 'likes'.
Instagram has huge potentials to reach your audience during the pandemic. If you don't have a business profile on Instagram, do create one ASAP. And sharing attractive images that convey the message about your products and overall brands.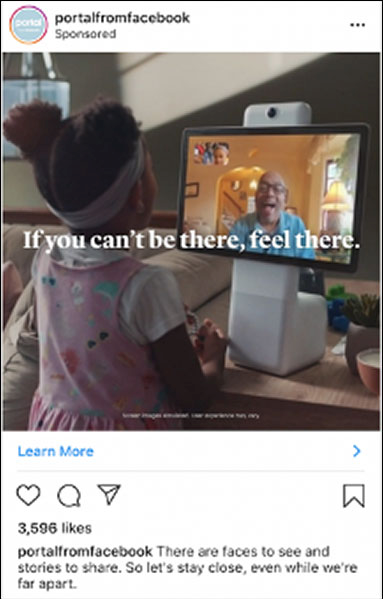 Therefore, here we want to mention some of the proven techniques that can boost your marketing in Instagram.
Share your product Teaser regularly.
Share Visual information with your website's link.
Create target based sponsor ads. You can use videos, photographs, or stories to express your message.
Use Instagram Stories features which are similar to Facebook.
Well, these are the basics you need to start your Instagram marketing campaign. If you do a little more research, you can bring a lot of user engagement through this photo-sharing platform. Indeed, it's more than that now.
3. Create YouTube Videos and Spread Your Brand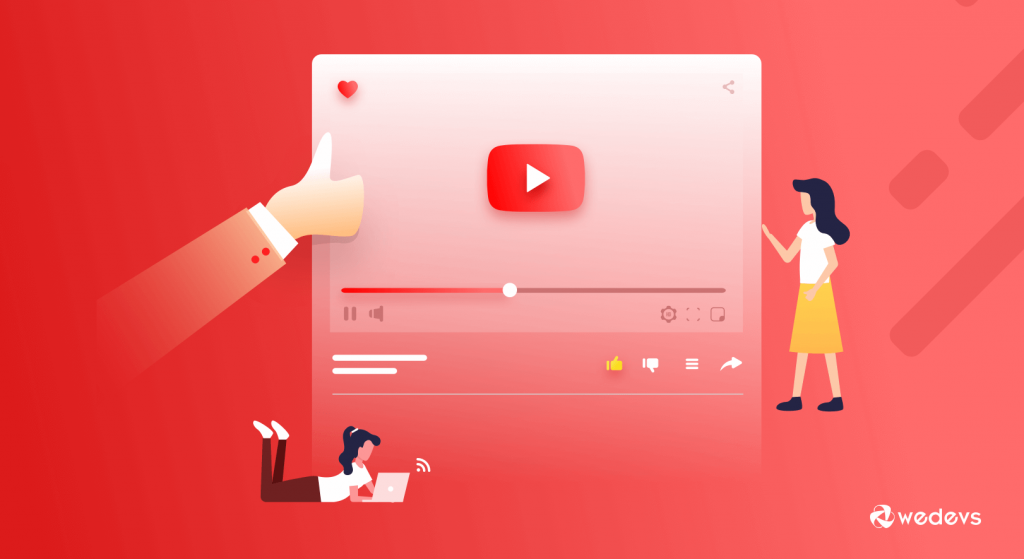 Maybe you already are doing YouTube marketing. Or do you thinking to just start it over? In both cases, you must put more concentration on the most popular video-sharing platform in the globe.
YouTube has 2 billion users worldwide. 80% of marketers believe YouTube is the most effective channel for video marketing. 90% of people have said they discover new brands and products on YouTube.

OBERLO
As people are staying home most of the time, they watching more videos. So the chances are even higher that you can gain more user engagement and reach your audience efficiently via this platform.
What things you can do with YouTube?
Create and post-marketing content.
Create advertisements and run them through various channels.
Post educational content.
Try to connect niche people more with your video content.
However, you need to put continuous effort to get a fruitful result. To this intent, you can check our detailed guide on how to get more views on YouTube.
Final Thoughts on Reaching Your Audience during the Global Pandemic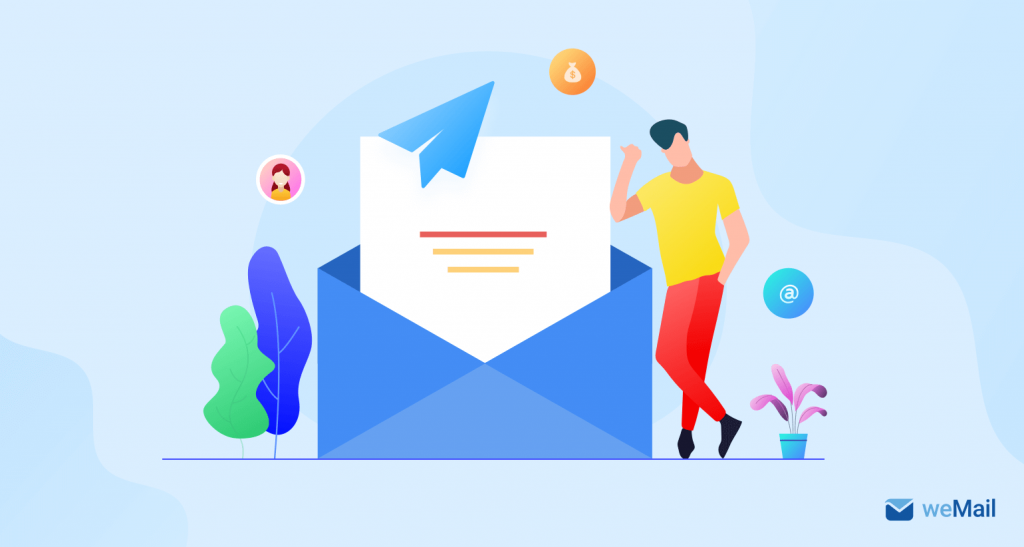 Many parts of the world are going to lift the lockdowns or planning to do so. It's a defense mechanism. Many industries don't have any other ways to risk anymore.
But the world will stay more connecting over the internet. And all the businesses that want to thrive has no other tricks than digitalizing themselves. Therefore, the tips we have discussed in this blog may turn out more useful and relevant in the days to come.
So, what do you think? Do you have any unique ways out of this list to reach your audience in this harshest of times? Don't forget to share your ideas in the comments section.
Subscribe To Our Newsletter
Don't miss any updates of our new templates and extensions
and all the astonishing offers we bring for you.