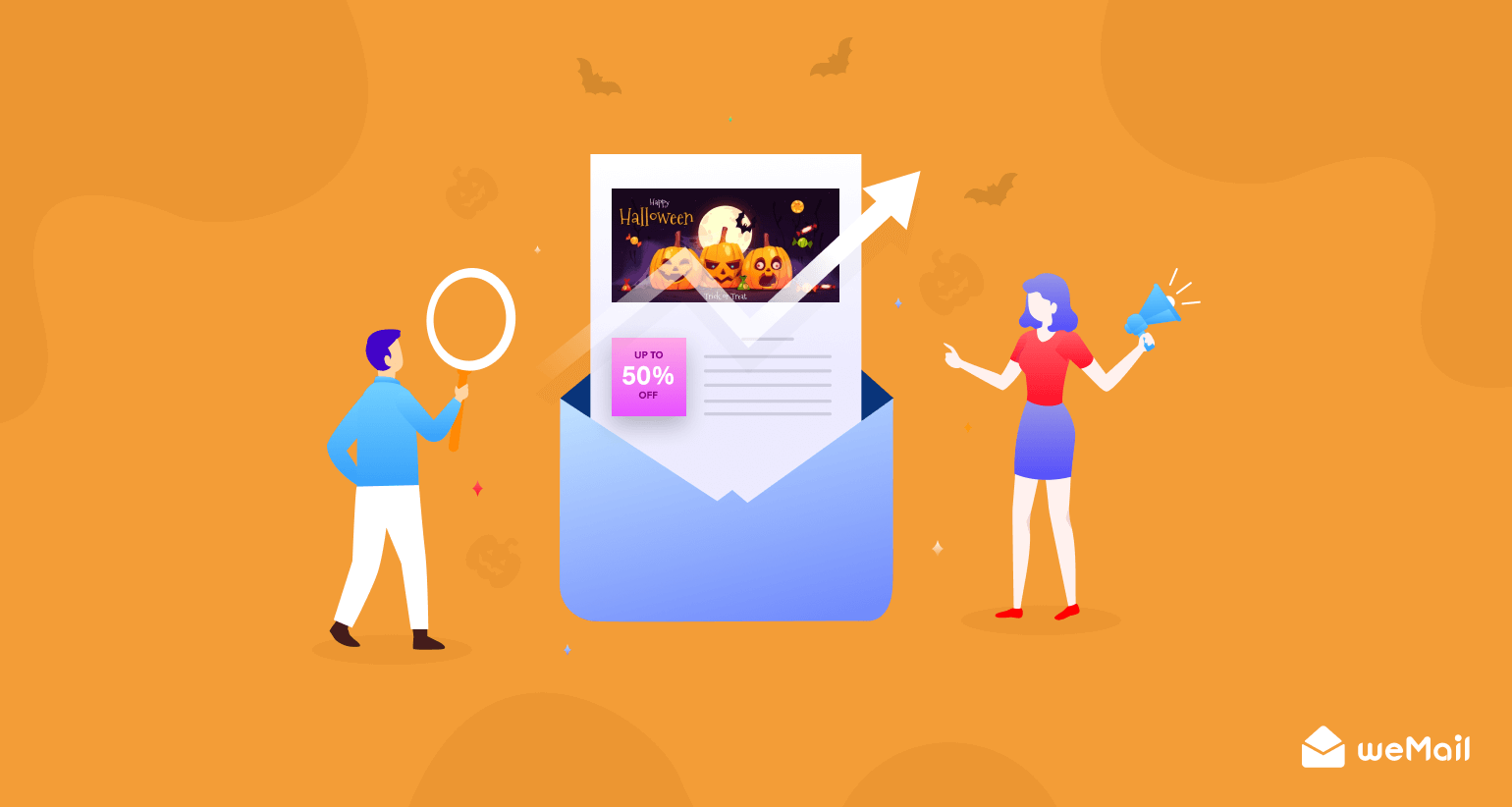 Boost Your Sales in this Spooky Season with Halloween Email Marketing
The spooks are coming! It's Halloween approaching at your door.
Last year, we all suffered through the harshest, but we are on to hope this time. The coming of the spooky season should have everything to add up some spice to your life.
As a marketer or business owner, do you have any particular plan for this crispy occasion? If not yet, it's time. With the perfect blend of Halloween email marketing to the business process, you can boost your sales.
Though, Halloween is never been that much of a competitive holiday season compared to Black Friday or any other similar festivities. But you can leverage this warm and scary (happy!) season to increase brand awareness, brand value, and customer relationships through emails. Which eventually leads to more conversions anyway.
Hence, in this blog, we will be showing you how to use email marketing to boost your business this coming Halloween and almost everything you need to know to get the best out of Halloween email marketing.
Let's get your pumpkin pies and keep reading.
Halloween Email Marketing Across the Industry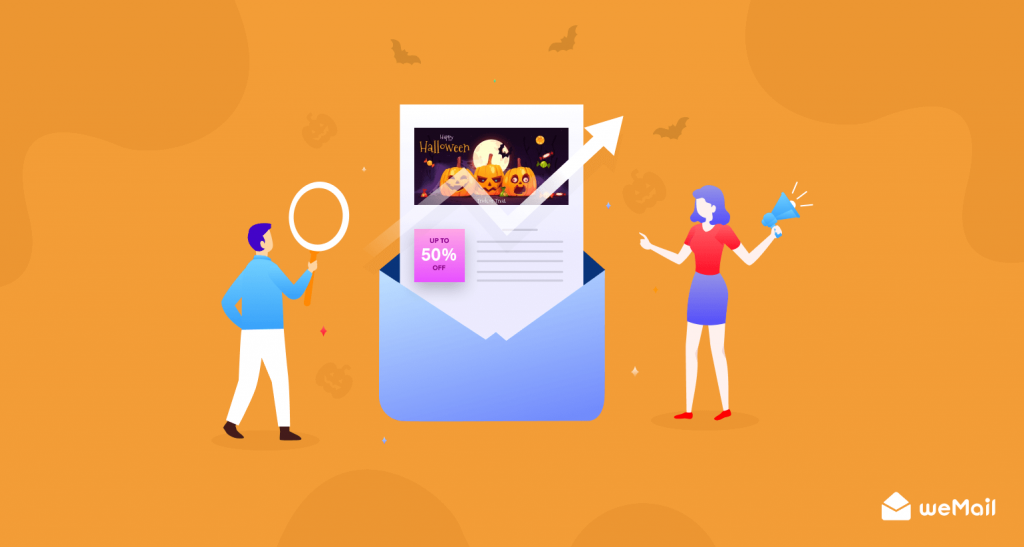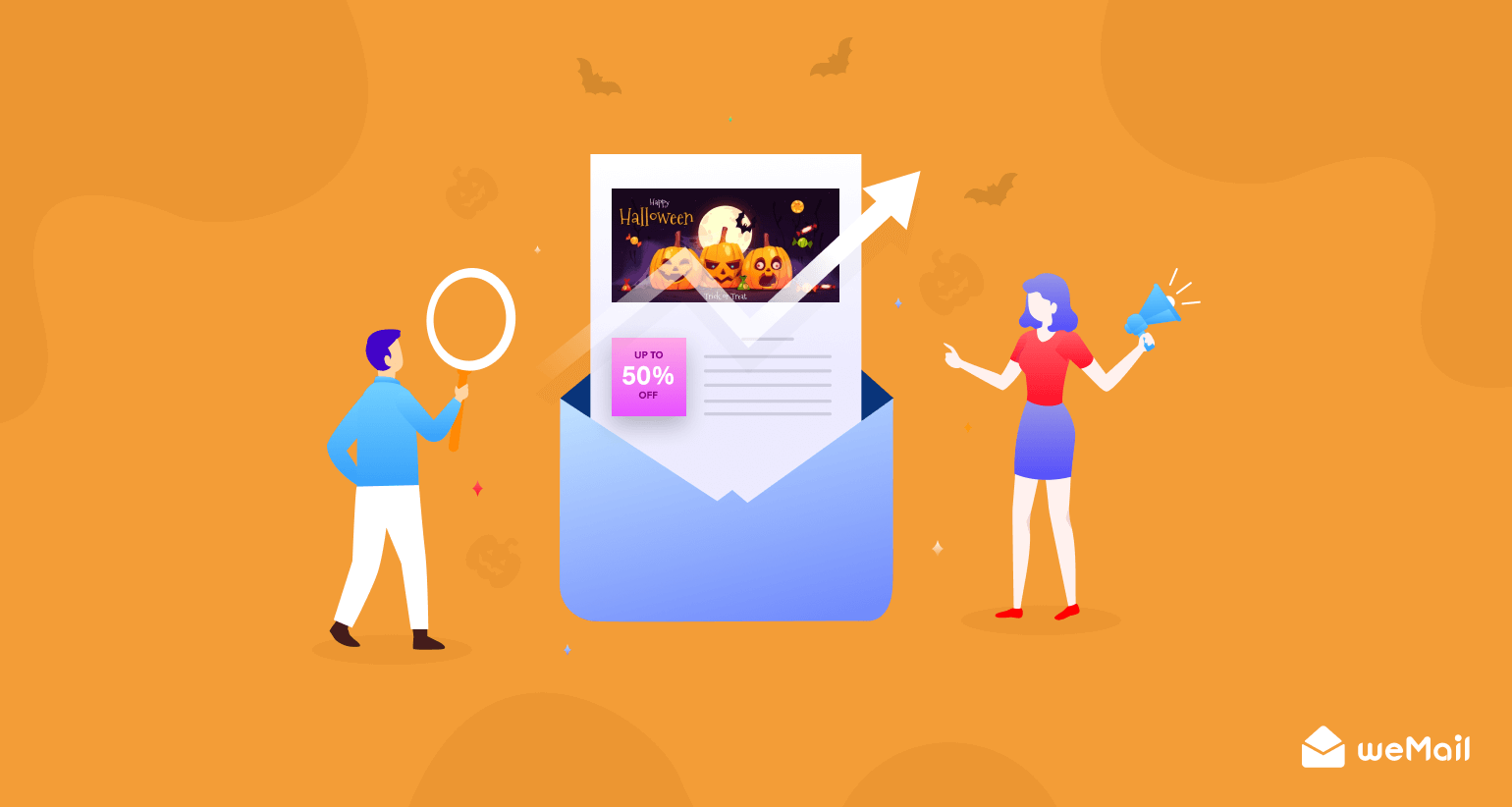 "Spending hasn't changed much over the past few years, but we are seeing a noticeable increase in consumers whose Halloween purchases are inspired by their friends, neighbors, and even celebrities on social media."

Matthew Shay, NRF President and CEO
People in the U.S. especially are craving for this year's Halloween as last year was out of any ease. More than 82% of Americans are planning to celebrate it this year. Hence, many parts of Europe are also preparing to do the same.
Look what is the data telling us –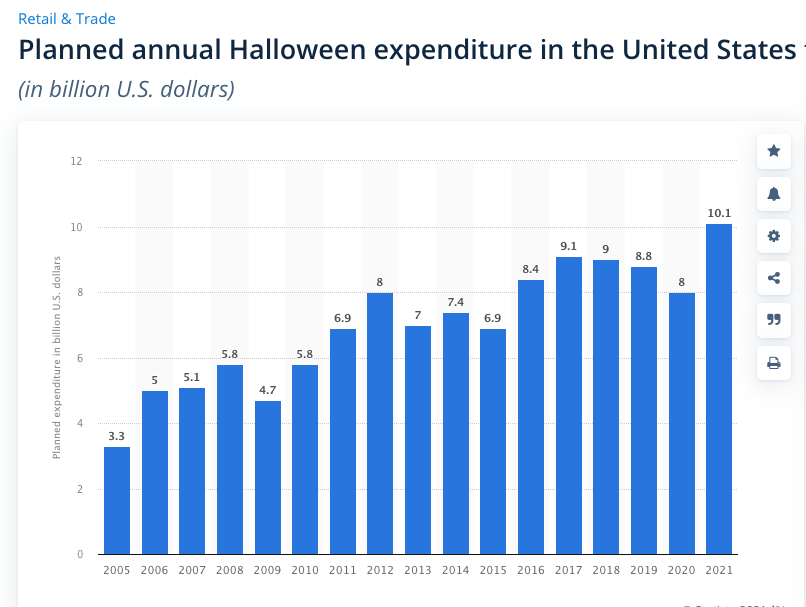 Marketers all over the world get themself ready to leverage the occasion and spread happiness. You can check the following Halloween marketing statistics to get all the reasons to move on with your specialized Halloween email campaign.
$10.14 billion is expected to be spent on 2021 Halloween.
Shoppers believe they will spend $102 on average this Halloween
The top five spending categories are fashion ($3.3B), food ($3B), decoration ($3.2B), greetings or gift items ($660M), and haunted attractions ($500M).
28% of people said they are planning to get their Halloween inspiration from retail stores (In most cases, online stores).
If you are doing business in the top spending categories, you are already on the winning side. Hence, other industries like entertainment, sports, healthcare, and technology have boundless possibilities too.
Best Tips and Ideas on Halloween Email Marketing
As a marketer, you can always utilize email marketing to get the best shots this coming Halloween. In this segment, we have sorted some of the most effective tips and ideas for Halloween email campaigns. If you analyze them, it will be a fun process to generate your own innovative ideas and roadmap to boost your online sales in a more compelling way.
1. Make a Plan for Your Halloween Email Campaign
The first thing is to make a possibly pitch-perfect plan for Halloween. The simplest way to start is to find out the trend to be popular, and the last year's situation, competitor analyses, and set up your steps one by one.
Though Halloween is celebrated on 31st October, you must design a campaign that can engage people throughout specific times in the month. For example, there is a certain period when people purchase most of their Halloween deals.
Well, here's the best time of October when people usually shop for this scary festival. Following this time frame and percentages, you can design your email-sending plan.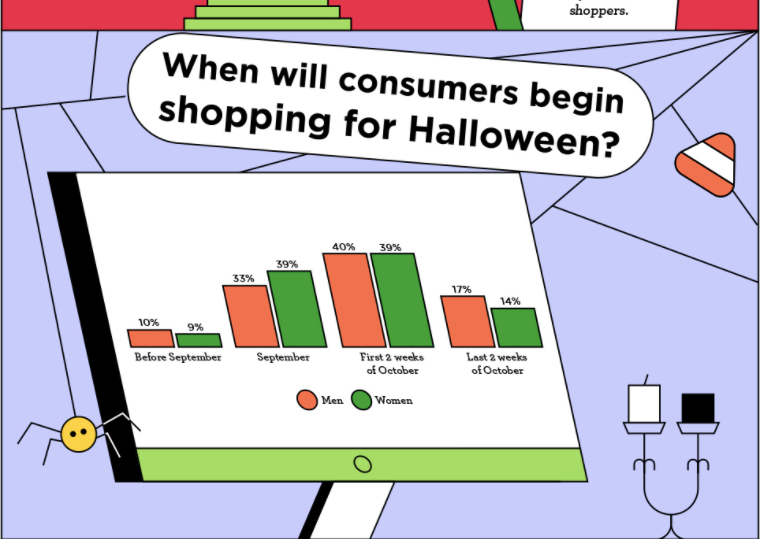 Following the top spending shopping categories, the ratio between men and women participating in shopping (which is different indeed), and analyzing the best inspiration source this year, creating a plan won't be a difficult task.
So, here's how you can proceed with your Halloween email marketing plan –
Put your Halloween campaign in the email marketing calendar
Sort out the best days to send emails
Applying all the necessary hacks in your email subject lines, email copy, images, and designs
Design the most exclusive Halloween offer for your product
Sending emails
Well, an underrated but one of the most important matters here is to follow the best days. Hence, we've found a solution for you. According to CoSchedule, the three best days to send emails are Tuesday, Wednesday, and Thursday.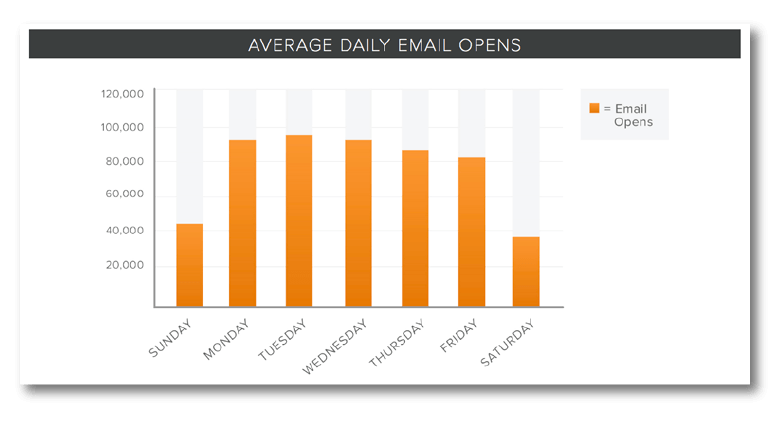 2. Lit Up the Halloween Pumpkins with Your Email Subject Lines
64% of reciepants open an email based on their subject lines (Barilliance). 47% of marketers test the subject lines before finalizing their email sending process (Hubspot).
So, you can see, subject lines are the most crucial factor after list segmentation for your email marketing to be successful. When we are talking about Halloween, email subject lines can be way more creative to make a first impression.
Here are some remarkable Halloween email subject line examples you can take inspiration from –


However, we've made some research and come up with some more exciting and ghosty ones. Take a look –
Deliciously Spooky Halloween Recipes – Bhg.com
Scary savings! 20-50% off Monster Sale, Doorbusters & more – JC Penny
Go bump (and grind) in the night this Halloween! – Cosmopolitan
Have a Fang-tastic Halloween – MeUndies
From Our Ghouls to Yours – Sugarfina
Delicious Treats, No Spooky Ingredients. – Chobani
Halloween's Biggest Sale: BOGO 30% Off Everything!
All of these subject lines have one thing in common. They put some fun in it, evoke curiosity, and are specific about the Halloween offers. Hence, when you write down yours, you must consider this point. The more you get spooky, intriguing, and joyous, the more you will get the open rate.
3. Your Email Copy Should Be Focused on Halloween
When you are celebrating Halloween, it's once again to follow this writing thumb rule – "Show, don't tell." Therefore, your email copy needs to be moving, furry (funny+scarry), and visually interactive.
Besides, avoiding boring copies would be a winner. It means you shouldn't use the common Halloween email copy most companies are using. In this regard, you must emphasize your brand voice, be unique, and be specific about your goal for the Halloween email campaign.
How much interactive your email copy can be? Here's a perfect example for you –

If you start reading the above email, the guiding process is highly attractive and entertaining. The email has two parts. The first part is all about Google's Halloween arrangement for subscribers. The second part (and the smallest) is where the sales pitch began, it is about an audiobook Nightfire which contains horror stories.
The email copy here can be a great case study for marketers. Before the company offer the audiobook, it was able to make the email recipients comfortable using the Google voice search option, and the whole process made the Nightfire even more interesting.
4. It's the Email Design that Matters
We are not saying that simple emails that have no attractive image or design can't get any success. Sometimes, a powerful copy can connect people and influence decisions astonishingly. However, occasions like Halloween are somewhat out of this simplicity. That means, the more color you put in the Halloween email design, you will become more impactful.
Besides that, it's important how you want to set things in order like – header text, body copy, image (any types of visuals), necessary links, and CTA's.
Petcare shop Rover had sent this beautifully crafted Halloween email on a previous Halloween to their subscribers and customers. Let's see how they arrange things in line –

The email is more like an attractive landing page. After the brand logo, it offers all the tabs to browse and know the shop. Then they have put the Halloween special offer like pet toys. And with each step, they have added either link or CTA buttons. If you look at the color patterns, alignment, and how they keep things arranged here, you will understand why we are calling this design effective.
Here's another superb Halloween email design you can consider –

5. Bring Life to Your Emails with Halloween Wits and Humour
Halloween is a happy festival, a scary one. Though its scare revolves around fun and rejoicing with friends and family. So, you can make your Halloween email marketing witty and alive with jokes, cartoons, memes, or GIFs. Hence, GIFs in emails are a trendy and effective idea even in the normal time.
L.A. Burdick Chocolates did this awesome Halloween email campaign a few years ago, and it did bring some extra joy to the customers and company. The animated shadow here is totally fun and makes the Halloween-shaped chocolates more enjoyable.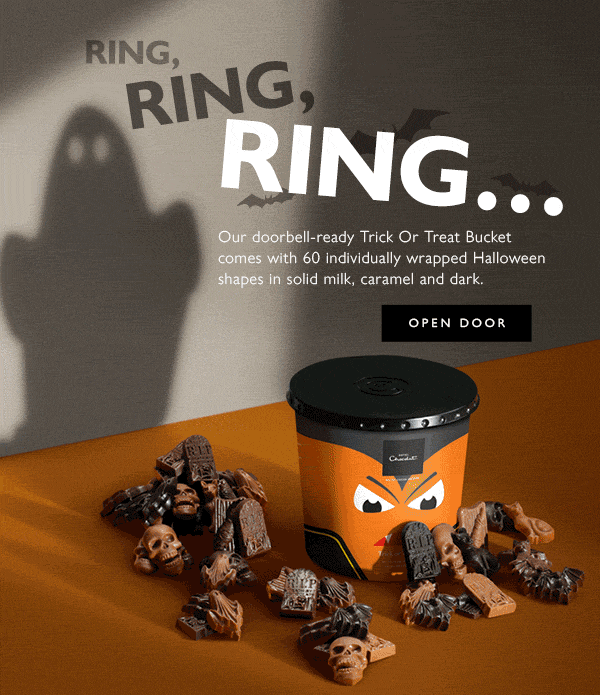 Besides that, there are plenty of funny Halloween quotes out there and even you can create one like this to cheer up your clients.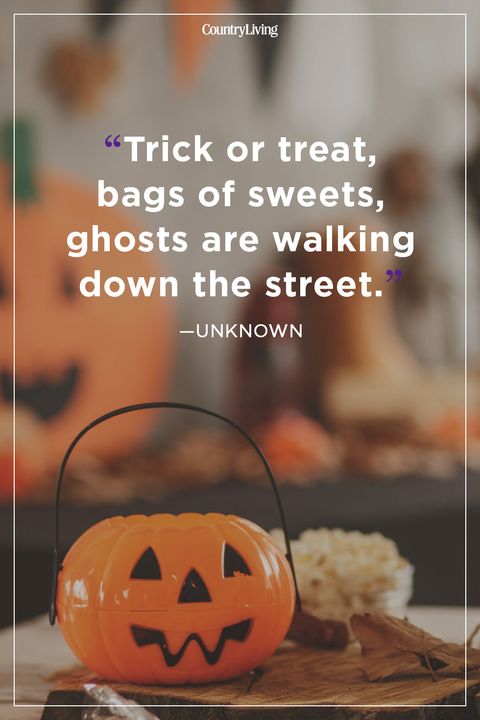 One of the better ideas to make people more interactive is using animated GIFs in email. Postable once use this idea to leverage Halloween and indeed they were successful to provide some joy to their subscribers. Here it is, take a look –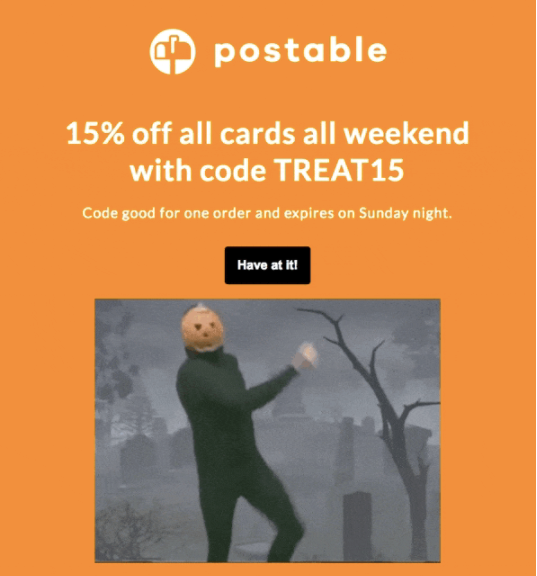 The GIF above is named the dancing pumpkin, what Postable did was just simply embed the GIF under their CTA button which encourages customers to grab the 15% discounts on Halloween campaigns.
Also Read: How to Use GIFs in Email Marketing to Boost Your Open Rates and Clicks
6. Send User-guide in a Halloween Mold
Harrys is a popular men's haircare brand. We've found one of their unique and powerful Halloween email campaign to light up your fireplace too. What Harrys did was use popular Halloween characters like Dracula, Werewolf, Mommy, and beloved Gandalf to show customers how to use Harry's trimmer. And after the "How to" guide was smartly presented, they indeed put a CTA button which is also attractive regarding the Halloween offer.
You can also use this technique as a two steps Halloween winner. Well, you may already have the right guess. Hence, it is slightly unlikely from a drip campaign, though it would be looking like one.
Before starting to send your Halloween offer, you can create a visual user guide like Harry's email below. It will warm up your subscribers. Next, you will be sending the final Halloween email with your discounts, announcements, etc.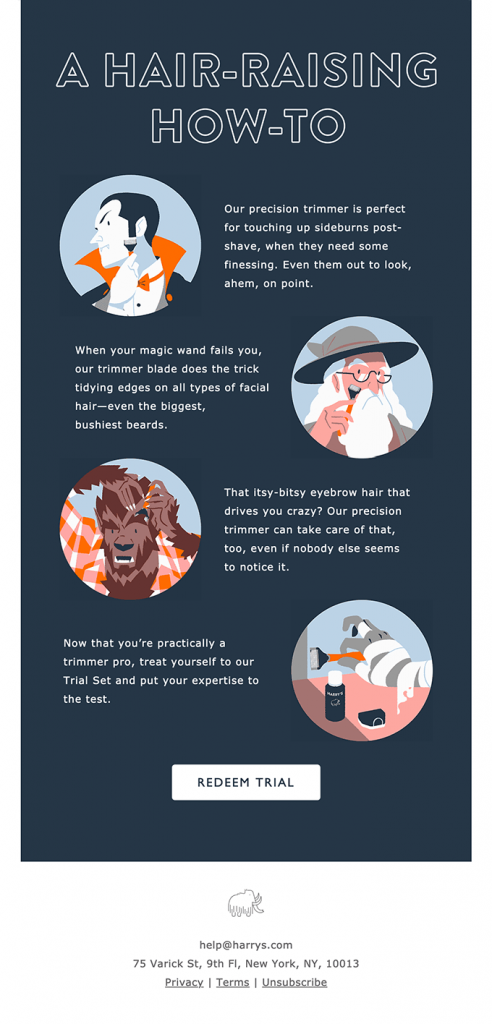 The process is simpler than you might think. As normally, marketers used to send one email, you can renovate your Halloween email marketing strategy with a two-step approach.
7. Use Your CTA Button Carefully
Hubspot once tested 330k CTA buttons, and found that personalized CTAs getting a whopping 202% better reaction than those are not. The average CTAs usually gets 4.23% click-through rate. On the other hand, a clear and attractive CTA can boost up click rate upto 371%.
CTAs (Call-to-action) are important factor nonetheless, it helps or prompts a user to take an action after they are convinced by your email copy. If you are clever at using the right CTA in your Halloween email campaign, you can reap more benefits.
The first tip of using a CTA is it should be eye-catching. Using color contrast is always a better idea. Look at the above CTA of Spooky Stays Halloween email example below –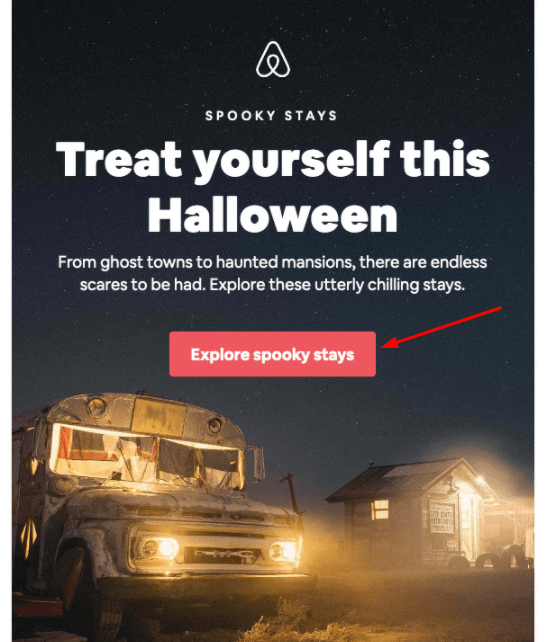 Therefore, applying multiple CTA is always effective until you know how many of them are fitting to achieve your goal. David Zhang of Crazy Egg mentioned three crucial elements that make a CTA great is a compelling copy, color contrast, and placement.
Must Read: Email Marketing CTA Best Practices: A Guide for Marketers with Advanced Tips
So, if you understand the science behind your CTA button, you can easily implement multiple CTA with the right placement.
Hence, look at this beautiful email from Dunkin Donuts.

As the above email, you can also show different products or content in your email, and put several CTA buttons to make the selection process even simpler for your customers. However, while using multiple CTA, remember one thing. If you Consider one of your CTA to be the main one, don't make the other buttons highlight or more focusing.
That means you must utilize the strategy of CTA placements and hierarchy to place your Halloween email CTAs.
8. Use the Right Email Automation Tools to Send Halloween Emails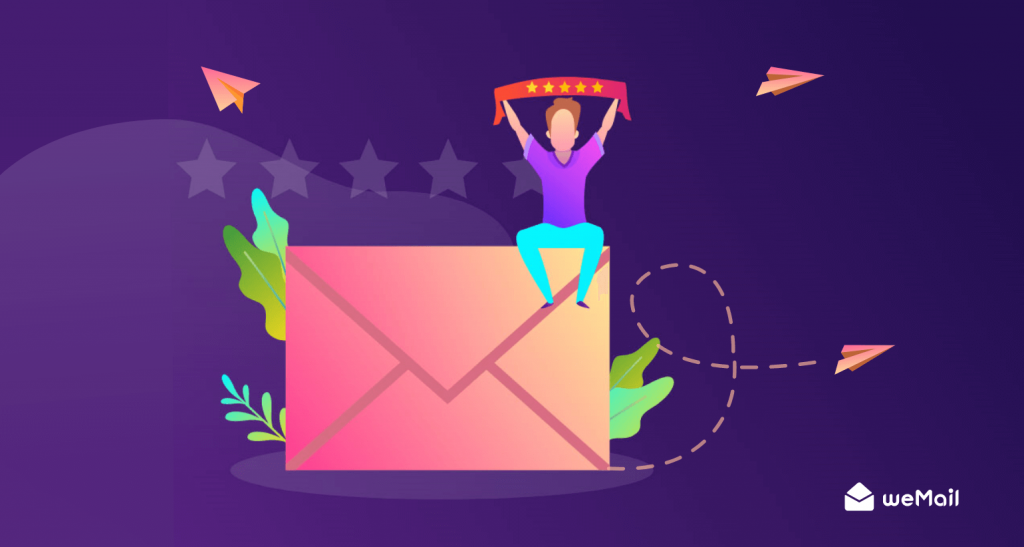 Without a perfect email automation platform that fits your business, you can't go further in this case. For example, you must send your email campaigns to all of your subscribers, and at the same time to execute the plan.
Hence, it is quite unreal if you go sending one email after another for an eternity (Pardon me! pun intended as it's Halloween, right?).
You can go for weMail to solve the issue anyway. It is a WordPress-based email marketing platform to send automated marketing campaigns and newsletters. The winning point of weMail is that – it is exceptionally affordable compared to any similar email automation platform. Therefore, it has an inbuilt form builder and multiple sending options to help you customize and send your email campaigns.
Before Closing UP for Halloween Email Marketing Tip
Well, we have only a few weeks left to celebrate this Halloween. After reading this guide, we believe you are ready to send your joyous ghosty emails to subscribers. However, let's rewind a little bit before you get started.
Things you should do in a nutshell –
Make a plan for your Halloween email marketing campaign.
Write the best subject lines possible
Your email copy is what makes the subscribers fall for your offer
Design the best Halloween-themed email campaign
Use some wit and humor
Sending two steps email campaign can be an out-of-the-box idea
Use your Halloween CTAs carefully
Now, we are almost there. Here are some cautions or things you shouldn't do while sending Halloween email marketing –
Don't write too much copy, that means don't make your email copy a burden to readers.
Avoid boring email copy
Never use a previously used email template on an occasion like Halloween
So, what do you think? This is all we've got to offer you right now. We wish you the very best and a happy Halloween.
Subscribe To Our Newsletter
Don't miss any updates of our new templates and extensions
and all the astonishing offers we bring for you.