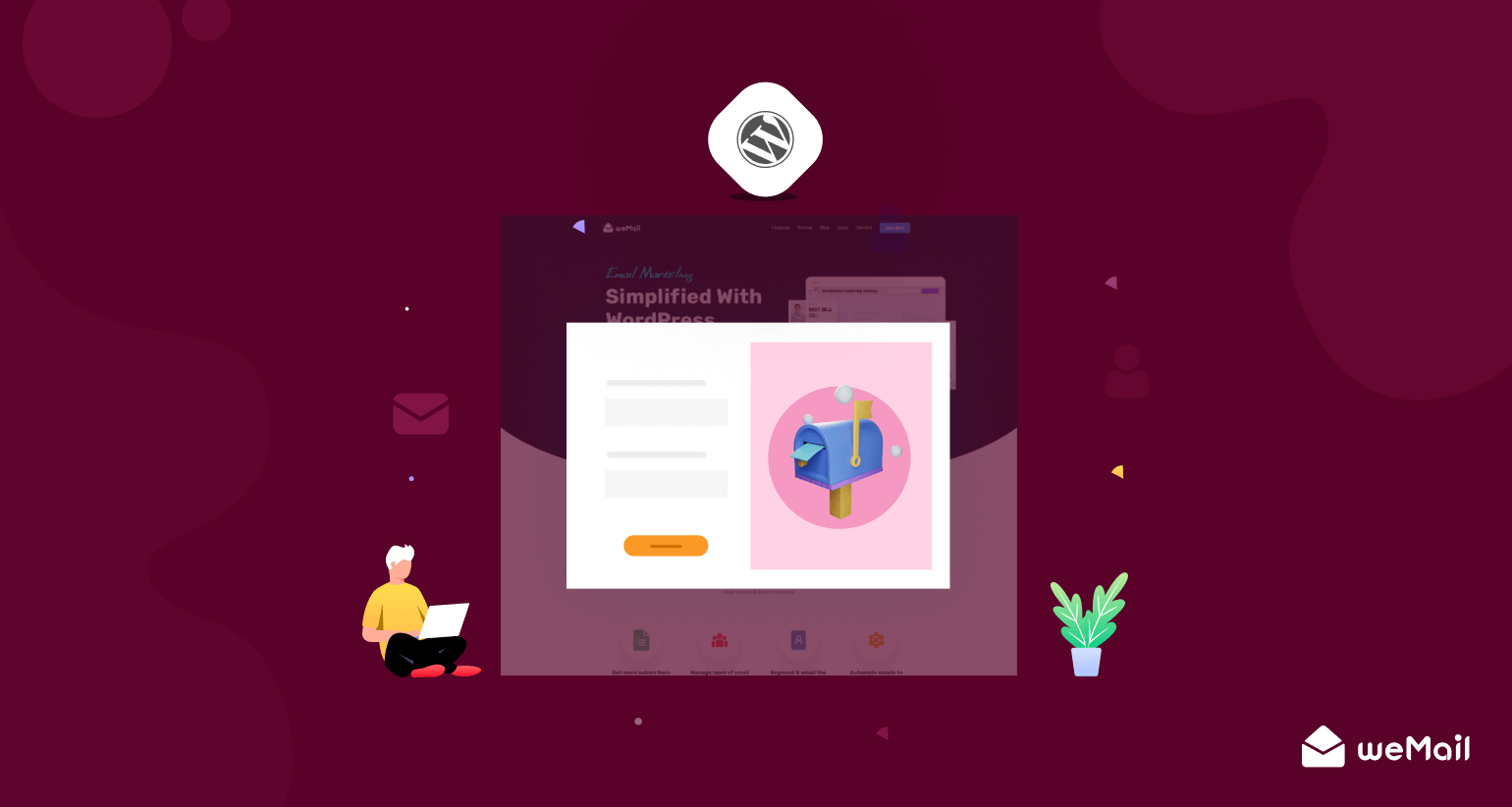 How to Add Email Subscription to WordPress With 5 Simple Steps
Email subscription is a way visitors allow a website to send messages, updates, newsletters, and promotional offers straight to their email addresses. This is the heart of any email marketing campaign today. It enables an organization to grow the list of qualified leads and strategy build-up.
Yet there are many organizations that do not have the email subscription feature on their websites. Maybe a large part of them doesn't know how to add it to their website, or they aren't sure about its importance. If you belong to any one of them, then this article is solely for you.
There are countless email marketing plugins available on the web. Using one of them, you can easily activate this feature on your website. But which one to choose? This article will help you out on this and explain step-by-step 'how to add email subscriptions to WordPress websites.
Before that, let's cover a very basic question.
Benefits of Adding Email Subscription to WordPress Site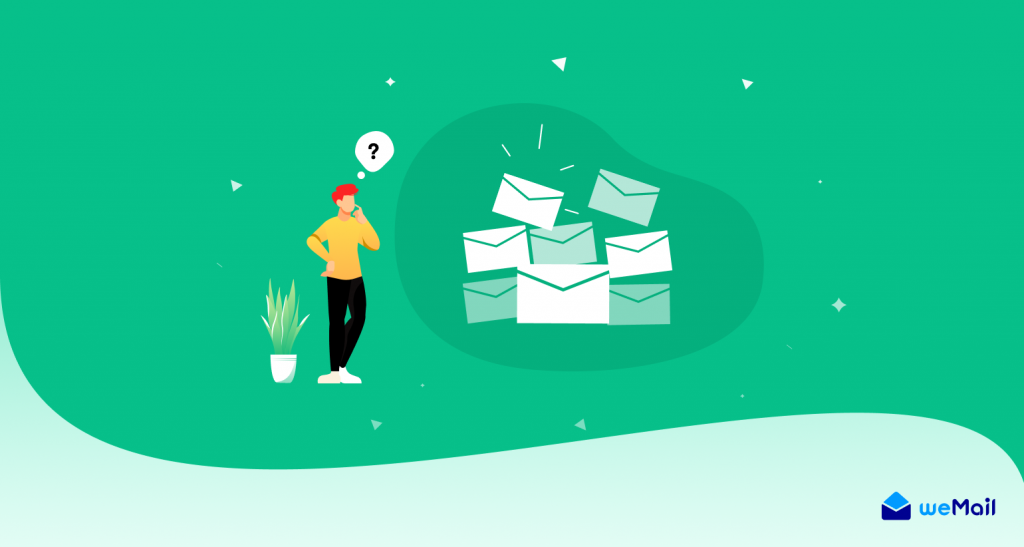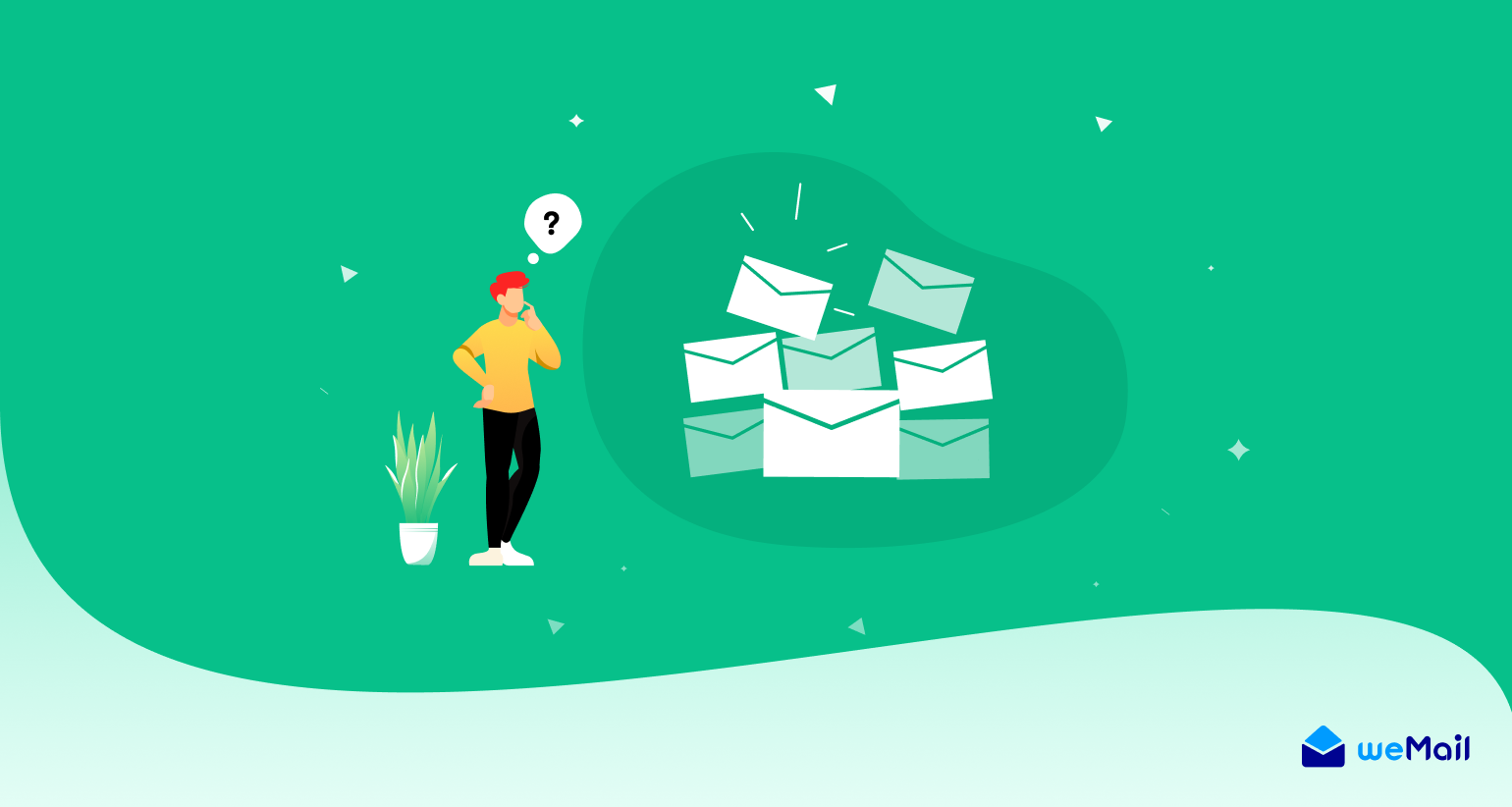 According to many studies, it costs at least five times more to acquire a new customer than to retain an existing one. Increasing customer retention only by 5% can improve profit margin by 25-95%.

OutboundEngine
Email subscription helps you grab the details of interested customers while users visit your website. When someone subscribes to your website, this means they are eager to hear from you. So, you can directly contact or email them anytime you want.
Besides, you can use this information to segment subscribers into different email lists, create appealing content, and be more targeted with your email campaigns. This is why the bounce rate in email marketing is much lower than in social media and Google advertising.
If you look at Facebook, Twitter, and other social platforms, you have to spend a fair amount of money on Ads even to generate a minimum number of leads. But the idea of an email subscription can bring you a good number of leads organically.
Today, it is the most cost-effective way to reach out the customers successfully. Email marketing promises you the maximum ROI rate- up to 4200%. It means for $1 spent on email marketing can return you $42.
Step by Step Guide on How to Add Email Subscription to WordPress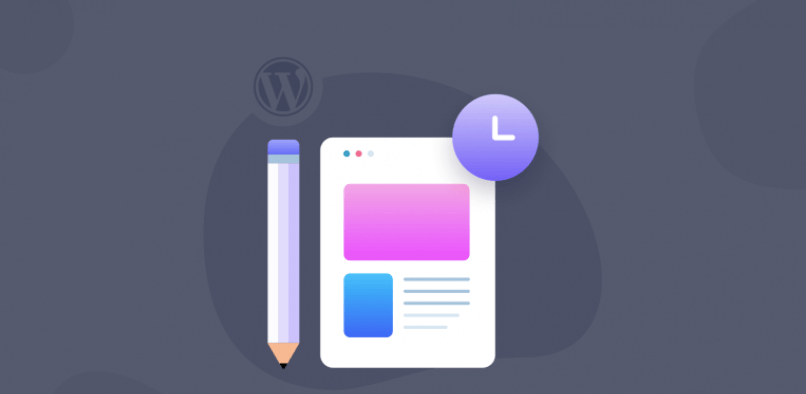 Now, we are entering into the main part of this article. Have a look at the outline below of how we'll show you the process.
Choose an Email Marketing Plugin
Complete the Setup Wizard
Create an Email Subscription List
Design Your Email Subscription Form
Add the Subscription Form to Your WordPress Site
Let's cover them in detail.
1. Choose an Email Marketing Plugin
You can add subscription forms to your website using just a form builder plugin. But next, you'll need an email marketing plugin to send emails to your subscribers. Isn't it better to use a plugin that allows you to build subscription forms and do email marketing alongside?
weMail is an awesome SMTP plugin. It has a great number of killer features that allow you to grow subscribers, promote products, create newsletters, use analytics, and design inbound campaign strategies.
We're going to use this plugin in this article. Here are the reasons behind it.
weMail allows you to create different types of opt-in forms like floating bars, slide-up, Inline forms, double opt-in forms, etc.
You can use its drag-and-drop builder to create different types of forms out of scratch.
100+ templates are available to create eye-catchy newsletters, email copies, and promotional ads.
You can import and export contact lists, and update them regularly.
It has a robust analytic to show you advanced insights into email marketing campaigns.
You can easily integrate weMail with the top email sending solutions (Amazon SES, Mailgun, SparkPost, Postmark, SendGrid, etc.).
Note: You can add subscription forms to your website using the free version of weMail. Keep reading!
2. Complete the Setup Wizard
First, install and activate the plugin.
Get into your WordPress dashboard.
Go to Plugins > Add New > weMail.
Install and Activate it.

Connect weMail to your website. Click on Connect.

If you already have an account in weMail, sign into it using your email and password. Otherwise, create a new account. Then, get back to this page and complete signing in.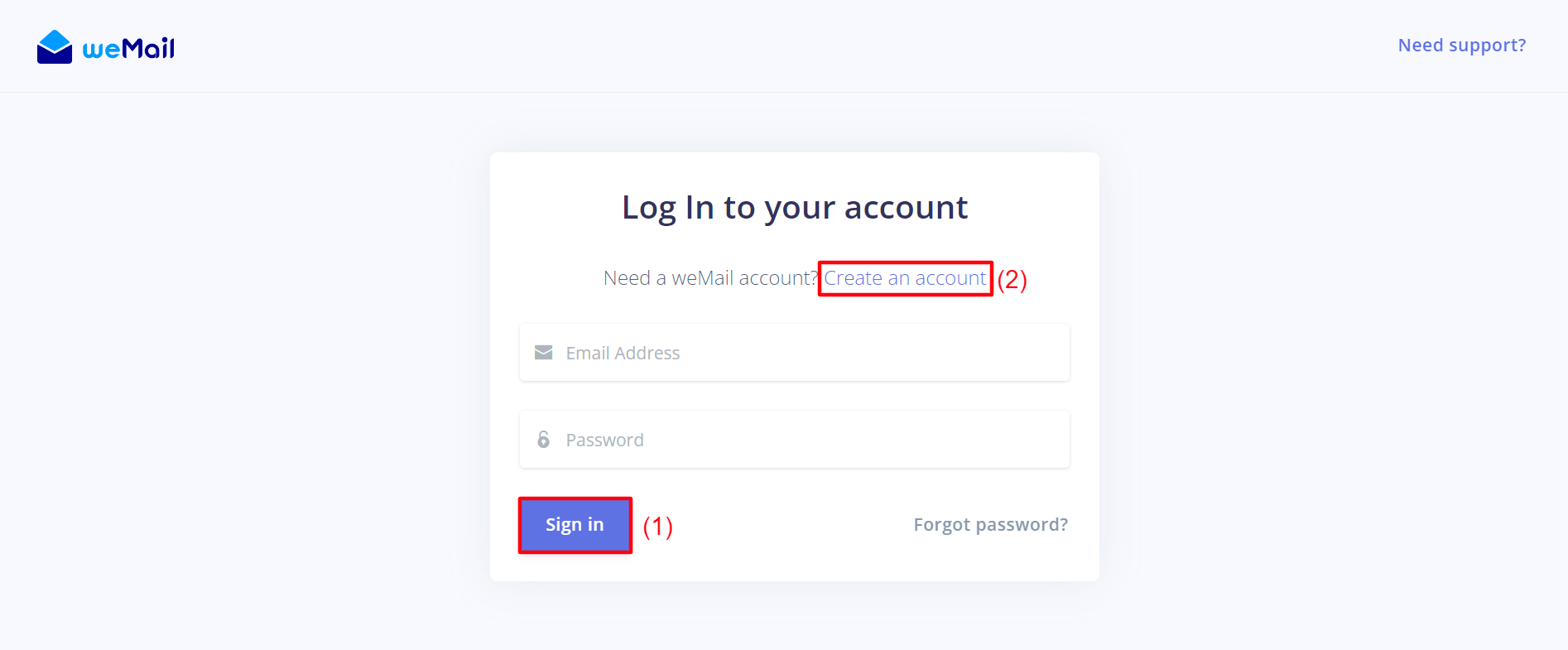 Right after you safely sign in, click on Allow to connect the weMail plugin to your website.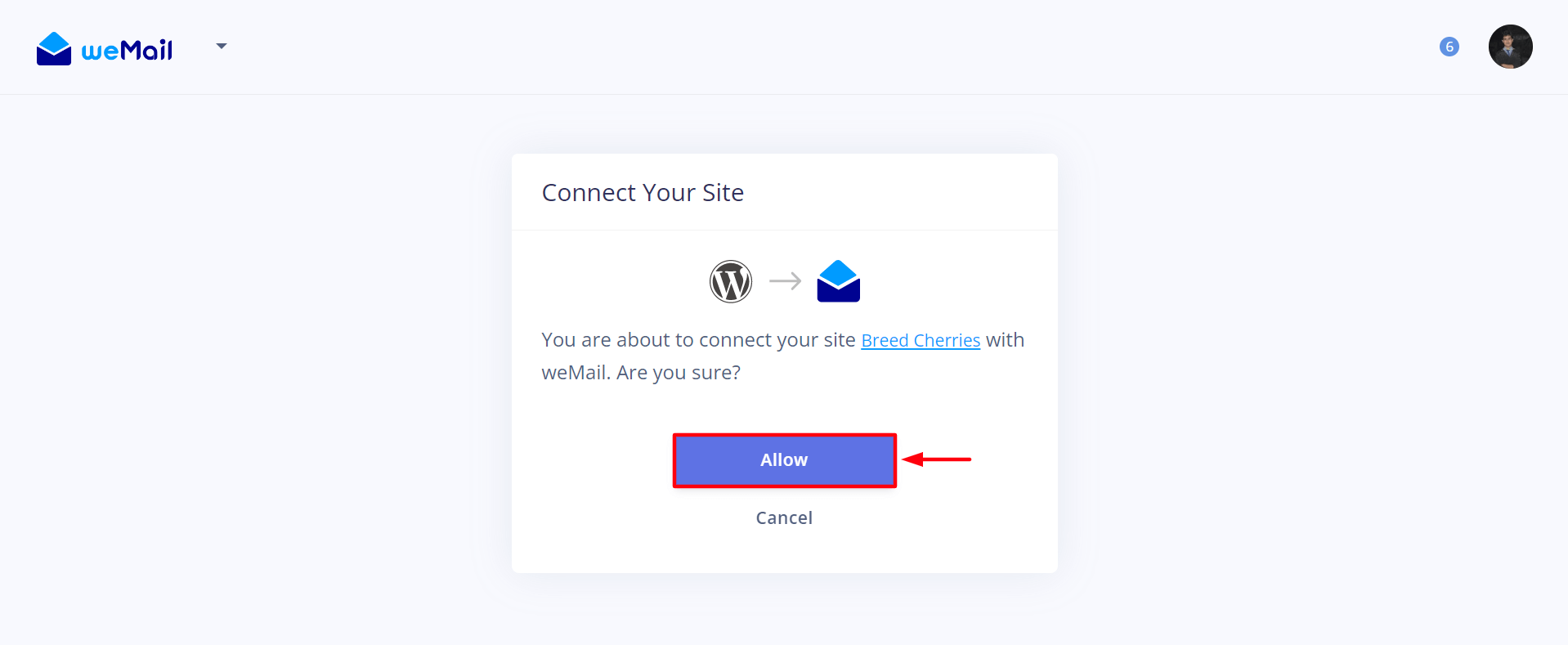 Done! weMail dashboard appears on your screen.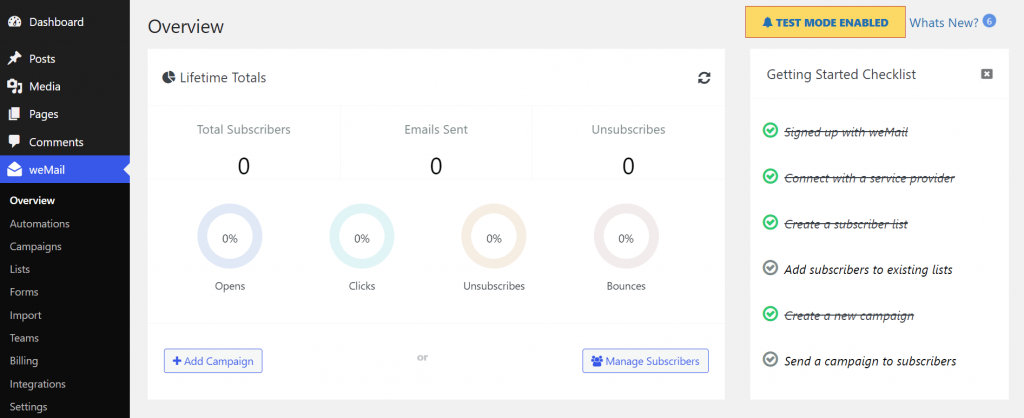 Welcome to weMail!
3. Create an Email Subscription List
Now, you have to create an email list. It will host information (email addresses, age, sex, preferences) about the users who are subscribing to your website.
Navigate to WordPress dashboard > weMail > Lists.
Click on Add New.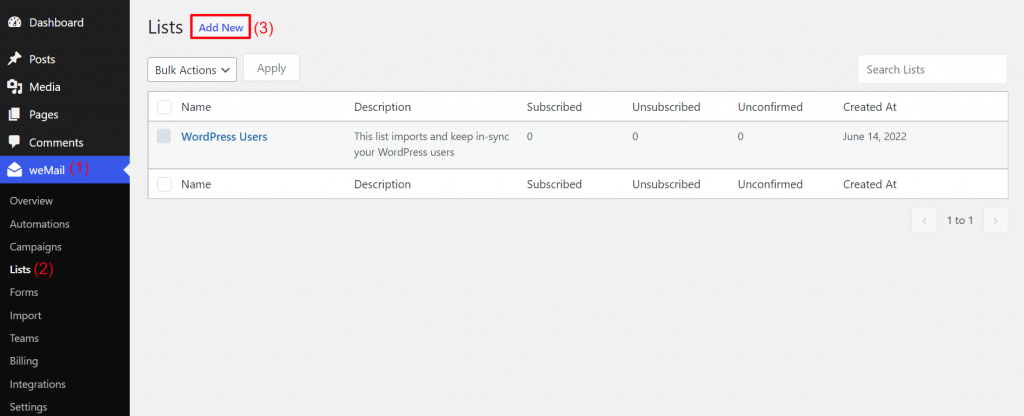 Give a name to your new email list. Also, add a description so that you never forget what was the purpose of creating this list. Click on the Save button at the end.
So! Your new email list is ready. You can check it from weMail > Lists.

4. Create Your Email Subscription Form
Now, you need to create a form and add it to the list that you created just above. When someone comes to visit your website, this form will ask them to subscribe.
Go to WordPress dashboard > weMail > Forms.
Click on Add New.
Select New Optin Form.

You will see different types of forms available there. You have to choose one of them.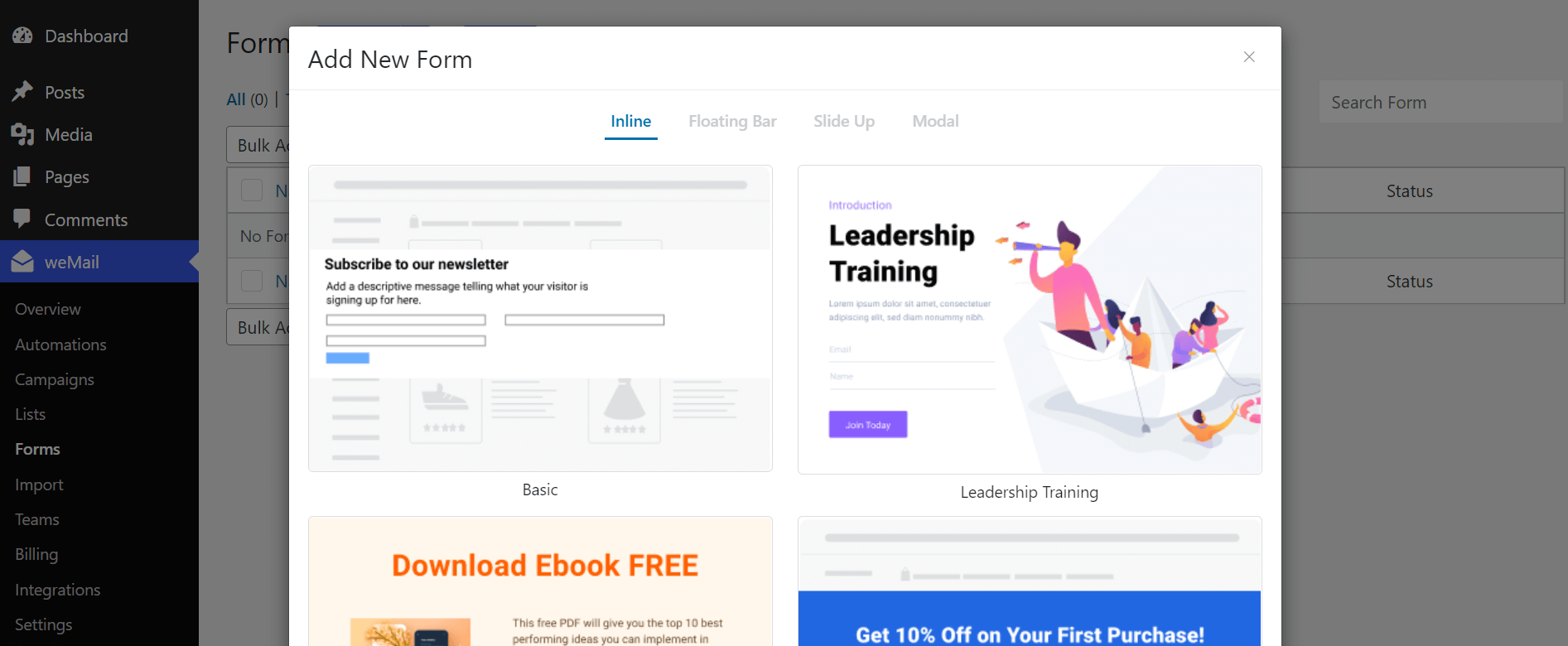 Before choosing any one of them, let's talk a little bit about them
Inline Form: This is a regular-looking form style. You can use it in between your text paragraphs or at the end of your articles.
Floating Bar: It is shown whether at the top or bottom of the user's screen and keeps floating there even if the user scrolls web pages.
Slide Up: It comes up on the right or left side of a website and doesn't use much space that traditional forms take.
Model: This is a pop-up window that automatically comes up when users get into a particular page or browse a website.
Choose a form according to your requirement. Give it a name. Then, add it to the list you created above. Click on the Save button.

Hover your cursor on each of the elements of your form. You'll get the edit icon to modify your form. Do it as you wish.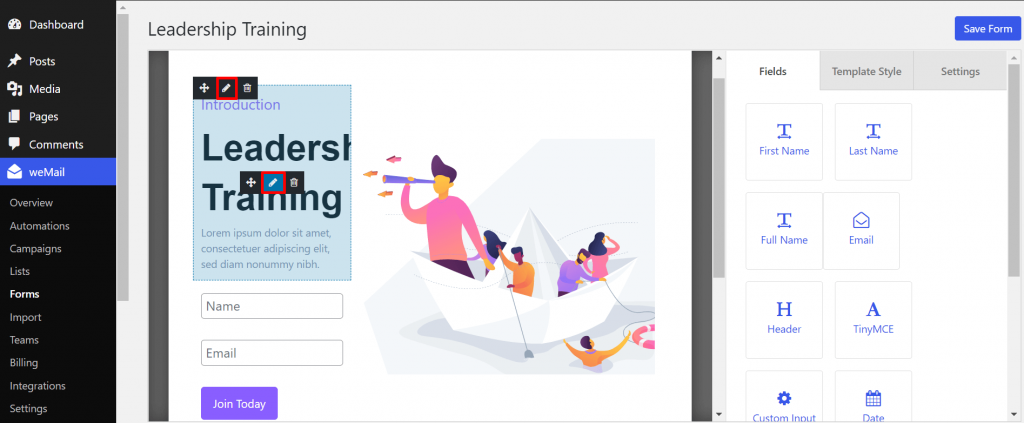 If you want to add more field, drag and drop it from the left.
Finally, if you want to add some warm greetings, go to the Settings option. Get it done from there.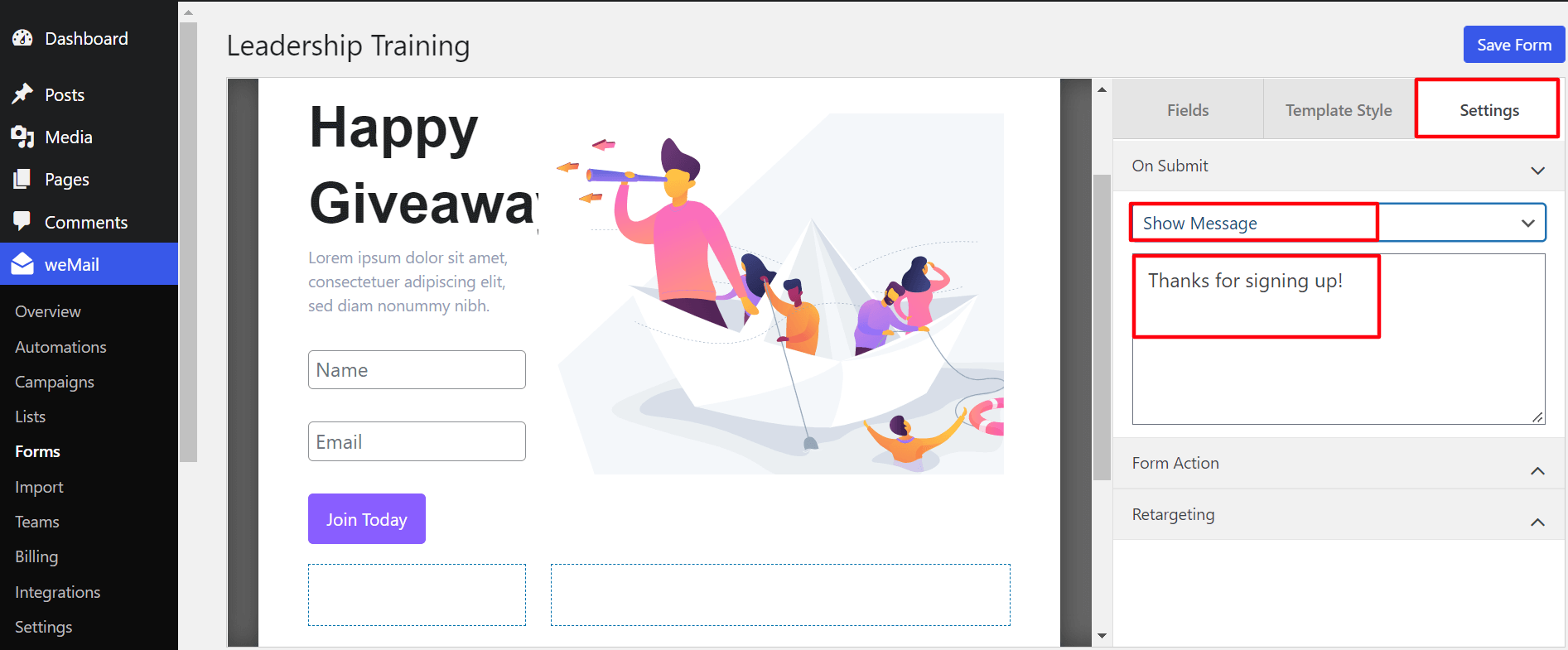 Once you are done, click on the Save Form button.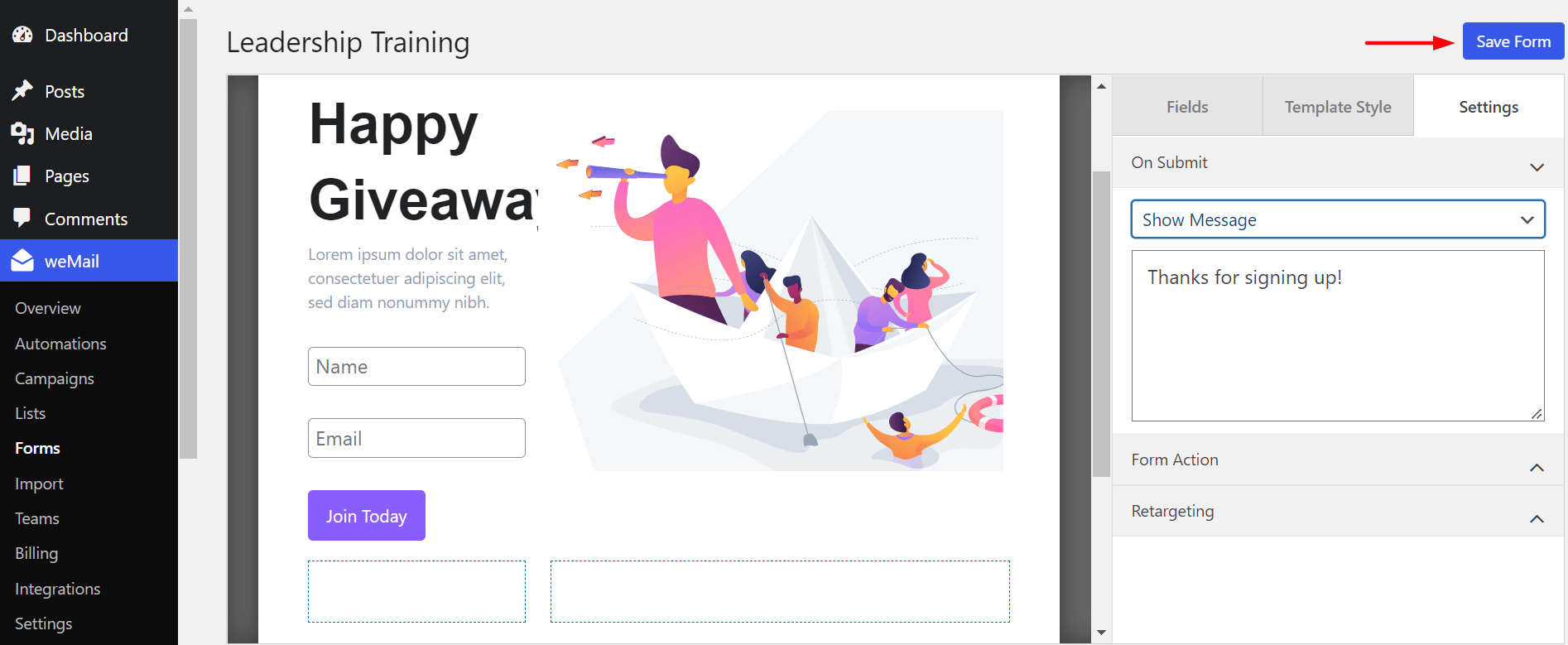 Your form is ready!
5. Add the Subscription Form to Your WordPress Site
Now, it's time to display your form. You can show it in two sections.
Header or footer
Blog posts or pages
How to Add Email Subscription Form to Web Header or Footer
Navigate to WordPress dashboard > Appearance > Widgets. Choose the widget where you want to add your form. We are preferring the footer section. The process is the same for other widgets as well.

You will see a (+) icon at the end of your footer widget. Click on it. Type weMail Form in the search box. It will automatically show you weMail Form icon. Click it.

Give a title to your weMail Form and choose the form you created from the select option. Then click on the Update button from the top-right corner.
Load your WordPress frontend and check if the form is appearing on your footer section.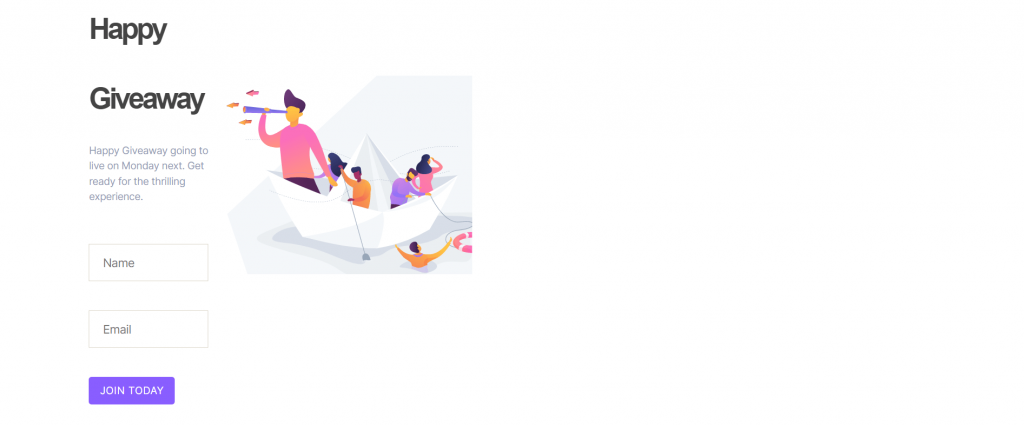 How to Add Email Subscription to Blogs Posts or Pages
Open the blog post you want to use. (The process is the same for all whether it is blog posts, pages, or articles.)

Go to the blog position where you want to add this form. Click on the (+) icon. Type weMail on the search box. Add the weMail block.

Click on the drop-down icon. Select the form you created a little ago. Finally, update the blog post.

Done! Load your frontend and see if the form is shown on your post.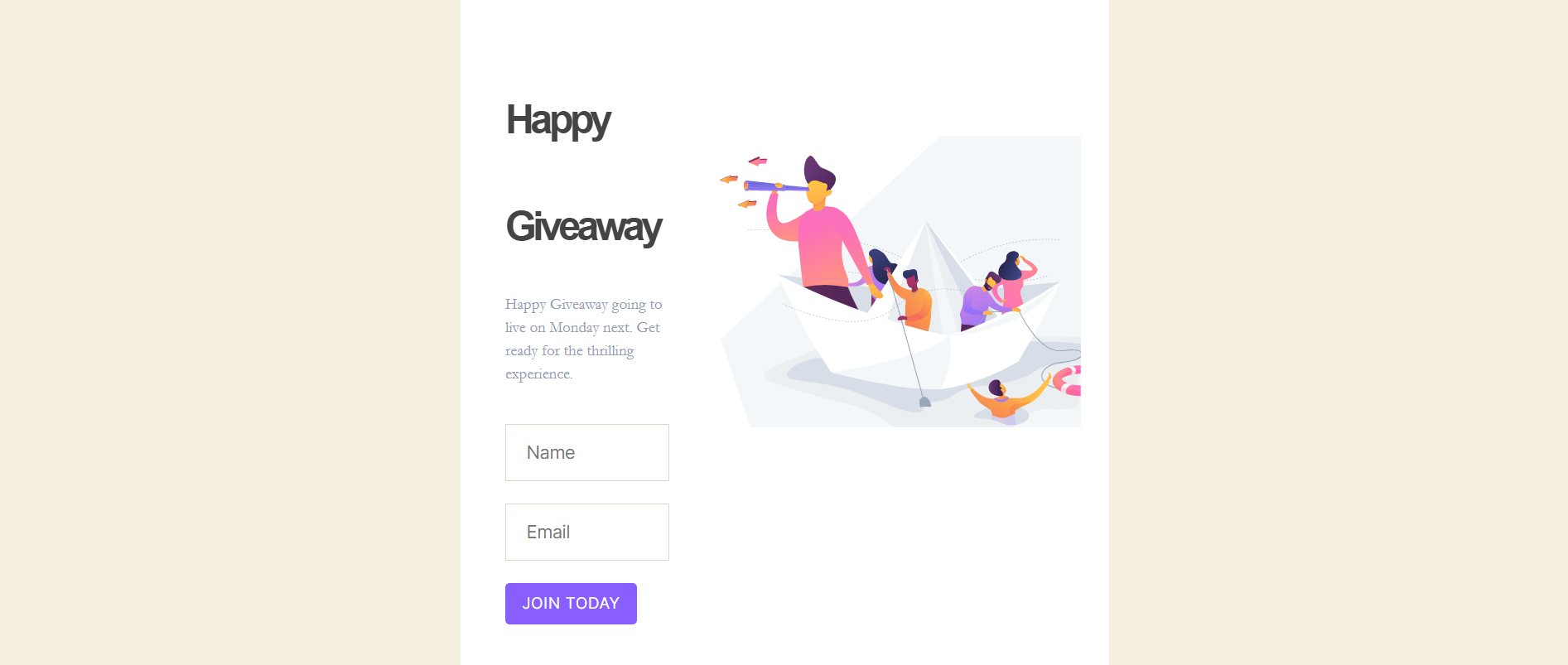 Following the same process, try to add this form to your web pages. If you face any trouble, let us know through the comment section.
Bonus: Tips to Boost Your Email Subscription Rate
Already you know how to create subscription forms and add them to your email list. There are some tactics by which you can grow more subscribers in the quickest possible time.
Offer Special Deals to New Subscribers
Offering gifts, discounts, coupons, and vouchers is one of the best ways for new organizations to gain subscribers in the quickest possible time. Suppose, you can offer a 10% flat discount, free shipping, or else on the first purchase.
Run Contests or Giveaway Campaigns
If you run contests and giveaway campaigns, it can work the same way as the special deals and offers do. It psychologically provokes online users to subscribe to the programs to get regular updates about those campaigns. If you have enough resources and financial backup, you can apply this tactic.
Design Audience-Specific Landing Pages
Audience-oriented landing pages help to narrow down the attention of web visitors to the subscription forms placed there. It helps the web owners to create and publish in-depth content separately for different audience groups.
Run A/B Tests
The color, texts, CTA button, and placement of your subscription form can have a significant impact on your web visitors. For example, 85% of customers take buying decisions on any website based on color. But there is no written prescription for which variation will work best on your site. You have to find it out through A/B tests.
Add Testimonials
Testimonials can create credibility in the psychology of your web visitors. Sometimes, people stay away from subscribing to a website for the fear of scammers. Adding testimonials can relieve them from the fear and motivates them to hit the subscription button.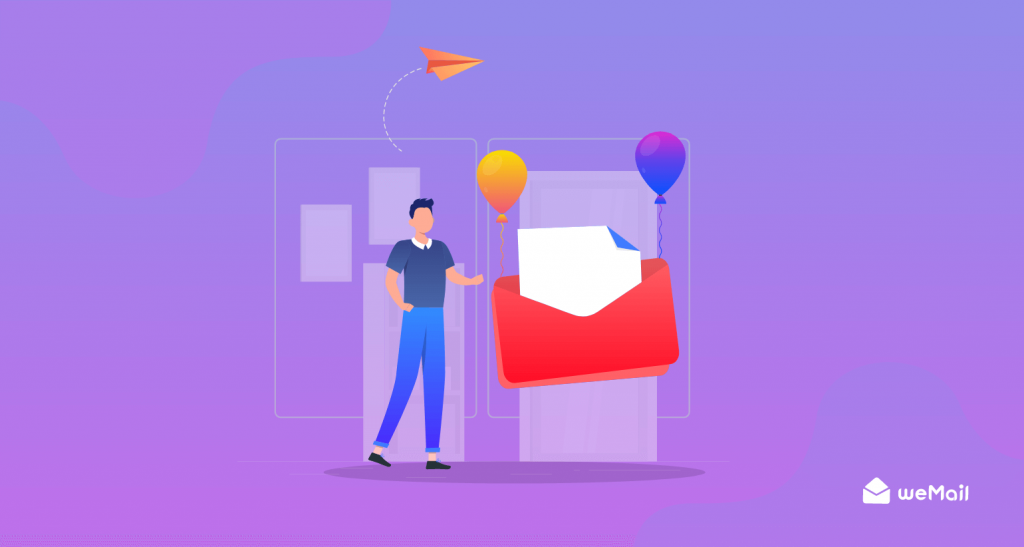 FAQs on How to Add Email Subscription to WordPress
Here, we'll answer some most frequently asked questions on how to add an email subscription to WordPress.
Where should I place the subscribe form on my website?
It depends on the behavior of your web visitors. If their average timespan on your website is long and love to read out your entire blog posts, you can place subscription forms at the end. Otherwise, it's better to add forms on sidebars, or between the text paragraphs.
How can I see the total number of email subscribers on WordPress?
If you are using weMail, you can easily see your total number of subscribers from its dashboard.
How do I set up an email marketing campaign on WordPress?
First, install the WordPress email marketing plugin.
1. Navigate to WordPress Dashboard > weMail > Campaigns.
2. Click on Create New.
3. Name your campaign.
4. Enter a subject line, select list(s), and add segmentation filter(s).
5. Finally, click on the Create Campaign button.
What types of successful email marketing campaigns can you do with weMail?
You can do the following four types of marketing campaigns with weMail.
1. Email Newsletters
2. Promotional Emails
3. Acquisition Emails
4. Retention Emails
What are the must-have features in a good email marketing campaign?
Aren't you getting the expected results from your email marketing campaigns? Have a look at the list below and check if you are missing any important elements or not.
1. Opt-in confirmation
2. Catchy subject line
3. Personalized copywriting
4. CTAs and links
5. Clean graphics
6. Mobile responsiveness
7. Clear objectives
Get Ready to Add Email Subscription to Your WordPress Site
Right now, 1.9+ billion active websites are there on the web. And this number is growing every day. No matter which niche you select, you'll find numerous competitors already working on it. Below is a short snapshot of different types of websites currently available on the web.
600 million websites on blogging (webtribunal)
24 million websites on eCommerce (wpforms)
700,000 websites to provide health information (Journal of Innovation and Entrepreneurship, 2017)
How would you survive in this ever-competitive market if you do not know how to build a sustainable relationship with your prospective customers? This is why building an email list should be a top priority for any online business today.
Hopefully, you have found this article helpful enough to meet your quest. Subscribe to us for more interesting articles like this one and let us know your opinion through the comment section.
Subscribe To Our Newsletter
Don't miss any updates of our new templates and extensions
and all the astonishing offers we bring for you.