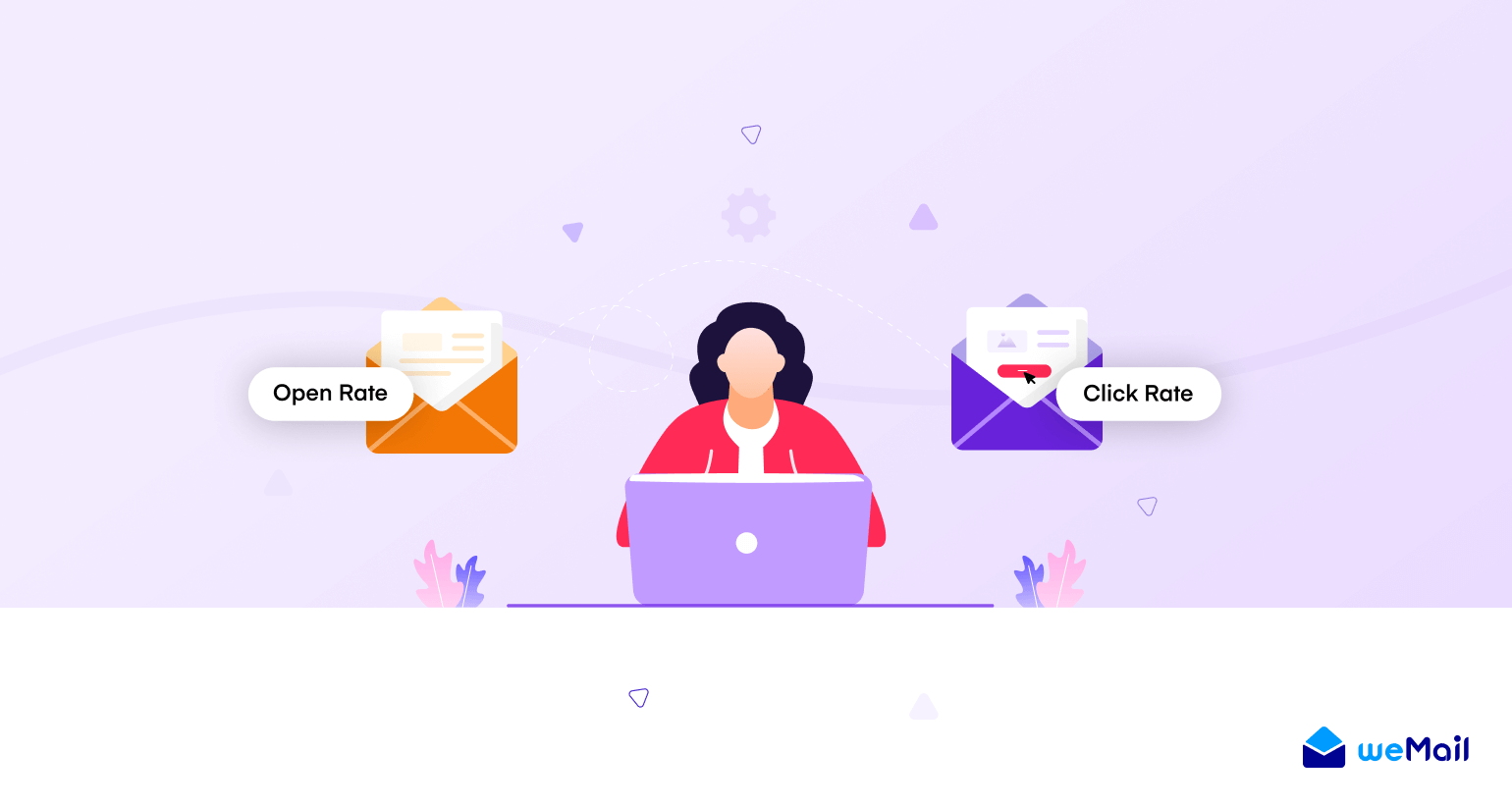 Open Rate vs Click Rate – Which One You Should Track First
To measure success, email marketers always depend on the open rate and click rate.
Also, there are email KPIs like CTOR (open-to-click rate), unsubscribe rate, bounce rate, conversion rate, etc. Industry experts often debate over their individual preferences.
Evidently, the most likely debate is about open rate vs click rate. You may also find it confusing to make a decision. If so, we are here to help.
In this blog, we are going to show you the following –
Keep reading.
Open Rate vs Click Rate – Definitions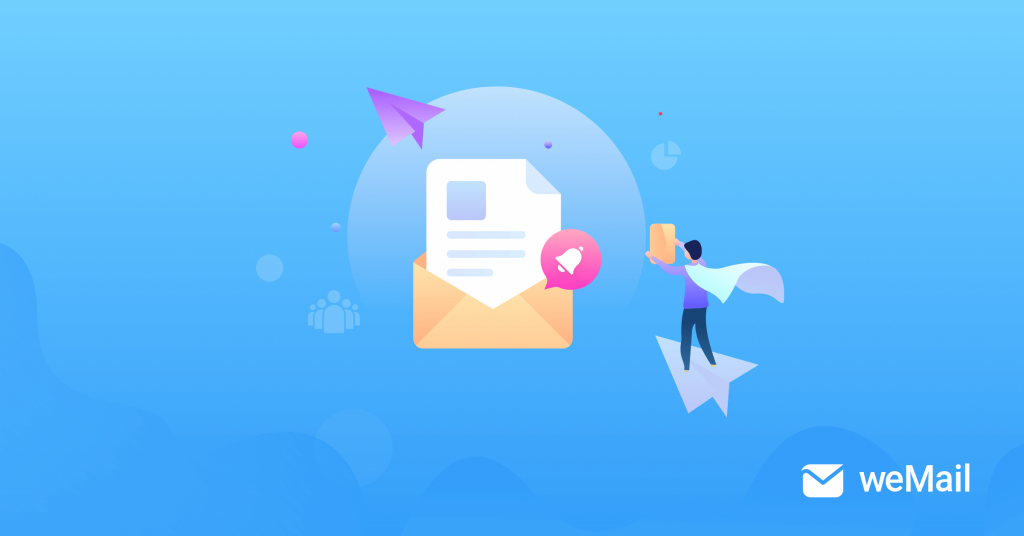 Before we go further let's learn what are these two powerful metrics of email marketing. To explore them, you need to go through the definitions first.
What is Email Open Rate
Open rate is an email marketing metric that let you know the percentage of emails opened after you send a campaign to subscribers. This is the first thing you want to measure for your email marketing campaign.
Here's how to calculate the email open rate –

The open rate indicates that your subject lines are effective enough to generate user interest. If you have higher rates, then your subject lines are pretty good. Otherwise, you need to work on that for sure.
However, getting a higher email open rate doesn't indicate direct success. It is a step to reach your goal. Also, the email open rate can be misleading in some cases.
What is Click Rate
Click rate or click-through rate is the percentage of your email link clicked by the subscribers. After open rate, it is one of the foremost metrics you need to track. Let's make it more precise and clear.
Here's the simple way to calculate click rate aka click-through rate –
You need to divide the total number of people who clicked your email link by the total number of emails delivered. Then multiply it by 100. The result would be your email CTR.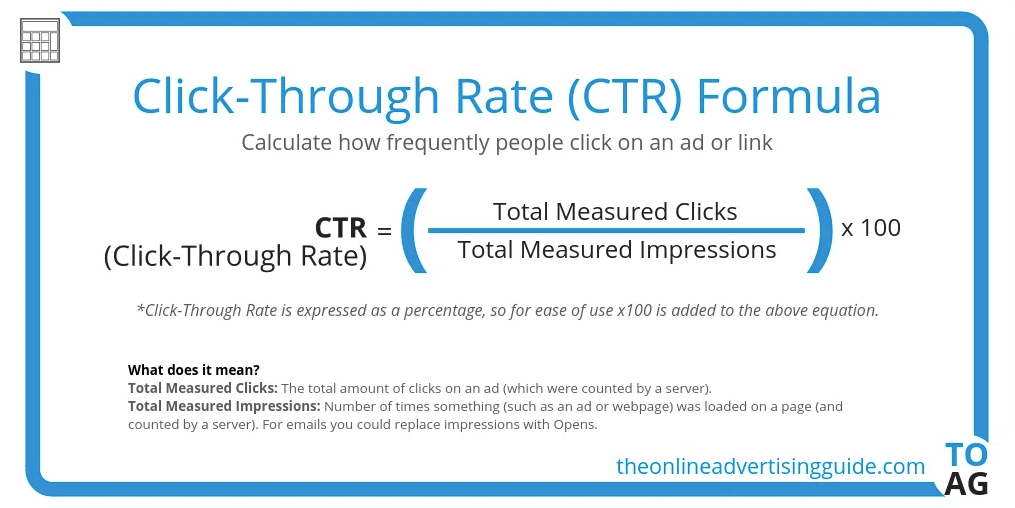 Also, there's a different way to calculate CTR. To do this, divide the number of total emails clicked by total emails sent minus bounced emails. The answer will be your email click rate.
Click to Open Rate at a Glance
Though it sounds similar to the aforementioned metrics, the CTOR (click-to-open rate) is different from them.
Click to open rate is the percentage of the recipients who opened your email and then clicked on a link, CTA, or a clickable image.
We will be discussing this metric later in this blog.
Differences Between Open Rate vs Click Rate
Here we've pointed out some of the differences between open rate and click rate. Take a look –
| | |
| --- | --- |
| Open Rate | Click Rate |
| Open rate only shows you how many people open your email. | Click rate shows the percentage of people who clicked your email after they open it. |
| A good open rate lets you know how effective your subject lines and email preheaders are. | Click rate helps you measure the success of your overall campaigns. |
| To generate a good open rate, the working factors are combined with email subject lines, active email lists, the timing of emails sent, etc. | To generate a good click rate you need to focus on powerful email body copy, relevant and effective subject line, interactive templates or design, images, and gifs. |
| Open rate doesn't count on click-through rate. | To calculate the click rate, you must consider the open rate. |
Though these two email matrics look different, they complement each other and you need to consider and compare both to track your email marketing success.
How to Improve Your Click-through Rate
What things work big time in your email to inspire subscribers? First, a generic or random email won't have the same impact compared to a specially catered and personalized email.
Besides personalization, an email should focus on some crucial parts that can trigger the interest of a user and increase the email click rate.
Out of many hacks used by email marketers, here we've sorted four major components that can turn your email into a highly converting one. They are –
Email Headline Copy – Optimize and Nothing But Optimize

Your headline copy creates the first impression whenever someone opens an email. And, in email marketing, it is your subject line that works as the headline.
Approximately, 8 out of 10 people read your headline copy. And only 2 of them read the rest of the content whether it is an email or a blog post.
So, the subject line copies are crucial. The more you optimize them, the more successful they would be.
What Makes an Impeccable CTA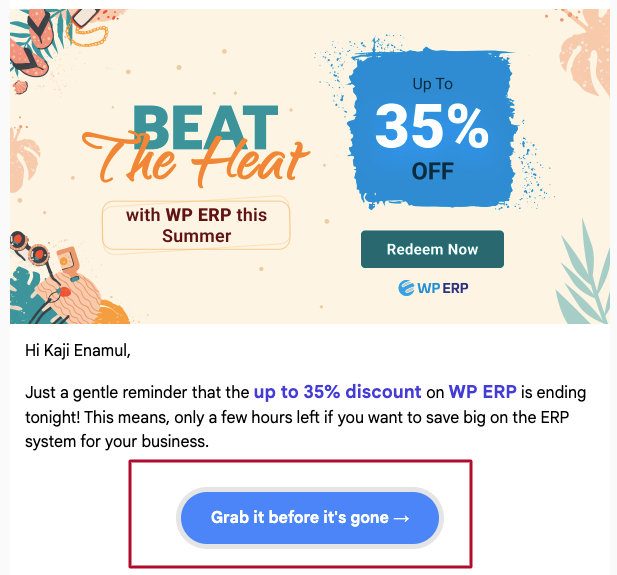 CTA means business. After you pitch an offer, the right call-to-action can prompt the conversion. So, you need to improve and optimize your email CTAs with the industry best practices.
Though we are used to talking about CTA buttons, a highly engaging copy with a landing page link can be way more simple and effective CTA at the same time. Take a look –

To bring improvement to your click-through rate, here are some email marketing CTA best practices for you –
Use copy that sells. It should be action-oriented and smart. The goal of a CTA is to prompt action.
Make the size of the clickable text large and legible.
A CTA button should be attractive with the right color contrast.
Create urgency aka the FOMO (fear of missing out) effect.
Keep it short and to the point.
Must Read: Email Marketing CTA Best Practices: A Guide for Marketers with Advanced Tips
Use of Images – How to Make Your Email Visually Stunning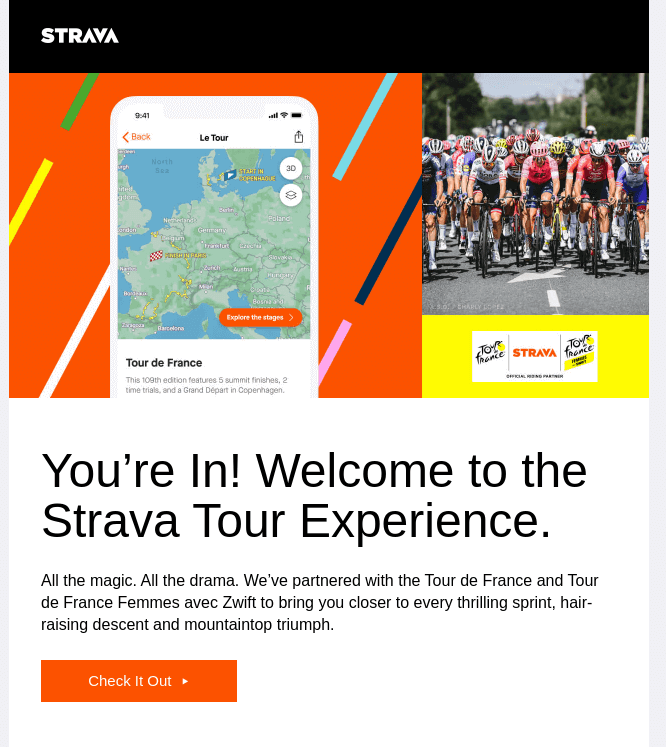 80% of people remember what they see, whereas 10% of people remember what they hear, and 20% of them remember what they read.

Jerome Bruner, Psychologist
Evidently, images work faster than text in our minds. That indicates your brain process and make the decision faster while seeing an image or video than plain text.
The same thing happens when you design your newsletter template with attractive images, it became more engaging and converting.
So, you can utilize relevant images to improve your email click rate. It's a proven technique.
Is it a Good Practice to Using Hashtags in Email Copy
Hashtag plays a crucial role in social media platforms. It helps people to get into a niche topic or discussion they want to join.
But is it good for emails too? It depends on how you are going to use it.
In your email subject line and body copy, hashtags can play a significant role if they are relevant industry hashtags. People who are used to seeing them so often can easily be attracted by them.
What is a Good Email Click-Through Rate
By measuring your click rate, you can understand how interactive your email campaigns are, and how many of your subscribers are likely to convert. To make your email marketing successful, a stable and growing email click rate is necessary. But how much is reasonable? Is there any particular milestone set by the industry for a good email click rate?
Well, according to the campaign monitor, a 2-5% click rate is good enough to make you afloat towards success. However, it can vary depending on the industry you are dealing with. Here's what their database has found out –
| | | | | |
| --- | --- | --- | --- | --- |
| Industry | Open Rates | Click-Through Rates | Click-To-Open Rates | Unsubscribe Rates |
| Advertising & Marketing | 20.5% | 1.8% | 9.0% | 0.2% |
| Agriculture, Forestry, Fishing, Hunting | 27.3% | 3.4% | 12.5% | 0.3% |
| Consumer Packaged Goods | 20% | 1.9% | 11.1% | 0.1% |
| Education | 28.5% | 4.4% | 15.7% | 0.2% |
| Financial Services | 27.1% | 2.4% | 10.1% | 0.2% |
| Restaurant, Food & Beverage | 18.5% | 2.0% | 10.5% | 0.1% |
| Government & Politics | 19.4% | 2.8% | 14.3% | 0.1% |
| Healthcare Services | 23.7% | 3.0% | 13.4% | 0.3% |
| IT/Tech/Software | 22.7% | 2.0% | 9.8% | 0.2% |
| Logistics & Wholesale | 23.4% | 2.0% | 11.7% | 0.3% |
| Media, Entertainment, Publishing | 23.9% | 2.9% | 12.4% | 0.1% |
| Nonprofit | 26.6% | 2.7% | 10.2% | 0.2% |
| Other | 19.9% | 2.6% | 13.2% | 0.3% |
| Professional Services | 19.3% | 2.1% | 11.1% | 0.2% |
| Real Estate, Design, Construction | 21.7% | 3.6% | 17.2% | 0.2% |
| Retail | 17.1% | 0.7% | 5.8% | 0.1% |
| Travel, Hospitality, Leisure | 20.2% | 1.4% | 8.7% | 0.2% |
| Wellness & Fitness | 19.2% | 1.2% | 6.0% | 0.4% |
| Averages Totals | 21.5% (+3.5%) | 2.3% (-0.3%) | 10.5% (-3.6%) | 0.1% (-) |
On the contrary, WordsStream claimed they had seen a CTR ranging from 10% to 20% for B2B newsletters, and it is considerably low for B2C. Where Constant Contact's finding is quite similar to Campaign Monitor. As they have found the average email CTR to be around 7-8%.
Do You Need to Consider CTOR More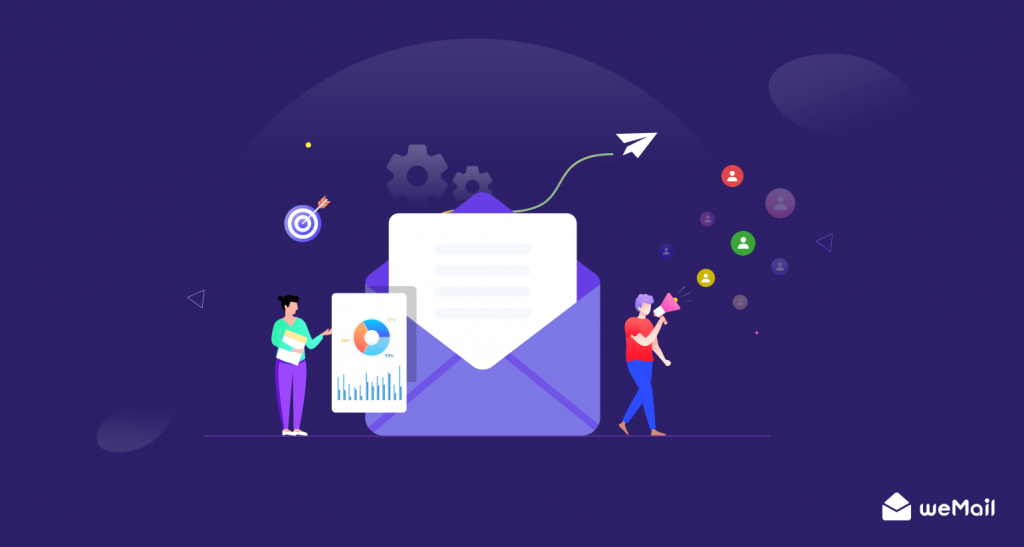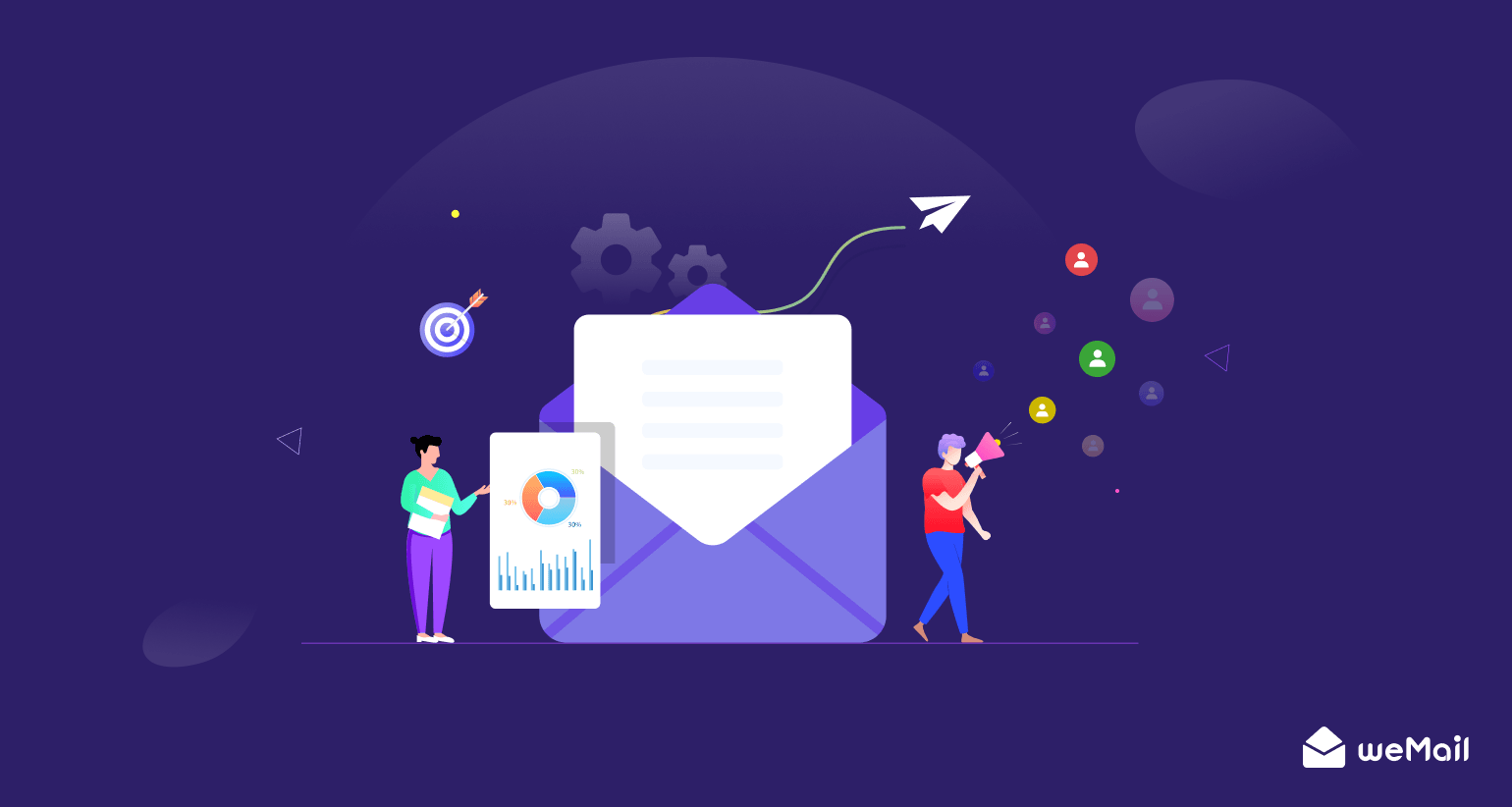 The simple answer right now is no. But the CTOR (click-to-open rate) is also a considerable email marketing metric.
A click-to-open rate measures the percentage of unique recipients who clicked on a link after opening your email. Most email marketers prefer measuring engagement against CTOR because this metric only accounts for the recipients who opened and read their emails.

HubSpot
CTOR shows you the percentage of the subscribers who open your email and click the link. So, if you can track this, you don't need to track the open rate and click rate differently. This one metric can get you what you need at the same time.
So, there are marketers and companies who emphasize more on these metrics more nowadays. While we are talking about open rate vs click rate, it is better to understand CTOR too. Here's how to measure your CTOR –
Unique Clicks / Unique Opens * 100 = CTOR (Click-to-open-rate)
It's also a good practice for email marketing metrics. You can get a knack for it and measure it besides the click rate. We are not trying to say that CTR is contrary to CTOR. Instead, we think if you have both KPIs, you can compare the success of your email campaign more effectively.
Closing Up for Email Open Rate vs Click Rate
Now that you learn both metrics, what do you think? We believe you are ready to make a choice. The open rate is only the beginning, and the click rate is what you need to understand your campaign's success.
To measure your email marketing KPIs, you must follow the best practices. Therefore, you can't do it without a powerful email marketing tool that can automate your process, and enable features that let you track and analyze your subscribers' interactions through your email campaigns.
With weMail, you can accomplish all of the aforementioned feats at ease.
Subscribe To Our Newsletter
Don't miss any updates of our new templates and extensions
and all the astonishing offers we bring for you.