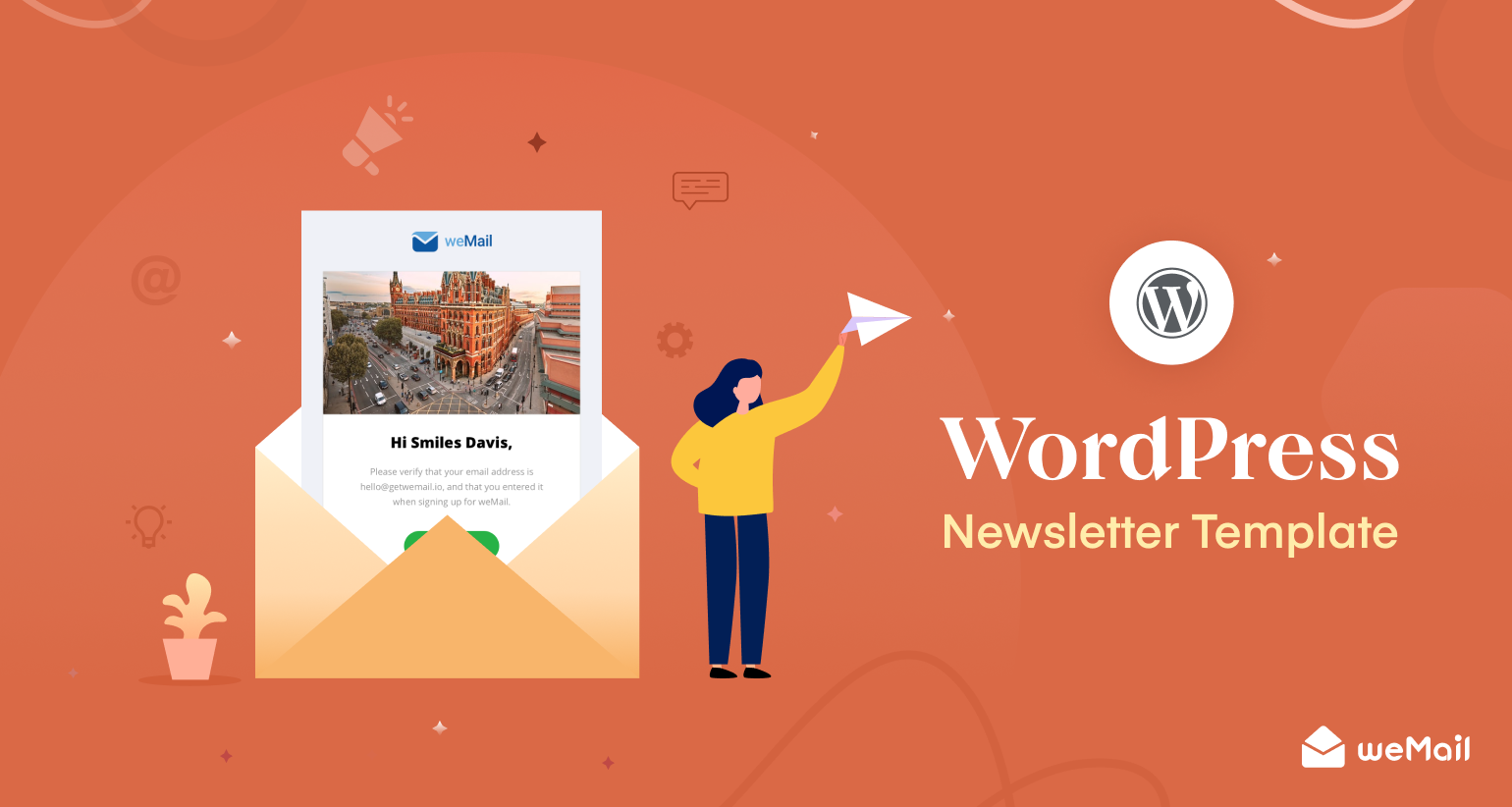 9+ Best Free Newsletter Templates To Utilize For Email Marketing in 2023
From easing your email marketing tasks to aligning the email content, email newsletter templates help to get better results with a higher open and click rate. It enables you to design the email layout, color scheme, background, font style, images, videos, essential links, and more.
There are different types of email newsletter templates available in the market. What you need is to find the best one and utilize it in your next marketing campaign.
In this article, we're going to share and talk about some of the best free newsletter templates that you can use. Plus, we will be showing you how to customize your email templates for better results.
Why Do You Need A Newsletter Template For Email Marketing
Generally, an email newsletter template is a simple HTML file that helps to create your first email campaign. It lets you copy, and add elements, files, attachments, or any media files depending on your need. Most of the email templates in the WordPress ecosystem are automated.
However, the important thing is the design or outlook of your template. If implemented wrongly, it can ruin your all efforts and cost you a lot.
Two-thirds of people would rather read something beautifully designed than something plain, and 80% will delete an email immediately if it doesn't look good or catchy

Adobe
So once you understand the basic things of an email template and its design, it's time to know why you should consider using a newsletter email template for your next campaign. Here are some core reasons-
It saves crucial time
Keeps you consistent and on track
Helps to deliver personalized emails
Easy to use and utilize
Includes all the important email marketing elements
Reduces handmade errors
Analyses data for each campaign
Best Free Newsletter Templates to Use in 2023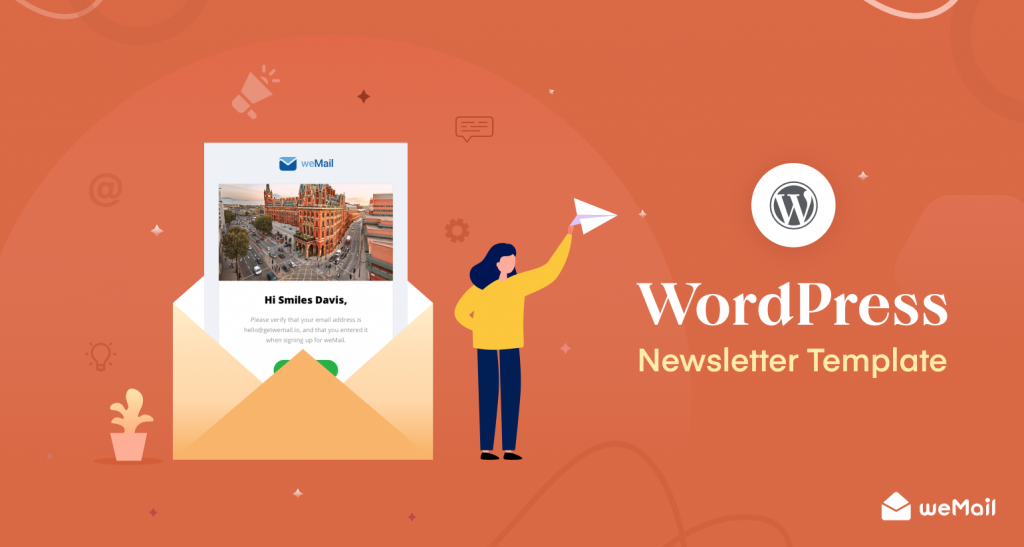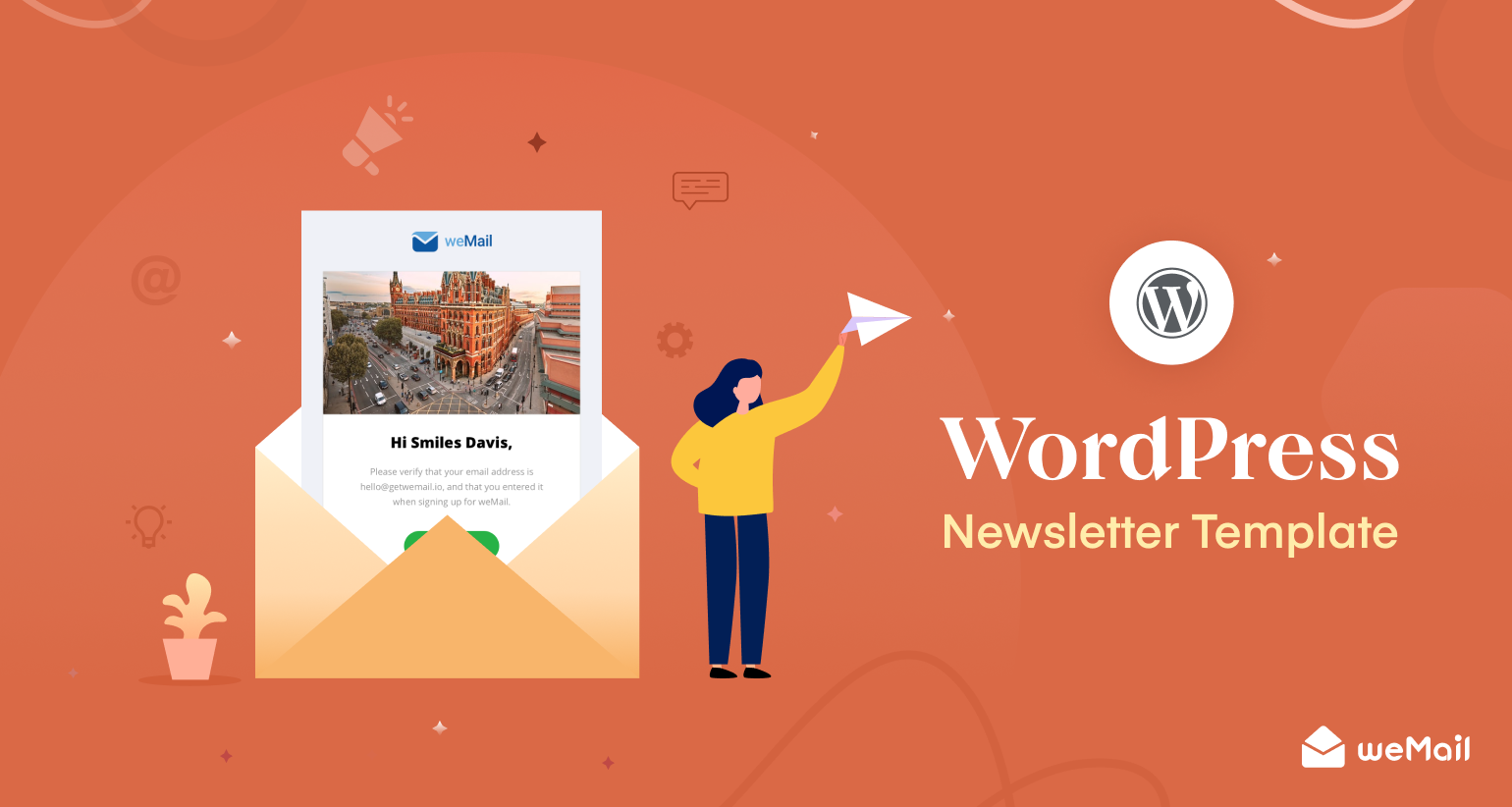 Now it's time to talk about some of the leading WordPress newsletter templates. Here we've compiled a list from our own research and their popularity.
Hopefully, this list will speed up your effort to find the best newsletter template for your business. Once you discover your preferred one, you can download the template and customize it to fit your needs.
Here is a list of the top best free newsletter templates to use in 2023:
weMail Newsletter Templates
MailChimp Newsletter Templates
Pook by Litmus
HubSpot Template Marketplace
Campaign Monitor
ZURB Ink
99designs
Mooza Templates for Newsletter
Newsletter Templates by Adobe Express
Mailbakery Template Store
01. weMail Newsletter Templates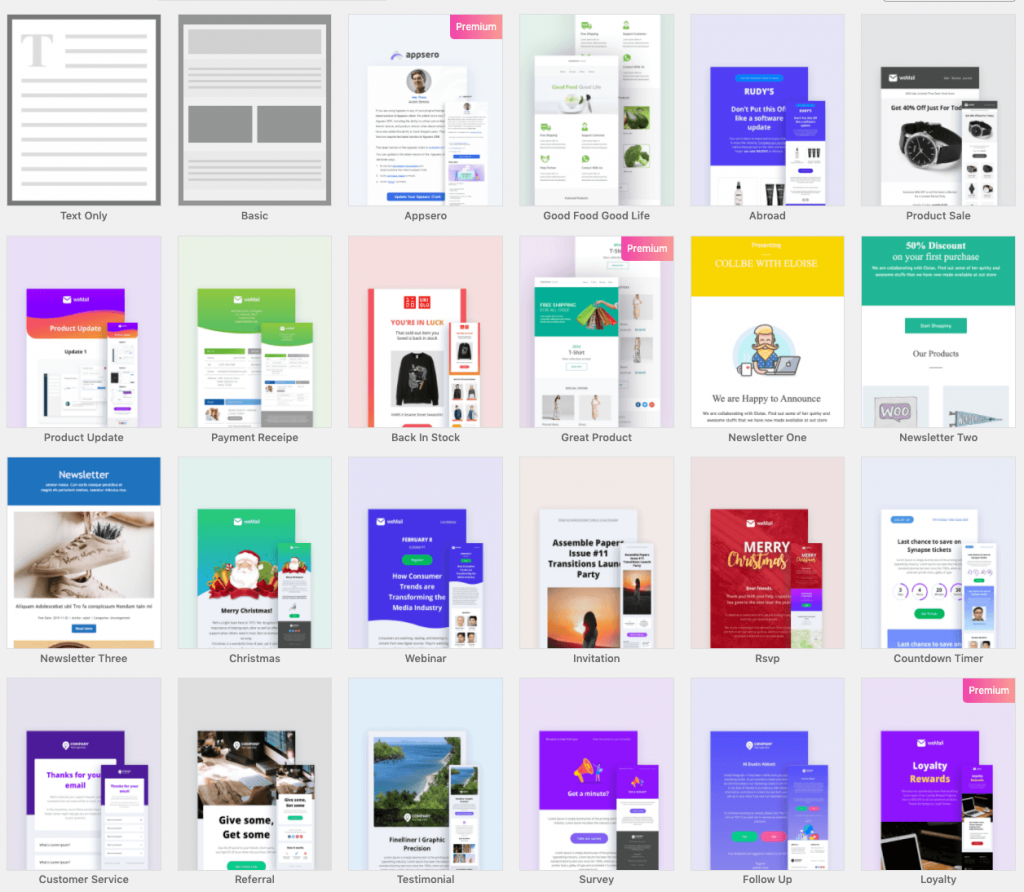 weMail is a SaaS-based WordPress product. From growing your potential subscriber list to sending professional emails, weMail is a handy WordPress plugin with some easy-to-easy features.
Apart from these, you can easily market services & sell products all within the WordPress dashboard with your preferred email-sending gateway. Plus, it has some lucrative newsletter email templates. You can find them in both FREE and PRO versions.
It includes templates like product marketing, payment, eCommerce, referral, testimonials, webinars, and more. Well, with the FREE version you can run your initial email campaign using the available templates. But you could get some upgraded and advanced templates with the premium version.
Pricing
It's a free WordPress email marketing platform. weMail premium plan starts its pricing from 9$/m. With this package, you can manage 10,000 subscribers.
02. MailChimp Newsletter Templates
MailChimp is one of the most powerful email marketing solutions in the WordPress ecosystem. It has the enormous ability to provide world-class email marketing services to users. Such as built-in integrations, advanced features & functions, email notifications features, pre-designed templates, etc. to establish a professional‑looking campaign in minutes.
Let's talk about the newsletter templates. From showcasing your products to sharing updates with your fans, MailChimp templates can help you do anything. Along with these, you can keep your customers engaged with the template, add the On the Go feature to the mobile device, and email list segmentation.
From creating regular email campaign templates to new product launch templates, MailChimp helps to make any kind of template in a short time.
Let's take a look at the following best newsletter formats that MailChimp provides.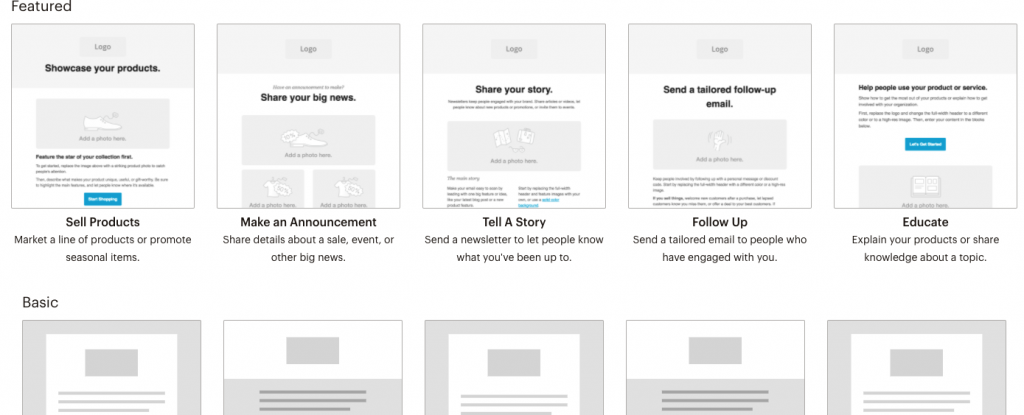 Pricing
You can manage up to 2,000 subscribers with the FREE plan. The initial FREE plan is suitable for startups. By upgrading to the PRO version, you can have more prior advantages to your templates. For that, need to spend 14.99$/m on the standard package.
03. Pook by Litmus
Another popular marketing solution that offers tons of email marketing opportunities and scopes. It lets you create, review, analyze, and test email performance for better outcomes and results. Plus, you can easily tackle the campaign challenges and get insightful data for future improvements.
Furthermore, Litmus offers a variety of FREE and premium newsletter templates. For example, regular newsletters, business management newsletters, marketing newsletters, account management newsletters,s and more.
Check out the templates gallery of Litmus –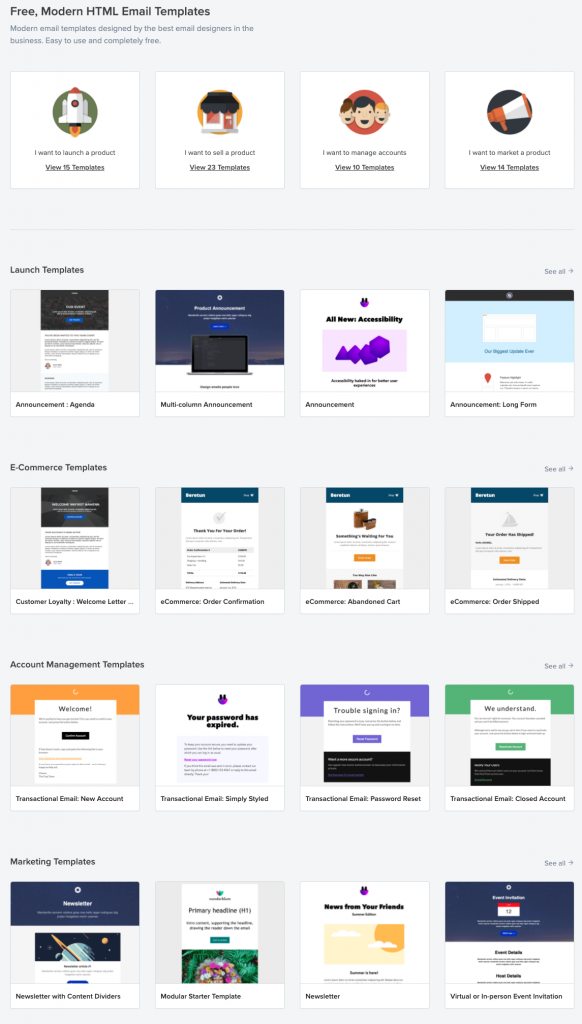 ⚠️ Quick Tips: Once you create a Litmus account, you can get access to the templates. Because all the templates are free of charge.
Pricing
Let's talk about the Litmus pricing. It has three pricing models. The basic one starts from $63/m. Also, you'll get a 7-day trial for testing purposes.
04. HubSpot Template Marketplace
In this list, we have also included HubSpot. Basically, HubSpot is well-known for Customer marketing service automation. But it also has a great collection of email templates both in the FREE & Premium versions. Once you create the account in HubSpot, you can easily download, edit, add or customize your preferred templates.
Pricing
For the paid templates you need to spend $1. After you buy any template, you can start using it immediately on your HubSpot dashboard without needing to use any HTML or CSS codes.
Learn how to Increase eCommerce sales in WordPress
05. Campaign Monitor
Like other email marketing solutions, Campaign Monitor also provides some amazing templates with easy-to-use editing facilities. Only spending a minute, you can create an HTML template whenever you want. Apart from that, you can find Campaign monitor email templates 100% compatible with your WordPress theme & mobile responsive.
So once you set up your mind, you can simply create an account to Campaign Monitor and start using the templates. It also offers both FREE & Premium templates. On the other way, you can just start editing the template from this page.
Once you get on the page, you can see the option Start Building. That's it!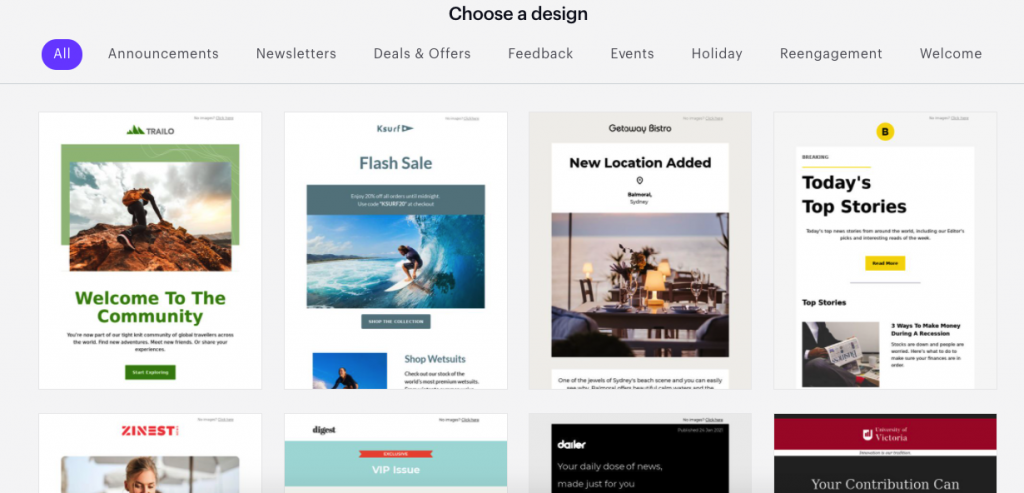 Pricing
The initial pricing of Campaign Monitor to use newsletter templates starts from 9$/m. Also, you can send up to 2500 emails monthly with this package.
06. ZURB Ink
ZURB has a great, smooth structure available for the users to customize colors, images, wording, and more. The special thing about ZURB is – the templates they offer are specially designed for Outlook 2007, 2010, and 2013.
Well, while you add or remove any element in the template, you need to create a separate CSS stylesheet and an HTML file. So this will ease the entire editing procedure. And lastly, you must compress the file with the CSS stylesheet after you upload it.
Check out screenshots from ZURB's template gallery.
Quick tips for your email marketing software and the things that you should be aware of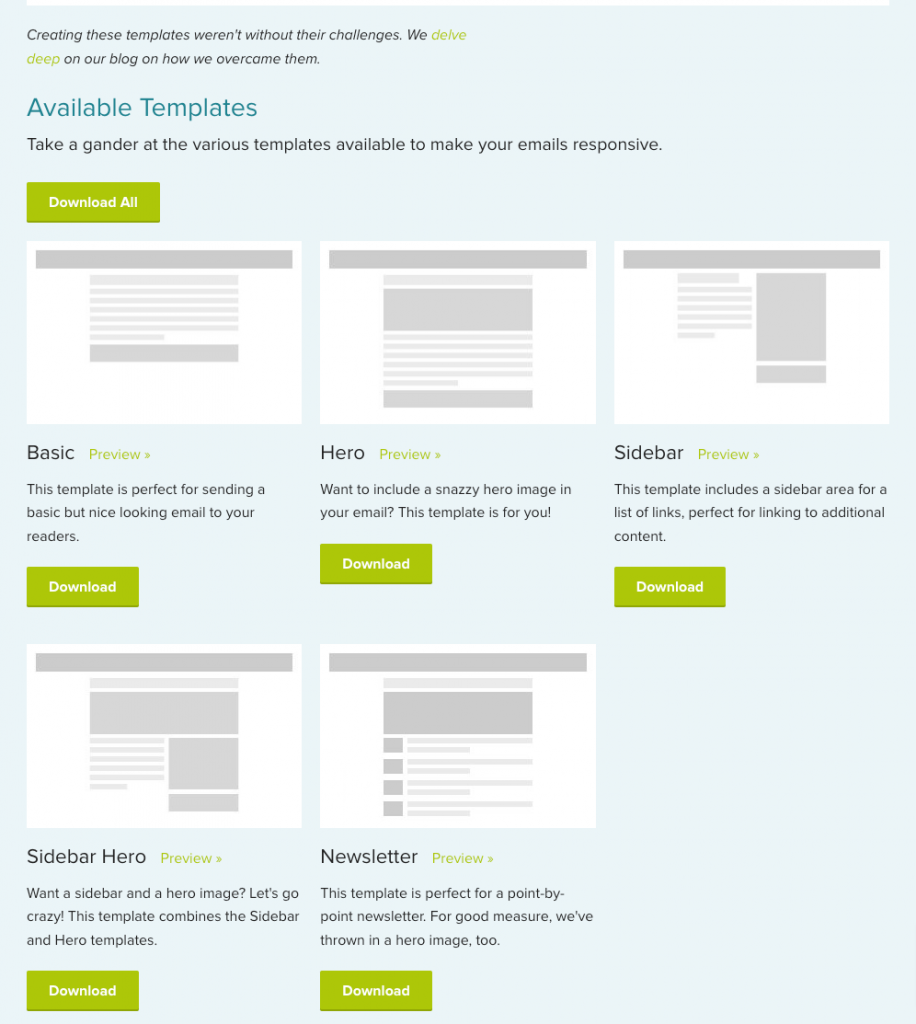 Pricing
ZURB Studios has five responsive email templates available for free, including newsletter templates.
07. 99designs
If you're searching to promote your new products, or thinking of just spreading the new updates of your newly launched product, 99Designs can help you in this case. Apart from mentioned solutions, 99Design has also some impressive email templates with 100% mobile responsiveness.
Also, the customization options let you produce any type of design within a minute. The interesting part is, you can start a attend contests by creating quality, custom email templates you love.
However, you can have the following things with 99Designs:
Professional designers—all rated and reviewed
Dozens of email designs concepts to explore
A custom email template in about a week to edit or customize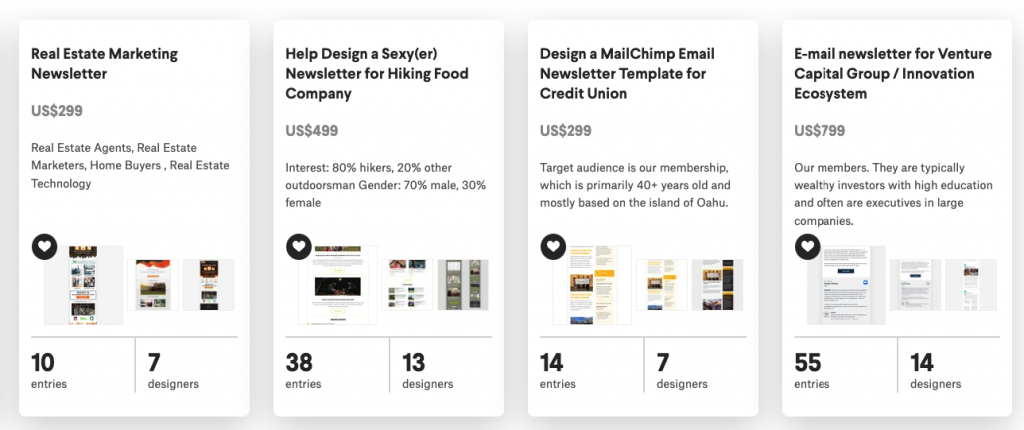 Pricing
Recently, 99Designs released a set of 45 free templates as free resources to their blog readers. Such as newsletters for promotional messages and personalized responses.
Get these 5 simple tips to reinvent your digital marketing strategies
08. Mooza Templates for Newsletter
Last but not least, here comes our number 8th free newsletter template – Mooza. It's a free newsletter template and the Pixel Hint team created this template. Apart from other templates, the Mooza newsletter template also looks simple, and clean and the color combination is superb.
Though it looks a little bit older, it still does a great job by serving the real purpose to the users. You can download the PSD version for free and utilize it for future use.
Pricing
It's completely Free to use!
9. Adobe Express Newsletter Templates
Adobe Express is a beloved place for designers. If you are looking for a visual library that comes with a lot of newsletter templates readily designed, this platform is good to go. Therefore, you can redesign, update, and add/ remove elements directly with Adobe Express Visual Editor, which is a huge plus.
The collection is huge, and you can browse a different category. Just check it out and see the magic. You are gonna love it.
Pricing
It's totally free. However, you would love to explore the premium templates too.
10. Mailbakery Template Store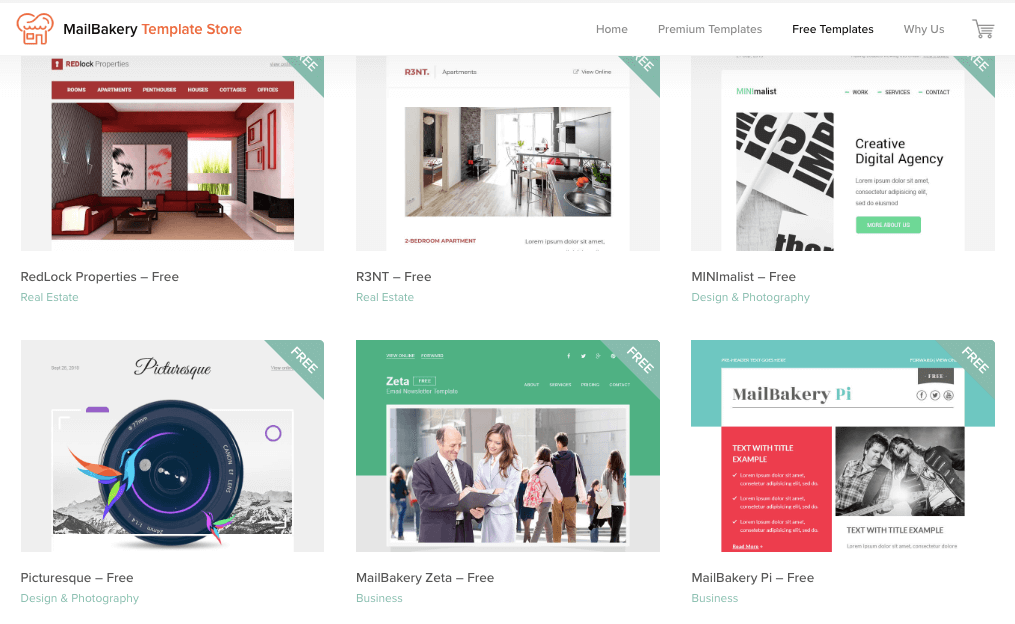 Mailbakery is a remarkable repository for free HTML email templates that are highly customizable, responsive, and beautiful. You can go there, choose any of the free email templates you love, and start editing – that's all you need. These email templates are dynamic and adaptable regardless of the type of business or industry.
Besides the custom-made email templates, the platform specializes in their HTML format for easy downloads. You just copy-paste them to your email builder, and ta-da! They will be ready to customize.
Pricing
You can avail of 50+ free HTML email templates from Mailbakery. They have premium options too.
How weMail Can Help You To Customize Email Marketing Newsletter Template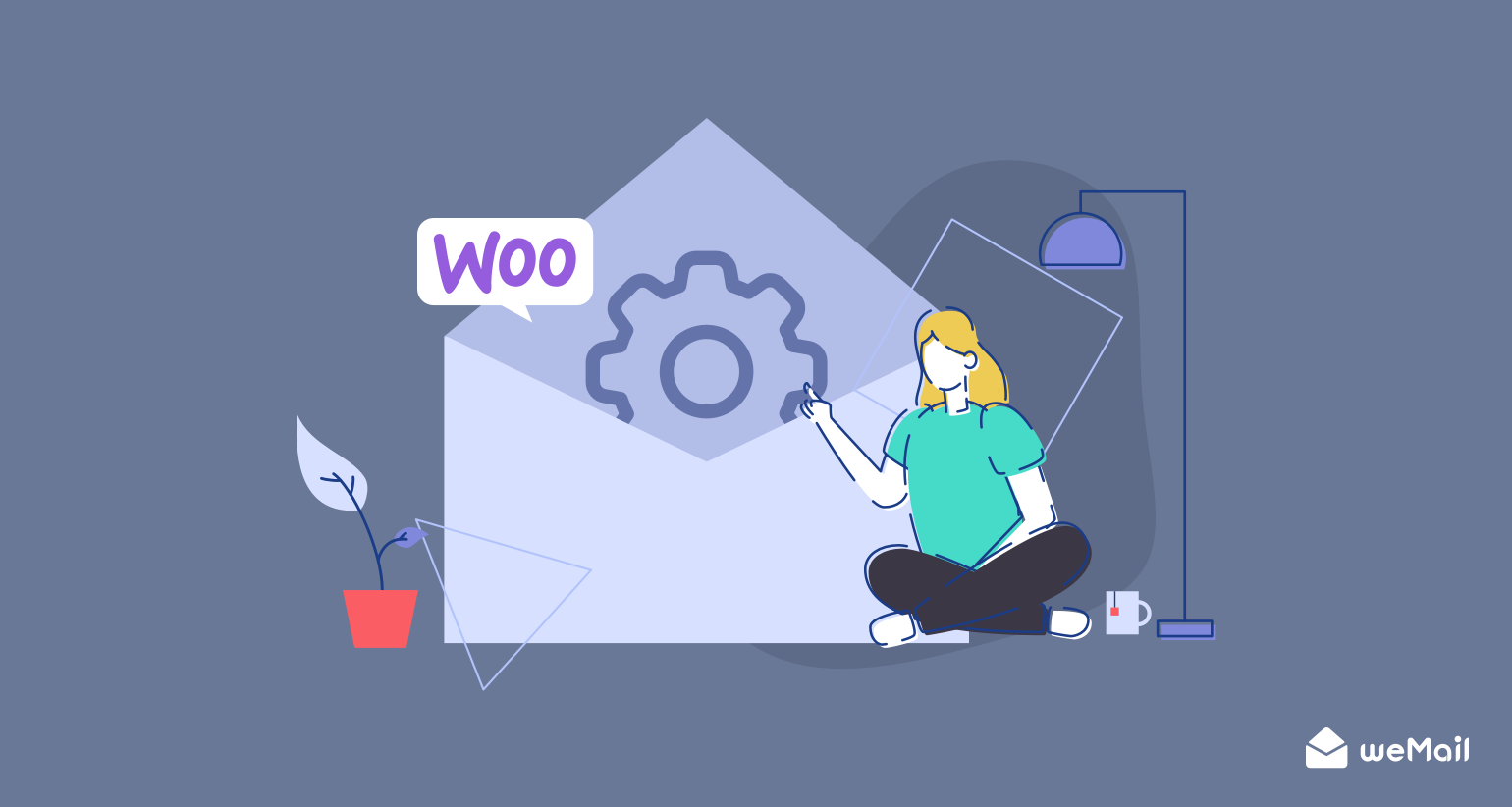 Email marketing is the direct medium to connect with prospects. You can't afford to make any silly mistakes while communicating them through email. Even you can't undo or edit the message once you press the send message button to your recipient.
Also, the ready-made email template may not suitable format for your brand or business. In that case, you may want to customize the email template and give a structure based on your business type. The good news is, weMail lets do that easily without needing to apply any codes or face any difficulties.
Apart from that, email template customize has diverse facilities and benefits. let's check out below!
Helps to edit, add, or remove features on the existing template
Scopes of adding media files like – images, videos, header, and footer
Gives you the opportunity to run an A/B test
Checking the email accessibility before you send it to your
And so on
Let's see how you can utilize weMail to customize newsletter email templates for better outcomes & results. But before you customize email templates with weMail, you need to install & activate weMail on your WordPress site:
Step 01
First, you need to create a campaign with weMail for customizing the newsletter templates. To do that navigate to Dashboard> weMail> Campaign> Create a campaign.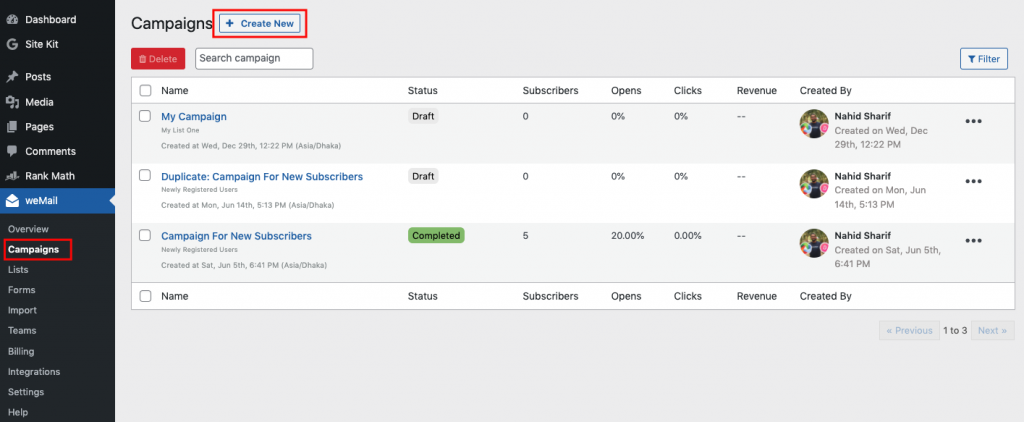 Give a campaign name and determine the email list.
See how to create an email list with weMail from here!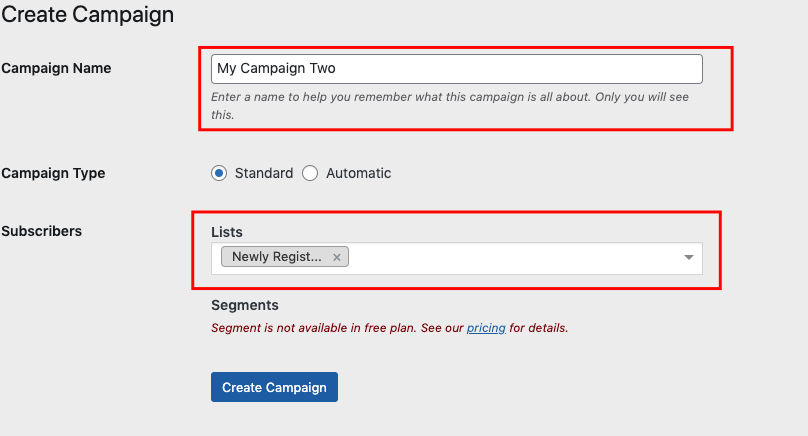 Step 02:
Once you're done, click on the Next button and you will find all the templates. Select anyone from this list and start customizing.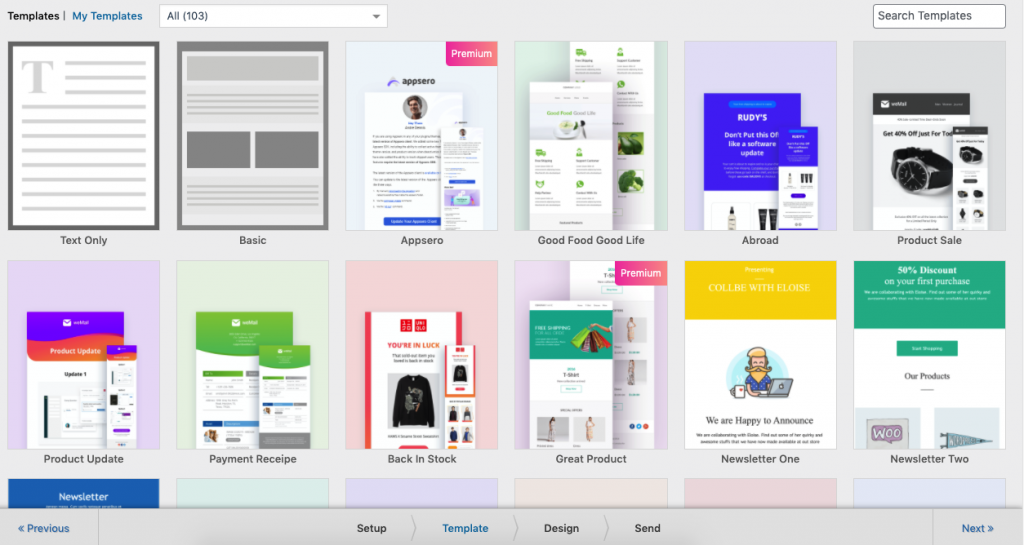 In the next stage, you'll get all the customizing options for your newsletter. You can add text, images, image captions, social follow buttons, buttons, dividers, and more!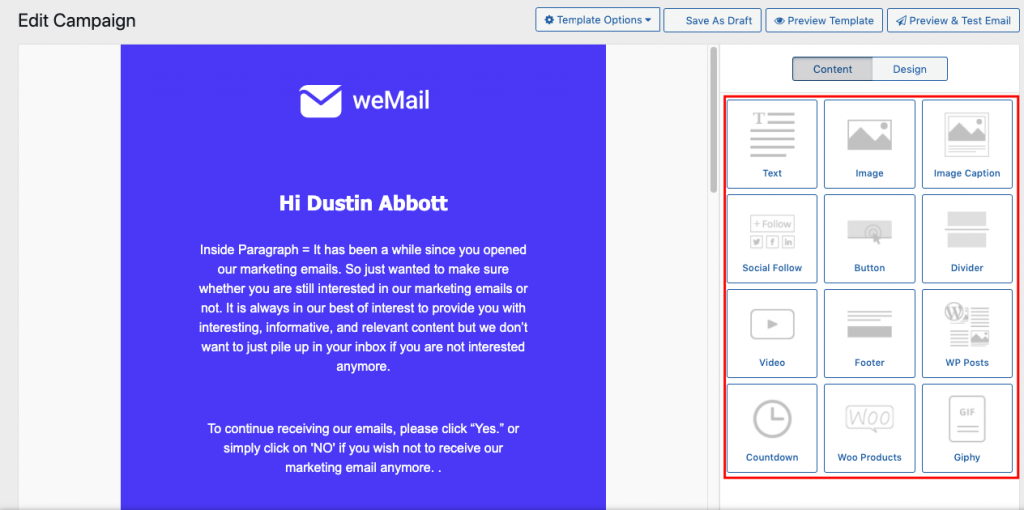 Step 03:
After you add all the elements to your template, click on the Preview & Test email to check whether your template is okay with you or not.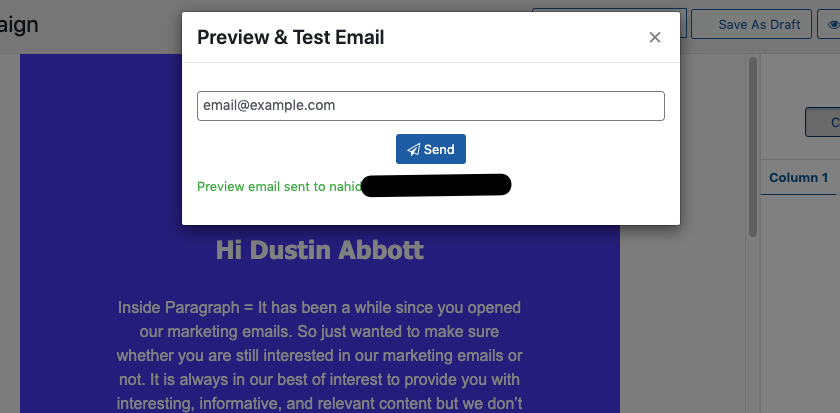 Here is the final outlook of the email we have sent to users.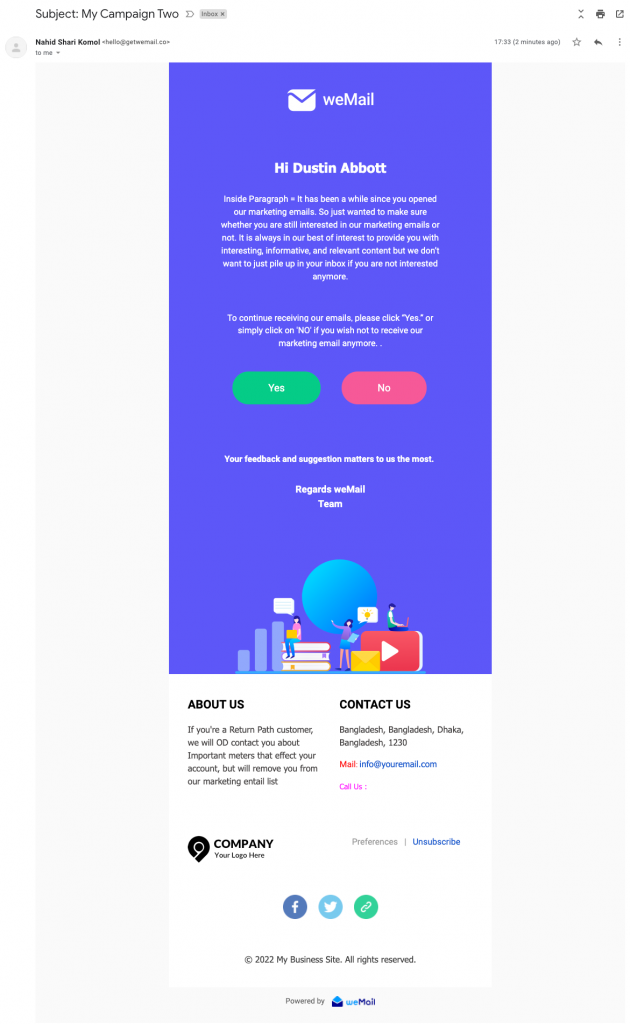 So that's how you can customize weMail's newsletter email template for your email marketing campaign.
Have a large number of a subscriber group, or want to send a welcome email to your newly subscribed users? Here is how you can smartly do that following this article. It will help you to know the process of sending a smart welcome email to the targeted recipients!
FAQ Regarding Newsletter Templates
01. Does it require any coding skills to customize the newsletter template?
Actually, it depends. If you're using an automated template, then it's not necessary for you to know any codes. Only, if you use any HTML templates, then it might require some knowledge to understand the template. Otherwise, you can design any type of responsive design template without any hassle.
02. What is the best format for an email newsletter?
The best format for your email is 600-800 pixels wide. Two-thirds of subscribers prefer emails that are mostly images (Litmus Research). However, 43% of people disable images, and some email clients don't display background images.
03. Does Google have a newsletter template?
Yes, you can use it on Google Docs. Click on the template gallery. After that, click the newsletter template that you want to use. Do make any changes if required.
04. What are the tips to give structure to a newsletter?
Here you can follow 5 tips for a better newsletter layout
Take cues from other optimal content styles
Keep your layout simple and focused
Create the right balance between your text and images
Design with a 'mobile-first' philosophy
Make sure your color and font choices are 'on-brand'
05. How do I make a newsletter look nice?
You can follow these 6 design tips to make your email newsletter visually attractive
Create a header. No question, your newsletter needs a header
Let your logo dictate the color scheme. Your newsletter needs a color scheme
Stick to standard fonts
Use subheadings
Stack content
Use pictures
Useful resources to boost your email marketing efforts:
Over To You
In this post, we have tried to cover some of the best newsletter templates that you can use in 2023 for your business. Hopefully, you have found this article helpful and handy. So if you're looking to get started with email marketing templates, you need to research the best one that suits your expectation and then customize it.
No matter what type of template you choose, a bad email template can decrease your email production drastically and email open rate as well. Therefore, you need to smartly pick up the right email template and work on it. Once you're ready to pick up your desired email template, download one of the newsletter templates from the template list above.
Interested in finding templates for canned responses or pitches related to marketing and sales? You can subscribe to the weMail newsletter for more listing guides like this one!
Subscribe To Our Newsletter
Don't miss any updates of our new templates and extensions
and all the astonishing offers we bring for you.