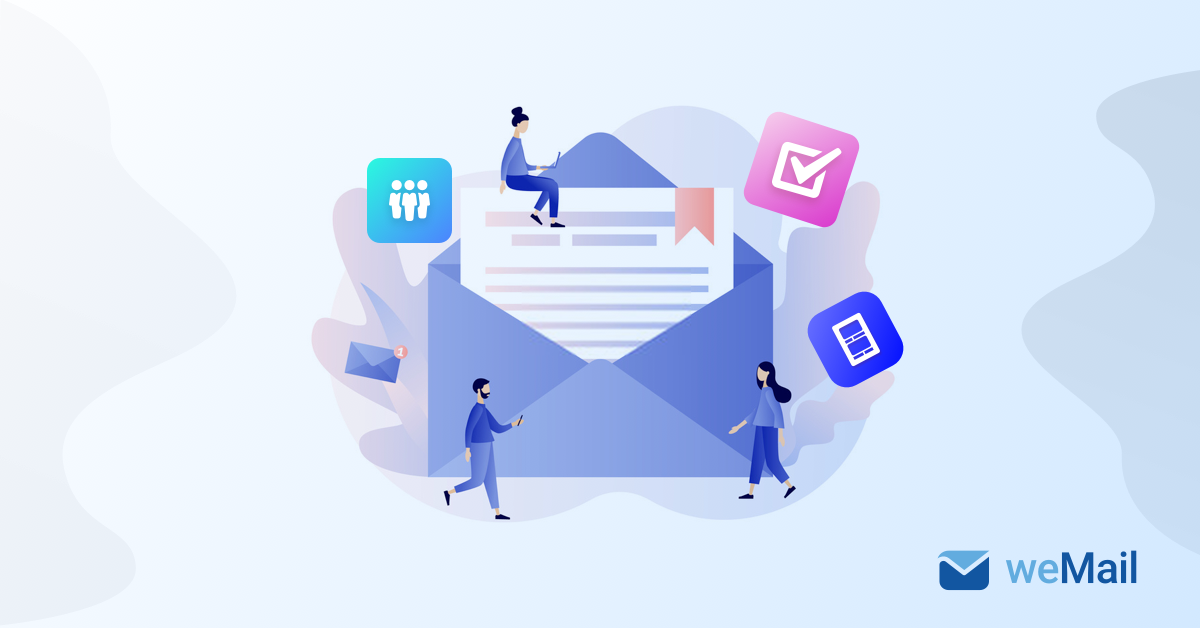 How to Configure & Send Your First Email Using weMail
Marketing is the study and management of exchange relationships. It is one of the core components of Business. There can be many kinds of marketing. Some of the most popular marketing of today are Email Marketing, Content Marketing, Paid Media Marketing, Affiliate Marketing, Neuromarketing and more which are commonly known as Inbound and Outbound Marketing.
Although they are all important marketing types. In this article, we are going to talk about Email marketing and campaigns.
Marketing is hard. No, I am not trying to say that other jobs are easy, but selling a product to a customer is not an easy task. Marketers try different techniques. Email marketing is one of them.
Email marketing is broadly used to share announcements, updates, releases, partnerships, something special, etc.
But, you can not just share that news. You have to make sure you are sharing them with the right persons. A tool like weMail can help in that cause. What is weMail you ask? we are going to discuss it later in the article.
Today we are going to talk about the importance of email marketing and how to configure weMail.
Why You Can't Ignore Email Marketing
Marketing becomes quite easy if marketers can talk to their customers face to face. But that's not quite possible. That is where email marketing comes in.
Email marketing is important for building relationships with prospects, leads, current customers, and even past customers.
Email marketing is more effective than social media. Because you can reach your customers on a more personal level.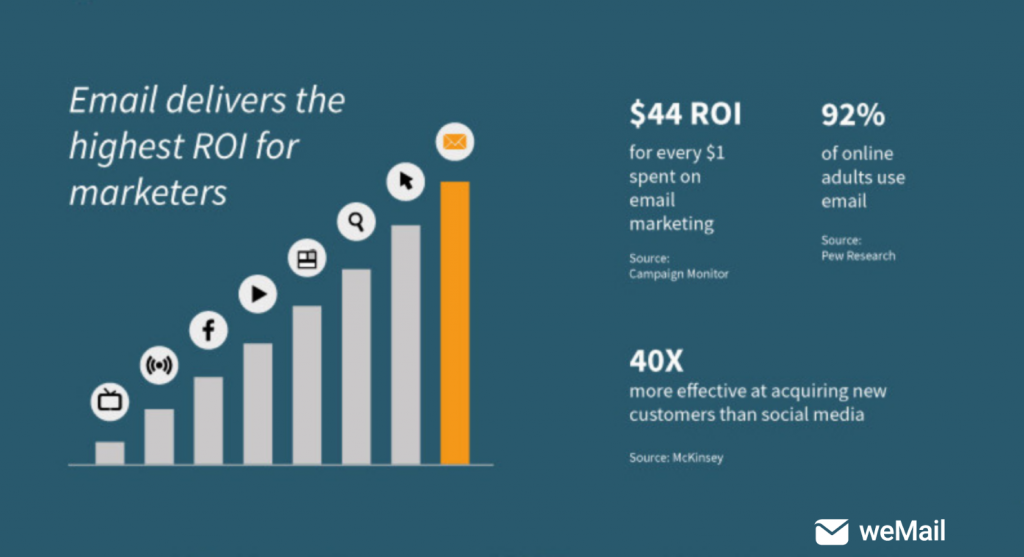 Also, email marketing is cost-effective. It allows reaching a large number of clients at nearly nothing per message. When you write a blog or an article you address your audience as a whole. But when it comes to email marketing, it will be more of a one to one conversation.
Email is transactional by nature and you can use it to direct traffic to your website and ultimately drive sales. However, there is one more important feature in email marketing. You can track who has opened your email, which links were clicked, and how many people unsubscribed.
When you know the number of people responded, you can easily set your goals and other marketing techniques, carrying the campaign forward. The points we have discussed, that is not quite possible with any email marketing tool.
That is where weMail comes into play. With the help of weMail, you can easily create email campaigns and take your marketing to the next level.
weMail: Why should You Consider This
As we have said before, email marketing is used to share announcements, updates, releases, partnerships. But you have to make sure these emails are going to the right persons. Otherwise, it will irritate your customers which will end up causing hamper to your business.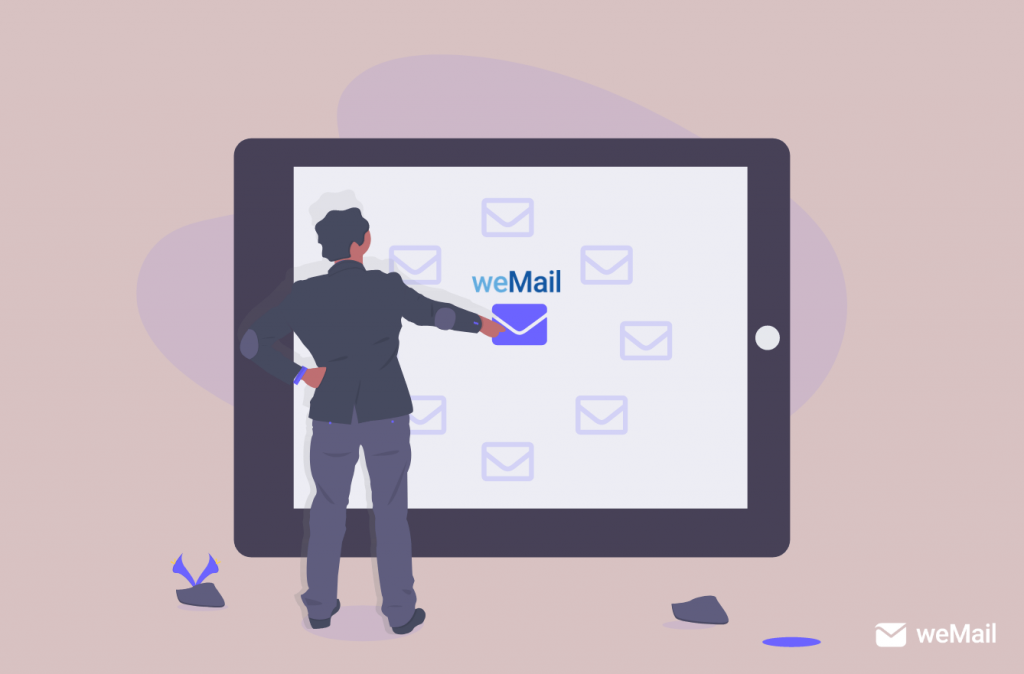 That is why a plugin like weMail can help in this cause. Email campaigning is a very important part of marketing. weMail has unique and rich features to create attractive campaigns. It also has features like,
Sending email campaigns using other tools can be expensive. weMail solves that problem. You can create lucrative designs for your campaigns and send them to your clients at a low cost. Configuring weMail is also very easy.
You can create Standard campaigns and Automated campaigns also. That means, you can send emails manually with the standard campaign or you can set a timer where the emails will be sent automatically.
Do you want to know how you can do that? ok, let's see how to configure weMail.
How to Configure weMail to Send Your First Email
weMail was launched in order to make the job of the marketers easier. Because though email marketing is important but sending emails manually can be quite a hassle. Therefore, weMail can prove to be a lifesaver.
Setting up a weMail is easy. Let's see,
Install weMail
Login to the admin panel of WordPress.
Navigate to Plugins → Add New → weMail. Click Install. Once installed, click on Activate to get started.
After successfully activating weMail, navigate to the new weMail icon on your WordPress dashboard and click on 'Connect weMail'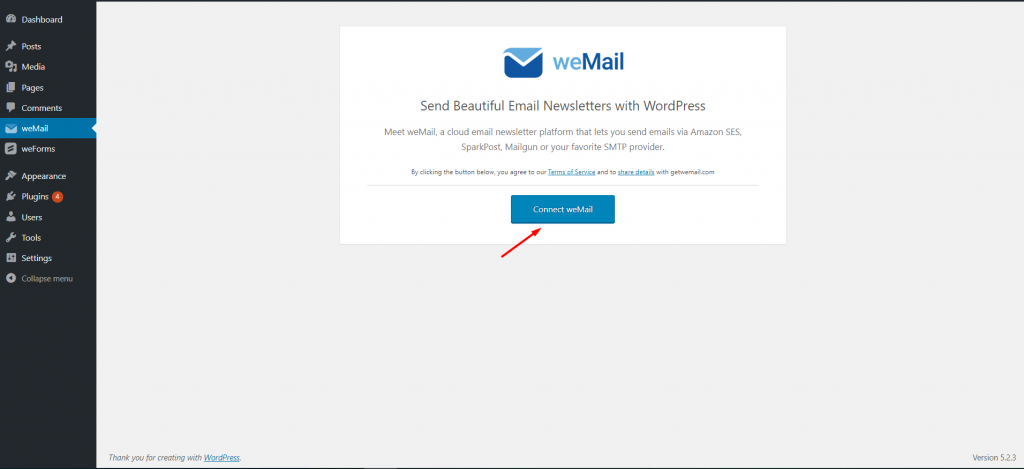 You are done. Now you are ready to create campaigns and send emails.
There are two types of campaigns.
1- Standard Campaign

2- Automatic Campaign
Let's see how to configure them both.
Configure Standard Email Campaign with weMail
A standard campaign is used when you want to send emails manually. Suppose someone has subscribed to your newsletter. Then to confirm or acknowledge him or her you need to send an email. That is a Standard email.
You need a gateway to send your emails.weMail has integration with a number of Mail sending platforms. You can select your gateways from SMTP, Amazon SES, SparkPost, SendGrid, PostMark, Elastic Email, MailGun.
Go to weMail→Settings→Email, you will find all the gateway emails there. Just select any one gateway with the API Key.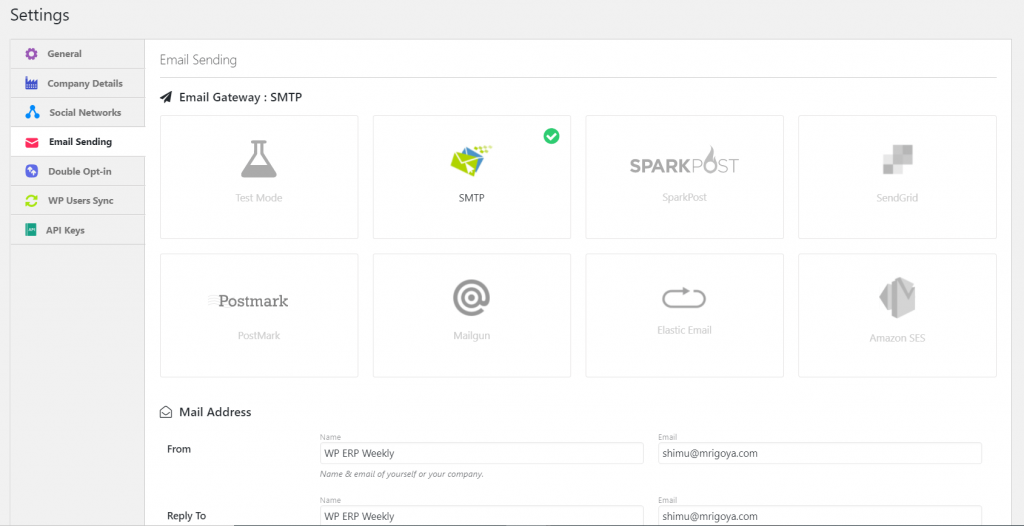 Now, let's see how you can create a Standard email campaign.
Step 1: You have activated weMail. Now on your WordPress dashboard, navigate to weMail→Campaigns. You will see a button on top of your screen named 'Create New'. Click on it.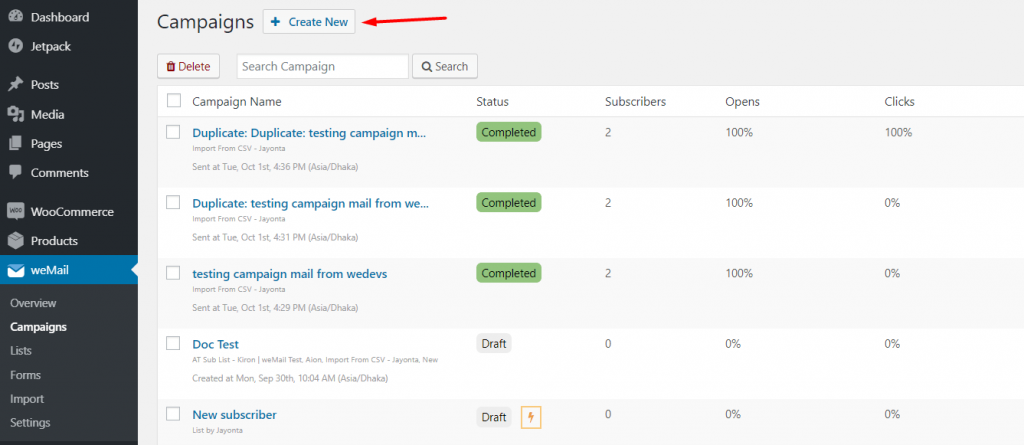 Step 2: Next, you need to edit your campaign. Give your campaign a meaningful name. Choose the campaign type "Standard". Don't forget to choose a list and segment where your subscribers will be stored.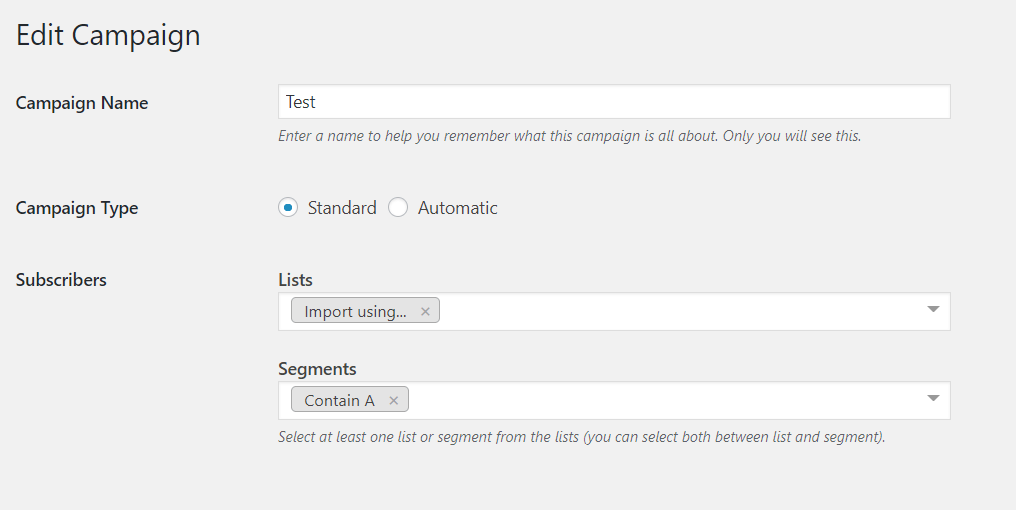 Step 3: You need to select a template. As you can see we already have some pre-built templates available for you. Choose any one you think is perfect for your campaign.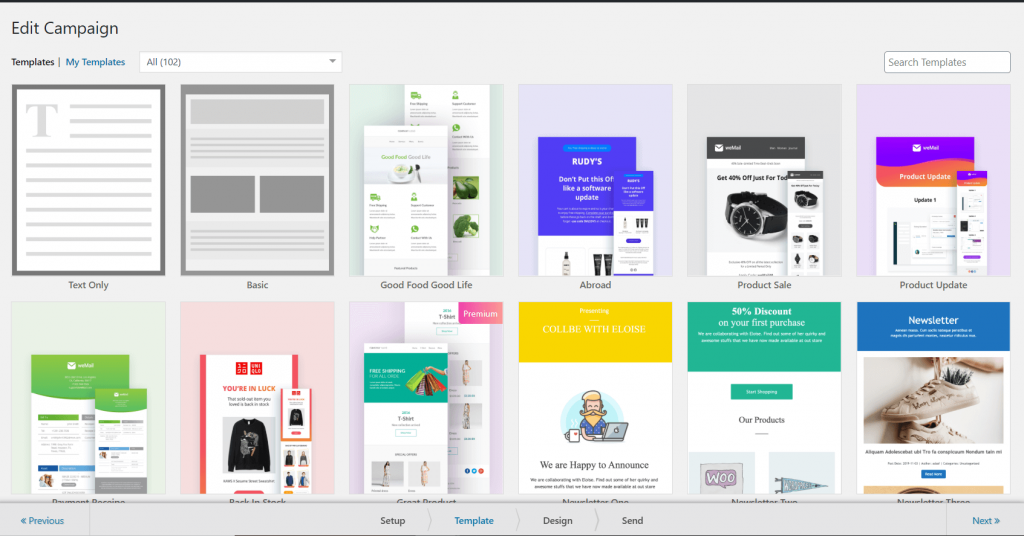 Step 4: Now it is time to design your template. You can use the available templates or you can edit the template and make a template of your own.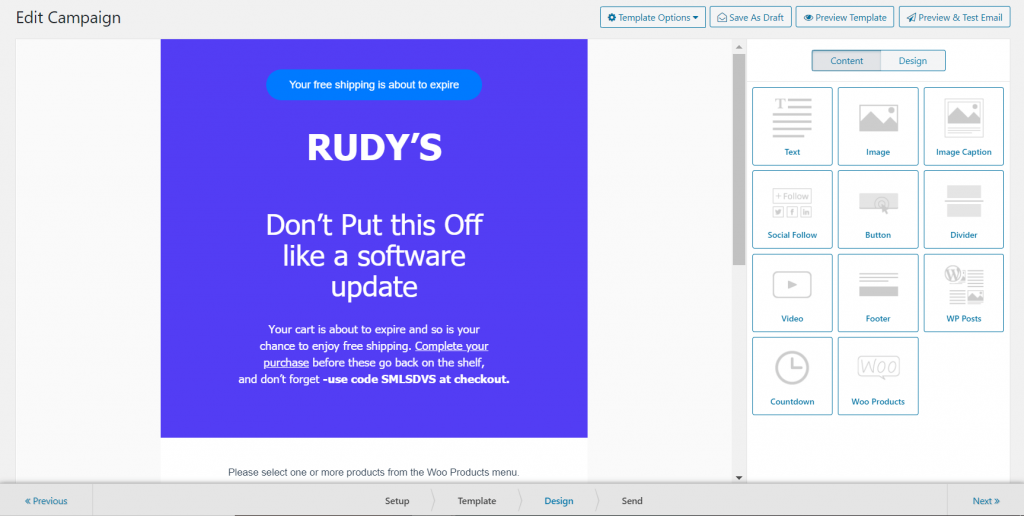 Step 5: After finalizing your template design, now onto to the next step.
Type your Email Subject, Preheader
Type the email address you are going to send from
And receive your confirmation email
Now, you can send emails immediately after creating the campaign.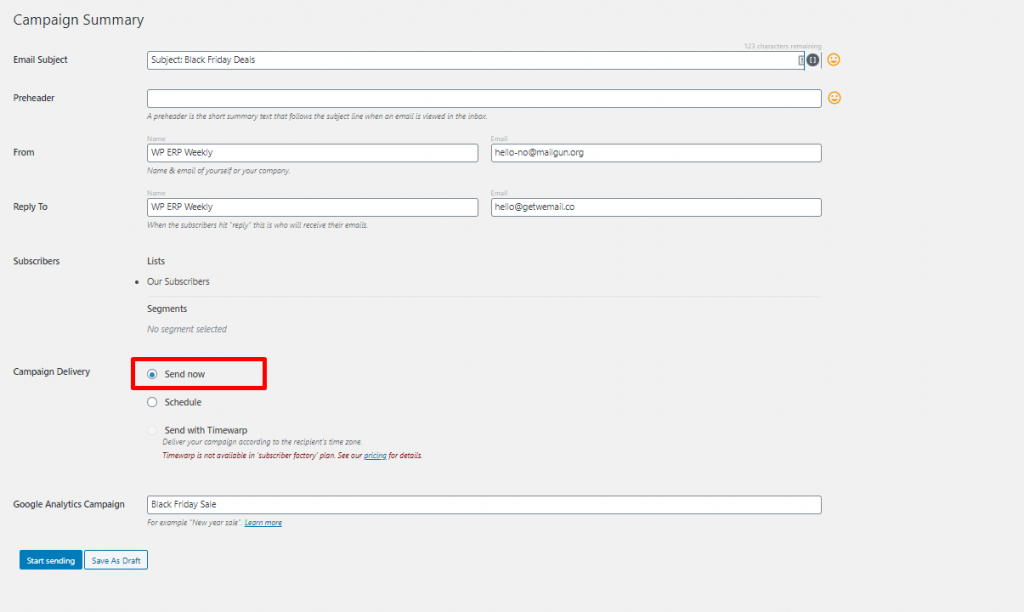 Or you can schedule the email to send at a later date.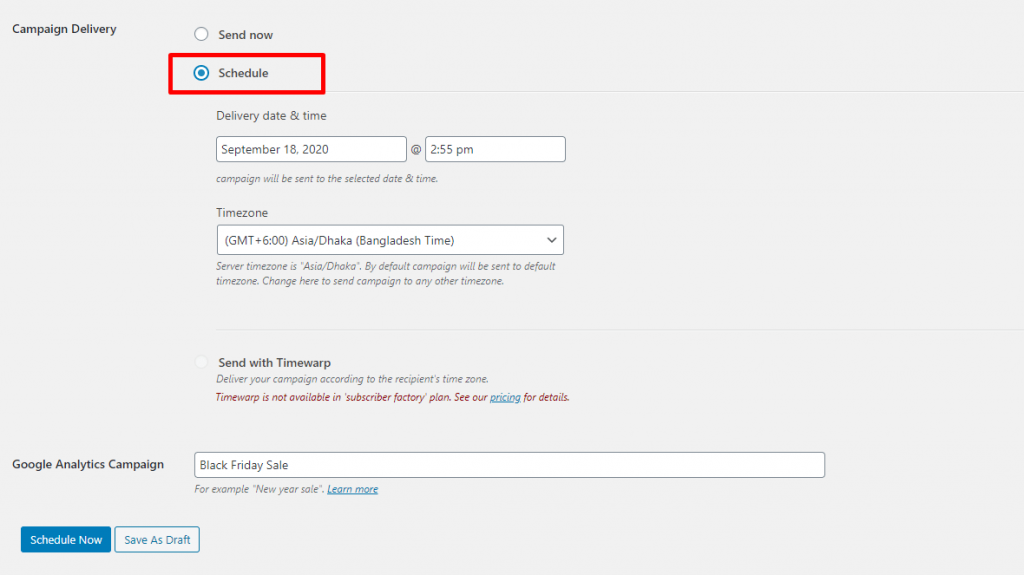 Step 6: Lastly Hit 'Save Changes' to finish. It's as easy as that.
Your users will receive emails like this,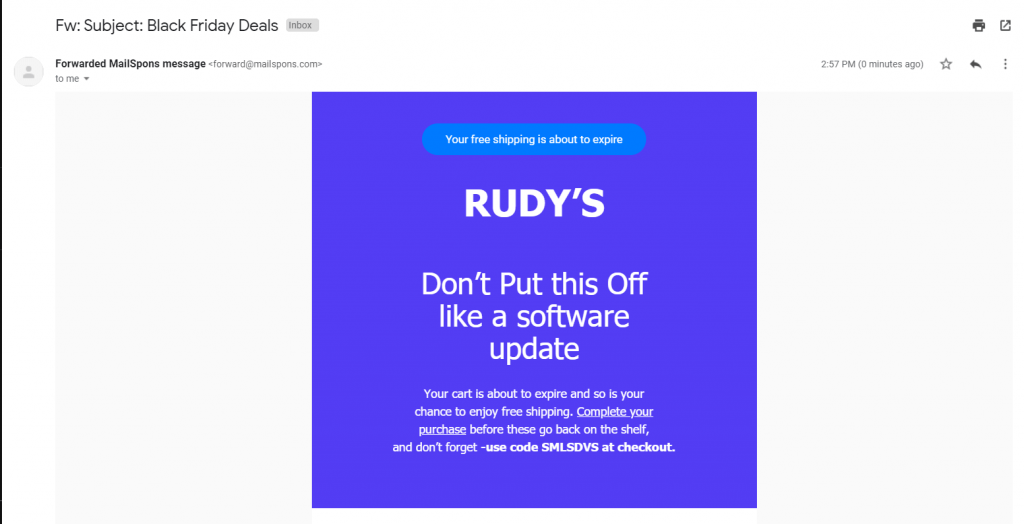 You can see how simple it is.
Configure Automatic Email Campaign with weMail
The only difference between the Standard email campaign and Automatic email campaign is that you don't have to send the email manually. Rather, you will set a time for that campaign and the email will be sent right on time.
So how are you going to configure it? well, it's easy. In the second step where you edited the campaign, there you have to choose Automatic instead of Standard.
Then, you will be given the options when you want to send your email. Select the time. The rest of the steps is the same as the Standard email campaign.

If you have any further confusion, give a read to this Documentation.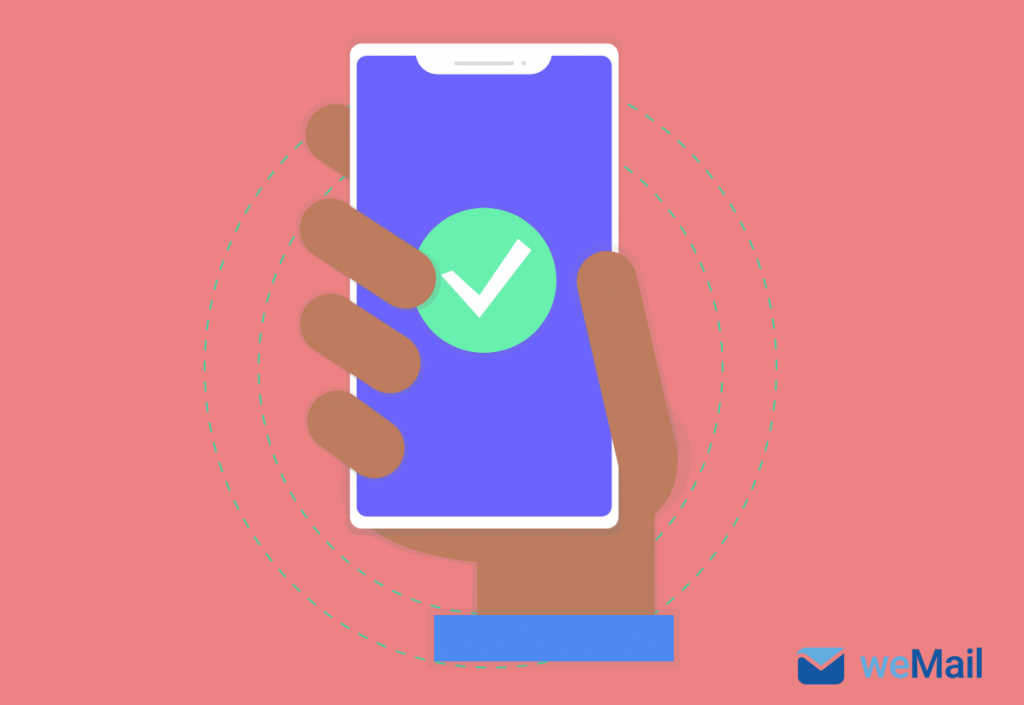 You can see, how easy and simple it is to configure weMail and setting up campaigns.
Wrapping Up on weMail Configuration
Email marketing is very important for a marketer and it helps create brand recognition of the product or the company. But you need to do the right things with email marketing. Or you will end up tarnishing your and your product reputation.
An email plugin like weMail will make your work a lot easier and help you grow as a marketer. So why wait. Start using weMail now and create amazing campaigns, take email marketing to the next level.
If you have any thoughts, do share it with us in the comment section.
Have a look at the video to know more details.
Subscribe To Our Newsletter
Don't miss any updates of our new templates and extensions
and all the astonishing offers we bring for you.