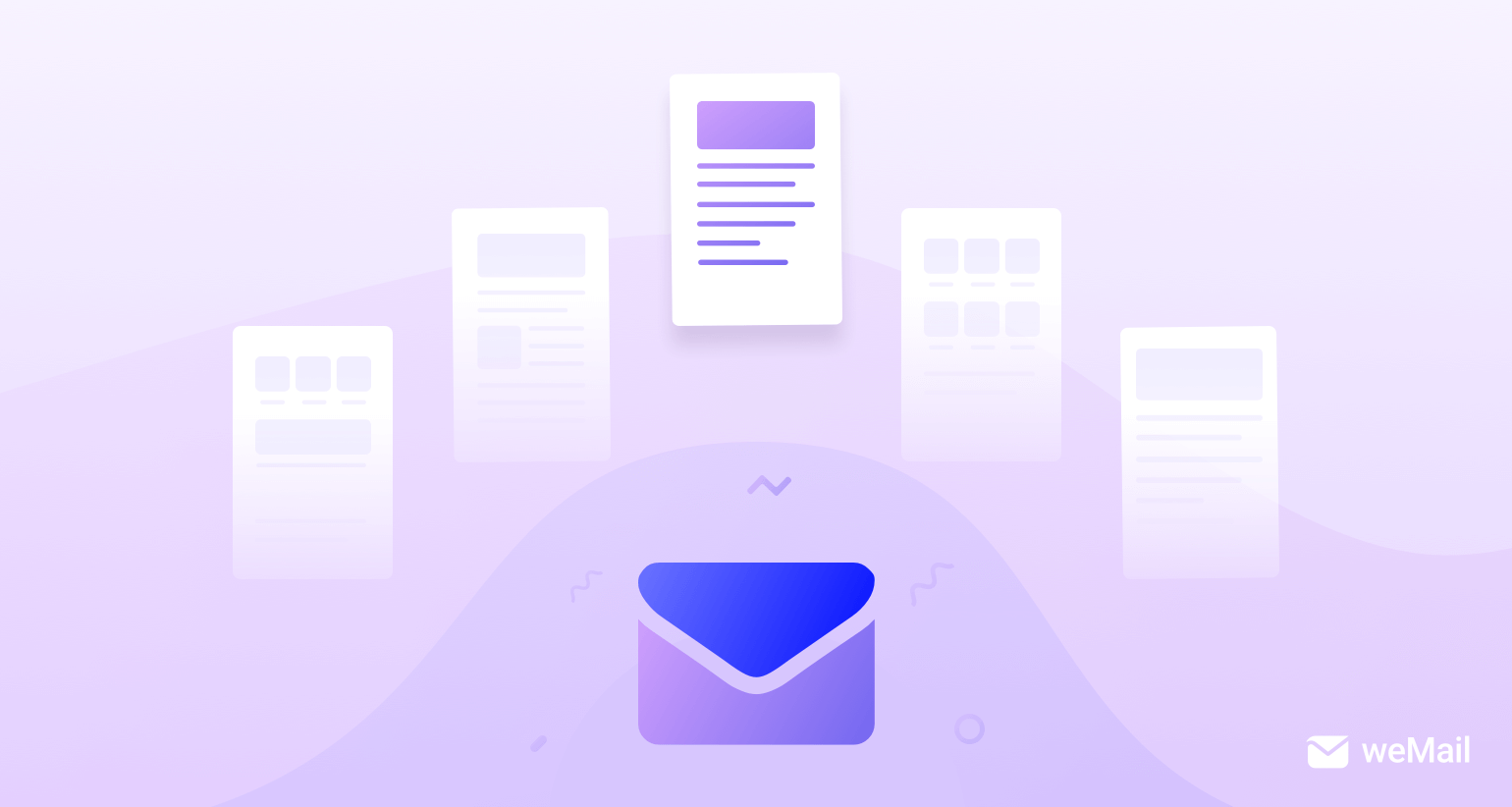 Stunning Email Templates You Can Utilize for Your Business in 2023
Email Marketing is an essential part of modern-day marketing. Especially for online businesses. Email marketing is inclusive for interconnecting with the customers or users through emails. On the other hand, using lucrative email templates while sending emails will not only increase your brand status but also create a good impact on your customers' minds.
Email templates with a prominent design easily attracts the readers eye and persuades them to keep reading once when they open the email.
However, in today's post, we'll be going to show you some top-notch WordPress email marketing templates of weMail along with its excellent features.
So without further ado, let's get started.
Top weMail built-in Templates You Can Choose for Your Email Marketing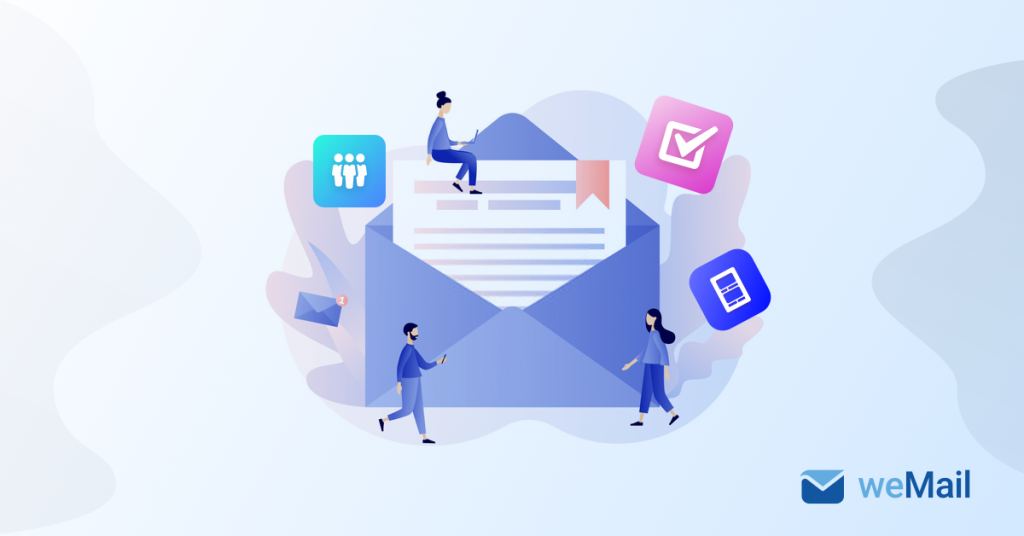 In the WordPress ecosystem, you'll find hundreds and thousands of available Email Templates with lots of features. They all are incredible and capable enough to provide awesome email marketing services. And also they can provide responsive email templates with an easy customizable process.
However, we'll talk about 'weMail's built-in templates one by one. And also, show how you can implement these templates to create some splendid email campaigns for your subscribers.
weMail & It's Pre-Designed Email Templates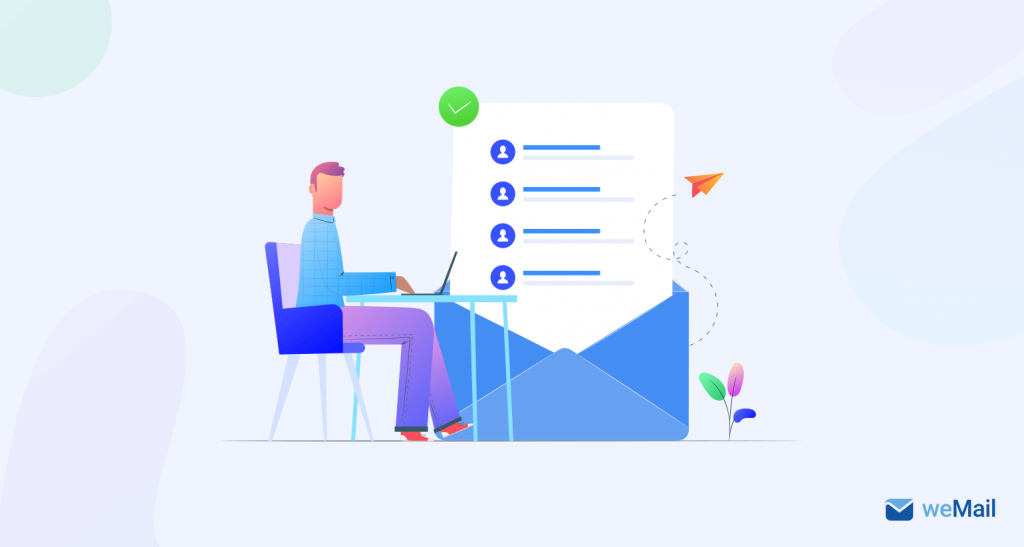 Considering all the email marketing benefits, weMail offers everything that can fulfill any small to medium business requirements. Unlike others, weMail offers the most comprehensive services in a free version. Which is really an amazing.
Yes, it's true that you'll get all the pro features in the free version of weMail. Where others offer the same features in the premium version.
Anyways, let's check how weMail can facilitate you in terms of Email Marketing Services:
Besides, you'll get these mentioned facilities along with pre-designed email templates of weMail. Next, we'll know how weMail helps to manage and customize email templates with ease.
weMail Dashboard
After installing weMail, you'll get default templates which are very unique and easy to configure.
So what you have to do is, Navigate to WP-Admin>weMail>Campaigns.
Check out the following screenshot.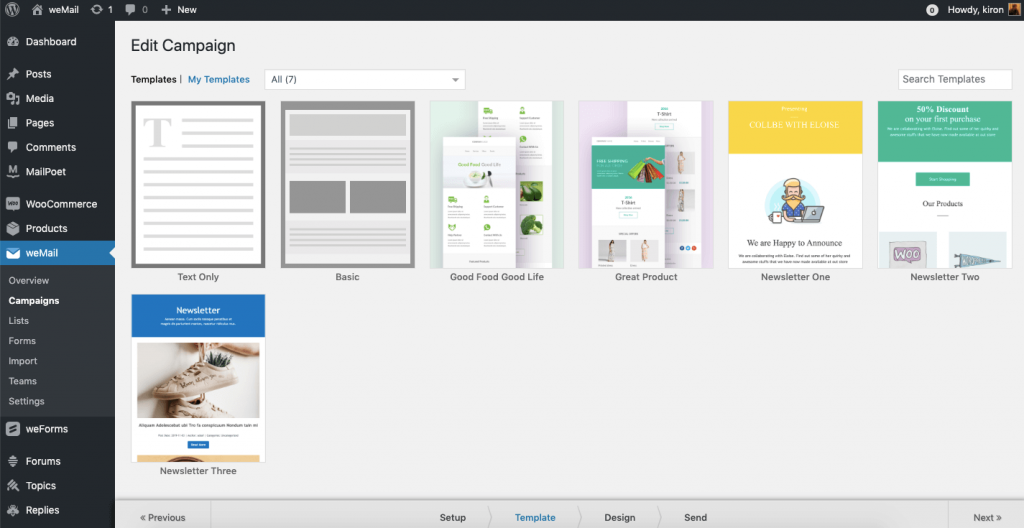 Next, we'll show you how to implement these amazing templates on a WordPress site and make them ready for your email campaign.
Email Template Builder for eCommerce
If you're an online business owner, and you're selling products online then this template can be very beneficiary to you. This template can be used in your campaign to show, for example, product launching, offers, deals, or any special discounts, etc.
Moreover, if you want to display your product demo in the template, you can do it.
Check the customization process below: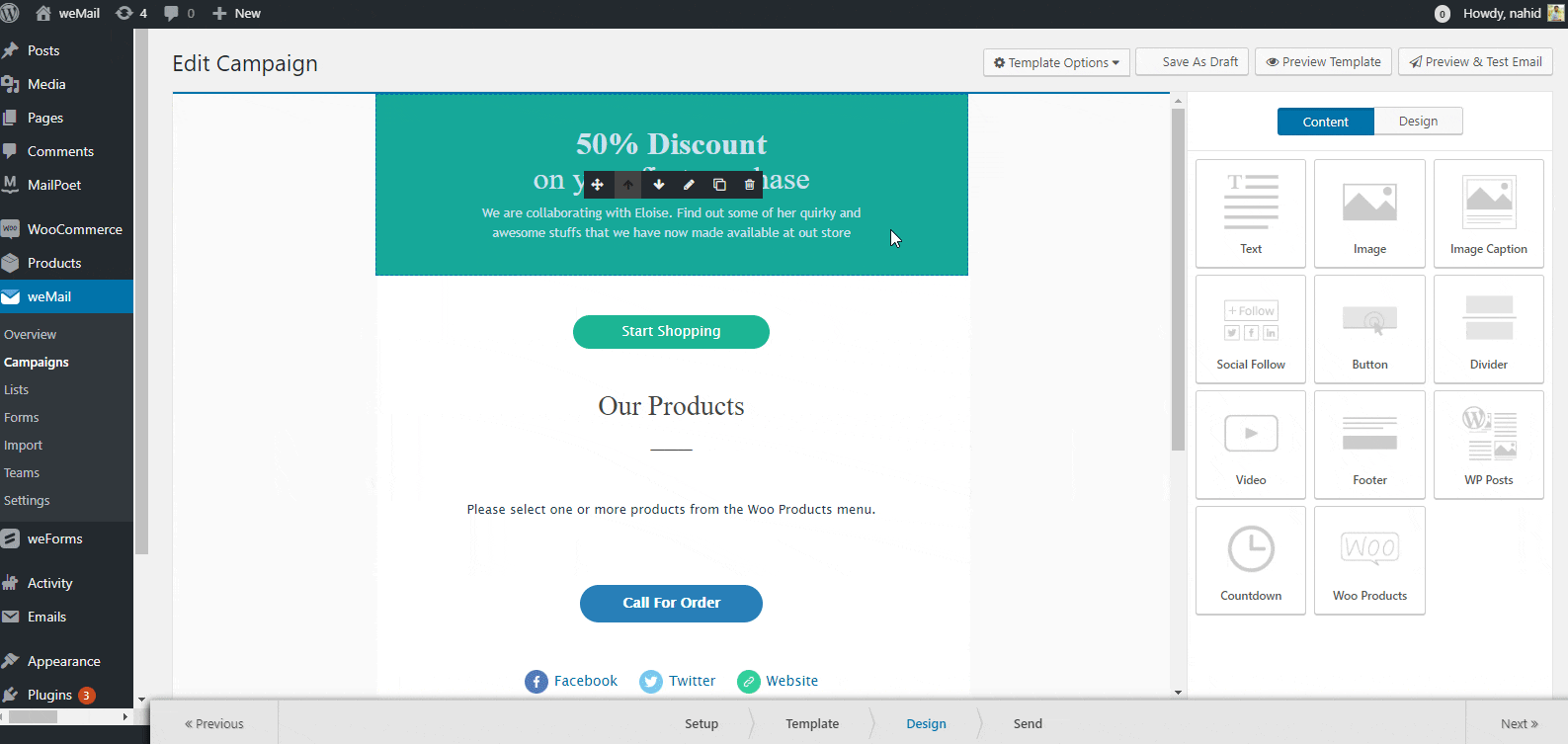 Therefore, you can able to edit this template for your email campaign. Check How to Create Campaign with this Template.
Email Template Builder for Different Offers or Deals
After selecting this template, you'll directly enter into the setup menu. Then you'll see a design option to customize your template. Here you can clearly see that, there are a lot of options to edit, customize.
You can add a logo, images, menu bar, video and more. And also you can do more with the 'Content' and 'Design' option.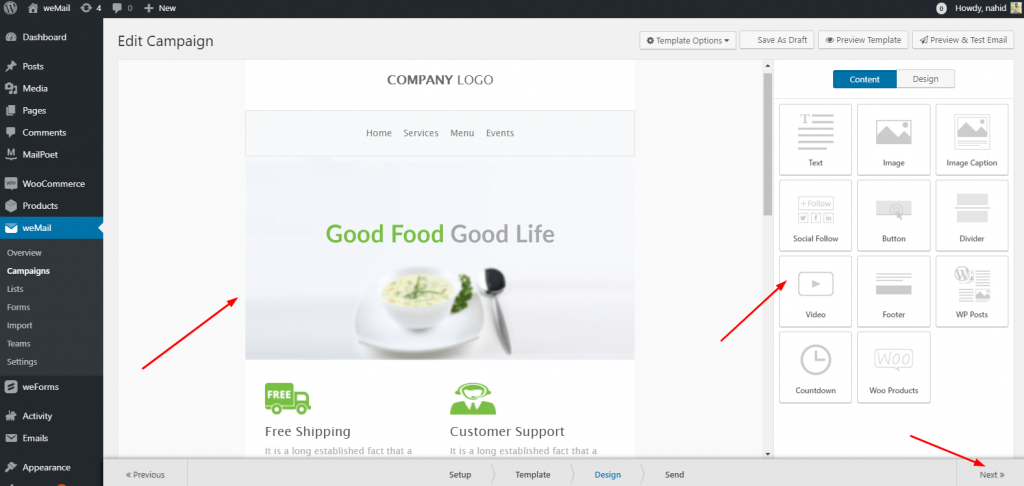 After completing your design click on the 'Next' button. Then you'll easily start your campaign using this template.
Email Template Builder: Only Text
Using this template, you can customize your template according to your campaign type. That means you'll only get the text to send if you want. So here is the sample.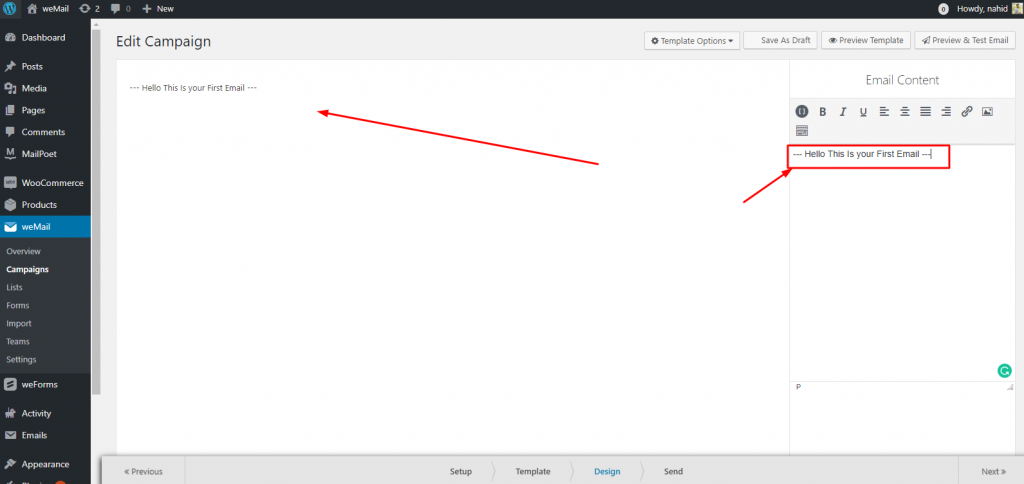 Then just click on the 'Send' button when you're done with editing. There you'll need to fulfill some formalities.
What more You Can Get with weMail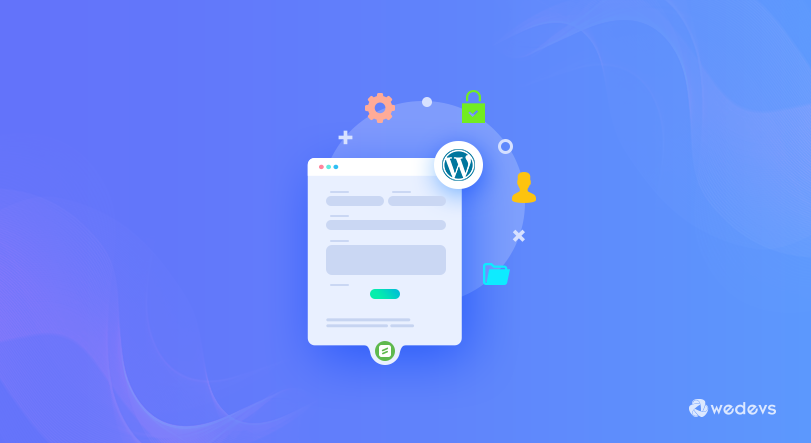 Good news! Now you can integrate WordPress Contact forms with your email templates. Yes, weMail allows its users to utilize the contact form in the email campaign.
As a result, you'll be able to get connected with your customer's and also it'll help to collect data or information from the subscriber in a more organized way.
Furthermore, you can give your form a unique and fascinating look as you want. Because it allows users to use 4 different types of forms layout to utilize. So the user can easily customize forms according to their campaign type.
However, weMail has integration with-
So as a prominent WordPress email template creator, weMail works seamlessly with these forms to get desired results in email marketing.
Read this article on 'How to Integrate a Contact Form With the Most Popular Email Marketing tools'
Why Should You Use Customized Email Templates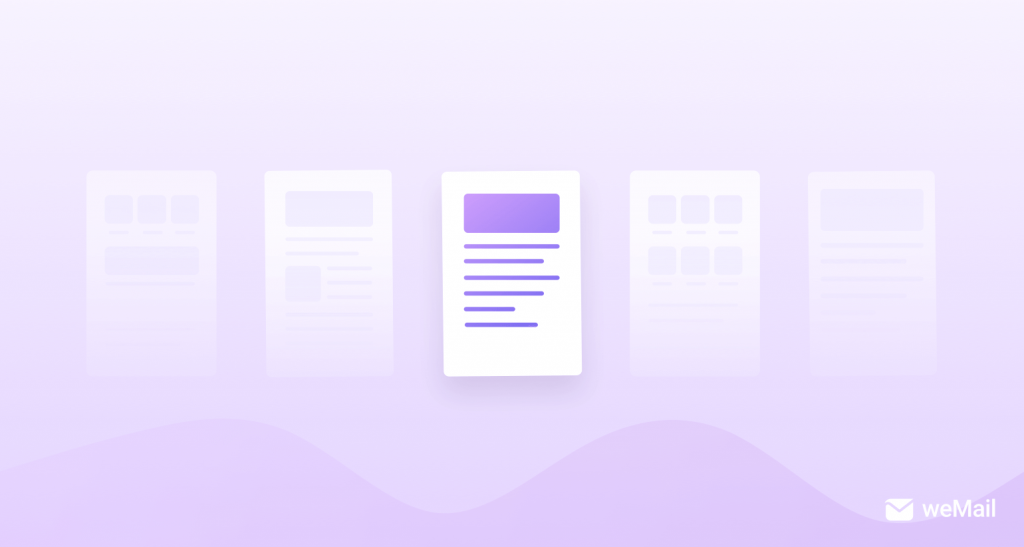 As we mentioned earlier, email marketing is the perfect way where you can directly connect with your customers. In that case, using an attractive email template can change the scenario. That means you will get extra-benefits using a splendid template while sending emails to your subscriber.
For this reason, you need a customizable email template builder. It will help you to undergo different experiments.
Two-thirds of people prefer reading something that is designed beautifully. 80% of the audience will avoid, delete or mark as unread an email straight away if it doesn't look good.
So you can understand that your customer's trust or interest depends on how is your email templates look. It can make or break the relationship with your customers.
The reasons you should use a customized email template are:
It will save your time
Helps to experiment at different campaigns
Keeps you consistent all the time
Chance to improve (in Template Design)
Creates good connection with customers
Easily understandable
Helps to know customer liking and disliking & more
Therefore using a Customized Email Template will facilitate your email marketing.
Ready to Get Started with weMail?
Nowadays, every online marketer switching their gear due to the continuous advancement of technology. Email marketing is also a part and parcel to this act. So if you want to get success in email marketing then you must opt for the wise option. But before, you have to define the goal for your campaign.
No matter what type of template you choose, perfect Email templates can escalate your success in email marketing. So choose a template now and ensure your desired leads giving it a unique look through easy customization.
Subscribe To Our Newsletter
Don't miss any updates of our new templates and extensions
and all the astonishing offers we bring for you.