How weMail Can Help You With Effective Email Marketing in 2023
In any modern-day business 'Email Marketing' is a significant part of all online marketing drills. Especially in 2023, email marketing can be your perfect weapon to multiply your revenue.
And the reason is, using email marketing, you can reach your customers directly by sending direct emails to them. In that case, a Smart Email Marketing Solution can give that kind of benefit.
However, in this blog, we'll elaborately discuss how an email marketing solution can help you grow your business in a more organized & effective way.
Email Marketing Mistakes You Should be Aware of
Do you know? More than 294 millions emails are sent by the different companies all around the world every day
Nowadays, emails are a powerful communicating medium for all types of businesses. To track the potential leads and outcomes of your business through the email campaign, the necessity, and effectiveness of email marketing are undeniable.
But the most crucial fact is that, if an email includes broken content and carries an irrelevant message, then it could be a huge problem for your brand as well as your business to reach the desired goal.
So in this section, we're going to tell, you what types of mistakes you should be aware of and try to avoid before your email marketing campaign.
Not using a clear CTA button in the email template
Unable to fulfill customer's expectations
Lack of professionalism
Using too many images on the email body
Forget to count potential leads
Not sending emails on time
Communication gap
Not circulating events regularly
Keep an easy and lucrative email subscription procedure
And not being consistent
These are the most common blunders that are done by email marketing agents of start-up companies. So if you're an email marketer or wish to get an email marketing solution, then you must learn to avoid these things during an email marketing campaign.
Introducing weMail with Its Core Features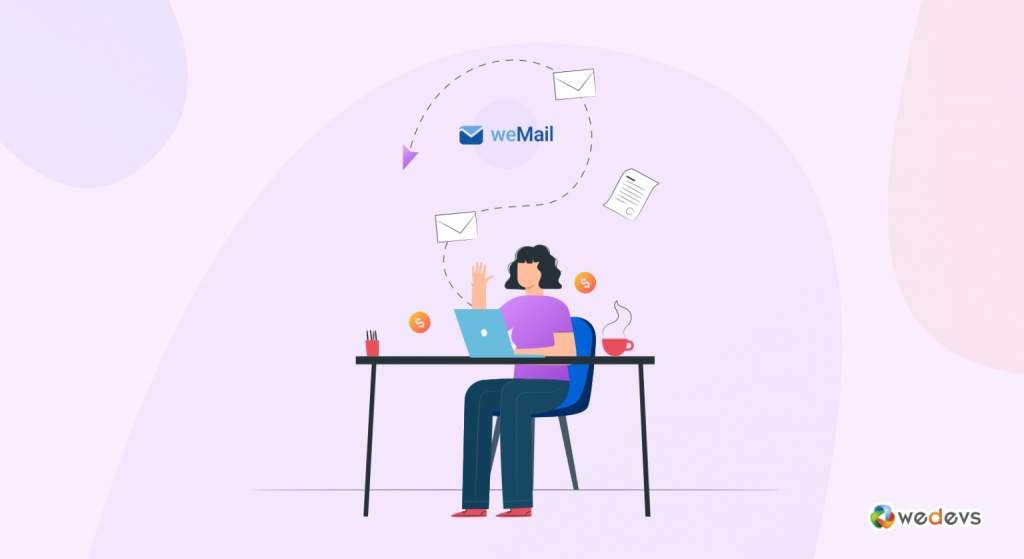 In some of our previous posts, we have already discussed weMail a number of times. But this time for a little better idea, let's have a look at some of its core features of it. This will certainly give you a better knowledge of the key features and would enable you to be more interested in using it.
Related Article: Top-email marketing solution of 2023 that you can rely on
However, let us find out how weMail can enable you to have a smart email marketing experience by understanding its core features
Integration with WordPress Outcomes
Using weMail, you'll get the benefits to integrate different WordPress products, for example, WooCommerce, User Registration, Comment Opt-in, WordPress User Sync, WordPress Transactional Email, etc.
Therefore, you can easily generate email subscribers effectively and put them into a list to send an email later. Additionally, you can collect valuable clients' email addresses from WooCommerce product order details, WordPress user registration, commentators, etc.
Addition of WordPress Contact Form
A Customized embed form options make an easy task to create an HTML form with custom field to anyone.
Using it, you'll get the WordPress contact form to use in different conditions, for example, you can use embed forms, edit according to your campaign and needs, customize email templates, etc.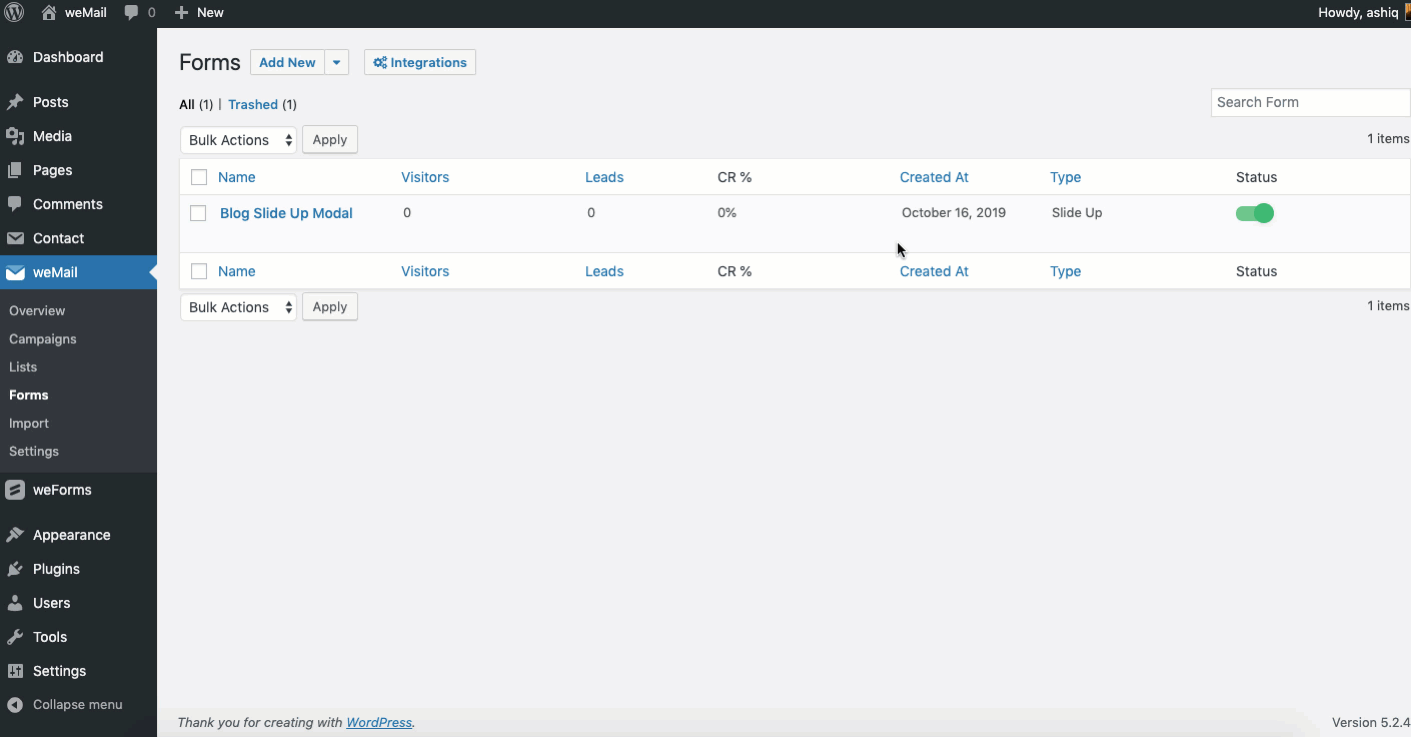 Opt-in Form
Unlike some other popular online email marketing plugins, it offers you to use opt-in features. For example,
In-line form: You can place forms inside the content and get your subscribers to any list you assign
Floating bar: You can comprehensively float your subscriber list in the header part of your website
Slide up: You can apply its slide-up form function to slide up a subscription box to collect new emails
Modal: You can use the Modal box to show the form when you like
Double Opt-in Feature
A smart email marketing solution always provides its customers with a better way to collect leads by sending emails with beautiful templates and more. And the double opt-in feature of weMail is nothing different. So this feature will let you prevent dead mail and also provide you with a fresh contact list. Thus it helps to decrease the bounce rate of your website which is very important for site ranking.
Great Way To Analyze Your Audience
This is a fine feature, unlike any other online email marketing solution. Because using this plugin, you can analyze and monitor campaign performance, and also measure email link clicks. You can get a complete analytics reporting facility with this plugin. Furthermore, you can also connect to Google Analytics to track and view all the results in one place.
Email Listing Features
If you're facing troubles in sorting out your customer contact list? Then this feature can be very handy for you. Because, it lets you configure the email lists, segment them, and also tag them by their actions. Again you can also get the multiple listing feature with weMail. It also helps you to send a single email to multiple lists.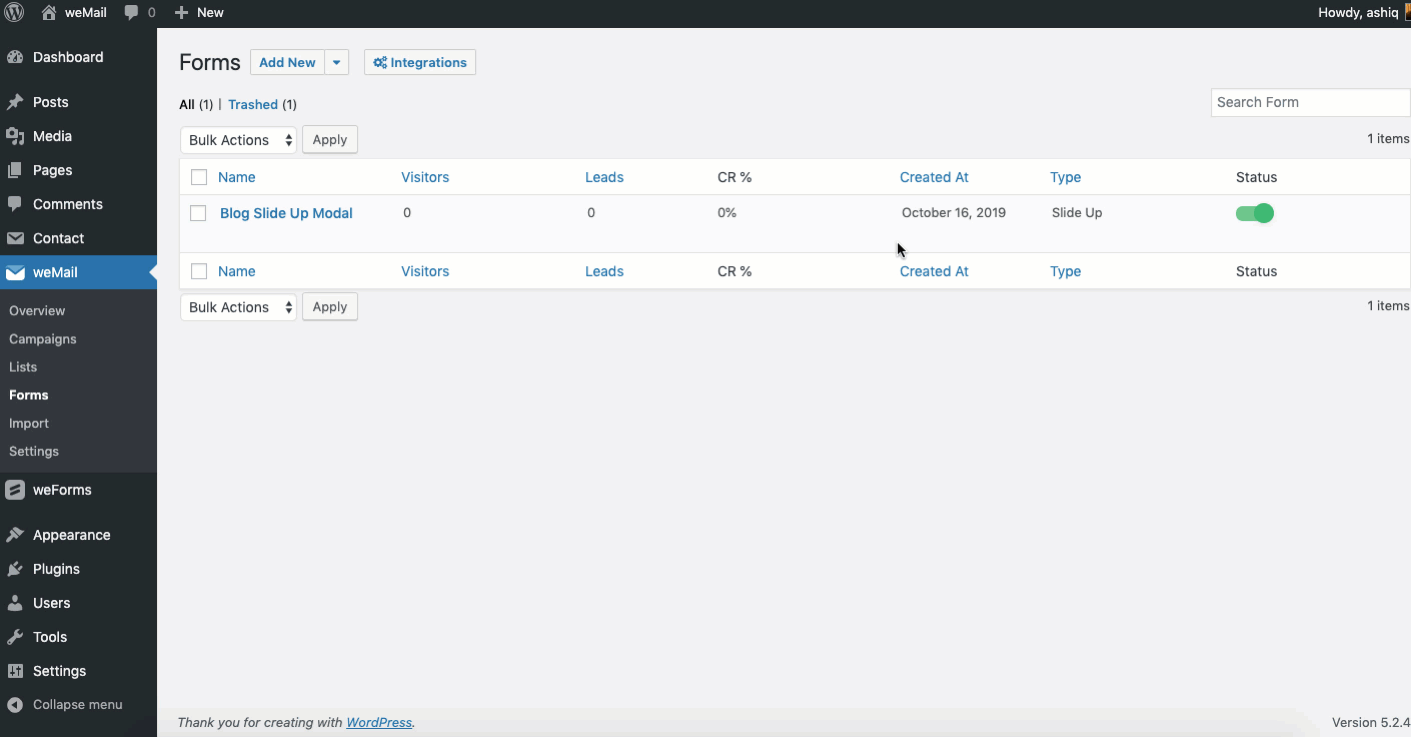 Import & Export
Using the import & Export feature, you can directly import your important files, for example, custom templates, email lists, and other related records. And then you can export them swiftly to a CSV file.
So these are just some of the major attributes of weMail that can totally boost your email marketing strategy and conversion. And unlike other online email marketing solutions, weMail offers the most unique and useful features at one place.
weMail: An Smart Email Marketing Solution For All Small-Medium Businesses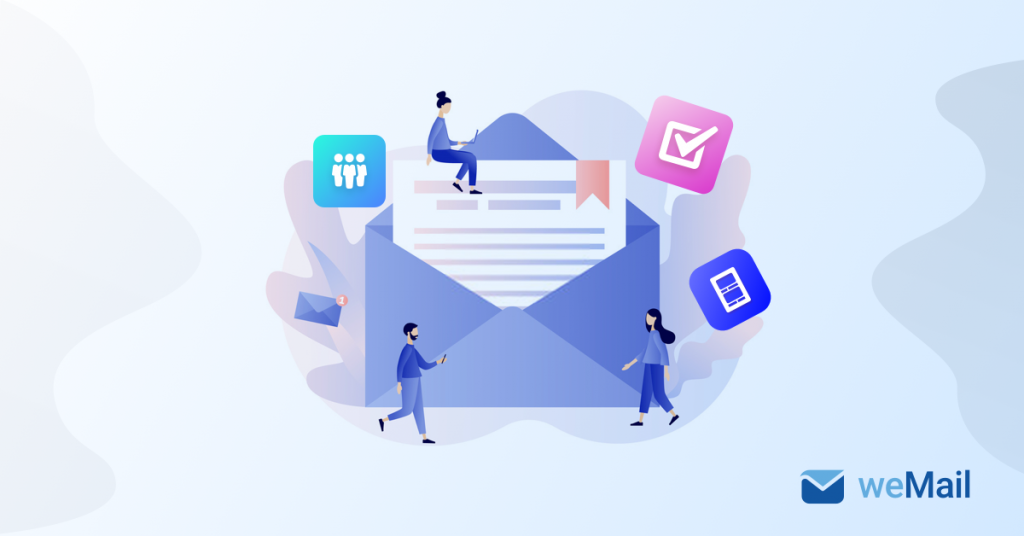 When you're thinking to start an online business, then email marketing can be your first choice to approach. Actually, there is nothing new about the benefits of email marketing. We are all aware of the value of it, especially in today's business sector.
But what makes weMail special in terms of email marketing, especially for small-medium business? We'll know about it in this section.
Generally, when a startup company launches itself in the market, the main obstacle they face is the 'Budget Issue'. Yes, even if they have all the necessary resources, they cannot afford to go ahead with it due to expense concerns. And the good news is this smart email marketing solution lets you complete all the requirements even if you have a low budget.
So, by triggering this splendid plugin at the right time you'll get the following benefits:
Significant Improvement Delivery Rate
Maximized open rate ( The ratio of sending emails and the new people who opened up the emails)
Increase in the rate of email link click
Boosts up your subscription rate
Effectively filtering out the spam messages
And minimizing the overall cost
So you can assume how fruitful and effective this plugin can be for your future essential email marketing practice.
Bonus: Cost Calculator To Adjust Budget
The 'cost calculator' is another excellent option and the finest addition to weMail's arsenal. As mentioned earlier, small-medium businesses often face a 'Budget Issues' so this option of weMail will let you calculate your budget with ease. So using this feature, you can easily calculate your cost and measure your budget in the first place in order to keep it in check before it goes out of hand.
Moreover, it helps to understand and compare how expensive your email marketing expenses be compared to others.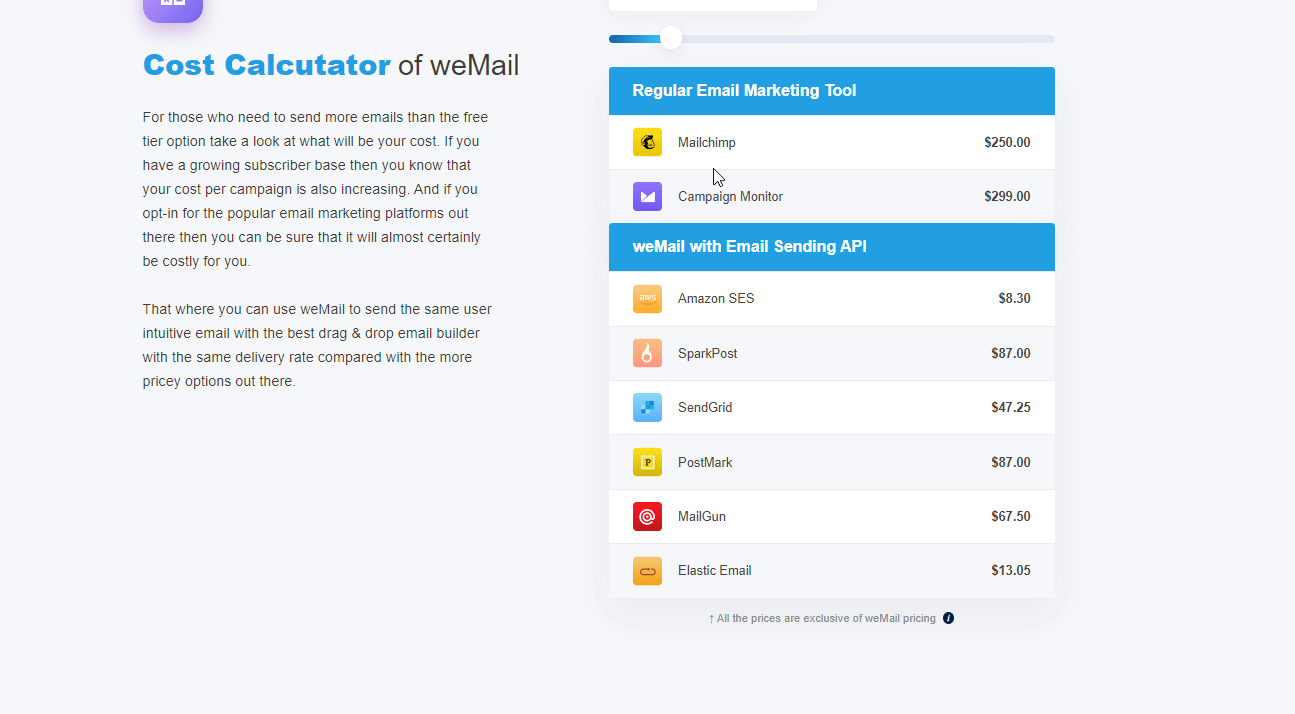 Ready To Get Started with weMail?
Hopefully, after this informative write-up about how weMail help you with your email marketing above, you may have got something useful to use on your next email campaign.
Moreover, we can say, you should opt for the best one that meets all your requirements on a low budget. Otherwise, you have to pay a large amount but will not get the desired outcome it.
However, email marketing and its possible outcomes can be very handy for your business, especially in 2023. Because it can bring leads in quickly time, spread brand reputations, as well as a, being a cost-effective tool for all your email campaigns.
If you have any queries or want to learn more about weMail then feel free to contact us.
Also, if you have any feedback then do share it with us in the comment section below.
Subscribe To Our Newsletter
Don't miss any updates of our new templates and extensions
and all the astonishing offers we bring for you.