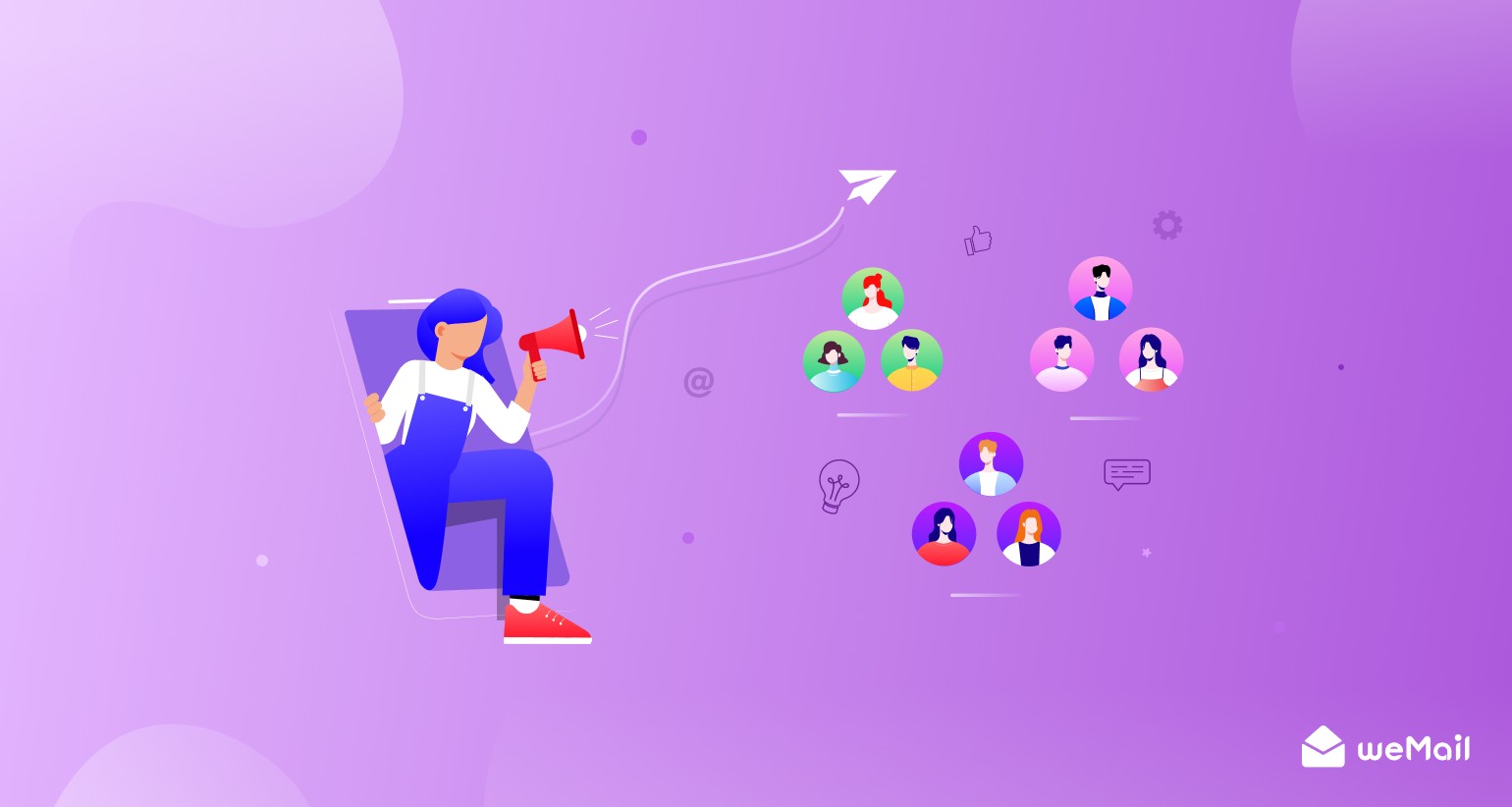 What is Audience Segmentation – A Step by Step Guide to Increase Your Email Conversions [Plus Best Practices]
The application of audience segmentation is vast, covering various sectors, including research, development, and business. It's a very common and useful technique among digital marketers, particularly those who are involved in email marketing.
About 333 billion emails are being sent and received every day globally. A large number of them are marketing emails. But the open rate is only 18% for the marketing emails – Statista
The average email open rate is very low because the emails are not tailored and targeted. Hence, audience segmentation plays a big role in this case. If you can do that correctly, your game would be winning.
So, in this article, we will discuss all the necessary things you should know about audience segmentation – definition, its importance, types, how to do it for email marketing, and the best practices.
What You Will Learn –
What is Audience Segmentation
Audience segmentation is the process of dividing your target audience into small groups, based on commonness among them – such as demography, behavior, and location. It helps you send them precise and targeted messages, receive proper feedback, and apply your strategies effectively.
Audience segmentation is very commonly used in the area of marketing, where it is also known as customer segmentation or market segmentation.
According to The Compass, "audience segmentation is a key activity within an audience analysis. It is the process of dividing a large audience into smaller groups of people, or segments – who have similar needs, values, or characteristics."
Definition of Audience Segmentation in Email Marketing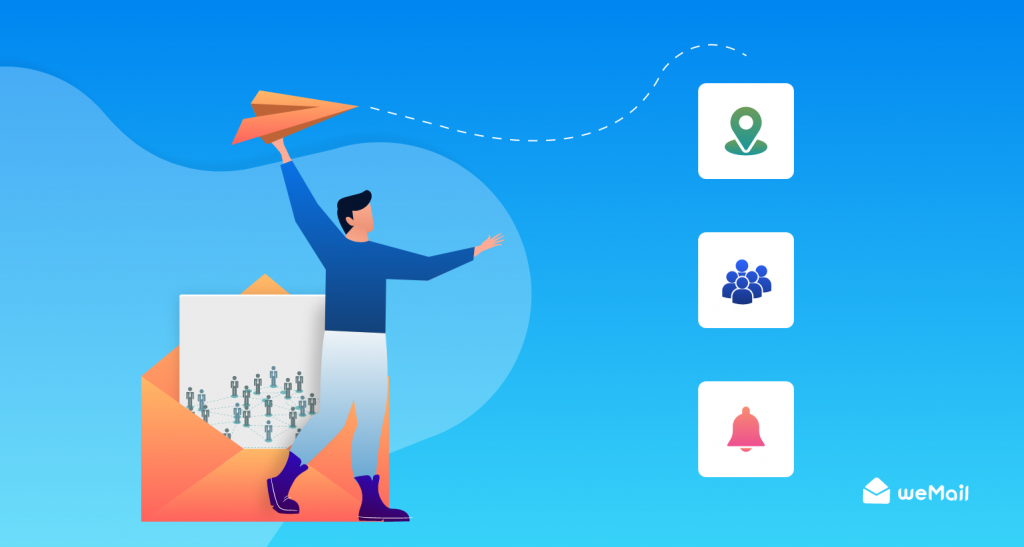 In email marketing, audience segmentation is the process of dividing your target audience (email recipients) into different groups to send them tailored and targeted emails to promote your products, services, or offers.
According to Google, audience segmentation divides your target audience into different groups of users. These groups are called segments. You can target different products, ads, or offers to each segment, and then compare the results.
Audience Segmentation Example
Let's say, you run an IT company and have 5 million email subscribers. Now, you want to send emails to your target audience for your product like weMail.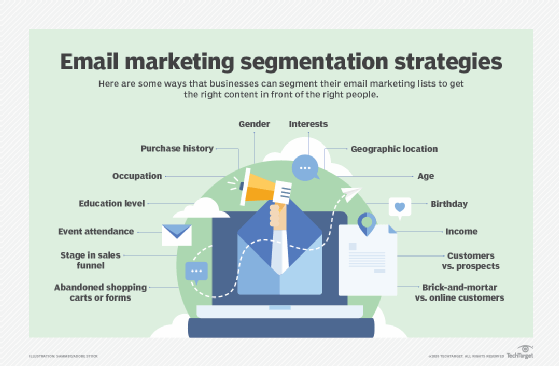 If you write an email and send it to all of the subscribers at once, it will neither be a good approach nor effective. Even some of the subscribers get annoyed and unsubscribe from your email service.
weMail provides email solutions. Its key target audiences are online marketers, agencies, businesses, bloggers, etc. So, you should select your subscribers following that data, divide them into small groups based on other criteria. Then, tailor your emails separately for each group and send them individually.
Importance of Audience Segmentation in Marketing
Audience segmentation is very crucial and mandatory if you want to make your marketing efforts fruitful and cost-efficient, increase conversion rates and traffic to your website, and ensure growth.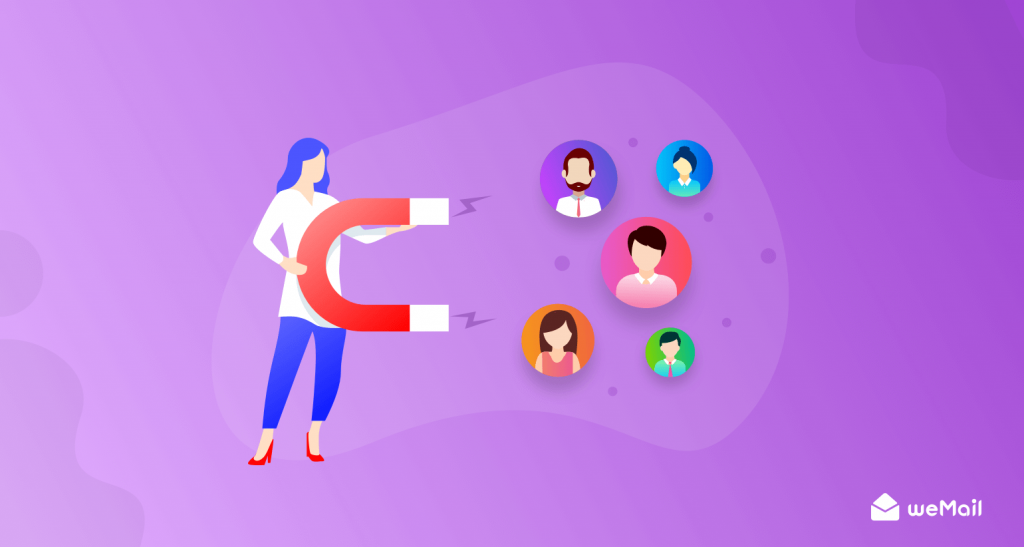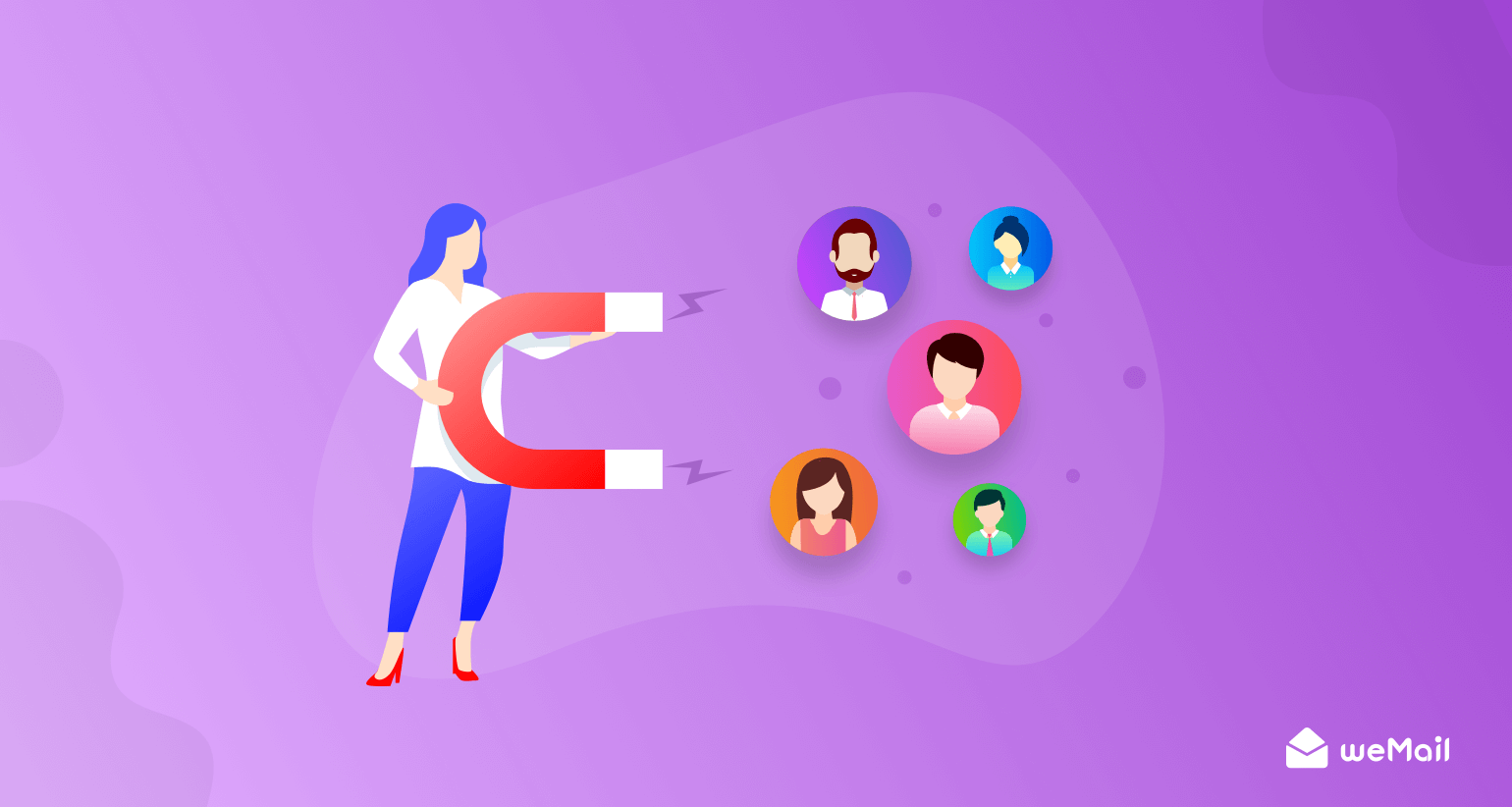 Let's check out some statistics to realize its importance further [the information has been collected from HubSpot, eMarketer, and Campaign Monitor]:
About 30% marketers use audience segmentation to improve email engagement
Nearly 62.0% markters prioritise on audience segmentation to manage campaigns
Segmented campaigns drive a 760% increase in revenue
Audience segmentation facilitates your company to market its products or services in a more personalized manner. Many marketers, however, generate and distribute a common message to all the audiences to save time. It's a very bad practice, and it doesn't save time actually.
The chance of reading and interacting with a message or email becomes so high when the recipients realize that the message/email was written just for them. It's so true, just think from your point of view. Audience segmentation can make such happen.
We have brought all the key benefits and significance of audience segmentation here in one place. Just have a look at the list below. Audience segmentation lets you –
Find out your target audience precisely
Send targeted and tilored your messages
Attract right customers and increase conversion rates and traffic
Build a relationship with your customers and earn their loyalty
Reduce cost, time and effort in marketing
Receive proper feedback from the audience
Stay ahead of the competetors
Uncover hidden opportunities and challanges
We believe you have understood what is audience segmentation and realized its importance so far. We hope you will apply it to your marketing initiatives (we will show you a brief process later). Before that, let's check out its types and use cases.
Types of Audience Segmentation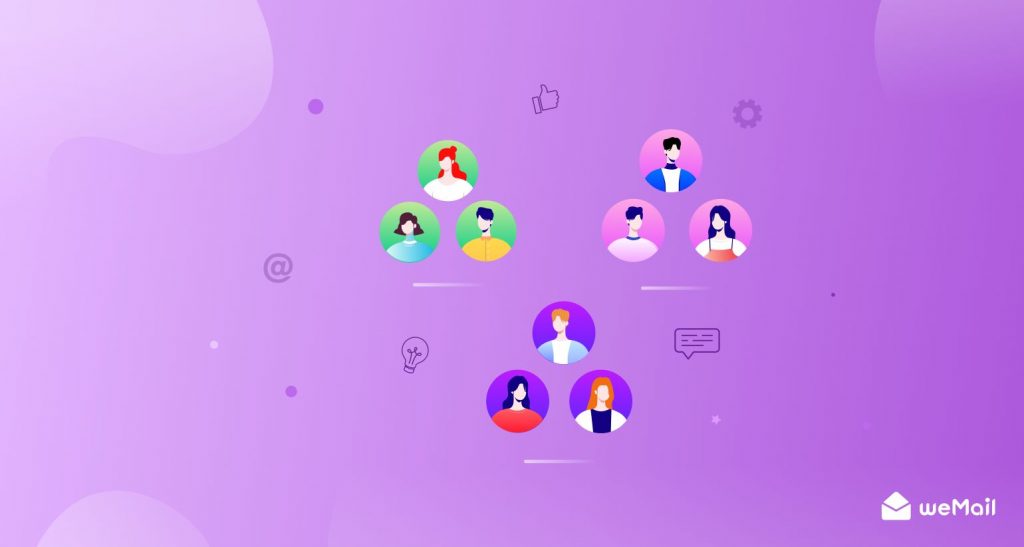 The type of audience segmentation varies significantly. Because you can segment your audiences by following various criteria. In general, three major criteria are commonly followed:
Demograohic
Behavioral
Psychographic
Since we are carrying out our discussion focusing on marketing, email marketing to be more precise, we shall be talking about some other criteria that will help you segment your audiences properly. They are:
Buyers Journey
Product
Technology
Instead of making you confused, we have narrowed down our list – covering all major types and merging the related ones. Now, we are going to discuss each of the types briefly in the next paragraphs:
1. Demographic
Demographic is the most common, perhaps the easiest, method of audience segmentation. It describes the outward-facing attributes of a person. The popular attributes you might consider:
Age
Gender
Location
Occupation
Income
Education level
Ethnicity
Family Structure
Geographic: Some experts define geographic or location-based segmentation as a separate method. But we believe it is better and can be covered under demography.
You can follow one or multiple attributes while doing demographic segmentation. It entirely depends on your need.
2. Behavioral
Behavioral segmentation lets you group your audience based on their activity. In this part, you will analyze your audience's behavior, actions, and interactions with your brand, product, and site.
The major parameters of behavioral segmentation are:
Point of discovery
Purchasing behavior
Purchase frequency
Engagement level
Product usage
Product benefits
Timing preferences
Engagement Level: Some marketers discuss engagement levels separately. But it's a small component of audiences' behavior, so we have kept it here instead of making you confused.
3. Psychographic
Psychographic segmentation breaks down your audiences based on their beliefs, values, opinions, social status, and lifestyle. Some data types of psychographic and demographic segmentation might be similar. But psychographic data is qualitative and demographic data is quantitative.
The areas you should focus on while doing psychographic segmentation:
Interest
Lifestyle
Social Status
Personality
Opinion
Belief
Value
Don't confuse psychographic segmentation with behavioral. They are related but different. Now, we will discuss the key differences between them briefly in the paragraphs below:
Behavioral vs Psychographic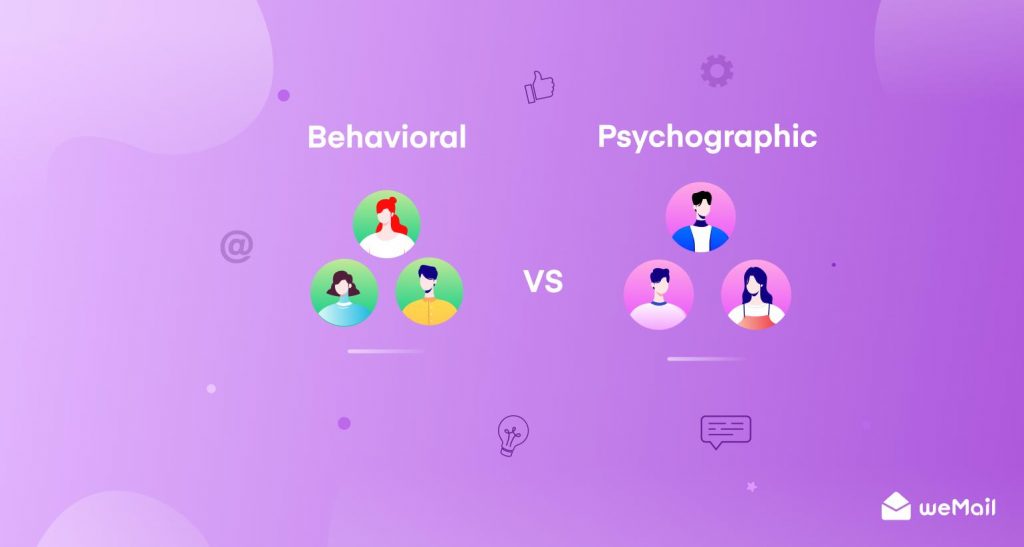 Behavioral and psychographic segmentation might sound similar, but there are some big differences between them. Behavioral segmentation is activity-based, while psychographic segmentation is done based on your audiences' psychic or mentality.
Behavioral segmentation focuses on your audiences' activity, while psychographic segmentation focuses on the motivation behind the activity.
1. Buyers Journey
Buyers' journey is an important audience segmentation method for digital marketers. You will apply this method based on three buyer journey stages: awareness, consideration, and decision. It will help you send more tailored and targeted messages to the buyers at each stage.
2. Product
It is a very basic and common method of segmentation in marketing. If you have multiple brands, products, or services, you should segment your audiences based on each of them.
3. Technology
More than 90% of internet users access mobile devices to access the internet. So, it's very important to segment your audience based on the technology they use, such as the devices, browsers, operating systems.
How to Do Audience Segmentation in Email Marketing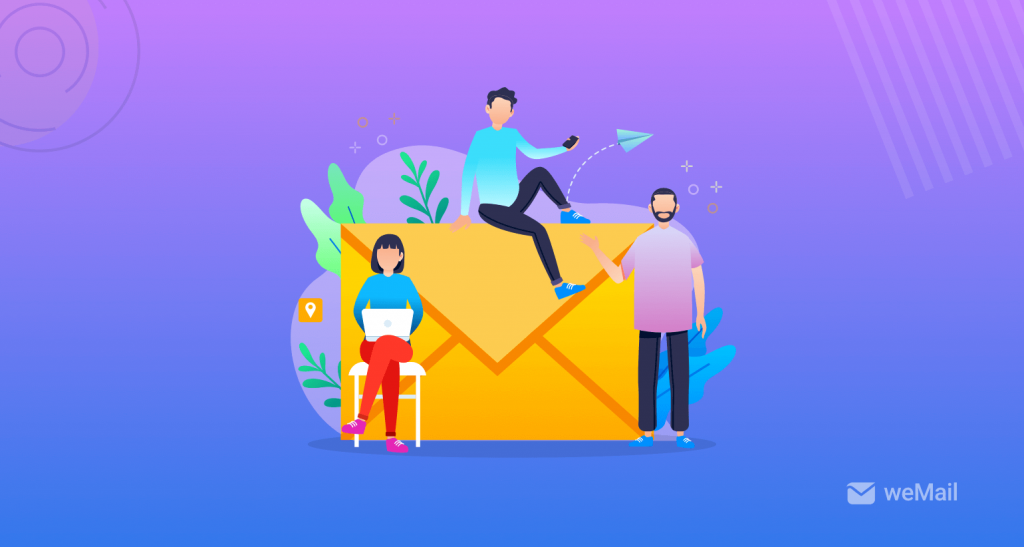 You won't have to be an expert to segment your audience. You can follow our easy steps to segment your audience by yourself. The steps are:
Gather and Analyze Audience Informantion
Determine Segmentation Criteria
Segment Audiences, and Decide Which one to Target
Review and Assess the Proposed Segments
Develop Audience Profiles
Since you have already learned what is audience segmentation, now it's your turn to try it by yourself. Just follow our steps. Now we are going to discuss them briefly here:
Step 1: Gather and Analyze Audience Information
Before you conduct any original research, start with an audit of all the available data and findings. An internal review can help you discover your best customers and learn more about them. Then, look outward to find similar people and understand more about why they buy.
Existing internal sources may not provide the specific answers you need, and external sources are not specific to your unique audience. That's why it's often a launching pad for primary research, which solves both problems and provides a deeper, richer view of your audience.
Step 2: Determine Segmentation Criteria
If it makes sense to segment, then the team needs to decide what criteria to use to segment the audience(s). First, look at the primary audience(s) and identify traits that make a subgroup significantly different from other audience members. A significant difference is one that requires a different message or approach.
These differences are typically based on socio-demographic, geographic, behavioral, or psychographic differences among members of the primary audience.
Step 3: Segment Audiences, and Decide Which one to Target
Segment the audience by using the criteria identified in Step 3. There are various methods teams can use to segment audiences. One option is to use a segmentation table. In Column 1, list the primary audience(s) chosen during the audience analysis. For each audience, identify potential segments based on the criteria from Step 3.
Deciding which segments to target and how to approach them is critical. If the program team identified more audience segments than it can or needs to reach, narrow the list.
Step 4: Review and Assess the Proposed Segments
Once you have your segments defined, you want to review them and make sure you're on the right track. First, make sure all of the segments are distinct. Within each segment, the people should be similar in relevant ways. And between segments, there should be limited overlap in those same attributes.
Once segments have been selected, ensure they are valid and usable. Use a checklist to ensure each segment meets the criteria for effective segmentation. If a defined segment does not meet the criteria, it is best to drop it and consider other segments.
Step 5: Develop Audience Profiles
Once you have identified your segments, you need to build out audience profiles, or personas, to tell the story of each segment. This is where your audience segmentation comes to life.
Most marketing efforts begin with the creation of a customer persona, or a mock-up personality meant to represent your ideal customer. That persona can include where that person works, whether they're married, and what their hobbies are.
Personas help you communicate with your customers on their level, especially when it comes to identifying their pain points—and how you can help alleviate them. Once you create those personas, you can separate them into groups.
Best Practices of Audience Segmentation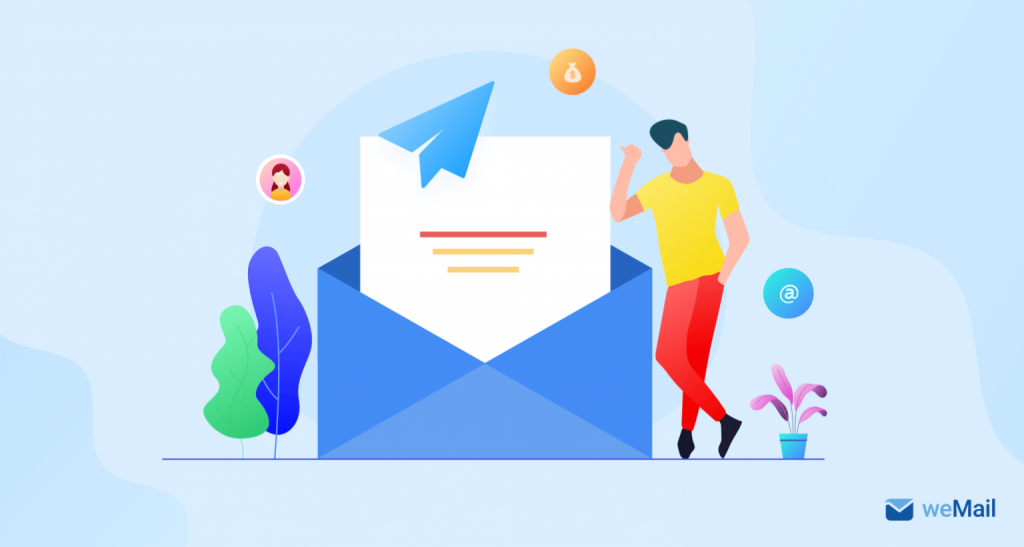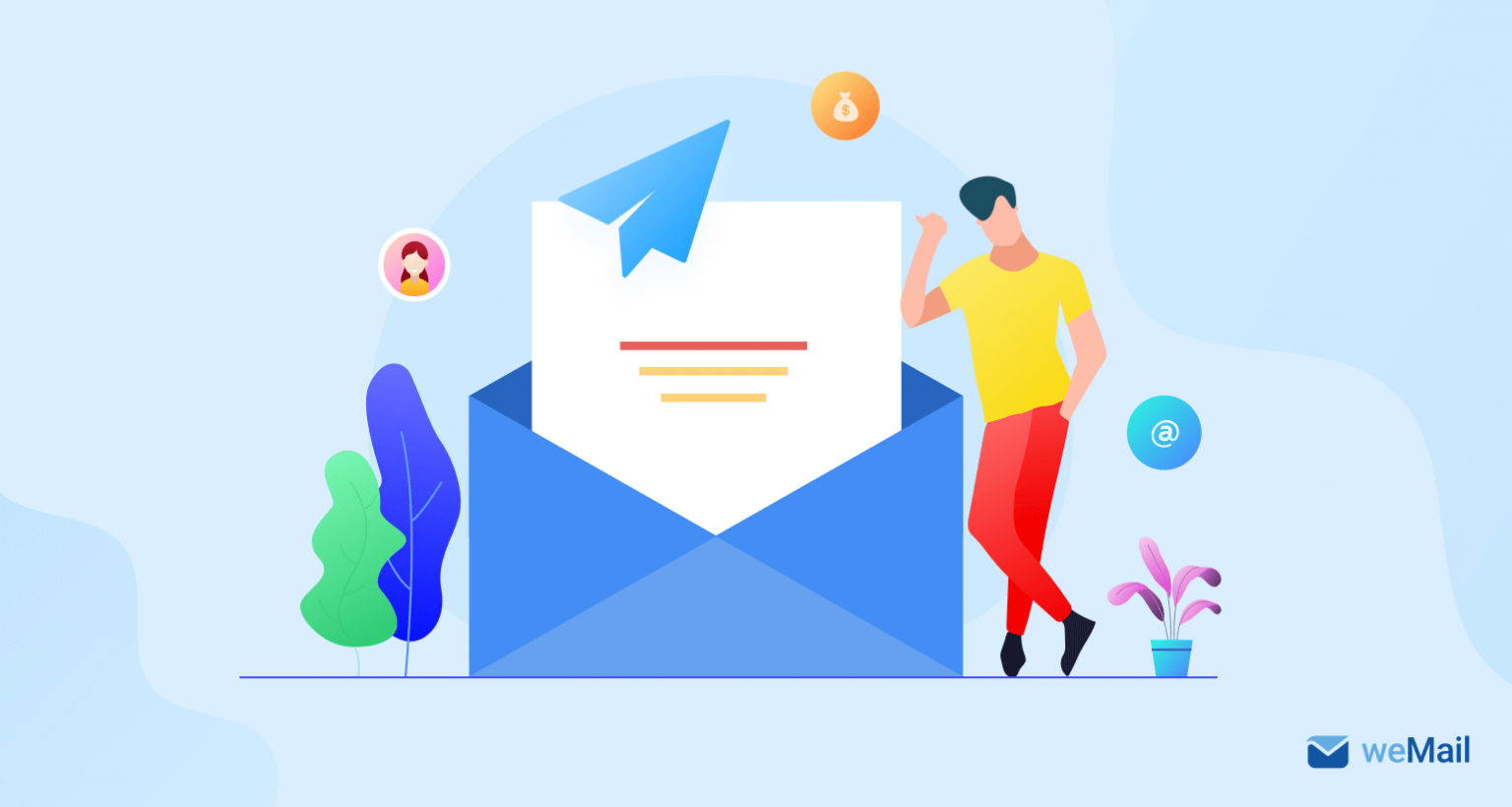 If you want to make your audience segmentation successful and effective, there are some best practices you should follow. They are:
Fix your goals and expectations properly
Create data-driven customer personas
Collect detailed data about your customers
Avoid data gap as much as possible
Use different channels to overcome the data gap
A/B test your segmentation strategy
Don't overdo it, keep it rational and realistic
This marks the end of the basics of audience segmentation. We tried to cover all the necessary things here – from what is audience segmentation to the best practices – to help you understand the topic easily and properly.
Our Final Thoughts on Audience Segmentation
Audience segmentation doesn't require you to grab the attention of all the audiences. It, in fact, tells you who you are going to ignore. So, build up your mindset this way.
Whether you are a digital marketer, company owner, or content writer, we will highly recommend you segment your audience before starting your journey, launching, or promoting any product or campaign.
We hope this article was helpful to you and apply its learnings in real life. If you have any queries or confusion, please feel free to let us know in the comment section below.
After doing audience segmentation, you might look at the big picture of email marketing. According to Litmus, email generates $36 for every $1 spent – a stunning 3,600% ROI!
To take the advantage of this big opportunity, you would need an effective email solution. You might check out weMail, which will serve your purpose very well we believe.
Subscribe To Our Newsletter
Don't miss any updates of our new templates and extensions
and all the astonishing offers we bring for you.