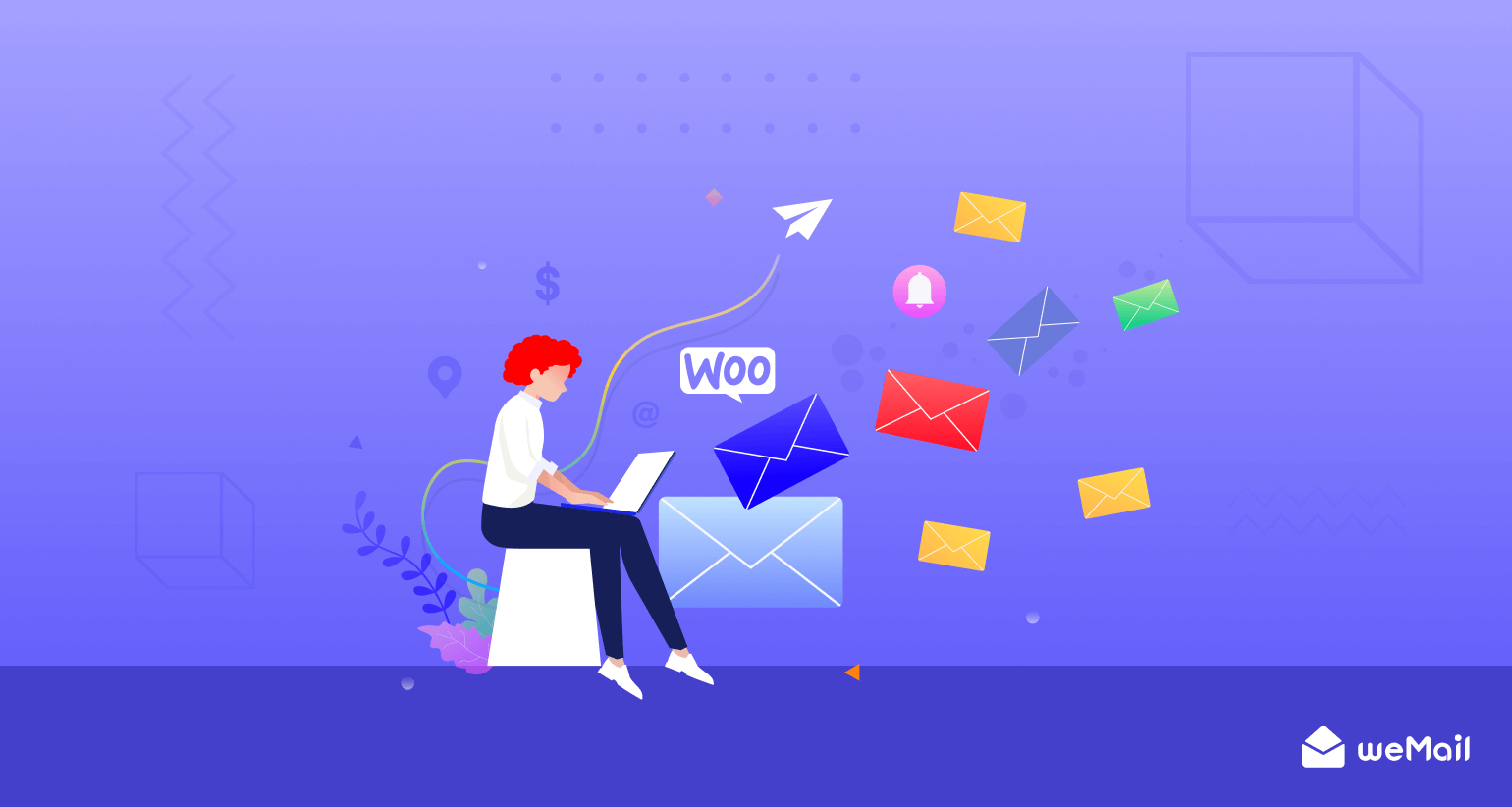 7+ WooCommerce Follow Up Email Best Practices to Gear Up Your Conversion
Maintaining a sustainable relationship with customers is fundamental to any eCommerce business. Today, businesses nurture people through continuous engagement by using multiple channels. In this regard, one of the best ways for personal engagement is email marketing. Hence, if you have a WooCommerce shop, sending follow-up emails can keep your customers warm for a long-lasting relationship.
Quite simply, WooCommerce follow-up emails are the kinds of emails you send to customers once they complete certain actions within your WooCommerce store. For example – newsletter sign up, purchase something, add products to cart and abandoned, etc. Follow-up emails help you make a better connection with your prospects, let people know that you care for them.
So how can you get the best out of your WooCommerce follow-up emails? Here comes this blog. Here you will find some of the tried and tested WooCommerce follow-up email best practices that can increase your conversion rates and keep up long-term relationships with customers. But before jumping into it, let's have a look at why WooCommerce follow-up email is so important for your online store.
Why WooCommerce Follow Up Emails Important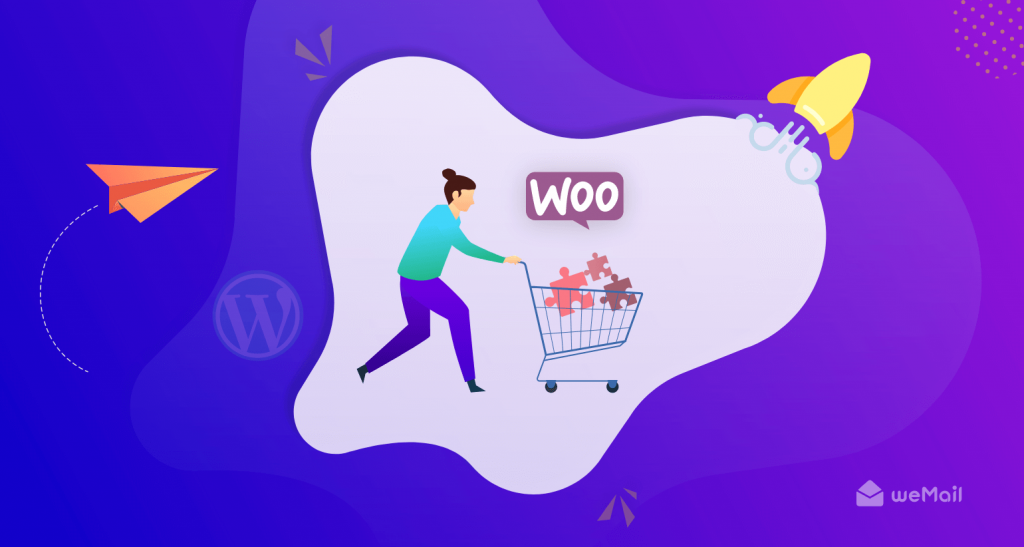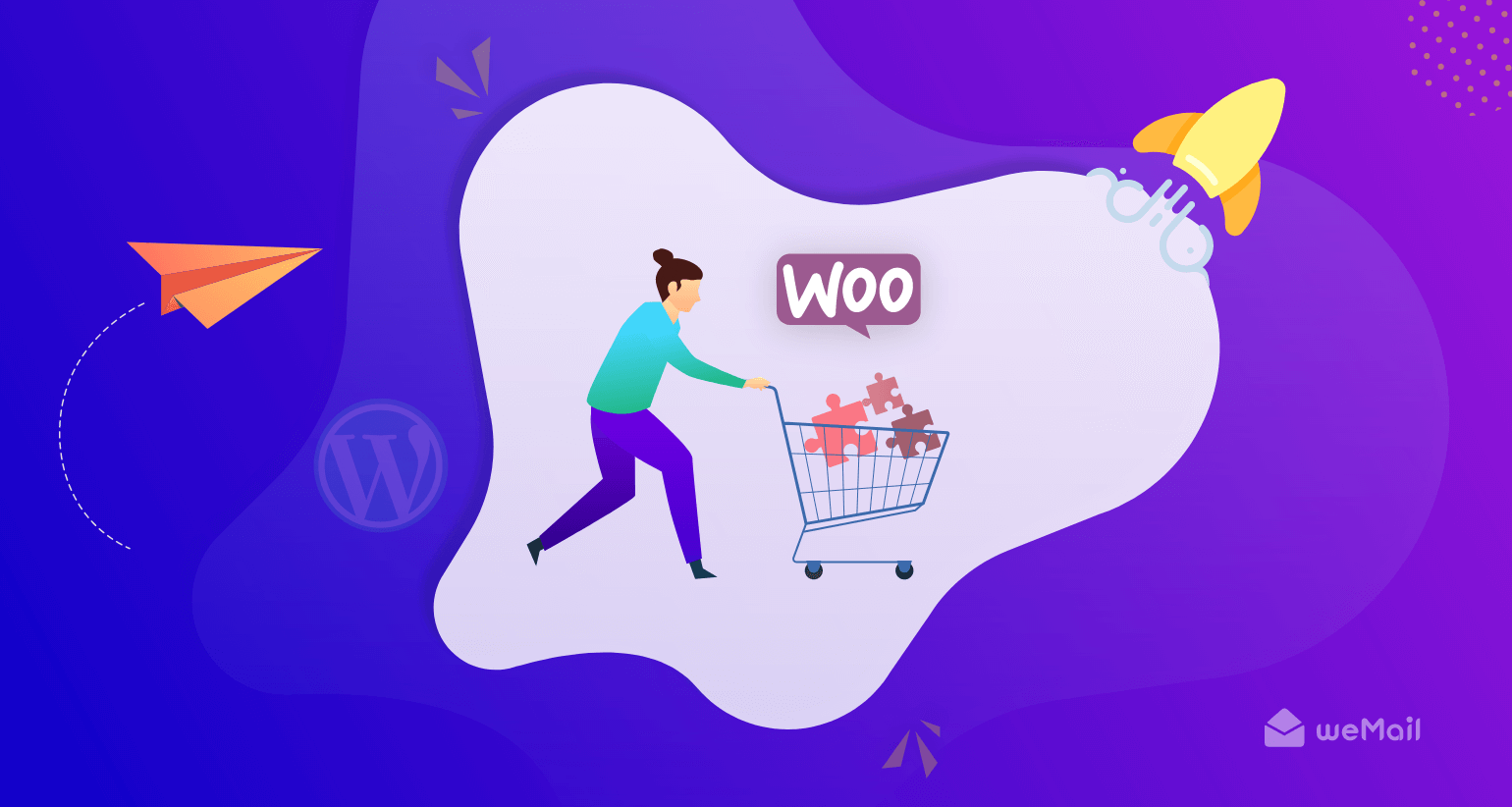 If you aren't sure how you can harness the potential of WooCommerce follow-up email best practices, have an eye on the following points. These points will let you understand why should you send them, and maintain the highest standards for conversions.
Increases Conversion
WooCommerce follow-up email is a great way to start communication with online users once they sign up on your eCommerce site. It generates good response rates too. Some follow up emails will give you instant results (i.e. customers will back to their abandoned cart), and some will work in the long run (i.e. warm up the inactive customers)
Builds Trust
Generating sales isn't the only purpose. Also, it makes your customers feel that you're caring for them, putting them in the first place, and trying to improve their buying experiences. Such appreciation boosts customer engagement.
Segment the Audience
You can filter your audiences to trigger specific events. For example, some customers may be ordering for the first time, some made their last purchase long ago, and some are sticking to only a specific product category. You can filter your customers accordingly to send your emails to the right persons.
Automates Email Marketing
A magic thing of the practice is that once you set up the WooCommerce follow-up email, it will automatically send emails to your customers without your participation. It saves time and brings speed to the work.
Types of WooCommerce Follow Up Emails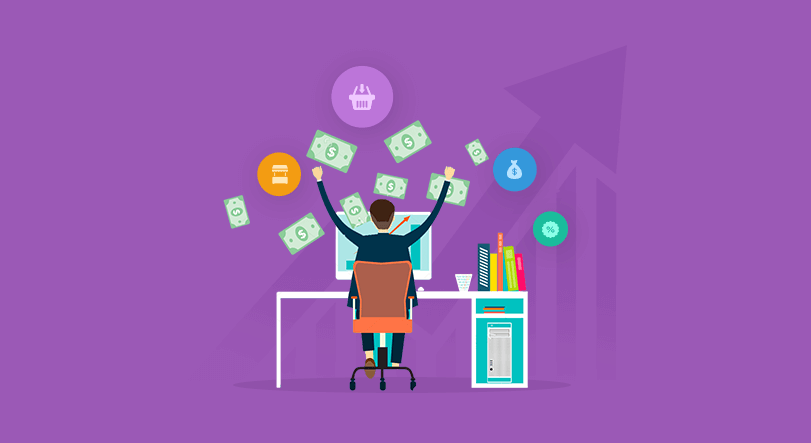 Well, there are many types of WooCommerce follow-up emails you can send. Here are some of the most popular ones. Take a look below –
Purchase emails: With a 'Thank You' message, eCommerce organizations send the purchase emails after a customer purchases their products. It may include shipping time, warrant/guaranty status, refund procedure, using manual, etc.
Signup emails: After a customer registers in an eCommerce site, Sign up email confirms his registration. Besides, the registration list can help you find out who hasn't purchased a product yet from your store.
Single emails: It is basically a template that you or your team can use to send customized messages immediately to their users if they complete any specific action.
Points and reward emails: Many WooCommerce sites distribute points, scores, and awards to keep their audiences more engaged. By the follow-up emails, you can remind them how many points are left to complete a milestone.
Voucher/coupon emails: It lets the customers know the present status of their vouchers, how long they will be, or the specific products that are going out of stock.
Cross-sell emails: Through the cross-sell emails, you can notify about the arrival of new products in your WooCommerce stores.
Review emails: Once the shipping ends and customers receive the products, you may request them to put a review and rating on the products in your store.
WooCommerce Follow Up Email Best Practices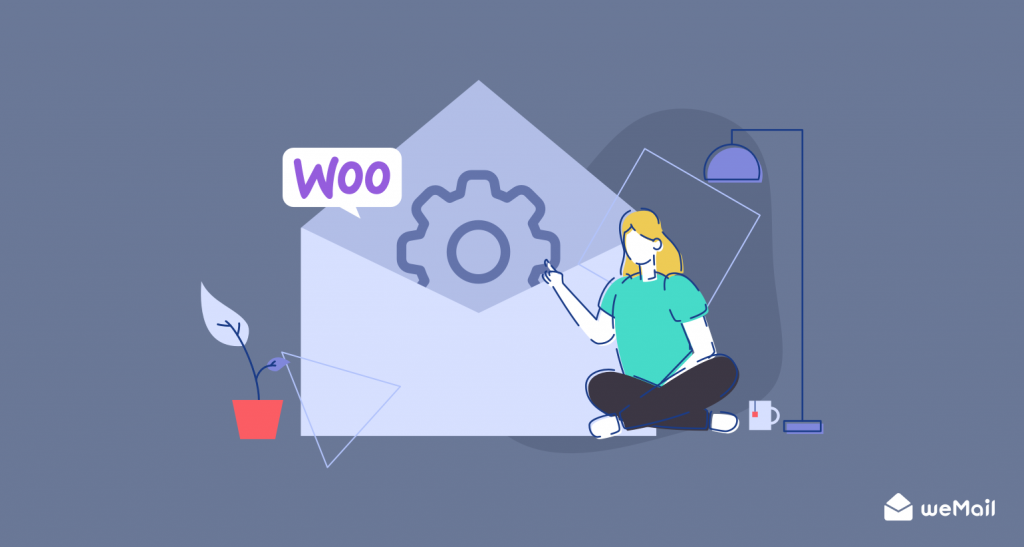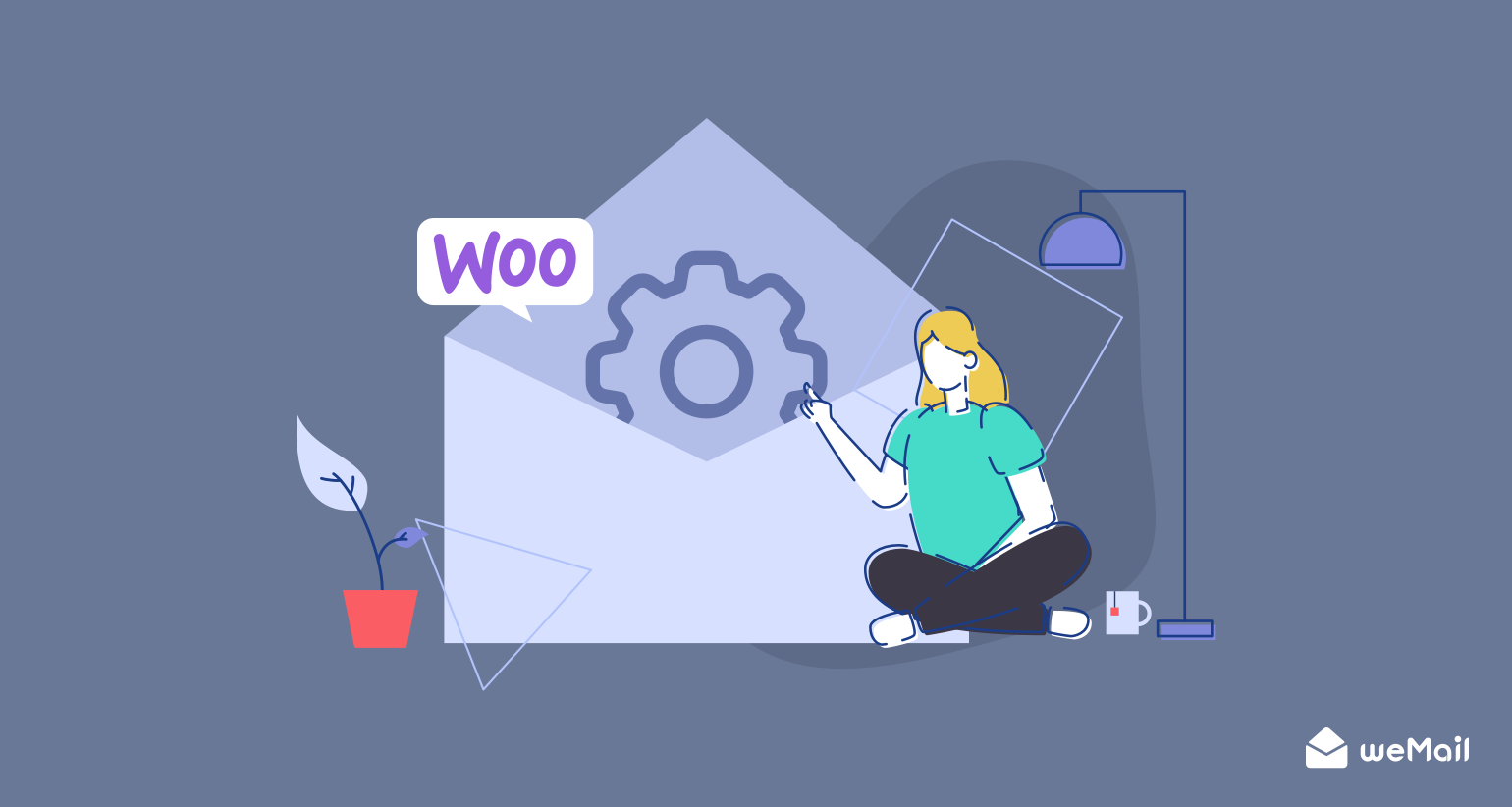 You can harness the maximum results from customer engagement if you can execute the WooCommerce follow-up email best practices rightly. There are a few rules and tactics you must consider while designing your follow emails.
1. Adopt a customer-centric approach
Rather than focusing on how to make money, think about how you can add value to your customers through follow-up emails. Use self-rationalism, market trends, and their activities to understand their needs and intents. Accordingly, suggest to them the products and information that will solve their problems.
Also, keep your tone so friendly that customers feel honored. This may convert your customers into word-of-mouth marketers and take your business to the next level.
2. Segment Your List for Easy Targeting
Segmenting your email list will help you send more relevant content to the right person. You can easily figure out how many emails have been sent to each of your audiences. By the following metrics, you can segment your email list to get powerful results.
Profile data: location, demographics and basic information about customers.
Emagement: how subscribers interact on your campaings and promotions.
Shopping behavior: how frequently they pruchase, their intents, budget, and when they purchase.
Through segmentation, you can identify the potential customers and bring them down to the sales funnel.
3. Define Your Follow Up Email Objectives
WooCommerce follow-up email best practices can serve many of your objectives. For example,
Greetings
Share information
Ask for surveys and reviews
Generate sales on occassions
Recommendation
So, you can make your objectives clear better than before through follow-up emails to keep your customers in the right funnel.
4. Make Your Messages Unique and Personalized
Today, same-message-for-all doesn't value anymore in the commercial world. If you use the same message template for all of your customers, they may take it as spam. Surely, it will damage your brand value.
You can customize your WooCommerce follow-up emails in many ways to look unique and personalized for your customers. Here is an example for you.
Write the receiver's name in the subject line
Write his name again in the address section of email body
Remind customers of the products/items they explored but didn't buy
Notify them the status of their current subscription plan
Send the coupon/voucher code by their name
Offer them discount on the similar products they visited or added in cart
Thus, you can make them think that they are special to you
5. Keep Your Messages Brief and Relevant
Treat your customers' time very precious. Usually, they don't give much time to the follow-up emails that include long boring texts. Besides, long texts sometimes lose relevance and make audiences confused. If you are having the same problem, the below steps can help you to keep your messages brief and relevant to the point.
First sentence- Thank your customer for action they made on your online store.
Second sentence- How they can continue the action and get the best from it.
Third sentence- Include your product description with a Call-to-Action button.
Fourth sentence- Thank them again and wish the best.
Unless you have any detailed information to share through emails, you can follow the above steps to satisfy any of your objectives.
6. Pay Attention to Aesthetics
Make your follow-up emails eye-catchy. Today, most readers love infographics rather than long texts. Besides, they love to see high-quality photos of eCommerce products. Therefore, you cannot ignore aesthetics in your follow-up emails.
So, how will you do it?
Use high-quality photos, and infographs to make your follow up emails eye-catchy
Place your logo at top of your email and all visiual photographs
Use brand color to design the header and footer of your follow up emails
Include powerful words in your email copywritings
Thus, you can boost brand aesthetics at the same time.
7. Always Include a Call-to-Action Button (CTA)
By adding CTA buttons, you can encourage your audiences to increase engagement with you in many ways. Popular CTA buttons for WooCommerce follow up emails best practices are:
Buy now
Complete my purchase
Treate yourself today
Grab it today
Try out today
Get the look
Unveil your voucher
Get your discount
Review the product
CTA button is useful not only for WooCommerce follow-up emails, but also for regular email marketing campaigns. But if you want your customers and audiences to complete an action, make sure, you are providing them with the resource as well.
For example: if you want them to review your recently purchased product, link up that product with the 'Review' button.
8. Evaluate Your Progress
Obviously, you do have some targets to achieve within a timescale. There is no universal hack that today's strategy will yield benefits forever. Smart people modify their approaches overtimes. You must do it here too! But how?
The ultimate metric to evaluate the progress of any strategy is its conversion rate.

weMail
Evaluate the above strategies how close they have taken you to the targets. Accordingly, you must bring changes to make your emphatically progressive overtimes.
If you have any real-life case on which you want to get experts' suggestions, write it down to our comment section, or mail us anytime.
Amazing WooCommerce Follow Up Email Examples
Let's look at some great examples of the WooCommerce follow-up email best practices that you can take as inspiration to apply in your online store.
1. Aliexpress
Here, you can see, how Aliexpress is creating a hunger among the customers with the copywriting 'Deal Expires Soon'. Alongside the copy 'Just for You' adds a personalized flavor that makes you think you are someone special to them.
It's a great way to psychologically motivate them to go for purchasing the products right away.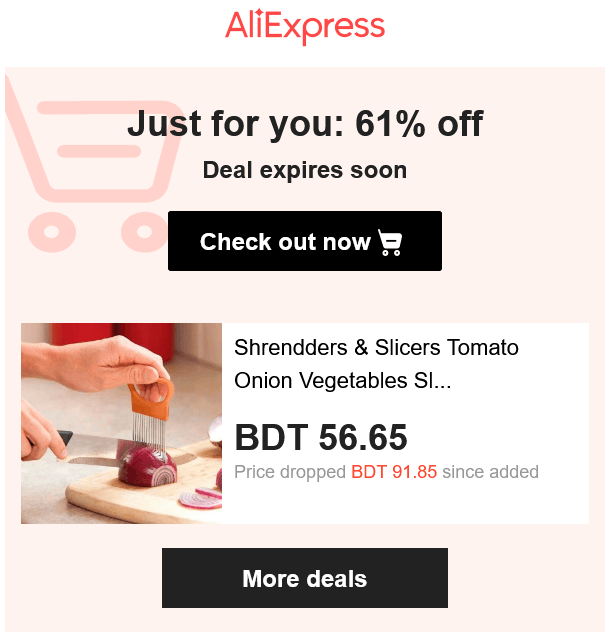 2. Daraz
Daraz is a renowned South-Asian eCommerce website. They have a great style to promote vouchers, cash back, and discount offers to keep their audiences connected to them.
You can see, how they are enticing their audiences to spend more to enjoy more vouchers and discounts. Also, they are promoting their payment partners as well.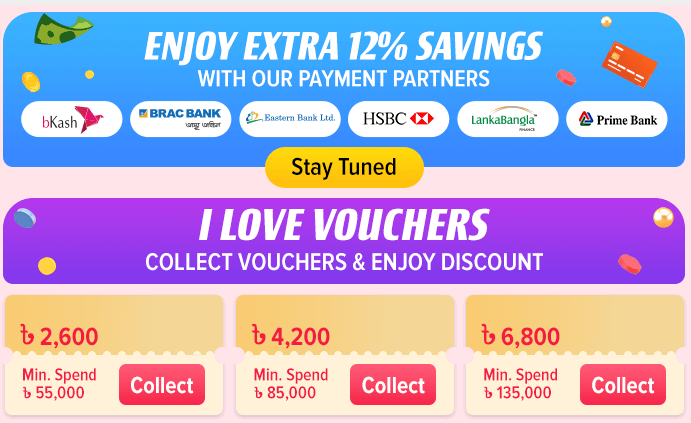 3. GNC Live Well
GNC Live Well is a sport and fitness product selling eCommerce organization. They have a wonderful way of presenting their sales copies in follow-up emails. Below you can see how they set font color and sizes in each copy-line to focus on discount and free shipping offers.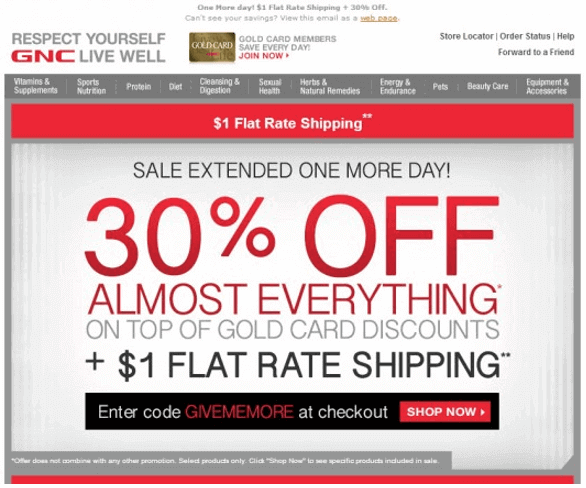 4. ULTA Beauty
You obviously need social proof to establish customers' credibility toward the products of your WooCommerce store. Usually, most of the customers forget to rate and review the recently purchased products. In this case, you can remind them and request to complete the process through a follow up email.
ULTA Beauty is a famous USA-based online beauty product store. You can take their follow up email as an example of how to request reviews and ratings.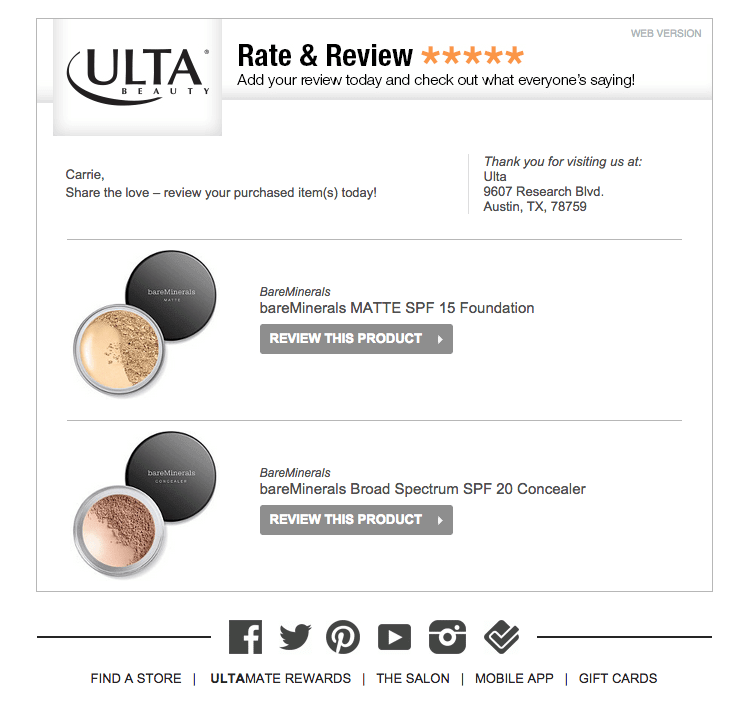 5. Walmart
If you want to generate massive sales on special sales events, you need to start engaging your audiences before the events arrive. Usually, some special sales events for eCommerce business are Black Friday, Halloween, Christmas, New Year's eve, Spring, and Summar.
Via follow up emails you can let them know what special new products are coming these sales seasons, vouchers, discounts, cashback offers, and so on. If customers find their needed products in your store, they will start saving money for the upcoming seasons.
Below you can see how Walmart is running a pre-Black Friday campaign through follow-up email to get their target audiences ready for the upcoming sales event.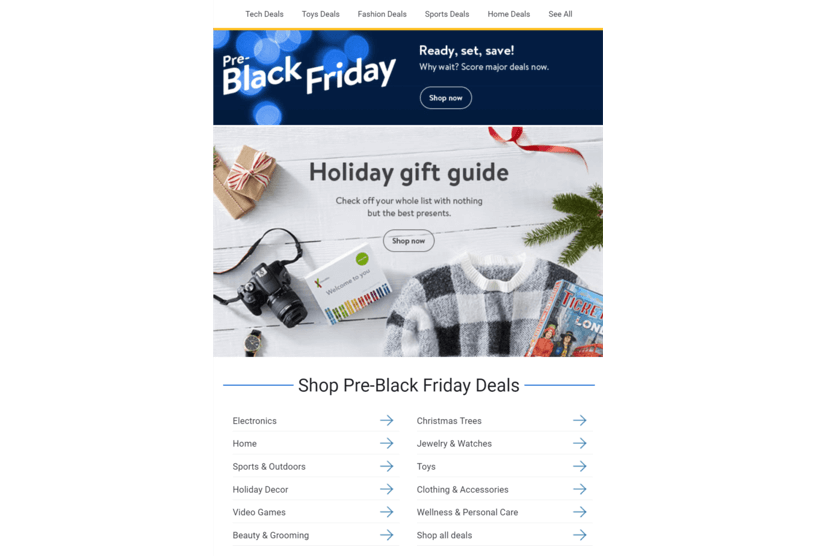 Final Thoughts on WooCommerce Follow Up Emails
Around 24 million eCommerce sites are currently active on the web. Successful sites are those that have the smartest way of maintaining relationships with their audiences. WooCommerce follow-up email best practices are some powerful ways to help you in this case.
In this article, we have tried to cover everything you should know alongside the best practices of WooCommerce follow-up emails. If you like this article, hit the subscribe button for more interesting writings like this one. Moreover, if you want us to add some new points to this article, let us know through the comment section.
Subscribe To Our Newsletter
Don't miss any updates of our new templates and extensions
and all the astonishing offers we bring for you.