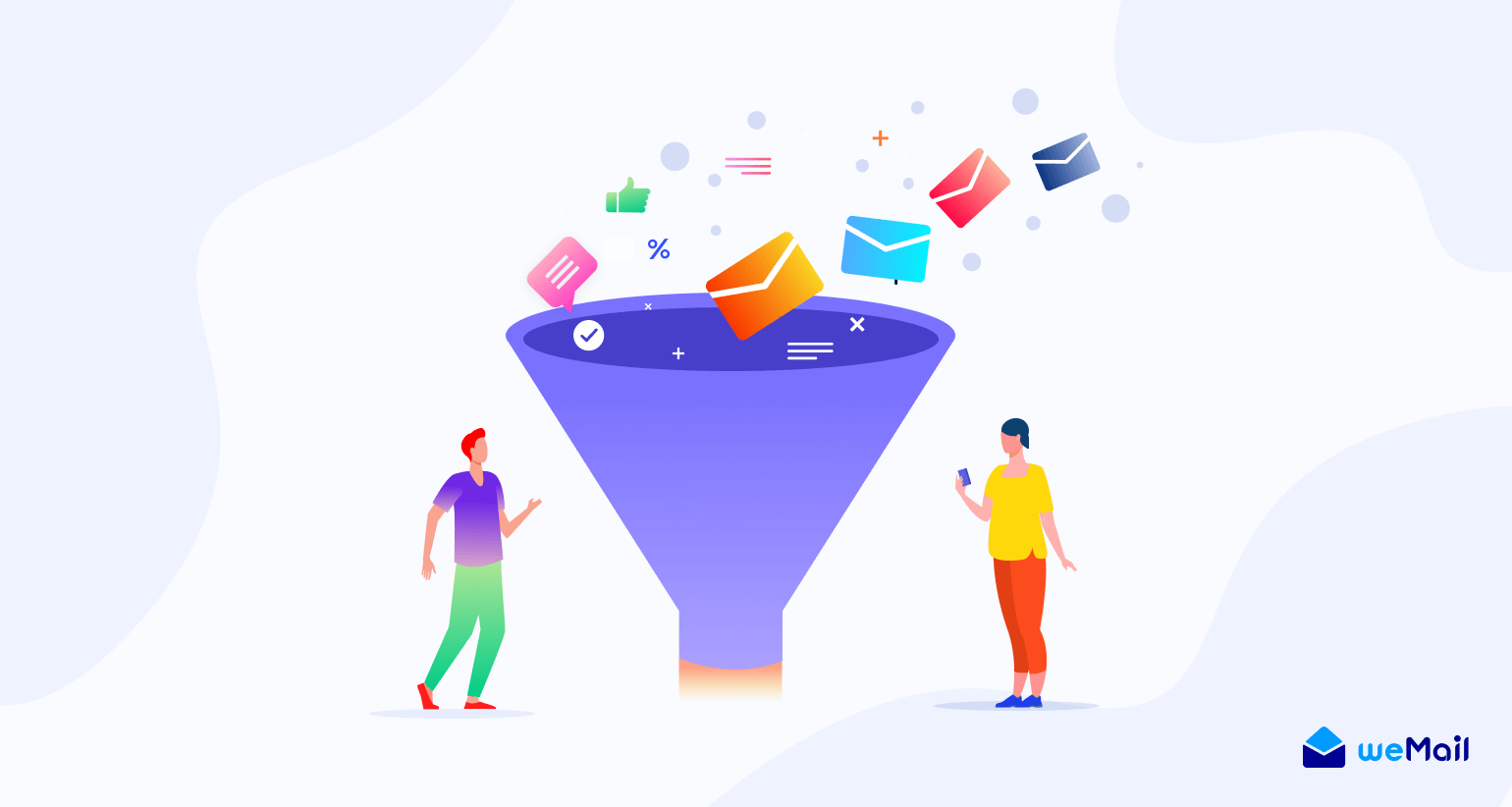 11+ Best Lead Nurturing Email Examples to Increase Your Conversions
Leads are the most crucial things in your email marketing process. Though it is only the first tickle in the conversion funnel. So, collecting leads is one thing. Nurturing those leads is another. Hence the latter needs a bit more intensive care.
As a dynamic marketer, you must guide your leads from beginning to conversion and finally, to retention. How would you execute this task successfully? The most effective way is to learn from the best in the industry.
To keep that in mind, we have sorted a handful of lead nurturing email examples for you. After reading this blog and understand the examples, you will be able to create your own lead nurturing emails that convert.
Let's get started.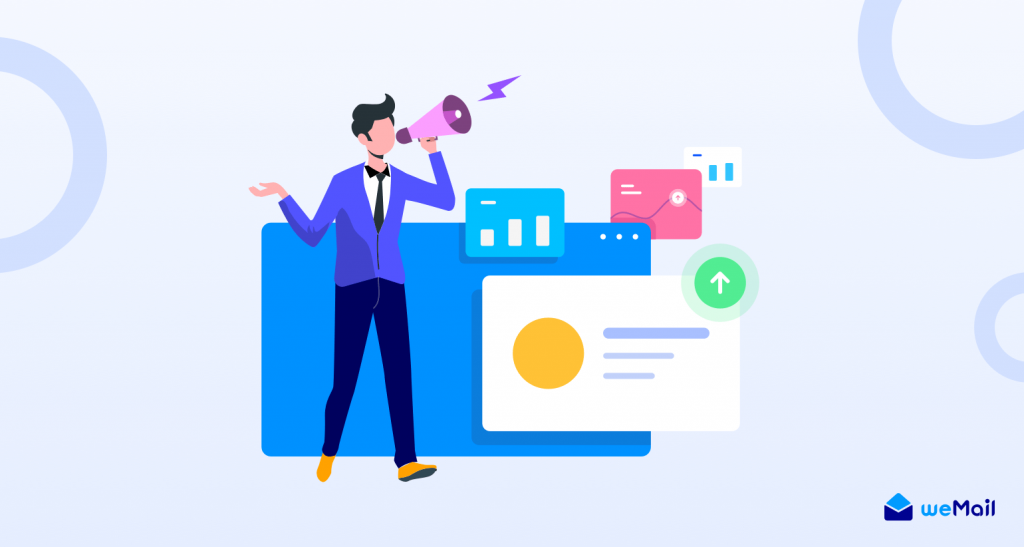 How to Begin with Sending Lead Nurturing Emails
If you are not taking care of your customer, your competitor will.

Bob Hooey
When someone comes to subscribe to your list, their intention is clear. They want your special attention as a prospect or as a customer. That's why your goal should be to taking care of them from the beginning. As you have enough active leads on your list, that means you are way ahead of your competitors. According to Hubspot, generating traffic and leads are the most challenging thing for 65% of marketers.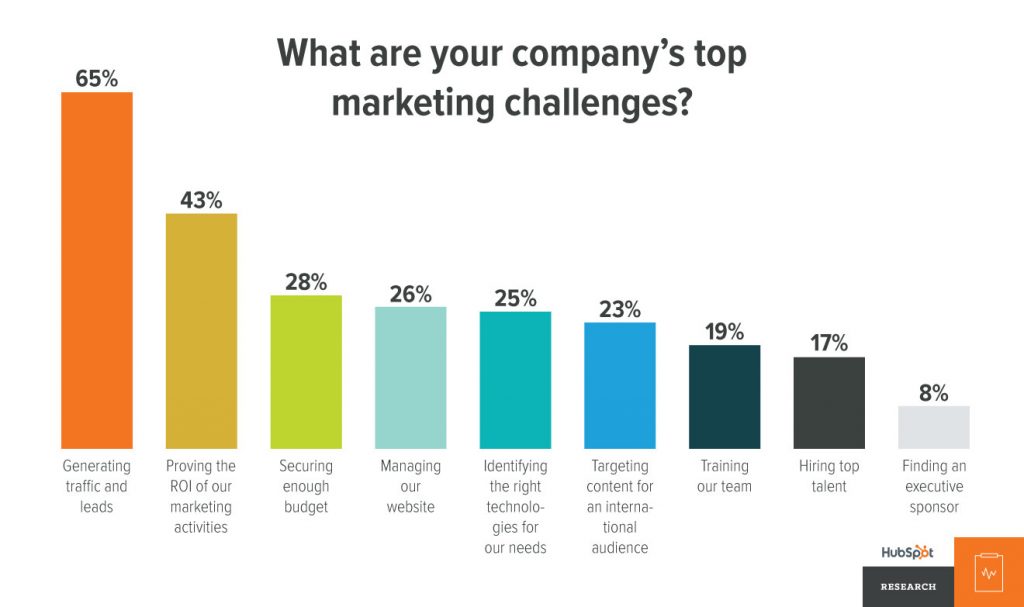 Hence, the sooner is better. You need to create a lead nurturing email sending plan. Then, execute the plan gradually. For example, you can start with sending a welcome email sequence, then emails with relevant content, instructions, guiding them to use your product, weekly or monthly newsletters, offers, etc.
However, you can't force your leads to purchase, shouldn't send conversion email just after they subscribe to you. All you need is to help them find the right product and make them believe that you have that kind of product. It is that simple.
96% of people who visited your website aren't ready to buy. 48% of businesses believe their leads need a long cycle of nurturing with many influencers.

Marketo, Ascend2
Therefore, your goal of sending lead nurturing emails is to warm up the leads, make them ready to buy, finally convert them, and make them come again. It's a nice circle, don't you think? Well, now get to the next chapter where you will find a handful of most effective lead nurturing email examples.
11+ Lead Nurturing Email Examples to Inspire Yours
Now that you know how lead nurturing emails works, and why should you send them, we are presenting some of the best lead nurturing email examples for you. They will help you understand this type of email better, and design your strategy with more effectiveness.
1. Ecommerce Senders Welcome Email
Take a look at this welcome email from Ecommerce Senders. They are a live shopify email insight provider.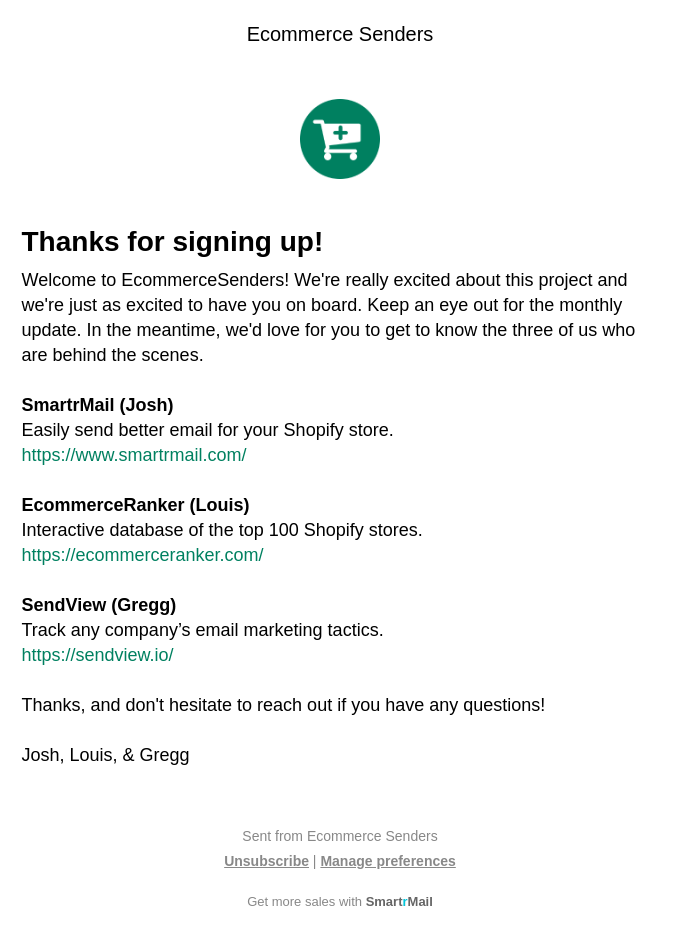 This email is more focused on reaching its goal rather than giving a stunning outlook. It is simple. Have a strong header that emphasize on welcoming subscribers. Then it guides users to learn about the makers who are working behind compiling the analytics of the top 100 shopify stores. So, just after you subscribe to them, they opt for welcoming you, let you know the people working behind. Only then, you can get their business offer gradually.
2. Weekly Highlights from CreativeMornings
Creative Mornings is a monthly breakfast lecture series. It is specially aimed to provide lectures, events, and virtual conference for creative communities. Why we choose this email as a lead nurturing email examples? It is interactive, don't force or showing direct intention to make sales. Rather, it compile all the highlights the subscribers needs as weekly highlights so that they keep up with the content. It also strengthen the email open rate, click-through, and user-engagement, etc.

As it is a cross-platform, claimed to be free though it isn't. Users can join online lectures, events at ease. But there are sponsors, who want you to purchase something. Creative Morning doing what they do best, helping readers with their content, educate them, guiding them to buy relevant product according to any specific lecture.
3. Framebridge Educational Email
Look at this beautiful lead nurturing email example from Framebridge, a customer framing company. In this step by step tutorial email, they help subscribers to learn how to hang their art in the house. If you look closely, you can see how this email work. At first they pitch the precise idea of framing. Then with interactive image, the show you a guide. Therefore, the have include a CTA so that you can learn in details from their blog.

This types of emails can help your subscribers in many ways. Initially, it increase user engagement, hence build trusts, and finally conversion.
4. Informational Email from Salesforce
Informational email is a winner for all the time. Rather than sending a lot of content, what Salesforce did is still helpful as a lead nurturing email example. Take a look at the email below –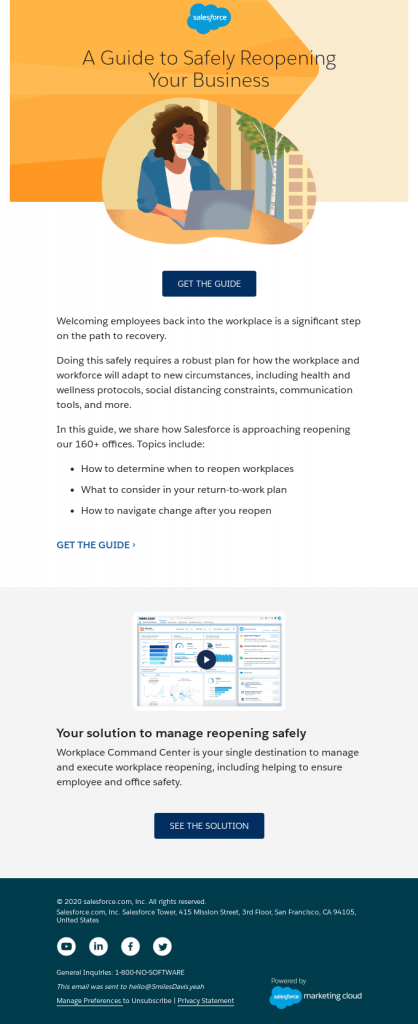 Salesforce have include a guide to safely respond to your business. They add some catch points, and at CTA to read the whole content. It works because people love to get information. The touchpoint here is how you are going to feed those information. However, Salesforce also include a product videos at the bottom, which make the email more converting.
5. Make Interactions a fun Like Chubbies
You can use some fun sometimes. It enlightens your leads nonetheless. Here in this example, Chubbie did an excellent job regarding this types of email campaign. They have write down why should you choose their shorts with a funny image. Moreover, two highly interactive meme change the atmosphere completely.
When you intend to use that sort of fun in your lead nurturing email, keep these thing in mind –
Write the mind-refreshing and funniest copies possible
You can use pun but be careful either it hurt your audience
You can create meme that has quality to going viral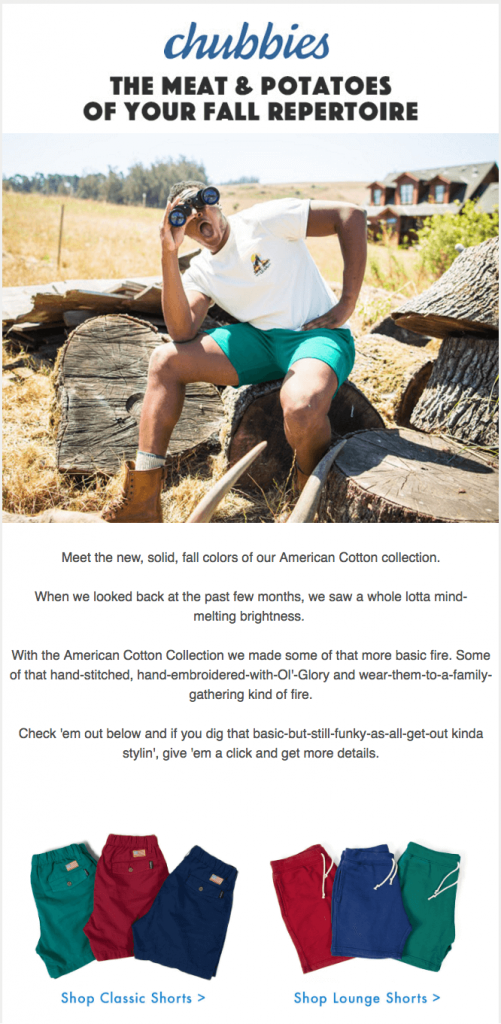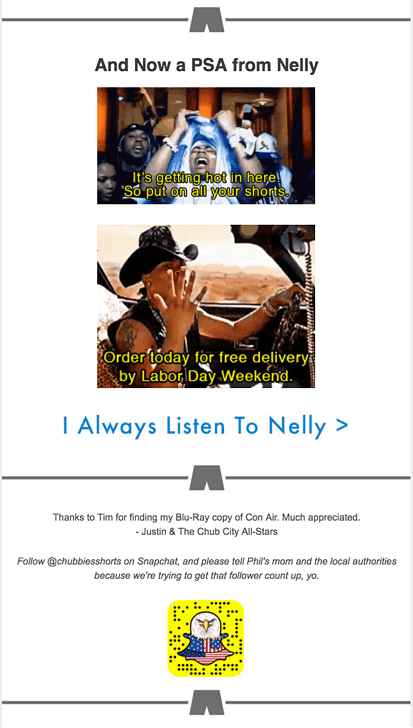 6. Recommendation Lead Nurturing Email Examples from Yelp
Yelp is one of the most popular brand of reviews and recommendation. If you are not directly involve to a service like them, still their recommendation email can help you design yours. For example, you have a multivendor woocommerce shop. You can send category-wise top products recommendations to your subscribers. The best ways to create product recommendation is to follow user ratings. However, when you are a newbies, you can use "editors pick" catch phrase, and find out possibly the best product recommendations to your prospects.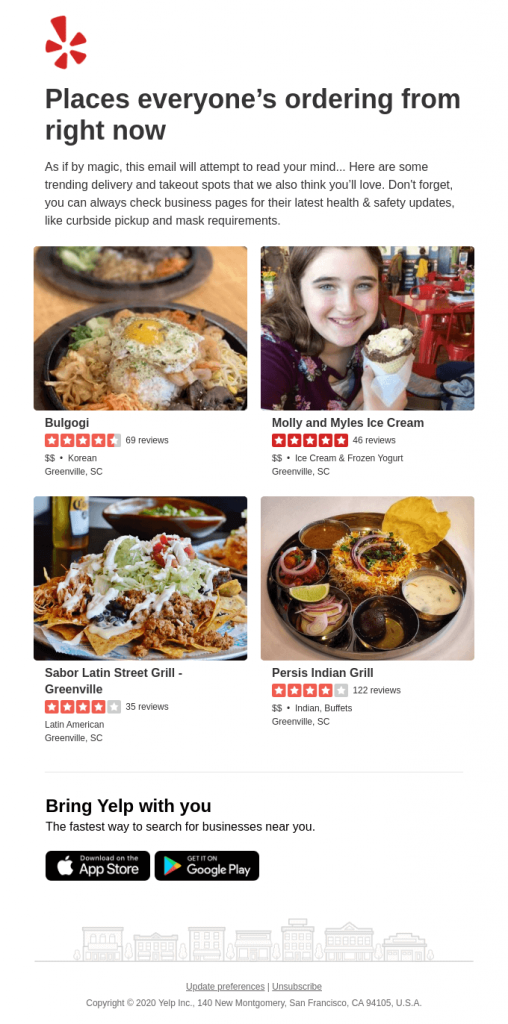 7. AWS Instructional Email Example
Amazon web services is one of the powerful and popular one in the industry. Rather than influence you buying one of their plans, AWS send this types of instructional email which reflects how easily you can start with their service. It's like a guiding tour for beginners.
What to learn from this lead nurturing email example?
Show your products in a way that let users believe it helps their cause.
How simple it is to use your product.
Develop a sense of trust which let the prospect think that you are not bluffing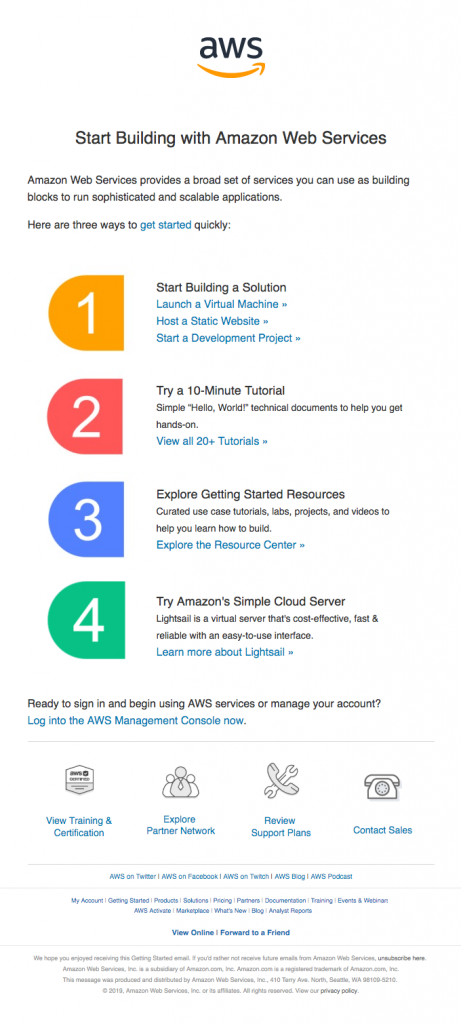 8. Nice Reminder Like Skillshare
If someone grows an interest to your product, they usually subscribe for a trial period. As a marketer, a trial product user should be your top priority to conversion. Therefore, when someone using your product, you can interact with more accessibility because these leads are getting ready to purchase. Hence, reminder email would be a winner if you pitch it on time.
For example, take a look at this SkillShare reminder. You may know that SkillShare is an online educational platform. They sell online courses on different categories. Rather than selling particular courses like uDemy, SkillShare offer users different pricing plan so that users can enroll to any courses they like.
In the below email, they just send a reminder to a subscriber that his trial period is about to expire. It is time to purchase a premium plan with a discounted price. Also, they added a handful of popular courses based on that user behavior over the trial period.
You can easily create this type of email to increase your conversion.

9. Engage like Fullscript
Fullscript is a healthcare support platform. They are claiming to be one of the largest online dispensery. It is designed specially for doctors and patients both. It allows to find the prescribed medicines, and order online, whenever a doctor need to suggest a types of medicine, Fullscript is designed to show all the available options. Then a patient can order the medicine directly and get it delivered to his/her home.
Hence, to keep the engagement rate high, Fullscript send this type of email for patients. It helps user to learn about their health, and how to taking care like skincare issues, which types of sunscreen one should use, which diet would be helpful to maintain a healthy skin.
The main goal of an engagement email should be this – manifest your product like a service which can improve their lifestyles.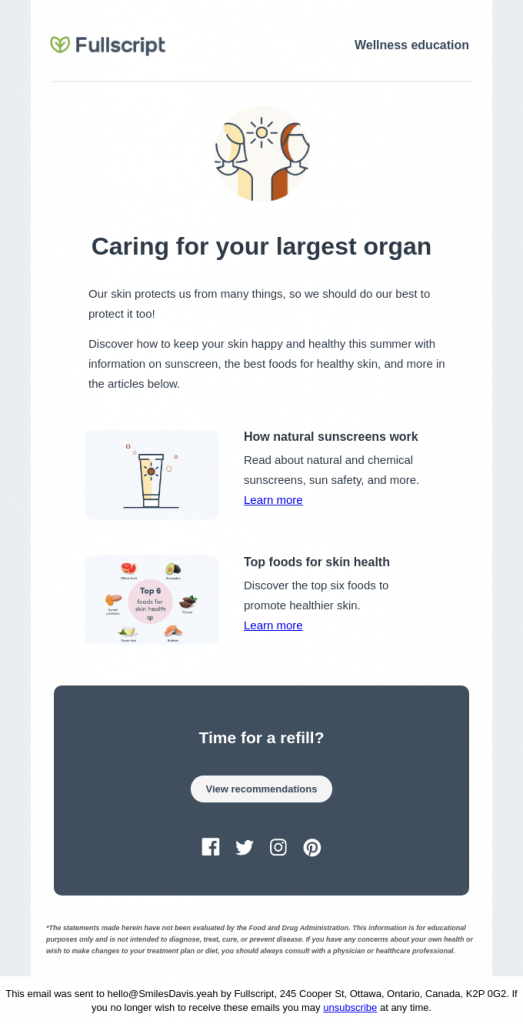 10. Send Promotional Emails Like Farewill
Should you send promotional emails for nurturing leads? Off-ourse you should. As your goal for nurturing leads is to convert your warmed-up prospects. So, after you sending welcome emails, educational tour-de-fore, informational newsletters, and surveys, you can send them promotional emails with discount offers.
That means, your promotional emails would be effective only when your leads are ready to make a purchase. Though, these types of emails are not directly a sales email. However, that indirectness is a strong point that works most of the time.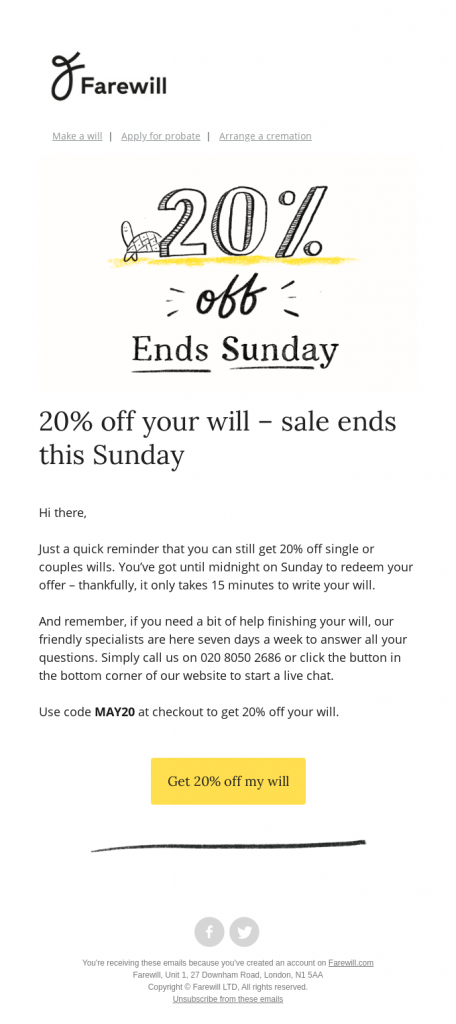 11. Send Customer Review and Stories to Inspire Leads
Reviews are the most crucial fact to influence a buyers decision. Therefore, customers story is more than reviews, as it manifests stories that reflects a complete customer journey with the products. It is not necessary you should send a book of stories attached in your lead nurturing email. However, you can send a glimpse of it. Otherwise, you can follow CodeCamps strategy.
In the below email, they include how a customer perceive their product who is already a regular user. Indeed, this user review help a leads to make a purchase. Regardless the fact that 72% of customers read reviews before raking any buying decisions.

12. Asks for a Survey
Surveys helps you to improve your product, solve your technical glitches, and eventually they improves your customer experiences. Thats why, marketers find it essential to send survey email any given day in the week. For a B2C company, there is not a best day to send surveys.
Like Headspace, you can send this type of survey email to your leads. The more interactive your survey will be, the more you get response. As the average 24% response rate could be soar past 85%. The number differs on your approaches.
Therfore, you can send FAQ emails where you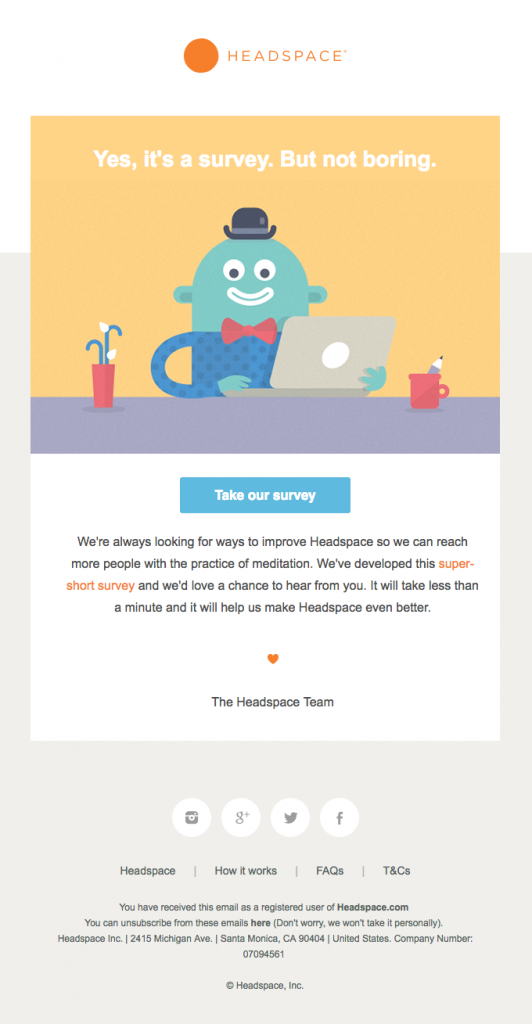 13. Announce Events and Webinar
You should arrange live conference, webinar, or live show for not only product promotion. There are several reasons like branding, educating, and product learning. To warm up your leads, and engage them with these activities you can send an email like ITERABLE.
They have shared a live link to their online events. Therefore, the have also included the top priority or keynote with details.

Announcement email work on many ways. It can increase your event participant, the more you get the numbers, your sponsor fees will be increase. Hence, many of these leads who have joined your online events turn out to become your customers. So, it's a win win situations.
Closing Up with Lead Nurturing Email Examples
So this is it. As you learn how the top brands designed and executed their successful lead nurturing campaigns, do you think you are ready? One thing is pretty clear here, you must take care of your leads in a strategic way, and your honest intention should be adding values to their life.
To make your email sending process more faster effective, you can start using weMail as your ultimate email automation platform. weMail can help you send better newsletters, email campaigns with lots of customization features, and multiple sending gateways.
Subscribe To Our Newsletter
Don't miss any updates of our new templates and extensions
and all the astonishing offers we bring for you.