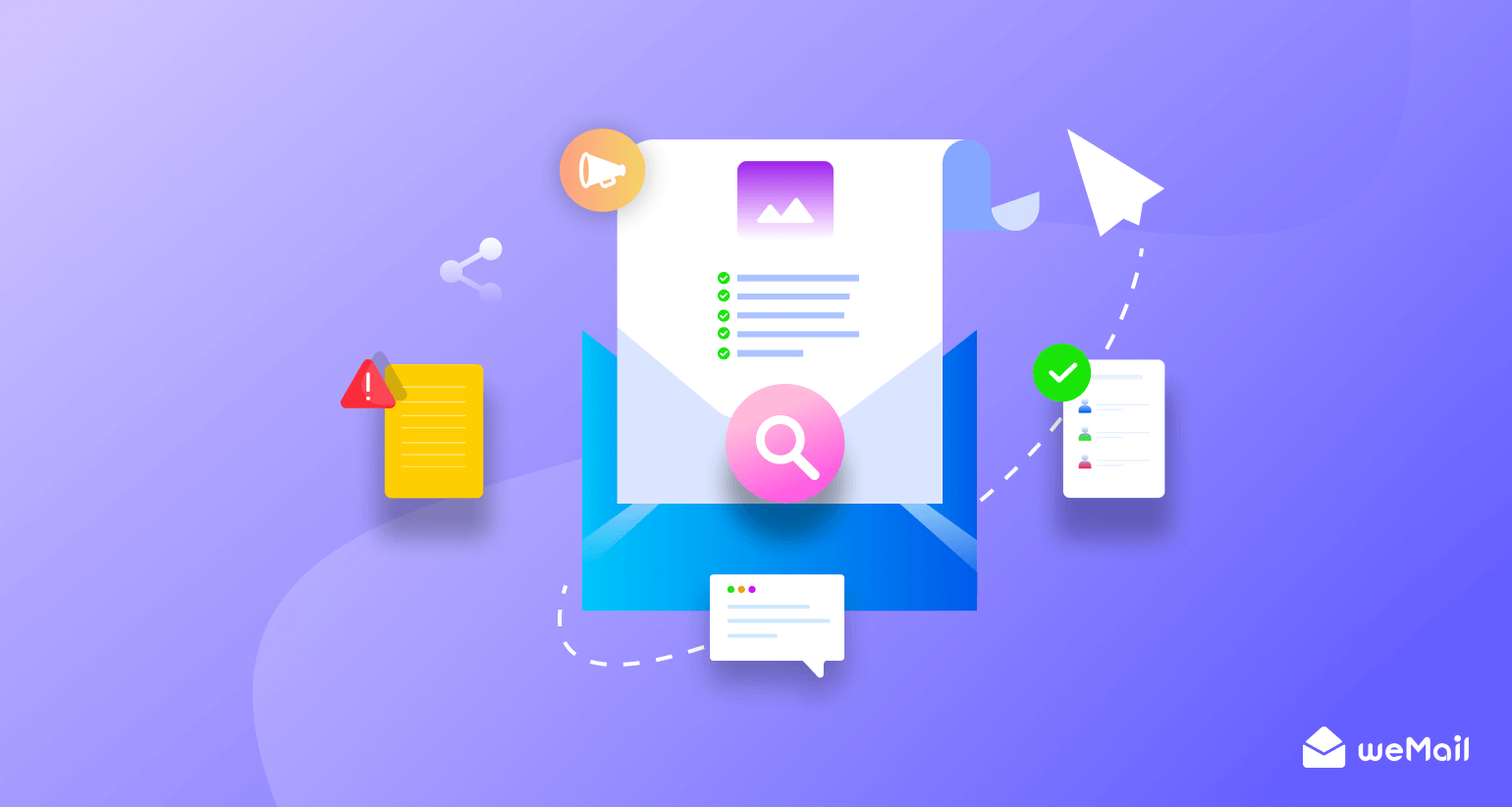 7 Email List Building Mistakes You Should Avoid in 2023
Email marketing is a great way to increase your traffic and build relationships. 80% of retailers in the US believe that email marketing works as a driving force to expand customer acquisition and retention. Other than that, sending emails is extremely cost-effective and delivers a high ROI.
The average return for email marketing is $38 for every dollar or an ROI of 3800%.
However, email list building is not an easy task. You can't create one lead capture form and expect to get thousands of subscribers overnight. It needs proper research and strategy to build an effective subscriber database. As the email list is the foundation of your email campaign, a simple mistake can ruin your brand reputation and cost you money.
In this blog, we reviewed seven common mistakes that marketers often make while building an email list. Read on to learn how to fix these email list-building mistakes.
Mistake #1: Buying an Email List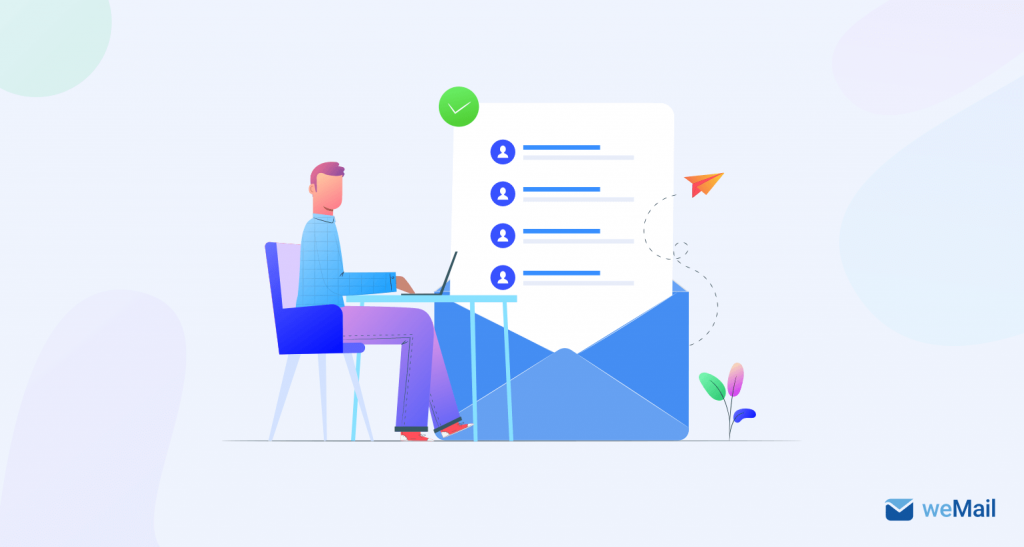 It seems to be an easy turn to get a giant email list just by spending a few bucks. There are so many juicy offers that might give you thousands of emails with names from their service.
However, the outcomes are often more irritating than expected. Sometimes those lists are full of backdated email addresses that do not exist anymore. Also, the lists are full of email addresses that are far relevant to your interest.
On average, the purchased list has only 15-20% healthy email and an even lower opening rate. Therefore, there is a high probability of losing email and business reputation. Again, there is a high risk that your competitor is also using the same list.
Finally, you may be penalized for public consent regulations that differ from country to country. For a better understanding, this guide helps you to build an effective email list on your terms.
Major Pick: Buying an email list is a really bad idea and a huge waste of money.
Mistake #2: Asking Too Many Details From People
Subscription with email is a good form of collecting potential customers. Email list building is like making a trustworthy relationship. As much, as people have faith in you will depend on you.
We do not start a relationship with too many quirks and asking for information. More quires regardless of relevancy, people are not comfortable sharing. Instead, people tend to quit. Online trustworthy relation-making with customers is difficult. Therefore, people should not be afraid of the question of subscribing.
About 60% of visitors skip subscriptions for answering the question. However, many of the subscribed people share more personal details once they start believing the service provider.

This is the subscription form of weMail, including only one field as the email address is the core attribute you need for your database. Around 45-50% more people subscribe, while it takes a few seconds to subscribe than a couple of minutes with tons of questions.
Major Pick: The simpler your opt-in form, the more likely someone is to subscribe.
Mistake #3: Not Offering Any Incentive
Consumers are smarter than earlier and understand how marketing works. Therefore, it is a give and takes system in modern times. A good offer can make them more interested and happy than a poor or no offer.
If the strategy is about making a vague promise, it is time to rethink your business strategies. The fake offers can bring an instant increase in view but will damage the business reputation drastically.
The easiest way to bring customers to your email list is to offer a reason. Expert marketers suggest a handsome percentage of incentive like an X% discount on the newly launched product. Moreover, they recommend marketing emails should contain some call-on-action points of offers.
A good example can be weDevs offers discounts for their subscribers. The amount ranges from 5-50% on their new and existing products. Sometimes it would be more interesting, like templates, eBooks, and others.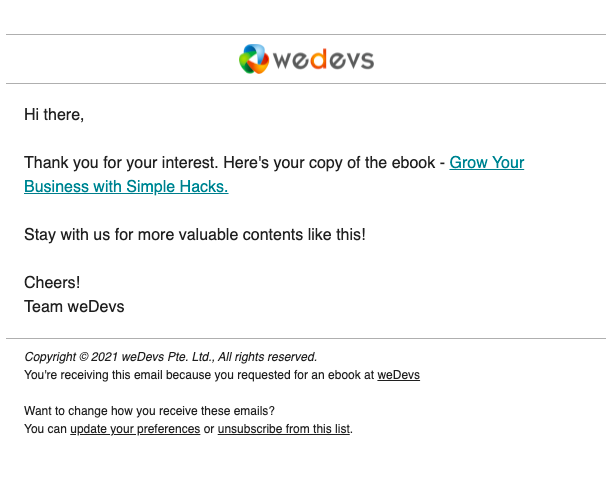 Major Pick: Give people a reason to subscribe with exciting offers and deals that improve their lives or experience with your brand.
Mistake #4: Poor Opt-In Form Placement
Unless people find the information efficient and relevant, they do not subscribe. Even then, around 30% of interested people leave without a subscription.
It, is not a grandma story that people search extensively to find subscribe option. Rather, an effective route to improving the number of subscribers is a suitable opt-form placement.
There are several suitable places for the subscribe button. One of the most popular options is to position the subscribe option at the quitting time of the website.
In addition, pop-ups are more effective than conventional forms. Research shows pop-ups have a 1375% better effectiveness in comparison to the old age subscribe option. In modern practice, using multiple pop-ups is encouraged to place in various suitable positions like sliding top, exit, drop-down, etc.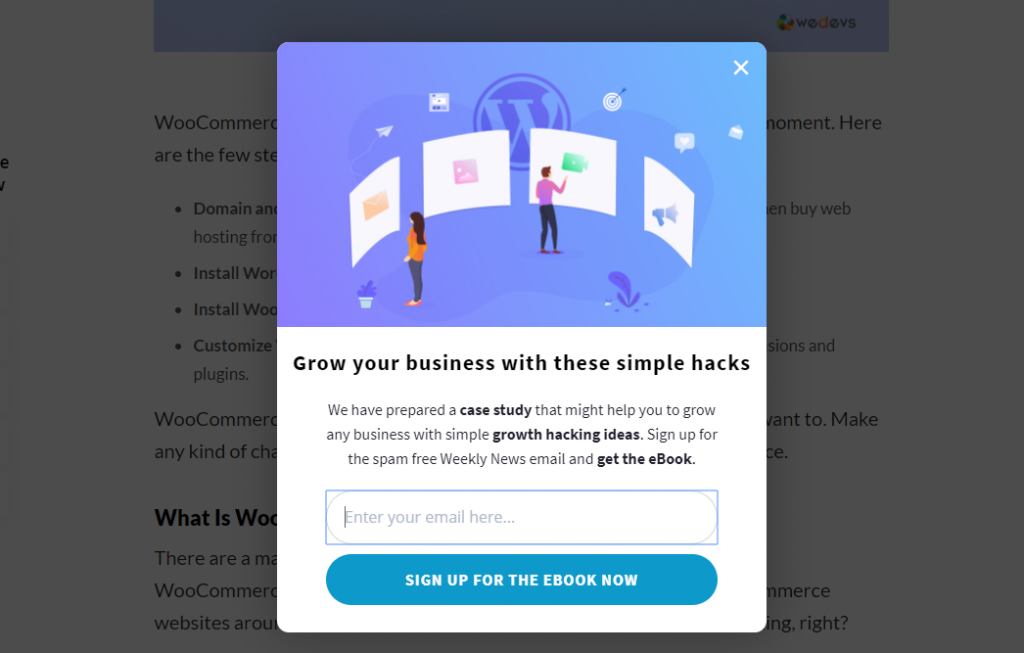 Major Pick: An optimized opt-in form can help you grow your email list with real subscribers. But make sure it has a position that website visitors will easily notice.
Mistake #5: Failing to Send a Welcome Email
Once a person subscribed, the real challenge starts. The email marketing team should welcome them on board with a welcome email. It must contain a link to some promised promo code.
The amazing fact is almost 75% of subscribers expect a welcome email. Some statistics say 15% of subscribers unsubscribe due to poorly written or no welcome emails.
Although few marketers ignore it, the welcome email is the second step to a natural and healthy relationship with subscribers. Welcome emails have a 400% more open rate and 500% CTR than regular marketing emails. Again, people spend almost 40% more time on sites that send a welcome email.
Besides people's expectations, facts, and figures, it creates an opportunity for future business growth. Welcome email often improves subscribers' trust and brings them back again. Here is a welcome email you'll get immediately after subscribing weMail newsletter.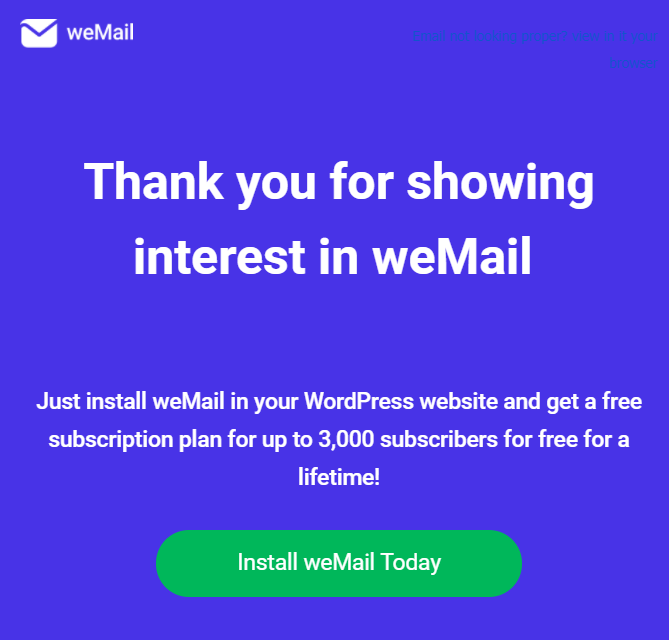 Major Pick: A welcome email connects a new subscriber immediately with your brand and lowers the chance to unsubscribe.
Mistake #6: Forgetting to Ask for Feedback
For instance, some businesses step further while people forget established businesses with time. But, behind the fatal elements, there is a success story. The surviving and improved companies have focused on asking their customers for feedback.
Unless people are emotionally attached, they do not wish to give feedback. However, when asked around 55% of people put their correct opinion.
Naturally, people may be unhappy with a product. In the feedback, they inform why they are not happy. A company that lasts long solves dissatisfaction. Again, people participate around 700% more in quick feedback form than in a conventional long Q&A session.
In addition, asking for feedback creates a marketing loop that increases almost 5X customer engagement and attachment to brand building. Feedback and effective response makes an interactive partnership with the customer who relies 4X times more on the particular vendor.
Major Pick: A feedback email shows how much you value your customers' thoughts. In turn, it'll immediately connect them with your brand.
Mistake #7: Not Having any Landing Page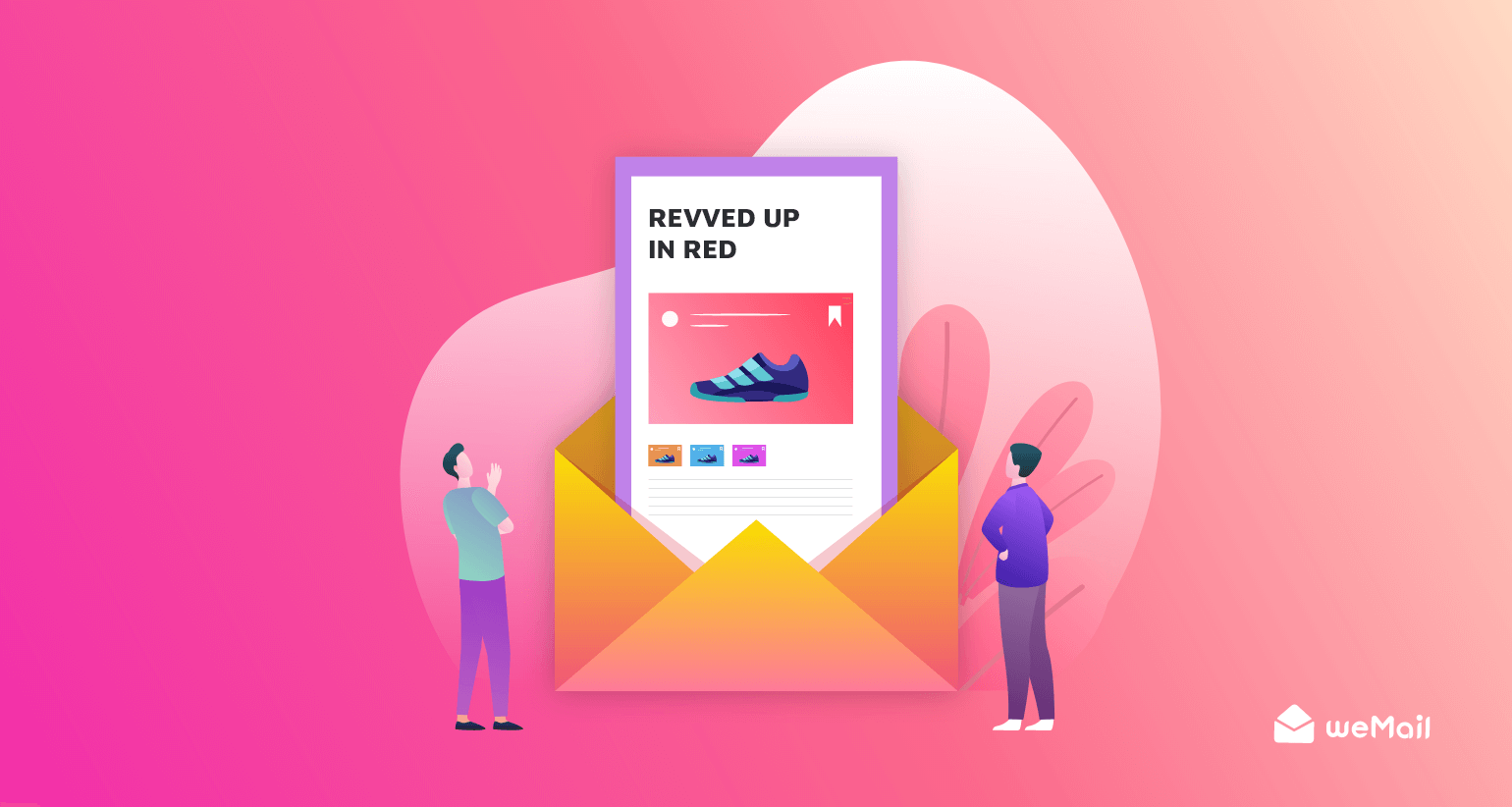 The landing page makes the first impression about any product. It shows the marketers emphasize the item and creates first engagement opportunities with customers.
The shocking fact is about 90% of visitors bounce back from a poorly designed or unavailable landing page. Most email marketing campaign fails at the beginning due to the landing page. On the other hand, 70% of customers subscribe if they find a well-designed landing page. As the landing page focuses on your goal, people consider it worthy of their time. As a result, the email list starts increasing faster than ever.
People make common mistakes while designing landing pages too packed with information, multiple-choice, poor design, full of content, etc. These make the landing page crowded that slips from the focus point. Instead of helpful information, attractive design and clear messages make a landing page spider net for subscribers.
Major Pick: A great landing page increases the probability of readers taking action based on the specific call to action.
Check this guide: How Landing Pages for Email Campaigns Increase Your Email Conversion Rate.
These practically proven tips and tricks will help you for building an email list from scratch. But many statistics can fall you into the dilemma of whether email marketing is worth your effort or not. Let's find out the real scenario-
Why You Should Believe that Email Marketing is Still Alive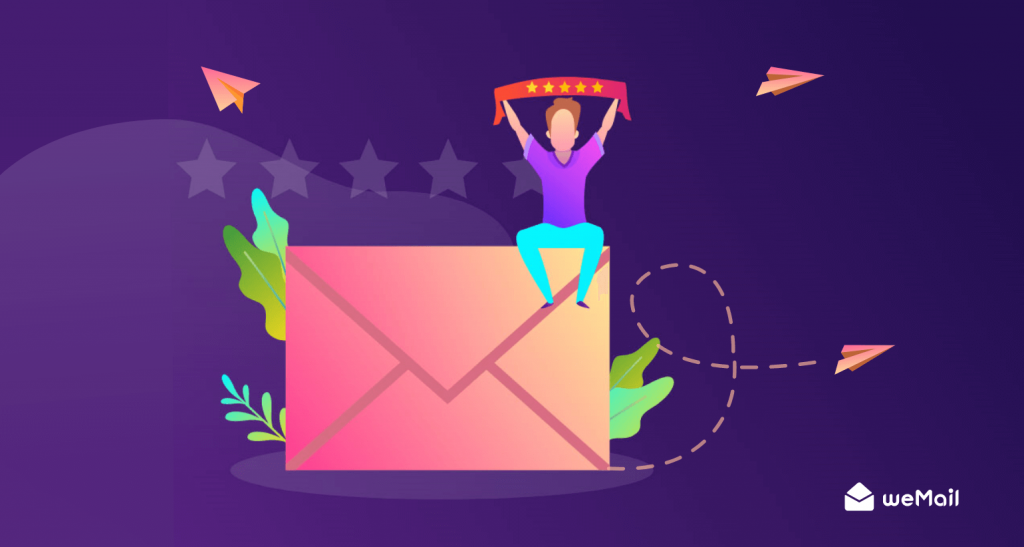 There's a common misconception that email marketing is dead. So what's the actual truth? Let's reveal some interesting facts and consider them from a marketing perspective.
Email marketing allows you to build a strong relationships with leads, customers, and past customers. You get the chance to speak directly to them in their inbox when it's convenient for them. Most importantly, email marketing is very cost-effective. You can easily conduct a successful email campaign using an email automation tool!
There are 3.9 billion daily email users. This number is expected to climb to 4.3 billion by 2023.
Let's find out why email marketing is crucial to your business strategy:
Helps to improve brand awareness
Generate better results than most marketing channels
An easy way to bring loads of traffic to your website
Encourage readers to take action that you desired
Create great opportunities for customer engagement and retention
Create great opportunities for customer engagement and retention
However, with time email became a less prominent form of marketing strategy. People consider email marketing as spam. Unsubscribe rates are also getting high. Still, expert marketers believe that email is an extremely valuable and responsible targeting channel. Only you need to follow the best practices when developing any email campaign. Along with the right messaging, email can be one of your most impactful marketing channels.
Avoid Common Email List-Building Mistakes to Make Your Campaign Successful
Email marketing is still alive and thriving. No matter what type of business you do or what type of industry you're in, you should incorporate email marketing in your marketing strategy. But sending enormous mail is not the key to success. Your message must land in the right inbox. Statistics show 59% of consumers say marketing emails influence their purchase decisions either positively or negatively.
An optimized email list is a must to conduct a successful email campaign. After reviewing this guide, you might understand why you're not getting your expected email campaign results.
By getting ideas about the loopholes now, you can easily avoid these common email list-building mistakes. Make the possible adjustments and build a potential email list to kickstart your marketing funnel. For any further queries do use the comment section below.
Subscribe To Our Newsletter
Don't miss any updates of our new templates and extensions
and all the astonishing offers we bring for you.