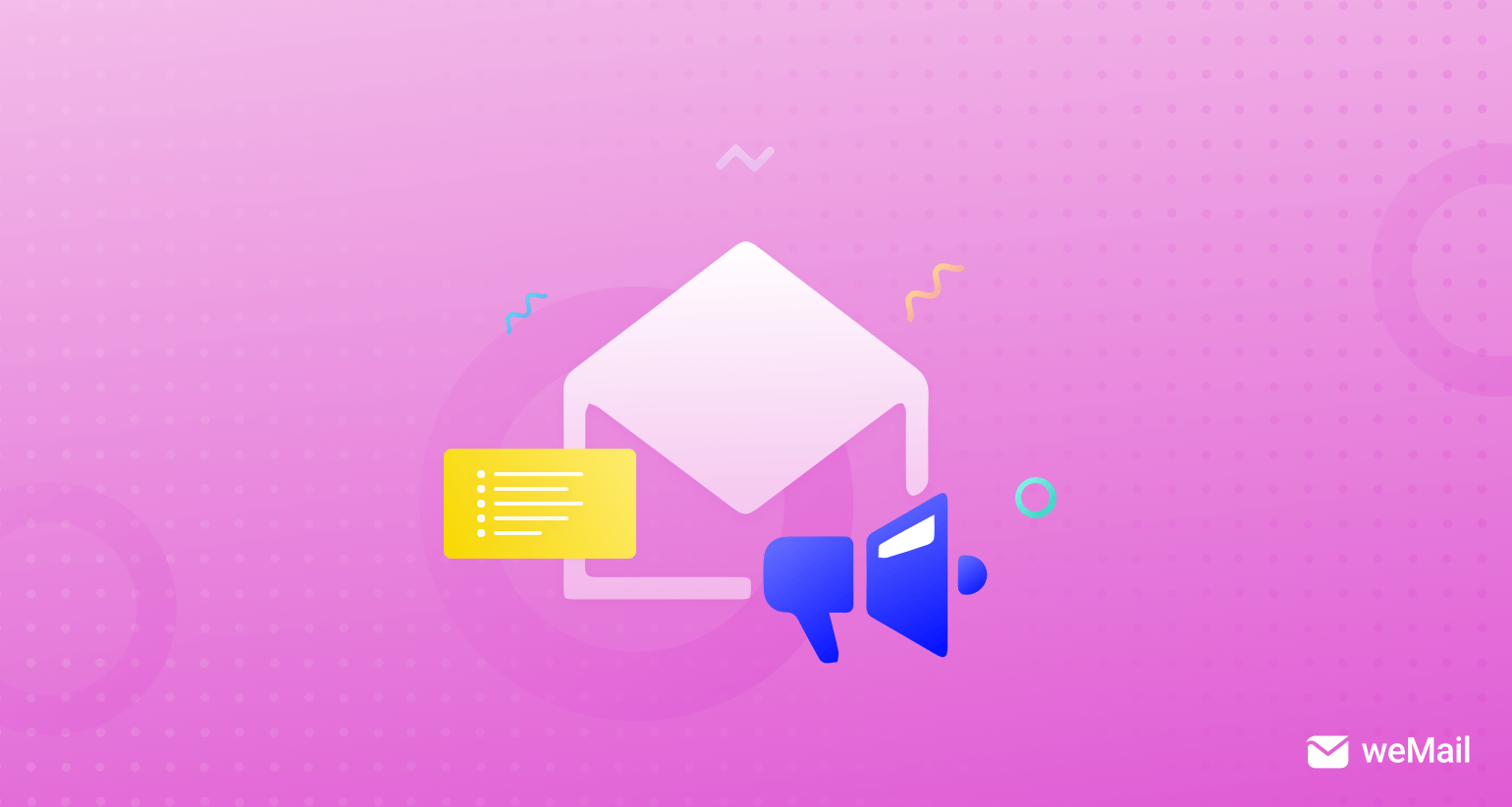 Email Marketing Tools to Power up Your Business in 2023
Email marketing has become one of the most popular strategies for marketers. Email marketing tools have only boosted this popularity. But not every tool. Some tools have created a stir in email marketing.
Email marketing tools work to simplify the process of sending out emails to your users and increasing your subscribers by taking over the responsibility as a whole
Today we are going to list out the names of some of the best email marketing tools in WordPress.
7 Best Email Marketing Tools for Entrepreneurs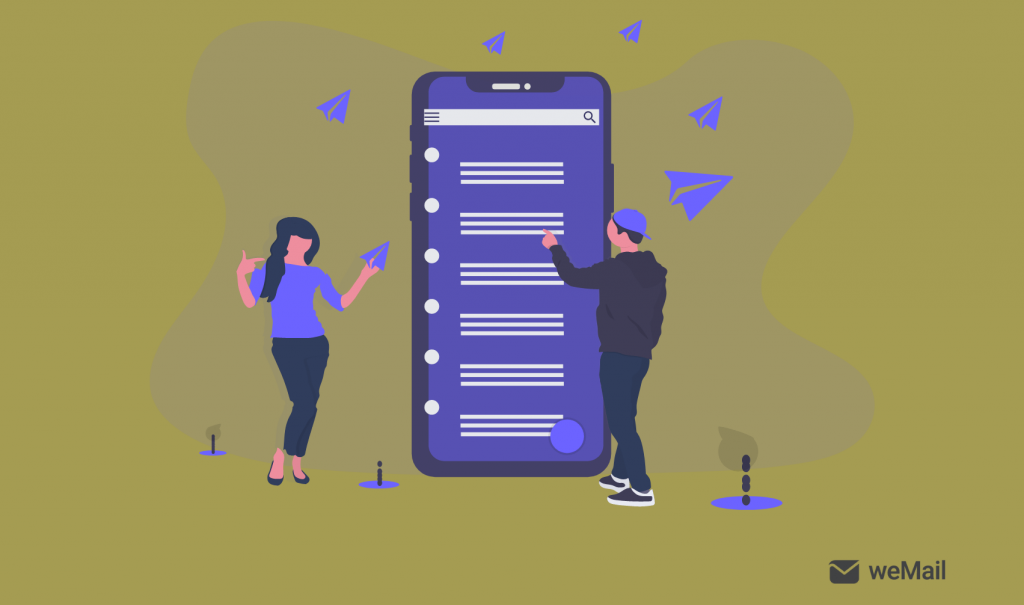 Email marketing has become the cornerstone of digital marketing. But without picking the right email tool, email marketing will be useless.
To get the right message to the right person at the right time you first need to get the right data to the right database at the right time

John Caldwell
To get the right data to the right database, you need the right marketing tools.
Let us see some of the exciting email marketing tools for WordPress sites.
MailPoet: Popular Newsletter Plugin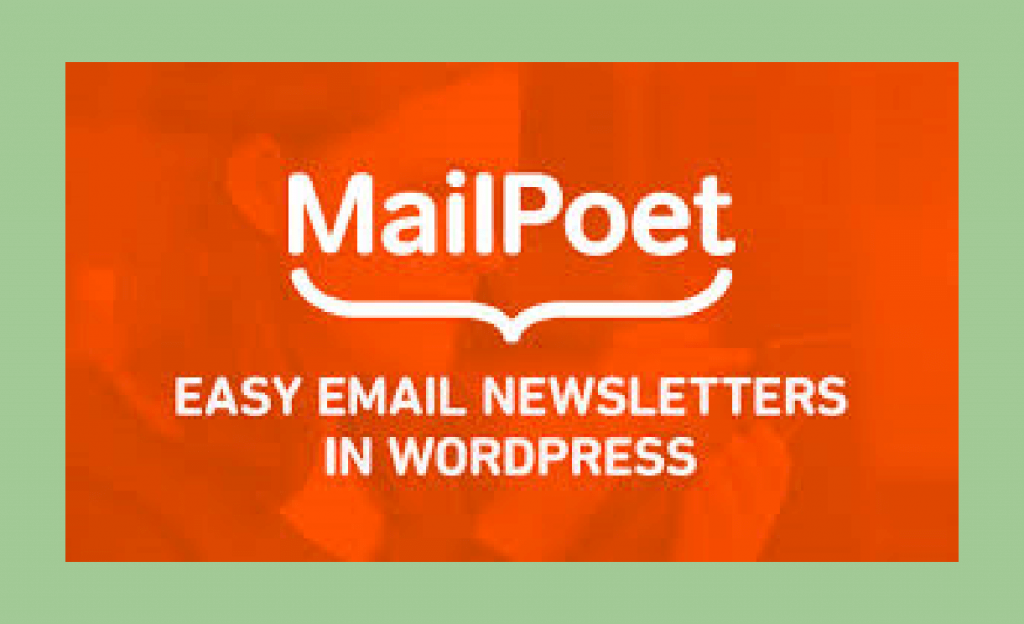 MailPoet is one of the most popular newsletter plugin for WordPress right now. More than 300,000 websites are using Mailpoet so that they keep in touch with their subscribers.
MailPoet has some unique features. Like,
It is compatible with CMS
Easily import an existing list from CRM or another marketing automation tool
Drag n Drop editor to create responsive emails
Premium users can see which subscribers have opened an email and what links people are clicking on within the email.
Nonetheless, with Mailpoet you can send emails to the right people using the right data at the right time.
However, you can easily install MailPoet plugin into your WordPress site.
weMail: Simplified Email Marketing Platform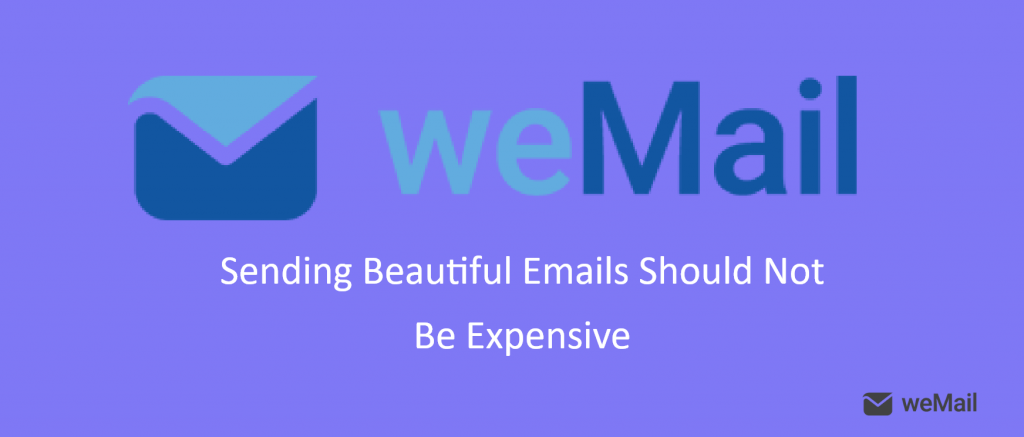 weMail, a cloud-based email service newsletter platform lets you send emails using Amazon SES, SparkPost, Mailgun or your favorite SMTP provider. It has unique features that will let you create more effective email campaigns.
Without putting pressure on your server, weMail handles all the load and lets you create beautiful email marketing campaigns.
You can create customized emails according to your client's preferences. How cool is that! That means you can generate emails keeping in mind the user's mood and taste. Giving you an advantage in your promotions.
Surprisingly, the installation of weMail is very easy. You can download the plugin, connect with the sending API, Create Email Campaign, Send. That's hardly 4 steps.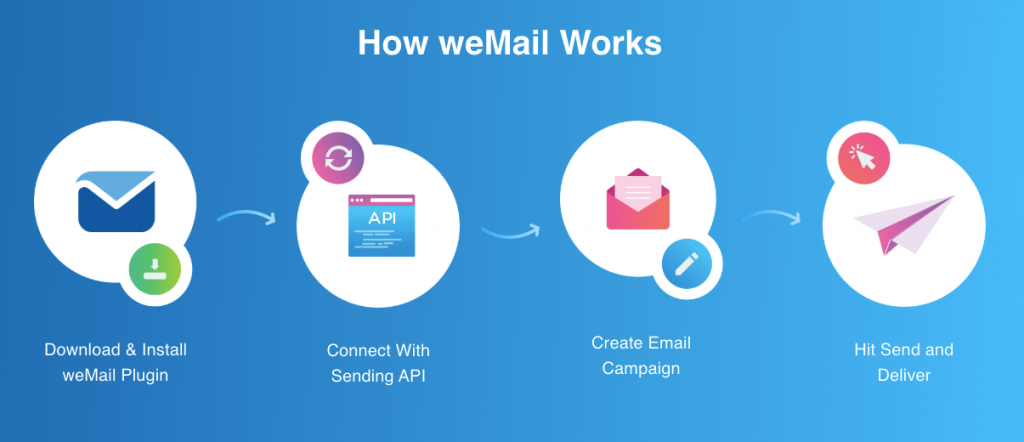 Now, you can easily send the newsletter, collect leads, automated emails, add subscribers to a list and manage subscribers from your WordPress dashboard.
Key Features:
Drag n Drop editor
Overview using Auto Campaign Reports
List segmentation
Keeping list clean with bounce handling
Has amazing integration with contact Form 7, wp forms, weForms, Gravity, and others.
NewsLetter-An Advanced NewsLetter Plugin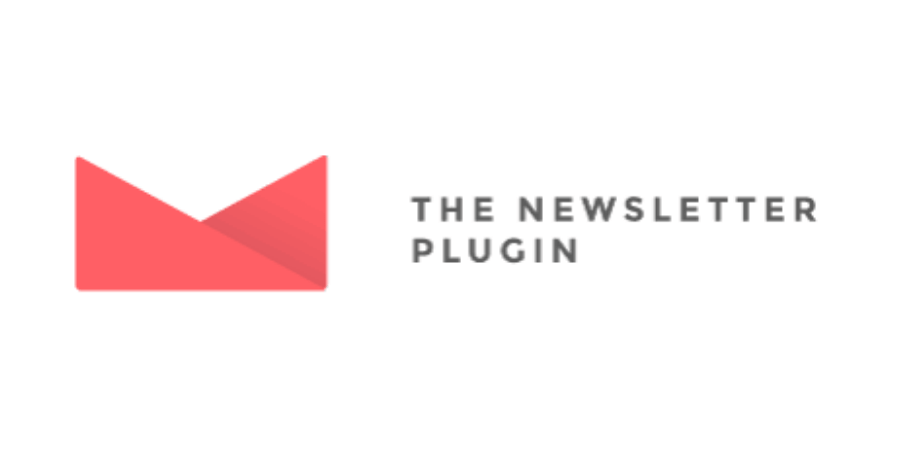 The NewsLetter plugin is one of the most popular newsletter plugins out there. This plugin gives you the freedom to send an unlimited newsletter without ever limiting the traffic.
It also has SMTP support so that bandwidth will not be a problem. Having over 3M+ downloads, the NewsLetter plugin has become one of the most appreciated plugins in WordPress.
Key Features:
Powerful tracking, get the total count of mail sent and opened
Automated NewsLetter
Unlimited subscribers with statistics
PHP API and REST API for coders and integrations
Theme customization.
SendPress: Smart Solution for Sending Newsletters

SendPress is a simple and easy to use free newsletter plugin. With a unique feature like Single and Double opt-in, it has already gained popularity in the industry. It has compatibility with SMTP.
You can create newsletter templates with your style and edit content just like you would a post in WordPress. SendPress has a simple editor so users don't have to use codes.
Therefore, we can see why SendPress is gaining popularity in the popular email marketing tool genre.
Key Features:
Customizable subscription widget, page or custom form
Customizable NewsLetter templates
Easily sync WordPress roles
Open Source
Scheduled Sending of newsletters.
Sumo- For Boosting Conversion & Sales

Sumo has become one of the most powerful email marketing tools to grow email listing. With over 37000+ online businesses running on Sumo, it has quickly gained popularity in the WordPress community.
You can add a share button anywhere on your websites, it is also secure and SEO friendly.
Amazingly, Sumo has e-commerce features.
More Key Features:
Integrates directly with WooCommerce
Free customer support
High converting opt-in
Easy to get started.
Ninja Kick-Premium List Building Plugin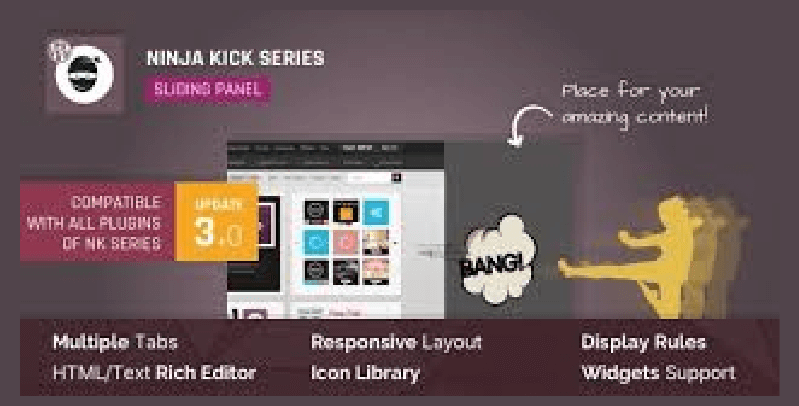 Ninja Kick is a premium email marketing tool for list building. It adds a subscription form with a push/sliding animation effect. It is compatible and with ease of access it has certainly become one of the popular email marketing tools.
The responsive and eye-catching layouts are yet another factor that contributes to its popularity.
Key Features:
User-friendly Settings page.
Google tracking integrated.
The subscription form can be triggered by user action, on page load, scrolling to anchored element, etc
Create different forms and assign them to different pages
Built-in floating buttons.
Mailster- An Ultimate Newsletter Plugin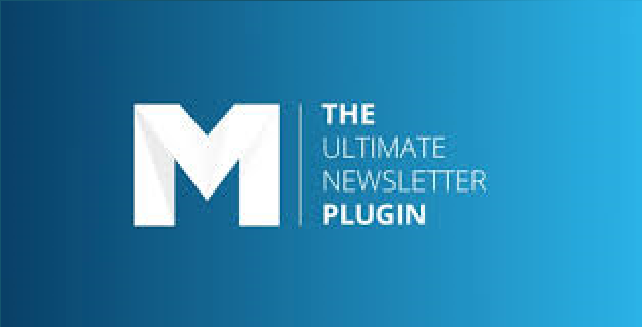 Mailster is a popular email marketing tool that can help build responsive campaigns. It has powerful automation that will help engage with customers.
They charge no fees for storing all your data regarding your email campaigns within WordPress. It also offers integrations with WooCommerce, KickBox, FormCraft, Google Analytics and many more.
They also have Key Features like,
Real-time insight into your campaigns
You can manage, edit or segment them inside lists with ease within WordPress.
Drag n Drop builder
Unlimited Subscription forms
Mobile ready display that is soothing to eyes.
Why Email Marketing Tools are Essential
Email marketing is a tool that helps you reach customers that most people visit every day- their inbox. What makes it easier? email marketing tools.
Why email marketing tools are necessary? here are some points to put some light on it,
Build relationships: To build a strong relationship with customers you need a strong communication medium. With an efficient email marketing tool, you can easily do that.
Effective Design: The more attractive the design of the campaign, the more customers it will draw in. An email marketing tool lets you design effective campaigns.
Learn What Works: For your campaigns to be effective, you need to know which campaigns are working and which are not. An efficient marketing plugin can help with providing that data.
Stay Organised: There are a lot of events happening throughout the year. So you have to create a lot of campaigns. The last thing you want is mismanagement. An email marketing plugin will help you stay organized.
Save Time: Everyone knows the necessity of time. Time is money. If you have to send your email campaigns one by one, then it is time-consuming. Automation of that process will save a lot of time.
So, you can understand why an email marketing tool is necessary for conducting successful email marketing. So before choosing an email marketing plugin, you must consider,
Ease of Use
Email Template
Overall Functionality
Price
We hope this helps you pick the right marketing tool.
Wrapping Up
Marketing is a never-ending process. It is always growing. And we have to grow with it. Email marketing is becoming a new trend for marketers.
Email marketing is a smart digital marketing approach for small to large businesses.
Managing your contact list, send a bulk amount of emails, updates, and followup regarding Email Marketing can be tough. So a smart email marketing service will automate and ease out the whole process.
Subscribe To Our Newsletter
Don't miss any updates of our new templates and extensions
and all the astonishing offers we bring for you.