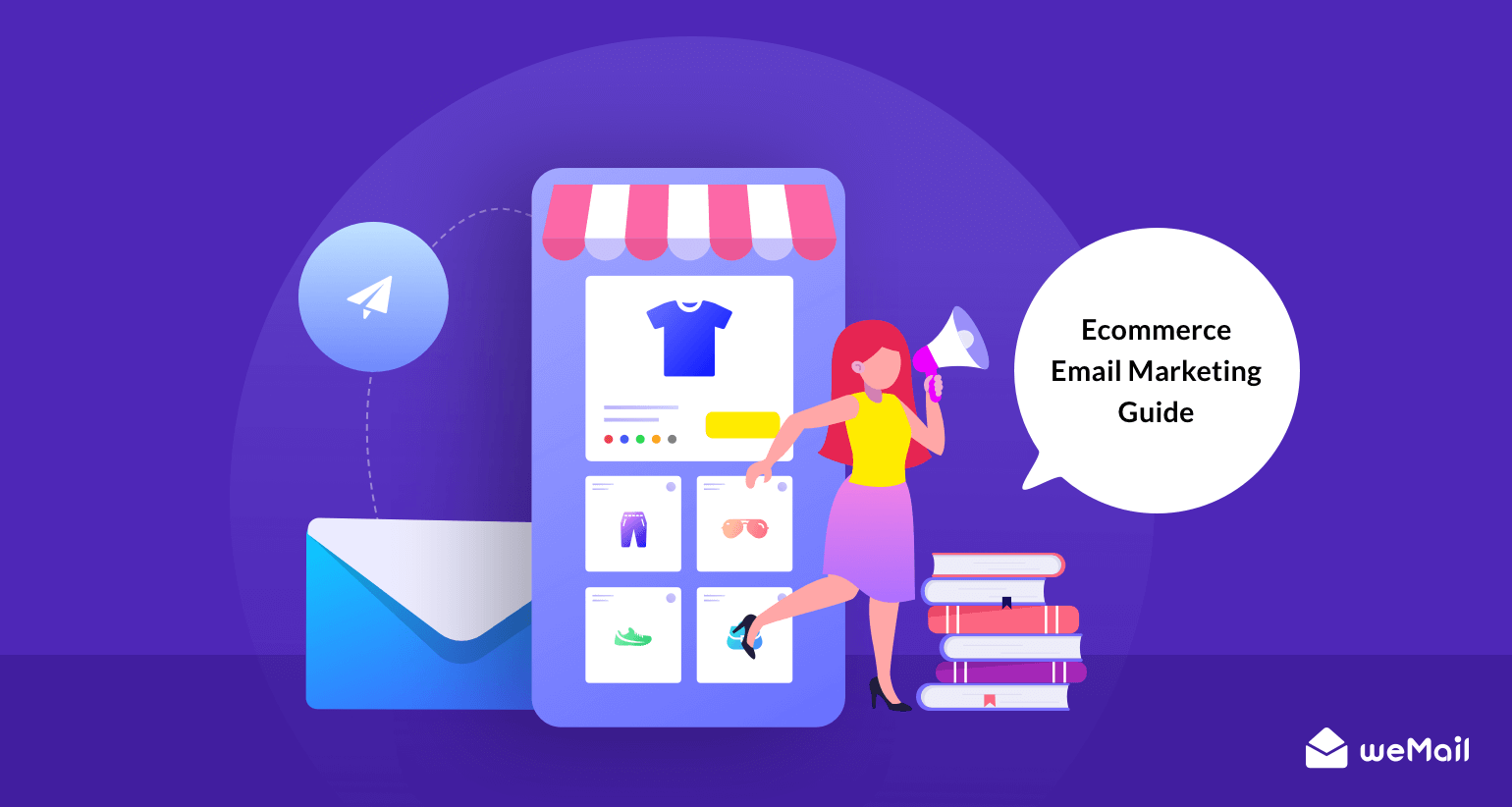 A Step by Step Guide to eCommerce Email Marketing Strategy
You can hardly find anyone who runs an eCommerce business without having email marketing strategies. Email is one of the most affordable marketing channels. Therefore, it has considerably the best ROI rate.
Though, having only an email marketing tool can't ensure a higher conversion or retention rate. Why?
Because most of us don't know how we should write a converting email, understand buyers' persona, or track email marketing KPIs to improve further. These are the parameters that make the difference between a successful and unsuccessful eCommerce business owner.
Hence, you don't need to be worried. If you're struggling with your eCommerce email marketing strategy, you can change that and adapt our strategy that we're going to share with you now. So, keep reading this comprehensive guide and apply the idea to your eCommerce business.
Why Email Marketing Matters for Your eCommerce Business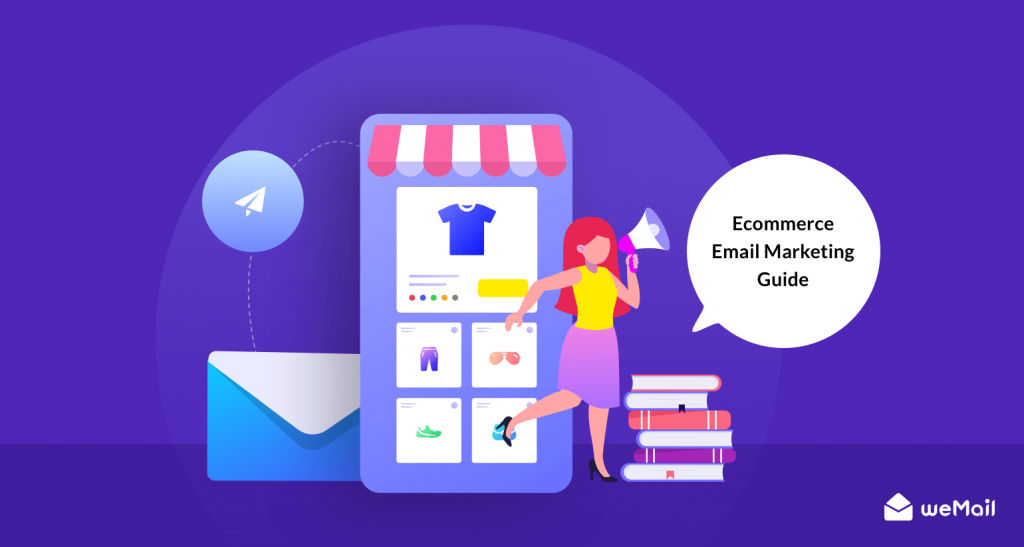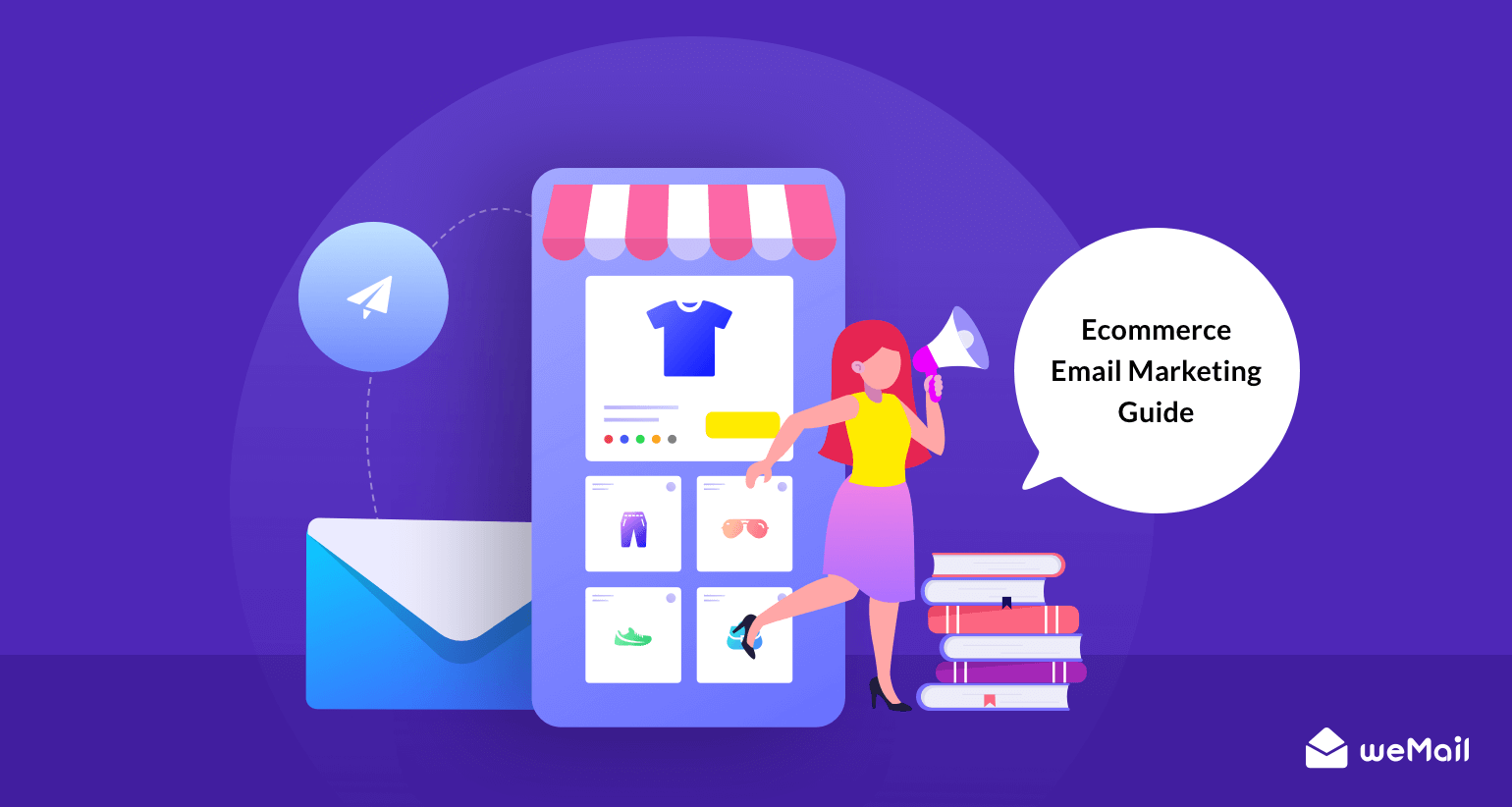 When we are talking about the benefits of eCommerce email marketing, highest ROI, almost free of cost, automation – these are the terms that come to our mind at first. Obviously, these are the benefits of using email marketing, but today we want to look beyond. Look at some of the major advantages of this marketing channel –
You Own the User's Email Address for Lifetime: Once you get an email address, you own that for a lifetime unless they are opt-out from your list, or stop using that address. You can deliver your message anytime directly to their inbox. This is the easiest way to reach them individually.
Email Helps Product Launching: Suppose, you're going to add a new product to your eCommerce store. How would you like to inform your loyal customers about that product? Maybe through the blog, or paid ad. But sending emails about the product launching can increase more awareness and eventually you get a higher conversion rate.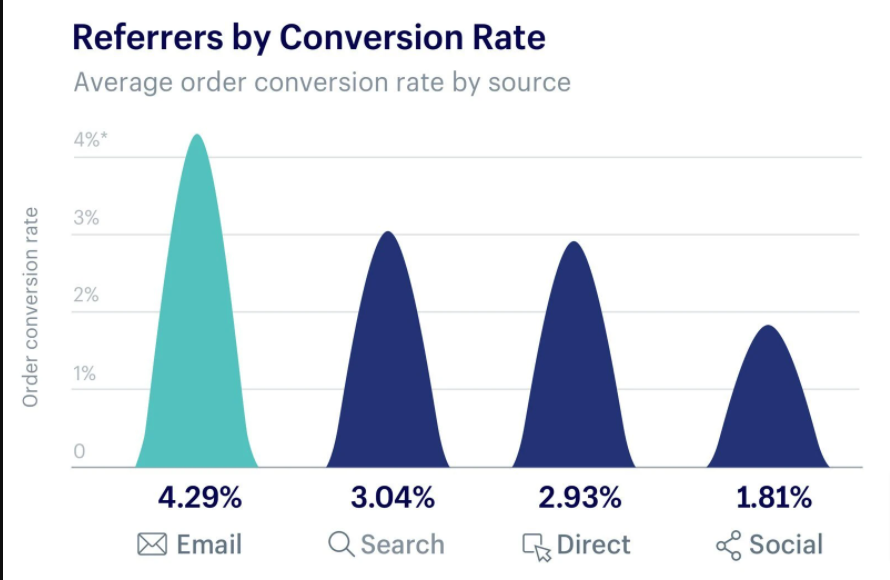 Creates Ongoing Customer Relationships: Using social media marketing skills, you can earn new customers, no doubt. But building an ongoing relationship and make them back again is effectively possible, using email marketing. Having customers return is important for many businesses because it keeps their average cost of acquiring a customer down.
Now we will look at some stats those are dedicatedly formed based on eCommerce email marketing.
86% of consumers would like to receive a promotional email from brands they subscribe to at least once per month.
Segmented emails generate 58% of company revenue.
So, we believe now you are quite understand the cruciality of this robust marketing channel.
eCommerce Email Marketing Strategy – Everything You Need to Know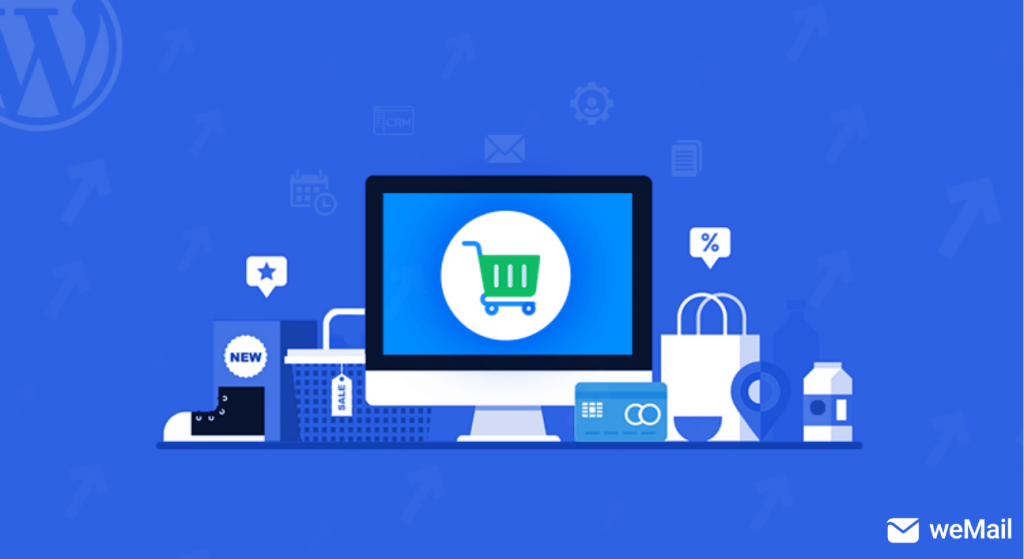 Based on our own experience, and findings, we've sorted out some of the most effective eCommerce email marketing strategies. We are going to discuss them one by one. Let's have a quick look at them –
By the end of this article, you'll have all the tips and knowledge you need to improve your eCommerce email marketing conversions and generate more sales for your store.
But remember, this isn't an overnight job. You can't expect a hockey stick growth in your sales just after applying these tips. Instead, you should keep working hard based on this list and you will get your expected outcome after a certain time. After all, it's a proven list of tips that we have acquired after our years of experience.
1. Create an Email Marketing Strategy for Your eCommerce Business
Every day we receive a bunch of emails to our inbox. So, without having a proper email marketing strategy, it's very obvious that you will fade away from the race. Moreover, people will lose their interest to open emails that ultimately lead you to a less click rate.
So, here is the list of tasks that you could do to form your email marketing strategy.
Identify Your Audience: Set your target audience that who do you want to reach out to promote your products. Create the buyer persona, understand what they want, and tailor your email campaign to your audience's needs.
Set Your Goals: If you're aware of your goals like how many people do you want to reach out to, among them how many do you want to get as your potential customers, will make your journey easier. Research the average email stats for your industry and use them as benchmarks for your goals.
Choose an Email Campaign Type: There are a number of email campaign types to follow for getting a better open rate. Choose any of them and keep working on it.
Follow a Time-Schedule: Choose a time schedule that could be any day and any time and then follow that to sending emails regularly. Decide how often you plan to contact your list, inform your audience upfront so they know what to expect, and stick to a consistent schedule to build trust. This will also make sure your audience ain't forget about you.
2. Build Your Email List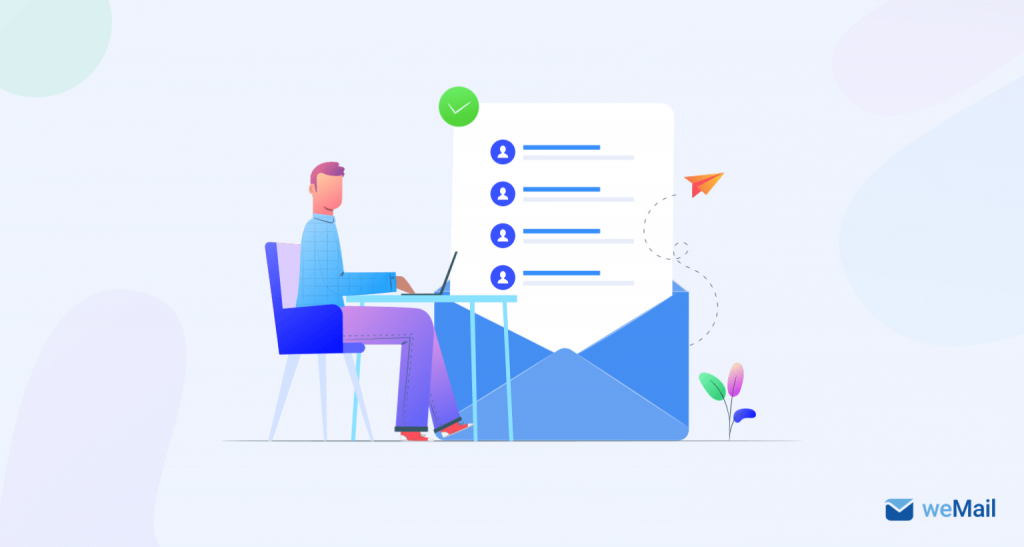 For sending emails, at first, you need to create an email list. Creating an email list sometimes can be complicated if you don't follow the right procedures. Here we are going to share some of the proven hacks that can help you to grow your email list.
Create an Attractive Opt-in Form: Create an attractive, eye-catchy, and easy to access the opt-in form. This could be one of your first interactions with your prospect. Don't scare them away with a long-form with several fields. Ask for only the most essential information: first name and email are a good place to start.
Give Them Reasons to Sign up: You should encourage your traffic to subscribe to your email list. To do this you have to offer something useful for them. Here is a list of lead magnets that you can offer them:

Ebook
Discount
Infographic
Report or Study
Checklist
Webinar or Course
Tool
According to a study by Georgia Southern University, 71.6% of people remember companies that offer give-away products.
Make Sure the Resource Is Easy to Redeem: The resource that we promised to give away after subscribing to your list, ensure that is easy to access. And also make sure the resource is helpful to your subscribers.
3. Choose an eCommerce Email Marketing Software to Send Emails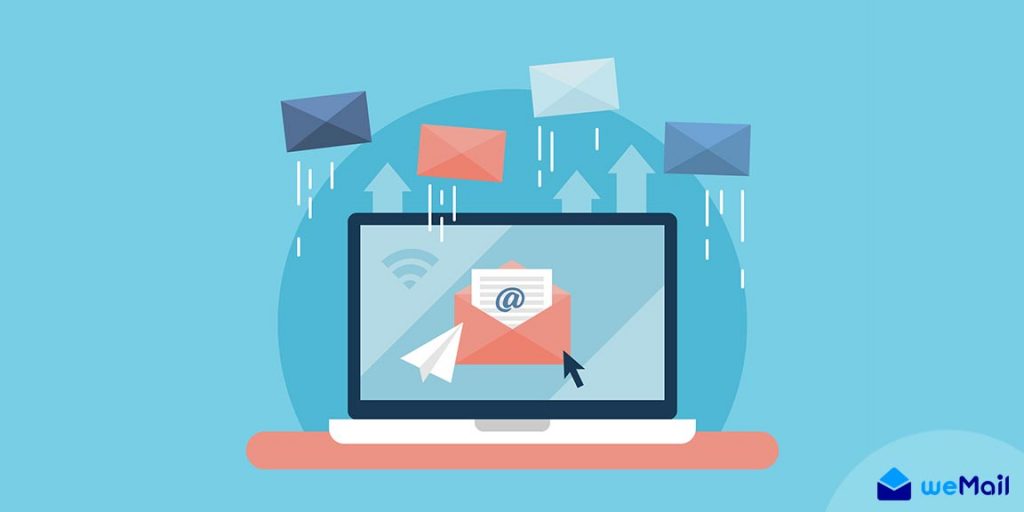 There are numbers of eCommerce email marketing software to choose from for your eCommerce business. Before choosing any email marketing software for eCommerce, make sure you have checked the key features properly, like template collection, visual design, reliability, support, segmentation, data management, and reporting flexibility of that tool.
This is a list of top email marketing software for eCommerce business.
weMail: weMail is the cheapest email marketing tool that comes with an easy-to-use interface and lots of pre-made templates that could be a perfect choice for beginners.
MailChimp: MailChimp is the most popular email marketing software that could be a perfect choice for those who run an enterprise-level company.
SendinBlue: SendinBlue is another popular and useful email marketing tool for eCommerce business owners. Especially mid-level to the large-level companies go for this tool.
OptinMonster: OptinMonster can be used by operations of any size. For example personal bloggers, businesses of any size, and non-profit organizations.
MailPoet: MailPoet is a powerful newsletter and email manager that seamlessly integrates with WordPress. You can build your email list, design newsletters, and send them outright from the WordPress dashboard.
4. Use Proven Email Marketing Tips
The open rate of your emails depends on how well you optimize your emails. If your email subject or copy doesn't have the influential power to make people open your emails, it would not bring any advantages for you. So, get the tips of email marketing to optimize your emails like a pro.
Subject Line: Use clear, actionable, enticing language that is personalized and aligned with the body of the email. You can check this blog to write highly converting email subject lines.
Copy: The copy in the body of your email should be consistent with your voice and stick to only one topic.
Images: Choose images that are optimized for all devices, eye-catching, and relevant. To optimize images, we often use a reliable tool like TinyPNG.
CTA: Your call-to-action should lead to a relevant offer and stand out from the rest of the email.
Timing: Based on a study that observed response rates of 20 million emails, Tuesday at 11 AM ET is the best day and time to send your email.
Personalization: Write every email like you're sending it to a friend. Be personable and address your reader in a familiar tone.
5. Implement Email Segmentation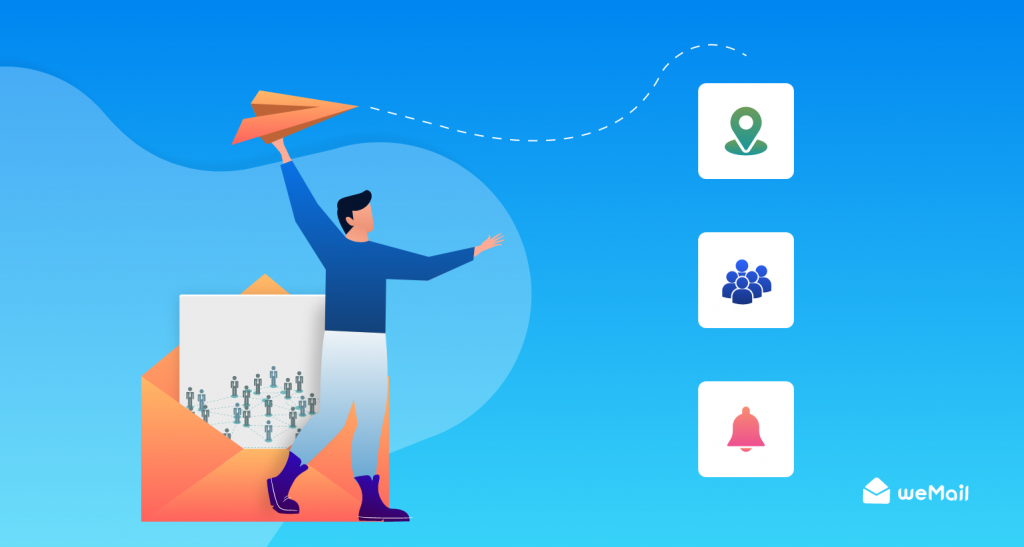 Suppose, you want to give a special discount only for your new users and send them an email to avail of the discount. How would you do that? Here, email segmentation comes to help you out.
There are lots of ways to segment your list, including demographic data like gender or location, browsing behavior on your site, purchasing behavior or history, and much more. The point is that by properly using segmentation with your emails a woman from Chicago who buys regularly will get different emails from a Florida man who's just made his first purchase.
Here are some ways you could break up your list:
Geographical location
Lifecycle stage
Awareness, consideration, decision stage
Industry
Previous engagement with your brand
Language
Job Title
6. Personalize Your Email Marketing
It's common that when you're using an eCommerce email marketing tool to send emails, you send as many emails as possible at a time. Suppose you're sending the same email to your 500 customers. That doesn't mean they should understand that you send them the same email. Make it believable that you have sent that email only to him. And this is called email personalizing.
Here are a few ways to personalize your emails:
Add a first name field in your subject line and/or greeting
Include region-specific information when appropriate
Send content that is relevant to your lead's lifecycle stage
Write about relevant and/or personal events, like region-specific holidays or birthdays
End your emails with a personal signature from a human (not your company)
7. Use Email Marketing Templates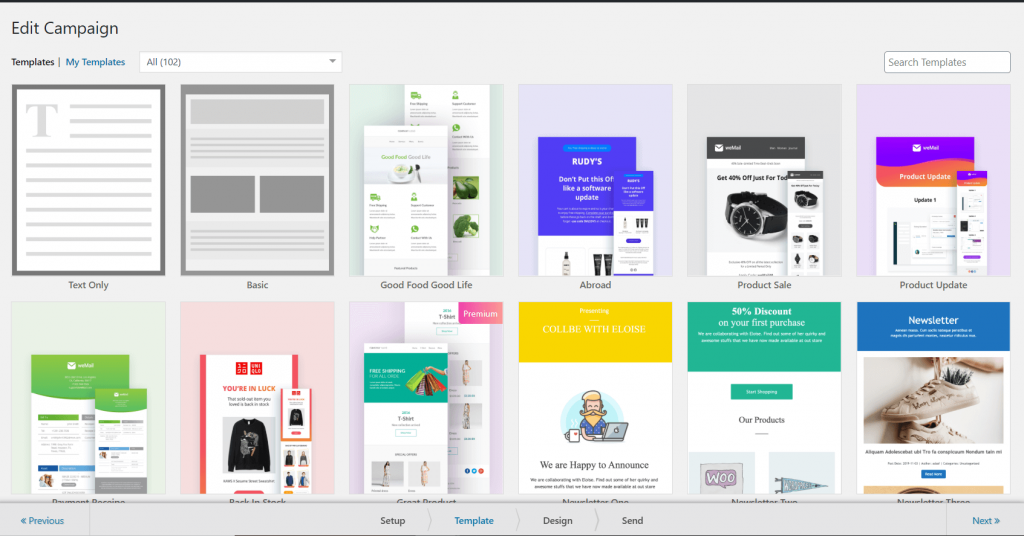 Almost every email marketing software comes with premade templates. So you don't need to buy or design them separately.
An email with an attractively designed template becomes more appealing. It is supposed to get more attention than an email without a template. And that ultimately lead you to a better open and click rate.
Using a pre-made template can save your time to design your email copy. All you need to do is choose a design and then customize it by putting email copy, CTA, and links using a drag and drop interface.
eCommerce Email Marketing Regulations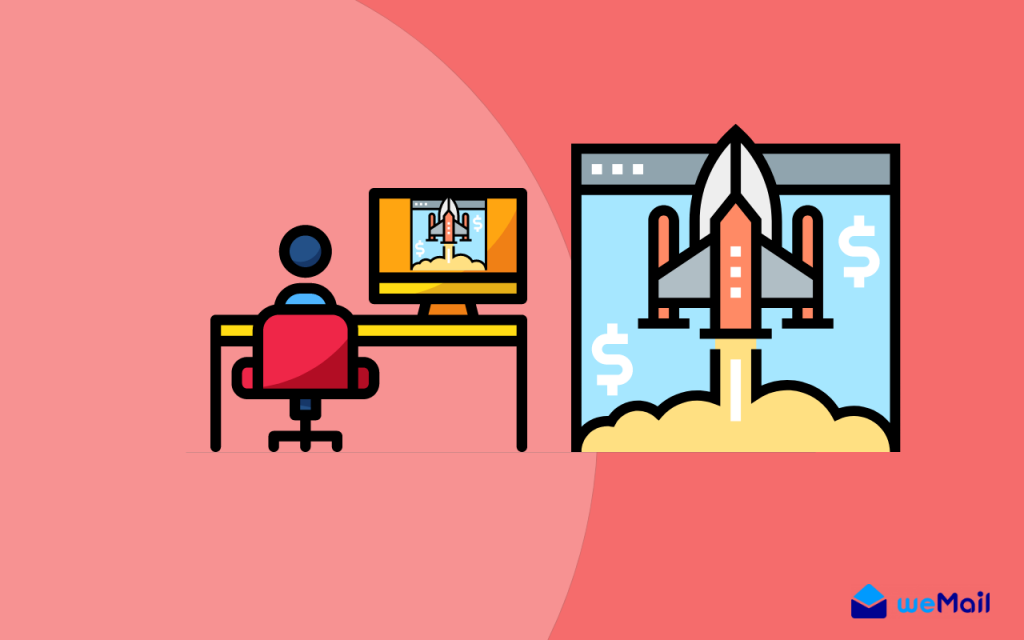 Email marketing is not a way of collecting or buying an email list and then send bulk emails to them without taking their permissions. For performing email marketing you will not only take the consent of your subscribers to send emails but also you will give them an option to opt-out.
If you neglect the law, you could face serious fines. To start, familiarize yourself with the following rules and regulations:
CAN-SPAM. The Controlling the Assault of Non-Solicited Pornography and Marketing Act. CAN-SPAM sets rules around commercial email. In practice, it's a way to protect your subscribers' right to only receive emails that they've requested. Here are the ways to ensure that your emails are CAN-SPAM compliant:

Include your company name and address in every email.
Place visible unsubscribe links within your emails.
Use real email addresses in the "From" and "Reply to" fields.
Write subject lines that indicate the contents of the email.

GDPR. The General Data Protection Regulation is meant to protect personal data for individuals within the European Union. Here's an overview of how you can comply with GDPR laws:

Use explicit and clear language when requesting consent to store personal information.
Only collect contact data that is necessary for and relevant to your business.
Store contact data in a secure manner and only use it for the agreed-upon purpose.

Delete contact data on request.
Make it easy for contacts to unsubscribe from your list or update their preferences.

CASL. Canadian Anti-Spam Legislation. It helps protect Canadians while ensuring that businesses can continue to compete in the global marketplace. Follow the above rules to avoid this complication.
Analysis Your eCommerce Email Marketing Strategy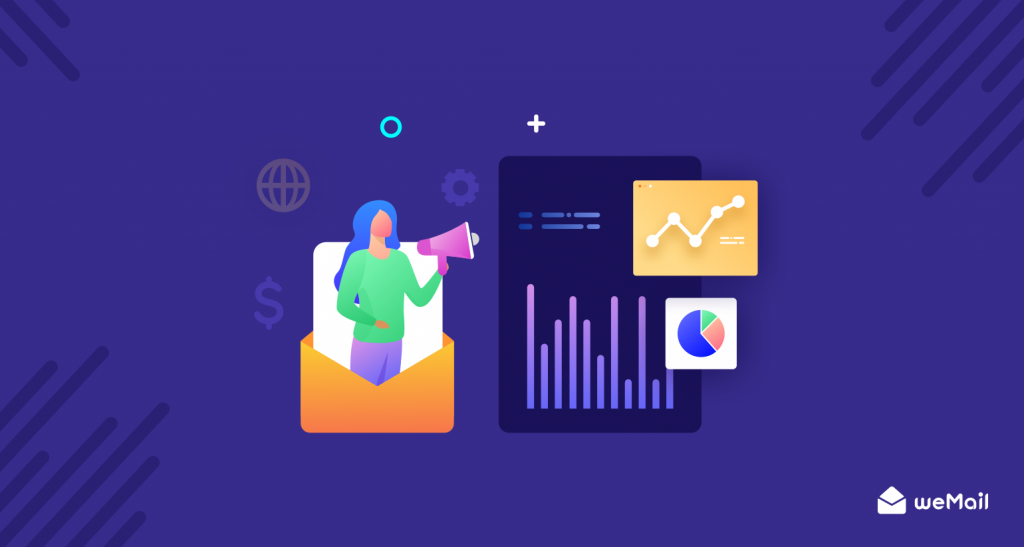 eCommerce email marketing strategy is not only creating and sending campaigns but you also need to analyze your campaign result. And if the campaign output hasn't touched the expectation level, you'll be needing to keep working on your email marketing strategy.
To measure your email marketing success, at first, you need to set email marketing KPIs.
There are four keys metrics to pay attention to when evaluating the effectiveness of your email marketing campaign.
Deliverability: It measures the rate at which emails reach your intended subscribers' inboxes.
Open rate: It is the percentage of people that open your email once it reaches their inbox.
Clickthrough Rate (CTR): It is the percentage of people that click on your CTA (Call to Action) buttons.
Unsubscribes: It measures the number of people who opt out of your email list once they receive an email from you.
After sending your first campaign, keep a record of these KPIs. Then send your 2nd campaign and collect the data. Now, compare the data is your second campaign brings the better result. If not, you need to apply different A/B tests to your campaign.
Helpful Resource: Everything You Should Concern About Email Marketing A/B Testing
Bonus: Types of eCommerce Email Marketing Campaigns to Send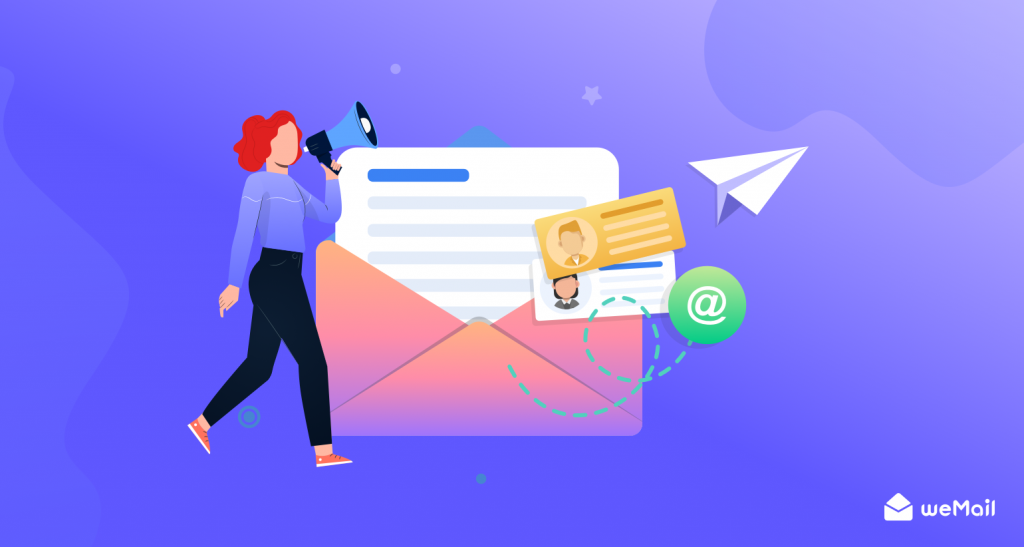 Basically, there are mainly three types of email marketing campaigns for the eCommerce business. You can create and manage these types of campaigns to increase your sales rate.
Transactional Emails: These emails are sent during checkout and other purchasing actions and are more functional in nature, sending key information to individual customers. Order confirmations, receipts, and order-shipped emails all fall within this category.
Promotional Emails: These emails are designed to raise awareness for a specific deal or promotion. For example, a Black Friday Cyber Monday email, a Mother's Day gift guide email, a summer savings email, or a limited-time-only discount email would all fall under this category.
Lifecycle Emails: Lifecycle emails are also known as "triggered" emails, are so named because they're sent based on what action a shopper took and where that shopper is in the customer lifecycle. For example, a cart abandonment email only sends after a customer leaves products in their cart.
You need to send the right email to the right person at the right time. So, never messed up by sending wrong emails to the wrong person at the wrong time by following the above-mentioned three types of email marketing campaigns that especially work for the eCommerce business.
Also Read: Local SEO Tips: Ultimate Guide for Small-Medium Business Owners
Before Signing Off
eCommerce email marketing strategy isn't a new term anymore. Everyone knows about it though very few of us can implement it in our business properly. So, no more delay. Now you know every thing about the email marketing strategy for an eCommerce business. Apply these ideas to your business and get the result over time.
After reading this whole article if you think we have missed any of the eCommerce email marketing points, you are strongly recommended to let us know through the comment box below. Thank you.
Subscribe To Our Newsletter
Don't miss any updates of our new templates and extensions
and all the astonishing offers we bring for you.