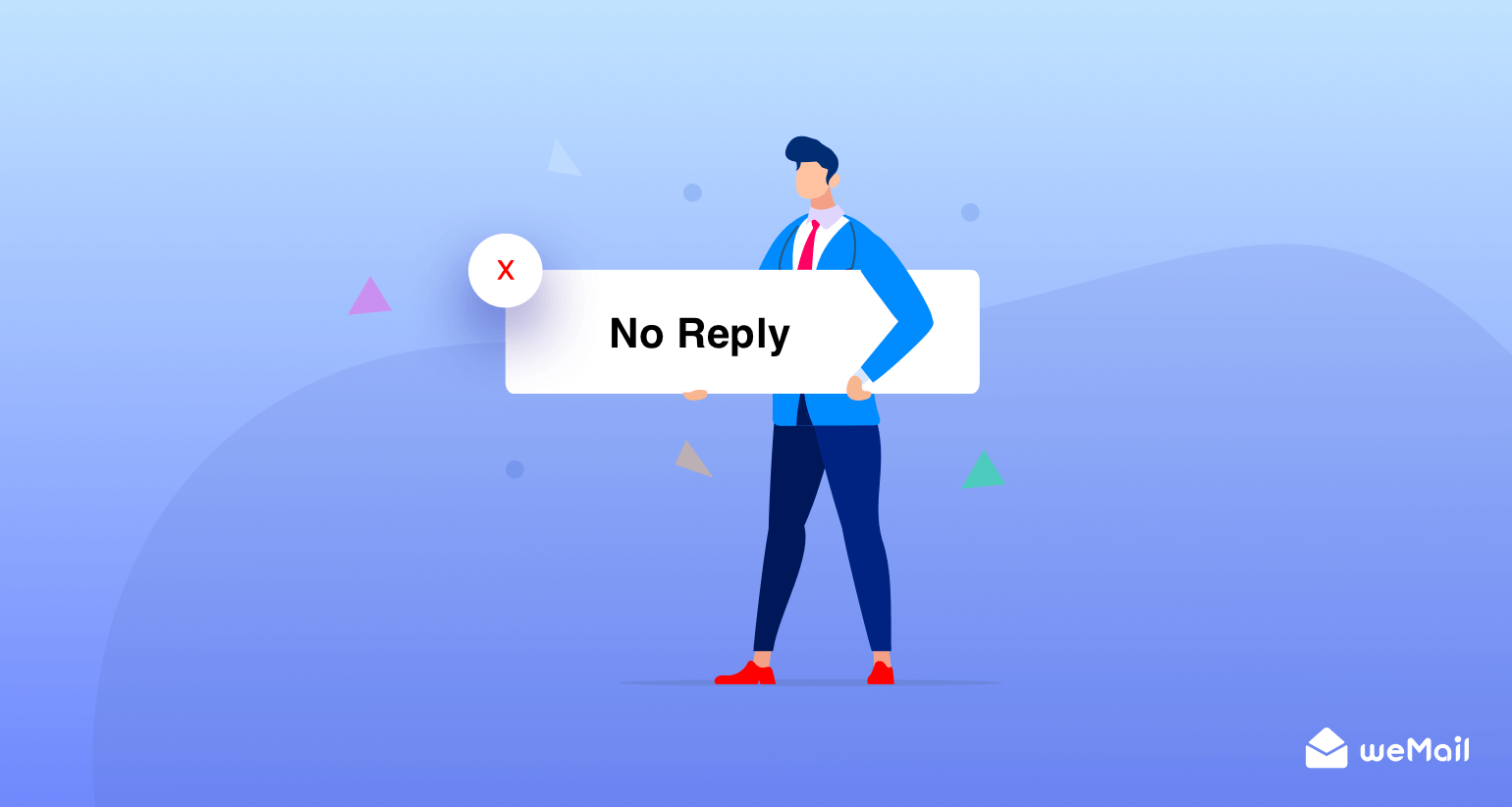 Why You Shouldn't Use No-reply Email Address and Things to Do Next
Every day you probably get tons of emails from your customers or other organizations. But most of the time, it's hard to check them one by one. Also, in some cases, you do not want to fill your inboxes with unnecessary queries.
That means you don't have time to check those emails which are not important to you. To prevent this issue, you can use a no-reply email address.
Hence, using a no-reply email isn't a viable solution in regard to customer support. In many ways, it can harm your reputation as a brand that doesn't even bother to get to hear from their subscribers. Therefore, should the debate keep going? Is it good or bad to use a no-reply email address for your marketing?
In this blog, we are going to explore the whole topic. Before that, let's know about the definition of a no-reply email address and how it works.
What is a no-reply email address?
No-reply email address is an email address that used to send emails to subscribers but is not maintained or monitored by its sender. In most cases, no-reply email uses the same format "[email protected]".
However, many brands or companies still use this email format to send marketing or transactional emails, such as shipping information, purchase receipts, etc. Here, their main goal is to prevent unnecessary emails from customers so that it will not fill the inbox.
In responding to their customers, they often not answered their emails or send a non-delivery notification. Well, from a business perspective, you may think that using a no-reply email address is good for you. But there are considerable troubles with using a no-reply email address.
Why you should never use a no-reply email address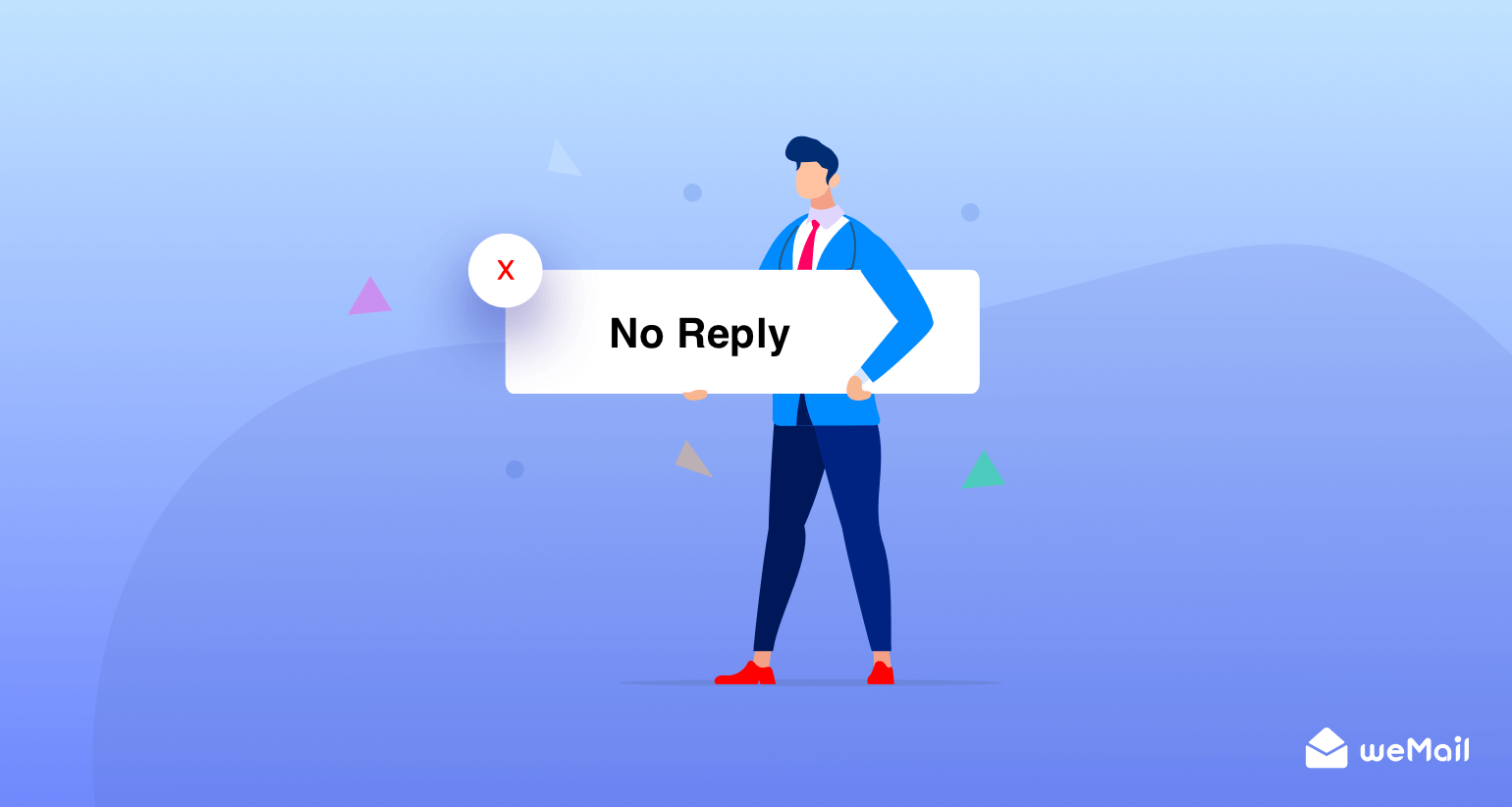 Email marketing is a great way to drive potential customers towards your business or brands. It creates a positive relationship between you and your customers so that you can build trust with them.
When you use no-reply email, you can damage the heartfelt communication funnel between you and your customers. Because they think what's wrong going on? You are sending marketing campaigns simultaneously, but why they can't send you a message?
That's why expert marketers suggest avoiding no-reply email addresses while running an email marketing campaign. Besides that, there are also technical obstacles a no-reply email address can put you upon.
Well, below you will find some critical reasons why you should never use a no-reply email address. Let's follow-through.
1. No-reply email address reduces your email delivery rate
To prepare a perfect email for marketing purposes, you have to write an email copy, create a decent email subject line, use CTA, and spend a lot of time. But if you use a no-reply email address, your email may not be seen by the subscribers.
According to ISPs (Internet Service Providers) and email service providers like Gmail, they use filters to block those messages in their customers' inboxes. That means using no-reply email can count as spam and blocking your email from being delivered to your customers.
For that particular reason, your email delivery rate will reduce gradually.
2. Reduces conversion rate
Each of your emails has a purpose. You may send a professional email for brand awareness or want to generate leads or conversion from your target customers.
But if your customers can't communicate with you properly, how can you expect for conversion to them? Because none of your customers don't like messages from machines or robots.
In fact, making a conversion is not an easy job because you may need to communicate with your customers multiple times to complete the entire process.
3. Against GDPR compliant
GDPR (Global Data Protection Regulation) is a set of European Union laws that discuss how organizations use the data they collect from Internet users. One of the main laws of the GDPR is that customers must be able to request information about the data collected from them.
It means that your customers or users have the right to contact you whenever they need you. If you use a no-reply email address, you can easily prevent customers from contacting you.
So it is completely against the GDPR law. And if you're not following the law, you might be fined by them.
4. Increases spam rate
Nobody likes receiving spam emails from others. You put a lot of effort into preparing an email for your clients, but if your email was marked as spam, how would you feel?
However, by using a no-reply email, most of the time, your email gets caught in a spam filter and blocks your messages from being delivered.
For example, your customers try to contact you, but they receive a notification that their email cannot be delivered. They think of your email as spam, and their email service provider marks your email as spam. If your email is continuously caught by the spam filter, which means your valuable messages will not reach your customer's inbox.
So always avoid using a no-reply email id to reduce email spam rate.
5. Cut off communication
What is the main purpose of email marketing? Do you know that?
You may run an email marketing campaign for several purposes, but the main motive is to communicate with your target audience through this marketing system.
But when you use no-reply email and preventing your audience from communicating with you. You will frustrate them. Nobody would like one-way communication. That's why a no-reply will cut off the communication between you and your audience.
What to use instead of a no-reply email address
Now, you correctly understand why you should avoid no-reply email. But the question is, what should you use instead of it.
Let's talk about them in the below section.
Remove your no-reply email address immediately
If you properly understand the negative impact of a no-reply email address, your first job is to remove the no-reply email address immediately. You should use some alternative email address to send your marketing or transaction emails.
Here some ideas of alternative email address.
Keep your email lists up to date
Every day you get tons of different emails from your customer or other sources. But most of the emails are not important except for a few.
Here the deal, if you want to avoid unimportant email, you should create a proper email list so that you can clearly understand which email addresses are important to you and which ones are not.
Even it also helps to choose your target email lists for your email marketing campaign.
Improve the customer experience
Everyone wants to satisfy their customers and avoiding the no-reply email address is a great way to go. When you do this, that means your customers can easily contact you whenever they want.
This creates a massive impact on the minds of your customers and they will be pleased. In addition, it also helps to generate leads from your customers.
Use modern tools to sort and respond to emails
As mentioned earlier, email marketing is complicated and competitive. That way, many organizations or brands look forward to modern marketing automation tools to automate their email marketing tasks.
Using modern automation software not only saves valuable time but also generates leads and customer satisfaction. Most importantly, it helps to monitor your marketing journey.
You can use weMail as your email automation software.
Here some other benefits of avoiding the no-reply email address while doing email marketing.
Increase the chance for your emails to be received
Use resources and FAQs informed by customer reply emails
Create different sender and reply-to email addresses
Conclusion
In some cases, the practice of a no-reply email address can be beneficial to you. But most of the time, it causes various damages to your email marketing campaign.
In this article, we've tried to cover why you should not use this type of email and also share some of the best practices in place of applying a no-reply email address.
If you still have questions about the blog, you can tell us. And also can share your experiences regarding email marketing strategies.
Subscribe To Our Newsletter
Don't miss any updates of our new templates and extensions
and all the astonishing offers we bring for you.