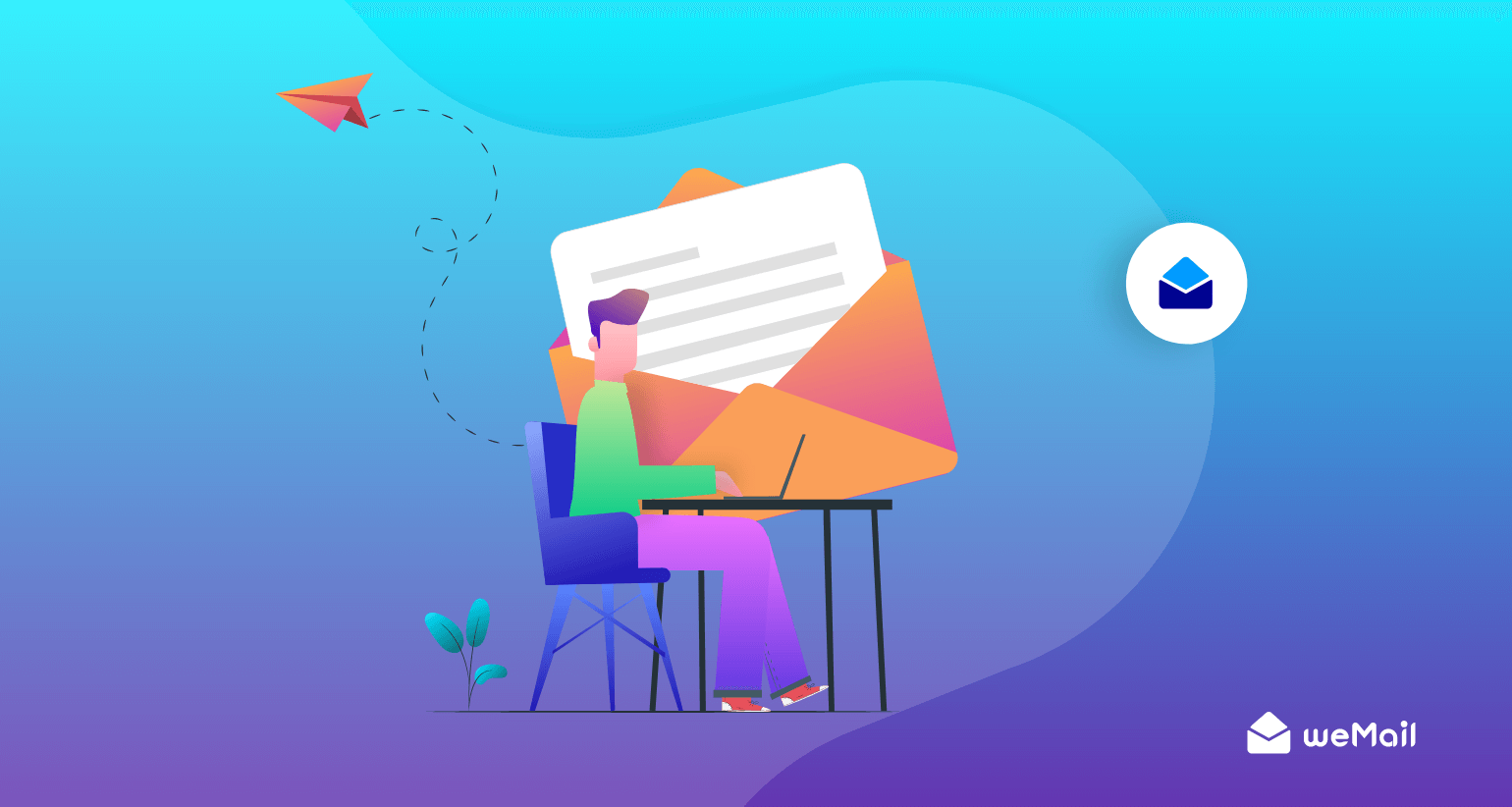 Top WordPress Email Marketing Providers for SMBs
Email marketing is so far the cheapest and in some cases free service to let people know about your brand. And, as a small business owner or as a startup, you need to put the right budget to the right place.
So, when you are intending to get an email marketing provider, make sure it fits your requirements as well as your budget. But choosing the best one from an ocean of alternatives of email marketing providers is like finding a needle in a haystack. This is why we are here to rescue you from this scenario with handpicked items of the best email marketing providers for your business.
This is not a random guide like top email marketing providers, but we have tried to address the benefits, limitations, top features, and pricing of an email service and also we will identify whether an email marketing provider is suitable for you or not. But before that let me show you how it can be helpful for you. Keep reading!
How Email Marketing Can Be Helpful for Small Businesses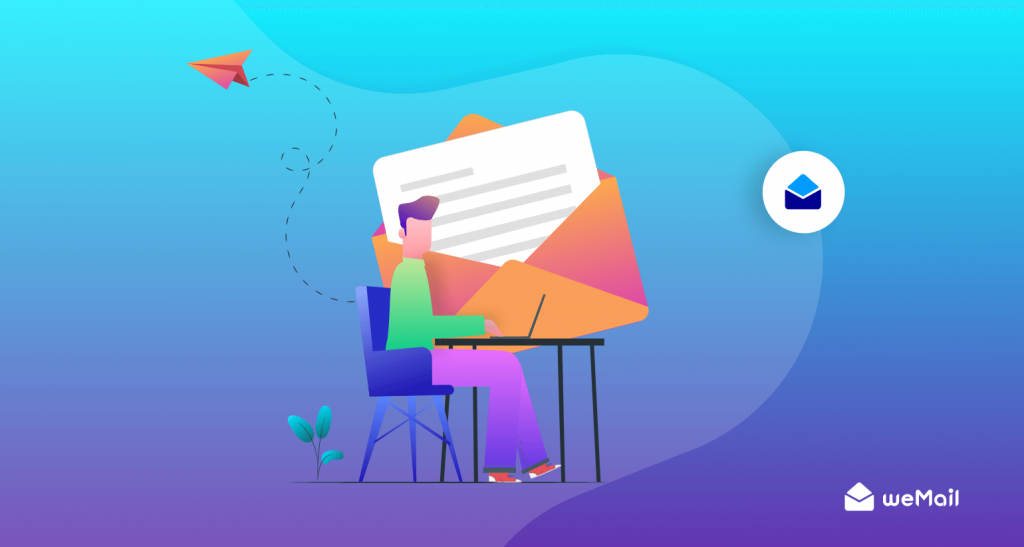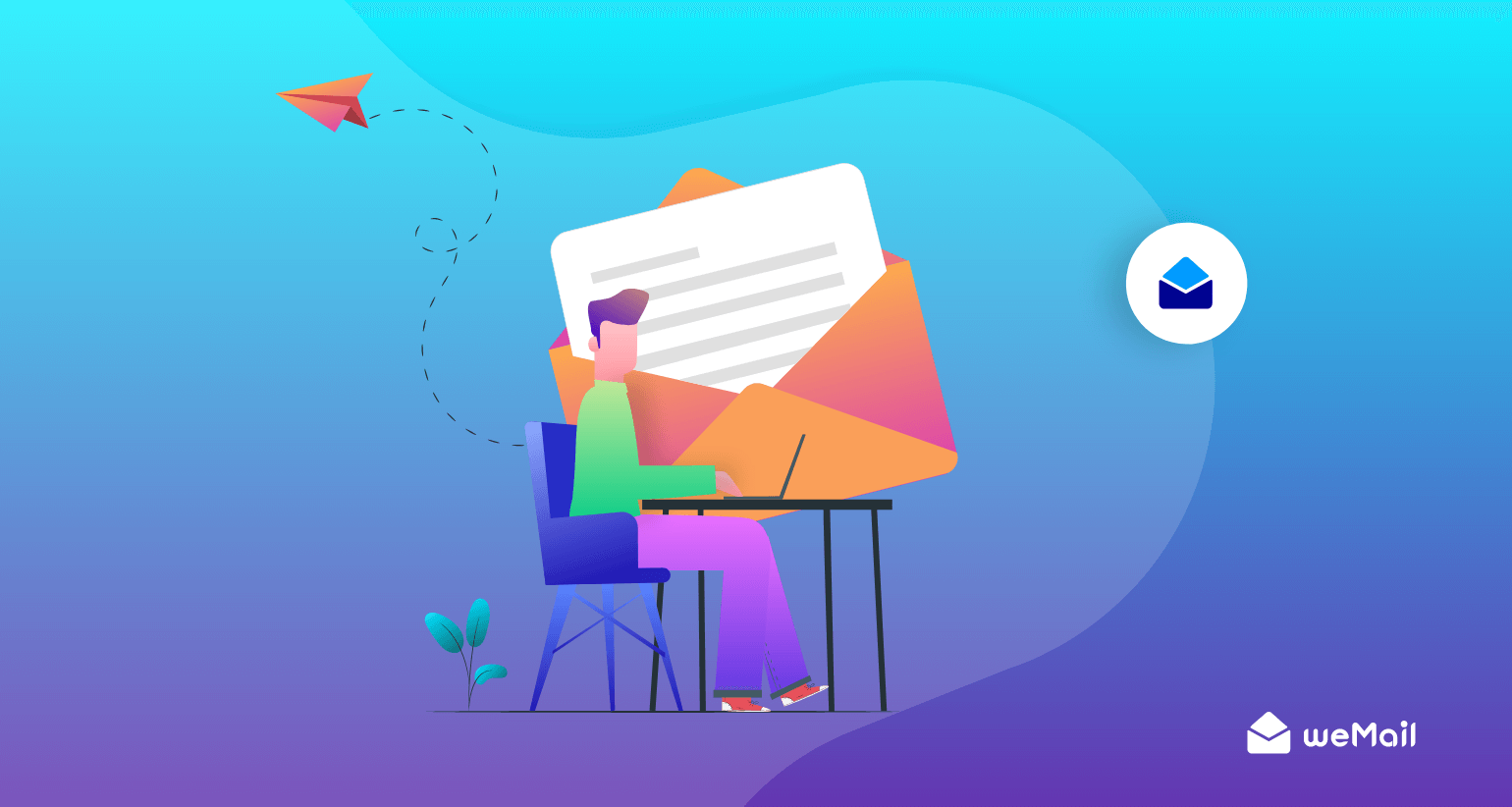 Email marketing is a great way to get your message across, whether you're a blogger and want to give your readers regular updates or you're a business trying to generate more leads. With email marketing, you get your message straight into the inbox of the people you want to see it.
If you have a website of any kind that has traffic, then you need to do email marketing. Email marketing gives you the ability to contact your visitors even after they leave your website.
A few benefits of email marketing are:
Email Is Powerful: People are flooded with email messages every day, but that doesn't stop us from checking our email. In fact, 99% of consumers check their email every day up to 20 times per day. So, with the right email marketing provider, you can send your messages and content based on the subscribers' preferences and buying patterns.
Drives Conversion: Your email subscribers have joined your list because they want to hear from you. That is why the average click-through rate for email is around 3% of total recipients, whereas the average click-through rate for tweets is 2% and Instagram is 0.94%, according to ConversionXL.
High ROI: For every dollar that businesses invest in email marketing, they receive $42 in return, according to Litmus research. The email has the highest ROI of all marketing channels and by most measures, it's roughly twice that of other digital channels.
Reach More Mobile Users: A study shows that 47% of all people across demographics use a mobile application for checking their email. Meanwhile, 26.9% still prefer desktop. When it comes to mobile devices, a whopping 81% prefer to open emails on their smartphones while 21% open emails on their tablets.
Free or Cheap Marketing: Depending on the scope of your campaigns, you can enjoy either free email marketing or plans offered by marketing services that are cheap anyway.
Top Email Marketing Providers in 2021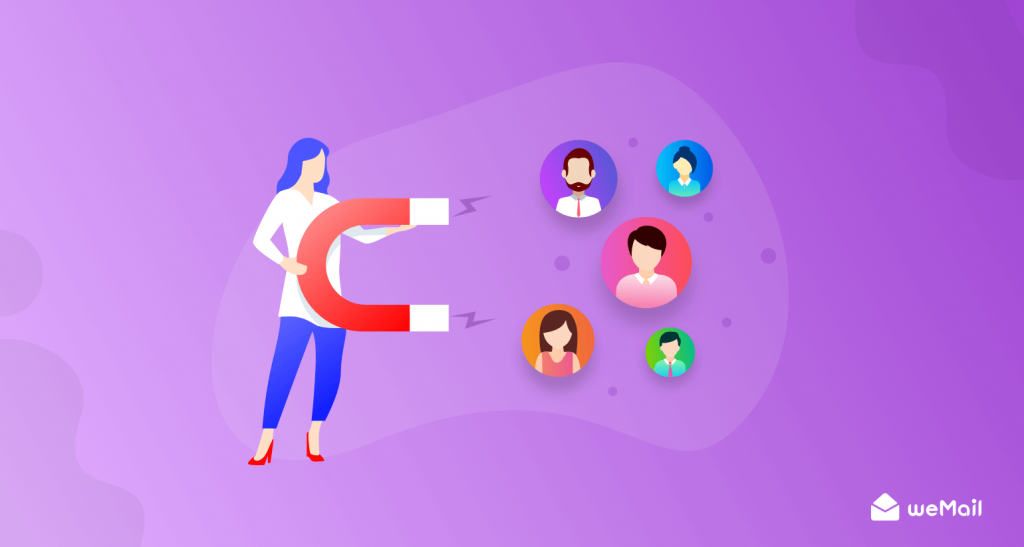 Choosing the best Email marketing provider can be a daunting task if you don't have a clear idea of them. There are several alternatives available around you. So, before making your final move, let's take a trip to explore some of the best options that can be a perfect choice according to your requirements.
Here's a list of the 10 best email marketing providers for small businesses that should make your decision a lot easier.
weMail
MailChimp
MailPoet
Constant Contact
SendInBlue
HubSpot
Newsletter
Email Subscribers and Newsletters
Drip
OptinMonster
A good email marketing provider ensures that your email campaigns do not end up in the spam folder. Having said that, let's take a further look at the above-mentioned email marketing service providers and find out how they stack up against each other.
weMail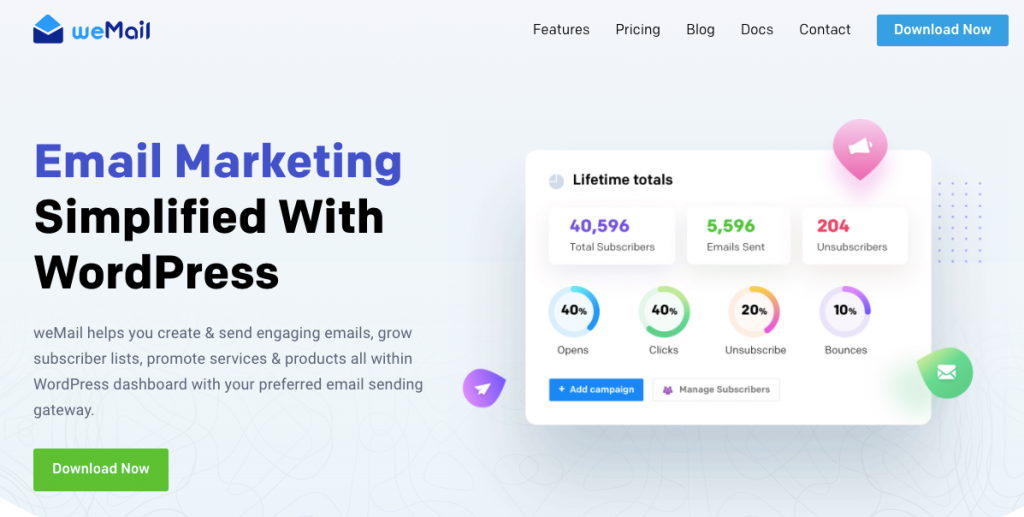 When we are talking about the email marketing tool, weMail has its potential to be at the top of the list. With the proper utilization of this tool, you can simply expect to boost your ROI. More essentially you will be able to run customized promotional campaigns, maximize revenue as well as generate 360* reports with tracking.
And in case you are looking for a cost-effective solution that would enhance your email campaigns then this is surely the tool for you as you will be able to send and manage the first 25k emails to users for FREE with third party email sending gateways like SendGrid. So in short, the tool comes with everything that you need to perform successful email campaigns and that too at the most affordable cost possible.
Top Features of weMail
Keep track of open rates, clicks, unsubscribes, and segment data with detailed analytics
Compatible with popular email sending gateways
WordPress integration option
Details email related analytics
Email contacts with opt-in & embed forms
Double opt-in & redirection
Comprehensive campaign reports
Pricing
The pricing of the weMail starts at $9 per month for sending emails to your 10,000 subscribers. It has also two different free plans for new and small startups.
Who Should Use weMail
Freelancers, non-profits, small businesses, large companies, eCommerce store owners can use the freemium version of this full-featured WordPress email plugin. For large companies, weMail will scale as your business grows so you never have to worry about outgrowing it. The easy-to-use interface is intuitive for anyone in your team to use and integrates nicely with WooCommerce.
MailChimp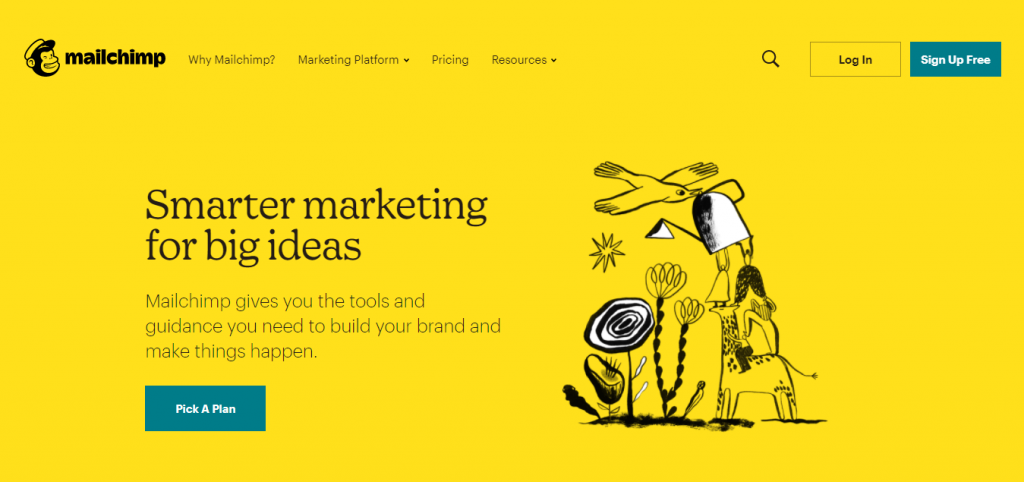 MailChimp is one of the leading email marketing providers, with over 1 billion emails sent a day using their service. It is a simple to use email marketing tool for bloggers and smaller websites as it comes with both free and premium versions.
MailChimp is constantly evolving. You'll find new features spring up all the time. There's even social media integration too. The template selection is decently sized, and they're very easy to customize.
Top Features of MailChimp
Create custom sign-up forms and add them to your WordPress site
Integrate with a wide variety of form builder and e-commerce plugins
View detailed reports about your campaigns (premium only)
Send automatic notifications when new subscribers sign up (premium only)
Well documented & developer-friendly
Friendly and dedicated support
Pricing
Mailchimp offers a forever free plan which allows you to send 12,000 emails for up to 2,000 subscribers. This plan is fairly limited because you don't get features like send-time optimization, advanced segmentation, multi-variate testing, support, etc.
Their paid plans start from $9.99/month for up to 500 subscribers, and the pricing increases in the increment of 500 subscribers.
Who Should Use MailChimp
A lot of people use MailChimp simply for the free offer alone. Beyond those on a budget, MailChimp is great for bloggers and business owners who want an easy to use tool that's packed with advanced features.
MailPoet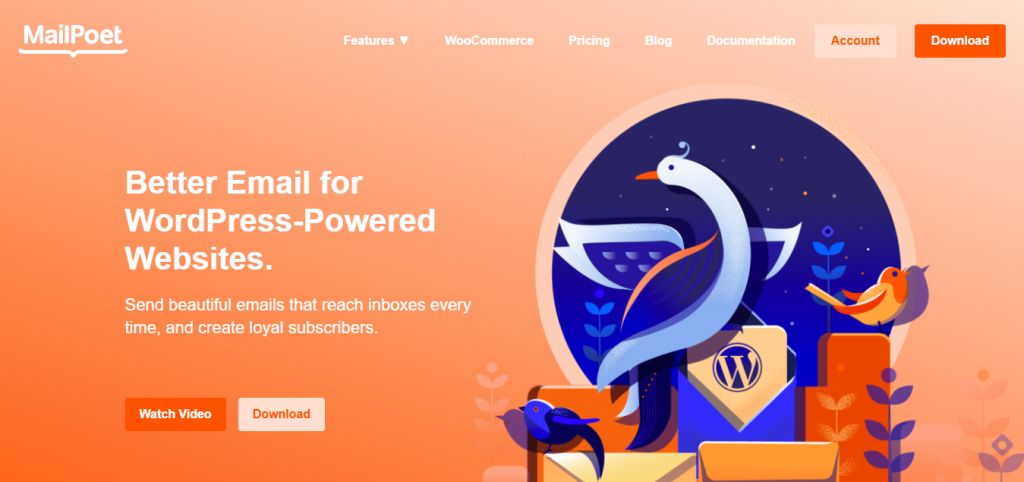 MailPoet is one of the most popular WordPress email marketing providers. To manage your subscribers, you can easily import an existing list from your CRM or another marketing automation tool, or create forms and add them to your site using widgets. Plus, their drag-and-drop email editor lets you quickly create responsive emails that look great on any device or email service.
You can make the newsletter from scratch or by using the ready responsive templates that look great on mobile devices. You can use automation features like sending new blog notifications or welcome emails for newly signed-up users. Email scheduling for a particular time is also available.
Top Features of MailPoet
Intuitive drag-and-drop email designer and templates
Connect your WooCommerce store and send eCommerce emails
Keep track of open rates, clicks, unsubscribes, and segment data with detailed analytics
Send emails that get delivered on time, every time via MailPoet's reliable and secure email servers
Pricing
The base plugin is free, and there's also a free plan that supports up to 1,000 subscribers. If you want access to statistics and reporting features, you can get the premium plugin for $99. Alternately, you can pick up the premium version and MailPoet's sending service in combination, starting at $13 per month (prices scale with subscriber count).
Who Should Use MailPoet
Besides being a full-featured WordPress solution, MailPoet's chief advantage is its scalability. You can start out with the free plugin and only pay for more features and resources as you need them.
Constant Contact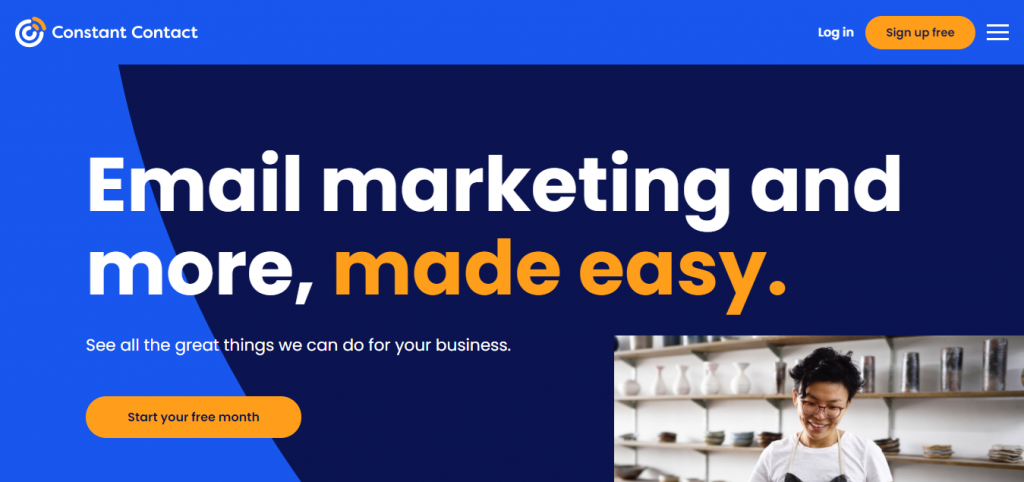 Constant Contact is the most popular email marketing service for small businesses. It comes with tons of customizable email templates that help you get a head start.
When getting started, you'll be prompted to choose your industry and your previous experience with email marketing. Based on your selections, you'll get customized content and promotion ideas that will help you level up your email marketing.
Top Features of Constant Contact
Upload your email list from places such as Excel, Gmail, and Outlook for easy list management
Use the built-in heat tracking tool to see where people are clicking
Automatically send personalized email messages from your business email address
Segment lists based on the content people click on so they get more of what they like
Track unsubscribes, bounces, and inactive emails
Monitor email campaign activity to make better data-driven decisions
Pricing
There are two plans available to you. Each of these plans breaks down into pricing levels based upon a number of contacts and starts with $20 per month. It also has a 60-day free trial (no credit card required).
Who Should Use Constant Contact
Constant Contact is a great choice for small business owners who need a tool that does more than just email marketing.
SendInBlue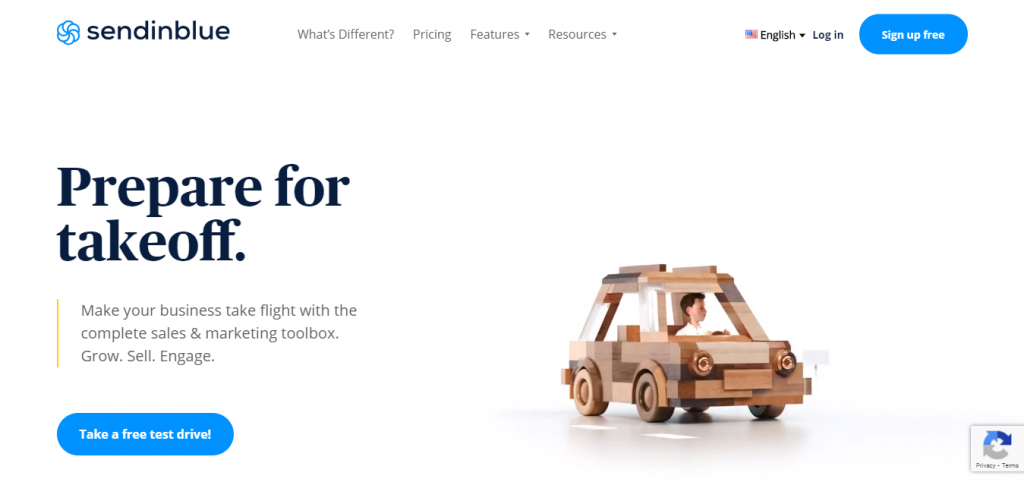 SendInBlue is another young email marketing platform. They were originally built to send transaction-based emails, but now they've combined the power of both email and SMS campaigns into one unique platform.
Overall, it's very easy to use and has a generous free plan, since the plans are based on the number of emails sent and not the number of contacts. Included are typical features like list management, campaign reporting, and email layout optimization.
Top Features of SendInBlue
Build custom subscription forms, and embed them in posts, pages, or widget areas
Use a drag-and-drop tool to create emails from scratch
Segment and automate your newsletters in a variety of ways
View real-time statistics about your emails, such as clicks, opens, and so on
Offers unlimited custom fields
Pricing
The plugin itself is free, and there's a no-charge SendinBlue plan that lets you send up to 300 emails per day. Premium plans with higher limits start at $25 per month.
Who Should Use SendInBlue
SendinBlue pricing is based only on email volume, and not contact list size. So, it is a great choice for businesses or individuals who send a ton of emails.
HubSpot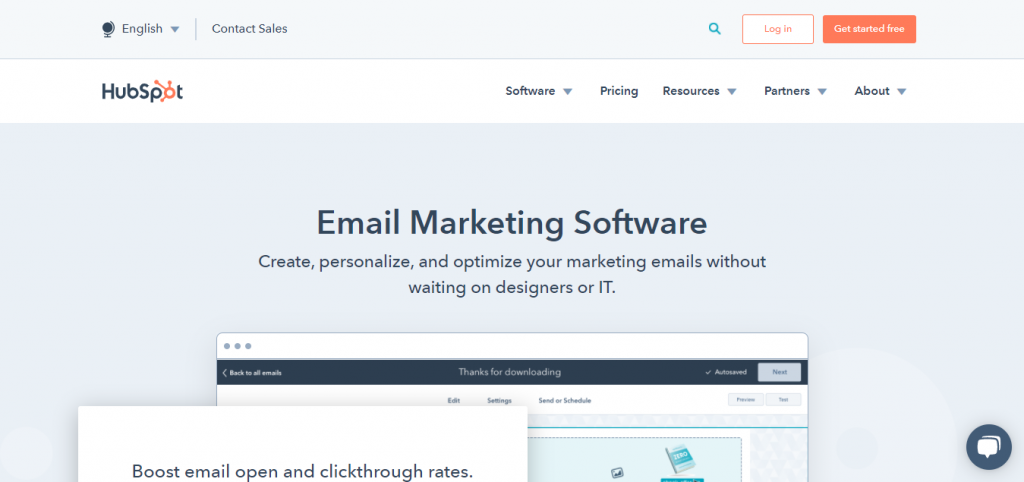 HubSpot is an all-in-one growth platform that helps businesses grow better. The platform enables businesses to better attract, engage, and delight customers. It has an abundance of free tools that include CRM, email marketing, live chat and chatbots, ad management, reporting, forms, and more.
The free email marketing tool has a beautiful drag-and-drop builder and is natively integrated with WordPress. You can send up to 2,000 emails per month for free. There is also a native WordPress plugin that makes it as easy as possible to manage contacts and email marketing inside of your WordPress admin dashboard.
Top Features of HubSpot
Create beautiful emails from scratch using the drag and drop editor, without any extra IT and designer resources needed
Use one of HubSpot's goal-based email templates included in the free version
Personalize subject lines, content, links, attachments, and calls-to-action based on subscriber's lifecycle stage, list membership, or any information in their contact records
Optimize email campaigns with A/B tests and analytics
Pricing
The HubSpot email tool is free for up to 2,000 email sends per month, with upgrade solutions starting at $50 with Marketing Hub Starter.
Who Should Use HubSpot
HubSpot is most suitable for businesses trying to grow, agencies, and service companies.
Newsletter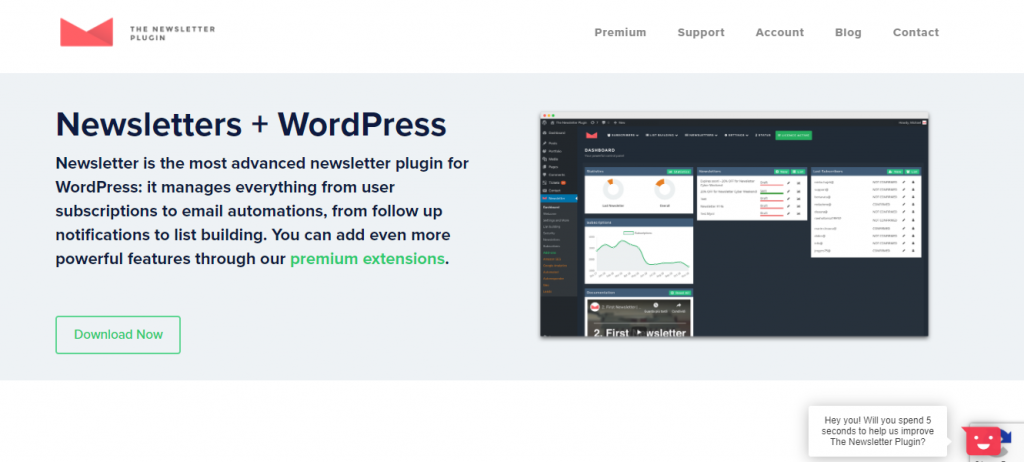 Newsletter is an email marketing tool built specifically for WordPress, and everything you need to get started is included. The plugin allows you to add a subscription form or pop-up to your site, segment your leads using multi-list targeting, and send newsletters to distribute your blog content.
Additionally, the tool has built-in reporting, so you can see exactly how your emails are performing. You can even automate newsletters to go out on a regular cadence to ensure you are consistently engaging with your subscribers.
Top Features of Newsletter
Responsive and mobile-friendly form designs
Unlimited subscribers and newsletters
Translation Ready
Integration with the WordPress Registration
Free and premium add-ons for a better experience
Easy Installation and Usage
Pricing
The newsletter email marketing provider offers both free and premium plans. You can upgrade to a premium plan starting at $45 per year.
Who Should Use Newsletter
The Newsletter may not be suited for larger websites. As such, you may find it most effective for personal blogs, small-to-medium sized businesses, and community event websites.
Email Subscribers and Newsletters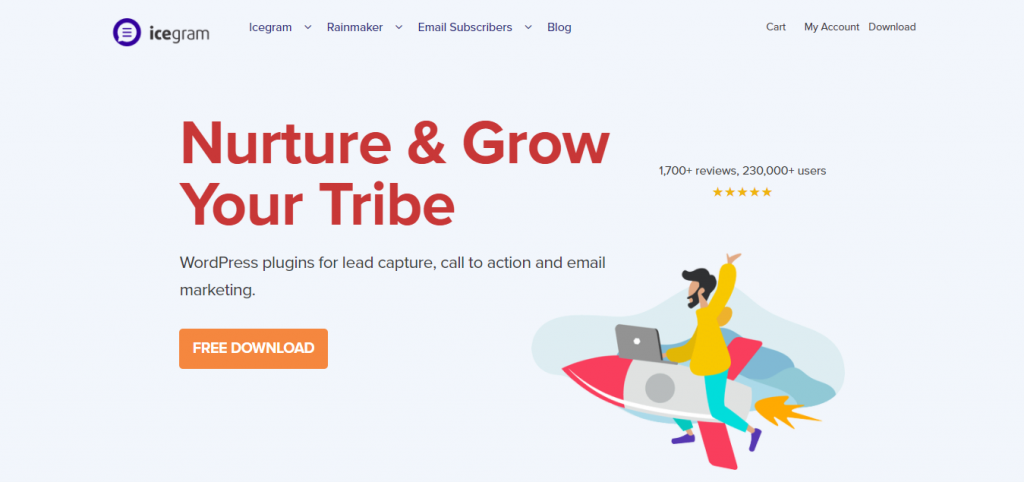 Another multi-purpose email marketing plugin is Email Subscribers & Newsletters. It provides you with a neat sign-up box to be placed anywhere on your website. With this plugin, you can create and manage your mailing lists.
And, of course, you can send your WordPress campaigns both manually or by scheduling them via the Cron job option. You get useful notifications, like alerts about the new subscribers. The double opt-in feature makes sure you only reach out to interested readers.
Top Features of Email Subscribers
Easy integration with IceGram and Rain Maker
Collecting customer emails by adding a subscription box
Email notification to admin when a user signs up
Localization or internationalization support
Categories included
Pricing
Along with the free version, there's a premium tier starting at $9 per month. This provides extra features such as email templates, built-in spam filtering, and the option to test newsletters.
Who Should Use Email Subscribers
This email marketing tool is an excellent option if you want a no-frills solution that you can manage straight from your website.
Drip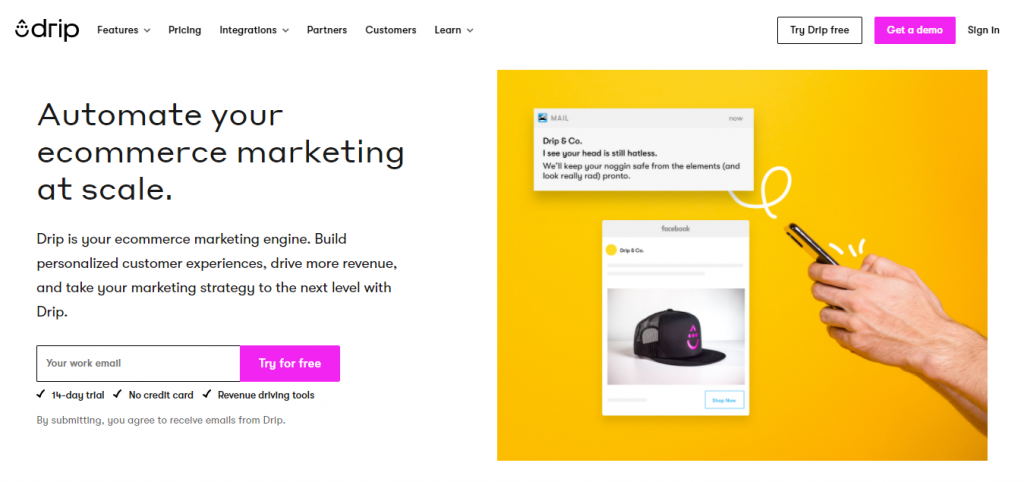 Drip email marketing provider is a powerful email marketing platform for eCommerce site owners, bloggers, and marketers looking to have smart conversations with their subscribers via email.
This beginner-friendly service works perfectly with WPForms. And it only takes a few simple steps to configure on your WordPress website. There are many integration addons, such as the one for WooCommerce, which makes running your business easier. Also, you can send text messages, display Facebook ads, and much more using the automated customer workflow.
Top Features of Drip
Segment email lists based on-site visitor behavior
Customized messages to increase open and clickthrough rates
Create custom conversion reports
Track the number of subscribers, eBook downloads, signups, quote requests, and more to get measurable data
Track conversion rates to ensure you're making money online
View the 10 built-in reports in your WordPress dashboard and export statistics
Pricing
With 500 people in your account, you'll pay $19 each month and can send unlimited emails. Drip offers a 14-day free trial too.
Who Should Use Drip
Basically, if you sell a lot of products (digital or physical) and want to create complex marketing sequences without pulling your hair out, then this tool might be for you.
OptinMonster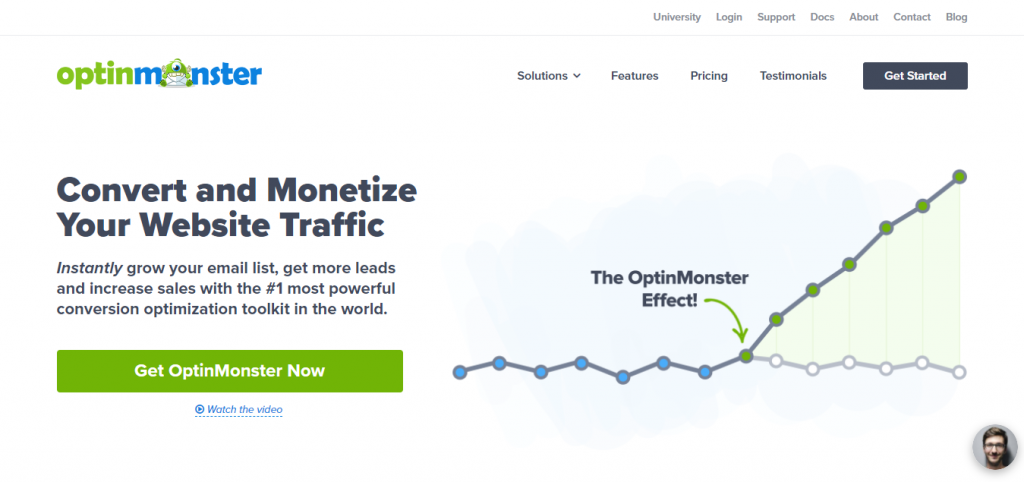 OptinMonster helps you grow your email list and get more subscribers with a wide variety of pop-ups and static forms. The tool comes with a drag-and-drop editor that lets you build your form from scratch, or select from a pre-built template.
What sets OptinMonster apart from other plugins is their targeting options. It helps you to track your visitor's location and behavior on your site. You can then use this information to run your email campaigns.
Top Features of OptinMonster
Mobile friendly and retina ready designs
Over 65 pre-made templates to choose from
Powerful targeting and segmentation engine
User-friendly drag and drop builder
Advanced and actionable analytics option
Easily integrate with other website & eCommerce platforms
Pricing
Pricing starts at $9/month for the basic plan. The plugin is available to download from the WordPress plugin repository, but you'll need an account with a paid plan before you can use it.
Who Should Use OptinMonster
OptinMonster can be used by operations of any size. For example personal bloggers, businesses of any size, and non-profit organizations.
Bonus: What to Look for in a WordPress Email Marketing Provider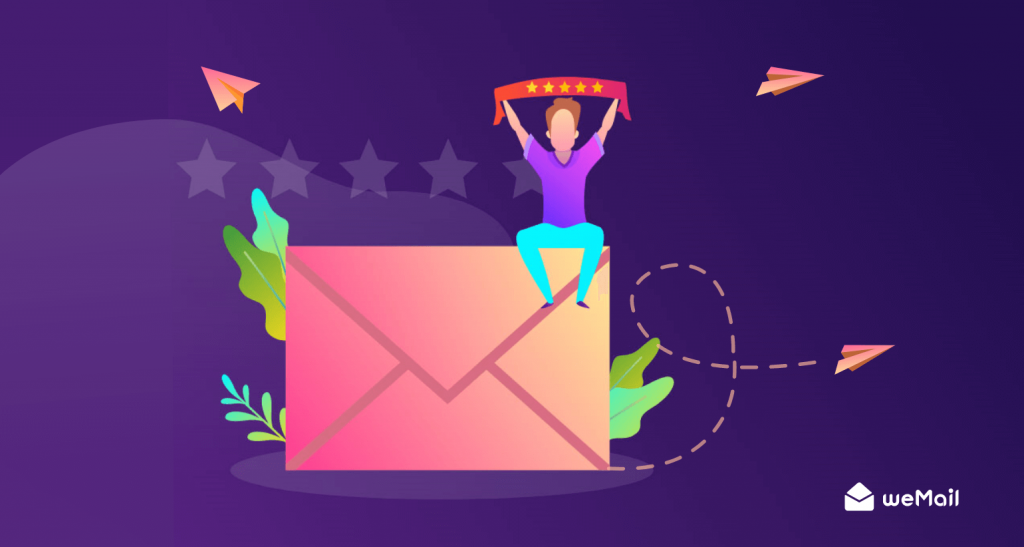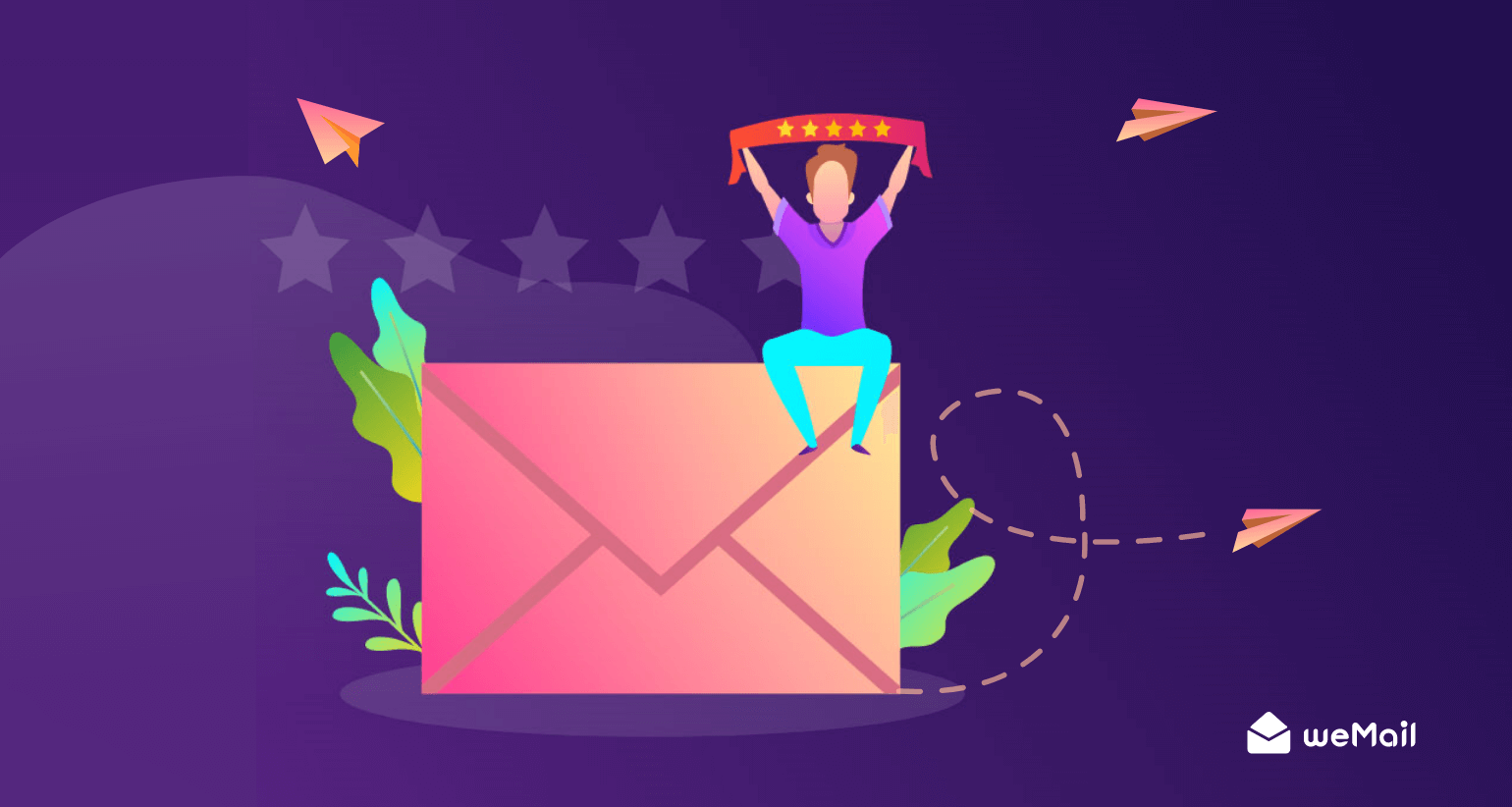 Choosing the right email marketing service that fits your needs is important for your business. Just because an email marketing company is popular doesn't always mean that it's the best solution for your needs. It's easy to get overwhelmed with different choices since there are dozens of email marketing solutions on the market.
To help you out, we've rounded up the top things to look for when choosing an email marketing provider:
Email Automation: Almost all services out there allow you to automate your email campaigns, but each one does it in a different way. Take a look at how different tools automate your campaigns and figure out if they help solve your needs.
Reporting: Being able to track the success of your campaigns is a must. After all, you'll want to make sure the campaigns you're sending out are working. And if they're not, you'll need to pinpoint where so you can make improvements.
Ease of Use: It's important that the email marketing service you choose is easy to use and works with your business.
Strong Support: Email service should always come with a detailed knowledge base or documentation. Also, look out for what methods of customer support are available, including tickets, email, and live chat.
Efficiency: Efficiency basically means the ability to deliver emails to subscribers' inboxes. You need to track how many emails are being delivered and how many are left behind to your send box.
Pricing: If you choose to go with the premium version of an email marketing tool, look for solutions that offer a free trial or free plan so you can decide if it's the right solution for you. Compare pricing with other solutions to decide which one offers optimistic pricing for your business.
Use the Right Email Marketing Tool and Grow Your Business Fast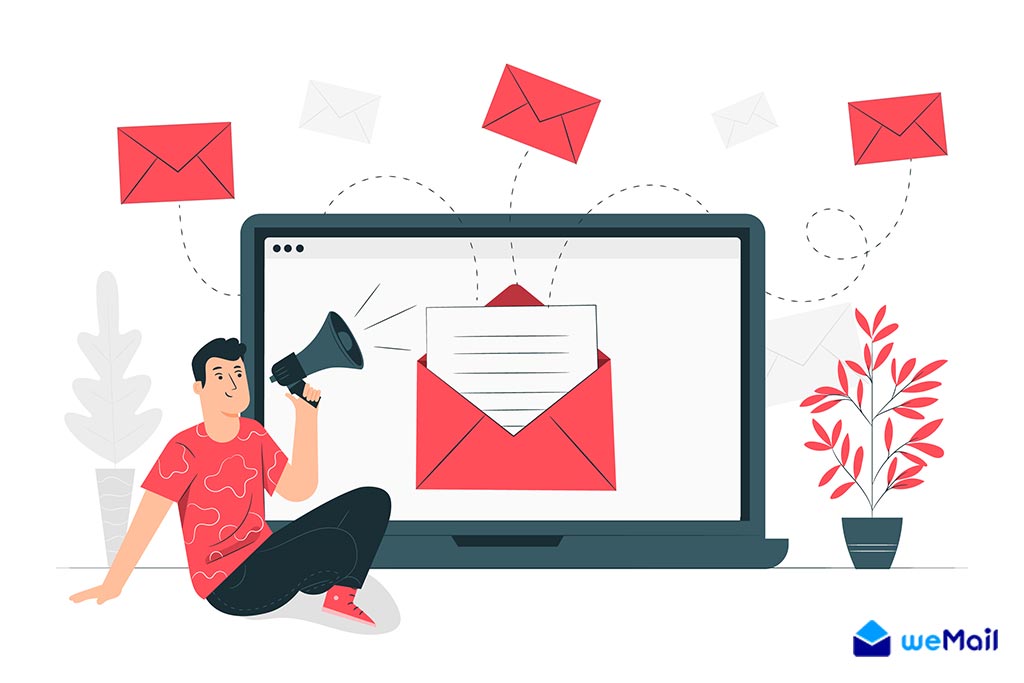 Having a WordPress Email Marketing tool on your site surely does help out if you are looking to increase and update your subscribers. Whether you are looking for a plugin to design beautiful email or subscription forms or eye-catching pop-ups and newsletter to keep your viewers engaged we have it all lined up just for you!
By the way, which one is your favorite email marketing provider tool? Or, which one you wanna try or recommend? Let us know through the comment box below.
Subscribe To Our Newsletter
Don't miss any updates of our new templates and extensions
and all the astonishing offers we bring for you.