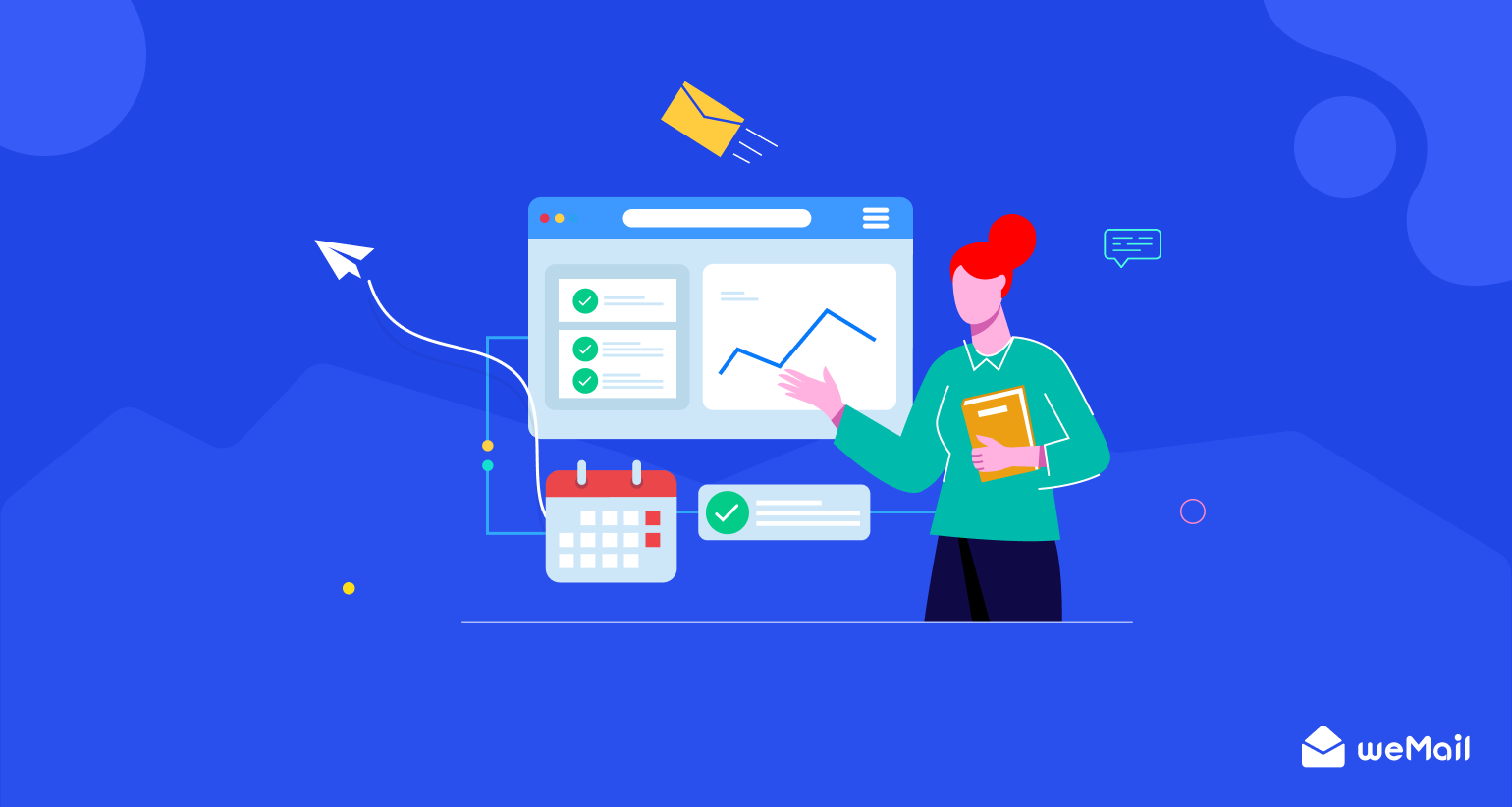 Best Days to Send Emails: A Step by Step Guide for Email Marketers
When Anthony Liccione said "They say, timing is everything", he wasn't wrong. Time plays an important factor in both your personal and professional life.
If you fail to launch your campaign in time, then there is a big chance that you will lose out on profits. The same goes for your emails. If you don't send emails on time, people won't read them. That is why it is important to find the best days to send emails.
Therefore, in this email marketing guide, we are going to help you find out the best day to send emails so that your emails don't get lost in the midst of others. As more than 306 billion emails are sent and received each day.
You may have already got an idea as to why it is important to send emails on the right day. Hence, let us shed some more light on it.
Why It is Important to Send the Emails on the Right Day and Time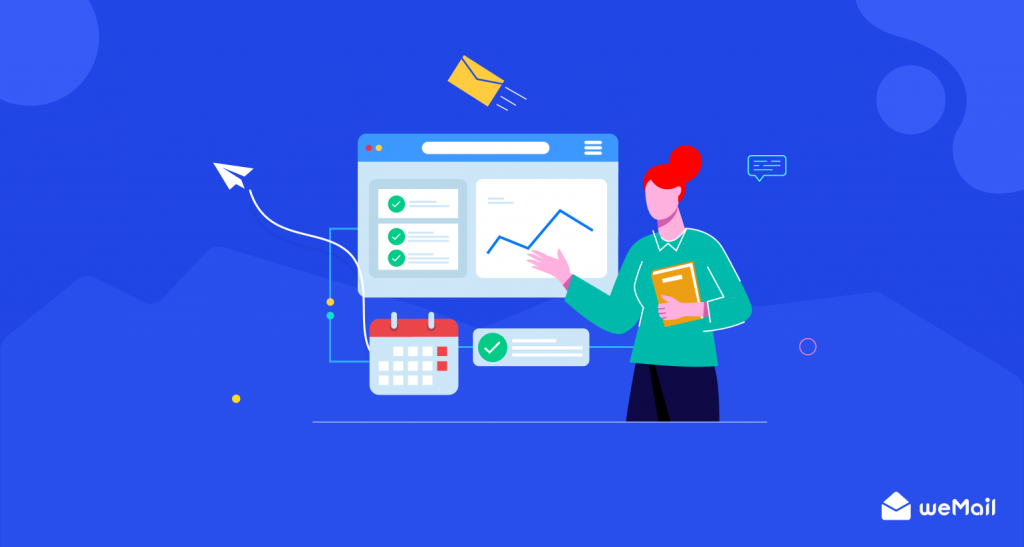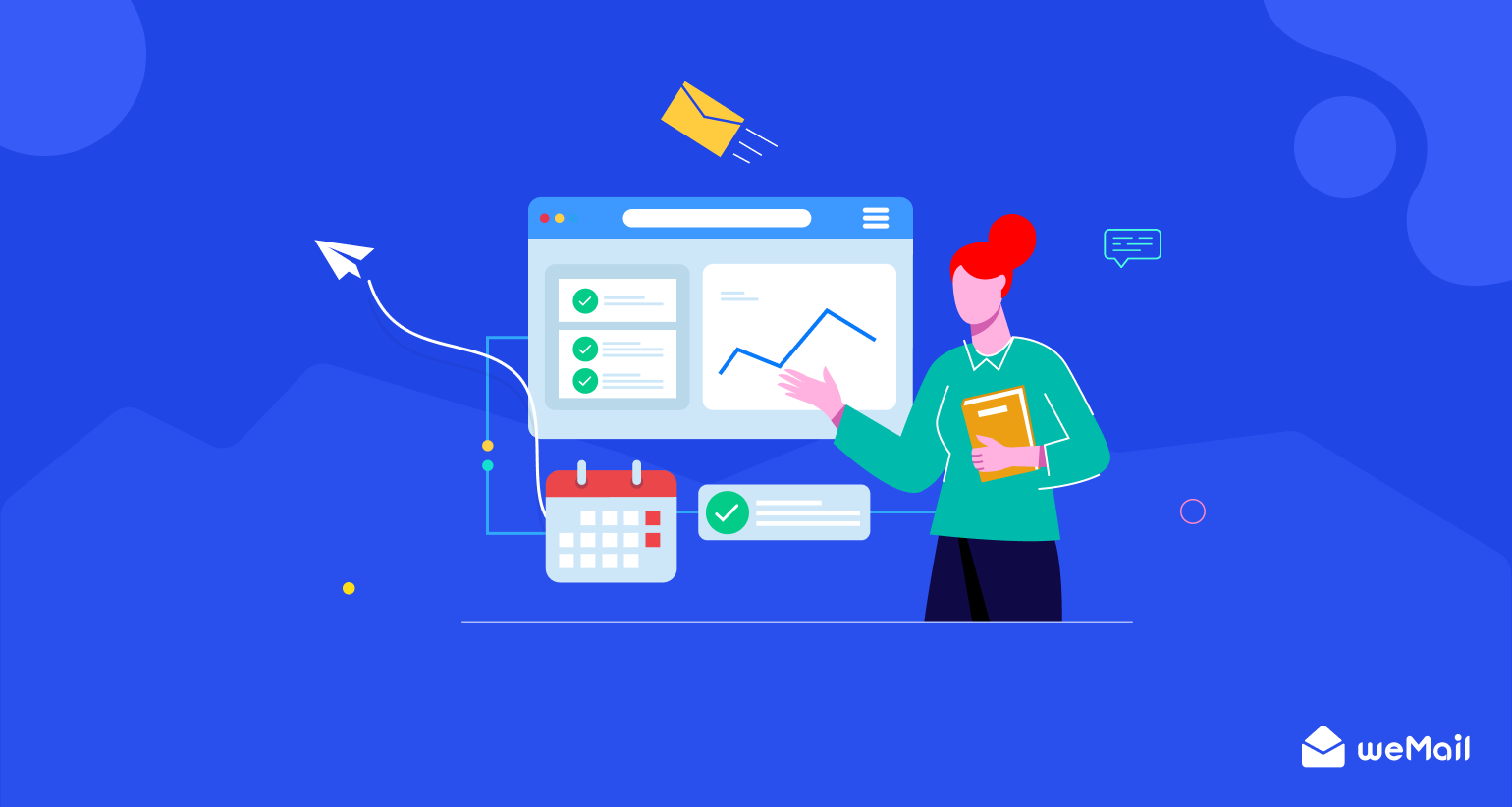 Timing is very crucial for email marketing. If you don't send emails, then the users will not know about your new releases, latest campaigns, articles, or important tips regarding their business. However, timing is also crucial, if you want your readers to open your emails.
If you want your marketing emails to have the expected impact, you need to send them at the right time. Although there are no hard and fast rules when it comes to the perfect time to send an email. It solely depends on the type of audience you are targeting. In short, the perfect time to send an email for your company may not be the same as another marketer's best time.
An average user receives about 100 emails per day. Among them, only 65% of emails will be attended to, while the rest of them may end up in the trash or in the spam box. If you don't send your email at the right time, there is a big chance your email will be in the second category.
Marketing research has indicated that after 24 hours of landing in an inbox, that email's open rates drop to about 1%. This means that if your subscribers have not opened your emails within the first day of receiving them, chances are that they'll never read them in the future.
With so many competitors out there, the marketer must send emails at the right time of the day/week, when recipients are most likely to open and read them.
Best Days to Send Emails According to Research
So what are the best days to send emails? We gathered some data from the top marketing companies including our own. And we found some interesting results. Some of the data suggest that Tuesday is the best day to send emails, whereas other data suggest that Thursdays and Wednesdays are the best days to send emails.
Here is the data we gathered,
After extensive research, GetResponse found the peak inbox activity happens on Thursdays. The second highest peak was on Wednesdays.

MailChimp also found high open rates on Thursdays, with a second peak on Tuesdays.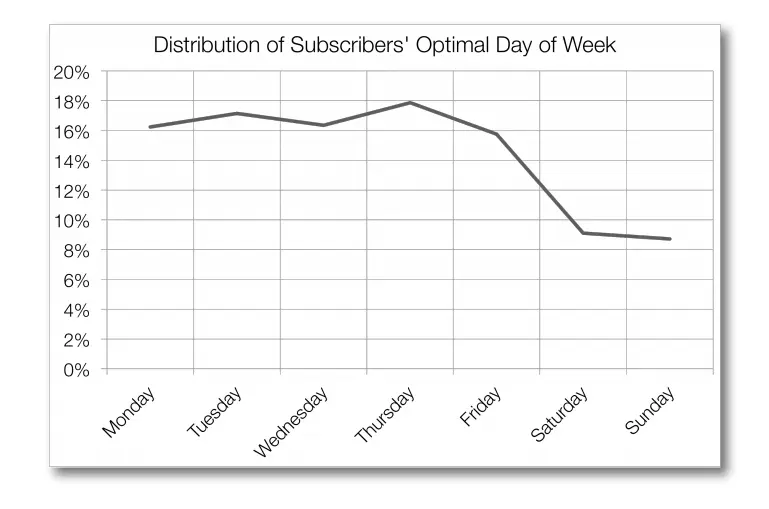 Further data from MailChimp and Wordstream suggests that Thursday and Tuesday are the best days to send emails.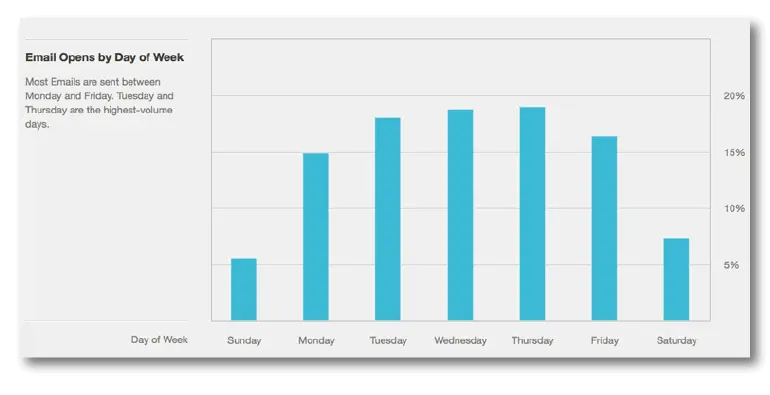 Tuesdays get the most emails opened compared to any other day of the week though Saturdays may also be a good day to send emails for their high open rate, according to data from Experian and analyzed by Customer.io.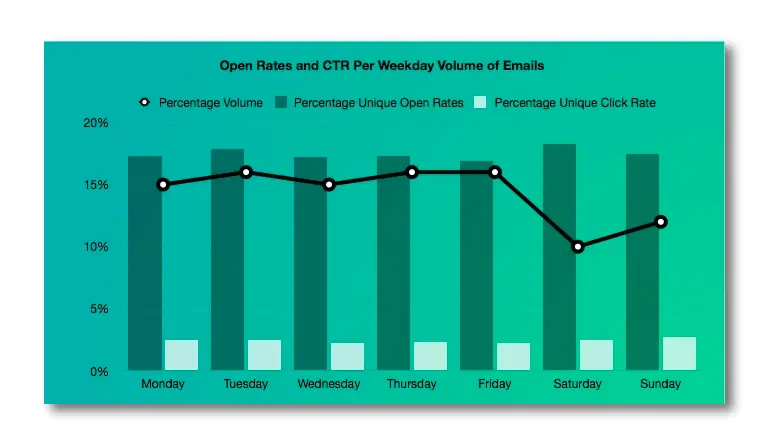 HubSpot found that Tuesday is the best day to send an email, followed by a tie for Monday and Wednesday.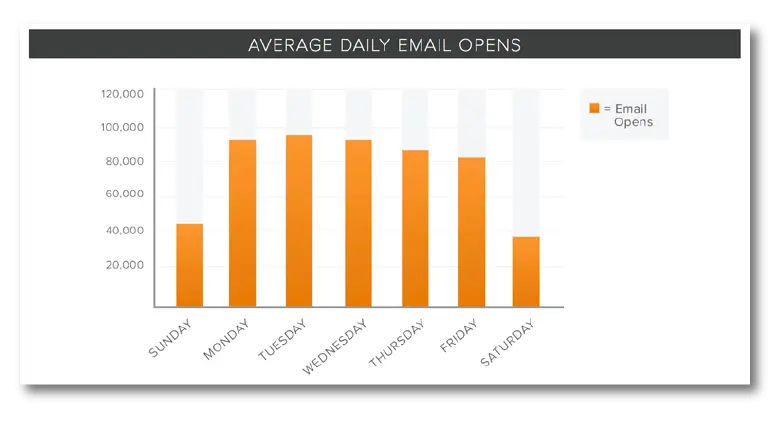 According to weDevs, Thursday is the best day to send emails, followed by Friday.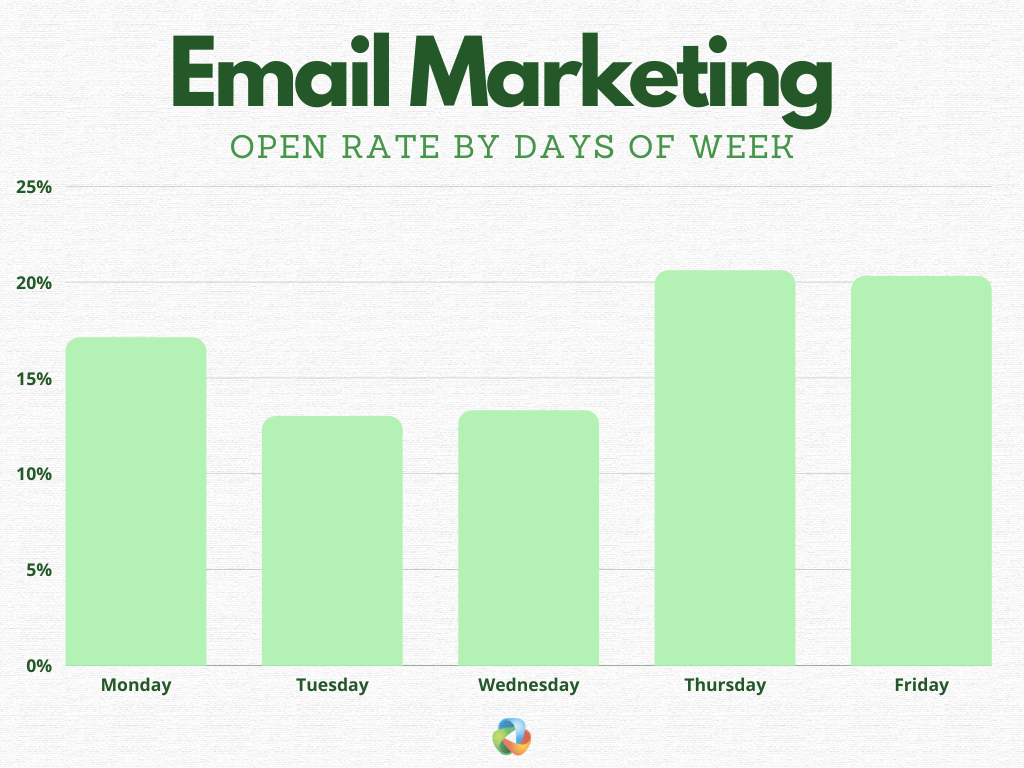 After analyzing these data, here is the conclusion we reached,
Tuesday: This is hands down the #1 best day to send emails according to the majority of the data from these studies.
Thursday: If you send two emails a week, choose Thursday for your second day.
Wednesday: While no single study showed that Wednesday was the most popular, it came in second place quite a few times.
What is the Best Time of Day to Send Emails
So, we have locked in the days that are best to send emails. But what about the time?
From the data we gathered, we can see different types of results.
Campaign Monitor's research suggests that morning between 9–11 a.m. is definitely the best time to send an email. If you see the below graph it looks like there is a peak at 10 a.m. Campaign Monitor sums it up by saying that 53% of emails are opened during the workday between 9 a.m.–5 p.m.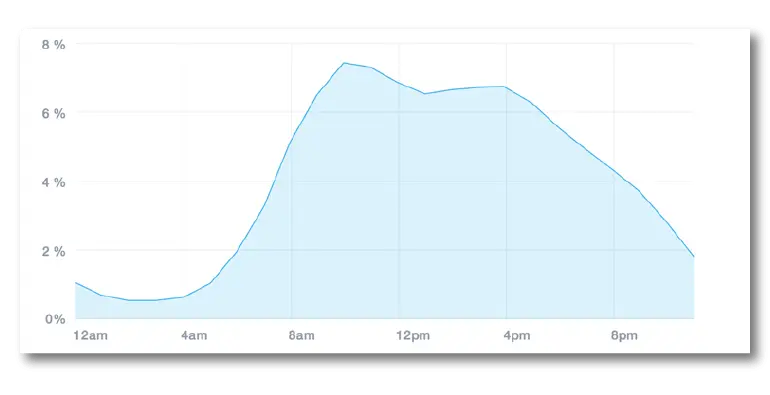 MailChimp agrees with Campaign Monitor that sending emails later in the morning between 10 a.m.–noon will get you the most open rate. It looks like the best time to send an email is at 10 a.m.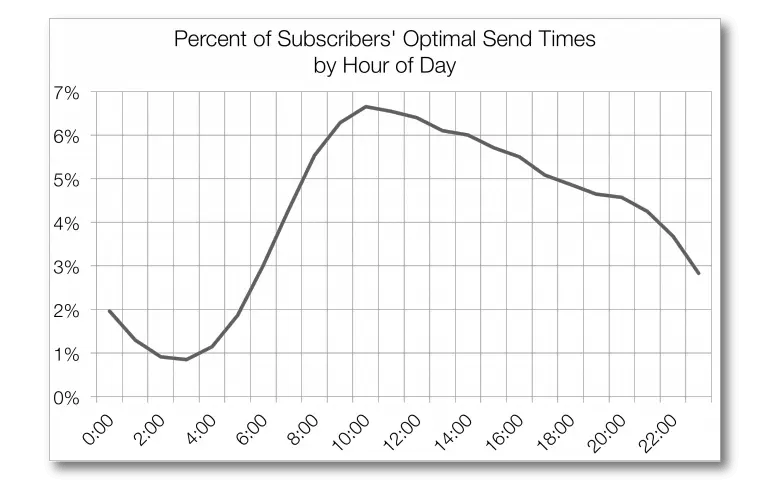 Research from MailChimp and analyzed by Wordstream suggests there may also be a peak for opens in the afternoon. Wordstream says 2 p.m. is also a peak time to send emails.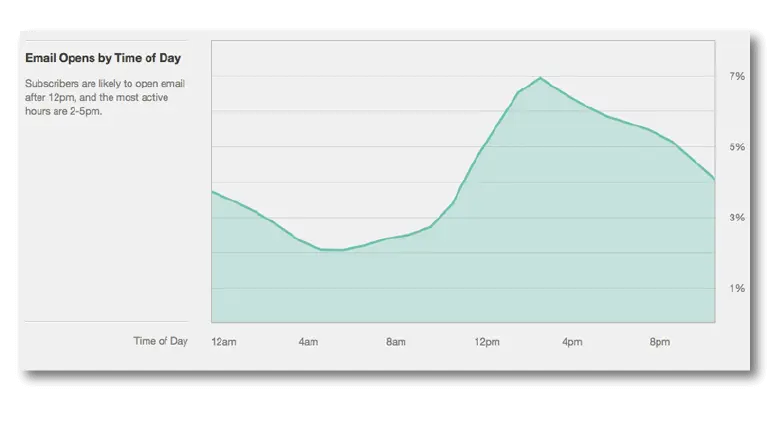 HubSpot researched open times to find late morning tends to get the most open rate. Sending emails at 11 a.m. will get you the best results.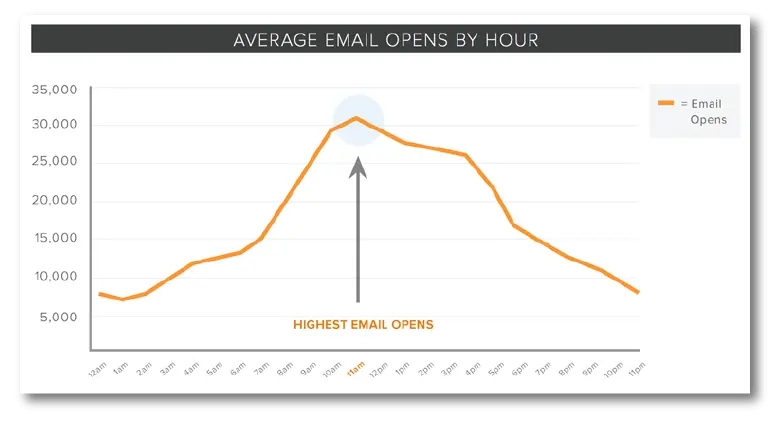 From the research, we can reach the conclusion that,
10 a.m: While late-morning times were the most popular in general, several concluded that the best time to send emails is at 10 a.m. Another notable time is 11 a.m.
8 p.m-midnight: This is a surprise one. It looks like emails generally receive more opens and clicks later in the evening. As Campaign Monitor notes, this is likely due to people checking their email before going to bed.
2 p.m: It looks like you might be successful by sending your emails later in the day as people are checking out of work mode or looking for distractions.
6 a.m: This makes sense since 50% of you begin your day by emailing in bed. Before you even stand up, you're opening emails.
So, What Should be Your Plan of Action?
After reading this article you may want to start sending emails with those days and timings in mind. But think about it, hundreds of users will read this content, and they may think the same as well. You will get stuck with the same problem of sending emails when your competitor is sending them.
So why do so many studies offer similar information that suggests sending emails on Tuesdays at 10 a.m. will be the most successful?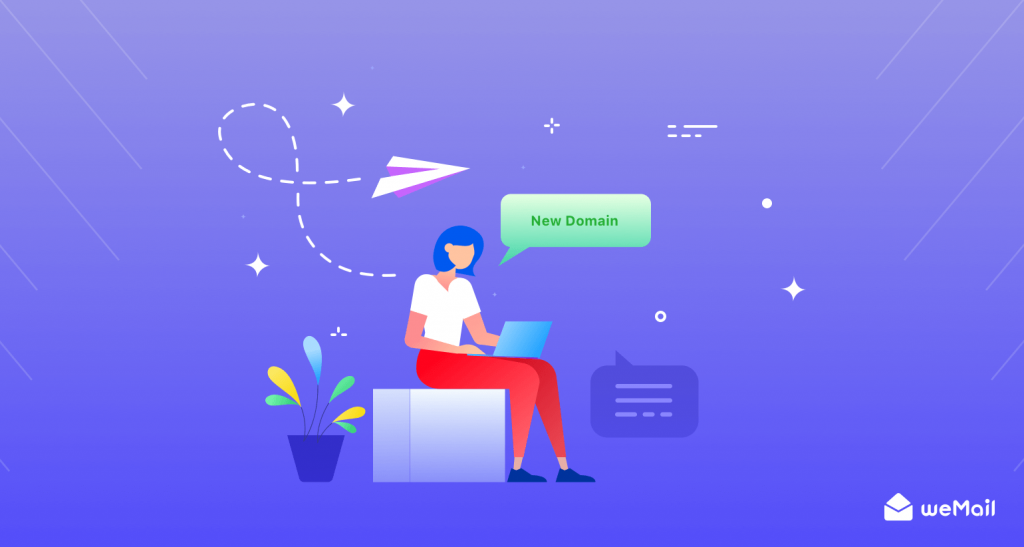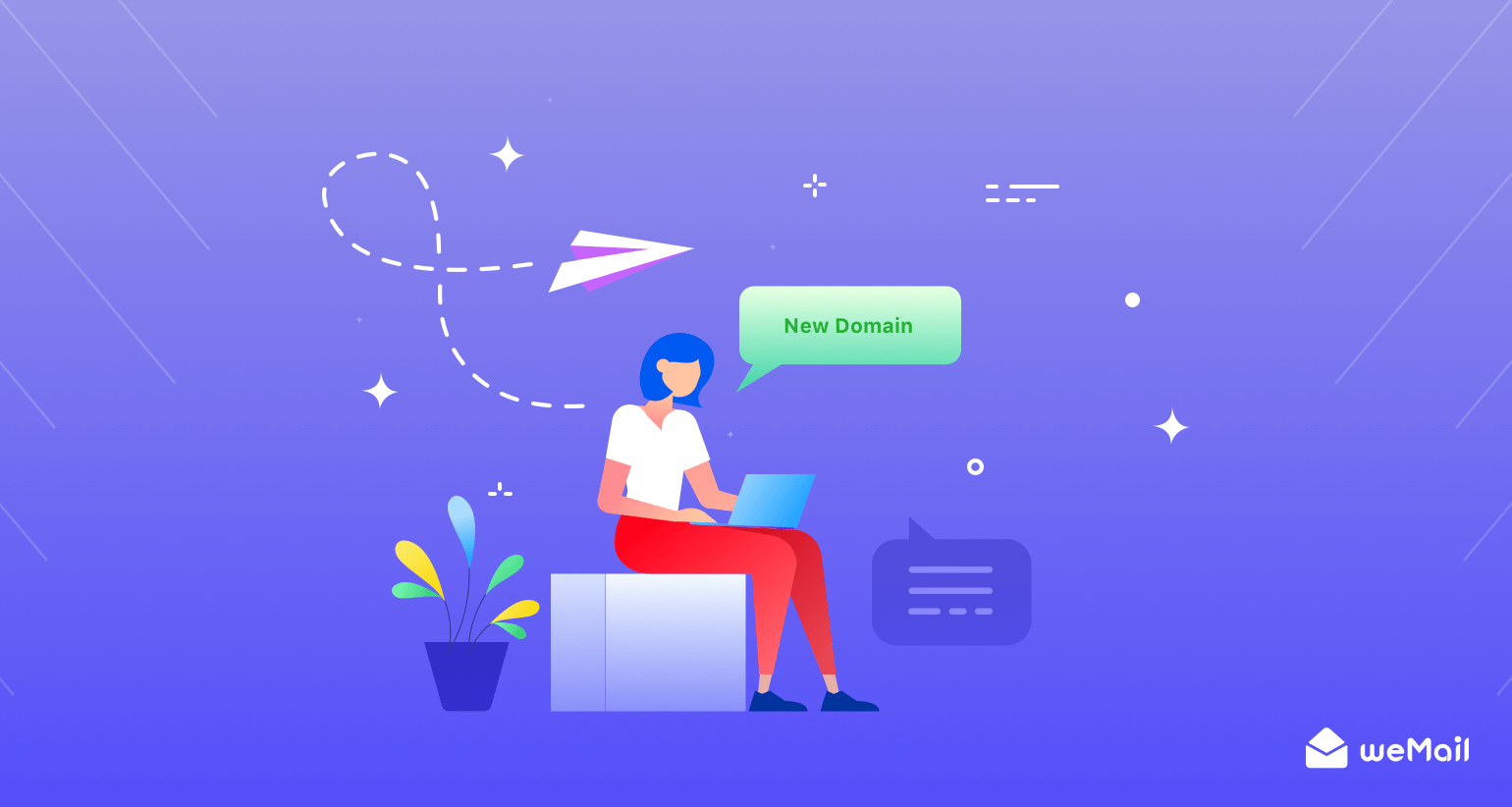 That's because there will be differences between different businesses with various audiences.
You can start these days and the timings as your starting point. But it is A/B testing with your timings and your own data that will get you the results. Moreover, you will get different results for different types of emails.
For example, when a new product or a new version is released, it is a good practice to send a release email on that day or the next day regardless of the research.
In order to check your success rate, consider these days and times for your next 12 emails,
Tuesday at 10 a.m.
Thursday at 8 p.m.
Wednesday at 2 p.m.
Tuesday at 6 a.m.
Thursday at 10 a.m.
Wednesday at 8 p.m.
Tuesday at 2 p.m.
Thursday at 6 a.m.
Wednesday at 10 a.m.
Tuesday at 8 p.m.
Thursday at 2 p.m.
Wednesday 6 a.m.
Collect your results, analyze them and then pinpoint the best days to send emails for your business. Do tell us what you have found.
Things to Consider While Choosing the Time to Send Emails
We have discussed the best days and times to send your emails. We have also included various research and study. But as we have mentioned, the best time differs depending on your business and target audience.
Here are several factors you'll want to consider when choosing the best time to send your emails:
1. Audience Behavior & Demographics
You need to understand your audience and demographics. This is a crucial step when you are considering sending the email. The perfect time to send an email for one category of the audience may not be ideal for the other category.
That is why marketers need to closely observe and study their audiences' behavioral patterns in different geographical locations.
For example, sending emails on Sunday is generally not advised as the open rates will be very poor. But if you are targeting Arab countries, sending emails on a Sunday could work in your favor as it is a working day there.
2. Products & Services You Have to Offer
This is another crucial factor that determines when to send out your emails. If you have a business that provides B2B solutions, then you should try Tuesdays. On the other hand, if you are from the entertainment industry, Friday or the weekend is a better option.
3. Subject lines
Often marketers consider this of trivial importance and end up losing the marketing game to their competitors. Consider the following example: When an email hits your inbox at any given time.
What is the first thing you notice about it?
Obviously, it will be the subject line. Subject lines sometimes act as the sole determining factor in deciding whether an email will be opened or not.
4. Email Frequency
If you receive too many emails, that will surely irritate you and your readers. On the other hand, too few emails can fail to make the desired impact.
Make sure that you schedule your emails at a frequency that works best for your company.
Studies conducted have indicated that subscribers like to receive marketing emails at least once a week.
We recommend using A/B testing to find out the frequency which works best for your business.
5. Seasonal Changes
You might be surprised to know seasons significantly impact your open rates as well.
Typically you won't choose weekends for sending email blasts. But if you come to know that a particular geographical region is affected by monsoon or snow, you can try your luck.
Chances are high that your email will be opened and read as people will be stuck at their homes with their weekend plans canceled.
6. User Experience
Once a user opens and reads your email, his experience will also determine whether he opens your email in the future or not.
The email should be designed in a user-friendly manner with good graphics and easy-to-understand texts. It should also be mobile-friendly as more than 42% of emails are opened and read on a mobile device.
Now you might be thinking of a reliable tool that will help you, then we have got just the one, that is weMail. Let's learn more about this tool.
Bonus: How to Schedule Emails at the Right Day & Right Time Using weMail
weMail is a full-fledged email marketing software that will help you manage your subscribers with ease.
We know what it takes to create the perfect email marketing platform. So, we have combined necessity + innovation into the features added in weMail.
When you adopt weMail you will get features like,
Compatible with multiple email sending gateways like Amazon SES, Sparkpost, Mailgun, Elastic email
WordPress integration. You can easily convert your registered users into subscribers, store customers into subscribers
Form building options. Create amazing forms to collect leads as weMail has integrations with some of the most popular form-building plugins in the WordPress repo.
Detailed analytics. You will get a 24-hour digest email, a full campaign overview, and know the email click rate
Create lists, add segments and tags for your subscriber lists
Import and export your contacts from the other popular email platforms
Email campaigns with ready-made templates, automated campaigns, standard campaigns, and more.
These are the main features of weMail. This software comes with most of the prominent features a complete email marketing automation platform needs.
Moreover, this tool will give you the chance to A/B test as it offers more emails in a chapter price than its competitors.
Read: Send 100k Emails With $20 Using weMail & Amazon SES, Save $700
Let's see how you can send emails at the right time and right day.
We are assuming that you have already installed and activated weMail on your website. If you haven't you can follow this guide,
Step1: Create a New Campaign with an Appropriate Name
First, you need to create the campaign. Go to weMail–> Campaign-> Add New. Give your campaign a name and click on Next,

Step 2: Select Your Subscriber List & Segmentation
Next, select the list you want to store your subscribers from this campaign and also choose the segmentation from the drop-down menu.

Step 3: Choose or Create an Appropriate Template
There are hundreds of templates in weMail that you can use to create your campaign. Choose one from the list that fits your campaign. Or if you want you can create one from scratch.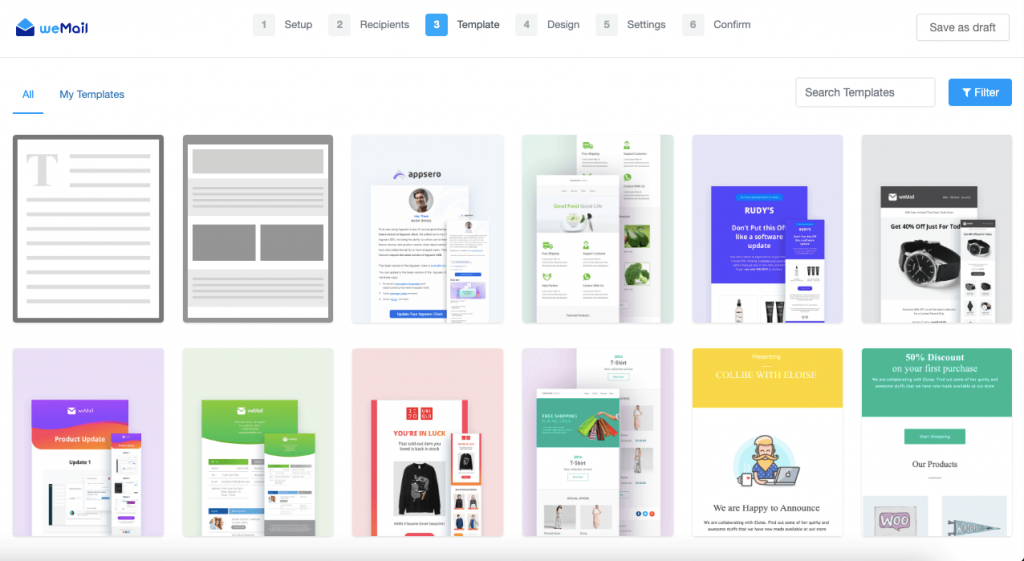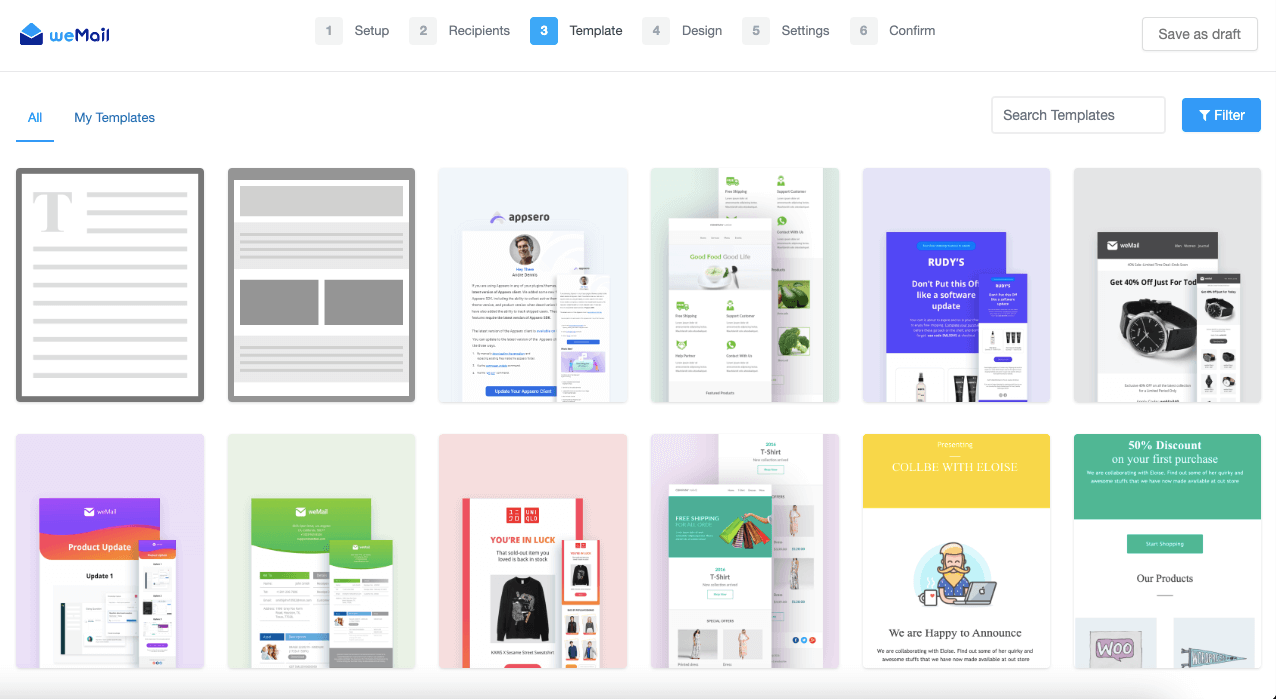 Step 4: Customize Your Chosen Template
Next, you need to customize the template per your requirements. You can add different blocks from the right-hand side of the menu to add more flare to your template.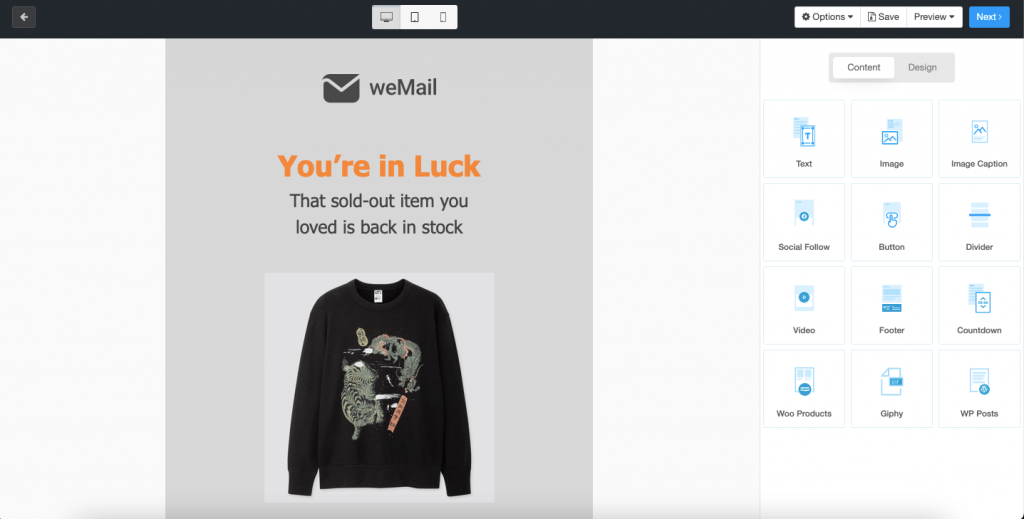 Step 5: Schedule Your Campaign
In the next step, you will see the summary of your campaign. Double-check all the details and click on the Next button.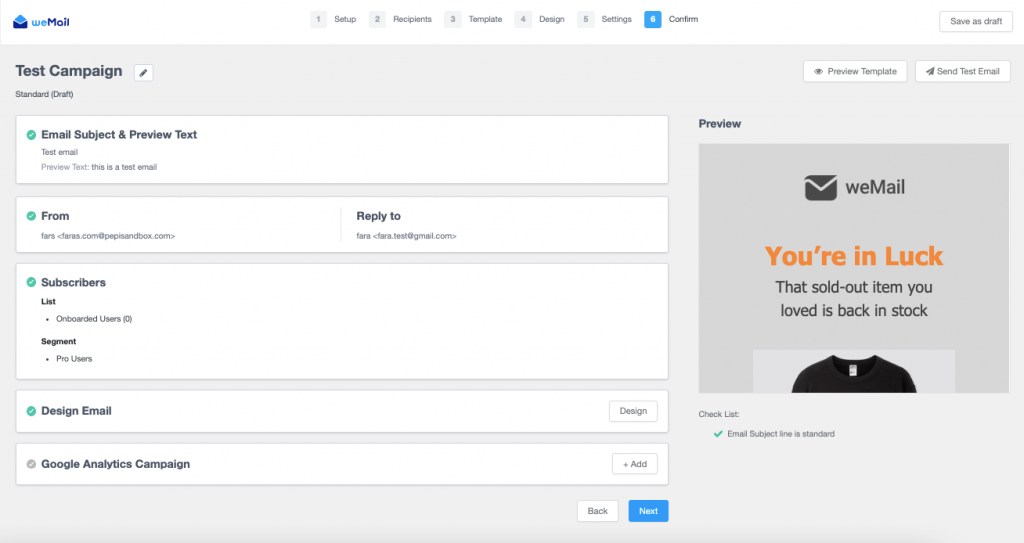 After that, you need to schedule your campaign for your chosen date and time.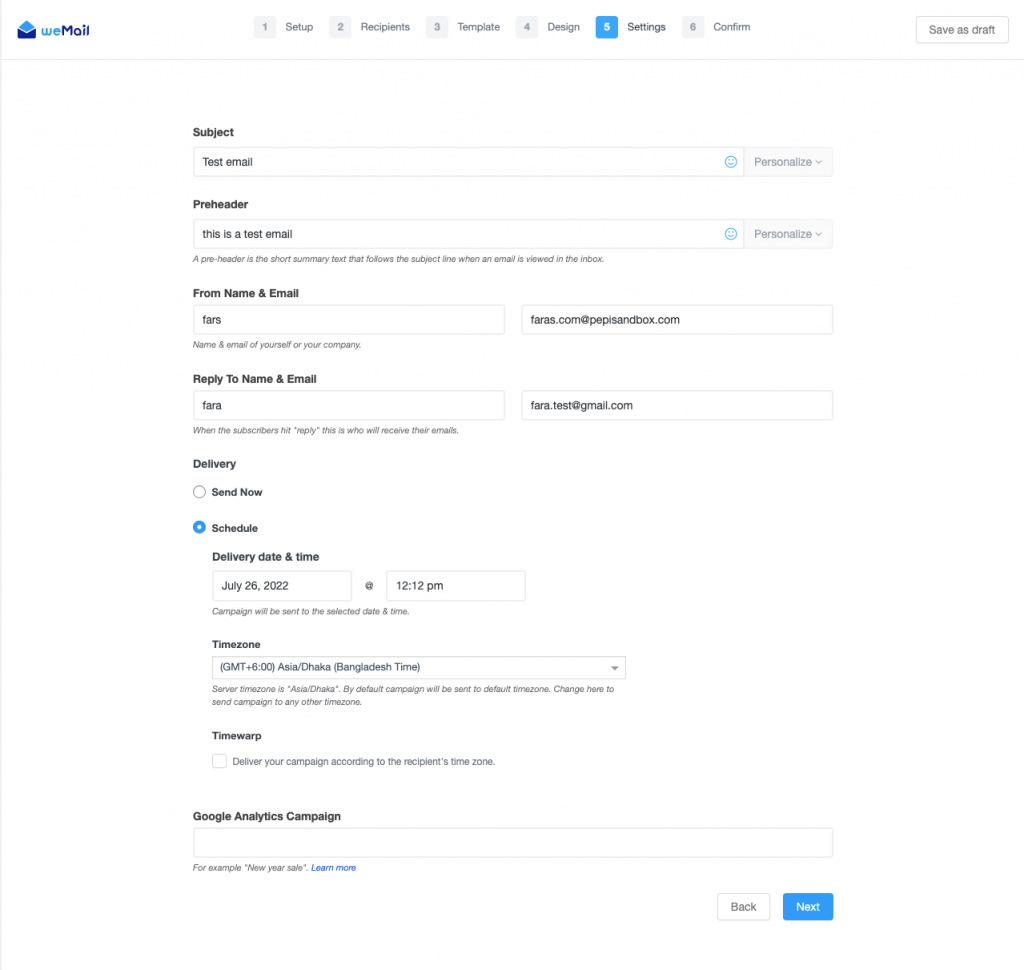 This is how you can send emails on the right day and time using weMail. Also, you can add Google Analytics in order to analyze your campaigns.
Get More Traffic & Sales from Email
Now you know how to get more traffic and sales from email. However, it will not happen overnight. You have to be patient and find the best days to send emails.
A/B testing is the key. Follow our guidelines very carefully to find the right times. It will take some time but we promise you will be surprised to see the results. Maybe you will find a day that is not even on the list.
If you find that, do let us know and also share with us the procedure you followed.
Subscribe To Our Newsletter
Don't miss any updates of our new templates and extensions
and all the astonishing offers we bring for you.