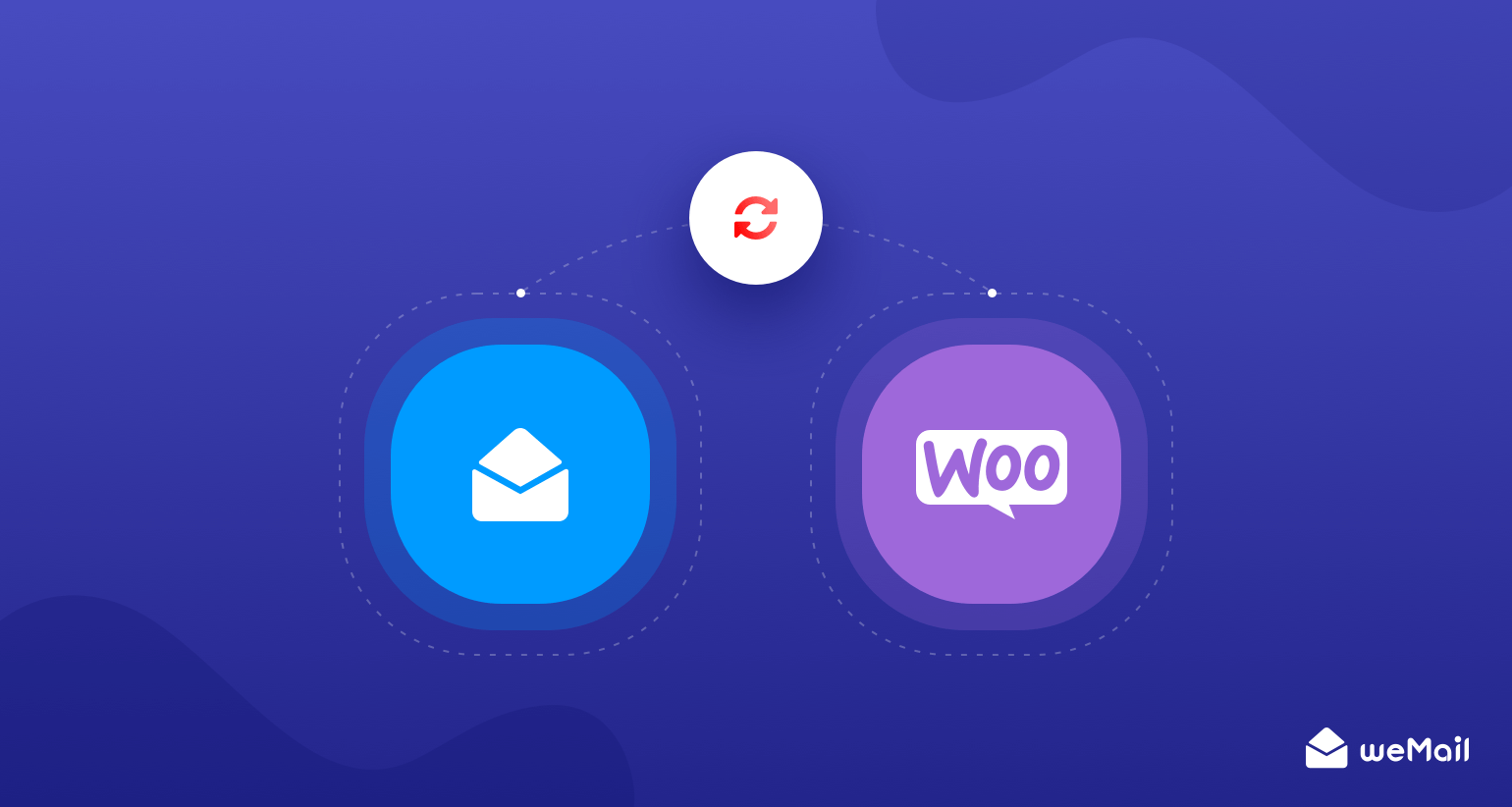 Introducing weMail WooCommerce Integration
Running a successful WooCommerce store is not only about selling products. There are lots of other aspects to own a successful WooCommerce business. Emails are one of them.
From order confirmation emails to welcome/ thank you messages, abandoned cart reminders, emails help you to relay messages and communicate with your customers. Thus building up a relationship of trust and helps them to keep coming back to buy more.
Yes, WooCommerce does provide their own range of emails that any store owner can use.
However, that's not enough. Because those sets of emails can get you only so far. And our users have been asking for this feature for quite a while now.
That is why we have introduced weMail WooCommerce integration.
WooCommerce + weMail : The Dream Duo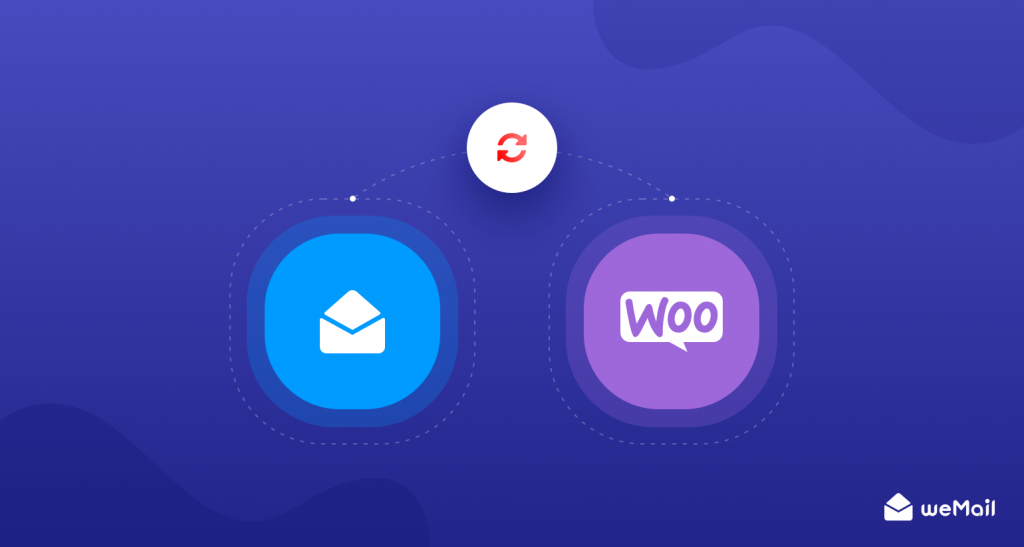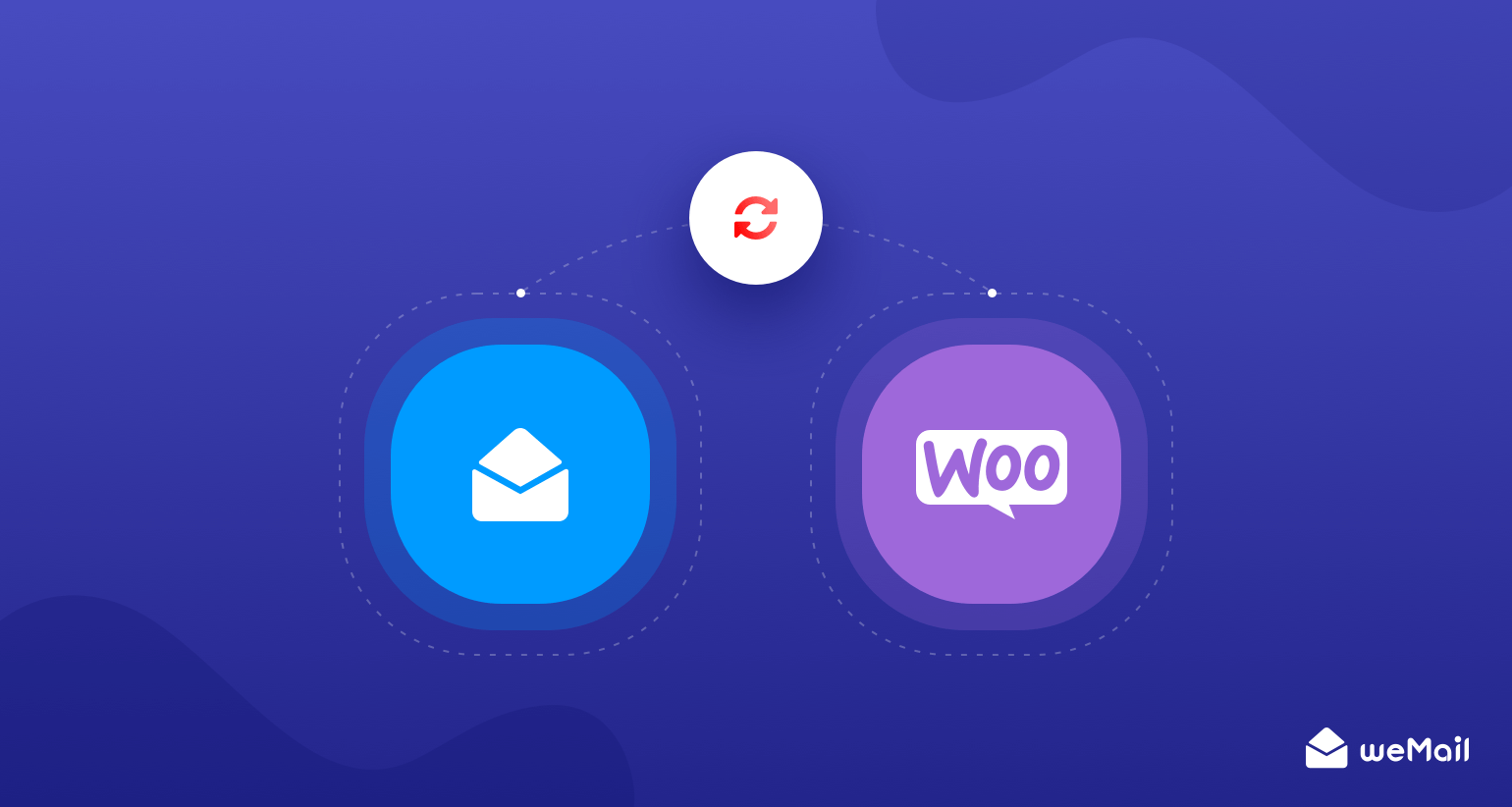 weMail is one of the most fast-growing and exciting email marketing software in recent times. The fact that it is a cloud-based solution, that means it can take a load of your website without reducing any page speed.
weMail can help your online store flourish more. You will get benefits like-
Gather and implement personalized data to execute successful email campaigns
Send product recommendations, segment purchase activities to sell more products
Increase the scope of your eCommerce venture.
We have been adding new features to weMail in order to give our users the relief from the stress that goes into managing email campaigns.
Now, we have added the WooCommerce integration.
WooCommerce powers over 28.19% of all online stores.

hostingtribunal
As you can see most of the online store owners rely on WooCommerce to build their online stores. Seeing that, we wanted to help our users to send better WooCommerce emails to their customers.
That's the main idea behind weMail WooCommerce integration.
Features We Have Included in The weMail WooCommerce Integration
We have tried to keep things as simple as possible, so that the WooCommerce store owners don't feel any complications.
So, the features we have included are simple,
Data Collection From Your WooCommerce Store
When you connect weMail with your WooCommerce store, weMail will take these 3 data from your store.
Customer details
Order lists
Product lists.
Don't forget to create a list like " WooCommerce List", so that you can easily distinguish from all the other lists.
Now, after you have successfully integrated with WooCommerce, you will see that all the data from your store are synced with your list.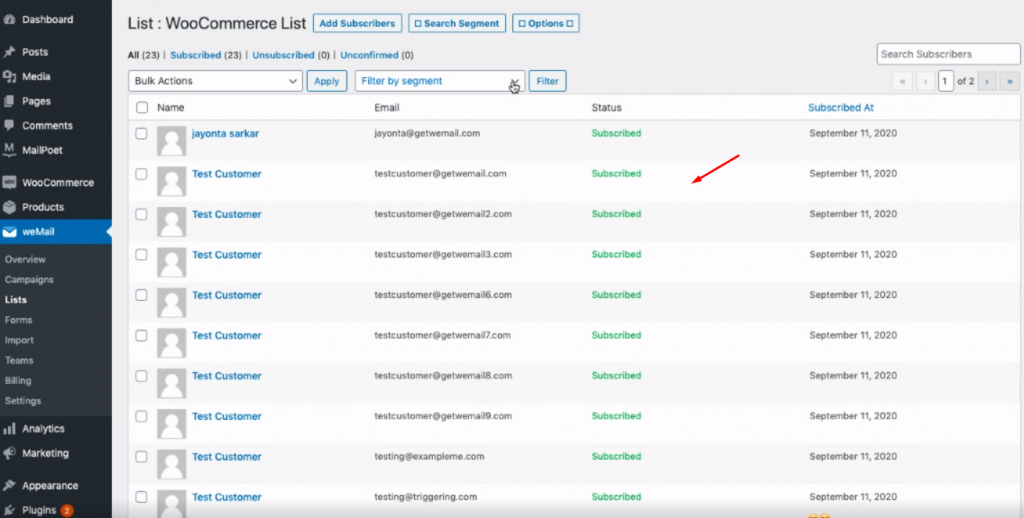 So, how are you being benefited from these data? Well, when a customer (or a new customer) purchases a product he/she will be automatically added to the list.
When you click on the customer name, you will be able to view all the details like,
Product he/she purchased
Total revenue
Subscribed list
Customer details.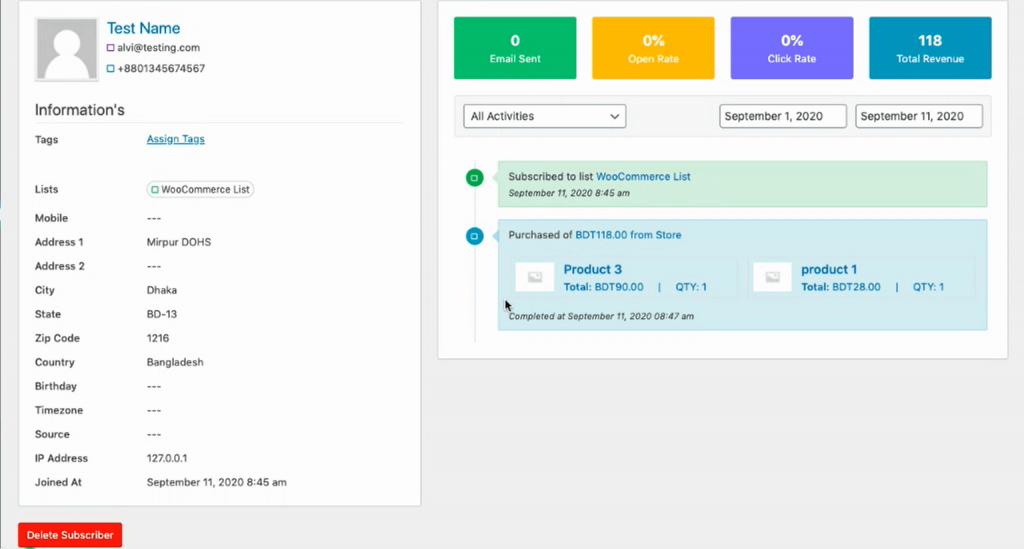 And these data will help you take a data driven decision.
New Segmentation Combinations
We have added some new eCommerce segmentation options for the weMail WooCommerce integration.
Those who are related to email marketing knows a thing or two about email segmentation. But if you are new then,
Email segmentation is about breaking your one big email list into meaningful and useful segments based on different criteria.
Email blasting, where you send one big "blast" to all of your subscribers on your list, is no longer email best practice. Rather, a large chunk of your subscribers will simply ignore those emails.
That's why in 2022, it is all about segmentation. That is segmenting your email list into multiple lists so you can send targeted, personalized messages to your subscribers.
So, we have come up with the combinations where you can segment,
Total cost
The list who has purchased for one time
How many times a customer has purchased (one or two times)
Based on the purchased products
Purchase activity
Last purchased items or products (time period).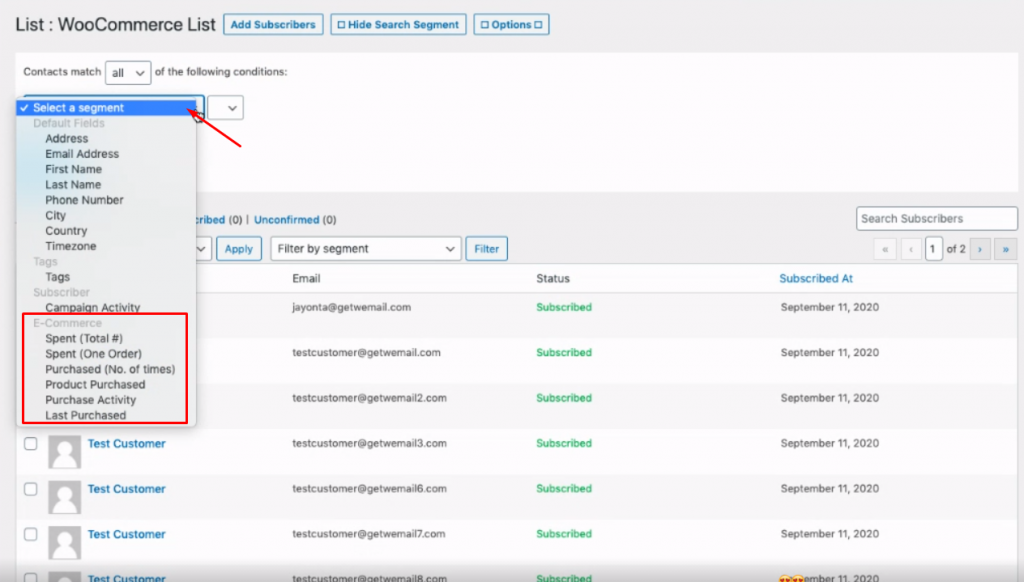 How this feature will help the store owners?
So, if you are confused on how this feature will actually help you then we will give you an example.
Suppose you have 500 customers on your list. Out of them some purchase products under $300 and some purchase over $500. Now, you want to send emails regarding the arrival of new products for your store.
The new products are over $500. If you send the same emails to both types of customers, the customers who purchase under $300 will ignore the email completely and may get irritated as well.
So, what you need to do?
You need to send emails only to those customers who purchase products over $500. How are you going to do that? Segmentation.
Choose the segmentation " Spent More Than 500" and save it. Then you will see that the customer list is updated and you will see only the customers who have spent more than $500 on your store.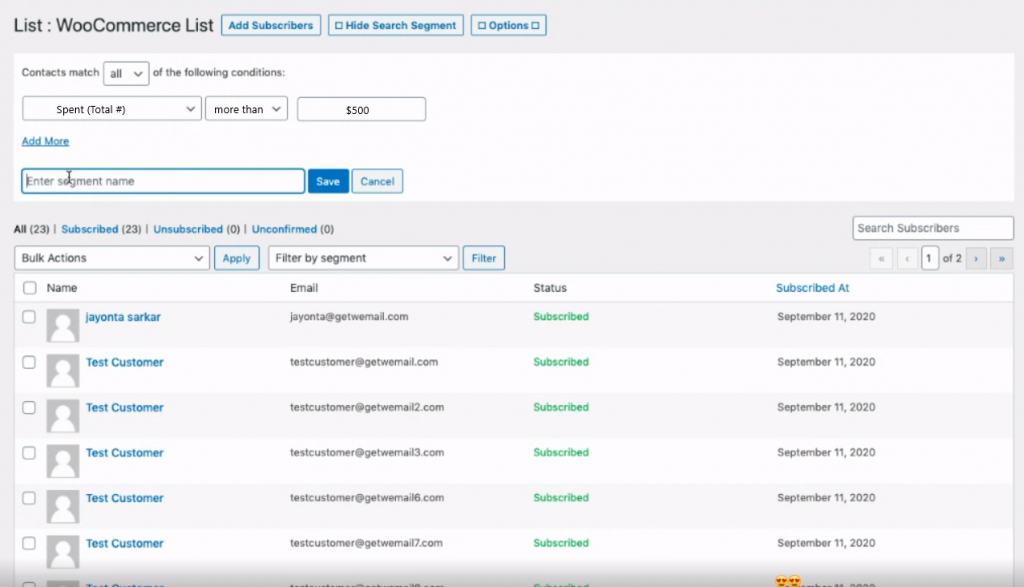 Also, segmentation will,
Increase click rates
Decrease subscribers
Increase conversions
Avoid spam filters.
New Email Automation Campaign Option
Email automation is one of the noteworthy features of weMail. You can create email campaigns and schedule them to send in a particular time.
So, in the WooCommerce integration, we came up with another option for email automation.
Now, you can create an automatic email campaign that will send emails from the WooCommerce store whenever a customer purchases a product for the first time.
So, you can send a thank-you email/link of similar products/links to join the subscriber list, etc.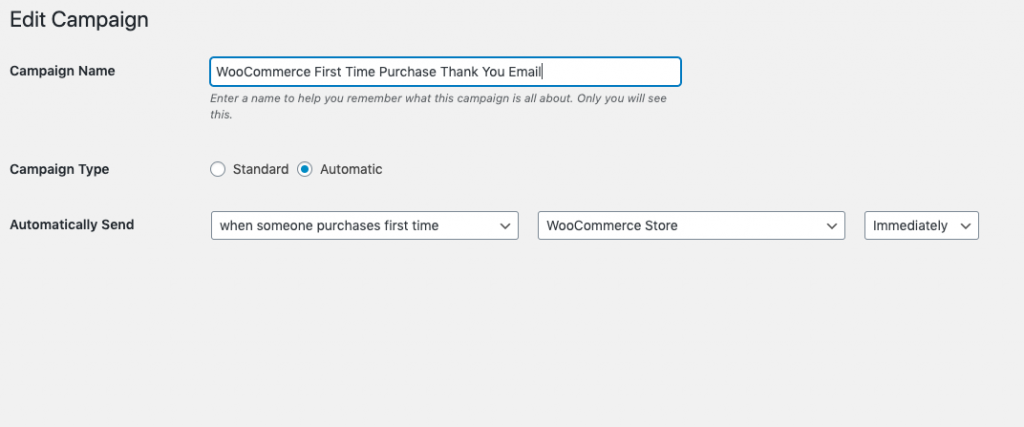 To know more details you can read the documentation here.
Why Emails Are a Big Challenge for WooCommerce Store Owners?
It's not unusual for WooCommerce store owners to struggle when it comes to email marketing. Because they are busy maintaining their store, shipments, and products.
So, emails are not given the necessary importance it deserves. Also, one of the biggest challenges is to provide a unified email experience that brings email marketing automation, standard newsletters, and transactional emails together in a way that's easy for store owners to manage.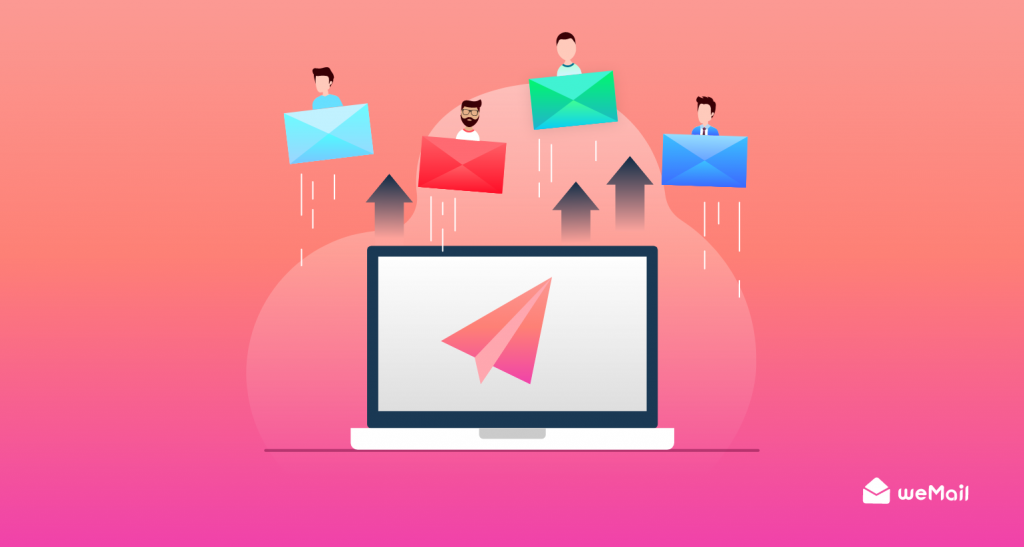 Also, the WooCommerce store owner has to juggle between different email marketing solutions in order to maintain transactional and marketing emails. So, we tried to make that experience less complicated with our new WooCommerce integration.
This integration will help the WooCommerce store owners because every email they send will make their customers feel more special.
Conclusion
Well, there it is.
That's the new weMail WooCommerce integration. We are always trying to introduce features that will help out users in every way regarding email marketing.
This time we thought about the WooCommerce store owners and their struggle with emails. And, we hope this feature will boost their sales by creating a more personalized relationship with their customers.
Subscribe To Our Newsletter
Don't miss any updates of our new templates and extensions
and all the astonishing offers we bring for you.