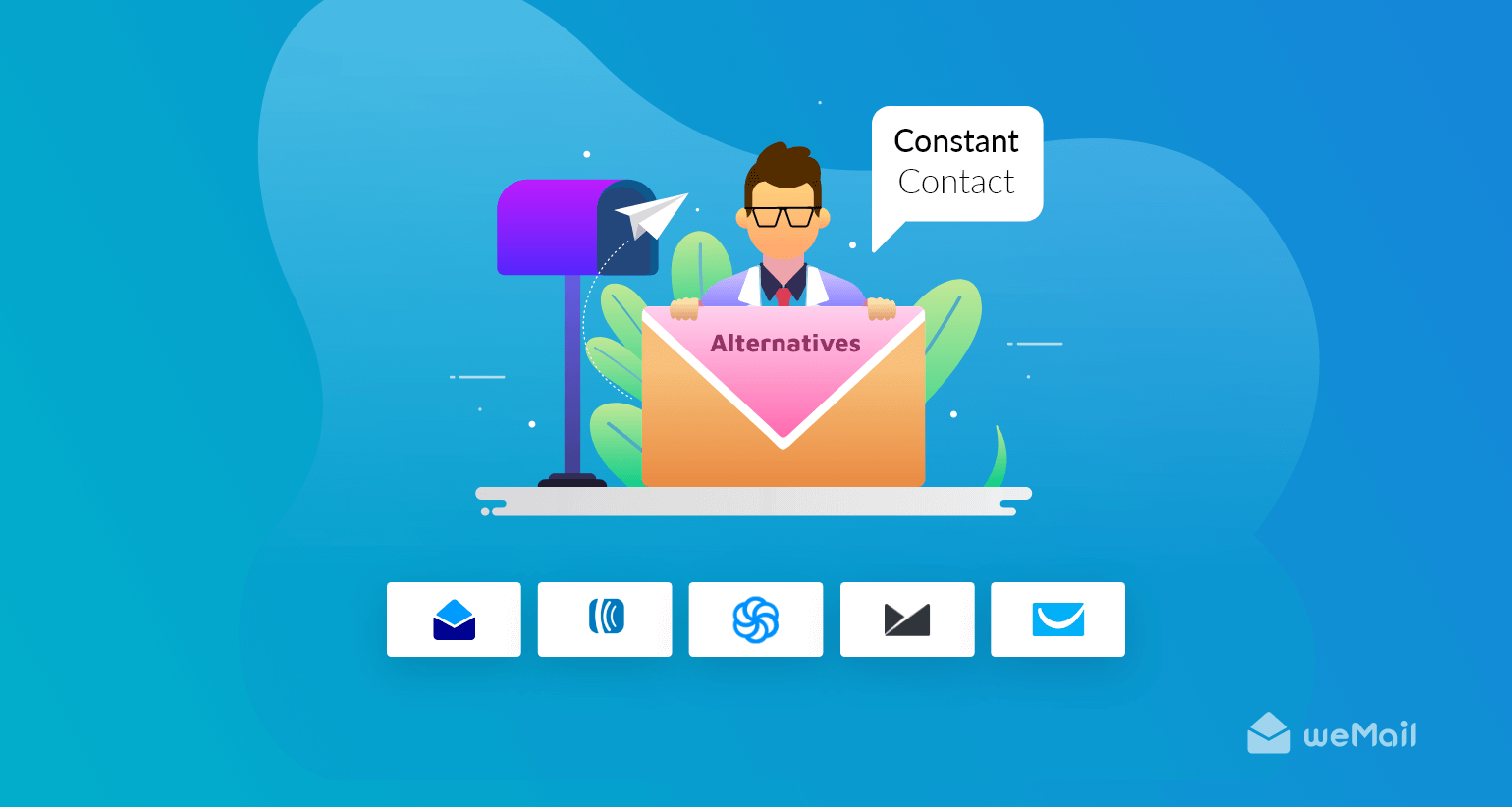 7 Best Constant Contact Alternatives For Email Marketing
Constant Contact began its journey back in 1995. Since then it's been so popular among the big companies as well as SMEs around the globe. There's no doubt it's one of the oldest email solutions.
However, the ever-changing behavior of digital marketing makes room for a lot of other email tools that can give you considerable diversities. Also, the recent changes in the pricing, complicated interface and lack of service qualities may force you to go for other email marketing alternatives.
So, if you're looking for better alternatives to Constant Contact, this blog is for you. Here, we've listed some of the more efficient email marketing tools. Surely, it will help you to pick the right solution for achieving your email marketing goals.
Top 7 Constant Contact Alternatives for Your Business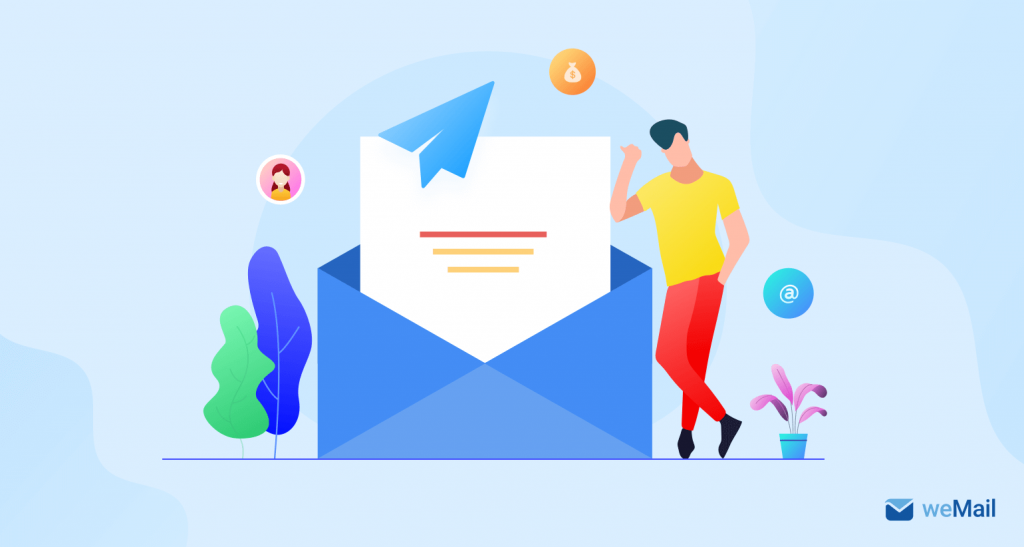 Out of all the top email marketing solutions in the market, it's hard to find the perfect match for your business. You should consider your business goals, marketing benchmarks, and most importantly your affordabilities.
But don't worry. You are going to see all the basic features and pricing for the tools we've selected below. Take a quick look and jump into the detailed section one by one.
01. Campaign Monitor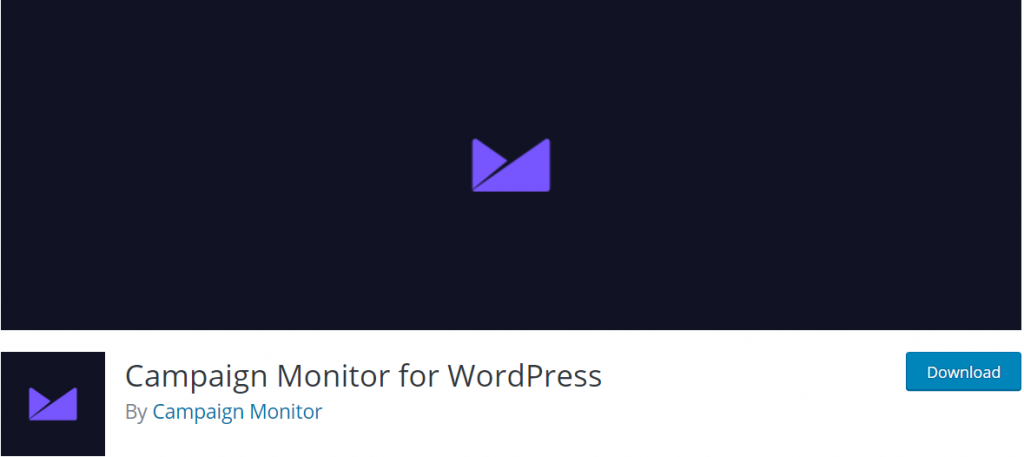 Campaign Monitor is an outstanding email marketing solution of all time. However, it has two core functionalities. The first one is email automation and the second one is for eCommerce stores to manage email marketing campaigns.
Pros
'Slide-out' option for the subscription
Lite box feature will help to show up the subscription form in an organized way
'Bar' option having all the important fields
Generates button shortcodes
Creates embed forms
Cons
Chances of Split testing is limited ( 2 times)
No free trial options are available
The reporting functionality is comparatively basic
There are no individual landing page building options
Analytics options are basic
Pricing
Start from $9/month for the basic plan. The advanced plan will cost you $29 or $149 a month.
Verdict on Campaign Monitor
Well, the key strength of Campaign Monitor lies in its quality & flexibility. Undoubtedly, the ease of use & prominent functions makes it more powerful & effective. However, you can think about the pricing a bit more.
Related article: Best campaign monitor alternatives
02. MailChimp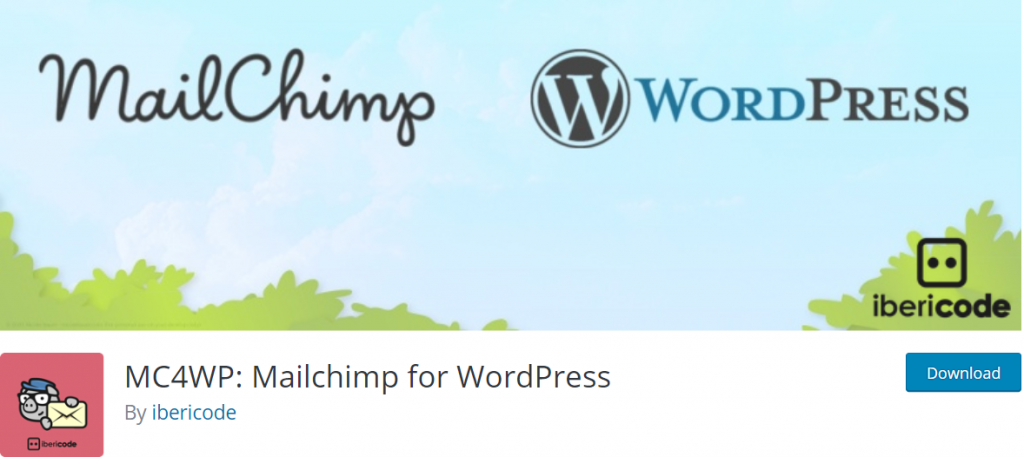 Well, almost every email marketer must associate with this popular email marketing solution. Back in 2001, it started the journey. And now more than 136 countries are using this solution as a primary email marketing and email designing tool.
Pros
Drag and drop email design tool
Helps you to store photos, products, GIFs, logos, and Instagram images
Pre-made photo editor to resize & customize photos
Collaboration tool
Automation tools let you generate welcome emails, date-based reminders, product recommendations, and cart abandonment messages
Reporting tools prepare the report for your customers and campaigns
And capability to create segmented emails, etc.
Cons
Customer support is not moderated
Payment gateways are not user-friendly
It can suspend your account if you get too much unsubscribe
No pre-made templates are available
The interface may seem a bit difficult to some users
Pricing
It offers all kind of plans. You can start with a free plan for trial. But the efficient plans start from $9/month to $14 and $299 a month.
Verdict on MailChimp
With MailChimp, you can split your audiences according to their attributes, for example, campaign engagement, location, behavior, actions & other things. However, it's still an old-school giant. Also, the pricing is too high unless you want to use it as an individual.
Related article: Best Mailchimp Alternatives You can rely on
03. Sendinblue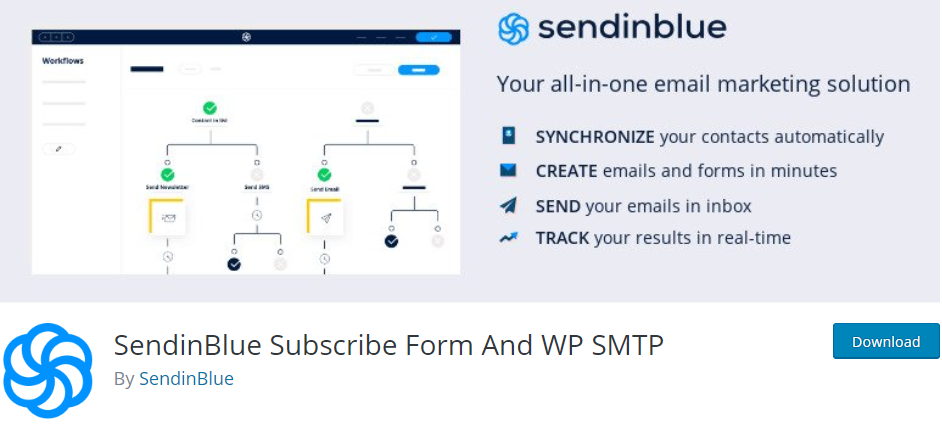 The basic procedures of Sendinblue are it's a cloud-based Saas solution that works for relationship marketing and manages the campaign's workflow through an automated command.
In addition, to make the email marketer's hand more fast & accurate, it incorporates many advanced functions & features. As a result, you can improve your email open rate & customer engagement consecutively.
Pros
Supports flexible email template
Easy segmentation and retargeting option
Preset filters to build a dynamic contact list
Smart integration of an AI algorithm to analyze recipient behavior
Cons
Templates are limited
The account set-up process can be complicated
No third-party integrations are available
You can't create a double opt-in email newsletter
Pricing
It has three premium plans which start from $25 to $66/month.
Verdict on Sendinblue
It is simple. And the free trial version is quite good. If you need a specialize contact management system and transactional platform, Sendinblue may prove to be a good solution.
04. weMail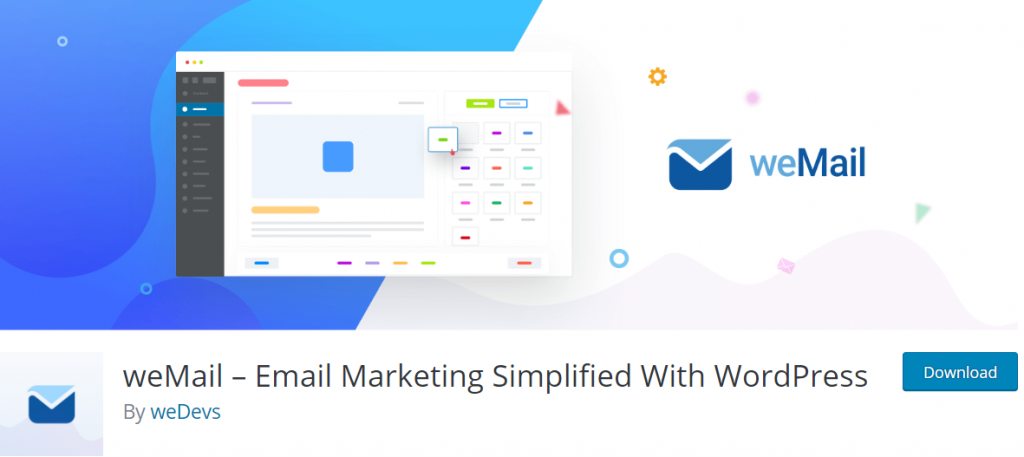 weMail is a fast-growing email marketing solution that allows you to create campaigns for the newsletter, analyze data, collect leads, create email lists, generate automated emails, add subscribers in one place.
Hence, weMail is a cloud-based solution that takes all the loads without harming the website's speed. Furthermore, you can send emails via Amazon SES, SparkPost, Mailgun, or your favorite SMTP provider, using weMail.
Pros
A more agile & robust platform for email delivery
Fully compatible with multiple email sending gateways
Multiple Form Building Option
A cost calculator to measure budget
An effective email list segmentation of your email subscribers
Google analytics integration
Import-export features
Manage & segment lists with no restrictions
Simplified HTML email templates
Cons
Can't be used without the support of third-party integrations
Lacks in the developer API documentation
Integrations are not sufficient
There is no internal server to send emails (Depending on other servers)
WooCommerce integration is not well-enough (Working process is going on)
Pricing
The free plan is well-enough for any SMEs up to 3000 daily emails sent. The premium weMail pricing starts from $9/month up to 10000 daily users. If you need a bigger solution, it has more diversified offers.
Verdict on weMail
If you want to save your pocket but want a quick success over your email campaign, undoubtedly, you can try weMail as an alternative to constant contact. Hopefully, you won't be disappointed, rather it can boost your efforts & give you a proper infrastructure on your email campaign.
05. Mailpoet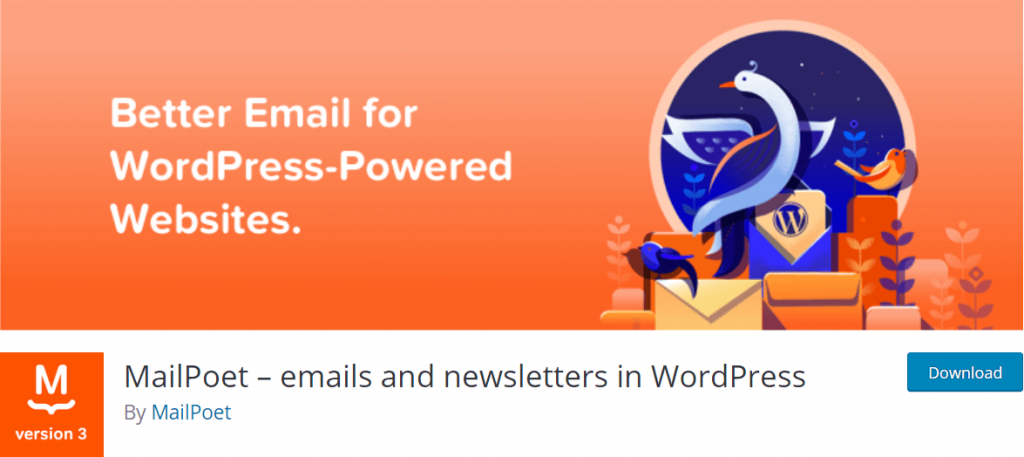 As a constant contact competitor, MailPoet is also a popular name in the email marketing sector. It can help you to manage, organize, and create emails for your subscribers. As a result, you can moderate and customize your email segmentation list for a better outcome from your campaign.
Pros
Easy to add a newsletter subscriptions
Super easy to manage subscriber list
Superfast to send emails
Synthesis with WooCommerce
Create automated signup emails, etc
Cons
Limited email templates
The free version doesn't allow you to check the spam score on your outgoing emails
In the free version, you can only view some points about subscribers behavior (number of opens, clicks, and unsubscriptions)
Unreliable email delivery
Pricing
The free plan is limited to 1000 subscribers. To go further that number, you need to purchase a premium plan which starts from €13 a month.
Verdict on MailPoet
Despite the above disadvantages, your progress in email marketing with MailPoet won't stop. Additionally, the initial price of MailPoet is totally affordable & won't sweat you much. So a core competitor of constant contact, you can try MailPoet for your next email campaign.
06. Get Response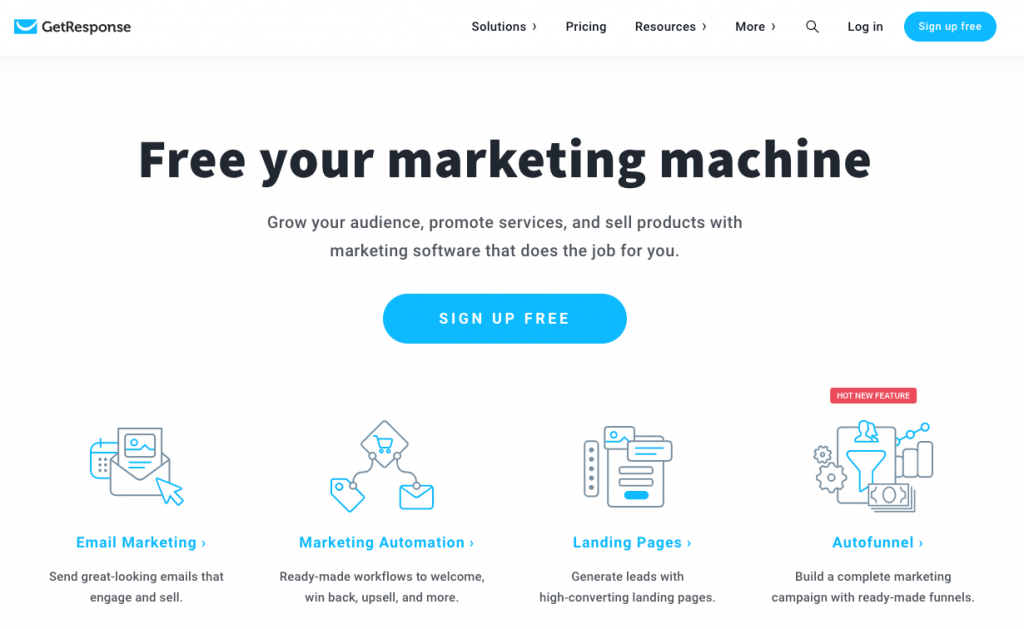 Right now, more than 183 countries in 27 languages are using GetResponse. Basically, its core function is to provide digital marketing services. Besides, you can also use this tool for your email campaign while accomplishing digital marketing projects.
Pros
Real-time email broadcasts to sending updates & announcements
Instinctive autoresponders
Event-triggered automated emails
Individualize your email strategy
Sends email in quick time
Cons
Difficult to use Facebook pixel n GDRP
The drag-and-drop interfaces for creating landing pages & forms need improvement.
No 2-factor authentication at login.
There's a limitation of 500 webinar attendees
No phone support is provided.
Pricing
No free plan here. The basic plan will cost you $15/month for 1000 subscribers. If you have a bigger number, the pricing also go high.
Verdict on Get Response
Get Response has been doing business for more than 15 years. Nonetheless, you can try this solution to implement different email marketing experiences on your campaign. However, the pricing is a drawback anyway.
07. ConvertKit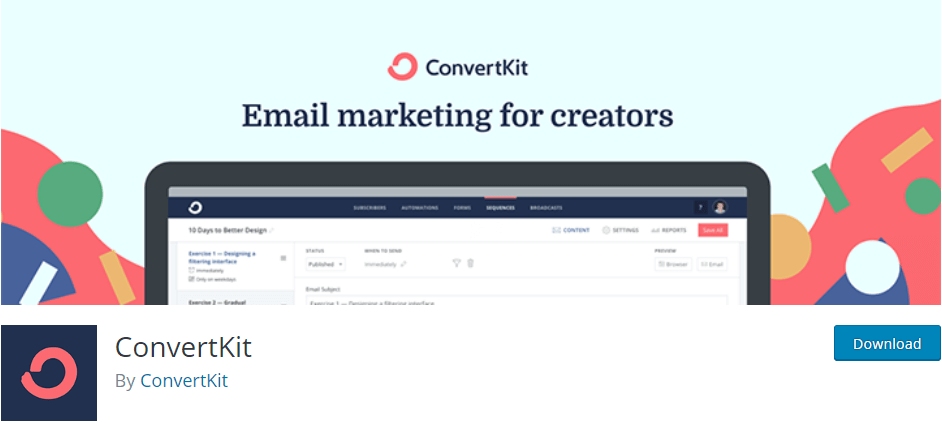 Last but not least, we've ConvertKit as a top competitor of Constant contact. With ConvertKit, you can capture more leads & sell more products at the same time. This solution is especially a handy tool for bloggers, publishers & marketers.
Pros
One of the best solutions for bloggers
Accessible content upgrades and incentives
Super easy to handle auto-responders
Robust targeting and segmentation tool
Well-documented & customer support
Cons
Limited A/B Testing functionality
Lack of form customization options
Limited email template options
Absence of customization capacities for cold subscribers
Don't really extend advanced features
Tracking & reporting is Limited
Pricing
It does have a free plan, but with limited access to all the top features. Premium plan starts from $29/month. They offer several monthly and yearly pricing package.
Verdict on ConvertKit
You can embed email to capture leads anywhere on your site with ConvertKit. As a blogger, marketer, or publisher, you may need to send thousands of emails per day. That's why it's an effective email marketing solution that can be worked in replace of constant contact.
Also read: Best email marketing plugins for WordPress
Which is The Best Constant Contact Alternatives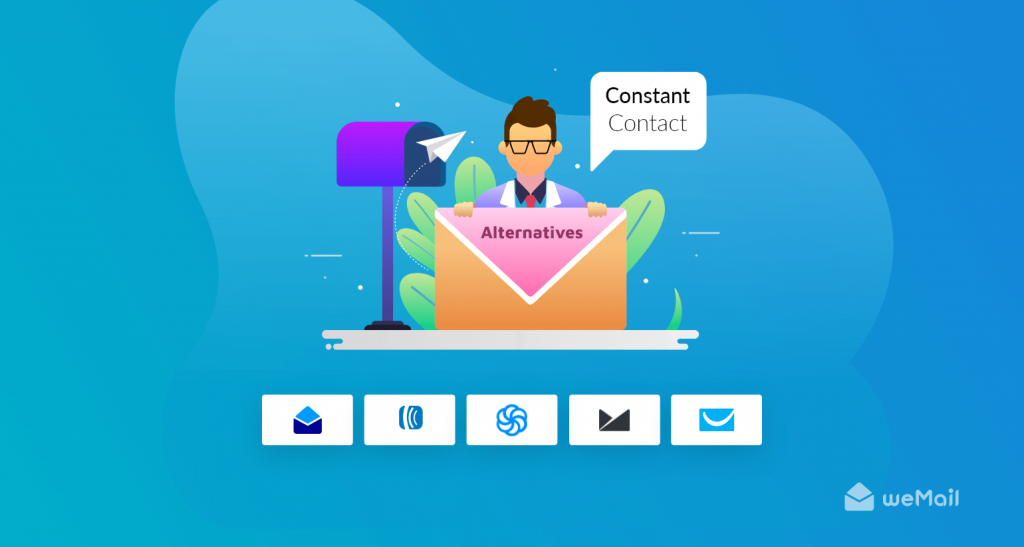 So after the elaborate discussion, now we're going to share a comparison table of these email marketing tools. Therefore, you'll get an overall view and also it will help you to take further decision which one to use or not.
Let's check it out –
| | | | | | |
| --- | --- | --- | --- | --- | --- |
| No | Best Features | Best For | Pricing | Free or not | Support |
| Campaign Monitor | Email automation & manage eCommerce store | eCommerce publishers | Starts From $9/M | ✅ | Live Chat & Email |
| Mailchimp | Cross-device email testing | eCommerce | Starts From $10/M | ✅ | Email & Live Chat |
| Sendinblue | Preset filter options | Relationship management | Starts from $25/M | ✅ | Email |
| weMail | Cost calculator | Small Businesses | Starts from $9/M | ✅ | Support & Live chat |
| MailPoet | Create automated sign-up emails | eCommerce business | Starts From €13/M | ✅ | Support & Email |
| Get Response | Rendering various email designs | eCommerce | Starts from $15/M | ❌ | Email & Live Chat |
| ConvertKit | Landing page design | Writing simple emails | Starts from $29/M | ✅ | Live Chat & Email |
Over all comparison of constant contact alternatives
However, throughout the article, we've tried our best to put detailed information about each & every email marketing solution. And we solely believe that now you can choose the best alternative to constant contact for your email campaign.
Basically, all these plugins are astounding & top-rated from a different point of view. So it's your turn to make the right decision at the right time.
So, tell us what do you think? Do you have some better solutions in mind?
Subscribe To Our Newsletter
Don't miss any updates of our new templates and extensions
and all the astonishing offers we bring for you.