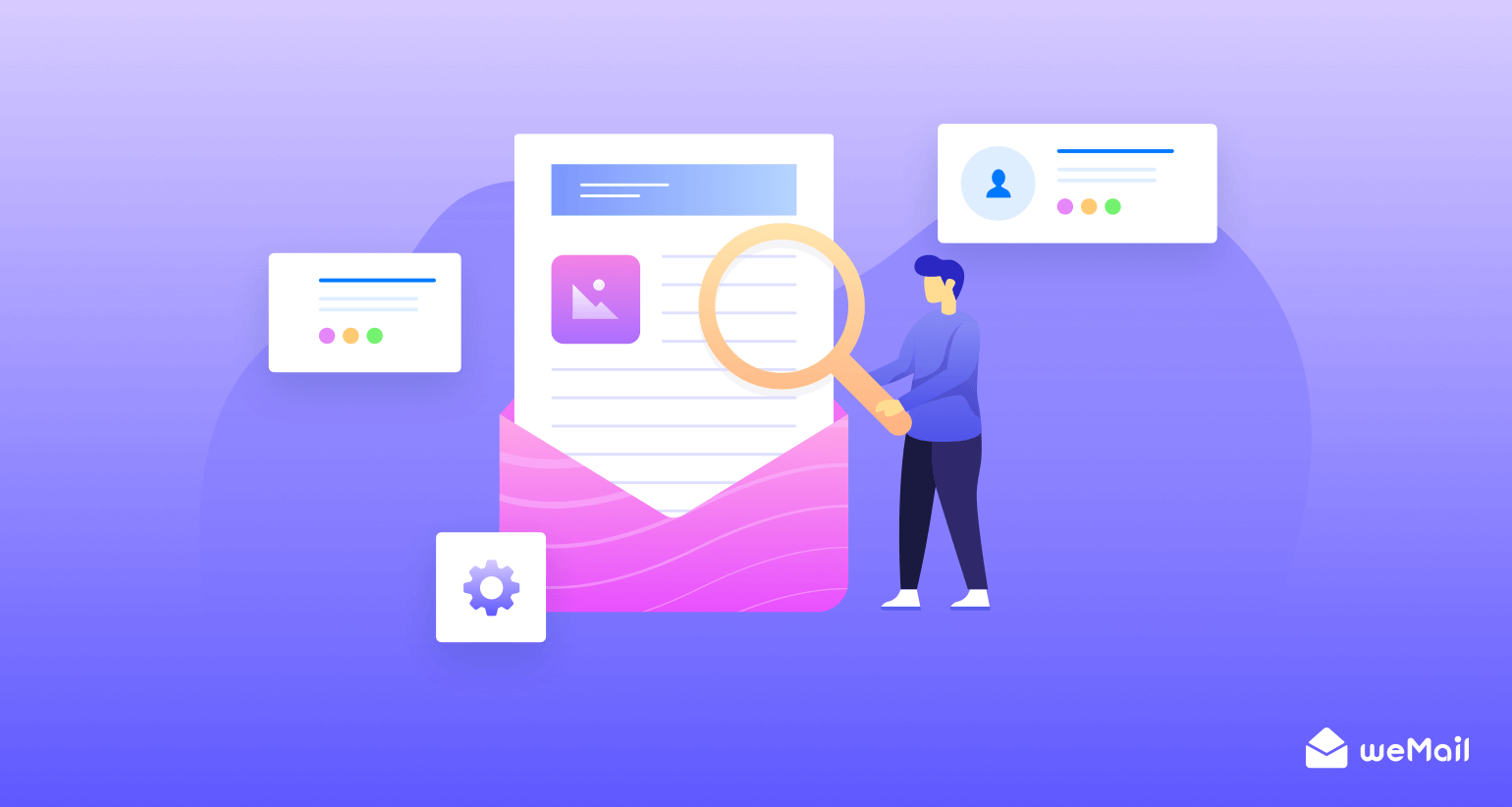 15+ Best Email Testing Tool for Successful Email Campaigns
Everything you do for marketing, you must ensure their flawlessness by testing. Hence, the emails you are going to send to increase your sales or user engagement should also be tested before sending. And, don't worry, there are plenty of powerful email testing tools to solve this trouble for you.
When you send an email, it can be blocked by the recipient server. Sometimes it happens that your emails have HTML issues so the recipient can't see your content even after receiving it. The CTA's you've added may end up not working, etc. In such cases, you risk your reputation as well as your business.
But when you test every element of your emails and know either they have problems before sending, you can easily solve those issues. Thus you can secure perfect email campaigns.
So, in this blog, we will help you find email testing tools with the right potentials. When it is hard to compare similar software, you need some proven suggestions. Nonetheless, you are going to get that here.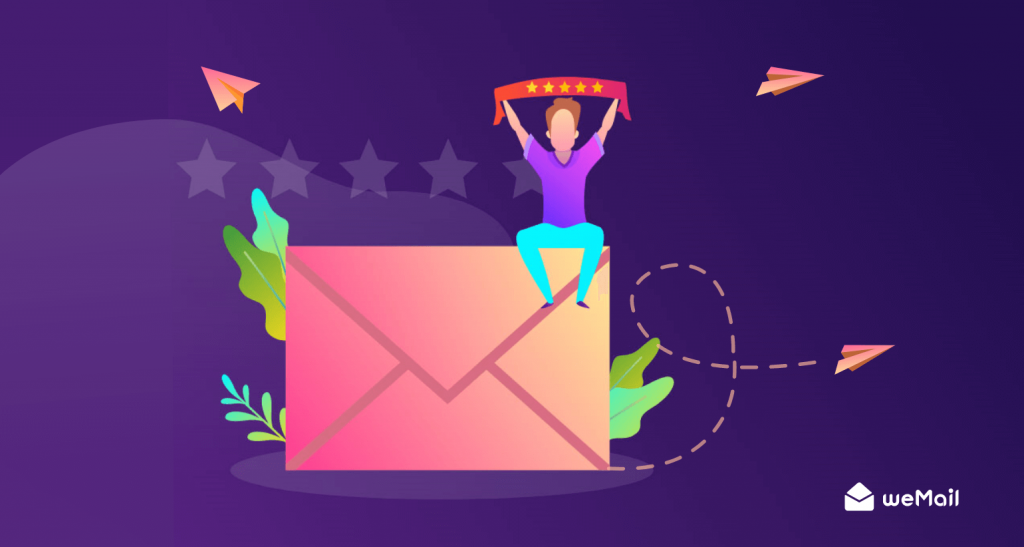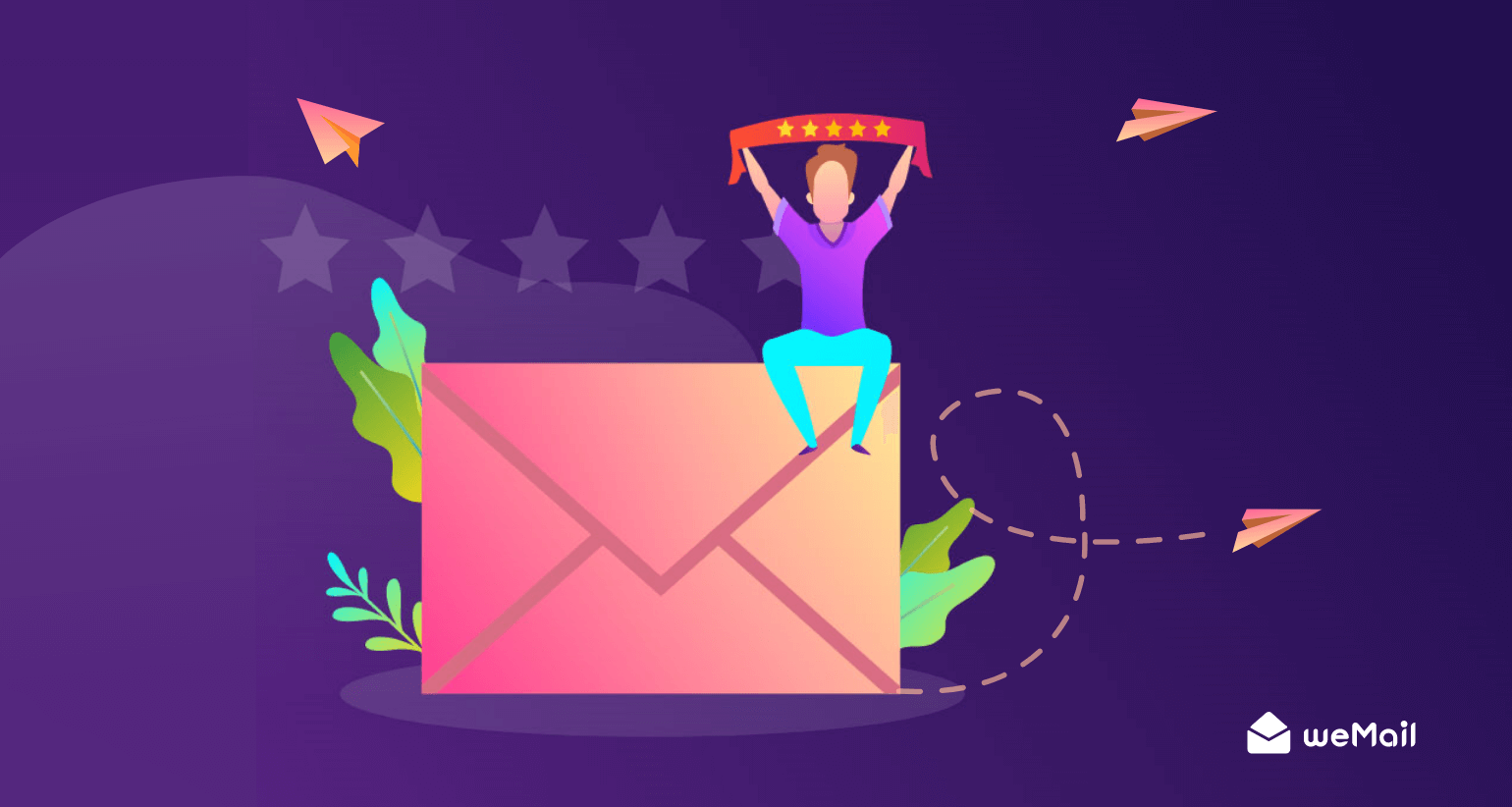 The Importance of Email Testing Tools
Almost all the businesses right now come out of the traditional marketing approaches and adopting digital marketing channels such as Facebook, Twitter, and YouTube. But in this super-fast wake of social media marketing and online ads, emails still getting the number one priority amongst business owners.
Emails have 40% more conversion rates. So, it's normal that 59% of B2B marketers love email marketing for lead generation.

Annuitas, B2OB
But what makes it more popular, also increases the challenges and competitions. As per Statista, more than 3 billion daily emails will be sent and receive by 2021. To sustain in the big game, you must make sure that every single email makes it to the recipient's inboxes.
Apart from your email offers, content, and template design, there are technical issues that can block your way to reach the goal. Unless you don't know what are those issues that increase your email bounce rate, or you are in the losing site in regard to email conversion, it's quite impossible to find a way out.
That's why you need to test emails and implement such software in your email marketing process. Therefore, let's take a look at the types of helps you are going to get from email testing tools.
Check HTML validation of your emails
Test the flawlessness of your email designs and layouts
A/B test for subject lines
Improve your email deliverability rate
Check emails from end up as spams, etc
Well, let's proceed to learn about some of the best email testing tools right now in the market.
Testing Your Email Layouts and HTML Validation
MailTrap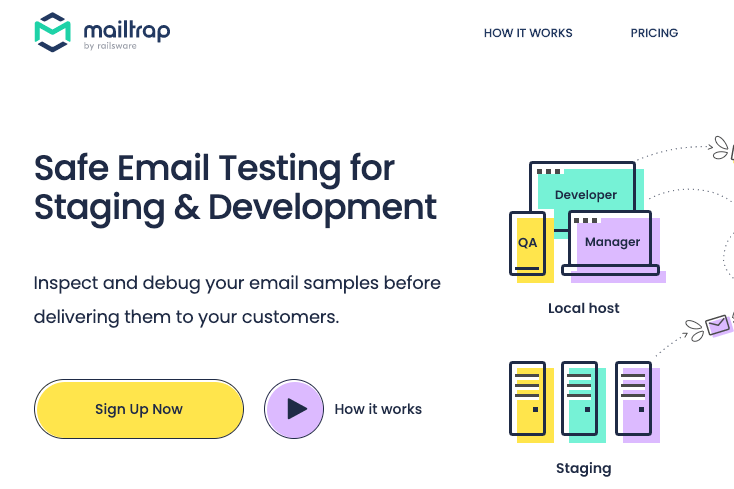 This is a powerful email testing tool that can test your email samples prior to deliver them to your customers. It collects all the emails from your localhost, stage, and QA. Then it distributes them from each server to different inboxes.
After that, run a checking if the email is being rendered in a MailTrap Inbox. The whole process finds out any lack, HTML glitch, and sending quality of your emails at ease.
Pricing: You can start using it for free. Premium plan starts from $9 to $299 per month.
Litmus Email Previews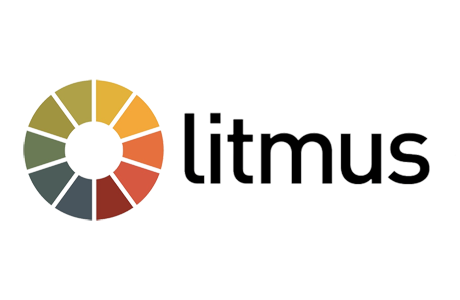 Litmus becomes a big name since it began in 2005. They offer almost every kind of email marketing tools you need from small to bigger perspective. However, most of the bigger companies are using their pretty fancy services. What we are talking about specifically is their email previews tool. It is powerful and easily manageable.
Pricing: You can start any time with a free trial. The basic plan will cost you $99 per month with the power of 1K monthly email testing.
Email On Acid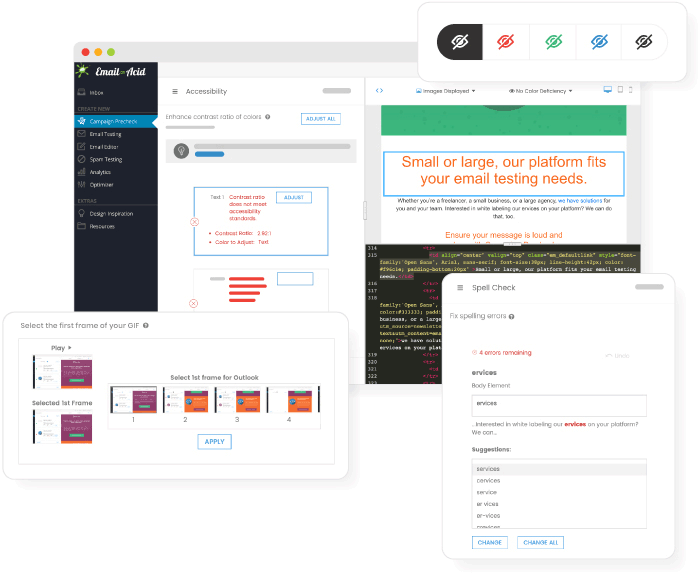 Name anything you want to check before start sending your email campaign. Either testing the accessibility, images, links, or HTML and the total email layouts, Email On Acid can solve these issues.
Therefore, the best part of this email testing tool is its preview checker. And they claim to help you to test your design with live clients. That lets you see what's actually your subscriber will experience.
Pricing: Free trial is available. The basic plan starts from $73 a month which is billed annually.
MailNinja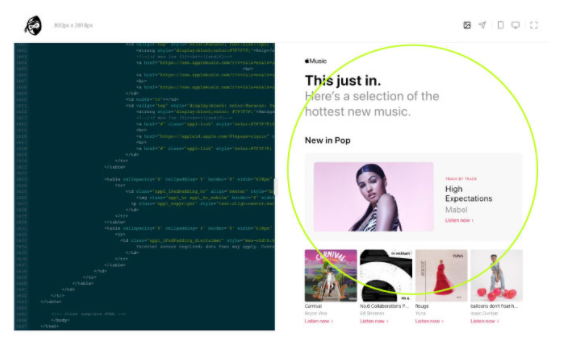 MailNinja lets you design your email from scratch, then test their viability, and visibility both. The steps are simple. The interface and settings are user-friendly. Well, what are you going to get? It will check your HTML, toggle images to double-check your alt text. Then you will get a test email to look-through if every element in your email layout is OK. It's a partner tool of Mailchimp.
Pricing: Though the other services don't come for free, the email preview checker is free for a limited number of times. If you want to go for a premium plan, they will charge you depending on the types and sizes of your email campaign.
Accessible Email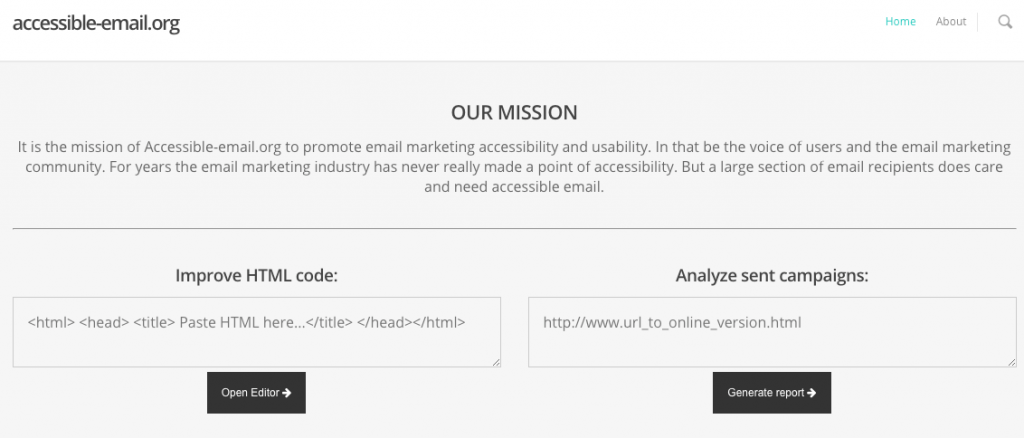 It's a simple email testing tool initiated by Maarten Lierop and Jordie van Rijn. Both of them are renowned email marketing professionals. Their main goal is to promote the accessibility and usability of email marketing.
You can start with this tool with the HTML checker. Moreover, it will also let you generate your sent campaign report.
Pricing: It's totally free.
Email Subject Line Tester Tools
Mizy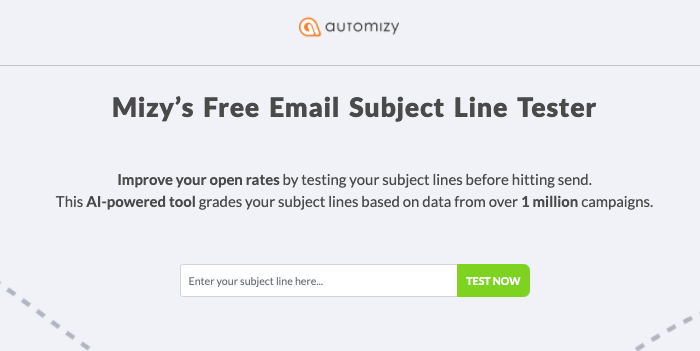 Mizy is a reliable subject line tester from AutoMizy. Despite being a premium email marketing platform, it offers two free tools like Subject Line Generator alongside the subject line testing tool. Their AI is pretty impressive, and you will get good feedback and idea while experimenting with the subject lines of your email campaign.
Pricing: Free.
SubjectLine.com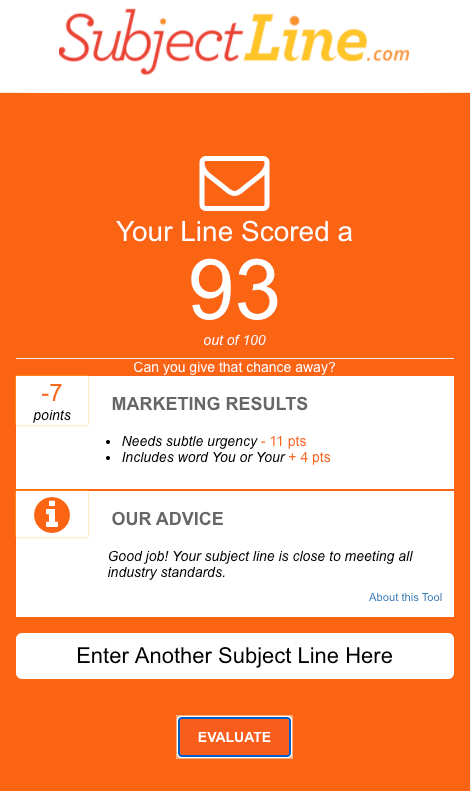 SubjectLine is a good resource site for digital marketers. Along with that, you get an easy free tool to check and evaluate your email subject lines. What you need to do is put your subject line in the test box and instantly you will get a result. It will tell you either your subject line is good, why it is good, and what should you do to make it more converting.
Pricing: Free
TouchStone

Touchstone is a rare kind of email testing tool that emphasizes working with your email campaign database. You need to sign up first. Then you can create your campaign database and run tests.
Currently, you can test your click-through, and open rate too. The best thing is it's a real-time virtual tool. So, when you test your email subject line, you can compare the results with the platform's huge database.
Pricing: Touchstone is a premium deal. Good for SME's and larger companies. Plans starts from $20 a month.
Send Check It

If you want a hassle-free email testing tool for your subject lines, Send Check It is a great option. What you need is to just sign up and begin testing. The UI is simple and responsive. After you run a test, you will get detailed results with reading level, scannability, length analysis, previews, and even a sentimental impact chart.
Pricing: You can use this email testing tool for free.
Test Your Email Deliverability
SendForensics

Checking your email deliverability is crucial. Unless you don't know either your emails are capable to overcome the recipient mail server, then directly in the inboxes. Sendforensics will check your deliverability rate, then it will tell you where your problem lies, like content issues or infrastructure issues, etc.
It will show you both pre-send delivery metrics, and your post-send live delivery results. The process will let you know where your trouble lies and advises to bring a proper solution.
Pricing: The free plan is only good for experiencing a demo. You need to purchase a pro plan which starts at $49 per month.
MX Toolbox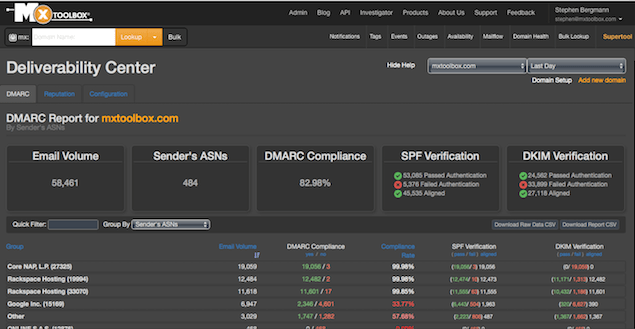 Another professional email deliverability checker. Besides that, this email testing tool provides blacklist and mail follow monitoring, along with bulk lookup service. MxToolbox claimed to have an integrated solution to cover all the mentioned tests in one tool.
Pricing: Free trial available. The Delivery Center plan cost you $99 a month.
Spam Checking Tools
SpamScoreChecker

This tool is built by MOZ. Like their other tools, it will give you a number or rating based on the domain authority of your email address. Whenever you run a test using this tool, SpamScoreChecker will count the spam flag whenever your address gets a blockade to a recipient server.
Therefore, this tool will check your domains spamminess, and spam proofness of the backlinks.
Pricing: It's a free tool.
GlockApps

Glock offers a wide range of email testing tool. However, their email spam checking apps InboxInsight is their most accomplished and popular tool. This app will check your email deliverability, then the spam score based on all the major mailbox providers.
This process will help you find the issues that you need to solve ASAP. Also, you can test your content either it is spammy or not, then check all the major email providers to know which one suits you most.
Pricing: "Pay as you go" option available. Also, you can choose subscription plans to start from #59 a month.
Sender Score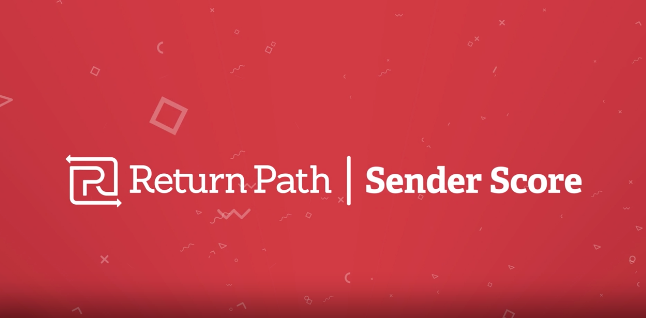 So, how capable is your email domain to reach directly to the user's inboxes? SenderScore by Validity will let you know that with an exact score. They will give you a number between 0-100 based on your email's power to avoid spam checkers of the recipient's mail servers.
Pricing: It's another free email testing tool, and definitely reliable.
Email Testing Tools for Subscriber Verification
Million Verifier

Subscriber verification is crucial. For example, if you have a big email list full of unverified spammy email addresses, they will only drown your email conversion and reputation. MillionVerifier is the exact tool to check the validity of your recipient's email addresses. You can easily check and test the bulk email list with this email testing tool.
Pricing: Free trial available. To verify a list of 50000 email addresses, you need to pay $59. There are plans that go bigger and bigger.
ZeroBounce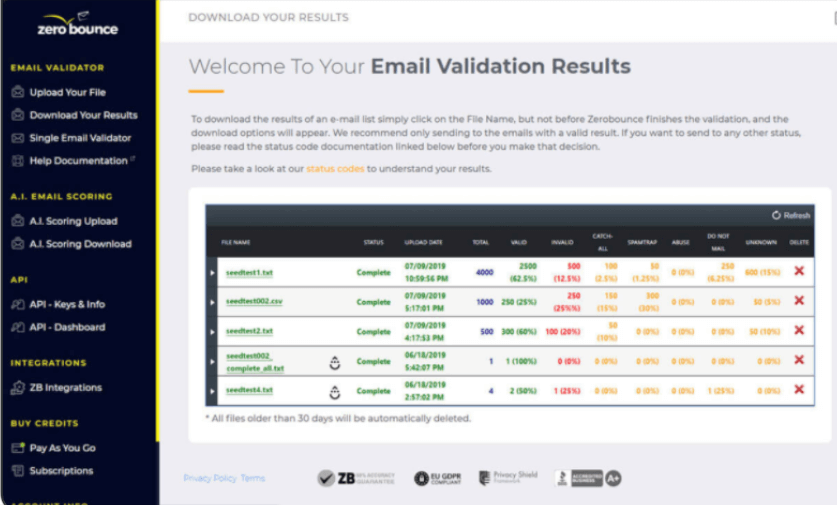 One of the popular options for SMEs and large organizations alike. According to their words, ZeroBounce email validation API offers a 360-degree report view of any email list, covering over 30 status and sub-status codes. That enables this email testing tool to help you make the right decision to send an email to a specific address or not. The reporting dashboard is pretty useful too.
Pricing: ZeroBounce follows a freemium model. So you can start using this email testing tool for free. The pro-pricing offers two different plants from $16 to $39 per month.
EmailMarker

Verifying email list means you cut the crap out of your subscription list. That enables your email campaign to pint-shoot exactly where it should hit. Thus brings you perfect results. EmailMarker is the right email testing tool to check the validity of your bulk list and ensure that you don't send emails to bots or a dead person either. In another words, it's a viable email list cleaning tools.
Pricing: Free trial is available. You can verify an email list with 50 people with this plan. It cost you verify a list of 50 emails $3. And the plans gradually cost you more according to the size of your list.
What's Your Catch Now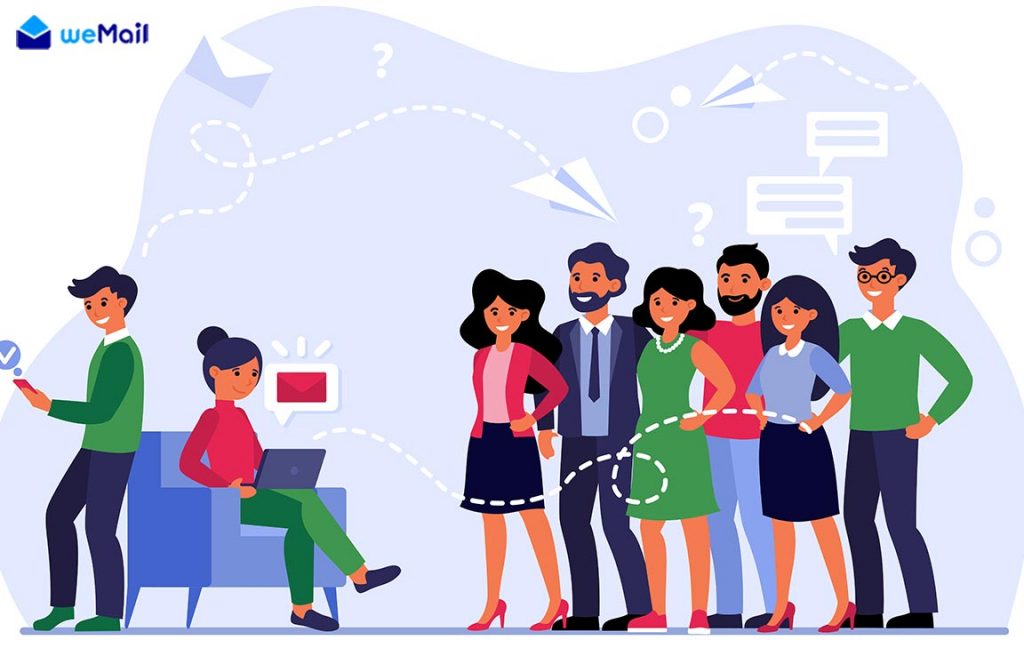 Throughout this blog, we have told you which email tools serve you most. Besides that, we have also shown you in which case you need the perfect email testing tools to stand a chance big time with your email campaigns.
Email marketing is still the most popular and heavily used marketing channel around the world. To get ahead of your competitors, you must use the total advantages of the best email marketing software out there.
For example, an email automation tool like weMail can empower your total campaigns and improve your open rate, click-through rate, and brings higher conversion. Hence, the email testing tools we have mentioned above can make your email sending process flawless.
So, tell us which email testing tool you are going to try in the first place?
Subscribe To Our Newsletter
Don't miss any updates of our new templates and extensions
and all the astonishing offers we bring for you.