With the Easy Digital Downloads integration feature of weMail, you can easily connect Easy Digital Downloads with weMail to track purchase activity, increase sales, utilize custom segments & automation. In fact, it can directly help you create campaigns depending on the customer's preferences & attributes.
Okay, let's see how to easily you can create email campaigns using the customer's insight of your eCommerce site.
Pre-requisites to integrate Easy Digital Downloads with weMail:-
Do make sure that you have successfully installed & activated weMail & Easy Digital Downloads.
Connecting & Activating Easy Digital Downloads
To connect WooCommerce with weMail, navigate to the WP Dashboard>weMail>Settings>eCommerce>Select Easy Digital Downloads.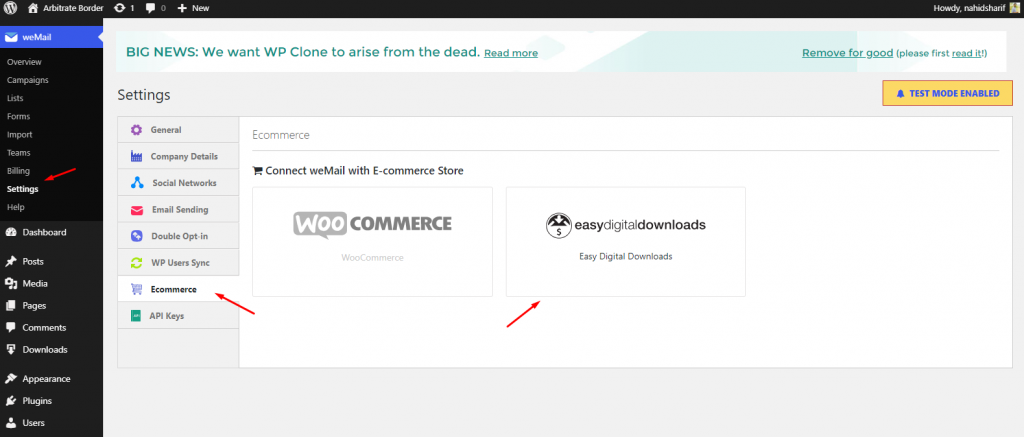 So you click on the Easy Digital Downloads, you'll get the following step to continue your synchronization process.
However, here are some of the important facts that you should know about:-
After the integration, you'll be able to track customer lists, order details, and product lists
Select the list you want to sync with your Easy Digital Downloads
If you want, you can enable syncing existing Easy Digital Downloads to a list
Finally, click on the Authorise & Start syncing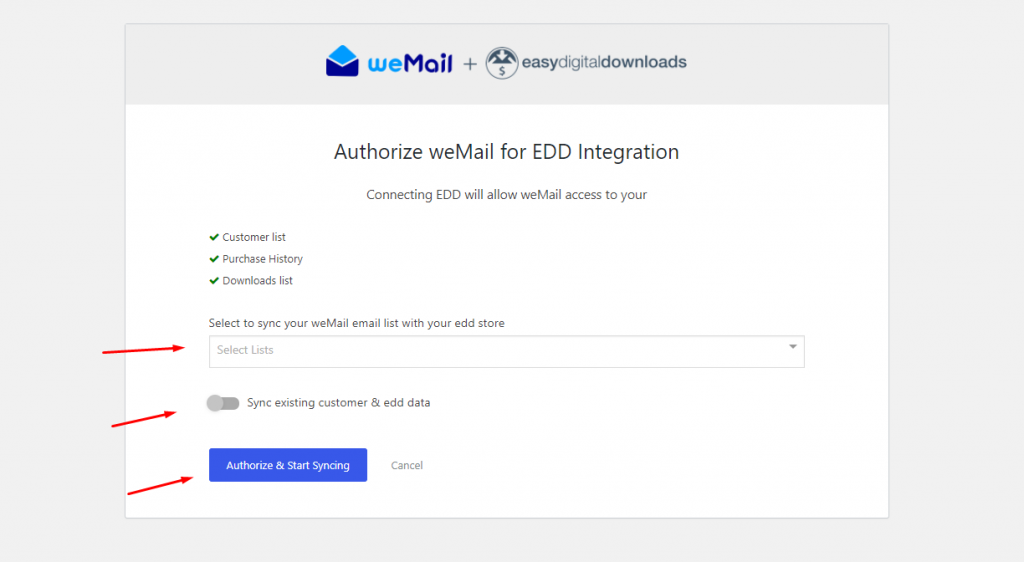 After that your sync process will start.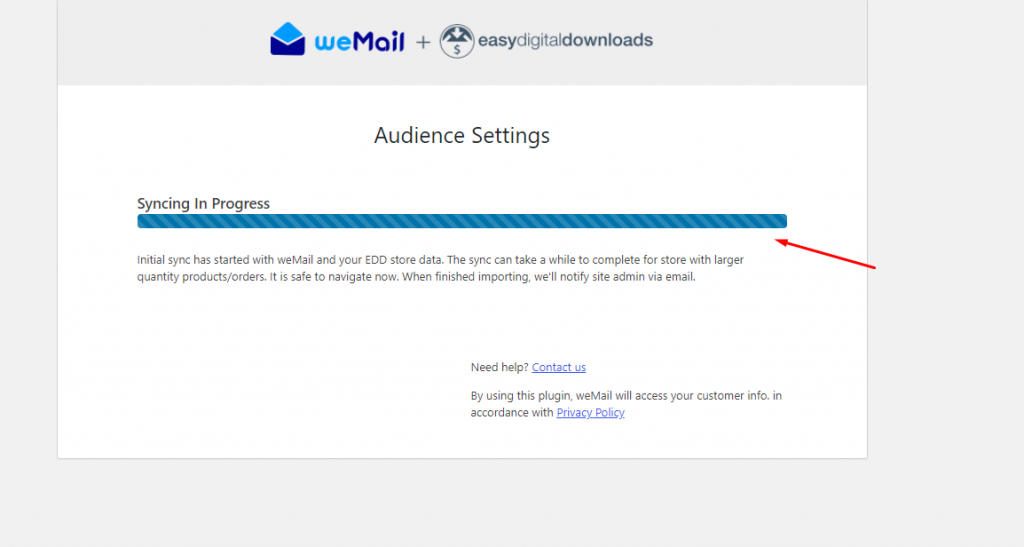 And finally you have successfully synced Easy Digital Downloads with weMail.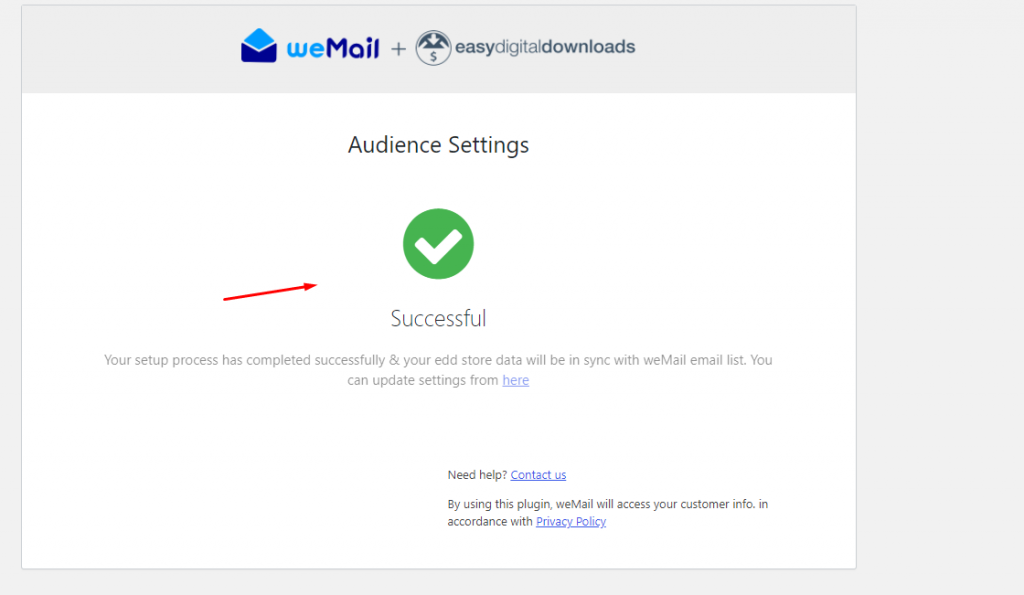 After you have successfully integrated with WooCommerce, when you navigate to the WP Dashboard>weMail>Settings>eCommerce>Easy Digital Downloads again, you will be able to disable the integration and also change the weMail list.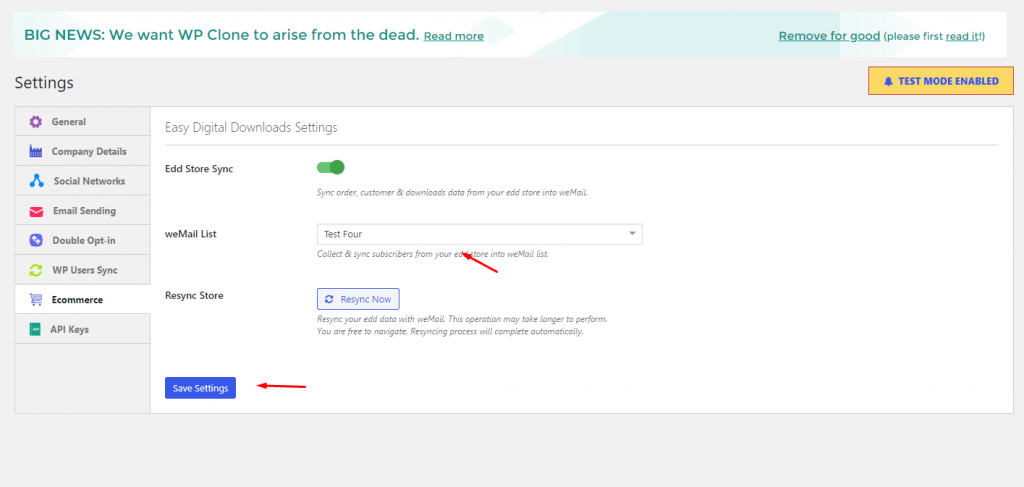 List Segmentation
List segmentation is an exciting feature of weMail. To get this feature, you need to purchase the pro version.
To segment email list, navigate to weMail>List.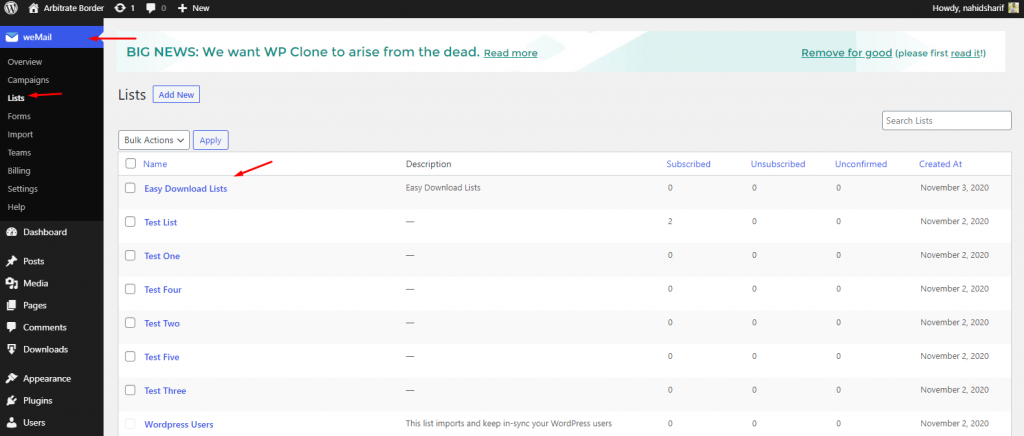 If you don't know how to create an email list, check out the guide below.
👉How to create an email list with weMail👈
Next, select the list that you want to segment for your next campaign. Do make sure to select the updated list.
The following customer email list is generated from the Easy Digital Downloads.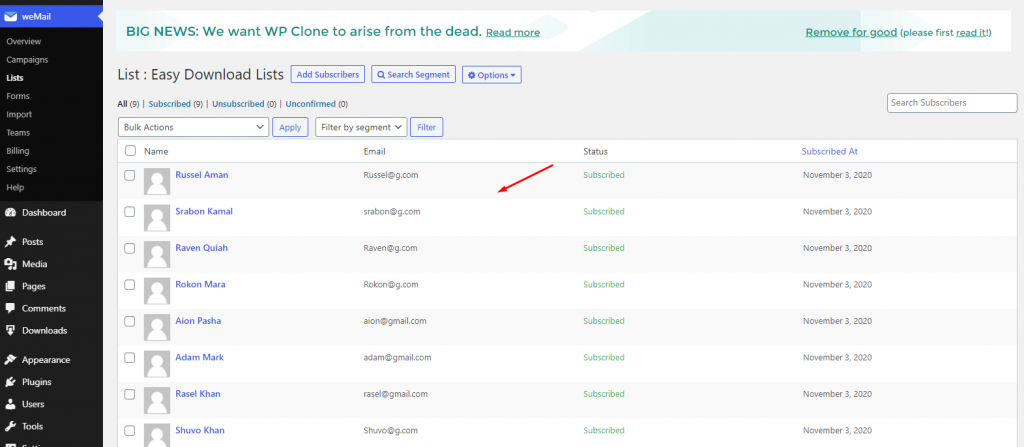 Next, click on the Search Segment option, then immediately the related options will show up here.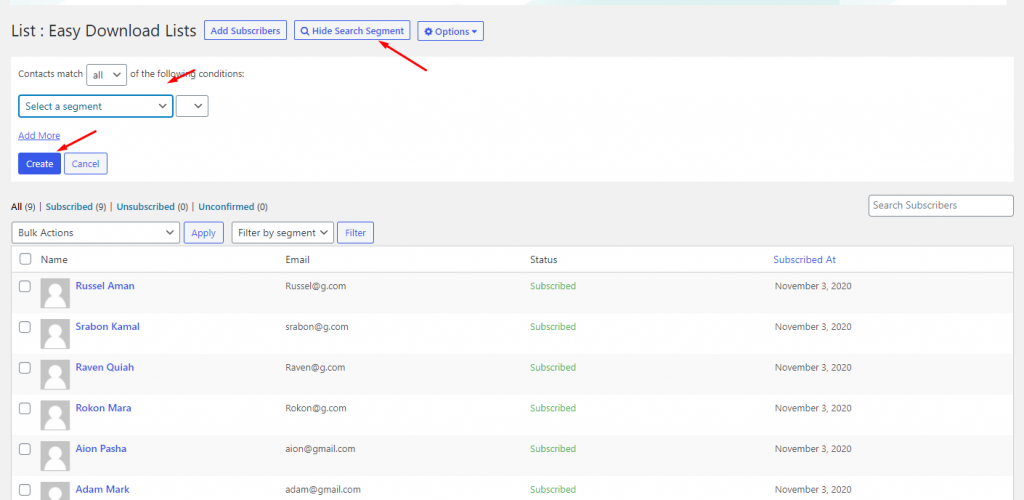 After you click on the segment, the available options will appear. As we're segmenting eCommerce customers, so we'll talk about the below 7 options.
You can segment on (total cost)
Segment the list who has purchased for one time
How many times a customer has purchased (one or two times)
Based on the purchased products
Purchase activity
Last purchased items or products (time period)
And from where you purchased (EDD store)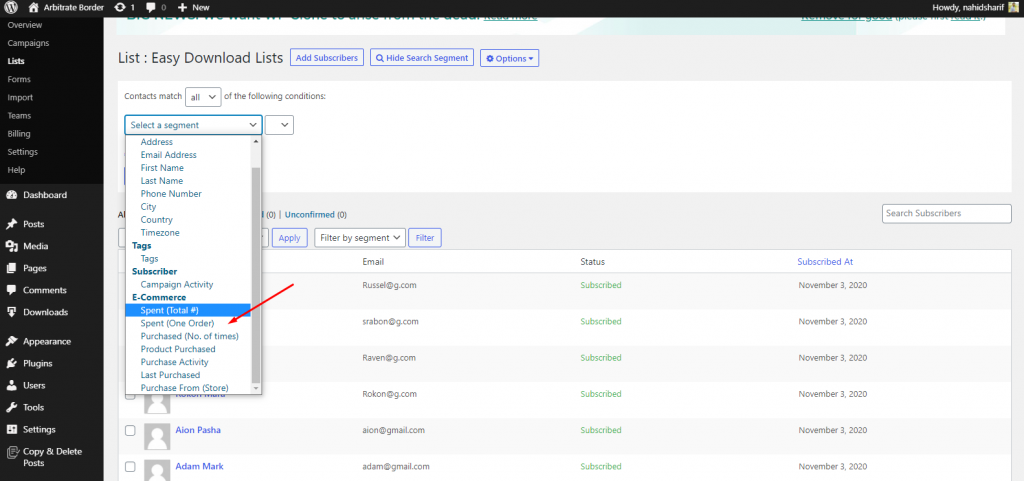 Let's say you want to segment those customers who have purchased less than $500. So select the segment option and the amount.
Note: Less then means under the amount and more than means above the current amount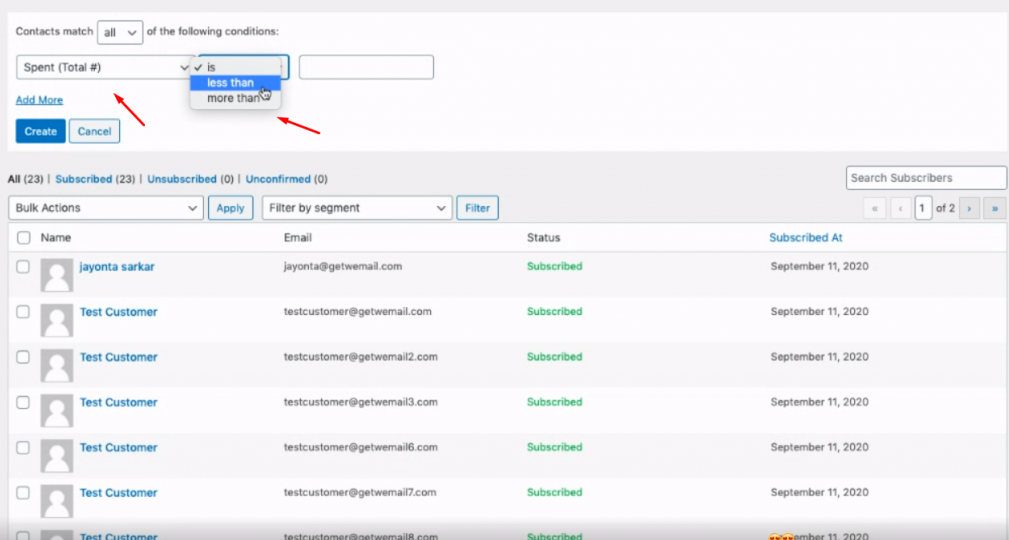 So put the value. And then click on the 'Create' button to prepare a list based on 'Spent (Total #) more than $500' from your online shop.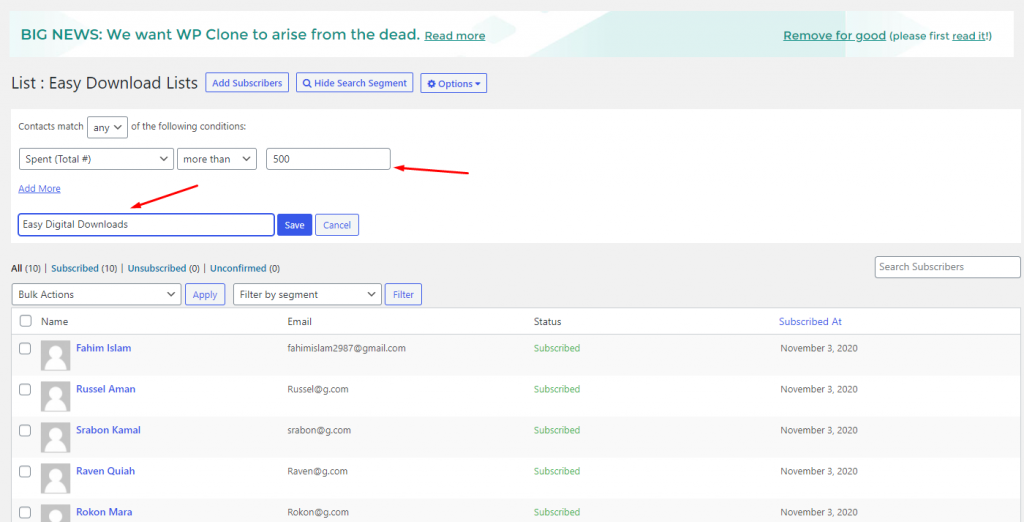 Now your segment is ready to filter. To do that just click on the filter option and select the option that you created earlier. That's it!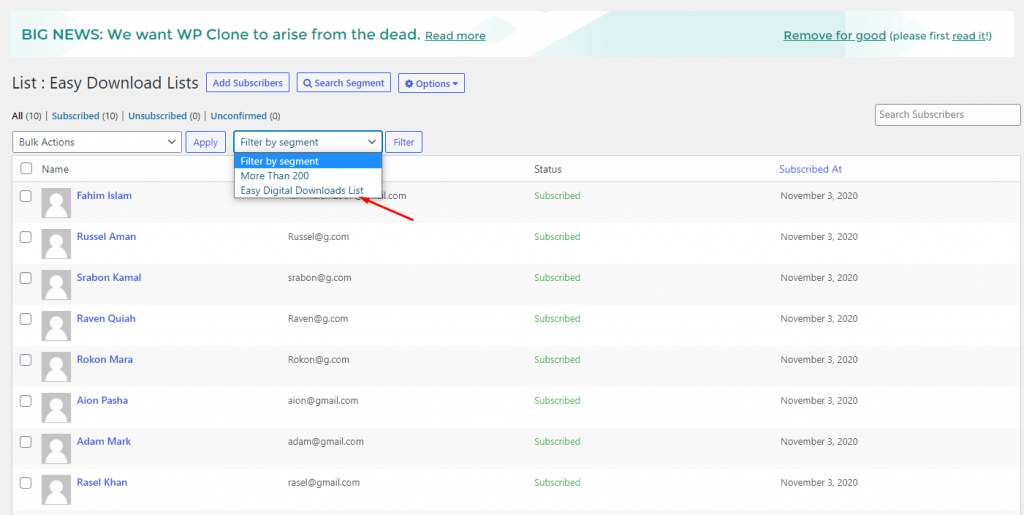 Create a Campaign with the Segmented List
We have added a new Automatic campaign option "When someone purchases for the first time" for WooCommerce integration.
To create a campaign with your segmented list, click on weMail>Campaign>Create a campaign.
Read Here!👉 Learn how to create an email campaign with weMail.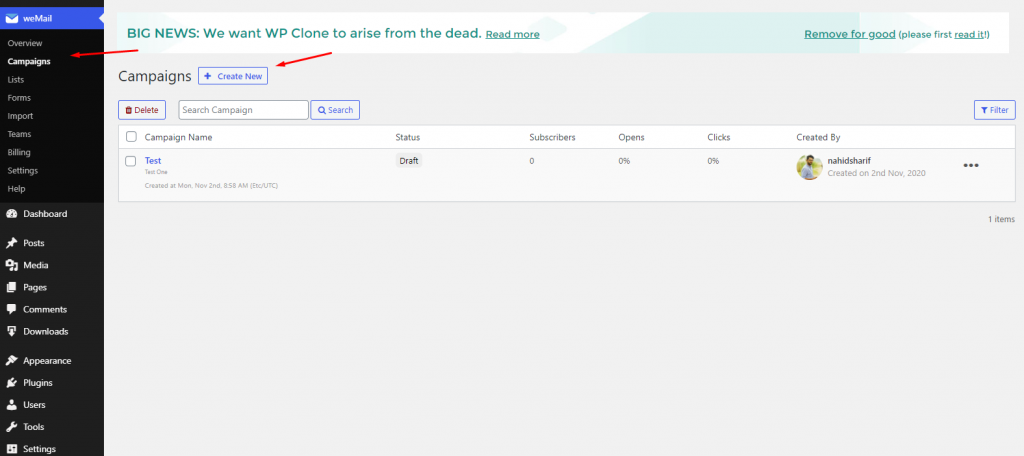 After that give a title to your campaign and select 'Standard'. And then select the list and segmented list. And click on the Create Campaign button to get started.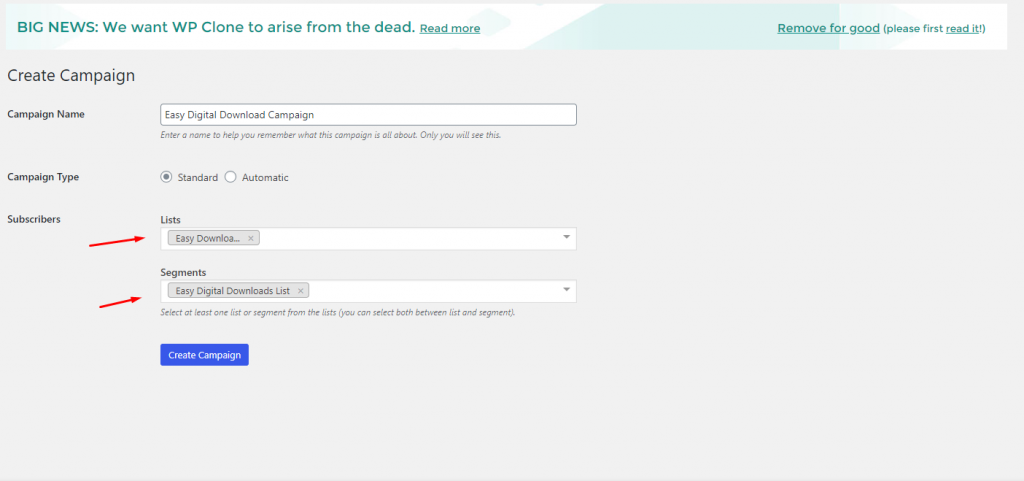 Next choose the email template and click on the 'Next' button.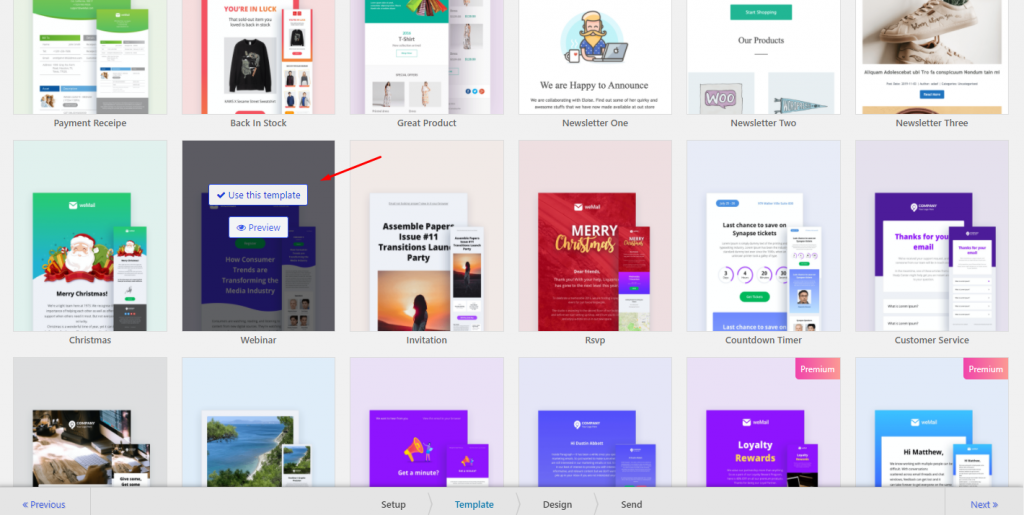 In the third & final step, you can customize the template and complete the formalities by giving the information.
Then click on the 'Activate now'. And your campaign will be activate & deliver the emails to the perspective subscribers.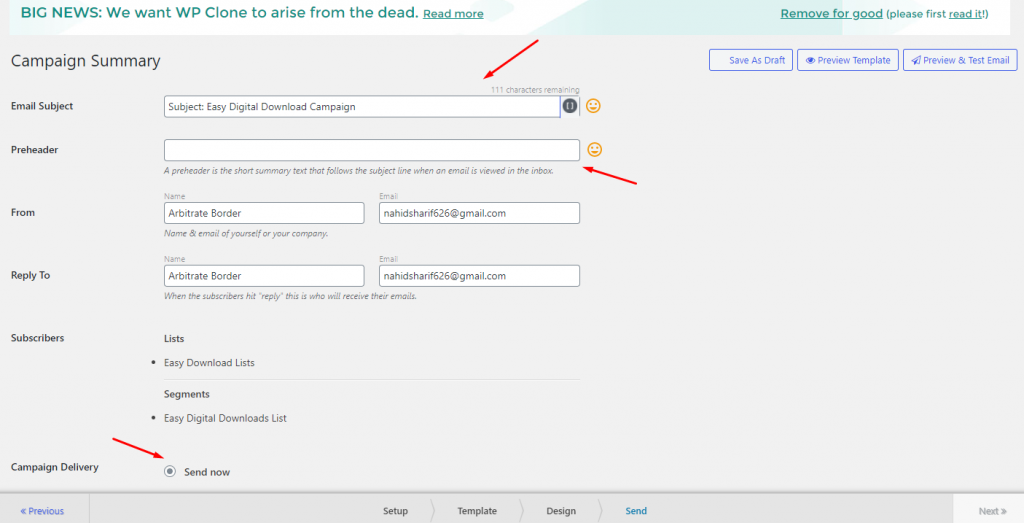 So here is how your subscribers will get the email from you.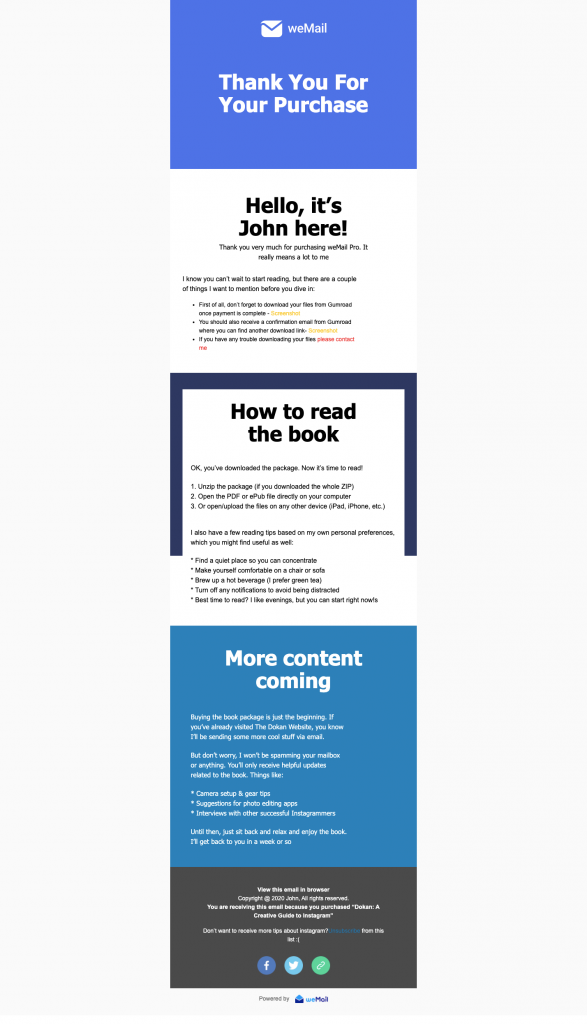 That's it!